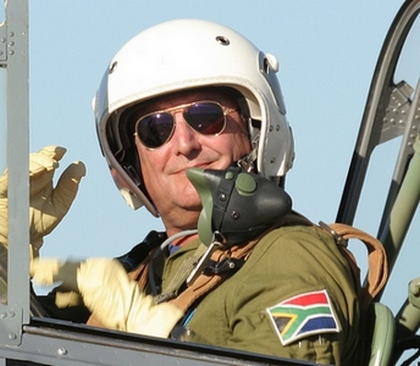 2017 has been a tumultuous year, with so many critical events that occured.
I need to thank Richard Becker for his efforts as Aero Club General Manager, who resigned in February. It took us a while to find a suitable replacement in Alan Evan-Hanes, who seems to have had his hands full since joining us in June. Chandre Steenkamp took some maternity leave to deliver a delightful baby girl.
Long-time Chairman Col (ret) Jeff Earle resigned in early 2018 prior to the publication of this report after steering Aero Club through its darkest days and provided strategic leadership throughout. Jeff had expressed a desire to resign as Chairman in May, and selflessly continued to support Aero Club and Safety First initiatives during the year at tremendous personal cost, including creating the foundations for holding Airweek 2018 in Middelburg. He was also instrumental in developing ideas for Aero Clubs Centenary in 2020. We cannot thank him enough; I have extremely big shoes to fill. Rob Jonkers has stepped up to be Acting Vice Chairman until our Annual General Meeting in early 2018.
In March the SACAA elected not to renew RAASAs contract, which created significant uncertainty in the industry. Inadequate and often conflicting communication brought a mistrust which took until the end of the year to settle. The actual impact of this decision has yet to be determined, but we are positive that the future will bring far greater industry consultation and involvement in determining our future.
On the positive side the Aero Club section chairmen held very constructive strategic sessions throughout the year, culminating in a stronger and solidified team going forward. One of the outcomes was the identification that our existing Articles of Association are archaic. An entire revision and modernisation of this has been drafted and will be presented to all members in 2018 following adequate legal compliance review.
The Aero Club Bluebox financial payment system is working as intended with increasing enthusiasm to build on the capability to obtain seamless membership payments.
Airweek 2017 held at Parys was well attended with all sections participating. We have seen the development of many youth's enthusiasm into the greater aviation industry via T&D initiatives supported by EAA Young Eagles with sponsorship from various parties.
SAPFA again held a very successful PTAR, which was marred by two accidents, luckily both without any fatalities. They also competed internationally at the Precision Rally Championship in Austria and at the World Air Navigation Rally Championships in Spain, where Frank Eckard achieved Gold for Spot Landing.
Aero Club continued to support the Safety First Aviator programme throughout the year, with many new volunteers sharing their expertise.
SAC held an exemplary World Aerobatic Championship at Malelane where the South African Team did well to hold up our flag in the face of semi-professional government sponsored competition.
SAGPA's North meets South was a superb event, providing an example as to how all gyrocopters can actually share their interests. BAFSA participated in France.
The Aero Club Annual Awards dinner continued to be a wonderful success and grows each year. We enjoy the opportunity to celebrate our significant achievers during the year. We were most lucky to have Paul Maritz accept our invitation as a guest speaker, which turned out to be rather entertaining.
2018 is poised to be a significant year in which many changes will occur, and we are most positive that it will improve our industry.
I would like to thank the Aero Club staff, Executive Committee, Board of Directors and each of you as a member, who have continued to contribute to make Aero Club's vision of protecting, preserving and promoting free flight.