THIS WEEK IN MIDWEEK UPDATE

Plan Your Weekend……..Forthcoming Events…….Aviation News

Worldwide Incidents and Accidents……This Week in Aviation History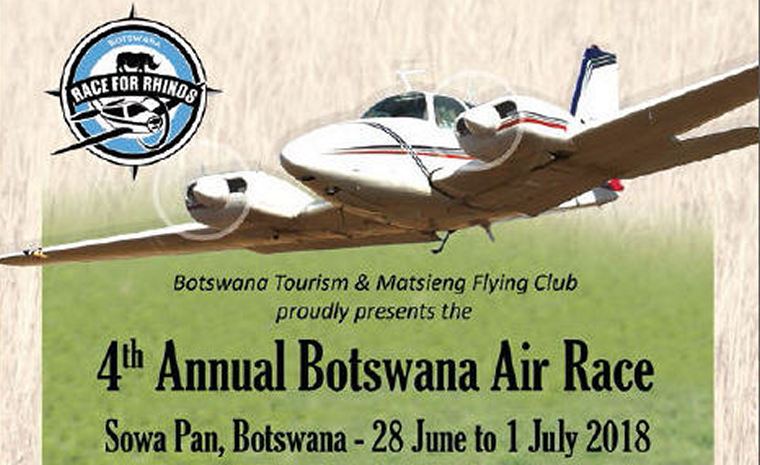 Race4Rhinos entries are now open. Guys and gals you don't want to miss this incredible event taking place at Sua Pan Botswana from 28 June to 1 July 2018. Only R6875 per team for entry plus accommodation and all meals. Fuel is free after arrival!!! Visit
www.airrace.co.bw
to enter now. Don't leave it to the last minute. This year is a world record attempt to have the most aircraft enter into an air race.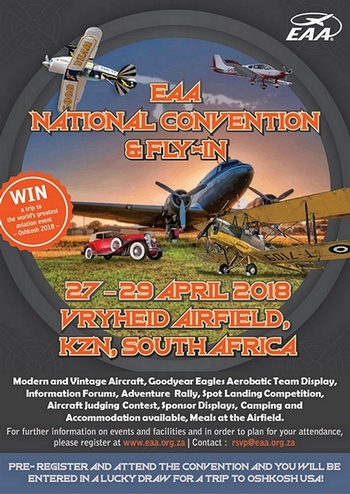 28 - 28: Uitenhage Festival and Fly in. Contact Lourens Kruger
lmk@telkomsa.net
082 320 2615
27 April to 1 May: South African Canopy Piloting National Championship 2018 will be hosted by the CP Committee at Pretoria Skydiving Club in Gauteng from.
27 April - 1 May 2018 NAC Fly Away; the 10th Fly Away to be staged by NAC
Contact Deneys Potgieter
deneys.potgieter@nac.co.za
or Mobile 082 891 4354
27-29: EAA Convention, Vryheid Airfield. Besides a great expected turnout of aircraft, a fantastic venue and a superb function being organised by the Vryheid Wings Club, you can also win a trip to the world's greatest aviation event - Oshkosh AirVenture! Would you like to fly to Vryheid on a Douglas DC-3? The price is R1 250 per seat, it will depart from Rand Airport on Friday morning and return to Rand Sunday morning. By making sure you are an EAA (South Africa) member, pre-registering and attending the event, you will stand in line to win this exciting prize! The draw will take place at Vryheid at the awards dinner on the airfield. Contact Marie Reddy E-mail:
marie.reddyy@gmail.com
28: EAA Convention Adventure Rally. Contact Rob Jonkers e-mail:
rob@aerosud.co.za
cell: 082 804 7032


1: Military Festival. Voortrekker Monument Pretoria.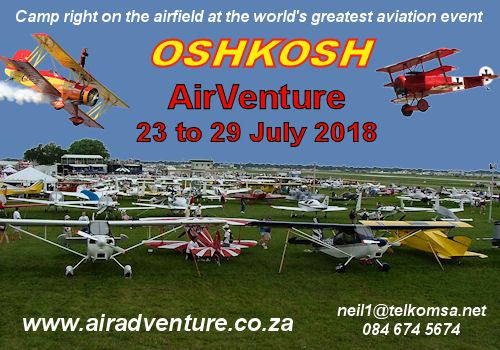 2: EAA Chapter 322 meeting. Dicky Fritz Moth Hall Edenvale. Contact:
editor@afskies.co.za
05: SAAF Museum Air Show AFB. Contact Officer Commanding - Museum
oc@saafmuseum.org.za
012 351 2290
12: Eagle Flight Academy Fly in Hartswater, Nothern Cape. Contact DJ Lubbe 0825576429 or email
info@eagleflight.co.za
11 to 13: Battlefields Country Lodge Annual fly-in. Website:
www.battlefieldslodge.co.za
Contact Dave O'Halloran Tel 079 496 5286 E-mail:
gm@battlefieldslodge.co.za
12: Lowveld Kishuga Airshow Willemien Hodgkinson
willemien.hodgkinson@kishuga.com
079 499 5733 or
monica.fourie@kishugu.com
Cell: 083 619 3597
15 to 18: NAMPO Agricultural Trade Show near Bothaville, Free State. Contact Wim Venter Tel: 086 004 7246 E-mail:
Wim@grainsa.co.za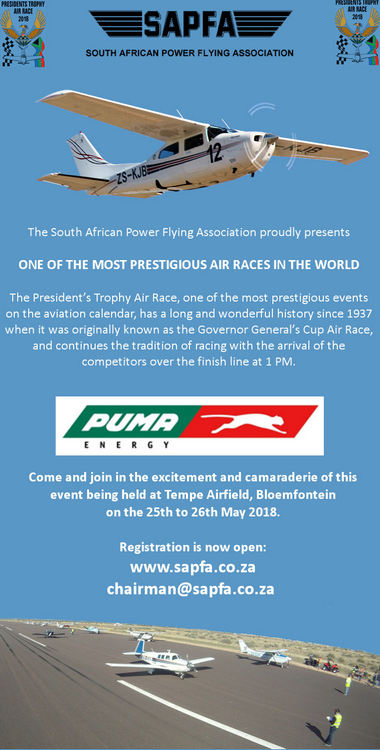 16 to 18: Drone Con 2018 Vodaworld Centre in Midrand. Contact Gisela Kirsten e-mail:
gisela@dronecon.co.za
19: Panorama Breakfast Fly in. Contact Alan 083 702 3680 or David 082 375 5614.
19: Swellengrebel Flying Club 60th birthday fly-in. Contact Pieter Venter E-mail:
pventer@vgv.co.za
19 & 20: SAC Free State Regionals Tempe airport Bloemfontein. Contact Annie Boon E-mail:
chunge@mweb.co.za
3rd Saturday of every month. Microland. Bring and braai. Fires and bykos provided. Fires start from 09h30. Contact person: Nick Swardt 082 441 8011 or Alan Hussey 072 82 2341
24 - 26: SAPFA President's Air Race Tempe, Bloemfontein. Rob Jonkers
chairman@sapfa.co.za
082 855 9435. Website:
www.sapfa.org.za
E-mail: Race@sapfa.org.za. Race director Robin Spencer-Scarr: E-mail:
robin@stylegroup.com.au
.
26: Matsieng Airshow. Contact Riaan van Vuuren E-mail:
riaan@gir.co.bw
Tel: +26 771 66 1201

2: SAAF Museum AFB Zwartkop open practise day. Officer Commanding - Museum
oc@saafmuseum.org.za
012 351 2290
2: Kroon Fly in. Rosslyn Micro Flyers. Breakfast R50.00. Contact Dawie 082 596 2355 or Marius 083 419 6613.
6: EAA Chapter 322 meeting. Dicky Fritz Moth Hall Edenvale. Contact:
editor@afskies.co.za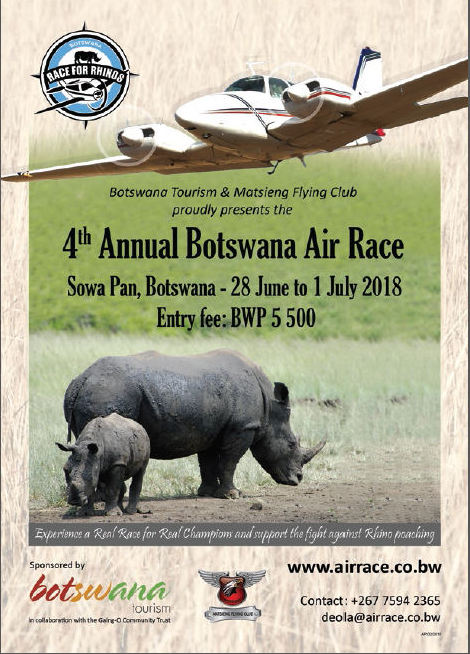 9: Champ Newcastle Airshow.
johan@champ.co.za
082 923 0078
9: Bethlehem Fun Rally - Bethlehem Airfield. Contact Rob Jonkers e-mail:
rob@aerosud.co.za
Cell:082 804 7032
23: Reefsteamers NPC- Krugersdorp Flying Club - Vintage and Veteran Car Club 23 June 2018 event .. RS Train -vintage planes, cars and bikes. Contact Ian Morison
imorison@worldonline.co.za
3rd Saturday of every month. Microland. Bring and braai. Fires and bykos provided. Fires start from 09h30. Contact person: Nick Swardt 082 441 8011 or Alan Hussey 072 82 2341
24-28: South African Hot Air Balloon Championships 2018, Skeerpoort North West Province. Contact Richard Bovell
richard@bovellross.com
28 June- 1 July: Race for Rhinos - Kuba Island - Botswana. Contact Chris Briers e-mail:
chris@airteam.co.za
cell: 082 568 7988

4: EAA Chapter 322 meeting. Dicky Fritz Moth Hall Edenvale. Contact:
editor@afskies.co.za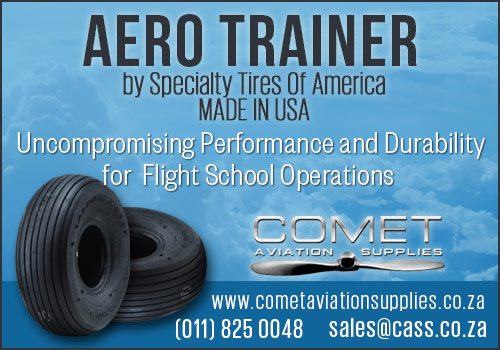 6-10: Zim Navex - Prince Charles Airport - Harare. Marion Kalweit - 2017 Air Rally Committee email:
zimairrally@gmail.com
Tel +263772570009
8: SAAF Museum AFB Zwartkop open practise day. Officer Commanding - Museum
oc@saafmuseum.org.za
012 351 2290
14-16: Nysltroom Taildraggers.
14: SAC Judges Trophy. Kitty Hawk. Contact Annie Boon
chunge@mweb.co.za
14: Hoedspruit Fun Rally. Contact Wynand Uys email:
wynand@ottersden.co.za
or Frank Eckard e-mail:
frank.eckard@mweb.co.za
cell: 083 269 1516
3rd Saturday of every month. Microland. Bring and braai. Fires and bykos provided. Fires start from 09h30. Contact person: Nick Swardt 082 441 8011 or Alan Hussey 072 82 2341

The Aviation Radio Show; get all your questions answered in one place. To listen to a recording of the live broadcast click on the link:

www.debela.co.za/aviation-radio-show



SOUTH AFRICAN POWER FLYING ASSOCIATION-PTAR 2018


Hi fellow air racers,
As we head closer to the start of the most amazing race weekend in Bloemfontein, I need to bring you up to speed with developments as we go along.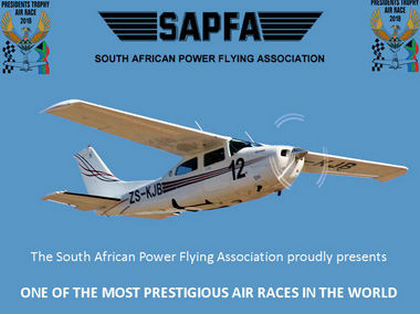 As you know, this year we're back in Bloemfontein where the team are working exceptionally hard to make sure you have a great weekend.
The Bloem boys are going to show you the best Free State hospitality they possibly can. The route is going to be exciting with a few interesting differences from before that should prove to keep you on your toes.
As you are aware, we are also working hard to get enough sponsorship to make things a little easier on your pockets, and already Charlie Marais has come to the party by waiving landing fees for the weekend. We're trying to get sponsored fuel, if not all then maybe some that should also help.
The most important thing is for you to get your entry in as soon as possible that will help us with arranging all the good stuff like goody bags, hotels, hire cars, entertainment and suchlike. Just go to www.sapfa.co.za and click on the link to the President's Trophy Air Race and you will find it as easy as doing a let-down under the hood in a storm with one engine out and smoke in the cockpit :).
We will be forwarding the approach procedures for getting into New Tempe a little later but it should be very simple. Now it's time to polish your baby to a high sheen to make her as slippery as possible for the big day.
Entries are OPEN
Note the following process of entries is being followed:
Enter your basic details on the Events Entry click here:
www.sapfa.co.za/index.php/component/competition/?view=pilot

Once entered - you will receive an email from the Race Organiser that will direct you to the PTAR entry system for detailed information requirements.
Please ensure you are a paid up Aero Club and SAPFA member with a FAI licence.
This can all be paid on line at
www.aeroclub.org.za/member-renewals-and-new-memberships/
Please also pay your PTAR entry fee of R 3500 by EFT into the SAPFA bank account using your race number as payment details.
We're looking forward to seeing you there
Rob Spencer-Scarr
083 310 2850
race@sapfa.co.za
PIPER ANNOUNCES JET-A POWERED SEMINOLE



Piper Aircraft, Inc. announced today that they have selected the Continental Motors Group new CD-170 compression ignition engine fuelled with Jet-A to power the Piper PA-44 Seminole. Photo © Piper Aircraft.


The world's leading multi-engine training aircraft will also feature counter rotating engines, giving flight schools and training organizations a single lever, FADEC training system with a history of innovation, simplicity and economy.
After selecting the CD-155 Jet-A engine to power the Archer DX, Piper Aircraft extends its Jet-A powered range of trainer aircraft with the PA-44. The Piper Seminole is an advanced twin-engine trainer that has enabled thousands of pilots to earn their multi-engine rating. It is used by flight schools across all continents and is known for its reliability, all metal construction, stable flight characteristics, counter rotating engines, and its modern avionics suite.
Equipped with counter rotating engines and the latest versions of the universally acclaimed G1000 NXI by Garmin®, the Seminole is the ideal choice for training organizations. By transitioning to Jet-A burning engines, the Seminole DX addresses the requirements expressed by many customers across the world, especially in the many regions where Avgas availability and cost is a concern. The CD-100 series engine family expanded to 170 horsepower and a counter-rotating option offers a unique combination of simplicity, economy, and performance. Further, the experience accumulated with the Archer DX shows that dispatch rates increase on the versions powered by compression ignition engines. The combination of advanced technology, single lever -FADEC control, maintenance related down time and maintenance diagnostic systems helps operators increase billed flight hours and decrease the amount of time spent in un-scheduled maintenance.
The CD-100 family of compression ignition engines are extensively used in flight schools around the world with retrofit kits for many popular airframes are also available and certified in over 72 countries.

RED DOT 2018-MTOSPORT BEST OF THE BEST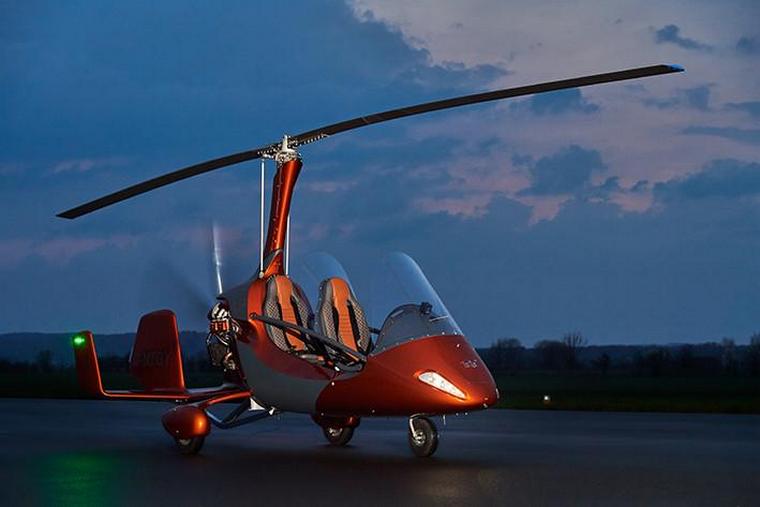 Best of the Best - the MTOsport 2017 is an innovative symbiosis of aesthetics and function. Such says the Red Dot jury. Photo © MTO.

After the evaluation process spanning several days in March, our MTOsport 2017 received the top distinction in the internationally renowned design competition. More than 6,300 objects from 59 nations were submitted to the strict judging criteria, which include level of innovation, functionality, formal quality, ergonomics and durability.
A choice of three different distinctions are awarded: The Red Dot: Best of the Best is reserved for the best products in a category. Only 1% of entries received this distinction.
For many years, the MTOsport embodies the feeling of boundless freedom and incomparable flight experience. With the perfect development of our existing model, we present the unique symbiosis of technical innovations, luxurious features and ground-breaking design. Being awarded with the top distinction is a great honour for us and a testament to our work.
ROTAX 915 IS AIRCRAFT ENGINE-AWARDED BEST POWERTRAIN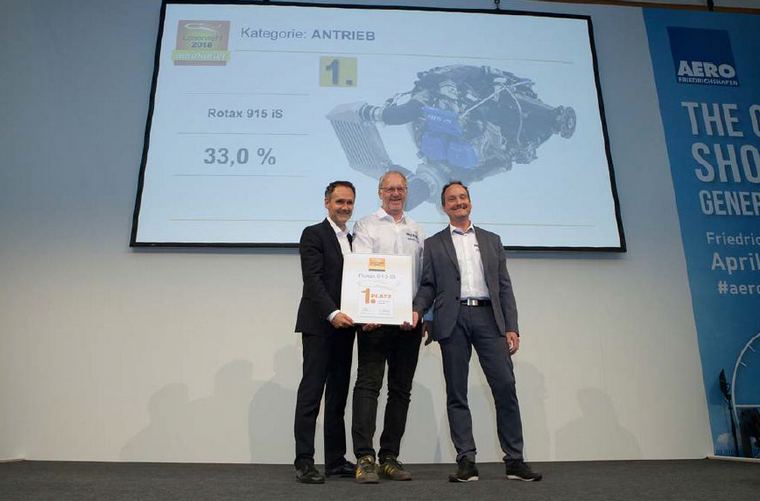 Friedrichshafen, 19 April 2018 at the AERO Friedrichshafen, the largest trade show for general aviation in Europe, BRP-Rotax aircraft engines have been awarded best powertrain by 'aerokurier', the German aviation magazine.. Photo © BRP Rotax.


"To be awarded as the best in the whole lightsport aviation industry in terms of powertrain concept for our brand new Rotax 915 iS aircraft engine is an honour especially because the engine is available on the market only since 2018", said Thomas Uhr, General Manager BRP-Rotax, Vice President Powertrain BRP and R&D / Operations Lynx. "Thank you to the readership for their commitment to our aircraft engines."
Every year readers of 'aerokurier' vote for their favourite manufacturers in the aircraft industry. This year they voted in eight categories (airliner, jet / turboprop, UL / LSA, gyrocopter / helicopter, powertrain, glider / motor glider / UL glider, avionics and innovation of the year) and have chosen Rotax aircraft engines as the winner who has the potential to influence general aviation in the future in the category powertrain.
With more than 180,000 engines sold in more than 40 years, Rotax aircraft engines lead the light sport and ultra-light aircraft market. With 18 authorized distributors and a network of more than 220 points of sale and repair centres supporting customers worldwide, Rotax aircraft engines are supplied to more than 80% of all aircraft manufacturers in its segment.
BRP-Rotax GmbH & Co KG, a subsidiary of BRP Inc., located in Gunskirchen, Austria is a leader in the development and production of innovative 4- and 2-stroke high performance Rotax engines for BRP products such as Ski-Doo and Lynx snowmobiles, Sea-Doo watercraft, Can-Am all-terrain, side-by-side vehicles and Can-Am Spyder lineup as well for motorcycles, karts, ultra-light and light aircraft. In the last 50 years, the company has developed more than 350 engine models for recreational vehicles and produced over 7 million engines.
TECNAM AND INTERNATIONAL AERO ACADEMY ANNOUNCE AIRCRAFT FLEET ACQUISITION



Tecnam, one of Europe's leading manufacturers of general aviation aircraft and International Aero Academy, Ltd. ("IAA") today announced they have completed an aircraft purchase agreement for an initial six (6) P2008 aircraft with the first delivery scheduled in the 2nd quarter of 2018. Photo © Tecnam.

The IAA Tecnam P2008, will be equipped with state-of-the-art Garmin G3X touch screen displays. GTN-650 GPS/Com/Nav and a GTX45R that provides ADS-B in and out, traffic and weather. To enhance primary training, the Garmin displays can be quickly reconfigured to display the classic six-pack instrument view. Building on the base of European FTO's utilizing the P2008, IAA will be the first FAA part 141 flight academy to acquire a fleet of P2008's.
IAA is a Lakeland, FL-based FAA-certificated ab initio and accelerated flight academy with authority to issue foreign student visas for training. With its focus on training the next generation of domestic and foreign professional pilots, IAA has a modern 12,000 square foot maintenance facility with dedicated maintenance professionals, and over 12,000 square feet of office, onsite dormitory housing for students and training space.
"We are proud of this new contract signed with IAA, because they will be the first FAA part 141 FTO to utilize the P2008 and we know that many other U.S. schools will follow. This fleet will be proof of a best practice model both from the student and school perspective: students will benefit from the new generation aircraft and avionics, and the school will benefit from the very low acquisition and operating costs", said Paolo Pascale, Tecnam CEO.
"The Tecnam P2008 represents enhanced evolution in primary flight training for both students and flight academies: (i) next generation avionics, (ii) reduced maintenance costs (iii) state of the art materials integration (iv) remarkably low fuel consumption that effectively operates as a long-term hedge against potential increases in fuel cost," said Gerald Gitner, IAA's Non-Executive Chairman.
ITALIAN AIR FORCE TAKES ON BALTIC POLICING ROLE IN ESTONIA OPERATIONS AIR FORCES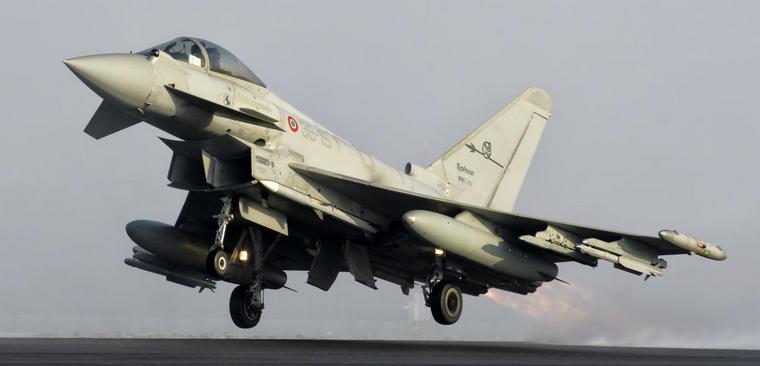 Eurofighters from Italy have been augmenting NATO's Baltic Air Policing (BAP) mission. Operating from the Ämari Air Base in Estonia, Task Force Air 36th Wing is tasked with ensuring the integrity of the airspace over the skies of the three Baltic Republics under the control of NATO. Photo © Giovanni Colla.

Task Force Air 36th Wing comprises four aircraft drawn from two of the Italian Air Force's Eurofighter Wings- the 36th Wing in Gioia del Colle and 4th Wing in Grosseto. The pilots and the support team, including maintainers and engineers, are instead drawn from all the three Eurofighter bases, including Trapani, base of the 37th Wing.
SIKORSKY ANNOUNCES ITS GERMAN INDUSTRIALIZATION FOR THE COUNTRY'S NEW HEAVY LIFT HELICOPTER COMPETITION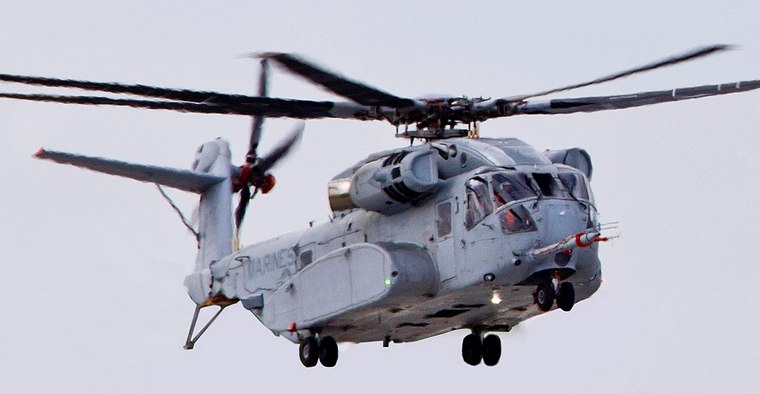 CH-53K delivers the lowest risk, best value platform that will exceed the customer's operational requirements for the next 50 years. Photo © Staff Sgt. Gabriela Garcia/commons.wikimedia.org

Sikorsky, a Lockheed Martin (NYSE: LMT) Company, announced its German industrialization plan for competing in the German Air Force "Schwerer Transporthubschrauber" (STH) Program with the world class heavy lift helicopter, the CH-53K King Stallion. Rheinmetall Group, which has entered into an exclusive arrangement with Sikorsky, will lead in-service support for the CH-53K.
The Sikorsky CH-53K team will host the German companies in an industry chalet during ILA Berlin Airshow April 25-29. Sikorsky will showcase plans for the long-term sustainment of the CH-53K by German aerospace industry. The plans will optimize maintenance and repair for the German Air Force for future decades.
The CH-53K helicopter is the best choice for handling missions like humanitarian aid, troop transport, casualty evacuation, support of special operations forces, and combat search and rescue. No matter the mission, the aircraft provides the highest degree of safety for its crew and occupants in all conditions.
With the legacy fleet of the CH-53G, Sikorsky has a strong relationship with the Bundeswehr. The CH-53K will enable the German Armed Forces to conduct bona fide heavy lift operations. Intelligent, reliable, low-maintenance and survivable, the CH-53K is the future of German Heavy Lift.
German companies participating in the CH-53K industry chalet at ILA Berlin are: Rheinmetall - which will lead the effort - MTU, ZF Luftfahrttechnik GmbH, Autoflug, HYDRO Systems KG, Rockwell Collins Germany, Jenoptik, Hensoldt, Liebherr, and Rohde & Schwarz.
Sikorsky, with its lead exclusive teammate for in-service support, Rheinmetall, continues to identify additional German defence companies to contribute to the sustainment of the helicopter in Germany.
The CH-53K King Stallion advances Sikorsky's 50 years of manufacturing and operational success with its CH-53A, CH-53D/G, and CH-53E predecessors. Built to thrive on the twenty-first century battlefield, including shipboard operations, the CH-53K aircraft is an all-new aircraft, using modern intelligent design. The rugged CH-53K is designed to ensure reliability, low-maintenance, high availability and enhanced survivability in the most austere and remote forward operating bases.
The CH-53K is a production platform; it will be fielded to the U.S. Marine Corps (USMC) as a fully-operational aircraft in 2019. By the time Germany receives its first aircraft, the CH-53K will have been in service with the USMC for five years. The CH-53K is the modern heavy lift solution that will provide the German Armed Forces with a proven heavy lift helicopter that can be entered into service seamlessly without need for upgrades for the next several decades.

Canada, Halifax: An Air Canada Airbus A320-200 was climbing through FL240 out of Orlando when the crew heard a thump from the belly of the aircraft and checked all indications without finding any anomaly. The crew decided to continue the flight to Halifax. On approach, when the crew selected the gear down, there was no response. The crew declared emergency, executed a missed approach and used alternate gear extension to lower the gear. The aircraft landed safely on Halifax's runway 32 and stopped on the runway due to lack of nose wheel steering. The aircraft was towed to the apron, where the passengers disembarked normally.
USA, William B. Hartsfield International Airport: A Delta Airbus A330-302 returned to land at Atlanta's William B. Hartsfield International Airport, Georgia, USA, following an issue with engine no.2. Shortly after departure, an issue with engine no.2 forced the crew to return to the airport. Smoke was observed coming from engine no.2. The aircraft was then stopped on the runway while ARFF services applied foam to the no.2 engine.
USA, Salt Lake City: A woman aboard a Delta flight was arrested for misdemeanour assault after reportedly attacking an air marshal and disrupting a flight from London to Salt Lake City. The woman allegedly poured coffee on passengers, knocked over a drink cart and ran up and down the aisle. After that chaos took place, she was requested to sit next to an air marshal seated in the back of the plane. Beach was initially cooperative, but after a trip back from the bathroom she reportedly approached the marshal from behind and jumped on his back while grabbing his head, neck and jaw line. A second marshal pulled her off of the other man and then put her in handcuffs for the remainder of the flight.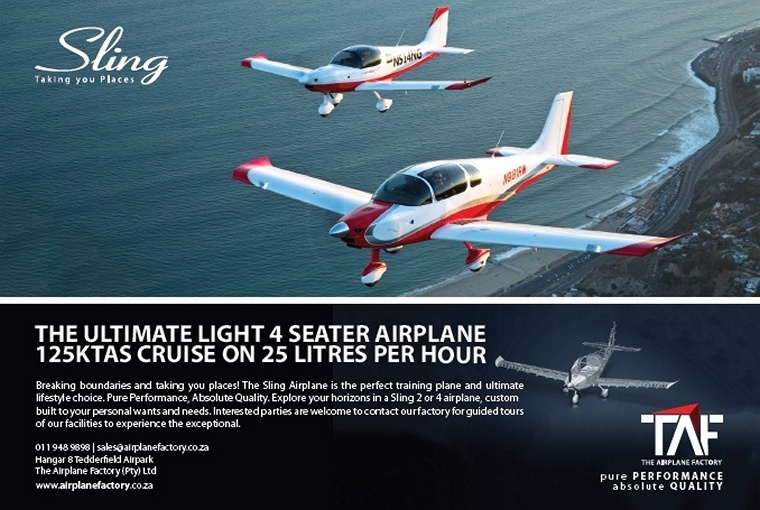 23 APRIL 1988

Kanellos Kanellopoulos (born 25 April 1957) is a Greek former cyclist. He was also the pilot and human engine for the 1988 MIT Daedalus project, completing the 72.4 mi (115.11 km) flight from Crete to the Greek island of Santorini in 3 hours, 54 minutes.


It was the longest human-powered flight in history. The pilot used hydration drink during flight. This feat was equivalent to two back-to-back marathons.
The craft was named after the mythological inventor of aviation, Daedalus, and was inspired by the Greek myth of Daedalus' escape from Crete using manmade wings.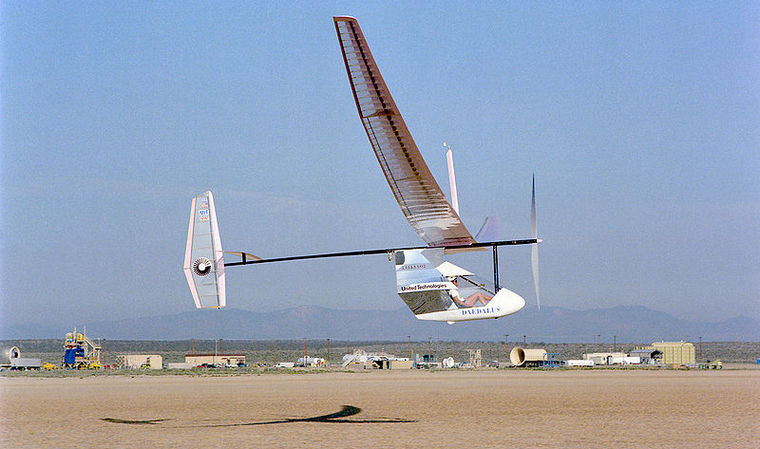 During the flight, the Daedalus flew primarily between 15 and 30 feet in altitude, and was accompanied by several escort vessels. The speed of the flight was helped by a tailwind, but this also made a head-on landing approach to the narrow beach hazardous, especially with crowds of spectators on the sand. The pilot maneuvered the aircraft to land more into the wind and parallel with the length of the beach. As the right wing extended over the black sand beach, the heat rising from the beach lifted that wing, turning the aircraft back towards the sea. This effect prevented the pilot from getting the whole aircraft onto the beach.
The flight ended in the water (7 meters from Perissa Beach on Santorini, according to the official record), when increasing gusty winds caused a torsional failure of the tail boom. Lacking control, the airplane then pitched nose-up, and another gust caused a failure of the main wing spar. The pilot swam to shore.