THIS WEEK IN MIDWEEK UPDATE

Plan Your Weekend……..Forthcoming Events…….Aviation News

Worldwide Incidents and Accidents……This Week in Aviation History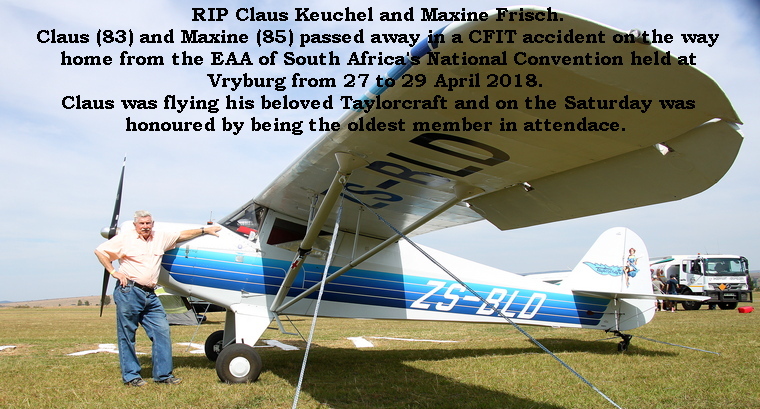 Race4Rhinos entries are now open. Guys and gals you don't want to miss this incredible event taking place at Sua Pan Botswana from 28 June to 1 July 2018. Only R6875 per team for entry plus accommodation and all meals. Fuel is free after arrival!!! Visit
www.airrace.co.bw
to enter now. Don't leave it to the last minute. This year is a world record attempt to have the most aircraft enter into an air race.
05: SAAF Museum Air Show AFB. Contact Officer Commanding - Museum
oc@saafmuseum.org.za
012 351 2290


12: Eagle Flight Academy Fly in Hartswater, Nothern Cape. Contact DJ Lubbe 0825576429 or email
info@eagleflight.co.za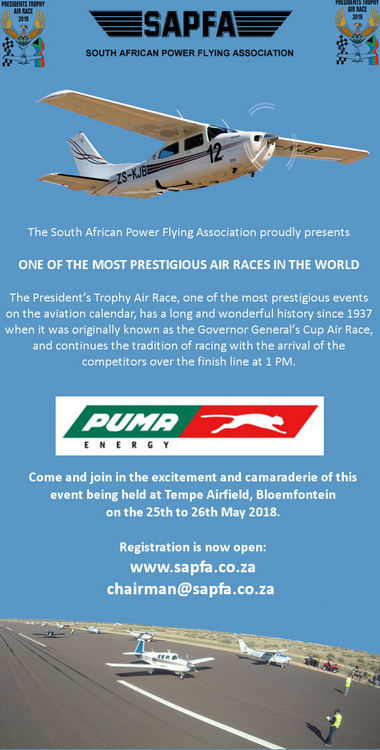 11 to 13: Battlefields Country Lodge Annual fly-in. Website:
www.battlefieldslodge.co.za
Contact Dave O'Halloran Tel 079 496 5286 E-mail:
gm@battlefieldslodge.co.za
12: Lowveld Kishuga Airshow Willemien Hodgkinson
willemien.hodgkinson@kishuga.com
079 499 5733 or
monica.fourie@kishugu.com
Cell: 083 619 3597
15 to 18: NAMPO Agricultural Trade Show near Bothaville, Free State. Contact Wim Venter Tel: 086 004 7246 E-mail:
Wim@grainsa.co.za
16 to 18: Drone Con 2018 Vodaworld Centre in Midrand. Contact Gisela Kirsten e-mail:
gisela@dronecon.co.za
19: Panorama Breakfast Fly in. Contact Alan 083 702 3680 or David 082 375 5614.
19: Swellengrebel Flying Club 60th birthday fly-in. Contact Pieter Venter E-mail:
pventer@vgv.co.za
19 & 20: SAC Free State Regionals Tempe airport Bloemfontein. Contact Annie Boon E-mail:
chunge@mweb.co.za
3rd Saturday of every month. Microland. Bring and braai. Fires and bykos provided. Fires start from 09h30. Contact person: Nick Swardt 082 441 8011 or Alan Hussey 072 82 2341
24 - 26: SAPFA President's Air Race Tempe, Bloemfontein. Rob Jonkers
chairman@sapfa.co.za
082 855 9435. Website:
www.sapfa.org.za
E-mail:
Race@sapfa.org.za
. Race director Robin Spencer-Scarr: E-mail:
robin@stylegroup.com.au
.
26: Matsieng Airshow. Contact Riaan van Vuuren E-mail:
riaan@gir.co.bw
Tel: +26 771 66 1201

2: SAAF Museum AFB Zwartkop open practise day. Officer Commanding - Museum
oc@saafmuseum.org.za
012 351 2290
2: Kroon Fly in. Rosslyn Micro Flyers. Breakfast R50.00. Contact Dawie 082 596 2355 or Marius 083 419 6613.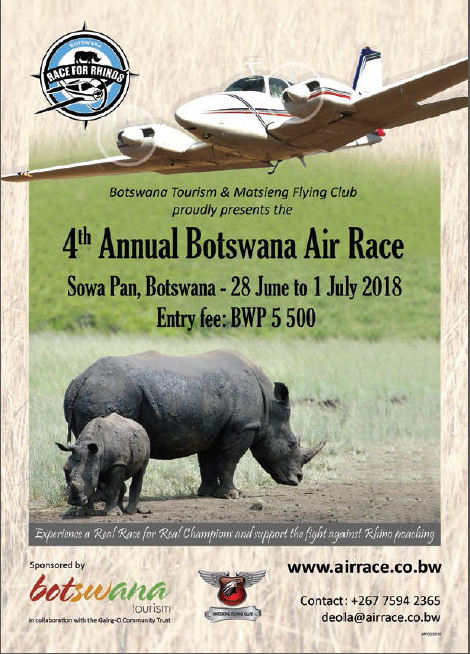 6: EAA Chapter 322 meeting. Dicky Fritz Moth Hall Edenvale. Contact:
editor@afskies.co.za
9: Champ Newcastle Airshow.
johan@champ.co.za
082 923 0078
9: Bethlehem Fun Rally - Bethlehem Airfield. Contact Rob Jonkers e-mail:
rob@aerosud.co.za
Cell:082 804 7032
23: Reefsteamers NPC- Krugersdorp Flying Club - Vintage and Veteran Car Club 23 June 2018 event .. RS Train -vintage planes, cars and bikes. Contact Ian Morison
imorison@worldonline.co.za
3rd Saturday of every month. Microland. Bring and braai. Fires and bykos provided. Fires start from 09h30. Contact person: Nick Swardt 082 441 8011 or Alan Hussey 072 82 2341
24-28: South African Hot Air Balloon Championships 2018, Skeerpoort North West Province. Contact Richard Bovell
richard@bovellross.com
28 June- 1 July: Race for Rhinos - Kuba Island - Botswana. Contact Chris Briers e-mail:
chris@airteam.co.za
cell: 082 568 7988

4: EAA Chapter 322 meeting. Dicky Fritz Moth Hall Edenvale. Contact:
editor@afskies.co.za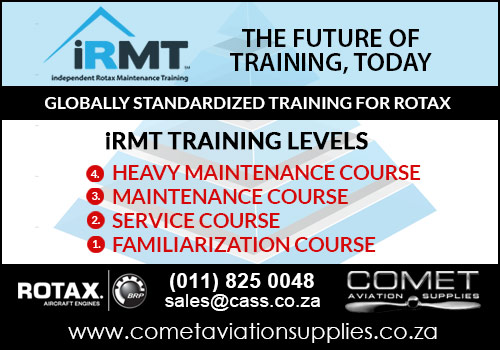 6-10: Zim Navex - Prince Charles Airport - Harare. Marion Kalweit - 2017 Air Rally Committee email:
zimairrally@gmail.com
Tel +263772570009
8: SAAF Museum AFB Zwartkop open practise day. Officer Commanding - Museum
oc@saafmuseum.org.za
012 351 2290
14-16: Nysltroom Taildraggers.Contact Richard 082 490 6227
14: SAC Judges Trophy. Kitty Hawk. Contact Annie Boon
chunge@mweb.co.za
14: Hoedspruit Fun Rally. Contact Wynand Uys email:
wynand@ottersden.co.za
or Frank Eckard e-mail:
frank.eckard@mweb.co.za
cell: 083 269 1516
3rd Saturday of every month. Microland. Bring and braai. Fires and bykos provided. Fires start from 09h30. Contact person: Nick Swardt 082 441 8011 or Alan Hussey 072 82 2341

The Aviation Radio Show; get all your questions answered in one place. To listen to a recording of the live broadcast click on the link:

www.debela.co.za/aviation-radio-show




AIRVENTURE 2018, VAN'S AIRCRAFT ONE WEEK WONDER PROJECT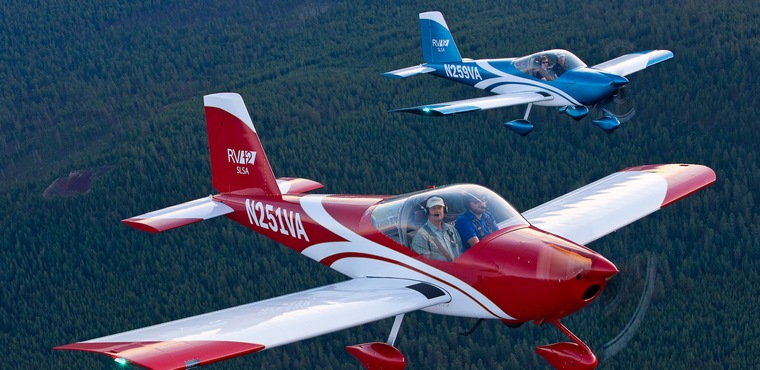 Van's Aircraft is working in collaboration with EAA on this year's One Week Wonder project. Photo © Van's Aircraft.


The focus of the project is for the airplane to be built by volunteers. Some installing just a rivet or two, and some participating in a more major role. As can be imagined it will require many hands to complete the aircraft build in 6.5 days so a team of volunteers is being sought. Anyone with an interest in being part of the build team, fill out the online application form (linked below). Teens involved with teen build groups are encouraged to register. (Please mention you're a teen builder in the comments section)
Additional information will be sent via e-mail as the plan evolves.
info@vansaircraft.com

ZENITH AIRCRAFT AT SUN 'N FUN 2018




Here's our brief follow-up report from Sun 'n Fun earlier this month, and the 1,000 mile flight to central Florida from the Zenith Aircraft kit factory in Missouri.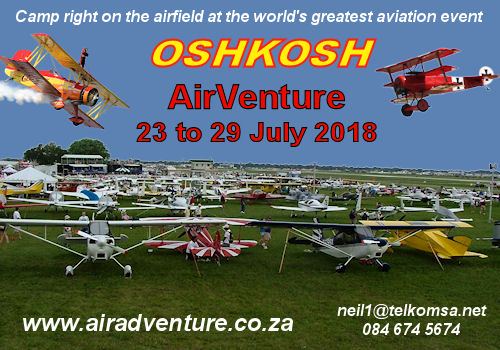 Flying cross-country in a light airplane is not just about getting to your destination, but about the journey and the stops along the way. We've been making this trip for many years and have learned to enjoy the views and the stops along the way. Zeniths are great for personal transportation, but the flight getting there is often more memorable than the actual destination. We flew three airplanes to Sun 'n Fun: The new STOL CH 750 Super Duty, the Zenith CH 750 Cruzer and the low-wing Zenith CH 650.
Zenith staff enjoyed meeting with existing and new Zenith builders during the six days of Sun 'n Fun:Viking Aircraft Engine's newly completed STOL CH 750 Super Duty was a pleasant surprise to see at Sun 'n Fun 2018. We shipped the kit to them just a couple of months ago and they were able to fly the completed plane to Lakeland: a real testament to the ease and completeness of the newest Zenith kit! Watch the video to learn about this new CH 750 Super Duty with the 180-hp turbocharged Honda-based engine: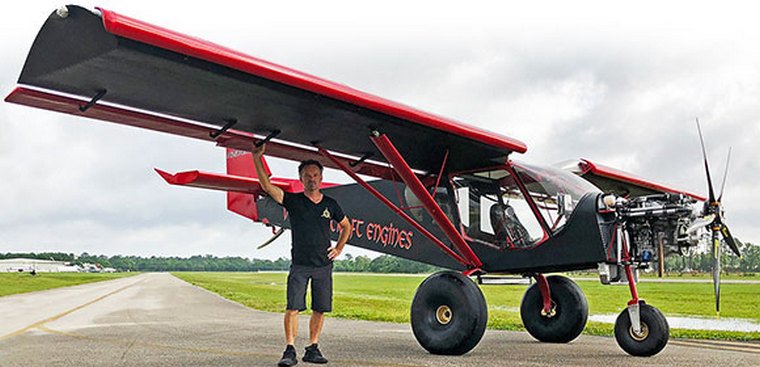 Jan of Viking Engines (which converts Honda auto engines for use on aircraft) plans to depart soon on a 4,000 mile trip to Alaska (from Florida) to attend the upcoming Great Alaska Aviation Gathering (see below) and the Valdez STOL competition with his Zenith STOL CH 750 Super Duty! Check their Facebook page for updates of their trip.
Our journey home to the Zenith Aircraft factory was nearly as enjoyable as the trip to Florida. Watch the videos and read the blog post for more from Sun 'n Fun.
ZIL AIR ORDERS TECNAM P2012 'TRAVELLER' AIRCRAFT




Tecnam announced that Seychelles based Zil Air has placed an order of a P2012 Traveller aircraft, and are in further talks of extending the purchase to a second aircraft in the following year. Photo © Tecnam.


Zil Air is the premium provider of aerial limo services in the Seychelles and is renowned for offering its customers the ultimate in luxury and safety.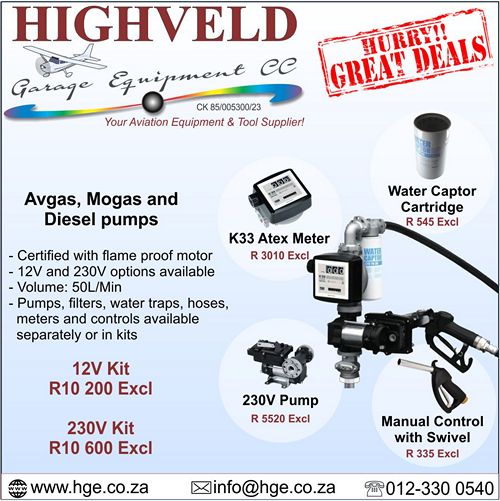 The arrival into service of the next-generation 11 seat P2012 Traveller is much anticipated by many operators, who have been demanding a replacement for the many hundreds of 'heritage' aeroplanes in the FAR23/CS23 category currently in service around the world.
"We are delighted with the number of orders and the wide range of customers we have received the eagerly anticipated P2012. This next- generation aeroplane will deliver to operators not only profits, but reliability, efficiency and off course passenger comfort" said Paolo Pascale, Tecnam's CEO.
"The Tecnam P2012 Traveller is the perfect aeroplane to help our business grow and enables us to meet the Seychelles' tourism sector's demand for affordable and reliable air access," said Francis W. Savy, Zil Air's Executive Director.
Equipped with latest avionics from Garmin, the new G1000 Nxi and powered by two 375 HP Lycoming piston engines, the Tecnam P2012 Traveller will first see service as a passenger aeroplane with US based Cape Air in early 2019, but has been designed from the start to be a very versatile and flexible aerial platform, offering many multi role opportunities including Hydro, VIP, cargo shipping, parachuting and medevac services.
Zil Air is expected to take delivery of its first P2012 in July 2019, and launch commercial operations later in the same year.

PIPER'S DELIVERIES AND REVENUE RISE IN FIRST QUARTER 2018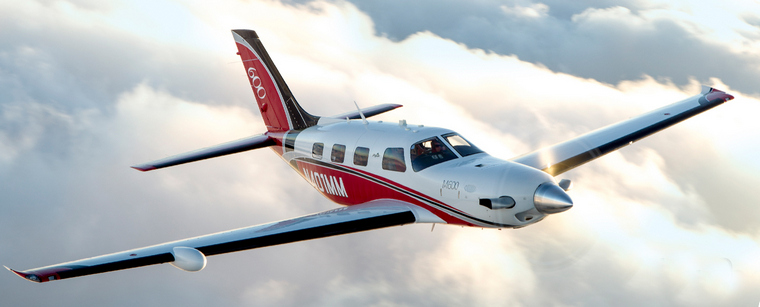 Piper Aircraft Inc. announced its aircraft sales and delivery results for the first quarter of 2018, ending March 31. The company continued to grow its new aircraft deliveries and revenue with the company's flagship product, the turbine powered, M600 leading the company's performance success. Photo © Piper.

Additionally, Piper trainer sales growth continues to be led by the proven Archer platform with sales backlog into Q3 2019.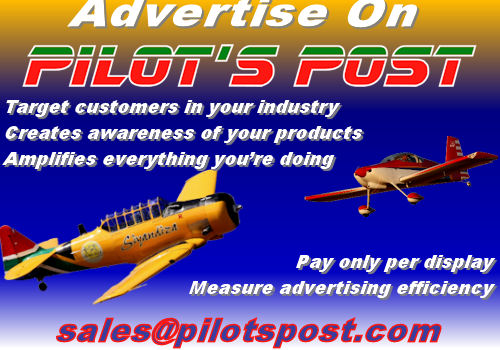 First quarter 2018 performance showed a positive trend on the heels of a 27% growth in billings for 2017. Airplane deliveries increased more than 36% to 34 aircraft in the first quarter of 2018, up from 25 airplanes during the first quarter of 2017. New aircraft sales revenue grew more than 77% to $41,379,227, when compared to sales of $23,383,514 during the same period the previous year. The growth in revenue reflects strong demand for M-class products with the M600 sales expanding by more than 100%.
"Our first quarter performance is a strong indicator of the demand for all Piper products across the board and continues the consistent growth in sales that we began to experience in 2016," said Piper President and CEO Simon Caldecott. Our sales success is made possible by our dedicated, experienced workforce, world class /full service Dealer Partners and a stable, long term focused ownership body."
Simon Caldecott continued, "It is important to note that not only did M-Class sales increase, but deliveries of our trainer products continued to grow as well. In the first quarter of 2018 we delivered nearly 16% more trainers than we did in Q1 of 2017, which was a combination of the single engine Archer, the single engine, complex Arrow, as the twin engine Seminole. With our unwavering commitment to trainer market, along with the only complete trainer line of products, we expect demand for Piper trainer products to remain strong.
PC-24 SUPER VERSATILE JET TO AUTHORIZED PILATUS CENTER WESTERN AIRCRAFT DELIVERED



The Authorized Pilatus Sales and Service Center Western Aircraft, a Greenwich AeroGroup Company, took delivery of the first PC-24 Super Versatile Jet to the Pilatus dealer network. Photo © Pilatus.

In a ceremony at Pilatus Business Aircraft Ltd's facility in Broomfield, Colorado, Western Aircraft, an Authorized Pilatus Sales and Service Center since 1996, took delivery of PC-24 serial number 102. It is the second production delivery of the newly certified Super Versatile Jet.
Western Aircraft, based in Boise, Idaho, sells and services Pilatus aircraft in the northwestern United States. Covering Alaska, Northern California, Hawaii, Oregon, Washington, Idaho, Nevada, Utah, Montana, Wyoming, North Dakota, and South Dakota, Western Aircraft has sold more than 230 new Pilatus PC-12s, making it the most successful dealership in the world for the popular single-engine turboprop.
Western's focus on superior customer service has also been a key part of the Pilatus service network's achievement of 16 consecutive years of number 1 ranked customer support, as rated by independent industry surveys.
Western Aircraft flight crews have already completed their PC-24 type ratings at FlightSafety International, and the maintenance teams have been through training, as well. All special support tooling and spare parts for the PC-24 are already in inventory. Western has enrolled the aircraft in the PC-24's comprehensive CrystalCare™ engine, airframe, and avionics maintenance program, and will base the aircraft at their headquarters in Boise, Idaho. In addition to demonstration flying, the aircraft will eventually be available for charter on a limited basis.
TORNADO SUCCESSOR: TEAM EUROFIGHTER PRESENTS OFFER TO GERMANY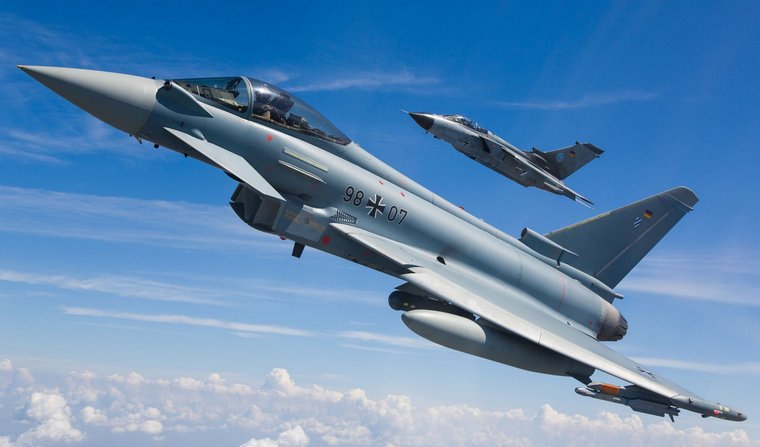 On the eve of the ILA Berlin Air Show 2018, Airbus and Eurofighter GmbH have submitted their offer to the German Ministry of Defence for a replacement of the Bundeswehr's ageing Tornado combat aircraft, which was developed in the 1960s, and have established the Eurofighter as its ideal successor. Photo © Airbus.

Currently, the German Air Force is planning to phase out the Tornado from 2025 onwards and to transfer capabilities to another weapon system. As the Eurofighter system is already in use by Germany, this system could seamlessly adopt the capabilities of the Tornado aircraft. In addition, increased use of the same type of aircraft would result in considerable cost savings in terms of support services and training costs due to economies of scale, which would also reduce per-hour flying costs within the German Armed Forces.
In the medium term, the further development of the Eurofighter will provide the technological basis for the next generation of European combat aircraft. The intent of collaboration was agreed between France and Germany in July 2017 and these aircraft are currently expected to enter into service around 2040.
In the UK, Eurofighter is already increasingly taking over the tasks of the Tornado, as the Royal Air Force has decided to retire its Tornado fleet in 2019.
The Bundeswehr currently operates 130 Eurofighters and 90 Tornados. The German Air Force's fleet of combat aircraft is used both for missions to secure airspace sovereignty over Germany and in international NATO alliance missions around the world.
AIRBUS HELICOPTERS AND SCHIEBEL SUCCESSFULLY DEMONSTRATE THE HIGHEST LEVELS OF MANNED-UNMANNED TEAMING CAPABILITIES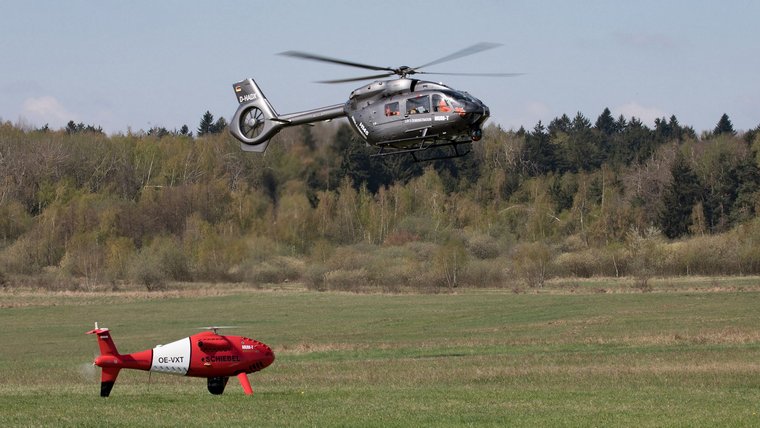 Airbus Helicopters and Schiebel have tested Manned Unmanned Teaming (MUM-T) capabilities between an H145 platform and a CAMCOPTER® S-100 Unmanned Air System (UAS), thus becoming the first European helicopter manufacturers to demonstrate this technology with the highest level of interoperability (LOI°5). Photo © Airbus.

The companies carried out test flights with the support of the Austrian Armaments and Defence Technology Agency. The two aircraft jointly flew different scenarios including the detection of objects hidden in places not accessible by traditional helicopters. The S-100 was controlled and piloted by an operator sitting in the helicopter. During the flights, the control was also temporarily handed over to a ground-based control station by the pilot in order to simulate the return of the manned helicopter for refuelling.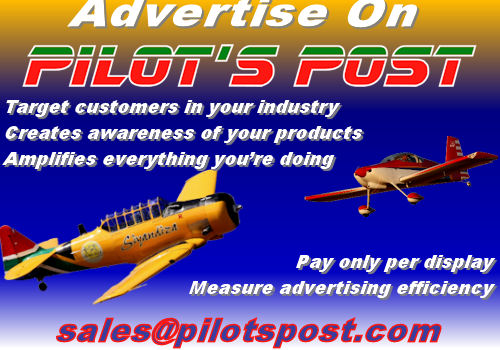 The trials carried out by Airbus Helicopters and Schiebel went up to MUM-T LOI 5. This allows the manned platform to exercise full control of the UAS including its take-off and landing. LOI 1, the lowest level, is the indirect receipt and /or transmission of sensor data obtained by the UAS to the manned aircraft.
"Manned-Unmanned Teaming multiplies the capabilities of both systems", said Mark R. Henning, Program Manager at Airbus Helicopters. "Smaller UAS with vertical take-off and landing capabilities can, for example, fly around obstacles as trees or buildings closer than a helicopter could. They are able to explore unknown territory and deliver information to the helicopter crew which is operating from a safe position and which can then step in with the helicopter's superior effects, having received a clear picture from the UAS. Our airborne MUM-T management system will become a highly attractive feature for our entire product range including the NH90, NFH, and the Tiger together with the H145 as it adds an extremely valuable operational capability. The MUM-T capability can be implemented in any kind of helicopter and can interact with all types of unmanned systems, in particular Airbus Helicopters' new VSR 700 UAS.
In the framework of the test, the challenges of data transfer interference and electromagnetic compatibility of the UAS with the helicopter as well as the integration of a complete UAS mission planning and control system into the helicopter's architecture were successfully managed. The S-100 mission planning and control system was provided by Schiebel. The next step will be to optimize the human machine interface based on a thorough analysis of the crew workload using the results of the flight tests.
The H145 is a tried-and-tested, twin-engine H145 civil helicopter that was first delivered in 2014. It is a rugged workhorse and best in its class for rough EMS and police missions. The H145M is the helicopter's military version.

USA, Lake Havasu City Municipal Airport: An US Air Force Lockheed Martin F-16C Block 42J assigned to the 56th FW at Luke AFB diverted and attempted to land at Lake Havasu City Municipal Airport during a routine training flight. During landing the aircraft suffered a runway excursion and the pilot ejected safely.
USA, Naval Air Station Kingsville: A North American SNJ-5 (AT-6D) Texan crashed shortly after take-off under unknown circumstances. The two occupants died and the aircraft was damaged beyond repair.
Japan, Amami Airport: No injuries or damage were reported after a U.S. military helicopter MV-22 Osprey of the 1st Marine Aircraft Wing made an precautionary landing in Kagoshima prefecture, the third such incident in the past week.
England, Newquay Airport: A Flybe Embraer195 with 195 passengers on board traveling from Newquay Airport to Gatwick Airport in England made an emergency landing on Tuesday morning after the cockpit windshield cracked just after take-off. The crack appeared "in the outer layer of the plane's windscreen. The aircraft was able to land safely after the incident.
USA, Hillsboro Portland: Following a loss of engine power a Yak 52 force landed in Washington County west-southwest of the Portland-Hillsboro Airport (KHIO) in Hillsboro, Oregon. The airplane sustained substantial damage and the two occupants on board received apparent serious injuries.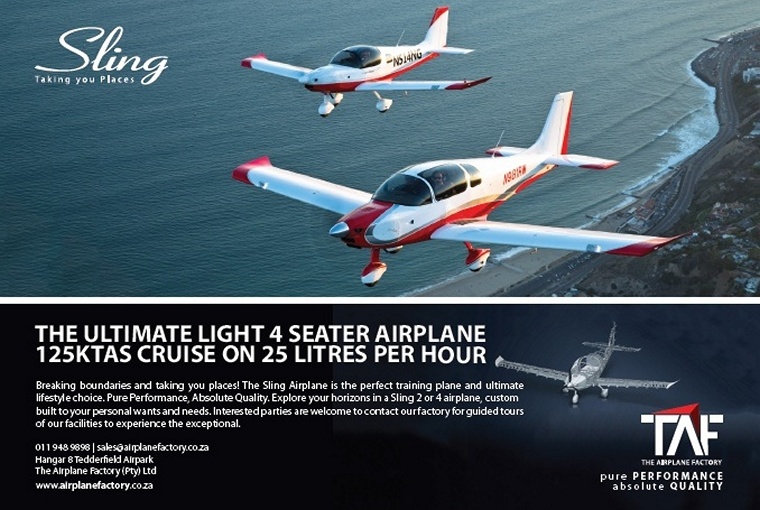 29 APRIL 1905

Daniel Maloney is launched by balloon in a tandem-wing glider designed by John Montgomery to an altitude of 4,000 feet before release and gliding and then landing at a predetermined location as part of a large public demonstration of aerial flight at Santa Clara, California.

Daniel John Maloney (circa 1879 - 18 July 1905) was an American pioneering aviator and test pilot who made the first high-altitude flights by man using a Montgomery glider in 1905.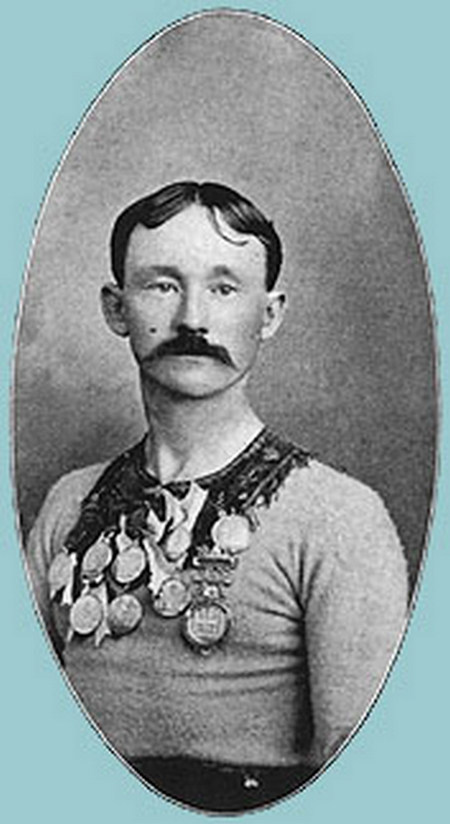 Maloney started his career in aviation by making parachute jumps and trapeze stunts from tethered hot-air balloons in the 1890s. Many of the parachute jumps occurred at heights of 500-800 feet above the ground. By 1904 he became a full-time aerial exhibitionist.
In early 1905 Maloney was hired by John J. Montgomery to serve as an aeronaut for a tandem-wing glider design called the Montgomery Aeroplane. Maloney was trained by Montgomery on the workings of the glider at Aptos, California through a series of unmanned ballasted test flights, with the goal of launching the glider at high altitudes after ascending under a hot-air balloon.
On 16 March 1905, this method was attempted for the first time with Maloney as pilot. After a first failed launch attempt, on a second attempt Maloney was carried aloft in the glider under the balloon, released at an estimated 800 feet and glided back under full control to a landing in a nearby apple orchard without damage.
These experiments of March 1905 were made in a private setting, with Montgomery increasing the Maloney's control authority over the aircraft on each subsequent flight. With each flight Maloney was able to control the glider through wing warping and a controllable elevator, and landed lightly on his feet.
On 290April 1905, Maloney repeated these performances through a public exhibition at Santa Clara Colleget. With a large crowd and members of the local press on hand, Maloney released at an estimated 4,000 feet above ground level, and glided in full control for roughly 20 minutes to a perfect landing a predetermined location
On 18 July 1905 Maloney and Montgomery repeated their demonstration at Santa Clara College. However, during the ascension a rope from the balloon struck the glider and damaged the rear cabane. Upon release from the balloon at altitude, and after making a few circles under complete control, Maloney dove the aircraft to increase speed and pulled up. The glider suffered structural failure and plummeted to the Earth. Daniel Maloney died as a result of the injuries suffered during this crash.