Plan Your Weekend……..Forthcoming Events…….Aviation News

Worldwide Incidents and Accidents……This Week in Aviation History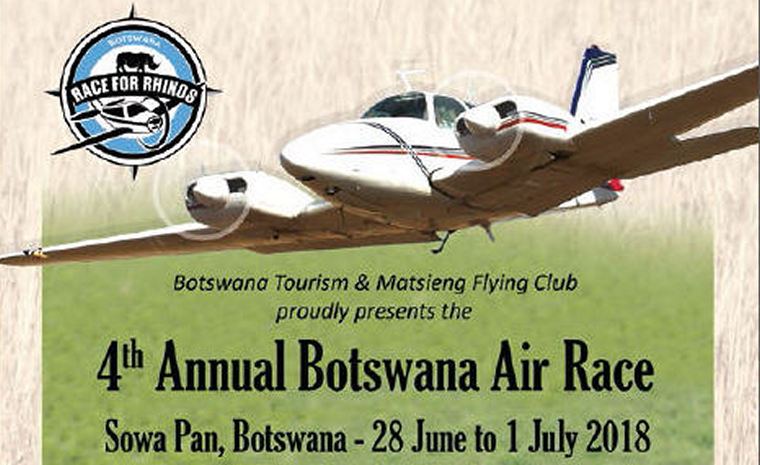 Race4Rhinos entries are now open. Guys and gals you don't want to miss this incredible event taking place at Sua Pan Botswana from 28 June to 1 July 2018. Only R6875 per team for entry plus accommodation and all meals. Fuel is free after arrival!!! Visit
www.airrace.co.bw
to enter now. Don't leave it to the last minute. This year is a world record attempt to have the most aircraft enter into an air race.
2: SAAF Museum AFB Zwartkop open practise day. Officer Commanding - Museum
oc@saafmuseum.org.za
012 351 2290
2: Kroon Fly in. Rosslyn Micro Flyers. Breakfast R50.00. Contact Dawie 082 596 2355 or Marius 083 419 6613.
2: Champ Newcastle Airshow.
johan@champ.co.za
082 923 0078
6: EAA Chapter 322 meeting. Dickie Fritz Moth Hall Edenvale. Contact:
editor@afskies.co.za


9: Bethlehem Fun Rally - Bethlehem Airfield. Contact Rob Jonkers e-mail:
rob@aerosud.co.za
Cell:082 804 7032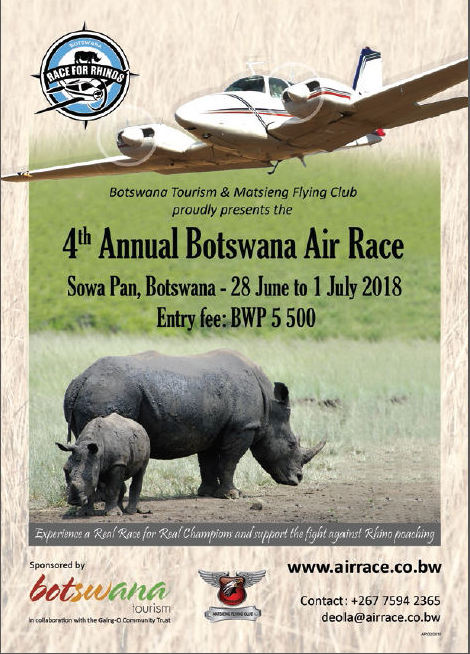 16: Brakpan Aero Club. Cessna Fly in. Attempt to have the most Cessnas on a South African airfield. For more information contact: 071 5422 993
23: Reefsteamers NPC- Krugersdorp Flying Club - Vintage and Veteran Car Club 23 June 2018 event. RS Train -vintage planes, cars and bikes. Contact Ian Morison
imorison@worldonline.co.za
3rd Saturday of every month. Microland. Bring and braai. Fires and bykos provided. Fires start from 09h30. Contact person: Nick Swardt 082 441 8011 or Alan Hussey 072 82 2341
24-28: South African Hot Air Balloon Championships 2018, Skeerpoort North West Province. Contact Richard Bovell
richard@bovellross.com
28 June- 1 July: Race for Rhinos - Kuba Island - Botswana. Contact Chris Briers e-mail:
chris@airteam.co.za
cell: 082 568 7988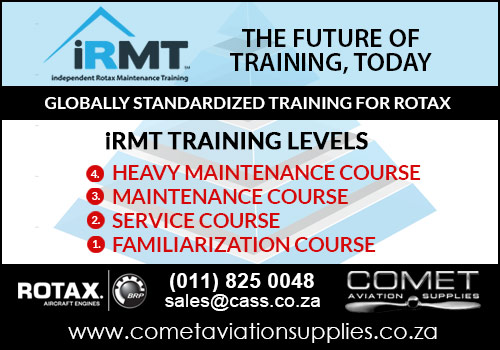 4: EAA Chapter 322 meeting. Dickie Fritz Moth Hall Edenvale. Contact:
editor@afskies.co.za
6-10: Zim Navex - Prince Charles Airport - Harare. Marion Kalweit - 2017 Air Rally Committee email:
zimairrally@gmail.com
Tel +263772570009
8: SAAF Museum AFB Zwartkop open practise day. Officer Commanding - Museum
oc@saafmuseum.org.za
012 351 2290
14-16: Nysltroom Taildraggers. E-mail: Richard Cell: 082 490 6227
Richard.nicholson1963@gmail.com
14: SAC Judges Trophy. Kitty Hawk. Contact Annie Boon
chunge@mweb.co.za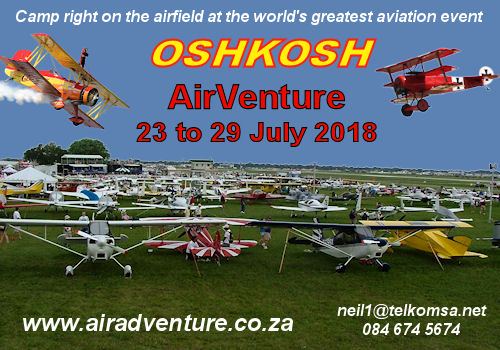 14: Hoedspruit Fun Rally. Contact Wynand Uys email: wynand@ottersden.co.za or Frank Eckard e-mail:
frank.eckard@mweb.co.za
cell: 083 269 1516
21: Krugersdorp Flying Club Airfield Festival and spot landing competition. Contact
kfc@iafrica.com
or phone 082 374 5559
3rd Saturday of every month. Microland. Bring and braai. Fires and bykos provided. Fires start from 09h30. Contact person: Nick Swardt 082 441 8011 or Alan Hussey 072 82 2341
23 -29: EAA AirVenture Oshkosh, Wisconsin, USA
Camping on the airfield contact Neil Bowden E-mail:
neil1@telkomsa.net
Hotels in Appleton contact Calvin Fabig E-mail:
calvin@designer.co.za

1: EAA Chapter 322 meeting. Dickie Fritz Moth Hall Edenvale. Contact:
editor@afskies.co.za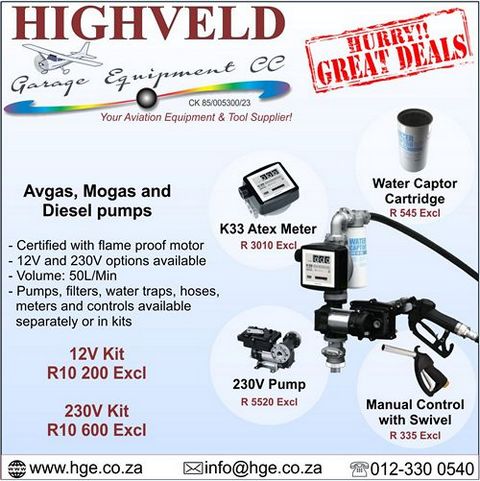 1-5: SAC SA Nationals Tempe Bloemfontein. Contact Annie Boone
chunge@mweb.co.za
5: SAAF Museum AFB Zwartkop open practise day. Officer Commanding - Museum
oc@saafmuseum.org.za
012 351 2290
3rd Saturday of every month. Microland. Bring and braai. Fires and bykos provided. Fires start from 09h30. Contact person: Nick Swardt 082 441 8011 or Alan Hussey 072 82 2341
9: Stellenbosch Flying Club Women's Day Fly in. Contact Alison Navarro 083 728 78386
architecnic1953@gmail.com
or Louise Hofmeyer 083 454 1104 louise@airshowsa.org.za
19: Rand Airport Airshow. Contact Stuart Coetzee E-mail:
manager@randairport.co.za
Tel: 011 827 8884
19: World Helicopter Day. Henley Air Rand Airport.
25: Sheila Taylor Fun Rally - Krugersdorp Airfield. Contact Grant Rousseau Cell: 082 329 3551E-mail:
gr@kama.co.za
25 - 25: Bethlehem Airshow Stefan Fourie
fouriesj1491@gmail.com
072 344 9678

The Aviation Radio Show; get all your questions answered in one place. To listen to a recording of the live broadcast click on the link:

www.debela.co.za/aviation-radio-show





STEMME VOTED BY AEROKURIER READERS AS BEST AIRCRAFT INNOVATOR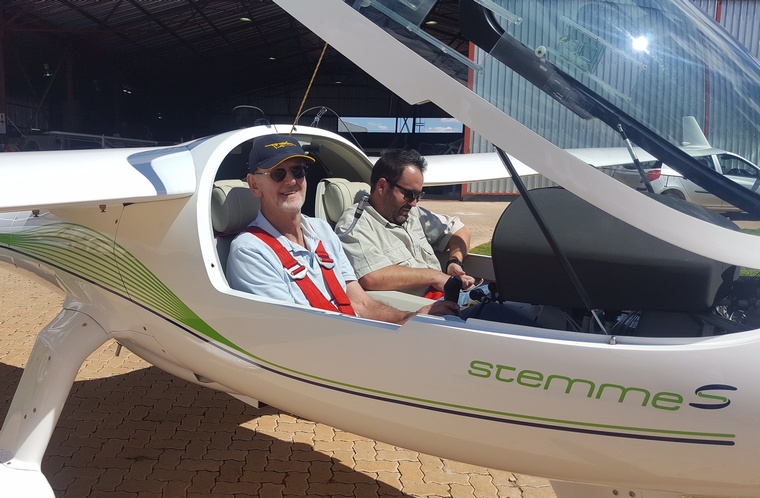 This year at Aero, Stemme kept its promise to bring new models to the market. On their booth was the glass cockpit S12-G with 25m wing span, dual Garmin G3X, auto-pilot and soaring flight computer. Along side was the new S12-SW entry level, 21,7m wing span with advanced winglets to optimise performance. Photo © Stemme

Stemme has obviously read the market right by bringing to Aero, the two most advanced motorised gliders ever conceived - they sold two aircraft off the booth.
Back home, Stemme-Africa has been active too. This month an S6-T 18m touring motor glider arrived at Potchefstroom and we can't get the grin off the new owner's face. With full span camber changing flaps, the S6 is the highest performance TMG ever produced, with a turbo charged motor to get out of our high density altitude air strips. Every time it takes off at Potchefstroom, heads turn due to its quiet powerful exhaust sound and futuristic looks.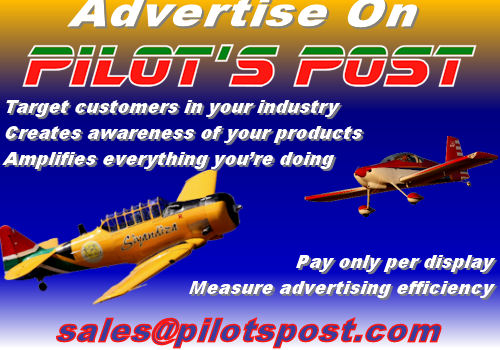 In July, the first South African S12 arrives, and will be operating from Springs airfield. Peter Bailey used to operate an S10-VT, which we took over and renovated to become our demonstrator.
With major successes in both the utility and sport aviation markets, Stemme has had to treble its engineering staff and production facilities. In 2017, Stemme acquired the modern Remos factory in Pasewalk, where now Stemme composite parts will be produced alongside the upmarket Remos LSA. The S12 assembly capacity near Berlin will expand with a brand new building, due for completion in a year's time.
Stemme-Africa's S10-VT will be on display at selected airshows and fly-ins this season, and Stemme will be making its mark at AAD-2018.
Stemme-Africa is based centrally at Gariep Dam, South Africa's premier soaring region. Under power we can reach almost anywhere in the country in a few hours to meet serious clients on half a tank of 95 ULP.

THE CHINOOK PLUS 2 LIGHT SPORT AIRCRAFT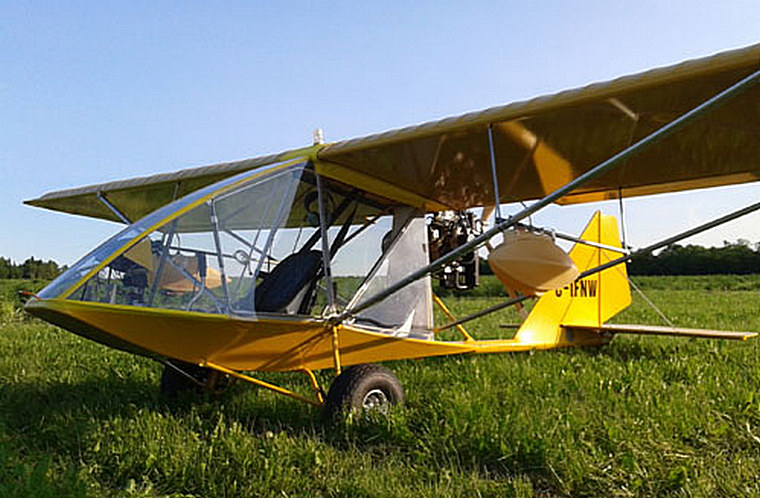 The ultimate affordable bush plane is available with 2-stroke and 4-stroke engine options. Photo © Chinook.

The standard in light sport bush planes! The Chinook Plus 2 typically equipped with a Rotax 582 (65 HP) and is the gold standard in short/soft field capability, useful load, ruggedness, reliability, range and cockpit size with unlimited visibility. Fuel capacity with up to four fuel tanks with 22 gallons usable fuel, with options for tundra tires, skis or floats, this aircraft can literally take you where no other aircraft can in its class.
An Ultralight is not only a fun machine, it should also be usable for utility purposes -- training, fishing trips, crop-spraying and even for freight carrying. But an Ultralight should be affordable by many people, so it shouldn't become expensive. The wings, for example, can't be complicated. They should be easy to build and fix.
The WT-11 was designed to comply with the then-new US FAR 103 Ultralight Vehicles category, including the maximum 254 lb (115 kg) empty weight. With the 28 hp (21 kW) Rotax 277 single cylinder, two stroke powerplant the aircraft has a factory standard empty weight of 250 lb (113 kg). The 35 hp (26 kW) Rotax 377 engine became quickly available as an option to give the aircraft more power on floats.
he Chinook Plus 2 is available in kit form with a large number of engine options, including the 50 hp (37 kW) Rotax 503, the four-stroke 60 hp (45 kW) HKS 700E, the 64 hp (48 kW) Rotax 582 and the 80 hp (60 kW) Rotax 912. The heavier engines, particularly the Rotax 912, have been noted as changing the aircraft's handling characteristics and making the aircraft less stable in pitch and yaw.

TECNAM AND INTERNATIONAL AERO ACADEMY ANNOUNCE AIRCRAFT FLEET ACQUISITION



Tecnam, one of Europe's leading manufacturers of general aviation aircraft and International Aero Academy, Ltd. ("IAA") today announced they have completed an aircraft purchase agreement for an initial six (6) P2008 aircraft with the first delivery scheduled in the 2nd quarter of 2018. Photo © Tecnam


The IAA Tecnam P2008, will be equipped with state-of-the-art Garmin G3X touch screen displays. GTN-650 GPS/Com/Nav and a GTX45R that provides ADS-B in and out, traffic and weather. To enhance primary training, the Garmin displays can be quickly reconfigured to display the classic six-pack instrument view. Building on the base of European FTO's utilizing the P2008, IAA will be the first FAA part 141 flight academy to acquire a fleet of P2008's.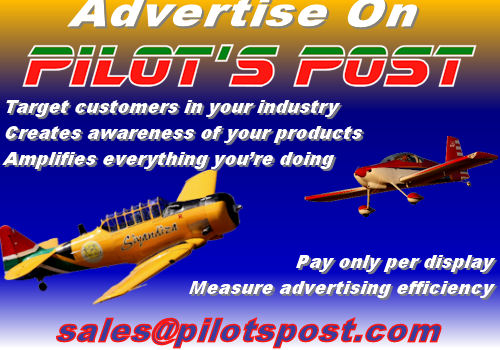 IAA is a Lakeland, FL-based FAA-certificated ab initio and accelerated flight academy with authority to issue foreign student visas for training. With its focus on training the next generation of domestic and foreign professional pilots, IAA has a modern 12,000 square foot maintenance facility with dedicated maintenance professionals, and over 12,000 square feet of office, onsite dormitory housing for students and training space.
"We are thrilled to have been selected by IAA for their next generation of training aircraft. The P2008 will deliver unprecedented economics to flight schools with its proven low-fuel consumption Rotax engine, next generation avionics suite, durable strategic combination of carbon fiber and metal, and U.S.-based AOG support," said Shannon Yeager, Tecnam Director of Sales. "We look forward to supporting the IAA team and the entry into service of the P2008 with anticipated aircraft utilization exceeding 1,000 hours per year."
"The Tecnam P2008 represents enhanced evolution in primary flight training for both students and flight academies: (i) next generation avionics, (ii) reduced maintenance costs (iii) state of the art materials integration (iv) remarkably low fuel consumption that effectively operates as a long-term hedge against potential increases in fuel cost," said Gerald Gitner, IAA's Non-Executive Chairman.

SWISSHELICOPTER (MSH) REBRANDS ITS FAST-GROWING BUSINESS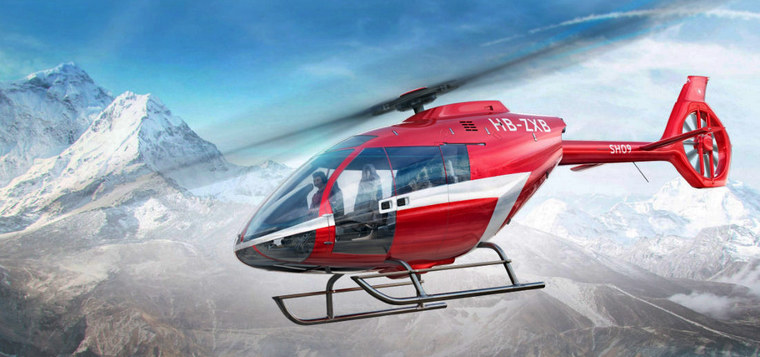 MSH, the Swiss helicopter manufacturer, has unveiled its new brand name. Photo © Kopter.


During an inauguration event held at its recently completed orporate/engineering facility, the company's CEO, Andreas Loewenstein, introduced Kopter to customers, suppliers, partners and staff.
Kopter marks a new chapter in the company's history. The launch is an opportunity for the company's leadership to share its ambitious business strategy, as well as news about its upcoming flight test programme and the start of production of the SH09 helicopter.
Positioned in the 2.5 metric ton class, the SH09 helicopter is designed to stand out from the competition. It offers outstanding hot and high performance and a low noise signature from the newly developed dynamic assembly and shrouded tail-rotor.
The modularity of the cabin makes the most of the flat floor and the unique high ceiling concept, offering multiple seating arrangements with 5 to 8 individual crashworthy seats and facilitated rear access loading through the clamshell doors for cargo and medical stretchers, both addressing the passenger transport and emergency evacuation roles of the helicopter. Engineered using the latest technology in high tech materials and composites and benefiting from the extensive experience of the light to medium turbine helicopter market and the most up-to-date technology contributed to the development of an all new, state-of-the-art helicopter design.
The introduction of the Kopter name, logo and brand design is a decisive step that places the business as a potential leader in the marketplace. By simplifying the brand, Kopter will be better placed to tell the world its story. The distinctive branding will be accompanied by a bold new strapline that outlines the business's everyday aim - and its ongoing vision - for missions accomplished.
"Our new name provides us with immediate recognition. It allows us to own a word that is synonymous with helicopter travel. As we are an unmistakably Swiss company, the use of a 'k' - instead of a 'c' - gives the Kopter a strong, Swiss-Germanic feel. It has a feeling of solidity and dependability - two things that are essential in our industry."
"Kopter is a modern name. In branding as in engineering, confidence is delivered through simplicity of thought. Kopter is a marker in the ground to let people know we have arrived - and we're here to stay."
Kopter also makes a promise to its customers: whatever the missions, whatever the times, wherever the places, Kopter will get you where you're going - safely, quickly and consistently.

VIKING ENTERS 2ND YEAR OF MAINTENANCE PLUS TWIN OTTER SERIES 400 SUPPORT CONTRACT WITH PERU AIR FORCE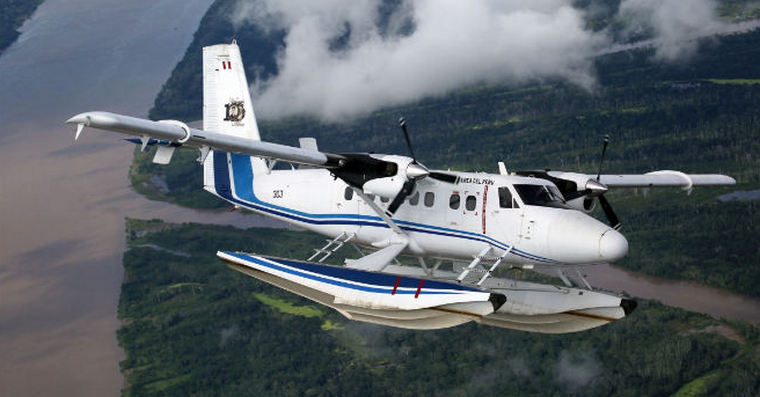 Pictured above: the Fuerza Aerea del Peru (FAP) fleet of twelve Series 400 Twin Otters have been in active service supporting remote communities in North East Peru with critical insfrastructure support since 2011. Photo © Danny Moeri.

Viking Air Limited of Victoria, British Columbia, Canada, and the Fuerza Aerea del Peru (FAP) have entered the second year of a multi-year contract under Viking's Maintenance Plus (M+) Program for the comprehensive support of twelve Twin Otter Series 400 aircraft operated by the FAP in the Amazonian region of north-east Peru.
The FAP's M+ program was specifically designed in conjunction with the FAP as a single contract instrument for providing operators with budget predictability, a streamlined procurement process for continuous flow of factory spares, up-to-date technical publications, seamless on-site technical training and support, and all the necessary tools required to monitor upcoming maintenance events.
The M+ program has become the perfect mechanism for the FAP to maintain spare part stock levels and manage external repair and overhaul vendors with minimal bureaucracy, helping the organization to maximize utilization of their Series 400 Twin Otter fleet. Within the first year under the M+ program, the FAP's dispatch reliability rates have significantly increased, enabling them to reach their annual flight hour targets.
"As the OEM, Viking is continually improving and evolving our customer support offerings to provide the most efficient and advanced services to our customers," commented Gregory Davis, Viking's Vice President Customer Service & Product Support. "The M+ program is an excellent example of Viking's focus on customer service, and we're proud to continue providing this comprehensive support to the FAP."
The FAP's twelve Twin Otter Series 400 aircraft purchase is Viking's largest single-customer order of new production aircraft to date. FAP's aircraft were delivered between 2011 and 2014, and are configured with land gear and floats for providing infrastructure support and medevac services to remote communities, as well as being used for military missions such as environmental monitoring and troop transportation in inaccessible areas of Peru.
AIR ZERMATT CELEBRATES 50 YEARS OF OPERATIONS WITH NEW BELL 429 DELIVERY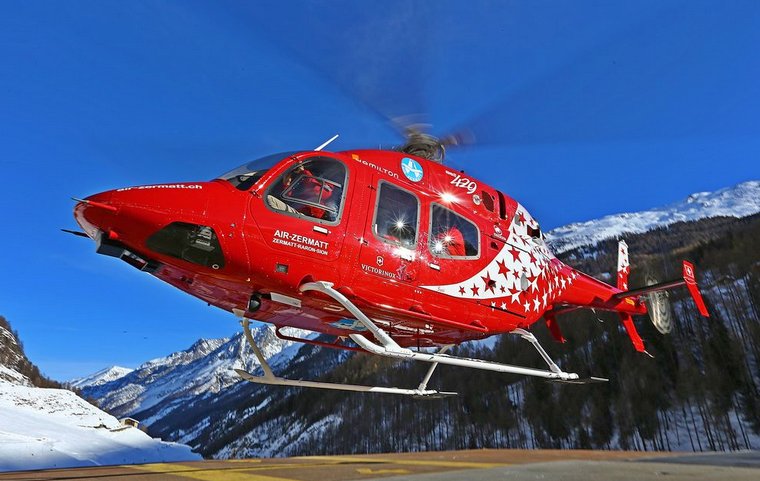 Notable transportation and rescue company, Air Zermatt, commemorates 50 years of high mountain operations in the Swiss Alps and celebrates the delivery of a new Bell 429 aircraft. The aviation organization maintains a close relationship with Bell. Its fleet consists of two Bell 429 aircraft. Photo © Bell.


"There is no better way for us to celebrate such a significant milestone than with an exciting addition to our fleet," said Gerold Biner, CEO, Air Zermatt. "This Bell 429 is truly customer designed and has incredible performance, especially in the tough terrain of the Swiss Alps. Bell continuously surpasses our expectations in terms of products and customer care, and we are thrilled to receive another beautiful aircraft."
"We are delighted that after five years of Bell 429 operations, where the aircraft proved its incredible performance in one of the most demanding missions in the world, Air Zermatt chose the aircraft again for its long term twin-engine needs," said Patrick Moulay, senior vice president, Commercial Business - International, Bell. "This speaks to the incredible trust our customers have in Bell aircraft performance and customer support."
Air Zermatt utilizes the Customer Advantage Plan (CAP) Premier program for simple and straightforward maintenance cost plans. The plans provide customers with budget certainty, access to Bell's rotable pool of parts and competitive rates when using a Bell authorized service center, which are available worldwide. To uphold their high safety standards, Air Zermatt's flight crew train on the Bell Valencia 429 Full Flight Simulator to continuously enhance their knowledge and capabilities of the Bell 429.
With the optimal design for passenger mobility and healthcare emergency services, the Bell 429 has the most cabin space in the light twin helicopter market, with flat flooring and seven passenger seating. This cabin can also comfortably fit two litter carriers, another feature significant to the Bell 429. Its 60-inch wide side doors and optional rear clam-shell doors allow for quick and easy passenger and patient ingress and egress. The state-of-the-art technology in the Bell 429 includes a fully integrated glass cockpit, advanced drive system, best-in-class WAAS/ SBAS navigation and IFR capability.

WORKHORSE NOW MAKING RESIDENTIAL DELIVERIES WITH HORSEFLY DRONE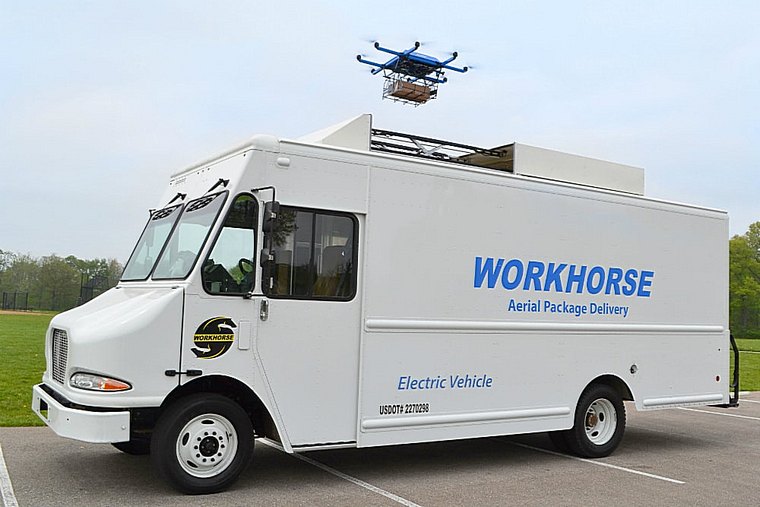 For some customers in the Cincinnati area, their packages are now being dropped on their doorsteps - literally. Workhorse, the FAA and city of Loveland, OH, are testing a pilot drone package delivery program. Photo © Surefly.

Workhorse Group's HorseFly autonomous drone package delivery system is making deliveries to customers who have opted-in to a test program that utilizes the Workhorse Ares Drone Package Delivery App, which is integrated with existing online e-commerce platforms.
The HorseFly is an unmanned drone capable of delivering a 10-pound package and uses just 3 cents per mile to operate. Built with carbon fiber construction, the HorseFly is capable of flying at a max speed of 50 mph with a 30-minute flight time.
The HorseFly is an 8-roter octocopter and is guided by autonomous GPS and Compass technology, using infrared cameras for landing. It launches from atop a Workhorse delivery vehicle, navigates to the dropoff location, and then back to the truck's roof for recharging. When the UAV is in position above the destination, a remote observer is sent a video feed, which can be used to assess the safe completion of the delivery and make any small adjustments to the UAV position during drop-off, if needed, the company explained.
In the Cincinnati test, the drone must remain within the line of sight of the drone at all times.
Data from the pilot program will provide essential insights into consumer preferences, as well as real-world evidence to support expanded use cases of drone delivery with the FAA, Workhorse said.
To date, the system has been successfully tested with UPS and an undisclosed large retailer.
In the pilot program, the consumer can monitor the progress of their package delivery through their downloaded app. At the delivery location, which the consumer can choose on the app by touching the point on a map, the drone autonomously descends and the package is released. The consumer can opt-in to receive a photograph and confirmation of their delivery. The HorseFly drone returns to the delivery truck at a planned stop and autonomously redocks and recharges for its next delivery.
Last year, Workhorse and UPS teamed up to test the drone delivery, with the HorseFly successfully making a delivery from atop a UPS delivery vehicle in Lithia, FL. Workhorse built the electric UPS package car used in the test.
The test vehicle featured a small cage below the drone that extended into the roof of the UPS truck, allowing a UPS driver to insert a package into the cage from inside the vehicle.

USA, New York JFK: A Delta Airlines Airbus A320-200 was on final approach to JFK's runway 04L when tower cleared another aircraft to cross runway 04L and instructed to expedite, but needed to instruct DL-1888 to go around. The aircraft went around, positioned for another approach to runway 04R and was on final approach to runway 04R when the crew reported the left hand engine had failed, they had veered off the localizer and were too high to make a landing, the crew initiated a go around. While emergency services responded and took their positions at runway 04R, the crew positioned for another approach to runway 04R and landed safely. The aircraft vacated the runway and stopped clear of the runway for an inspection by emergency services.
New Zeeland, Queenstown: An ANZ Air New Zealand Airbus A320-200, was on approach to Queenstown when the crew aborted the approach at about 2700 feet MSL due to a lightning strike and decided to divert to Christchurch. The aircraft climbed to FL190 and landed safely in Christchurch about 40 minutes after aborting the approach to Queenstown. Another ANZ A320 had a lightning strike about 10 minutes earlier.
Brazil, Manaus: A Cessna 208B Grand Caravan operated by Amazonaves Táxi Aéreo was consumed by fire after it crashed while on approach to Manaus-Aeroclube de Flores Airport, Brazil. The pilot survived the accident. The aircraft was damaged beyond repair.
Colombia, Bogota: A Boeing 727-200F operated by Líneas Aereas Suramericanas bounced after a hard landing at Bogotá-Eldorado Airport, Colombia. On touchdown the nosegear bogie separated from the gear leg. The aircraft suffered substantial damage.
Indonesia, Wamena: A Jayawijaya Dirgantara Boeing 737-200 freighter, with a cargo of food including rice, cement and other cargo when landing at Wamena dropped the right hand thrust reverser in the touch down zone. The aircraft subsequently veered off the runway to the right, departed the right hand runway edge about 800 meters down the runway and came to a stop with all gear on soft ground about 800 meters further down the runway, about 50 meters off the edge of the runway. No injuries are being reported, the damage to the aircraft is being assessed.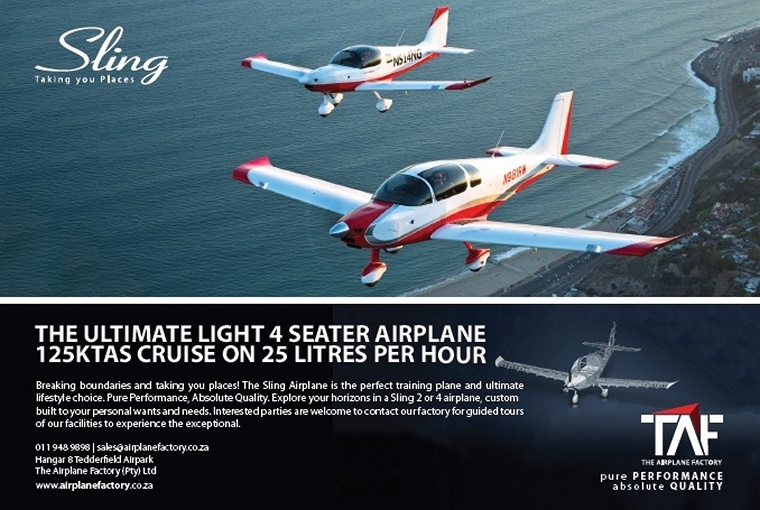 27 MAY 2 1912


The world's first seaplane carrier, the French Navy's Foudre, embarks her first floatplane, a Canard Voisin.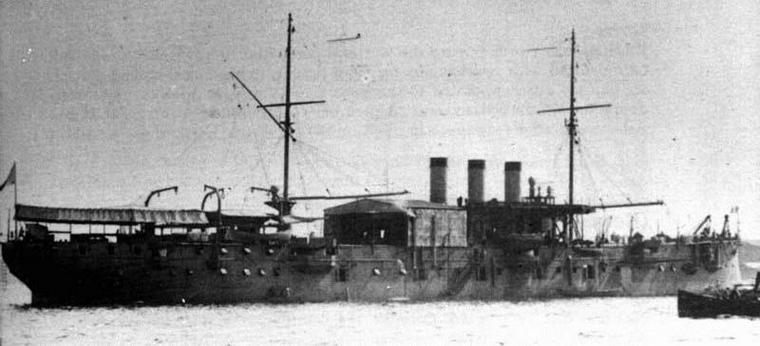 Photo commons.wikimedia.org


The Foudre was a French seaplane carrier, the first in history. Her development followed the invention of the seaplane in 1910 with the French Le Canard.
The Foudre was first commissioned in 1896 as a torpedo boat tender (Croiseur porte-torpilleurs), with the role of helping bring torpedo boats to the high seas, and launch them for attack.
She was then modified as repair ship in 1907, as a minelayer in 1910, as a seaplane carrier in 1911 (depot, transport, and launch by crane), and seaplane carrier with a flying-off deck in 1913. She was initially converted to carry torpedo-carrying planes in hangars on the main deck. They were lowered on the sea with a crane.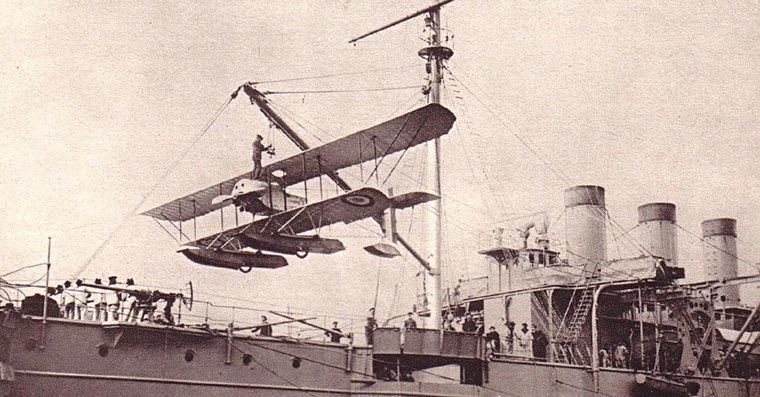 In November 1913, a 10-meter flying-off deck was installed, with the objective of using it for a Caudron G.3 seaplane. The plane successfully lifted off from the ship on May 8, 1914. At the beginning of the war, the platform was dismantled, and further experiments were postponed to a later date.
During World War I her roles were numerous, ranging from submarine tender to seaplane/aircraft transport, and headquarters ship in 1916. She was employed as an aviation school ship after the war.