THIS WEEK IN MIDWEEK UPDATE

Plan Your Weekend……..Forthcoming Events…….Aviation News

Worldwide Incidents and Accidents……This Week in Aviation History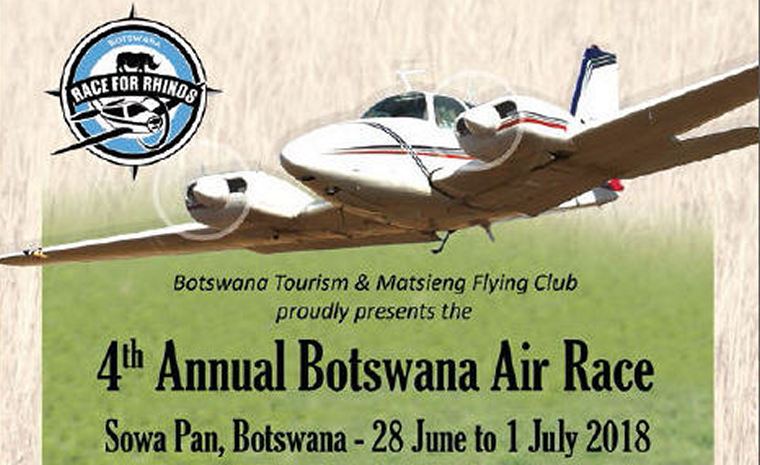 Race4Rhinos entries are now open. Guys and gals you don't want to miss this incredible event taking place at Sua Pan Botswana from 28 June to 1 July 2018. Only R6875 per team for entry plus accommodation and all meals. Fuel is free after arrival!!! Visit
www.airrace.co.bw
to enter now. Don't leave it to the last minute. This year is a world record attempt to have the most aircraft enter into an air race.
POSTPONED
9: Bethlehem Fun Rally - Bethlehem Airfield. Contact Rob Jonkers e-mail: rob@aerosud.co.za Cell:082 804 7032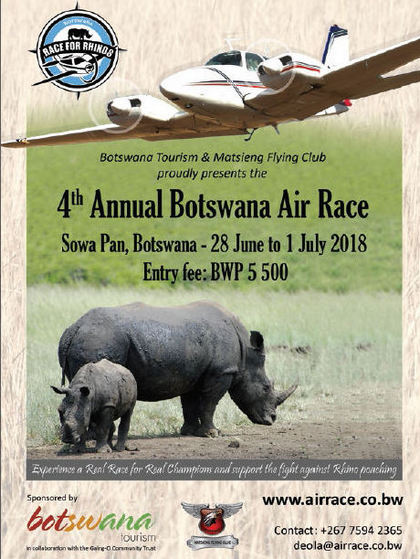 16: Brakpan Aero Club. Cessna Fly in. Attempt to have the most Cessnas on a South African airfield. For more information contact: 071 5422 993
23: Reefsteamers NPC- Krugersdorp Flying Club - Vintage and Veteran Car Club 23 June 2018 event. RS Train -vintage planes, cars and bikes. Contact Ian Morison
i
morison@worldonline.co.za
3rd Saturday of every month. Microland. Bring and braai. Fires and bykos provided. Fires start from 09h30. Contact person: Nick Swardt 082 441 8011 or Alan Hussey 072 82 2341
24-28: South African Hot Air Balloon Championships 2018, Skeerpoort North West Province. Contact Richard Bovell
richard@bovellross.com
28 June- 1 July: Race for Rhinos - Kuba Island - Botswana. Contact Chris Briers e-mail:
chris@airteam.co.za
cell: 082 568 7988

4: EAA Chapter 322 meeting. Dickie Fritz Moth Hall Edenvale. Contact:
editor@afskies.co.za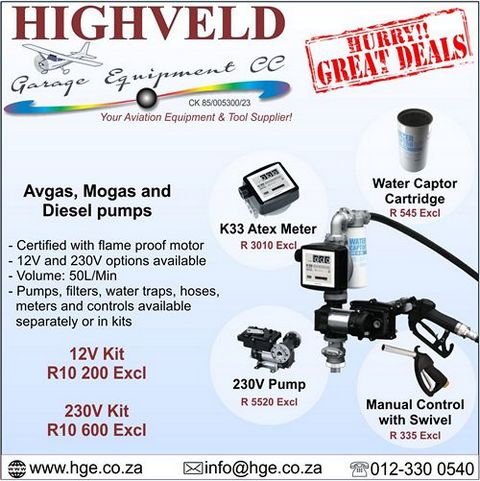 6-10: Zim Navex - Prince Charles Airport - Harare. Marion Kalweit - 2017 Air Rally Committee email:
zimairrally@gmail.com
Tel +263772570009
8: SAAF Museum AFB Zwartkop open practise day. Officer Commanding - Museum
oc@saafmuseum.org.za
012 351 2290
14-16: Nysltroom Vliegklub/EAA Taidraggers Fly in for more information contact: Richard Cell: 082 490 6227 or mail to:
Richard.nicholson1963@gmail.com
14: SAC Judges Trophy. Kitty Hawk. Contact Annie Boon
chunge@mweb.co.za
14: Hoedspruit Fun Rally. Contact Wynand Uys email: wynand@ottersden.co.za or Frank Eckard e-mail:
frank.eckard@mweb.co.za
cell: 083 269 1516
21: Krugersdorp Flying Club Airfield Festival and spot landing competition. Contact
kfc@iafrica.com
or phone 082 374 5559
3rd Saturday of every month. Microland. Bring and braai. Fires and bykos provided. Fires start from 09h30. Contact person: Nick Swardt 082 441 8011 or Alan Hussey 072 82 2341
23 -29: EAA AirVenture Oshkosh, Wisconsin, USA
Camping on the airfield contact Neil Bowden E-mail:
neil1@telkomsa.net
Hotels in Appleton contact Calvin Fabig E-mail:
calvin@designer.co.za

1: EAA Chapter 322 meeting. Dickie Fritz Moth Hall Edenvale. Contact:
editor@afskies.co.za
1-5: SAC SA Nationals Tempe Bloemfontein. Contact Annie Boone
chunge@mweb.co.za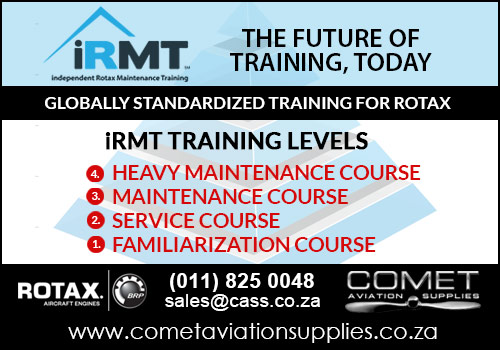 5: SAAF Museum AFB Zwartkop open practise day. Officer Commanding - Museum
oc@saafmuseum.org.za
012 351 2290
3rd Saturday of every month. Microland. Bring and braai. Fires and bykos provided. Fires start from 09h30. Contact person: Nick Swardt 082 441 8011 or Alan Hussey 072 82 2341
9: Stellenbosch Flying Club Women's Day Fly in. Contact Alison Navarro 083 728 78386
architecnic1953@gmail.com
or Louise Hofmeyer 083 454 1104
louise@airshowsa.org.za
19: Rand Airport Airshow. Contact Stuart Coetzee E-mail:
manager@randairport.co.za
Tel: 011 827 8884
19: World Helicopter Day. Henley Air Rand Airport.
25: Sheila Taylor Fun Rally - Krugersdorp Airfield. Contact Grant Rousseau Cell: 082 329 3551E-mail:
gr@kama.co.za
25 - 25: Bethlehem Airshow Stefan Fourie
fouriesj1491@gmail.com
072 344 9678

The Aviation Radio Show; get all your questions answered in one place. To listen to a recording of the live broadcast click on the link:

www.debela.co.za/aviation-radio-show




JOHN MONNETT ANNOUNCES RETIREMENT FROM DAY TO DAY OPERATIONS; SEEKS BUYERS/INVESTORS WHILE BUSINESS CONTINUES STRONG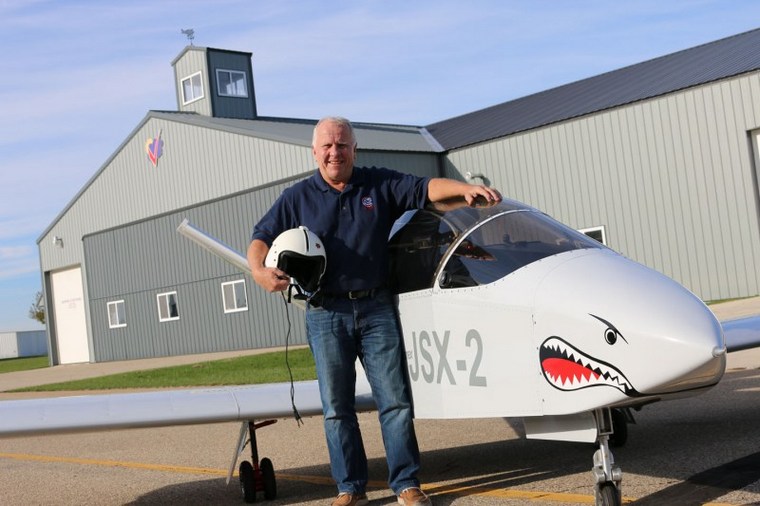 After almost 50 years of involvement in the kit aircraft industry, Sonex Founder and President John Monnett has announced his retirement from Sonex Aircraft, LLC effective June 2, 2018. Photo © Sonex.



"I am retiring from Sonex Aircraft but not forsaking my passion for aviation, remarks Monnett. I will continue to contribute where I can into the future but will be leaving day to day operations in the very capable hands of my staff.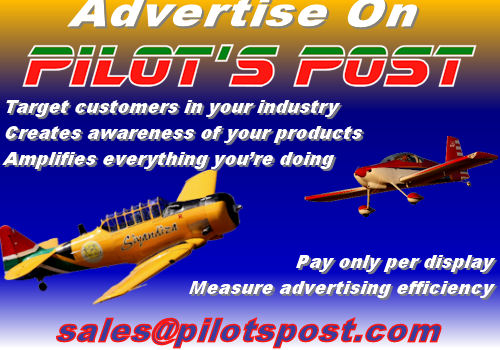 John Monnett continues to own the experimental aircraft and engine company, but opportunities for alternative ownership of Sonex Aircraft, LLC lie in it¹s future. Monnett invites offers from qualified individuals and/or companies who are interested in continuing the successful heritage of Sonex Aircraft into the next generation, or in assisting Sonex Aircraft with transition to an employee-ownership succession plan.
Current and prospective customers can rest-assured, however, comments Sonex General Manager Mark Schaible, that Sonex Aircraft is still going strong! In the midst of its most successful period in recent years, Sonex Aircraft has a full order book of kits including several new customer-owned SubSonex Personal Jet Quick Build Kits along with many additional delivery commitments for traditional kits & sub-kits, and many traditional and Quick Build kits already delivered this year-to-date. In addition, Sonex Aerospace, LLC has been contracted by Navmar Applied Sciences Corporation (NASC) to construct two additional Teros UAV¹s in 2018. The Teros Group 4 UAS is derived from the Xenos Motorglider, and offers Medium Altitude Long Endurance (MALE) UAS capabilities to government and civilian customers.
John¹s roots in experimental aircraft date-back to 1968 when, as a young school teacher, John began building a highly-modified Midget Mustang project and was first introduced to legendary aircraft designer & builder Steve Wittman, laying the groundwork for a long friendship with Wittman and the development of Formula Vee racer Sonerai I, John¹s first design. The Sonerai eventually launched John into business, and he has many designs to his credit including several iterations of the Sonerai design, the Monerai sailplane, Moni motorglider, the world-record-holding Monex racer and the complete line of Sonex Aircraft models. John is an inductee into the EAA Homebuilders Hall of Fame, is a two-time winner of the Dr. August Raspet Memorial Award, has received the EAA Freedom of Flight Award, the Society of Experimental Test Pilots Spirit of Flight Award, the Oshkosh Wisconsin Key to the City award, and many more distinctive honours throughout his career.
Sonex Aircraft, LLC is a leader in the experimental kit aircraft industry, providing a series of sport aircraft along with the AeroConversions line of products, which include the AeroVee engine, AeroVee Turbo, AeroInjector and ancillary aviation products. Sonex Aircraft¹s Sonex, Waiex, and Onex sport planes, the Xenos sport motorglider, and the SubSonex Personal Jet, offer outstanding performance in an easy to build, easy to fly kit package that can be purchased and completed with full technical support at an unrivalled price. Highly regarded as an engineering company, Sonex has diversified its offerings to include Sonex Aerospace LLC, producing the Teros UAS for unmanned and optionally piloted civil and defence missions, while developing other UAS airframes in conjunction with Navmar Applied Sciences Corporation.
Sonex and AeroConversions continue to invest heavily in developing new products. Our team is committed to providing simple, elegant and low-cost solutions for sport flying. Simply put, Sonex Aircraft and AeroConversions products provide the Best Performance per Dollar.

QUEST AIRCRAFT UNVEILS THE KODIAK 100 SERIES II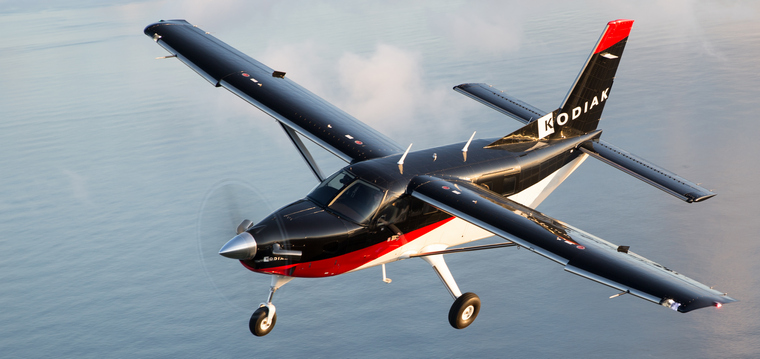 One decade after the first delivery of a Kodiak 100, Quest Aircraft is pleased to announce the next generation of the Kodiak 100: the Series II. Photo © Quest Aircraft.


The Kodiak 100, Series II by Quest introduces an impressive block change of enhancements. The standard equipment list has been expanded to include Garmin's next generation G1000NXi, as well as an Angle-of-Attack indexer, digital 4-in-1 standby, Flight Stream 510 and a two-year subscription to the Kodiak Mobile App, backed by Garmin Pilot.
The Series II also raises the bar for Kodiak creature comforts. In the cockpit Quest added two new gloveboxes for additional cockpit storage, improved Rosen sun visors for better UV protection and ergonomics, and incorporated LEMO plugs for hardwired Bose headsets. The cargo doorstep has been redesigned to reduce weight and improve functionality, and fuselage seals have been enhanced to provide even better soundproofing and cabin ventilation. Additionally, a single point refueling station is now an available as an option, designed to give the operator a simple, clean and easy way to refuel both wing tanks using a single port.
"We're incredibly proud to debut the Kodiak 100, Series II. The refinements and upgrades across the entire platform truly elevate the Kodiak experience, while continuing to deliver the distinctive design and workmanship we're known for" said Rob Wells, CEO of Quest Aircraft.
Prior to the release of the Kodiak 100, Series II, the Kodiak underwent considerable advances during the past decade, thanks to a consistent outflow of upgrades to each new model year. Over 200 enhancements have been incorporated into the Kodiak platform since its 2008 introduction, including the addition of two entirely new interiors, an increased landing weight, and the integration of the Garmin GFC 700 AFCS.
"We dedicate an immense amount of time and resources into yearly model improvements, and we're incredibly proud of what ten years' worth of continual refinement has led to. With the announcement of the Series II we're honouring that legacy of consistent improvement by introducing the largest and most significant block change in the Kodiak's history," Wells added.
The Kodiak 100, Series II is available for order immediately, and customer deliveries are already underway. The newly certified aircraft will be on display at the Quest booth during EAA AirVenture in Oshkosh, Wisconsin.

HONDA AIRCRAFT COMPANY UNVEILS THE HONDAJET ELITE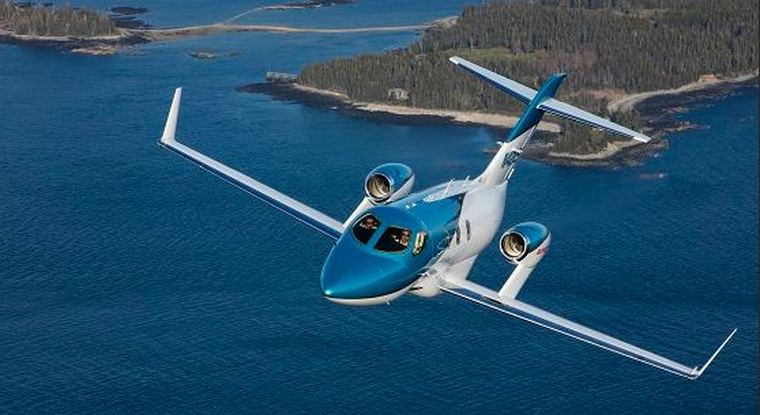 Honda's Newest State-of-the-Art, Environmentally Responsible Aircraft Features Increased Range, Updated Avionics Suite and Enhanced Cabin Amenities. Photo © Honda Jet.


Honda Aircraft Company today revealed a new upgraded aircraft, the "HondaJet Elite," at a special hangar event ahead of the 2018 European Business Aviation Convention and Exhibition (EBACE) in Geneva, Switzerland.
The HondaJet Elite has achieved an extended range of an additional 17% (+396km) and is equipped with a newly developed noise attenuating inlet structure that lines each engine and greatly reduces high frequency noise to enhance cabin quietness. Additionally, the new aircraft's advanced avionics system incorporates additional performance management functions for optimum flight planning and automatic stability and protection functions to enhance safety of flight.
The HondaJet Elite also protects the environment by offering the best fuel efficiency in its class while also featuring best-in-class speed, altitude and range. The aircraft is type certified by the United States Federal Aviation Administration (FAA) and the European Aviation Safety Agency (EASA). The HondaJet Elite will be displayed for the first time to the public at EBACE from May 28th through May 31st.
The new aircraft was designed to provide the user the best experience by utilizing Honda Aircraft's pioneering advanced technologies coupled with the best performance and comfort enhancements. The HondaJet Elite is more fuel efficient than any other aircraft in its category and emitting less greenhouse gases than similar sized business jets.
The HondaJet Elite has inherited the aeronautical breakthroughs developed by Honda Aircraft, including the Over-The-Wing Engine Mount (OTWEM) configuration, Natural Laminar Flow (NLF) fuselage nose and wing and composite fuselage. The aircraft continues to be the most efficient, quietest, fastest and highest-flying as well as the furthest-flying in its category.

RARE, LEGENDARY XP-82 TWIN MUSTANG AIMS TO MAKE DEBUT APPEARANCE AT AIRVENTURE 2018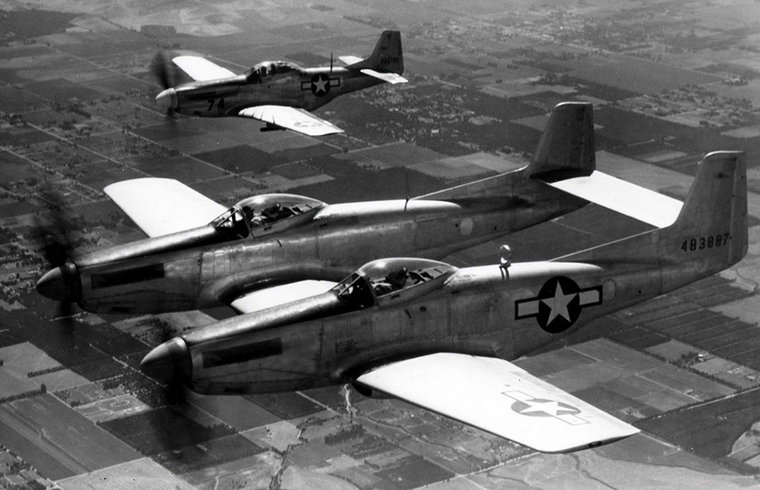 The restorers of a North American XP-82 Twin Mustang, one of the most unusual fighter/escort aircraft ever deployed by the U.S. military, are aiming to make EAA AirVenture Oshkosh 2018 its first public appearance to celebrate completion of an arduous 10-year restoration project. Photo courtesy of North American Aircraft archives.

The restorers of a North American XP-82 Twin Mustang, one of the most unusual fighter/escort aircraft ever deployed by the U.S. military, are aiming to make EAA AirVenture Oshkosh 2018 its first public appearance to celebrate completion of an arduous 10-year restoration project.
The restoration project in Douglas, Georgia, began after aircraft restorer Tom Reilly discovered the complete airframe on a farm in Ohio. Reilly then scoured the earth seeking engines, propellers, and a multitude of other XP-82 parts to continue the restoration.
"The interest and enthusiasm for this restoration has been wonderful and gratifying," said Reilly, who has chronicled the restoration process online. "There is no better place than Oshkosh to make the first public flights of this aircraft, which is why it is our intent to complete the restoration and testing so we can be a part of AirVenture 2018."
The XP-82 restoration brings back a unique flying example of an aircraft designed late in World War II as a long-range fighter escort to accompany B-29 bombers for thousands of miles on missions over the Pacific Ocean. Based on the highly successful P-51 Mustang design, the XP-82 used twin fuselages and two specially designed Rolls-Royce, Packard-built Merlin engines to supply the speed, range, and armament needed for the task. Fewer than 300 of the airplanes were produced as the P-82, with all but five scrapped in the years after the Korean War as the military moved to jet aircraft.
"It has been decades since people have seen this aircraft type fly anywhere," said Rick Larsen, EAA's vice president of communities and member programs, who coordinates AirVenture features and attractions. "The return of this historic aircraft to the sky is a tribute to the vision and perseverance of the restoration team, and it's fitting that the group has AirVenture as a goal to fly this beauty before a huge, appreciative audience."

BOEING E-4 COMING TO EAA AIRVENTURE OSHKOSH FOR THE FIRST TIME



For the first time ever, the United States Air Force Global Strike Command is bringing a Boeing E-4 Advanced Airborne Command Post to EAA AirVenture Oshkosh. Photo courtesy of the U.S. Air Force.

The E-4 is a modified Boeing 747 used as a mobile command post for the National Command Authority. Each E-4 has more than a dozen external communications systems, giving those aboard the ability to run the country from the sky in case of a disaster.
E-4 Aircraft Commander Lt. Col. Mike Brazelton said many people confuse the E-4 with Air Force One, and that even he did not know much about the E-4 until he began working with it.
"A lot of people don't know about this plane," Brazelton said. "In fact, when I applied to come here, I didn't even know about it. For the public to see something like this at an airshow, I think, is pretty awesome."
The Air Force has four E-4 aircraft, and at least one of them is on alert at all times. They are able to fly anywhere in the world, with the anywhere being Oshkosh during AirVenture this year. The huge airplane will fly three passes for the gathered crowd.
One of the E-4's missions is ferrying the Secretary of Defense around the world, a job Brazelton said ranks among the best moments for him in his time with the Air Force.
"Probably the coolest part of our job is we get to fly the Secretary of Defense whenever he goes overseas," Brazelton said. "I've flown with Secretary [James] Mattis probably five times now, and in my 24 years in the Air Force that will probably go down as the highlight of my career."
The trip over Oshkosh will be only the second time an E-4 has appeared at an air show in the last several years, making the historic flybys a signature Only in Oshkosh moment.
NEW RED BULL HELICOPTER PILOT READY FOR FIRST AIRVENTURE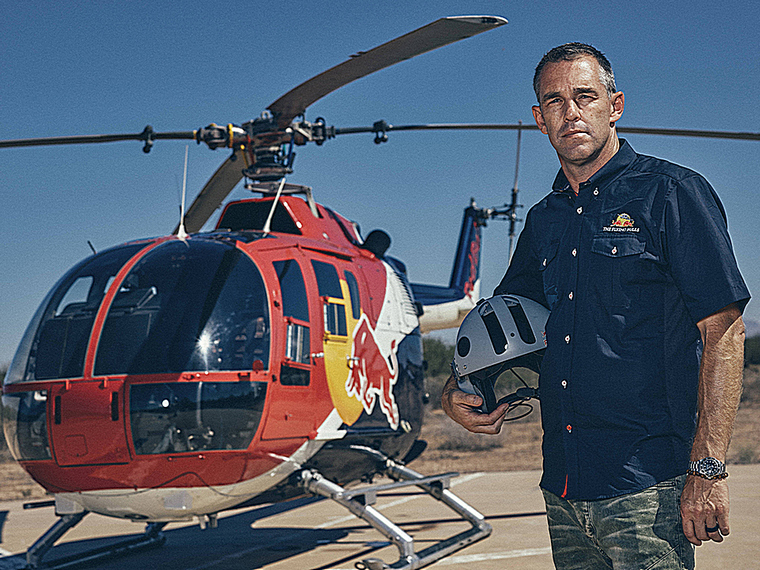 2018 is a year of firsts for Aaron Fitzgerald, EAA 1272985. It's his first year performing as an air show pilot, and when he's piloting a Red Bull helicopter in Oshkosh this July it will actually be his first visit to AirVenture as well. Photo Balazs Gardi/Red Bull Content Pool.

Although he's never been, Aaron has heard plenty about what Oshkosh is like, and said he's thrilled to attend in the unique capacity of being a featured performer during the air show.
"I'm honored to be on the roster that's included some really big names of aviation over many, many years performing at AirVenture," he said. "I'm humbled by it. I feel a small amount of pressure, in a good way."
Although he's new to AirVenture and to aerobatics, Aaron is not new to flying. After he served as a paratrooper in the U.S. Army, he went through civilian flight training in Long Beach, California, and began working as a pilot right after. From flying crews building power lines to flying news helicopters, Aaron got plenty of flight time in.
Aaron had a relationship with Red Bull after working in a different capacity with the company for years in his previous career, so when his predecessor, Chuck Aaron, retired he got a chance to go for the gig. He said flying aerobatics was about as far from the other flying he'd done as it gets.
"I was honoured to be chosen for the training," Aaron said. "I wasn't sure how well I would do because I hadn't flown a lot of aerobatics, obviously. A lot of the training was basically me unlearning the things I had learned for the last 20 odd years. It was a challenge, making the transition, for sure, but I've really been enjoying it."
After completing his aerobatic training and getting his Statement of Aerobatic Competency at the end of 2017, Aaron was all set to go for the 2018 air show season. Performing has been a different experience for him, but one he certainly enjoys.
"It's a tremendous experience to be able to share it with everybody and show people what the helicopter can do, and introduce everyone to that side of flying," Aaron said. "It's a great honor for me, for sure. It's fun to be in front of a crowd, it gives you energy. I hadn't done that before."
Being able to add another chapter to his aviation journey has been great for Aaron, who said he never knew a time in his life where he didn't want to be flying.
"For me, aviation has just always been a huge interest of mine," he said. "It's something I was focused on even when I was a little kid. I don't remember aspiring to ever do anything else. There was no one moment when I decided to pursue it. It was just something I always knew I'd try to do if I could, and I've been lucky that I've been able to do it."

AIRBALTIC ORDERS UP TO 60 BOMBARDIER CS300 AIRCRAFT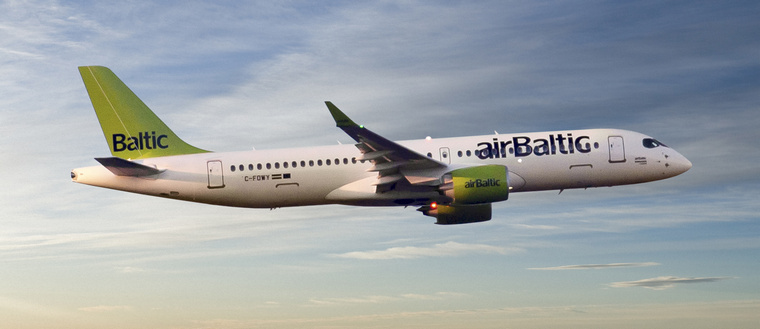 Bombardier Commercial Aircraft and Air Baltic Corporation AS (airBaltic) announced today that the parties have executed a firm purchase agreement for the sale and purchase of 30 CS300 aircraft with options and purchase rights for an additional 30 aircraft of the same type. Photo © Bombardier


Based on the list price of the CS300 aircraft, the firm order is valued at approximately US$ 2.9 billion. This amount would increase to nearly US$5.9 billion should all 15 options and 15 purchase rights be exercised.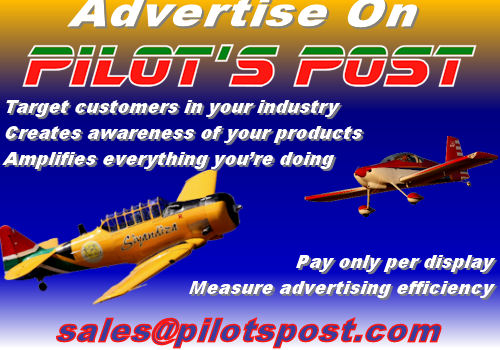 "As the C Series aircraft program continues to gain market acceptance, this significant reorder from our CS300 launch operator is a strong testimony to the aircraft's exceptional in-service performance, "said Fred Cromer, President, Bombardier Commercial Aircraft. "Furthermore, we are proud that the CS300 has helped airBaltic maintain its position as one of the world's most punctual airlines. The C Series aircraft is at the forefront of the small single-aisle market, and airBaltic played a key role in demonstrating its value. In the last 18 months, we have witnessed airBaltic's growing leadership in the market, and we wish the airline further success with its expanded CS300 fleet."
With this order, airBaltic becomes the largest European C Series customer and the second largest customer worldwide with 50 aircraft on firm order. The airline's new business plan relies on significant expansion of routes from all three Baltic countries - Latvia, Estonia and Lithuania.
"We are now commencing the implementation of our next business strategy - Destination 2025, which foresees airBaltic expanding the map of its operations. A critical part of this new strategy is the introduction of a larger and exclusive fleet of all-CS300 aircraft, which are the most suitable aircraft for the markets in which we operate," he added.
"2017 was the most successful year in the history of airBaltic during which the company achieved exceptional operational and financial results. This serves as solid proof of the success of the airline's business strategy and operating model," said Uldis Augulis, Minister of Transport, Republic of Latvia. "The new order is the largest investment in Latvia's history and plays an important role in the development of the air infrastructure of the Baltic region with wide-ranging effects on exports, economy and jobs."
Deliveries pertaining to this new order are scheduled to commence in the fourth quarter of 2019. Prior to this order, airBaltic had ordered 20 CS300 aircraft. The airline is currently operating revenue service with eight CS300 aircraft.

DRC, Kamonia Airstrip: A Cessna 208B Grand Caravan, operated by the United Nations Humanitarian Air Service (UNHAS) was involved in an accident on take-off from a remote airstrip in Kamonia in the Kasai region of the Democratic Republic of Congo (DRC). The aircraft came to rest inverted. The two crew members and three passengers sustained minor injuries.
Guatemala, Quetzaltenango: A Cessna 421 Golden Eagle on an illegal flight with false registration numbers with two Mexican Nationals on board crashed under unknown circumstances. Both occupants died in the crash in Genua Costa Cuca.
Canada, Montreal: A Jazz de Havilland Dash 8-400 on a flight from Quebec to Toronto with 78 passengers and four crew was about 50nm northwest of Montreal when the right hand propeller over-speed prompted the crew to shut the right hand engine down according to the related checklists. The aircraft diverted to Montreal for a safe landing about 22 minutes later.
Russia, Moscow: A UTAir Boeing 737-500 on a from Magnitogorsk to Moscow with 96 passengers and 5 crew landed on Moscow Vnukovo's runway. A post flight inspection revealed the inboard wheel on the left main gear was missing due to a fractured wheel axle. It was subsequently determined the aircraft left the wheel behind on departure from Magnitogorsk.
Indonesia, Cengkareng: Ten passengers on an Boeing 737-900ER with 189 passengers on board operated by Lion Mentari Airlines (Lion Air) preparing to take off from Hatta International Airport were injured after a man falsely said there was a bomb on board. Passengers overheard the 26-year-old man, telling a flight attendant there was a bomb on the Lion Air plane. Another passenger broke the emergency exit windows. A Video showed dozens of people standing on the Boeing 737s right wing. Some slid down the right engine and landed on the tarmac. Eight passengers had broken bones and head wounds. Two had minor injuries. No bomb was found.
USA, Gainesville, Florida: An Allegiant Airbus A320-200 with 155 passengers and 6 crew, was about 70nm north of Gainesville when one of the pilots suffered seizures and was incapacitated. The other pilot decided to divert the aircraft to Gainesville for a safe landing. The incapacitated pilot was taken to a hospital.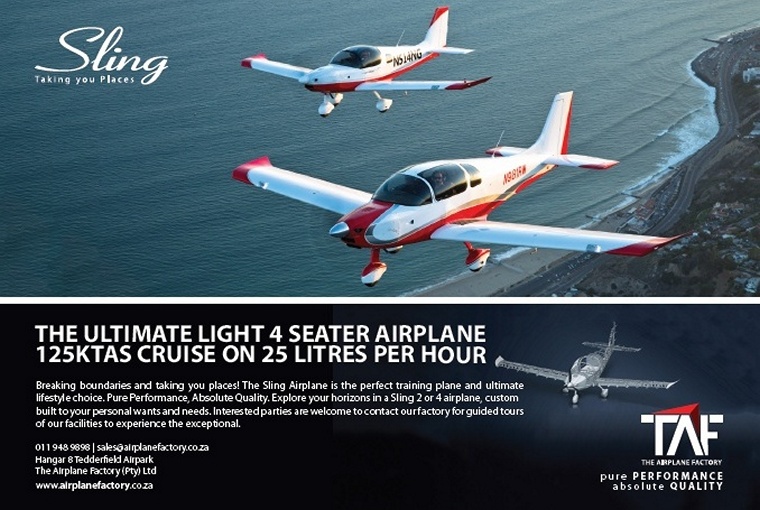 THIS WEEK IN HISTORY

6 JUNE 1914

First air flight out of sight of land (Scotland to Norway).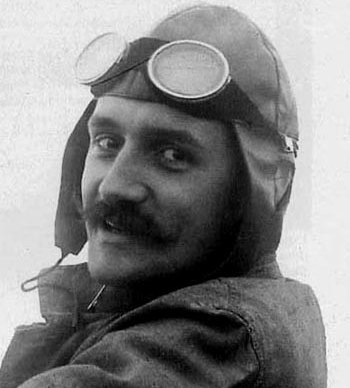 Jens Tryggve Herman Gran DSC, MC a Norwegian aviator, explorer and author was born in Bergen, Norway on 20 January 1888. He was the skiing expert on the 1910-13 Scott Antarctic Expedition and was the first person to fly across the North Sea in a heavier-than-air aircraft.
Gran took an interest in science and exploration which in 1910 led to Fridtjof Nansen recommending his services to Robert Falcon Scott, who was in Norway at the time preparing for an expedition to the Antarctic and testing the motor tractor he intended to take with him.
Scott was impressed with Gran, who was an expert skier, and Nansen convinced Scott to take Gran as ski instructor to Scott's men for the Terra Nova Expedition.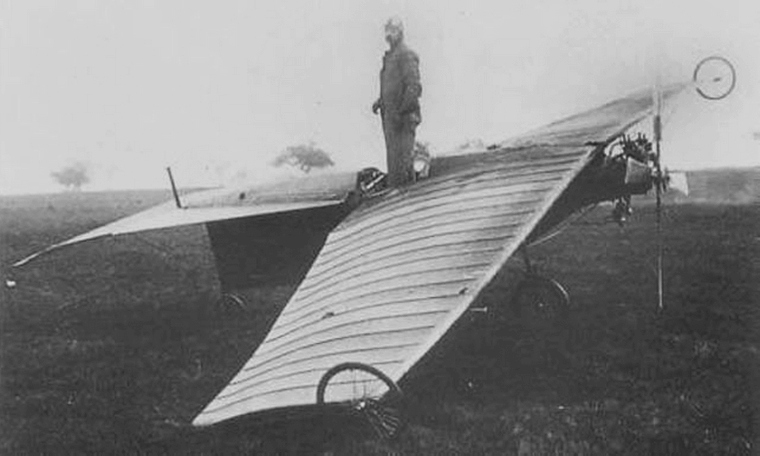 In November 1912, Gran was part of the 11-man search party that found the tent containing the dead bodies of the past South Pole party. On his return voyage, Gran met the Irish aviator Robert Loraine, and immediately took an interest in aviation. Gran became a skilled pilot at Louis Blériot's aviation school in Paris, and on 30 July 1914, Gran became the first pilot to cross the North Sea. Taking off in his Blériot XI-2 monoplane, Ca Flotte, from Cruden Bay, Scotland, Gran landed 4 hours 10 minutes later at Jæren, near Stavanger, Norway, after a flight of 320 miles (510 km).
Only five days later, the United Kingdom entered the First World War. Gran, now a first lieutenant in the Norwegian Army Air Service, volunteered for service with the Royal Flying Corps. He was rejected because of Norway's neutrality. However, the rejection did not stop Gran. Under the identity of "Captain Teddy Grant" of Canada, he was admitted to the RFC, serving in 1916 with No. 39 Squadron on Home Defence.
Gran was commissioned into the Royal Flying Corps under his own name as a probationary temporary second lieutenant on 1 January 1917, confirmed in the rank and appointed a flying officer on 1 March 1917, and was posted to No. 70 Squadron, flying the Sopwith Camel on the Western Front.
Gran himself claimed to have shot down German ace Hermann Göring in a dogfight on 8 or 9 September 1917. He discovered this when he became acquainted with Göring after the war, and compared his flight logs with Göring's. It could however not be verified that it was Gran who shot down Göring's plane.
After the war, Gran started holding lectures on aviation and his journeys to the polar areas, as well as writing books. In 1919 he was the first man to fly from London to Stockholm. In 1928, he led a search party to find polar explorer Roald Amundsen, lost flying while trying to discover the fate of Umberto Nobile's North Pole expedition on board the Airship Italia.
Tryggve Gran died in his home in Grimstad, Norway on 8 January 1980 aged 91.