Strapping myself in for a flight in Dieter Bock's Lancair Legacy powered by the Performance Engines 'EXP' that pushes out 370hp as opposed to the standard IO-550 that is rated at 310hp was a dream come true. This was to be my 101 aircraft type in which I had flown.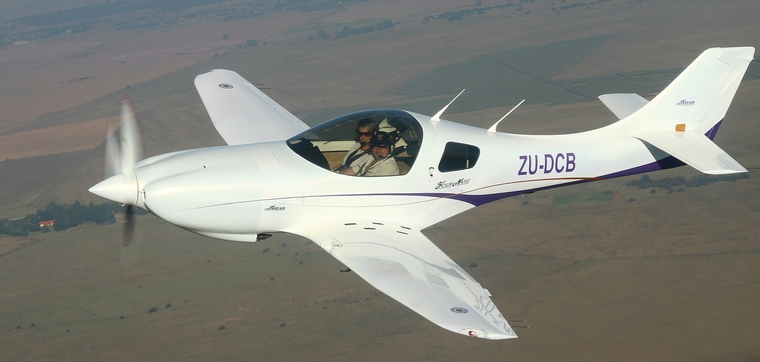 The brainchild of Lance Neibauer, the Legacy, looks fast even when standing still on the apron. Efficient high performance and elegant design with speed as the primary focus were Lance Neibauer's targets when he designed the original two-place Lancair 200 over thirty years ago.
Neibauer's first creation was powered by the Continental O-200, the same engine that Cessna used in their 150. It propelled the much lighter, beautifully streamlined, marvellously slender and graceful Lancair 200 to an incredible 200 mph (320 kmh).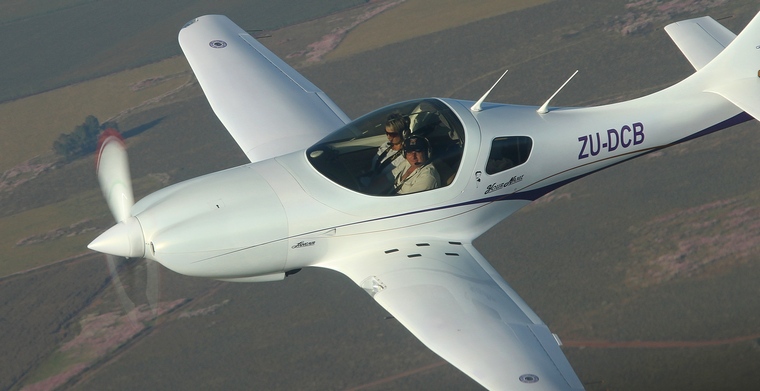 The key to Neibauer's success, besides designing an aircraft with not an unnecessary extra square inch of wetted area of cross-section, was the use of vacuum-formed pre-pregnated fibreglass and graphite composite sandwiches in the construction.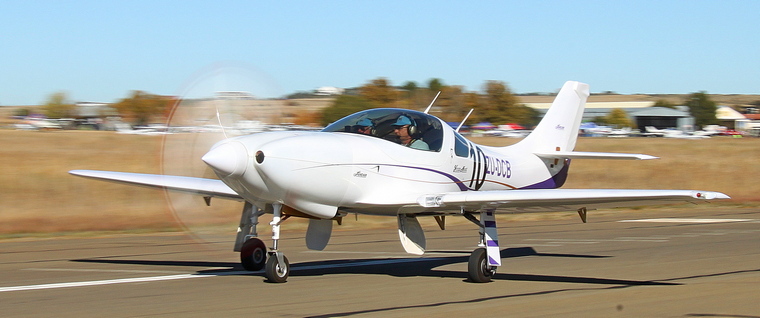 Having decided on the Legacy Dieter attended a two week workshop at the Lancair factory in the USA. "The most difficult tasks are joining the fuselage halves and then fitting the canopy. Attending the workshop was an invaluable experience and not only took care of a few major assemblies but prepared me for a smooth ride to completion." Dieter told me before our flight.
ZU-DCB was not Dieters second Lancair that Dieter has built. His first, ZU-APZ was powered by a 160hp Lycoming. His indicated cruise at 8,000 feet was 180 knots (333 kph). Lancair's first generation composites then were made with room temperature wet layup. Only white paint, to keep it cool, could be used.
Lancair was one of the first to employ 2nd generation layups using honeycomb and high temperature cured prepregs. This resulted in a lighter aircraft that could be painted in any colour. ZU-DCB includes all the "why don't you" comments from homebuilders over the last twenty years resulting in a different platform and NLF laminar flow wing design thereby giving good low and high speed characteristics.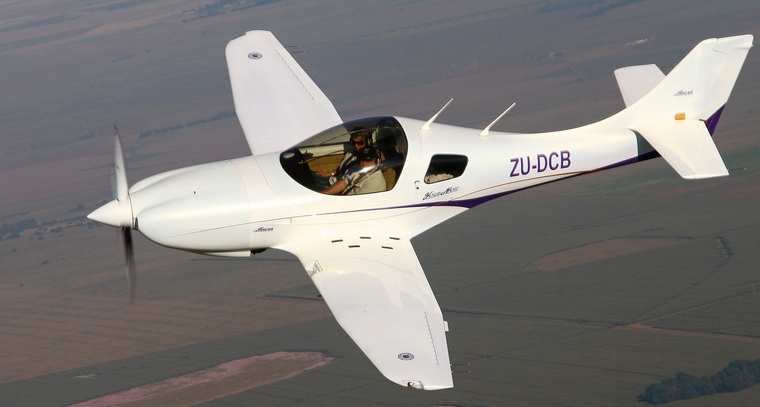 The standard IO-550 will power the Lancair to 240 knots (444 kph); the EXP installed in Dieter's pushes that up 250 knots (463 kph). "I know that is not a lot," Dieter told me, "but the EXP with its balanced conrods, flow-matched heads, balanced crank and ported and polished cylinders works less hard than a factory unit and this translates to ease of mind and engine longevity."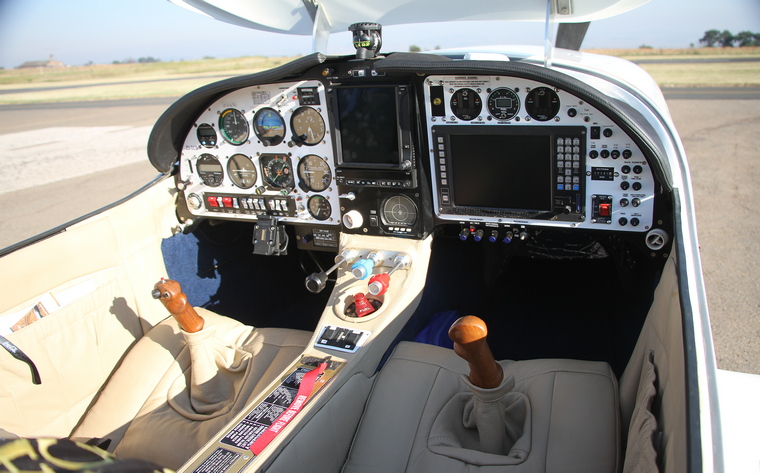 Safely strapped in and as the canopy closed my eyes wondered over the panel that to a certain extent seemed to be a contradiction in terms. The left side of the panel side consisted of the usual array of steam gauges whilst the centre consisted mostly of Garmin unit's whilst the right was taken up by an expansive MGL Voyager flat screen multi-function display. However mixing the old with the new actually blended perfectly and did not look out of place at all.
The high compression Continental roared into instant life effortlessly from cold. Throbbing menacingly with little sign of vibration we head towards the run-up point, park and go through the necessary checks before lining up for take off.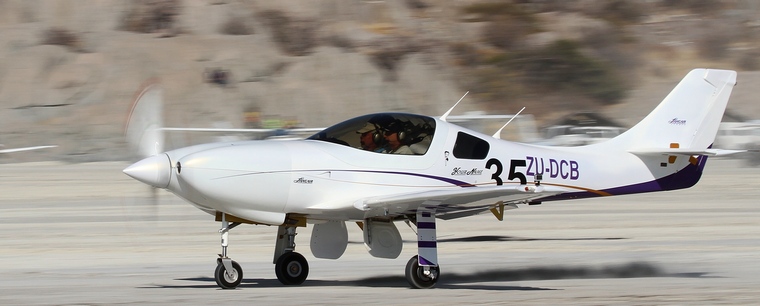 Jack Taylor airfield with its rather short and challenging runway is not where one would expect to find a high performance aircraft such as the Legacy. However, at 60 knots (111 kph) we were airborne with plenty of runway still left. We were soon climbing at 130 knots (240kph) as we headed for the GA at Hartebeespoort dam to find some airspace to play and Dieter briefly allowed me to fly her. I was in seventh heaven!
Needless to say Dieter put her through her paces whilst I sat in awe and marvelled at the genius of Neibauer's design. I have heard so much about the Legacy but nothing could have prepared me for the sheer joy of experiencing it at first hand.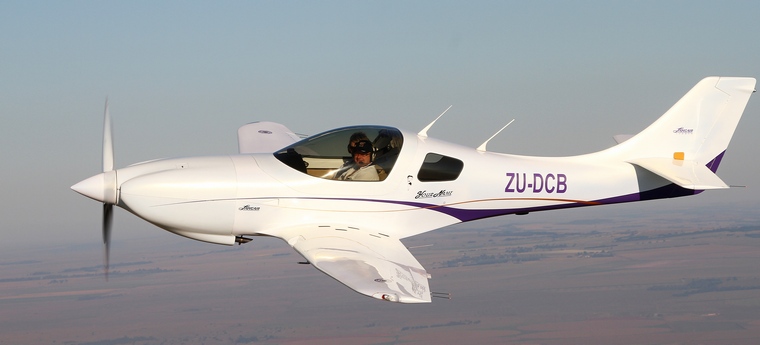 All too soon our flight was over and we returned for a high speed flight overhead the field before going downwind for base and finals. Our final approach speed was 100 knots (185 kph) from a fairly steep approach. The runway looked frightfully short at that speed. By the time we were over the threshold we were down to 90 knots (166 kph) still much higher that what I'm used to. However, the Legacy's efficient brakes quickly slowed us down and we were soon at a comfortable taxying speed with at least a third of the 800 metre runway remaining.
Did the experience live up to my expectations? Without a doubt. The Legacy is everything that I thought it would be and much more. Needless to say it took a while to wipe the smile from my face.