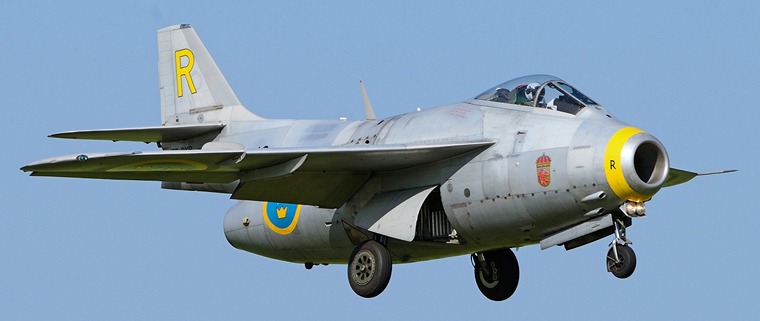 Saab J-29 "Tunnan" Photo © SAAB AB


The Saab 29, colloquially called Flygande tunnan ("The flying barrel"), is a Swedish fighter designed and manufactured by Saab in the 1950s. It was Sweden's second turbojet-powered combat aircraft, the first being the Saab 21R. The J-29 served effectively in both fighter and fighter-bomber roles into the 1970s.
The original R 1001 was designed around a mostly straight wing, but after the Swedish engineers had obtained German research data on swept-wing designs, the prototype was altered to incorporate a 25 degree sweep, first tested on a modified Saab Safir (designated Saab 201). The SAAB 29 prototype flew for the first time on 1 September 1948. It was a small, chubby aircraft with a single central air intake, a bubble cockpit and a very thin swept-back wing. The test pilot was an Englishman, S/L Robert A. 'Bob' Moore, DFC and bar.


Photo © SAAB AB

Despite its rotund appearance the J 29 was fast and agile and set the world speed record on a 500 km (310 mi) closed circuit in 1954 at 977 km/h (607.05 mph). Two S 29C (reconnaissance variant) additionally set an international speed record of 900.6 km/h (559.4 mph) over a 1,000 km (620 mi) closed-circuit course in 1955.
The crash record in early service was poor, mainly due to the inexperience with swept-winged aircraft and the lack of a two-seat, dual control Tunnan trainer variant: this meant that Swedish fighter pilots could only be trained using two seat variants of the de Havilland Vampire (a straight-winged jet), before going solo in a Tunnan. Ninety nine pilots were killed during military practice flights in Sweden.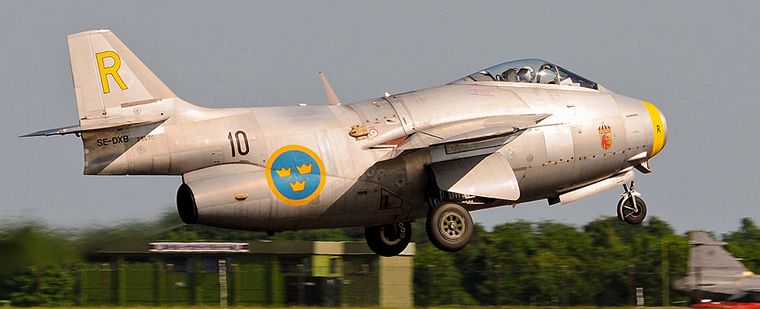 Saab J-29, Swedish Air Force Historic Flight J Photo © John5199 / commons.wikimedia.org

The Tunnan was the first Swedish jet aircraft to enter combat. In 1961, five J 29Bs were stationed in the Republic of Congo for a UN peacekeeping mission (ONUC), organized as the F 22 Wing of the Swedish Air Force. It was reinforced by four more J 29Bs and two S 29C photo reconnaissance Tunnans in 1962. Most of the missions involved attacking ground targets with internal cannons as well as unguided rockets. No aircraft were lost in action despite large amounts of ground fire. Consensus of the crews and foreign observers was that the Tunnan's capabilities were exceptional.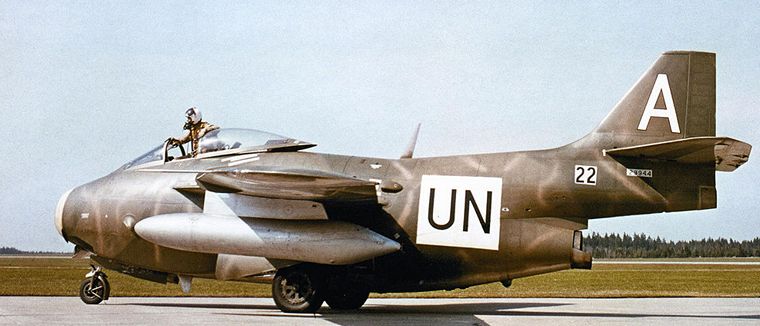 J-29 Tunnan in UN service. Photo © SAAB AB / commons.wikimedia.org

The fighter version was retired from active service in 1965, but some aircraft were used for target towing up to 1974. The last official military flight was completed in August 1976 at the Swedish Air Force's 50th anniversary air show.