THIS WEEK IN MIDWEEK UPDATE

Plan Your Weekend……..Forthcoming Events…….Aviation News

Worldwide Incidents and Accidents……This Week in Aviation History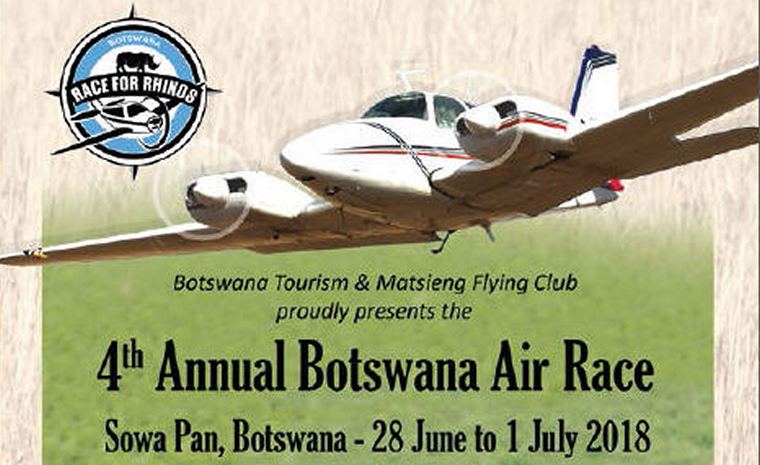 Race4Rhinos entries are now open. Guys and gals you don't want to miss this incredible event taking place at Sua Pan Botswana from 28 June to 1 July 2018. Only R6875 per team for entry plus accommodation and all meals. Fuel is free after arrival!!! Visit
www.airrace.co.bw
to enter now. Don't leave it to the last minute. This year is a world record attempt to have the most aircraft enter into an air race.
24-28: South African Hot Air Balloon Championships 2018, Skeerpoort North West Province. Contact Richard Bovell
richard@bovellross.com
28 June- 1 July: Race for Rhinos - Sowa Pan - Botswana. Contact Chris Briers e-mail:
chris@airteam.co.za
cell: 082 568 7988
30: Wings Park Open Day and Fly-In. Contact Johan Odendaal
odendaalj@italtile.co.za
30: JHB ATC Fly-in Breakfast at Brakpan Airfield.


4: EAA Chapter 322 meeting. Dickie Fritz Moth Hall Edenvale. Contact:
editor@afskies.co.za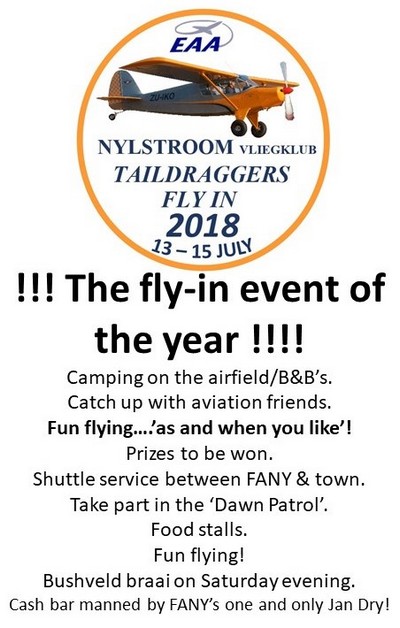 6-10: Zim Navex - Prince Charles Airport - Harare. Marion Kalweit - 2017 Air Rally Committee email:
zimairrally@gmail.com
Tel +263772570009
7 July SAA Museum Society monthly meeting at Rand Airport from 10h00. Bring and Braai Contact E-mail:
secretary@saamuseum.co.za
7: SAAF Museum AFB Zwartkop open practise day. Officer Commanding - Museum
oc@saafmuseum.org.za
012 351 2290
9: MISASA AGM 18h00 at Kroon Airfield
14-16: Nysltroom Vliegklub/EAA Taidraggers Fly in for more information contact: Richard Cell: 082 490 6227 or mail to:
Richard.nicholson1963@gmail.com
14: SAC Judges Trophy. Brits Airfield. Contact Annie Boon
chunge@mweb.co.za
14: Hoedspruit Fun Rally. Contact Wynand Uys email:
wynand@ottersden.co.za
or Frank Eckard e-mail:
frank.eckard@mweb.co.za
cell: 083 269 1516
14: Limpopo Flying School Open Championships for Microlights. Camping facilities at the field. For more information contact Nico at 0828525961 or email
vliegskool@hotmail.com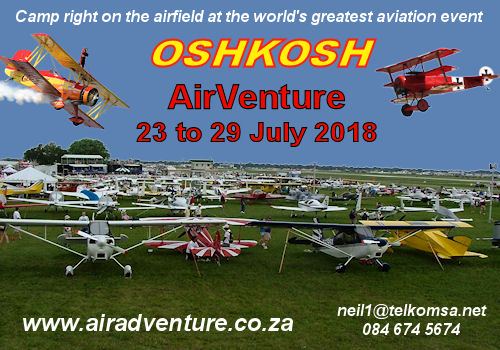 21: Krugersdorp Flying Club Airfield Festival and spot landing competition. Contact
kfc@iafrica.com
or phone 082 374 5559
21: Tailwinds fly-in at Microland. Contact Nick Swardt : Nick Swardt 082 441 8011
23 -29: EAA AirVenture Oshkosh, Wisconsin, USA
Camping on the airfield contact Neil Bowden E-mail:
neil1@telkomsa.net
Hotels in Appleton contact Calvin Fabig E-mail:
calvin@designer.co.za
28: CAA Safety Campaign Launch Midrand Conference Centre. RSVP Kgomotso Malema at
malema@caa.co.za
1: EAA Chapter 322 meeting. Dickie Fritz Moth Hall Edenvale. Contact:
editor@afskies.co.za
1-5: SAC SA Nationals Tempe Bloemfontein. Contact Annie Boone
chunge@mweb.co.za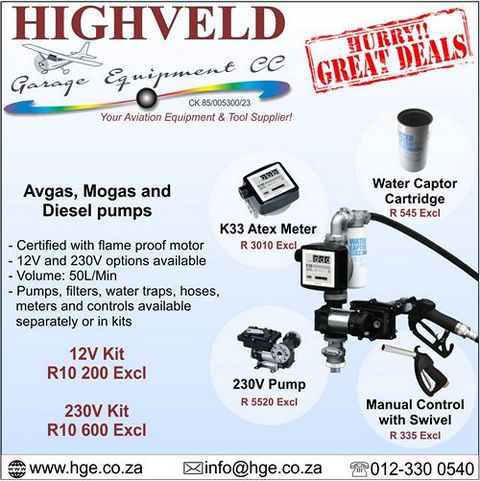 4: SAAF Museum AFB Zwartkop open practise day. Officer Commanding - Museum
oc@saafmuseum.org.za
012 351 2290
4: Thabazimbi Fly-in.
3rd Saturday of every month. Microland. Bring and braai. Fires and bykos provided. Fires start from 09h30. Contact person: Nick Swardt 082 441 8011 or Alan Hussey 072 82 2341
9: Stellenbosch Flying Club Women's Day Fly in. Contact Alison Navarro 083 728 78386
architecnic1953@gmail.com
or Louise Hofmeyer 083 454 1104
louise@airshowsa.org.za
19: Rand Airport Airshow. Contact Stuart Coetzee E-mail:
manager@randairport.co.za
Tel: 011 827 8884
19: World Helicopter Day. Henley Air Rand Airport.
25: Sheila Taylor Fun Rally - Krugersdorp Airfield. Contact Grant Rousseau Cell: 082 329 3551E-mail:
gr@kama.co.za
25 - 25: Bethlehem Airshow Stefan Fourie
fouriesj1491@gmail.com
072 344 9678

1: MAF Fly-in Family Fun Day Aviators Paradise, Brits.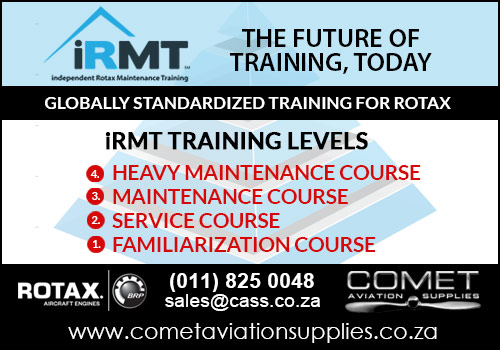 5: EAA Chapter 322 meeting. Dickie Fritz Moth Hall Edenvale. Contact:
editor@afskies.co.za
8: SAAF Museum AFB Zwartkop open practise day. Officer Commanding - Museum
oc@saafmuseum.org.za
012 351 2290
8: Grand Central Fun Rally. Contact Rob Jonkers e-mail:
rob@aerosud.co.za
Cell:082 804 7032
15 to 16: Sport Aerobatics Judges Trophy Tzaneen TBC Contact Annie Boon E-mail:
chunge@mweb.co.za
3rd Saturday of every month. Microland. Bring and braai. Fires and bykos provided. Fires start from 09h30. Contact person: Nick Swardt 082 441 8011 or Alan Hussey 072 82 2341
19 - 23: 2018 AAD EXPO, Waterkloof Airforce Base Leona Redelinghuys
info@aadexpo.co.za
084 840 3215
www.aadexpo.co.za
22: 49th Oudtshoorn Scale Fly in. Cango Flying Club.
21-24: MISASA Africa Cup-Microlight Weekend 2018 at Hotel Numbi
The Aviation Radio Show; get all your questions answered in one place. To listen to a recording of the live broadcast click on the link:

www.debela.co.za/aviation-radio-show




TECNAM SALES SUCCESS AT AEROEXPO UK 2018





Tecnam's presence at AeroExpo UK has proved a resounding success with great interest from the visitors, but also resulted in several sales, among the others Jersey Aero Club and FlyAbout Aviation. Photo © Ed Hicks.

UK based Fly About Aviation not only purchased a P2006T Twin, but has also been appointed an Authorized Tecnam Aircraft Service Centre.
Based at both Damyns Hall Aerodrome, London and at Beccles Airfield, near Norwich, Fly About Aviation is renowned for achieving a number of successful certification projects, especially for EU-Build aircraft. It's Beccles location is its key customer support and maintenance facility, with its technical team being both EASA and Rotax certified.
The P2006T Twin offers unbeatable value, coupled with low operating and ownership costs, innovative design and Italian styling. The Rotax '912S' engines enable the Tecnam P2006T to lead with respect to the environment too. With both a remarkable fuel saving offering and much lower noise emissions, it has redefined both the flight training and aircraft ownership experience in one step.

RED BULL TRIO TO PERFORM AT AIRVENTURE 2018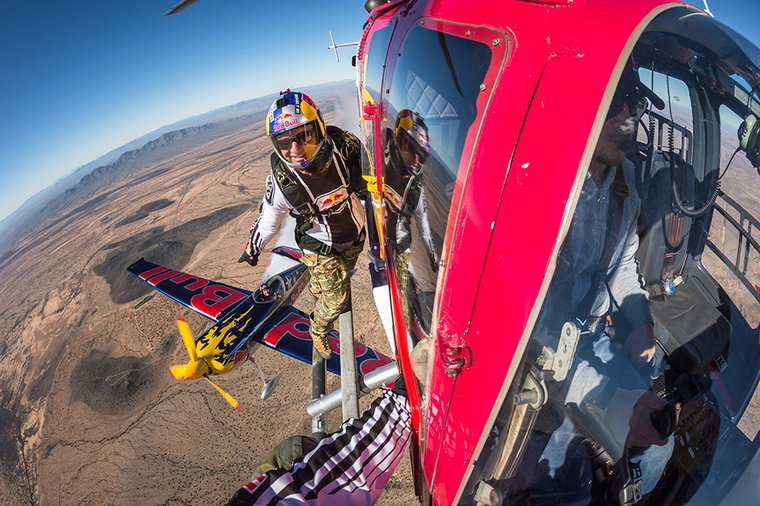 One of the exciting acts on the air show schedule for EAA AirVenture Oshkosh 2018 is the scheduled performance of the Red Bull trio of aerobatic pilot Kirby Chambliss, EAA 261512, aerobatic helicopter pilot Aaron Fitzgerald, EAA 1272985, and the Red Bull Air Force composed of four skydivers - Miles Daisher, Jeff "Jeffro" Provenzano, EAA 1023537, Jon Devore, and Amy Chmelecki. Photo © Red Bull.


"This is what's really neat about the Red Bull acts," said EAA Director of AirVenture Air Show Operations Dennis Dunbar. "Aaron has a really cool background and we all know about Kirby. These jumpers are all the best at what they do and they all come together for this performance."
The performance will consist of Fitzgerald dropping the four skydivers at determined intervals as the MBB Bo 105 Red Bull helicopter begins its ascent. Kirby will follow with his signature cobra takeoff and eventually fly in formation with the final two skydivers, who will be wearing wingsuits. Aaron and Kirby will complete the act with solo performances. In total, the act will last 18-20 minutes.
"This is 20 minutes of a lot of stuff going on," said Red Bull team coordinator Stanley Gray. "This is the first year we've done this. It's super new. We trained for it this year. We've done a new paint job on the helicopter, and Oshkosh is going to be the first performance with the new paint job. We're pretty excited about that."
The full Red Bull performances are scheduled for the Wednesday, Thursday, and Friday afternoon air shows. The skydivers will also be in the Wednesday night air show and Saturday afternoon air show, as well as performing at Twilight Flight Fest in the Fun Fly Zone on Thursday and Friday evening.
HONG KONG'S GOVERNMENT FLYING SERVICE RECEIVE FIRST H175S IN PUBLIC SERVICES CONFIGURATION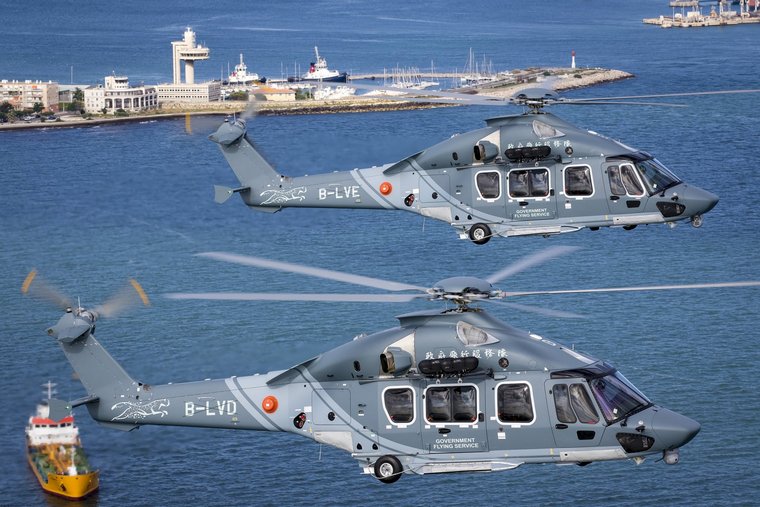 Marignane, Hong Kong based Government Flying Service (GFS) has received three H175s in public services configuration, becoming the world's first operator of this new variant which enlarges the H175 mission capacity to search and rescue (SAR), emergency medical services, law enforcement, firefighting as well as land and maritime border control operations. Photo © Airbus.

In 2015, GFS became the launch customer of the H175 in public services version with an order for seven helicopters. The four remaining helicopters will be delivered before the end of the year.
"The Government Flying Service has been very involved in the development of this new H175 version and it is a great honour to be here today to receive the first three aircraft", said Michael Chan, Controller Head of GFS. "Thanks to the H175's speed, advanced technology and versatility we will not only be able to strengthen our response capability but also be able to intervene in the most complex situations and in a large variety of scenarios."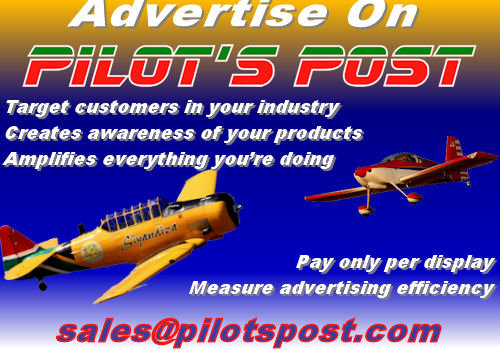 GFS's new H175 will progressively replace their current fleet of AS332 L2 and H155, which currently provide 24-hour emergency support services from their base at Chek Lap Kok Airport.
"I am grateful to GFS for their constant support and I am committed to ensuring that the H175 will fulfil their most demanding operations" said Bruno Even, Airbus Helicopters CEO. "We are very honoured to have the confidence of a world-renowned public service and SAR operator and longstanding customer to introduce this latest version of the H175 into service. With 23 aircraft currently in operation worldwide, the H175 keeps delivering on its promises in terms of performance, range and cabin comfort for oil & gas, private and public services customers".
The public service version of the H175 benefits from more than twenty cabin configurations which can be easily re-configured based on mission requirements. The great versatility of the aircraft is backed by approximately seventy different types of optional equipment which include an electro-optical system for observation and tracking and a digital map display, both of being managed by an operator's console installed in the cabin. Mission equipment also includes a dual hoist, a search light, an infrared camera, as well as a radioactivity detector, which is a GFS-specific equipment.
The H175 benefits from the latest developments of Airbus Helicopters' state-of-the-art Helionix avionics suite, which bolsters the helicopter's search and rescue capabilities with advanced SAR modes, allowing for instance the aircraft to hover automatically above moving vessels.
WARBIRDS GALORE AT AIRVENTURE 2018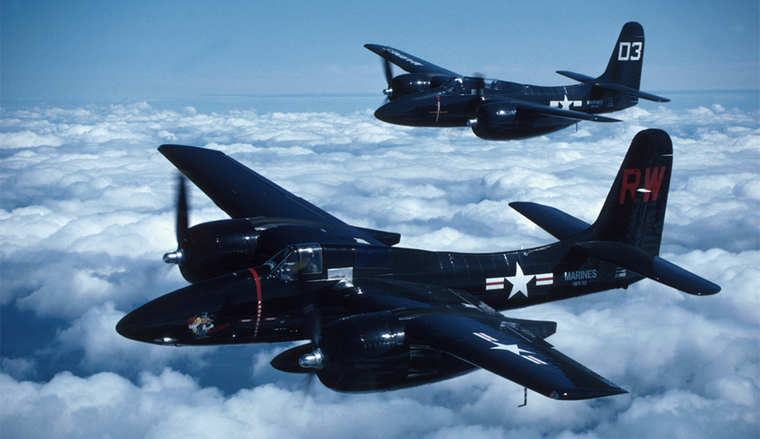 EAA AirVenture Oshkosh 2018 is shaping up to be a banner year for warbirds fans, with several new restorations planning on joining old favorites on static display and in the air. Photo © EAA.

As always, the North American P-51 Mustang, one of the premier U.S. fighters of World War II, will be strongly represented, with more than 20 expected to fly in. One of them is a freshly restored C-model P-51 painted as Lopes Hope 3rd. The airplane is painted to honor WWII pilot Donald Lopez and his time in the China-Burma-India Theater.
Another brand new restoration, a Grumman F8F-1 Bearcat, will also grace the field at AirVenture. The Bearcat was stationed on the Essex-class carrier USS Tarawa (CV-40) in the mid-'40s, then passed through a number of private owners before being damaged in an off airport landing in 1969. After more than 40 years in storage, the airplane was restored over a five-year period by Ezell Aviation in Breckenridge, Texas.
Another visitor coming from Texas is a Douglas A-26K Invader based in Fort Worth named Special Kay. This twin-engine medium bomber/attack aircraft has been recently restored to its mid-'60s U.S. Air Force glory, and honors the veterans who flew the type out of bases in Thailand during the Vietnam War.
These three airplanes are expected join the beloved Boeing B-29 Superfortress Doc, several Curtiss P-40s, multiple Grumman F7F Tigercats, and the XP-82, the only surviving prototype of North American's legendary Twin Mustang. This year, we'll be celebrating early jets with a complement of North American F-86 Sabres, Lockheed T-33 Shooting Stars, a MiG-17, and a number of rare early British jets like the de Havilland Vampire and Venom, and the historic Gloster Meteor. Those last three, along with a pair of Supermarine Spitfires and a number of other aircraft, will also serve to commemorate the centennial of the Royal Air Force.
Other warbird types expected in good-sized numbers are at least 80 North American T-6/SNJ Texans/Harvards to commemorate the type's 80th anniversary, a gathering of Nanchang CJ-6s, not to mention a strong turnout of Beech T-34 Mentors and North American T-28 Trojans. In addition, a dozen Douglas C-47s/DC-3s, including the Commemorative Air Force's That's All, Brother, will be making formation flyovers in advance of their planned 2019 flight to Normandy on the 75th anniversary of the Normandy Invasion.
A SUPER HORNET RETURNS TO ITS NEST-THE BOEING SERVICE LIFE MODIFICATION PROGRAM BEGINS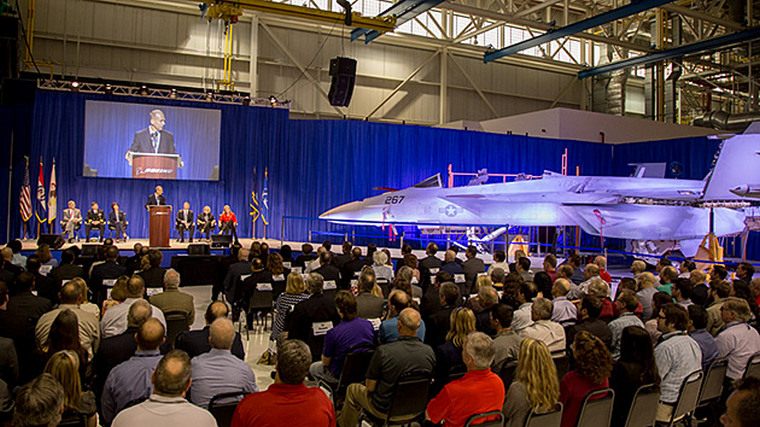 Boeing inducted the first F/A-18 into the Service Life Modification program, which will modernize and extend the life of the U.S. Navy Super Hornet fleet. Photo © Boeing.

The Super Hornet, which returned to Boeing St. Louis in early April, received a warm welcome during a ceremony on May 4 attended by U.S. Navy representatives, local elected officials and Boeing employees.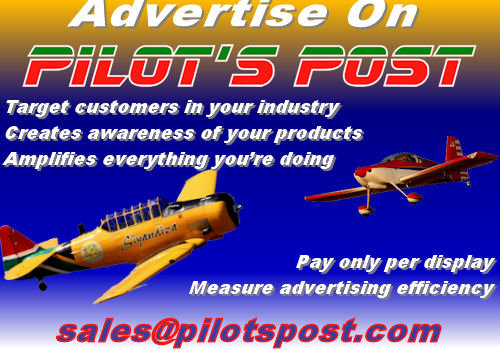 "Three hundred and fifty plus Super Hornets will come through this line in the next five to six years … so we can support the needs of our nation," said Rear Adm. Michael Moran, U.S. Navy. "The F/A-18 Super Hornet is the premiere strike fighter for the U.S. Navy today and for the foreseeable future."
Shelley Lavender, senior vice president of Boeing Strike, Surveillance and Mobility said at the height of the Service Life Modification line, Boeing will deliver more than 50 Block III Super Hornets to the Navy per year off two modification lines and one production line.
"Not only will this program extend the lives of current aircraft, but we also will begin inserting new technologies, and within a few years we'll be taking Super Hornets out of the fleet and returning them as Block III aircraft," Lavender said.
Work on the first four aircraft will be completed in St. Louis. An additional production line will be established next year in San Antonio. In the early 2020s, Boeing will begin conversion of existing Super Hornets to the new Block III configuration. Additional follow-on contracts could be awarded during the next 10 years.
The first F/A-18 Super Hornet is inducted into the Service Life Modification program in St. Louis, Missouri.
PENTAGON AND LOCKHEED MARTIN DELIVER 300TH F-35 AIRCRAFT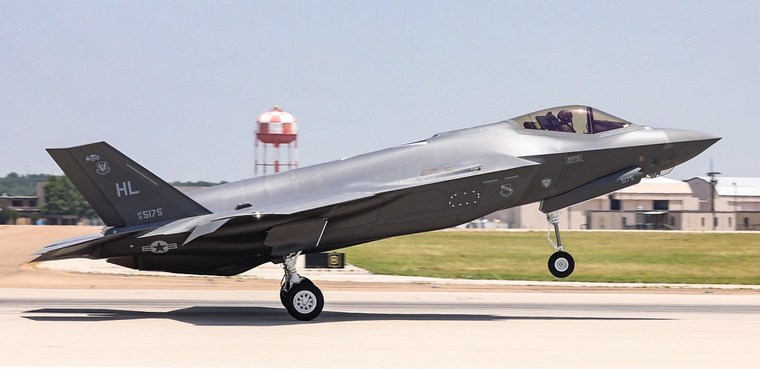 The F-35 Joint Program Office and Lockheed Martin [NYSE: LMT] delivered the 300th production F-35 aircraft, demonstrating the program's continued progress and momentum. The 300th aircraft is a U.S. Air Force F-35A, to be delivered to Hill Air Force Base, Utah. Photo © Lockheed.

"The F-35 weapons system is a key enabler of our National Defence Strategy and is providing our warfighters the combat proven, advanced capabilities they need to meet mission requirements," said Vice Admiral Mat Winter, program executive officer for the F-35 Joint Program Office. "The 300th production aircraft delivery is a significant milestone that highlights the effective F-35 Enterprise collaboration across the JPO, U.S. services, partners and industry. Moving forward, our F-35 team remains committed to driving costs down, quality up and faster delivery timelines across our development, production and sustainment lines of effort."
The first 300 F-35s include 197 F-35A conventional takeoff and landing (CTOL) variants, 75 F-35B short takeoff/vertical landing (STOVL) variants, and 28 F-35C carrier variants (CV) and have been delivered to U.S. and international customers. More than 620 pilots and 5,600 maintainers have been trained, and the F-35 fleet has surpassed more than 140,000 cumulative flight hours.
"This milestone is a testament to the hard work and dedication of our joint government and industry team as we collaborate to deliver transformational F-35 capabilities to the men and women in uniform," said Greg Ulmer, Lockheed Martin vice president and general manager of the F-35 program. "We are focused on reducing costs, increasing efficiencies, and ensuring the highest level of quality as we ramp to full rate production and sustainment of the operational fleet."
As production volume increases and additional efficiencies are implemented, Lockheed Martin is on track to reduce the cost of an F-35A to $80 million by 2020, which is equal to or less than legacy 4th generation aircraft. With the incorporation of lessons learned, process efficiencies, production automation, facility and tooling upgrades, supply chain initiatives and more, the F-35 enterprise has already significantly reduced costs and improved efficiency. For example:
#The price of an F-35A has come down more than 60 percent from the first contract.
#Touch labour has been reduced by about 75 percent over the last five years.
#Production span time has decreased by about 20 percent since 2015.
The F-35 enterprise met its 2017 delivery target of 66 aircraft, representing more than a 40 percent increase from 2016. In 2018, the team is targeting 91 aircraft deliveries and is preparing to increase production volume year-over-year to hit a rate of approximately 160 aircraft in 2023.
BELL AND SAFRAN ANNOUNCE SHARED VISION FOR ON-DEMAND MOBILITY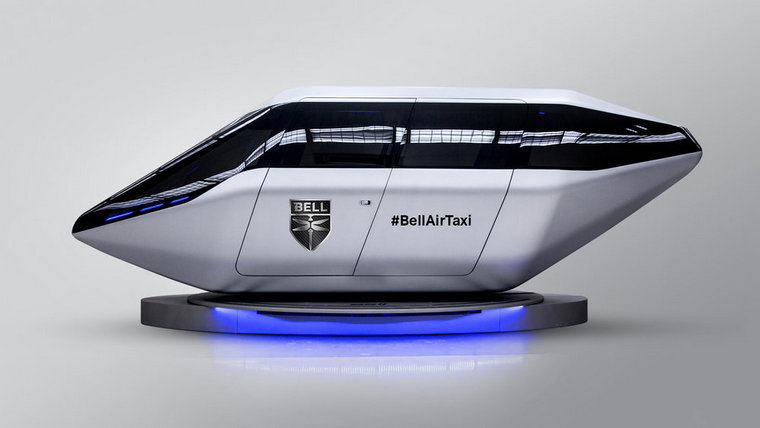 Bell Helicopter, a Textron Inc. (NYSE: TXT) company, announced at the Future of Transportation World Conference a newly formed collaboration with Safran (Euronext Paris: SAF) on the development of innovative hybrid electric power system solutions to support Bell's vertical take-off and landing (VTOL) aircraft concept. Photo © Bell Helicopters.

"Bell is at the forefront of on-demand mobility - ushering a new era of flight where the benefits of aviation are accessible to more people in more places," said Scott Drennan, Bell's director of Innovation, while speaking at the Transportation Conference. "This announcement is another proof point of our commitment to providing transportation of people and logistics in new, innovative and more efficient ways; our work with Safran is a historical milestone for future transport solutions."
For several years, Safran innovation teams have been actively exploring the potential of hybrid solutions for future propulsion systems. Bell and Safran's shared vision for electric and hybrid electric aircraft is to strive for the successful deployment of Bell Air Taxis and new on-demand mobility systems in the future.
"Thanks to the long and sustained technology-development strategy conducted within the Safran group, we can now offer Bell our hybrid electric power solutions for their next generation products that result in improved performance giving more value to our customers," said Stéphane Cueille, Safran senior executive vice president, R&T and Innovation.
In this collaboration, Bell will lead the design, development and production of VTOL systems, and Safran will bring its technical expertise to bear in the development of a disruptive propulsion system.
AIRBUS SIGNS CONTRACT FOR HERON TP DRONES WITH THE GERMAN ARMED FORCES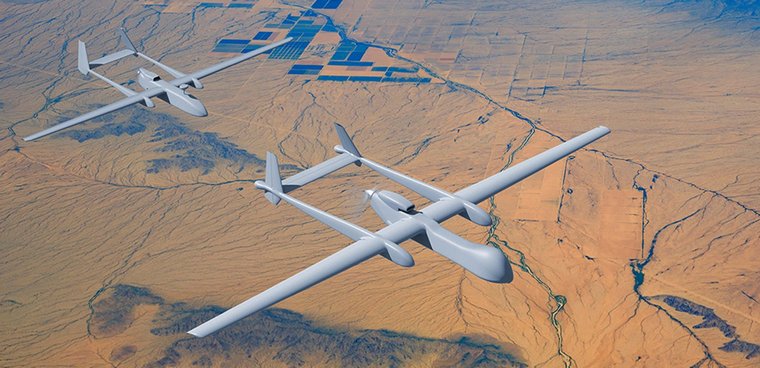 Airbus and the Federal Office of Bundeswehr Equipment, Information Technology and In-Service Support (BAAINBw) have signed an operator agreement for Heron TP unmanned aerial systems (UAS) after parliamentary approval was granted on 13 June 2018. Photo © Airbus.


The contract includes both the provision of Heron TP UAS as well as all operational services required for the system. In accordance with German budget law, the contract will become effective upon publication of the federal budget.
Heron 1 drones, which are currently deployed by the German Armed Forces in Afghanistan and Mali, are to be replaced by the more powerful IAI (Israel Aerospace Industries) made Heron which is already fully operational with the Israeli Air Force, although the contract between the Bundeswehr and Airbus is based on this previously successful model. Industry will ensure system performance, flight hours and availability and enable soldiers to focus fully on their respective missions.
The project will have a two-year set-up phase, followed by an operational phase lasting a further seven years, thereby bridging the gap until a sovereign European drone will be developed.
Under the terms of the basic contract, the Bundeswehr will receive five aircraft equipped for reconnaissance missions and capable of carrying weapons, four sets of ground segments, training environments and all system operational services. The basic contract also includes preparing the drones for their use in future countries of operation.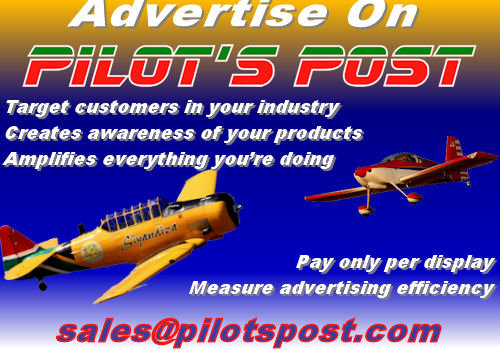 The systems are equipped with electro-optic and infrared sensors and imaging radar systems to perform far-reaching reconnaissance tasks. Satellite communication systems and German data and voice encryption systems are also part of the configuration.
The UAVs are kitted out with a weather radar system so that they can operate in bad weather conditions.
The MALE HERON TP system will get military certification from the German Armed Forces aviation authority in accordance with STANAG 4671 allowing the system to be used around the world. This is supplemented by the integration of collision avoidance capabilities.

Russia, Platov Airport: A Rossiya Airbus A319-100 with the national soccer team of Saudi Arabia on board on a flight from St. Petersburg to Rostov-on-Don (Russia) was on final approach to Rostov's new International Platov Airport's runway 04 when the right hand engine (CFM56) emitted streaks of flame after having ingested a bird. The aircraft continued for a safe landing.
USA, Type: Garfield County: An Air Tractor AT-502B cropduster operated by Deterding Aerial Spraying crashed into a wheat field just north of Enid, Oklahoma, during an aerial application flight. The airplane was destroyed and the sole pilot on board suffered fatal injuries.
USA, Aguila, Yavapai County: A Cirrus SR22 experienced a deployment of the Cirrus Aircraft Parachute System (CAPS) and came to rest in desert brush terrain in Yavapai County at Aguila, Arizona. The airplane was partially consumed by fire and one of the two occupants onboard received unspecified injuries. One occupant onboard the aircraft was not injured.
Gabon, Libreville: An Air Belgium Airbus A340-300 operated by Air France was enroute from Paris Charles de Gaulle (France) to Libreville (Gabon) and at FL350 about two hours into the flight when the crew detected a leak at the blue hydraulic system. The crew continued the flight to Libreville, requested emergency services on standby for the landing and performed a safe landing on Libreville's runway 16 about 6.5 hours after departure.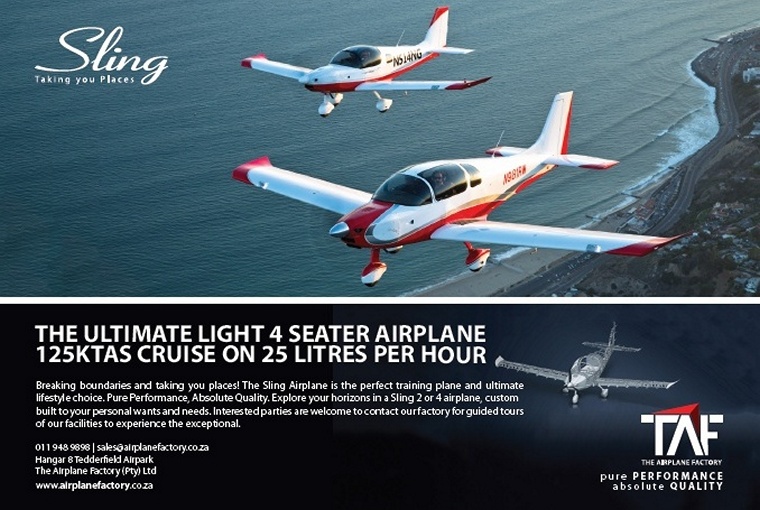 27 JUNE 1909

Three New York Papers (the Sun, Times and Herald) carry the world's first advertisement of a practical airplane for sale to the general public.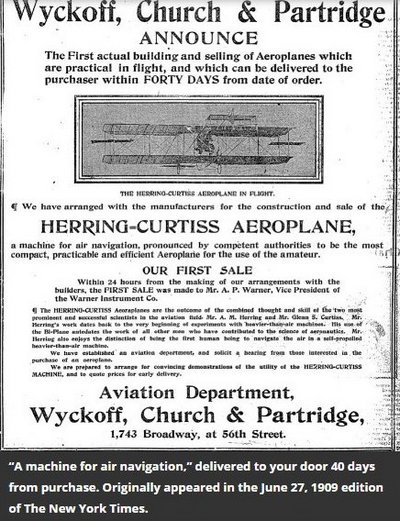 Augustus Herring and Glenn Curtiss formed the Herring-Curtiss Company on 19 March 1909 for the purpose of manufacturing and selling "motors, motorcycles, motor boats, motor vehicles, electric generators, balloons, aeroplanes, airships, flying machines of any and all types and kinds, now or hereafter devised, and any and all other motor vehicles and equipment and forms of transportation, by land or in the air, or on the water." The company was dissolved a year later, allowing Curtiss to form the Curtiss Aeroplane Company.
The Curtiss Aeroplane and Motor Company went public in 1916 with Glenn Hammond Curtiss as president. Throughout the 1920s and 1930s, the company was the largest aircraft manufacturer in the United States. After Curtiss left the company, it became part of the Curtiss-Wright Corporation.
On 27 June 1909, three New York newspapers (the Sun, the New York Times, and the Herald) carried the world's first newspaper advertisement of an airplane for sale to the general public. "The operating of an aeroplane," read another version of the advertisement, "readily handled by the amateur, is now an assured fact."