THIS WEEK IN MIDWEEK UPDATE

Plan Your Weekend……..Forthcoming Events…….Aviation News

Worldwide Incidents and Accidents……This Week in Aviation History



16: EAA Legends Talk Show. Captain Flippie Vermeulen. EAA Auditorium, Rand Airport. To book phone 0832597691. R50.00 per EAA Members. R70.00 for non members.
19: Rand Airport Airshow. Contact Stuart Coetzee E-mail:
manager@randairport.co.za
Tel: 011 827 8884
19: World Helicopter Day. Henley Air Rand Airport.


3rd Saturday of every month. Microland. Bring and braai. Fires and bykos provided. Fires start from 09h30. Contact person: Nick Swardt 082 441 8011 or Alan Hussey 072 82 2341
25: Sheila Taylor Fun Rally - Krugersdorp Airfield. Contact Grant Rousseau Cell: 082 329 3551E-mail:
gr@kama.co.za
25 - 25: Bethlehem Airshow Stefan Fourie
fouriesj1491@gmail.com
072 344 9678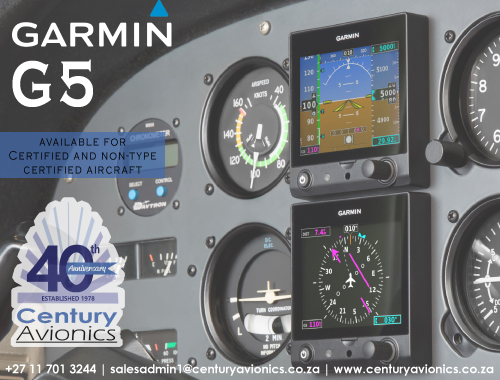 1: MAF Fly-in Family Fun Day Aviators Paradise, Brits.
5: EAA Chapter 322 meeting. Dickie Fritz Moth Hall Edenvale. Contact:
editor@afskies.co.za
8: SAAF Museum AFB Zwartkop open practise day. Officer Commanding - Museum
oc@saafmuseum.org.za
012 351 2290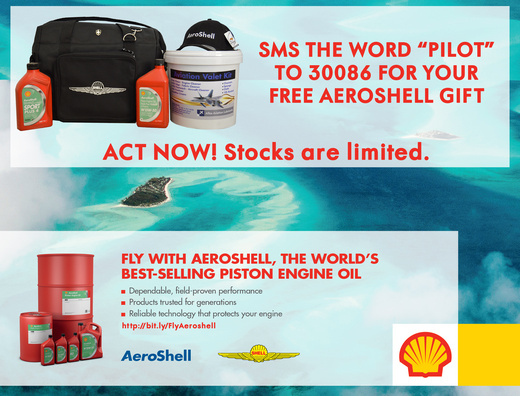 8: Grand Central Fun Rally. Contact Rob Jonkers e-mail:
rob@aerosud.co.za
Cell:082 804 7032
15 to 16: Sport Aerobatics Judges Trophy Tzaneen TBC Contact Annie Boon E-mail:
chunge@mweb.co.za
15: RV Day at Kitty Hawk. Contact Irmarie Jooste Tel: 012 802 0942
3rd Saturday of every month. Microland. Bring and braai. Fires and bykos provided. Fires start from 09h30. Contact person: Nick Swardt 082 441 8011 or Alan Hussey 072 82 2341
19 - 23: 2018 AAD EXPO, Waterkloof Airforce Base Leona Redelinghuys
info@aadexpo.co.za
084 840 3215
www.aadexpo.co.za
22: 49th Oudtshoorn Scale Fly in. Cango Flying Club.
21-24: MISASA Africa Cup-Microlight Weekend 2018 at Hotel Numbi
25: Lydenburg Fly-in Festival. Static displays and spot landing competition. Contact Dean 082 908 4565 or Louis 082 550 8832

3: EAA Chapter 322 meeting. Dicky Fritz Moth Hall Edenvale. Contact:
editor@afskies.co.za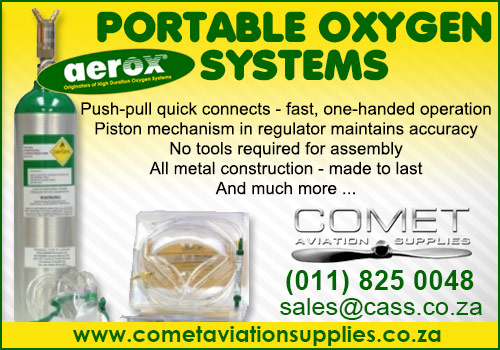 6: SAAF Museum AFB Zwartkop open practise day. Officer Commanding - Museum
oc@saafmuseum.org.za
012 351 2290
6: Secunda Flying Club Rally. Contact:
chairman@sapfa.co.za
cell: 082 855 9435
20 to 21: Sport Aerobatics North West regionals Klerksdorp Contact Annie Boon E-mail:
chunge@mweb.co.za
23 & 24: Avi Afrique 2018 Africa Aviation Innovation Summit CSIR. Contact ATNS Percy Morokane E-mail:
percymo@atns.co.za
3rd Saturday of every month. Microland. Bring and braai. Fires and bykos provided. Fires start from 09h30. Contact person: Nick Swardt 082 441 8011 or Alan Hussey 072 82 2341



The Aviation Radio Show; get all your questions answered in one place. To listen to a recording of the live broadcast click on the link:
www.debela.co.za/aviation-radio-show







EMERGENCY PROCEDURES NOT FOLLOWED IN WONDERBOOM PLANE ACCIDENT: CAA


This is one of the preliminary findings made by the Civil Aviation Authority (CAA) in its investigation into the crash of the aircraft, a Convair 340/440.

The twin-engine aircraft took off with two crew and 17 passengers for a scenic flight from Wonderboom aerodrome to Pilanesburg aerodrome in Rustenburg when the accident occurred.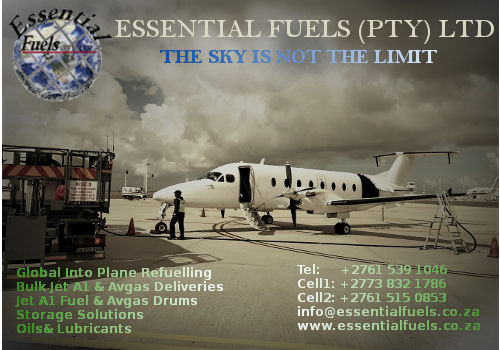 Both aircraft pilots and two passengers were seriously injured and one passenger was killed. Four other people on the ground sustained serious injuries and another four suffered minor injuries.
The report said there were a number of detailed procedures to be followed by pilots after identifying the engine that was on fire.
"Based on the wreckage examination including the propeller and cockpit GOPRO recording, the ... procedures were not followed by the crew when the left engine caught fire," the report said. The report also said the aircraft required two pilots to operate it and both needed to be rated for the aircraft.
However, the CAA said the documents and the licences made available to the investigation team indicated only the captain was rated on the aircraft.
The CAA said the captain had a valid Australian Air Transport, Commercial and Private Licence and he was type-rated on the aircraft.
"However, the validation issued by the (South African Civil Aviation Authority) was for Private Pilot Licence under visual flight rules which was valid until May 5 2021," the report said.
It said the first officer had a valid Australian Air Transport, Commercial and Private Licence, however, he was not type-rated on the aircraft.
It said the first officer's validation of his foreign licence was only limited to single-engine landing aircraft.
The report said the Licensed Aircraft Maintenance Engineer (LAME) had been issued with the aircraft maintenance licence with the appropriate rating endorsed and was valid at the time of the accident.
"The aircraft is certified for two crew operation, however the engine controls were also operated by LAME who is not part of the crew according to the aircraft flight manual and he is not rated on the aircraft as a pilot."
The report also said the Pilanesberg aerodrome was closed for fixed-winged aircraft as indicated in the Notice to Airmen that the runway was under construction. The report said at the time of take-off, neither the crew nor the Wonderboom Airport air traffic controller was aware of the notice.

SEEN AT OSHKOSH 2018-THE SOUTH AFRICAN WHISPER X


"The X350 Gen II is one of those aircraft that makes you grin every time you take to the sky. To say the performance is spectacular would be an understatement indeed! It's one of those unique and rare aircraft that does everything well."

The X350 Gen II offers increased performance and headroom, a full leather interior, dual L&R Controls, optional Ballistic Recovery System, optional 2-Axis Autopilot and a more spacious instrument panel to accommodate 10.4 inch EFIS screens to name a few.
The New Whisper X350 Gen II is available in 3 options, Basic Kit, Standard Quick-Build-Kit and Ready-to-Fly.
We are proud of the fact that our customers will have very little fiberglass work to do, depending on the kit you select. However, there is some to be done. The Gen II Standard Kit has some structural and fuselage parts completed, including the first paint primer coat and most of the exterior work.
The remaining work and finishings includes all electronics, engine fitments and interior work to be done by the owner. No prior knowledge of composites is required or necessary.
Internally, you'll notice a full leather interior with 4D Carbon Fibre trims and textured Kydex avionics panels. The Kydex is a durable, easy to work with panel, ensuring an easy avionics installation. We import our leather from Italy to ensure quality and durability, as well as comfortability for those long, cross-country trips.
The Gen II have one of the widest cockpits available allowing plenty elbow room and leg room making it perfect for cross-country trips.
All parts required to finish the Whisper are included within the kit. The estimated time to complete the kit will take an average of 500 man hours , depending on your skills or assistance from friends or others. A well-detailed construction manual (featuring ample illustrative photographs) is provided with the kit. Quick assistance can also be given by phone or via SKYPE call. Whisper Aircraft have a growing builders forum too, where owners can share their construction experience and knowledge.

SEEN AT OSHKOSH-THE SOUTH AFRICAN ADAPT AERO ENGINE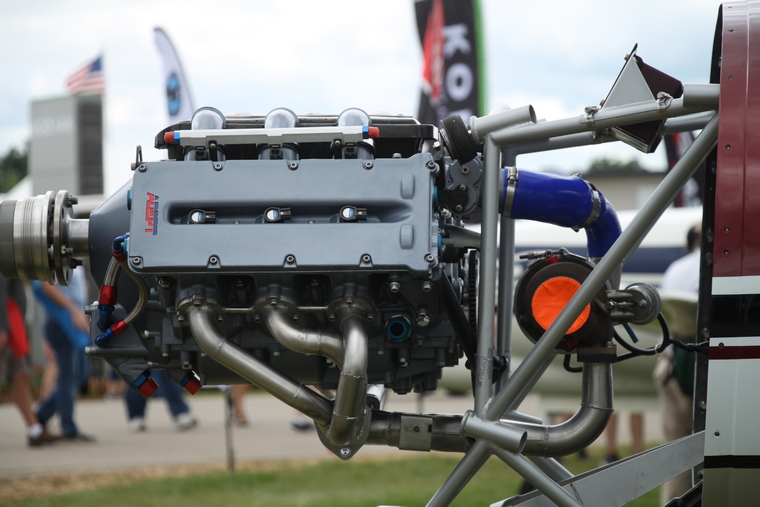 July has been a very productive month for the team at ADEPT. After initially focussing on the lead-in 320T engine model, production of 280N, and 360T engines are now coming on-line. Photo © Willie Bodenstein.

The response to the expanded model range at EAA Airventure 2018 has been excellent, with huge traffic through the display area, and lots of interest in the increased engine range. The response from OEMs confirms that ADEPT is well positioned for growth.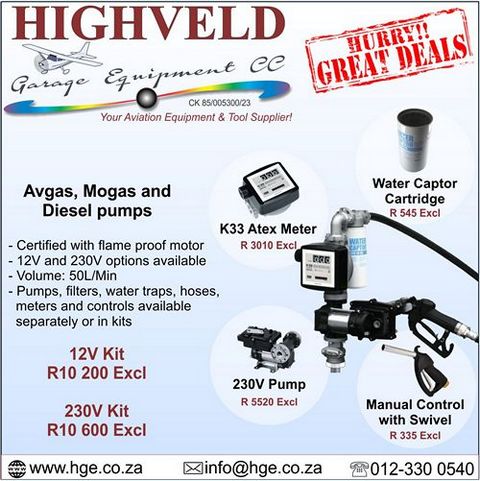 The Adapt technical team is also excited to announce that the first production 280N engine is currently undergoing conformance testing in our test facility, and will soon be powering a very exciting new aircraft type!
Another 2018 highlight was that ADEPT and Aerosud Holdings and ADEPT have signed a memorandum of understanding (MoU) that establishes a Strategic Partnership agreement between the two companies.
Aerosud Aviation is a Tier 1 supplier to Boeing and Airbus, on platforms such as A320, B737, A350, B777 and A380 and is responsible for Design and Build work packages on the Airbus A400M programme.
The company was also involved in the early stages of the South African Surveillance, Reconnaissance and Close Air Support aircraft, the AHRLAC.
Aerosud's superb track record at the leading edge of aviation production will allow ADEPT to fast track, streamline and align our manufacturing systems with industry best practice. Aerosud's stated intent is to help grow the ADEPT aviation propulsion business into a world class offering and to position ADEPT engines as the preferred and relevant technology in General Aviation, meeting the need for new and environmentally friendly piston engines in this sector.

KOPTER ANNOUNCES ORDER OF TWO UNITS FROM SAFOMAR AVIATION OF SOUTH AFRICA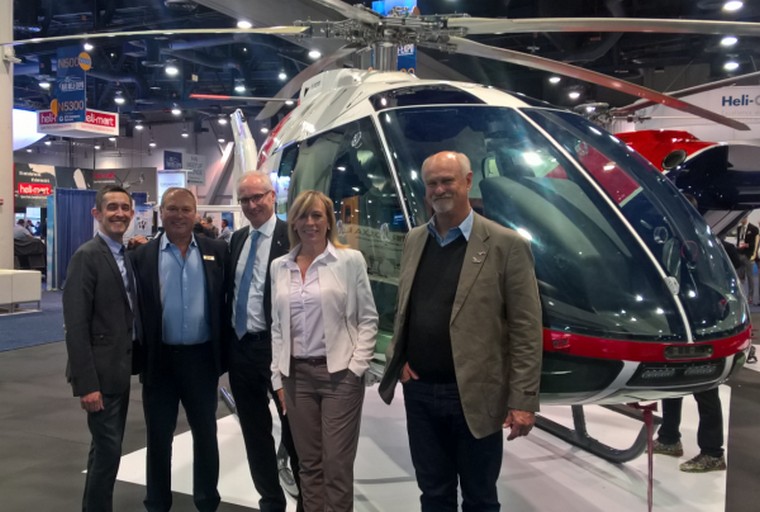 On Day 2 of HeliExpo 2018 in Las Vegas, Nevada, Kopter Group AG is proud to announce that Safomar Aviation (PTY) LTD of South Africa has signed an order of two (2) units of the SH09 single turbine helicopter. Photo © Kopter.


Safomar is currently in advanced stage discussions with Kopter of a representation agreement for its products in South Africa which will include sales and after sales support and services for the future SH09 fleets.
Safomar Aviation has been operating in Southern Africa over the past 30 years. It is a diverse aviation group comprising of aircraft sales, after sales support, pilot and technical training, maintenance, aircraft spares supply and repairs thus providing a full turnkey solution to the aviation industry on the continent.
Shai Shalem, Safomar Aviation Group CEO, says: "We are very pleased to enter into a partnership with Kopter as we believe the helicopter's latest and revolutionary technology with the diversified capabilities will cater to the various applications and missions in the medium single engine helicopters and will certainly be a game changer in the helicopter fraternity. We believe that the Safomar Aviation Group is best positioned to promote and sell this ground breaking product and we look forward to growing the product and the relationship in Southern Africa with Kopter."
Mathias Sénès, Kopter Group Chief Commercial Officer says: "We are very happy to welcome Safomar to the SH09 family. Safomar is a key aerospace player which has established a strong presence in South Africa, contributing to introduce Kopter in a new market."
ZENITH-FLYING IN TO OSHKOSH 2018-LANDING ON THE YELLOW DOT


Flying in to Oshkosh, the world's busiest airport during the weeklong convention can be an eye-opening experience and this year was no exception!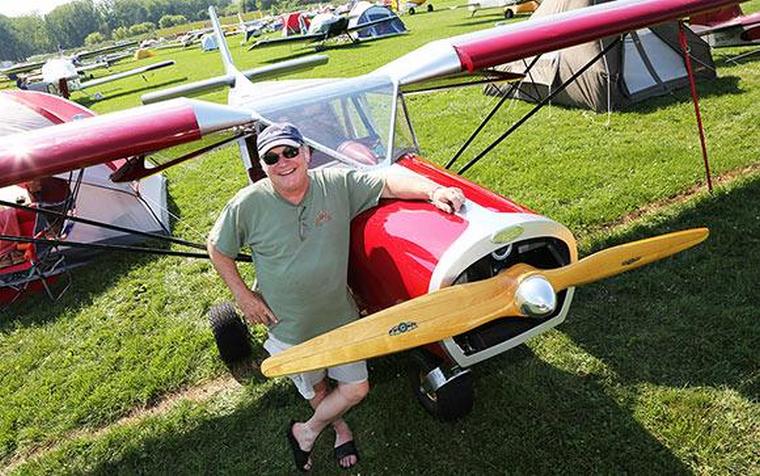 There was an excellent representation of Zenith Aircraft at the 2018 EAA Oshkosh fly-in, including some outstanding new custom-built aircraft flown to Oshkosh for the first time. Above, Mark Phillips' beautifully customized STOL CH 701, was a great example of a homebuilder's personalized touches to a Zenith kit.


Above, camping with Zeniths at Oshkosh, flown in "low and slow" all the way from Washington State!

ENSTROM 480B-G'S ACCEPTED IN THE CZECH REPUBLIC FOR TRAINING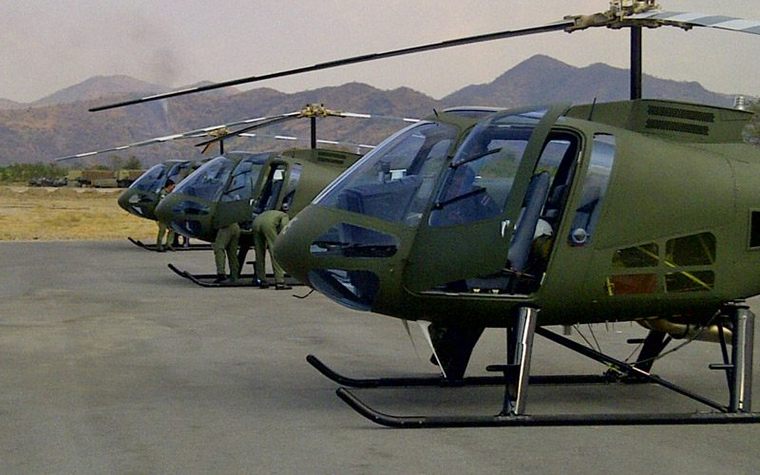 The first of 6 Enstrom 480B-Gs were delivered to LOM PRAHA for use at their Flight Training Center (CLV) on the military base in Pardubice, Czech Republic on June 21. Photo © Enstrom.


The sales of these aircraft were coordinated by DSA, the Enstrom Representatives in the Czech Republic. There will be a total of 4 military and 2 civilian registered 480B-Gs, all of which include the Garmin G1000H glass cockpit. The Enstroms are replacing the Mi-2 aircraft that CLV had been using for training Czech Air Force pilots since 2004. Previously Miroslav Hejna, CEO of LOM PRAHA TRADE. a.s., the subsidiary of the state enterprise LOM PRAHA, said "We believe the aircraft and the Enstrom team are the best choice for the long term." As the CLV continues to expand their operations, the Enstrom 480B-Gs are their first American made aircraft.
The official "Rotation of the Guards" ceremony was attended by former Minister of Defence Karla Slechtova along with other high ranking military officials. The airshow highlighted the departure of the Mi-2 and the capabilities of the 480B-G to former Minister Slechtova after which VIP demos were offered. Dennis Martin, Director of Sales and Marketing at Enstrom Helicopter, who was also in attendance said "This is a new direction for LOM PRAHA and for the Czech Air force. We proud to join their team."
HONDA AIRCRAFT COMPANY BEGINS HONDAJET ELITE DELIVERIES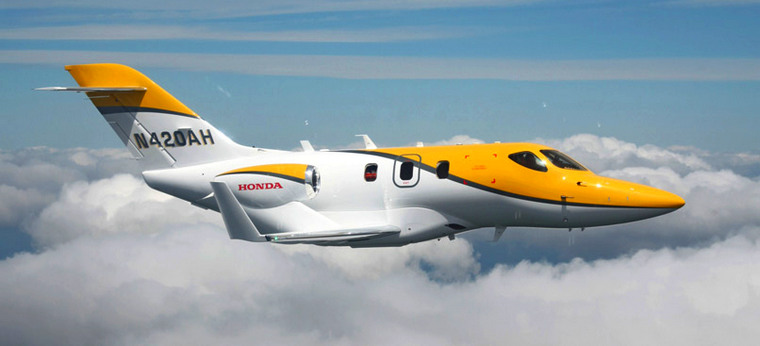 Honda Aircraft Company announced today that it has begun deliveries of its new advanced aircraft, the HondaJet Elite, at its headquarters in Greensboro, NC. Deliveries of the HondaJet Elite begin as the HondaJet marks the first half of 2018 as the most delivered aircraft in its class, based on information provided by the General Aviation Manufacturers Association (GAMA). Photo © Honda Jet.

"We are proud to announce that deliveries of the HondaJet Elite have begun," said Honda Aircraft Company President and CEO Michimasa Fujino. "This milestone showcases Honda Aircraft's steadfast commitment to setting new standards in business aviation and enthusiasm for remaining at the forefront of an evolving industry." He added, "We are excited about the very positive worldwide reaction to the HondaJet Elite's market entrance and are pleased to announce that, most recently, more than 10 orders in Japan were placed following our expansion to the region in June. Deliveries in Japan will begin following receiving type certification from the Japan Civil Aviation Bureau early next year."
During the first half of 2018, Honda Aircraft delivered 17 HondaJets to customers, making it the most delivered aircraft in it its class. When discussing the HondaJet ranking as most delivered, Mr. Fujino stated, "When creating the HondaJet, my priority was to enhance the lives of business jet users by designing an aircraft that offered unrivaled performance, value and comfort. As the HondaJet remains the most delivered very light jet, we would like to thank our customers for choosing the aircraft for its best-in-class attributes. We are looking forward to continuing to deliver the HondaJet and HondaJet Elite around the globe."
Honda Aircraft Company has established a worldwide dealer and authorized sales network to provide unsurpassed service and support for HondaJet Elite customers that spans territories in North America, Europe, Middle and South America, Southeast Asia, China, India, the Middle East and Japan. Manufactured at Honda Aircraft Company's world headquarters in Greensboro, NC, the HondaJet Elite is type certified by the United States Federal Aviation Administration (FAA) and the European Aviation Safety Agency (EASA).
The HondaJet Elite was designed to provide customers with the best experience by utilizing Honda Aircraft's pioneering advanced technologies coupled with the best performance and comfort enhancements.
LOCKHEED MARTIN DELIVERS 52ND C-5M SUPER GALAXY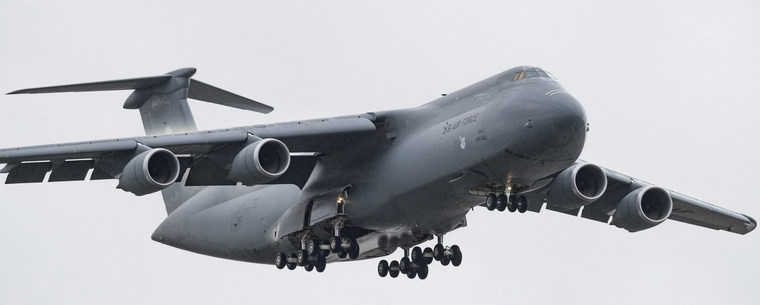 Lockheed Martin (NYSE: LMT) delivered the 52nd C-5M Super Galaxy strategic transport modernized under the U.S. Air Force's Reliability Enhancement and Re-engining Program (RERP) on Aug. 2 at the company's Marietta, Georgia, facility. Photo © Lockheed.

The delivery completes the RERP upgrade, which extends the service life of the C-5 fleet out until the 2040s.
"With the capability inherent in the C-5M, the Super Galaxy is more efficient and more reliable, and better able to do its job of truly global strategic airlift," said Patricia Pagan, Lockheed Martin Air Mobility and Maritime Missions Strategic Airlift director, "I am very proud of the contractor-government team than carried out the C-5 fleet modernization effort. We've worked very hard to ensure the C-5Ms are the absolute best strategic airlifters possible for our armed forces."
An Air Force Reserve Command aircrew from the 439th Airlift Wing at Westover Air Reserve Base, Massachusetts, ferried the final C-5M to Stewart Air Force Base, New York, where the aircraft will undergo interior paint restoration. Once that work is complete, the aircraft will be flown to Westover where it will be the eighth C-5M assigned to the base.
Lockheed Martin began RERP development work in 2001. RERP incorporates more than 70 improvements that improve reliability, efficiency, maintainability and availability. RERP included changes or modifications to the airframe structure; environmental and pneumatic systems; hydraulic systems, electrical system; fuel system; landing gear; and flight controls.
The heart of the system is the GE F138 turbofan engine (known as a CF6-80C2L1F in the commercial world) de-rated to 50,000 pounds of thrust on the C-5M. This engine provides 22 percent more thrust than the out-of-production TF39 turbofans on the earlier C-5A/B/C aircraft. The engines also allow the C-5M to meet the FAA's Stage 4 noise reduction requirements.
These changes, taken together, result in a 22 percent increase in thrust, a shorter take-off roll; a 58 percent improvement in climb rate; allows the C-5M to cruise-at maximum gross weight-in the Communication/Navigation/Surveillance / Air Traffic Management (CNS/ATM) flight environment; and greatly enhanced fuel efficiency and less tanker support demand.
First flight of a modified aircraft to the C-5M standard came in Marietta, Georgia, on June 19, 2006. The first operational C-5M was delivered to Dover Air Force Base, Delaware, on February 9, 2009. A total of 49 C 5Bs, two C-5C aircraft, and one original C-5A was modified under RERP.
The C-5M holds 89 FAI-certified world aviation records, the most by any aircraft type. These records include time-to-climb with payload, altitude with payload, and greatest payload carried.
The C-5 Galaxy has been operated solely by the U.S. Air Force since 1970 and is the largest strategic airlifter in the U.S. Air Force's fleet. The C-5 is capable of carrying two 78-ton M1A1 main battle tanks or helicopters and other large equipment intercontinental distances. Fully loaded, a C-5 has a gross weight of more than 800,000 pounds. All of the C-5s were built at Lockheed Martin's Marietta site.
In addition to Westover, C-5Ms are assigned to active duty and Air Force Reserve Command units at Dover Air Force Base, Delaware (436th and 512th Airlift Wings) and Travis Air Force Base, California (60th and 349th Air Mobility Wings). The C-5 aircrew training squadron is part of the 433rd Airlift Wing, the Reserve wing at Joint Base San Antonio-Lackland, Texas.

USA, Denali National Park: A de Havilland DHC-2 Beaver operated by K2 Aviation on a sight-seeing flight with 4 Polish tourists went missing on Saturday 4 August 2018 and a rescue operation commenced. The pilot allegedly reported on his satellite phone that there were injuries, but authorities couldn't get details before the satellite connection failed. The aircraft was located Monday, August 6, 2018 A park ranger was winched down and after digging through the snow confirmed 4 fatalities. The fifth occupant onboard, the pilot, has not been located but is presumed dead.
Switzerland, Piz Segnas: A Junkers Ju-52/3m aircraft, operated by Ju-Air, was destroyed in an accident in a mountainous area in Switzerland. The aircraft crashed into the western slope of Piz Segnas at an elevation of 2540 m. All 17 passengers and three crew members were killed. The aircraft had departed Locarno, Switzerland, at 16:10 on a flight to its home base at Dübendorf. The STSB stated that the aircraft impacted the ground nearly vertically and at high speed. No evidence was found of a collision with a cable or other aircraft. Also, no evidence was found of an in-flight break-up.
Pakistan, Lahore : A PIA Pakistan International Airlines Boeing 777-300, on a flight Lahore (Pakistan) to Jeddah (Saudi Arabia) with 395 people on board, was accelerating for take-off from when an engine failed prompting the crew to reject take-off. The aircraft came to a stop with four blown of six left main tyres.
Mexico, near San Luis Potosi Airport: A Dassault Falcon 20D operated by Alliance Air Charter was en-route for the US with automotive parts, diverted to San Luis Potosi with engine problems. It however conducted a force landing about 2mi from the airport, struck a small building and came to rest in a field. The crew had minor injuries. A house was damaged and a donkey was killed.
Japan, near Mt. Kusatsu-Shirane: A Bell42EP of the Gunma Prefectural Air Rescue with nine on-board on an inspection flight for a new mountain trail crashed near Mt. Kusatsu-Shirane, Gunma prefecture. Eight of the passengers on board were found near the wreckage, and two of them were confirmed dead. The status of six has not reported yet. One occupant is still missing.
Indonesia, near Oksibil Airport, Papua: A PAC 750XL of Dimonim Air with nine on board on a flight to Tanahmerah Airport crashed near to Tanahmerah village where the wreckage of the plane was located by search crews. Some people in a village reported that they heard loud sounds and an explosion. Eight occupants died in the crash, a boy was the only survivor.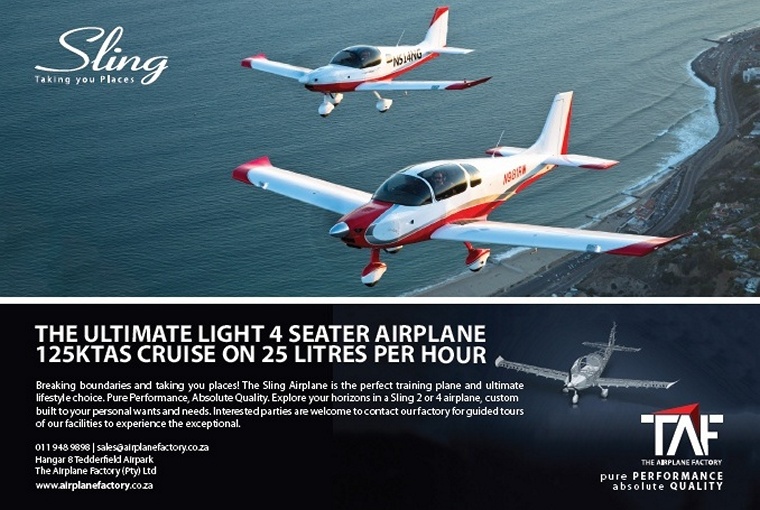 THIS WEEK IN HISTORY

10 AUGUST 1912

Englishman Francis K. McClean becomes the first pilot to fly under bridges spanning the Thames River when he takes off from Harty Ferry, Eastchurch in his Short biplane S. 36.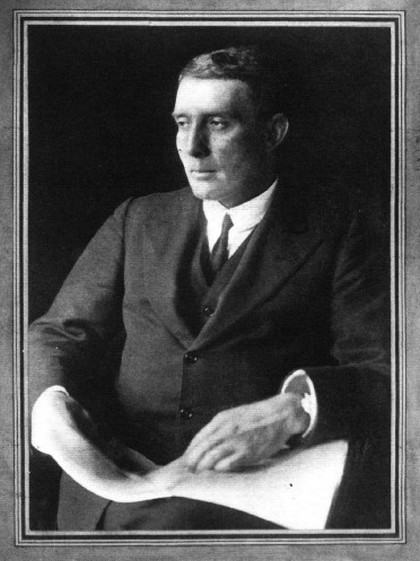 Lieutenant-Colonel Sir Francis Kennedy McClean, AFC, DL was a British civil engineer and pioneer aviator was one of the founding members of the Royal Aero Club and one of the founders of naval aviation and amateur flying
McClean was born on 1 February 1876, the son of Dr Frank McClean, and was educated at Charterhouse before the Royal Indian Engineering College at Cooper's Hill. He worked as a civil engineer in the Indian Public Works Department from 1898 to 1902 when he left to focus on aviation matters.
His first flying experience was in 1907 in a balloon race in Berlin and in December 1908 he flew with Wilbur Wright at Le Mans. At the start of 1909 he began a co-operation with the Short Brothers to develop heavier-than-air aviation in Britain. McLean owned the ground on which the aerodromes at Leysdown and then Eastchurch were built. He was awarded Royal Aero Club Aviators Certificate Number 21 after flying a Short S.27 biplane at Royal Naval Air Station Eastchurch on 20 September 1910. Between 1909 and 1914 he owned sixteen different aircraft, all but one built by Short Brothers.
In February 1911 he offered to let both the Admiralty and War Office use the aircraft and airfield at Eastchurch to teach naval and military personnel to fly heavier-than-air machines. Although the War Office had declined, the Admiralty accepted and started to train the first naval aviators.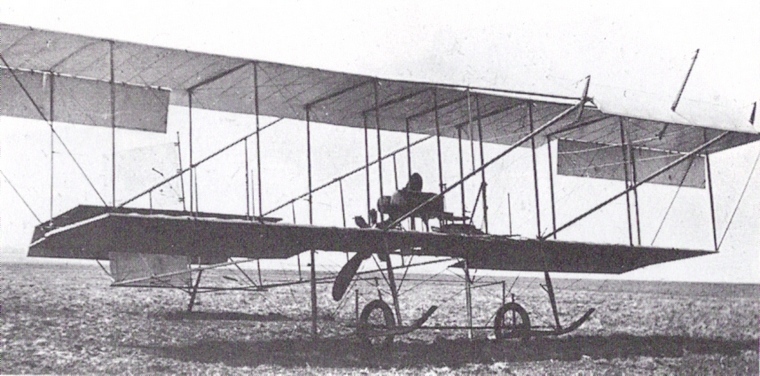 McClean was also a pioneer in aerial photography: with the help of Hugh Spottiswoode he took some acclaimed photographs of the wreck of the SS Oceana just off the coast at Eastbourne. In August 1912 he flew a floatplane between the upper and lower parts of Tower Bridge and underneath London Bridge.
In 1914 he made a flight following the course of the Nile between Alexandria and Khartoum in a specially built four-seater aircraft, the Short S.80 The Nile. Beset by mechanical problems, the flight took from 2 January until 22 March. Upon the outbreak of the First World War in August he was commissioned in the Royal Naval Air Service and carried out patrols in the English Channel before becoming chief instructor at Eastchurch. He transferred to the Royal Air Force when it was formed in 1918 but resigned his commission in 1919. McLean was a founder member of the Aero Club of Great Britain (later the Royal Aero Club) and was Chairman in 1923-24 and again from 1941-44.