THIS WEEK IN MIDWEEK UPDATE

Plan Your Weekend……..Forthcoming Events…….Aviation News

Worldwide Incidents and Accidents……This Week in Aviation History



13: EAA Flying Legends Talk Show. EAA Auditorium Rand Airport. Lt Col Musa 'Midnite' Mbhokota. RSVP at HTTPS://goo.gl/forms/OsRi4psMtnYiOhct1. Members R50.00 non members R70.00
FULLY BOOKED

15 to 16: Sport Aerobatics Judges Trophy Tzaneen TBC Contact Annie Boon E-mail: chunge@mweb.co.za
15: RV Day at Kitty Hawk. Contact Irmarie Jooste Tel: 012 802 0942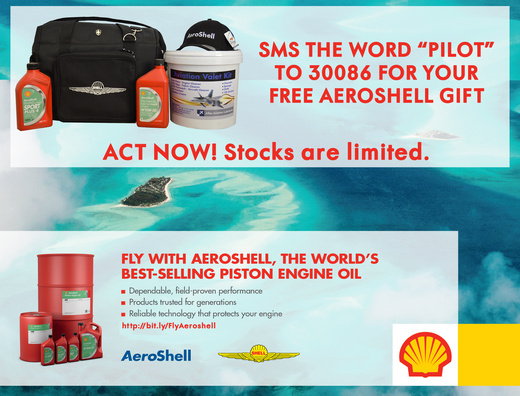 3rd Saturday of every month. Microland. Bring and braai. Fires and bykos provided. Fires start from 09h30. Contact person: Nick Swardt 082 441 8011 or Alan Hussey 072 82 2341
19 - 23: 2018 AAD EXPO, Waterkloof Airforce Base Leona Redelinghuys
info@aadexpo.co.za
084 840 3215
www.aadexpo.co.za
22: 49th Oudtshoorn Scale Fly in. Cango Flying Club.
21-24: MISASA Africa Cup-Microlight Weekend 2018 at Hotel Numbi
29: Lydenburg Fly-in Festival. Static displays and spot landing competition. Contact Dean 082 908 4565 or Louis 082 550 8832
29: EAA Young Eagles Flying Day, Rand Aiport. Contact Clive King 082 850 4141
29-6 October: SA National Gliding Championships Potchefstroom.

3: EAA Chapter 322 meeting. Dicky Fritz Moth Hall Edenvale. Contact:
editor@afskies.co.za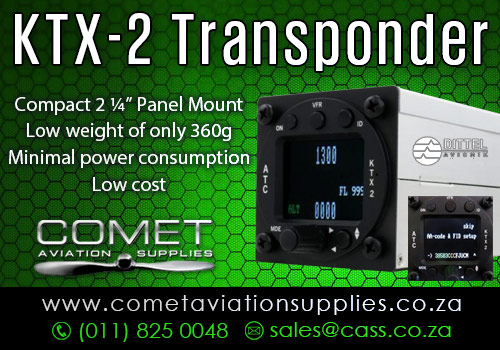 6: SAAF Museum AFB Zwartkop open practise day. Officer Commanding - Museum
oc@saafmuseum.org.za
012 351 2290
6: Secunda Flying Club Speed Rally. Contact Chairman e-mail:
chairman@sapfa.co.za
cell: 082 855 9435
6-7: Mosselbay Beer Fest Fly-in. For more information contact Tina 082 572 2076
11: Frans Grotepas at the EAA Flying Legends Talk Show EAA Auditorium, Rand Airport. Contact Marie Reddy 083 259 7691
23 & 24: Avi Afrique 2018 Africa Aviation Innovation Summit CSIR. Contact ATNS Percy Morokane E-mail:
percymo@atns.co.za
3rd Saturday of every month. Microland. Bring and braai. Fires and bykos provided. Fires start from 09h30. Contact person: Nick Swardt 082 441 8011 or Alan Hussey 072 82 2341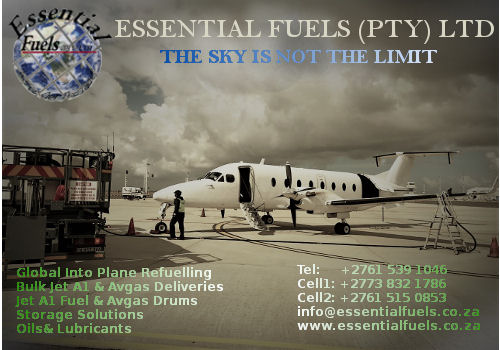 3: SAAF Museum AFB Zwartkop open practise day. Officer Commanding Museum
oc@saafmuseum.org.za
012 351 2290
3: Potties Vliegklub MISASA Fly in. Contact Nico Willemse.
nico@pottiesnuus.co.za
082 582 5961
7: EAA Chapter 322 meeting. Dicky Fritz Moth Hall Edenvale. Contact:
editor@afskies.co.za
9-11: EAA Sun 'n Fun Brits Airfield. Contact Marie Reddy 083 259 7691
10: EAA Sun n Fun Adventure Rally - Brits. Contact Rob Jonkers e-mail:
rob@aerosud.co.za
Cell:082 804 7032
17: Aero Club of South Africa awards dinner 17h00 onwards. Contact E-mail:
office@aeroclub.org.za
3rd Saturday of every month. Microland. Bring and braai. Fires and bykos provided. Fires start from 09h30. Contact person: Nick Swardt 082 441 8011 or Alan Hussey 072 82 2341
24: Springs Fun Rally - Springs Airfield. Contact e-mail:
chairman@sapfa.co.za
cell: 082 855 9435



The Aviation Radio Show; get all your questions answered in one place. To listen to a recording of the live broadcast click on the link:
www.debela.co.za/aviation-radio-show







COMMENTS REQUIRED ON THE PROPOSED NEW SACAA BOARD


The Department of transport via its Government Notice No 922 on 3 September 2018, requests public comments on the eligibility of each of the following member for appointment to the Board of the Civil Aviation Authority:
Mr Smunda Mokoena
Ms Tshitshi Phewa
Ms Lizeka Dlepu
Prof Ntombizozuko Dyabni-Mhango
Mr Surenda Sooklal
Mr Mongezi Gladstone India
Mr Ernest Khoza
Dr Brian Charles Suckling
Ms Bulelwa Koyana
Mr Bafananbaningi Duma Nkosi
The Board is to provide the strategic direction of the SACAA, and oversee the corporate governance the authority. The SACAA mandate is to control and regulate civil aviation safety and security, oversee the implementation and compliance with the National Aviation Security program; oversee the functioning and development of the civil aviation industry; promote civil aviation safety and security; develop regulations that are required in terms of the Act; and monitor and ensure compliance with the Act and international Aviation Conventions.
Comments should be forwarded to:
Att: Ms K Hgantsi
Corporate Governance
c/o The Director General
Department of Transport
Private Bag x193
Pretoria 0001
Or email comments to KgantsiK@dot.gov.za


The closing date for comments is 1 October 2018.


TEN ELIXIR FOR AIRWAYS AVIATION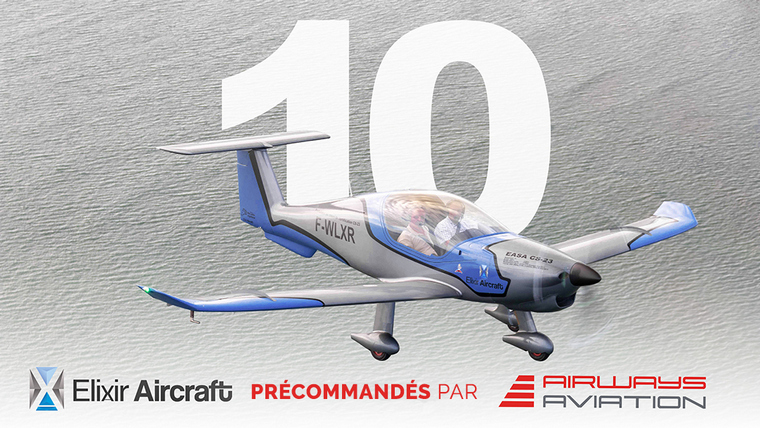 If you follow us through social medias or specialized press, you have probably seen that we reached an important milestone. We are pleased to announce the pre-order of 10 Elixir, our training aircraft. Photo © Elixer.


Airways Aviation Academy, a global flight training academy, has signed an agreement to pre-order 10 Elixir Aircraft. This pre-order is the recognition of 4 years of team work; it demonstrates the relevance of the Elixir specifications for flight training, as well as Airways' steady growth among top-tier pilot training schools.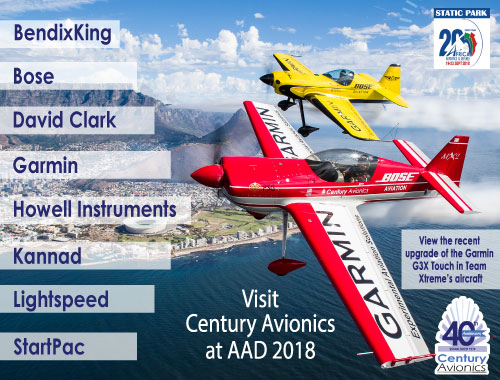 Marwan Atalla, Executive Chairman of Airways Aviation, says:
"The Elixir is a safe aircraft, and has been designed taking into consideration safety, ease of maintenance, low operating costs, and suitability for flight training, which matches our goal to provide optimal training for our students."
Atalla was a shareholder and a board member at Cirrus Aircraft during its development, certification, and eventual production phase, along with a series of primary posts in the global aviation industry in the past 20 years.
So far, 51 Elixir have been pre-ordered, bringing the estimated delivery of the first Airways Aviation's aircraft to 2022. The Elixir fleet will reinforce the teaching capabilities of the school and provide the best in class tools for future commercial pilot students.
LANCAIR BARRACUDA ANNOUNCEMENT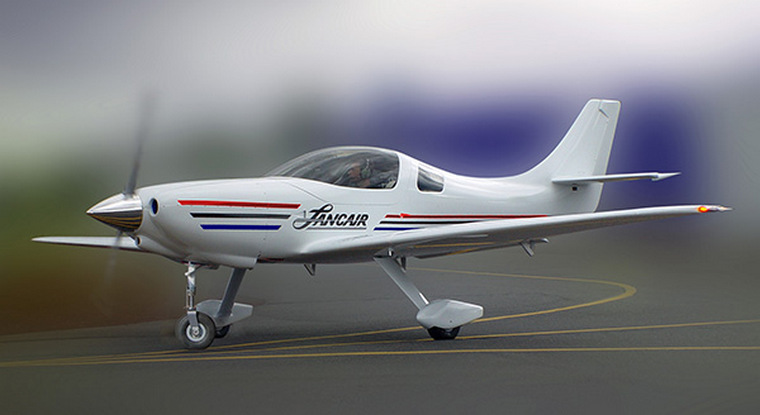 The latest innovation from Lancair is a new 2-seat "little brother" to the ground breaking Mako - the Barracuda. Establishing a new standard for value, Barracuda offers high performance, operational economy and Lancair's trademark aerodynamic style in a cost-effective package for two. Photo © Lancair.

"The Barracuda is a '2 / 2 / 2' proposition - 2 seats and 200 knot cruise for only $200K! We've taken the best features of the Mako and created an entry-level Lancair for the pilot who wants maximum performance with a minimum investment of build time and budget. We're expecting to take a big bite of the 2-seater performance market." - Lancair President Conrad Huffstutler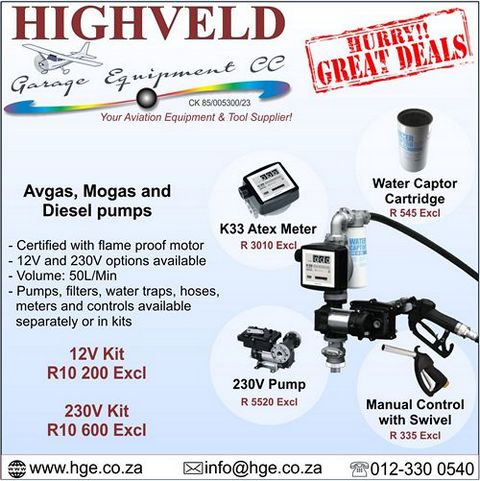 Providing exceptional value in a 2-place composite aircraft, Barracuda's sleek design is similar to the classic Lancair Legacy. It will incorporate numerous airframe improvements, notably a new 1-piece wing with greater span. The new wing makes aircraft handling more docile and significantly reduces build time. The innovative 'auto-retracting' nose gear from the Mako adds 10-12 knots to the aircraft's cruise speed by 'cleaning up' the turbulent slipstream behind the propeller. The nose gear is operated by a fully automatic retraction/extension system that requires no action by the pilot. Numerous options are available to customize the aircraft to the owner's budget and mission needs.
Inside the cabin, the Barracuda offers a capable and affordable avionics package, typically based on the popular Garmin G3X Touch and GTN-750 components. Barracuda will feature a wide range of options, such as a Carbon build, EFII, Starflight mods and other engines. Other options include freon air conditioning, full de-ice protection and more.
With the standard Lycoming O-390-X 4-cylinder engine putting our 210 hp, Barracuda offers highly competitive performance and excellent handling throughout the flight envelope. Cruise speed of 200 knots and fuel consumption of 11 to 13 gph are expected, along with excellent climb rate, range and useful load.
SAVAGE CUB THE BEST COMPANION FOR YOUR NEXT WILD ADVENTURE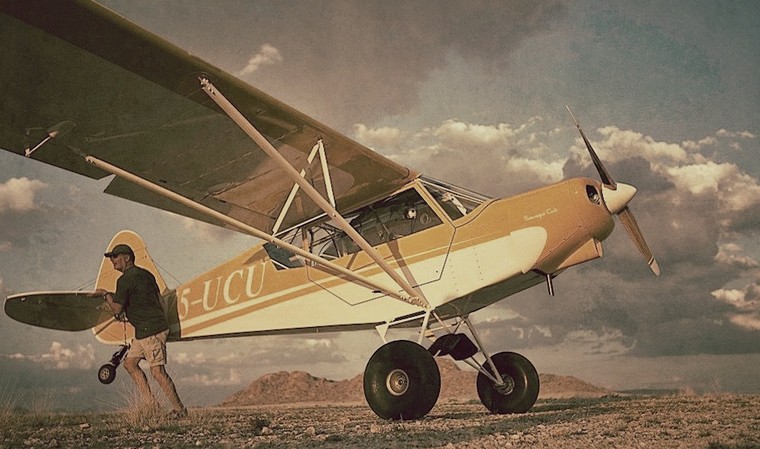 In the years before it made its first appearance, we noticed how many of our customers were giving a rather heavy-duty use to our aircrafts, operating often from rough terrain, landing on mountain strips and so on. In fact, the Savage was proving to be already a very suited aircraft for "light" bush flying and adventure flying in general. Photo © Zlin Aircraft.


Receiving a lot of feedback from dealers and customers worldwide, as well from some very well known professional bush pilots from Alaska, we started filling a list of wished upgrades and reinforcements to convert the Savage into the best bush flying aircraft in the ULM category.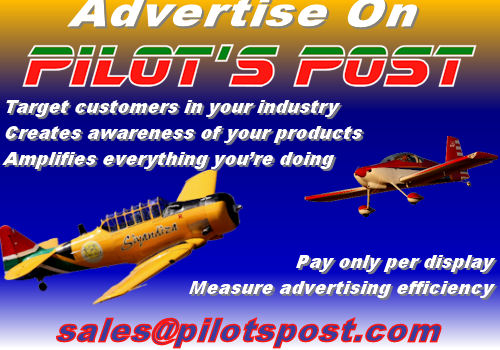 An intense part of this job involved additional 4130 tubular reinforcements in some areas of the fuselage, as well as the design of a new set of super-robust landing gears and tail wheels.
We took the opportunity of all this changes for crafting a new version of the Savage, the Savage CUB, that has benefitted also from a nice restyling, as usual, to make it this time even more similar in the look to the aircraft that inspired us for a long time, the Piper SuperCUB. This time we wanted to take over the heritage that this aircraft, tuned for high demanding outback operations, has created in years of intense operations in Alaska and other countries, but interpreting it with modern technologies where applicable, and staying in the weight requirements of the ULM category (450kg MTOW), beside also the LSA category.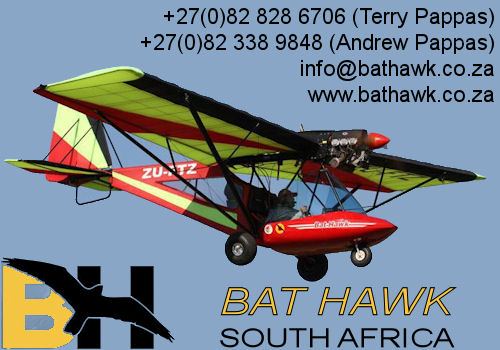 The Savage Cub got a new aluminium cowling, reshaped windows, fuselage, tail, wingtips, and reinforced flaps. The standard landing gear for this aircraft was already stronger than the most upgraded landing gear of our competitors, and we also introduced the 6" HD Extended landing gear for even more demanding operations. Together with that, we started delivering more and more often, a wide selection of original bush wheel tires from 26" to 31", bush tailwheels with our redesigned new fork, reinforced tail leafs, pneumatic shock absorbers AOSS made in Alaska, and we converted the aircraft in a new reference point for the bush flying community.
Enjoying the freedom and the real adventure spirit of the bush flying, really started to generate more and more passion among the sport flying community. The Savage CUB has been there since the beginning, giving the perfect tool for many pilots jumping into the bush flying discipline for the first time, as well to seasoned operators and specialized flight schools.
MIKE GOULIAN LEADING AS RED BULL AIR RACE WORLD CHAMPIONSHIP APPROACHES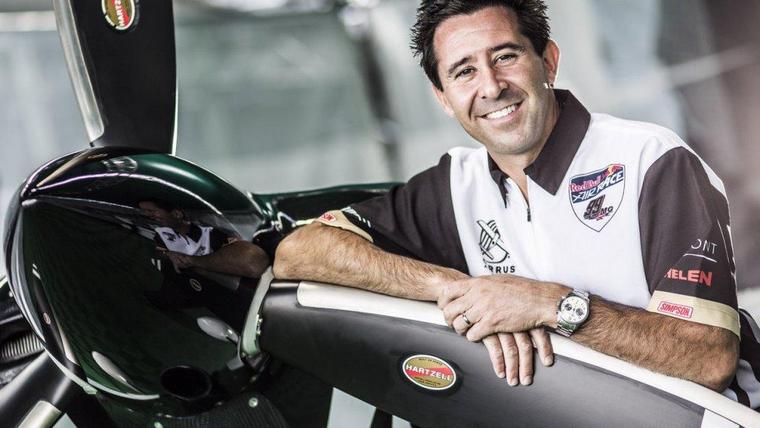 With the last three races of the season closing in, Cirrus Ambassador, Mike Goulian, is leading the pack of 14 Red Bull Air Race pilots by six points. The lead is substantial given the tight margin between racers all season, where just a tenth of a second has made the difference on the podium. Photo © Hartzell-Propellers.

Goulian is one of just two Americans competing in the Red Bull Air Race World Championship. He began the season with an epic win at the season opener in Abu Dhabi - his first Red Bull Air Race win since Budapest in 2009.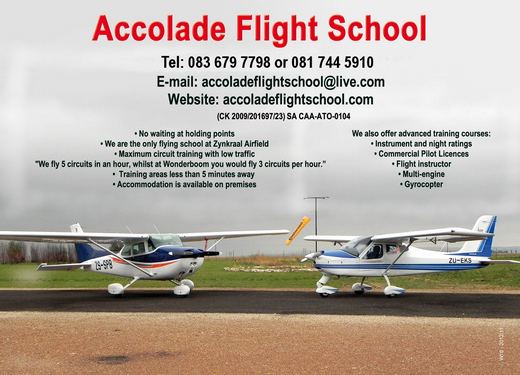 The most recent race in Kazan proved the Goulian team has found the winning formula of consistency and confidence. The weather in the capital city of Tatarstan in Russia was gorgeous as 128,000 spectators watched the 14 pilots vie for critical points leading into the final races. With an extremely low margin of error, the Final 4 pilots flew flawless races that resulted in a win for the Czech Republic's Martin Sonka and a very close 2nd place finish for Goulian, who trailed Sonka by just 0.115 seconds.
"It feels amazing to be back here on the podium again in Kazan. Five races and four podiums," said Goulian following the race in Kazan. "We are going to try to keep winning. This is not a time to play defense. We will just keep our foot on the gas and try to be consistent. When the opportunity to win arises, we will take it."
And consistent he has been. The results in Kazan marks the fourth time Goulian has placed in the top-three and the fifth time in the Final 4 in five races total this season. The world is watching as he heads on to the last two races in Wiener Neustadt (Austria) and Indianapolis (U.S.), and, ultimately, the season finale in Fort Worth (U.S.) on the 17th and 18th of November.
Goulian began flying at the young age of 15 and completed his solo on his 16th birthday - the youngest age allowed by the FAA. He purchased his first aerobatic airplane one year later and is one of just seven pilots to earn the triple crown of flying honors: the Art School Memorial Award, Bill Barber Award and ICAS Sword of Excellence. He was also the first civilian to fly in formation with the Blue Angels and is the only honorary member of the Navy demonstration squadron.
THE "SHARK" E190-E2 JET COMPLETES ITS TOUR OF AFRICA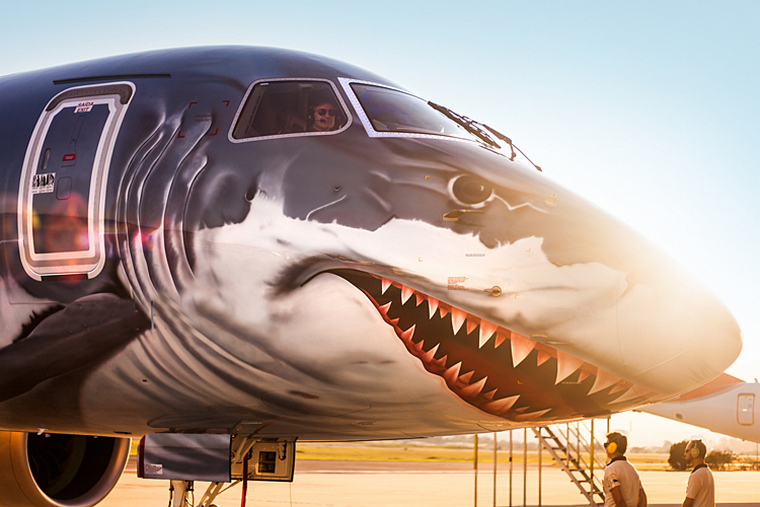 Hot on the heels of an exciting performance at the UK's Farnborough Airshow, where Embraer enjoyed a bumper crop of new aircraft orders, Embraer's new generation aircraft, the E190-E2, visited Africa for a Continental tour. Photo © Embraer.


The aircraft visited six counties: Algiers, Morocco, Kenya, Ghana, Mauritius and South Africa. At each stop, the world's quietest and most efficient passenger jet in its segment attracted the attention of the local aviation community and the press, performing demonstration flights to showcase its capabilities.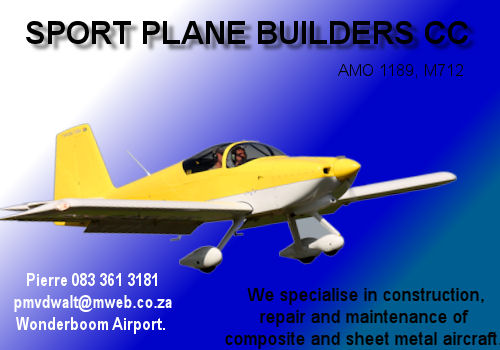 "The debut of the E190-E2 in Africa is an excellent opportunity for Embraer to showoff this ground breaking aircraft that sets new standards in profitability for airlines and comfort levels for passengers," said Raul Villaron, Vice President, Sales, for Middle East & Africa, Embraer Commercial Aviation. "The E190-E2 cuts fuel burn by more than 17% and is perfectly suited to operate in hot and harsh environments. Some of the airlines for which we presented the aircraft are already an E-Jet operator and eager to know more about the E2s."
Africa's air transport market measured in RPK is expected to grow by 4.8% in the next 20 years, seeing an extra 270 million passengers for a total market of 400 million passengers. Some countries stand out amongst the fastest growing in the world, superseding the continent's average and reaching a compound growth rate of over 7.2% per year.
The launch of the new "Single African Air Market" and consequent attenuation of barriers will create a new environment to further foster growth in many sectors in Africa, expanding tourism and trade. Adding non-stop flights and frequency would enable the country to build a more connected and profitable air industry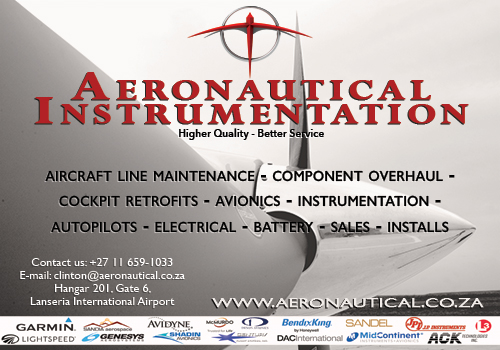 Beyond new market prospects, there are also opportunities to match aircraft capacity to market demand. Currently the majority of seat capacity in Africa is located above the 150-seat segment. However, 70% of intra-regional and domestic markets operated by narrow-bodies have fewer than 130 passengers on board on average in each flight. This results in average load factors of approximately 60%, still far from the global average. Another major impact of deploying large narrow bodies into thin routes is the resulting low number of frequencies: Almost 70% of the intra-African routes are served with fewer than one flight per day.
"To respond to Africa´s needs for right-sizing, Embraer's priority is to continue to grow our customer base in the continent and this growth will come from new E-Jets - current and new 'E2' generation - as well as from pre-owned E-Jets and ERJs," Villaron continued.
AIRBUS PERLAN MISSION II GLIDER SOARS TO 76,000 FEET TO BREAK OWN ALTITUDE RECORD, SURPASSING EVEN U-2 RECONNAISSANCE PLANE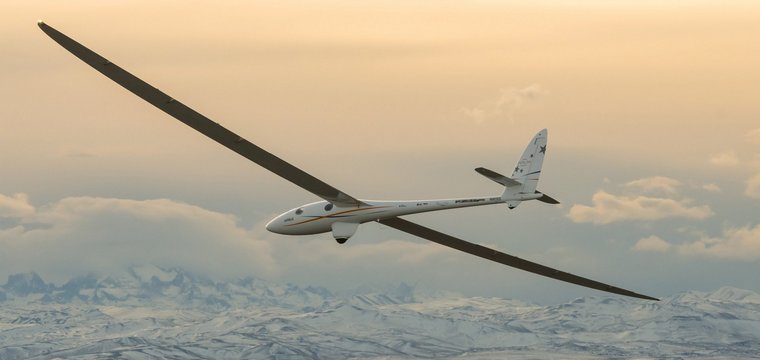 Stratospheric glider yielding insights into high-altitude aerodynamics, flight safety and Martian exploration. Photo © Airbus.

For the third time in a week, Airbus Perlan Mission II has set a new world altitude record for a glider, this time soaring the engineless Perlan 2 to 76,124 feet, in the process collecting vital data on flight performance, weather and the atmosphere.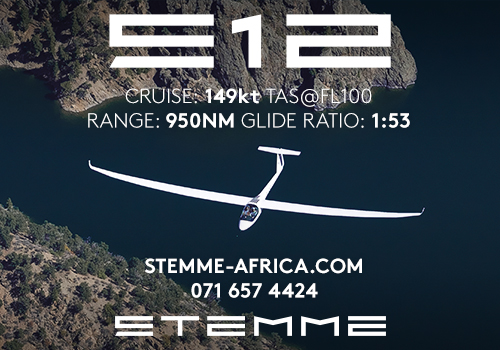 Yesterday's flight by pilots Jim Payne and Tim Gardner surpasses even the maximum recorded altitude in level flight of the U.S. Air Force's famous U-2 Dragon Lady reconnaissance aircraft: 73,737 feet, flown by pilot Jerry Hoyt on Apr. 17, 1989.
The U-2 is powered by an engine that generates 17,000 lbs. of thrust. By contrast, the Perlan 2 is engineless, weighs just 1,500 pounds, and soars to its record altitudes on rare stratospheric air currents formed by mountain winds combining with the Polar Vortex.
"World records are gratifying evidence of progress toward a goal, but the goal itself is advancing our knowledge and expertise," said Tom Enders, Airbus CEO. "By exploring an underexplored part of the atmosphere, Perlan is teaching us about efficient high-altitude flight, about detecting natural sources of lift and avoiding turbulence, and even about the viability of wing-borne exploration of Mars. As a company that makes not just airliners but also high-altitude unmanned aerial vehicles such as Zephyr as well as the Mars rover robotic vehicle, every Perlan flight is an investment in our future."
In a single week, Perlan has set and then surpassed a world altitude record three times: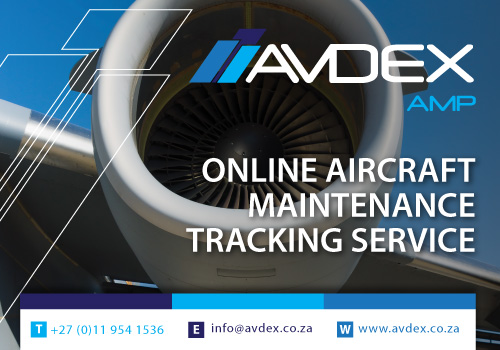 Aug. 26, 2018: Jim Payne and Morgan Sandercock soar to 63,100 feet, besting the record of 54,000 feet set by Airbus Perlan Mission II on Sept. 3, 2017
Aug. 28, 2018: Jim Payne and Miguel Iturmendi reach 65,600 feet
Sept. 2, 2018: Jim Payne and Tim Gardner climb to 76,124 feet
The overall altitude record for level flight of a manned airplane is held by the SR-71 Blackbird at 85,069 feet. The pressurized Perlan 2 glider is designed to fly to 90,000 feet, conditions permitting.
Airbus Perlan Mission II will continue its 2018 flying season through mid-September, when the season for stratospheric mountain waves in the southern hemisphere begins to die down, and the all-volunteer Perlan Project team will return from Patagonia to homes in the U.S. and around the world. The number of flights remaining will be determined by weather conditions.
SINGAPORE RECEIVES FIRST A330 MULTI ROLE TANKER TRANSPORT (MRTT)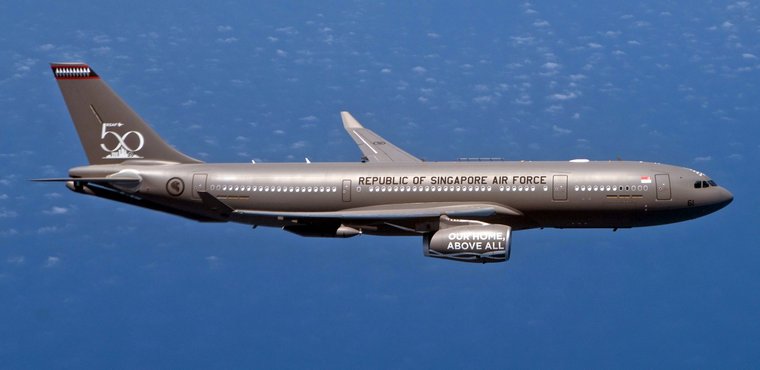 Airbus has delivered the Republic of Singapore Air Force's (RSAF) first A330 Multi Role Tanker Transport (MRTT). The aircraft made its first official public appearance on Saturday 1 September 2018 at the RSAF's 50th anniversary parade. Photo © Airbus.


The new-generation A330 MRTT extends the endurance of the RSAF's fighter aircraft, and ensures the service's continued capability to provide air-to-air refuelling support.
It also provides the RSAF with greater cargo and passenger transport capabilities, and enhances its ability to contribute to international humanitarian assistance and disaster relief (HADR) and peace support operations.

South Sudan, Yirol River: A South West Aviation Let L-410 performing a flight from Juba to Yirol (South Sudan) with 20 passengers and 3 crew, impacted Yirol River south of the aerodrome at Yirol City about 1.75nm south of the aerodrome. Nineteen bodies were recovered from the river with the help of local fishermen, 4 survivors were taken to a hospital with serious injuries.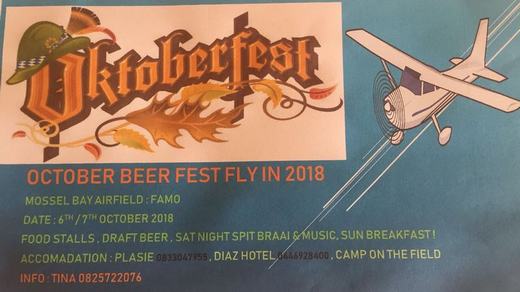 USA, Lee Bird Field in North Platte: A private jet operated by Jet Edge Company on a cross-country flight made an emergency landing in North Platte after a passenger became combative, throwing things at passengers and threatening their lives. Jet Edge operates a fleet of Gulfstream, Dassault and Embraer corporate jets. According to the federal arrest affidavit, the man yelled and cursed at others on the plane, threatening to "kill them and their children" by chopping off their heads. He threw whatever he could reach at passengers, pounded on the windows and banged his head on the walls. One of the pilots tried to calm him, with no success, and realizing that the situation was out of control, declared an emergency. Authorities who boarded the aircraft used a Taser to subdue him. The man has been charged in U.S. District Court in Nebraska with interfering with flight crew members and attendants.
USA, Atlanta: A Delta Airlines Boeing 757-200 on a flight from Atlanta to Orlando with 127 people on board, was climbing out of Atlanta when the crew stopped the climb at FL180 due to the failure of the right hand engine. The crew shut the engine down and returned to Atlanta for a safe landing. There were no injuries. The NTSB is investigating a reported uncontained engine failure.
USA, Kimball Township: A Flex Air Services Inc. Cessna 340A impacted an open field open close to Kimball Township following a loss of engine power while on the way to St. Clair County International Airport. The aircraft was damaged beyond repair and the sole pilot was fatally injured.
USA, Philadelphia International Airport: A Gulfstream IV charter jet operated by Pegasus Elite Aviation was cleared to land on runway 35, but instead pilots aimed for a parallel stretch of pavement just to the left. The pilot aborted the landing and started climbing about 1/10 of a mile before the runway. It flew just 200 feet (61 meters) above an Embraer SA regional jet and then passed above the three other planes. There were no injuries or damage to the planes. Lights identifying the end of the runway where the Pegasus jet should have landed were out of service, as were lights marking the approach path, the NTSB said. The incident at Philadelphia International Airport is one of at least four similar cases since July 7, 2017. The NTSB has warned about the risk of collisions on the ground for decades. The highest death toll ever recorded in an airline accident occurred on the ground when two Boeing Co. 747s collided on a runway in 1977 in Tenerife, Canary Islands, killing 574 people.
Germany, near Frankfurt/Main: A TAROM Boeing 737-700 on a flight Bucharest to Brussels was enroute at FL400 over Germany when the communication with ATC was lost following a hand off. Two Eurofighters were dispatched to intercept the aircraft near Frankfurt/Main (Germany). Shortly after the Eurofighters reached the Boeing the Boeing crew finally reported on the emergency frequency that they hadn't monitored prior to the arrival of the fighter aircraft, was told the correct frequency and established regular contact with ATC explaining they had selected a wrong frequency. The Eurofighters returned to their base at Neuburg in Bavaria, the Boeing continued to their destination for a safe landing about 30 minutes later.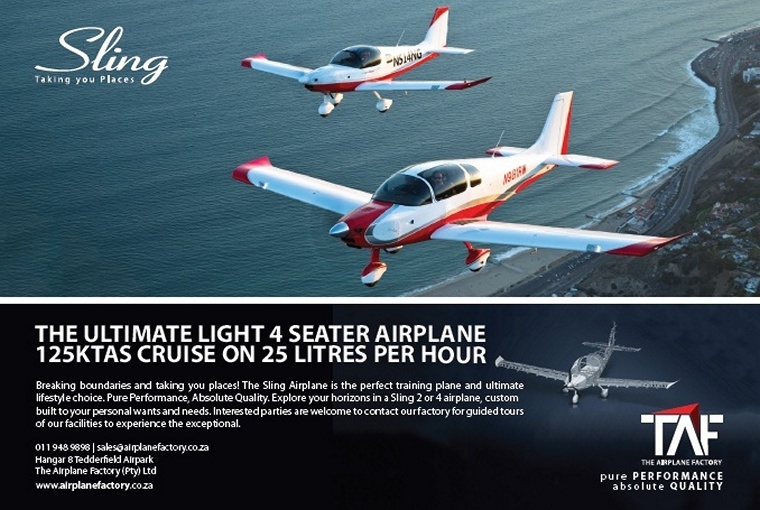 8 SEPTEMBER 1927

The Cessna Company is established.


The Cessna Aircraft Company originally best known for small, piston-powered aircraft and later on for business jets was for many one of the highest-volume producers of general aviation aircraft in the world.
Founded by Clyde Cessna, a farmer in Rago, Kansas and partner Victor Roos became partners in the Cessna-Roos Aircraft Company in 1927 in Wichita. However, Roos resigned just one month into the partnership selling back his interest to Cessna.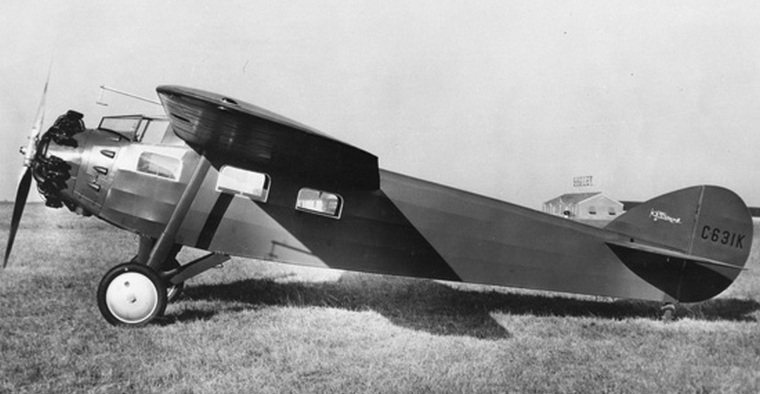 Cessna's first product, the DC-6, earned certification on the same day as the stock market crash of 1929, October 29, 1929. In 1932 Cessna Aircraft Company closed its doors due to the Great Depression.
In 1934 In March Cessna's nephews, Dwane Wallace and his brother Dwight, bought the company from Cessna and began the process of building it into what would become a global success.
In 1985 Cessna was purchased by General Dynamics Corporation and became a wholly owned subsidiary and production of the Cessna Caravan began. General Dynamics in turn, sold Cessna to Textron Inc, in 1992.