THIS WEEK IN MIDWEEK UPDATE

Plan Your Weekend……..Forthcoming Events…….Aviation News

Worldwide Incidents and Accidents……This Week in Aviation History




3: EAA Chapter 322 meeting. Dicky Fritz Moth Hall Edenvale. Contact:
clive.king@tariff.co.za
or
kevinmarsden88@gmail.com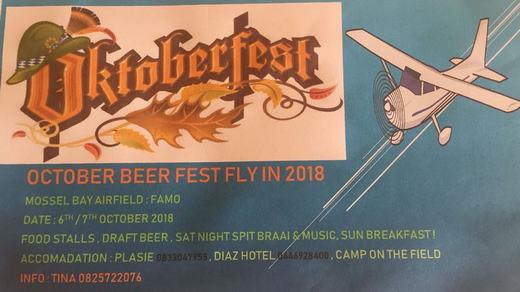 6: SAAF Museum AFB Zwartkop open practise day. Officer Commanding - Museum
oc@saafmuseum.org.za
012 351 2290
6: Secunda Flying Club Rally. Contact Chairman e-mail:
chairman@sapfa.co.za
cell: 082 855 9435
6-7: Mosselbay Beer Fest Fly-in. For more information contact Tina 082 572 2076




11: Frans Grotepas at the EAA Flying Legends Talk Show EAA Auditorium, Rand Airport. Contact Marie Reddy 083 259 7691
21: Lindbergh Lodge Fly-in.
23: Aero Club Special General meeting (SGM). EAA Auditorium Rand Airport: Contact Sandra 011 802 1100
23 & 24: Avi Afrique 2018 Africa Aviation Innovation Summit CSIR. Contact ATNS Percy Morokane E-mail:
percymo@atns.co.za
3rd Saturday of every month. Microland. Bring and braai. Fires and bykos provided. Fires start from 09h30. Contact person: Nick Swardt 082 441 8011 or Alan Hussey 072 82 2341
21: Military Art Exhibition CANSA Art Gallery, Menlyn Park Tswane. Contact Munnik Marais 083 268 8701
27: NAV Rally Baragwanath Airfield and lecture by Springbok Rally pilot Rob Jonkers. Contact Marie Reddy 083 259 7691


3: SAAF Museum AFB Zwartkop open practise day. Officer Commanding Museum
oc@saafmuseum.org.za
012 351 2290
3: Potties Vliegklub MISASA Fly in. Contact Nico Willemse.
nico@pottiesnuus.co.za
082 582 5961
7: EAA Chapter 322 meeting. Dicky Fritz Moth Hall Edenvale. Contact:
clive.king@tariff.co.za
or
kevinmarsden88@gmail.com

9-11: EAA Sun 'n Fun Brits Airfield. Contact Marie Reddy 083 259 7691
10: EAA Sun n Fun Adventure Rally - Brits. Contact Rob Jonkers e-mail:
rob@aerosud.co.za
Cell:082 804 7032
17: Aero Club of South Africa awards dinner 17h00 onwards. Contact E-mail:
office@aeroclub.org.za
3rd Saturday of every month. Microland. Bring and braai. Fires and bykos provided. Fires start from 09h30. Contact person: Nick Swardt 082 441 8011 or Alan Hussey 072 82 2341
24: Springs Fun Rally - Springs Airfield. Free breakfast to all that fly in on the day. Not just rally participants. Contact e-mail:
chairman@sapfa.co.za
cell: 082 855 9435


1: SAAF Museum AFB Zwartkop open practise day. Officer Commanding Museum
oc@saafmuseum.org.za
012 351 2290
1 to 2: Sport Aerobatics ACE of Base Brits Contact Annie Boon E-mail:
chunge@mweb.co.za
7: EAA Chapter 322 meeting. Dicky Fritz Moth Hall Edenvale. Contact:
clive.king@tariff.co.za
and
kevinmarsden88@gmail.com

3rd Saturday of every month. Microland. Bring and braai. Fires and bykos provided. Fires start from 09h30. Contact person: Nick Swardt 082 441 8011 or Alan Hussey 072 82 2341
8. WAA breakfast fly-in. RSVP
comms@flywaa.co.za




The Aviation Radio Show; get all your questions answered in one place. To listen to a recording of the live broadcast click on the link:
www.debela.co.za/aviation-radio-show






POLISH MEDICAL AIR RESCUE ORDERS FLEET OF TECNAM P2008JC MkII'S





Tecnam announced that the Polish Medical Air Rescue (PMAR) has placed an order for three Tecnam P2008JC Mk II aeroplanes. PMAR have transferred over 116,000 patients since its inception in 2000, utilising its fleet of 2 aircrafts and 27 helicopters, performing nearly 10,000 flights this year alone. Photo © Tecnam

The introduction of the Tecnam P2008JC MkII will enable PMAR to meet internally its growing training needs as it attracts more pilots to its operation.
The single-engine Tecnam P2008's versatility and ease of use has established it as both the aircraft of choice for Flight Training Organisations worldwide.
With its carbon-fibre fuselage, metals wings and stabilator, the Tecnam P2008 JC has a vast number of advantages over traditional aircraft. This combination of both composite material and metal has resulted in a more fuel efficient and much quieter aircraft.
The Tecnam P2008JC MkII version features a number of significant enhancements. These include a new avionic suite, including a new design of both the dashboard and glare shield, thereby enabling the introduction of the Garmin's innovative G3X Touch display with a MD302 attitude instrument and is also available as VFR Night.

ATP TAKES DELIVERY OF 100TH PIPER ARCHER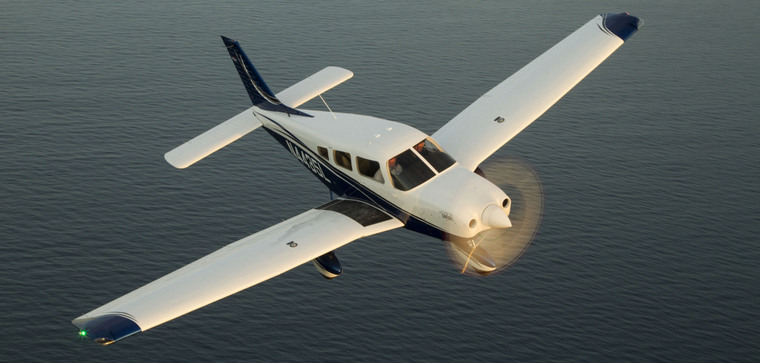 Piper Aircraft, Inc. has completed delivery of the 100th Piper Archer to go to ATP Flight School. The delivery comes as part of an original agreement made in April of 2013 for up to 100 aircraft to the flight school. Photo © Piper.

ATP, America's largest flight school, specializes in airline pilot training and pilot career development. The school initially agreed to purchase a fleet of 15 Piper Archer TX single-engine, piston-powered advanced training aircraft for delivery in late 2013 and since then has exercised all options for an additional 85 Archers.
"Piper Aircraft is proud of our continuous partnership with ATP Flight School. ATP's Airline and Commercial Pilot Training programs together with the advanced Piper training aircraft are made to support and provide each student with the knowledge, skills, and hands-on experience needed to meet the demands of the airline industry." said Simon Caldecott, Piper President and CEO.
ATP Flight School, which holds the distinction of being the largest flight school in the United States and the leading supplier of pilots to the nation's regional airlines, is now the largest Piper fleet operator in the world. With 95 Piper PA-44 Seminoles and 100 Piper Archer TXs making up more than half of their fleet, this new delivery of Archer TXs will bring them to over 250 Piper trainers.
"The Piper Archer has been a proven asset in the Airline Career Pilot Program, with 92,000 hours flown in the last 12 months," said ATP president Justin Dennis. "Providing our students and instructors with access to safe and technically advanced aircraft is key to ensuring they are positioned for successful airline pilot careers. With ATP's next Piper order, we remain committed to investing in our students' success and in our ability to meet the unprecedented airline demand for professionally trained pilots."

DIAMOND AIRCRAFT RE-LAUNCHES THE LYCOMING POWERED DA40 XLT WITH GARMIN G1000 NXI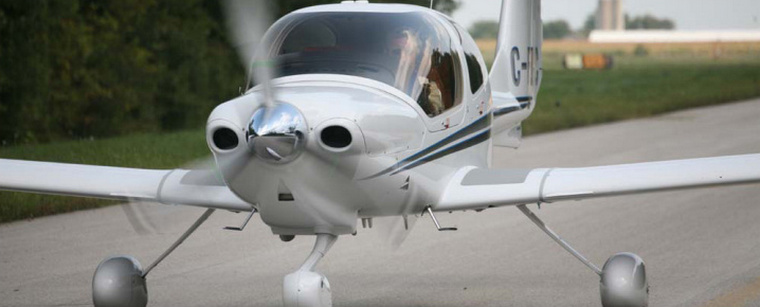 Diamond Aircraft is re-introducing the DA40 Lycoming IO360 aircraft with the new Garmin G1000 Nxi. The Lycoming version of the DA40 has been upgraded with the new Garmin G1000 NXi, Mid-Continent Standby Attitude Module, USB ports for pilot and co-pilot and available reclining front seats with lumbar support. Photo © Diamond.


The Lycoming version of the DA40 has been our best selling model and is the ideal aircraft for both private pilots and flight training operators globally. The DA40 series offers a superb balance of performance, and efficiency to please private pilots, while delivering the reliability, durability and high resale value, expected in high utilization training operators and leaseback owners.
With over 2,000 DA40's delivered, a superb safety record and choice of jetfuel or avgas piston engines, the DA40 presents a versatile, well proven yet technologically advanced 4 seater for private pilots and commercial operators alike. The aircraft will be available for sale with first deliveries planned for 2019.



FIJI LINK'S FOURTH VIKING 400 TWIN OTTER ARRIVES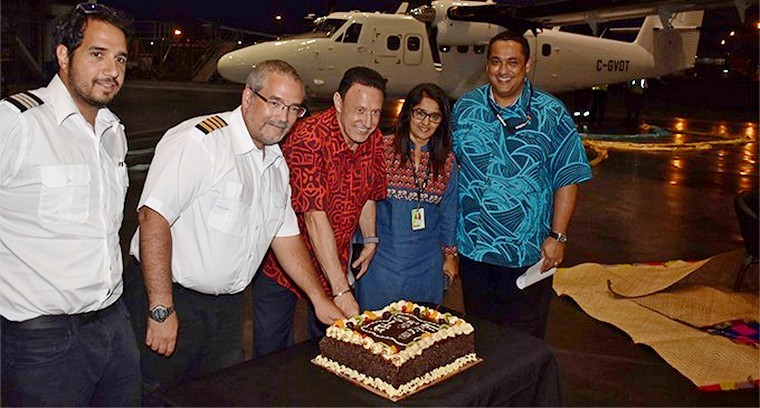 First Officer Zaid Hissin, Captain George Claude Ralph Barrett, Fiji Airways Managing Director and CEO Andre Viljoen, Executive GM Corporate Affairs and Fiji Link Shenaz Voss and Fiji Link general manager Athil Narayan at the Fiji Airways hangar last night. Photo: Waisea Nasokia


Fiji Link welcomed the delivery of their fourth Viking 400 Twin Otter.Fiji Airways managing director and chief executive officer Andre Viljoen confirmed that their engineering team will begin painting the aircraft and installing the seats and internal furnishing immediately.
Mr Viljoen said: "This is all part of our complete fleet renewal that we have undertaken for Fiji Link and this was a journey that we started more than a year ago. Today Fiji Link with its ATRs and its four Twin Otters it is almost a complete new fleet and it one of the youngest fleets in the world and quite a tribute for the domestic airline to have that type of the equipment."
He added this is part of Fiji Airways overall boost to helps bring down the average age of the fleet. Recently at the Skytrax Awards, Fiji Airways received the award of the third best most improved airline in the world and that's quiet an accolade.
"It's again a testament of how a small airline is punching above its weight. We only have 18 aircraft but we compete against other airlines that have 100s of air craft and we've shown how we've stand our ground and actually run a very capable and excellent airline. This type of action of modernising our fleet that helped us achieves this great attribute.
"We chose the Viking 400 because it suits the many of the destinations we fly to. It is a robust aircraft and has all the latest avionics and certainly will do the job we require from it. 'It allows to land on shorter airstrips, grass runaways, and will give our passengers a lot more frequencies and especially to markets like Savusavu and Taveuni where in the past we struggled with our old Twin Otters. This is very welcome addition to our team."

ARRIEL 2H OBTAINS EASA TYPE CERTIFICATION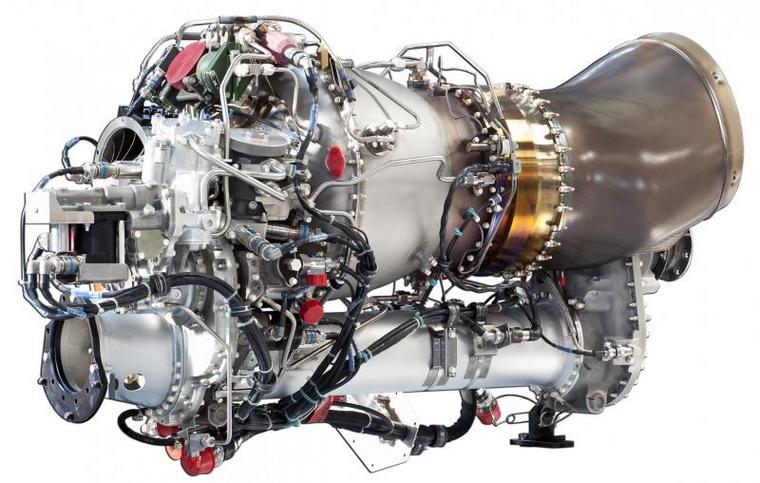 Safran Helicopter Engines has received EASA (European Aviation Safety Agency) engine type certification for its Arriel 2H engine, installed in the Avicopter AC312E. Image © Remy Bertrand - Safran.

This Arriel variant was selected in 2015 to power this helicopter developed by AVIC Harbin Aircraft Industry Group, a subsidiary of Avic (Aviation Industry Corporation of China). The AC312E made its maiden flight in July 2016.
Commented Nicolas Billecocq, Safran Helicopter Engines Vice President Light Helicopter Engines Program, "Type certification is an important milestone for the Arriel engine program. It emphasizes that the Arriel remains a very robust and high-performance engine solution for new rotorcraft. We now look forward to the next steps in the development of the AC312E".
Developed from the Arriel 2+, the 2H is one of the most powerful Arriel variants with a take-off power rating of 986 shp. The Arriel 2H will deliver better reliability, power and performance during demanding missions.
The Arriel is the best-selling helicopter engine in its class. Over the past 40 years, over 12,000 units have been produced, together logging more than 50 million flight hours. With power outputs ranging from 650 to over 1,000 shp, the Arriel family now powers over 40 different helicopter types.
An Arriel-powered helicopter takes off every 15 seconds - all day, every day.

PENTAGON AND LOCKHEED MARTIN AGREE TO REDUCED F-35 PRICE IN NEW PRODUCTION CONTRACT



The U.S. Department of Defense and Lockheed Martin (NYSE: LMT) have finalized an $11.5 billion contract for the production and delivery of 141 F-35 aircraft at the lowest per aircraft price in program history. Photo © Lockheed Martin.

For the eleventh consecutive year, the cost of an F-35A was lowered. The F-35A unit price including aircraft, engine and fee, is $89.2 million. This represents a 5.4 percent reduction from the $94.3 million it cost for an F-35A in Low-Rate Initial Production Lot 10 (LRIP 10).
In LRIP 11, the F-35B unit cost was lowered to $115.5 million. This represents a 5.7 percent reduction from the $122.4 million it cost for the short-takeoff and landing variant in LRIP 10. The F-35C unit cost was lowered to $107.7 million. This represents an 11.1 percent reduction from the $121.2 million it cost for the carrier variant in LRIP 10. The LRIP 11 agreement funds 91 aircraft for the U.S. Services, 28 for F-35 International Partners and 22 for F-35 Foreign Military Sales customers. Deliveries will begin in 2019.
With stealth technology, supersonic speed, powerful sensors, large weapons capacity and global deployment, the F-35 is the most advanced fighter aircraft ever built, enabling women and men in uniform to execute their mission and return home safely. More than a fighter jet, the F-35's ability to collect, analyze and share data, is a powerful force multiplier that enhances all airborne, surface and ground-based assets in the battlespace.
"This agreement marks a significant step forward for the F-35 program as we continue to increase production, reduce costs and deliver transformational capabilities to our men and women in uniform," said Greg Ulmer, F-35 Vice President and General Manager. "As production ramps up, and we implement additional cost savings initiatives, we are on track to reduce the cost of the F-35A to $80 million by 2020, which is equal to or less than legacy aircraft, while providing a major leap in capability."

BELL AND TEAMMATES SELECTED FOR NASA UNMANNED AIRCRAFT SYSTEMS DEMO IN 2020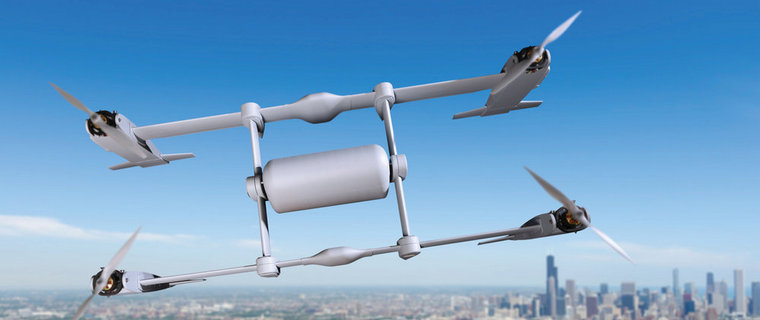 Bell announced a cooperative agreement with NASA for an Unmanned Aircraft Systems (UAS) flight demonstration in the National Airspace System (NAS) expected to be conducted in 2020. Photo © Bell.

Bell Helicopter, a Textron Inc. (NYSE: TXT) company, announced a cooperative agreement with NASA for an Unmanned Aircraft Systems (UAS) flight demonstration in the National Airspace System (NAS) expected to be conducted in 2020.
The cooperative agreement outlines the goal of progressing toward routine commercial UAS operations in the NAS. Bell and our collaborative teammates Textron Systems, Xwing, and the University of Massachusetts Amherst's Center for Collaborative Adaptive Sensing of the Atmosphere (CASA), plan to demonstrate end-to-end commercial mission operations with Bell's Autonomous Pod Transport 70 (APT70), which will include integrated Command and Control (C2) and Detect and Avoid (DAA) technologies. Collectively, we will explore requirements as they relate to commercial transport missions for medical, law enforcement/parapublic and offshore missions.
Bell will lead the design, development, production and systems integration of APT, while Textron Systems will supply command and control operations, Xwing will provide Detect and Avoid technologies, and CASA will provide weather avoidance technology.
Bell's APT70 utilizes a tail-sitting electric vertical take-off and landing (eVTOL) configuration that is capable of rotation and translation in flight to maximize its performance. APT70 is part of the eVTOL family of vehicles Bell is developing and can reach speeds of more than 100mph and has a baseline payload capability of 70 lbs.
The Project falls under the Integrated Aviation Systems Program office managed at NASA Headquarters in Washington by the agency's Aeronautics Research Mission Directorate. NASA Armstrong Flight Research Center in Edwards, California manages both the project and this solicitation and selection for the SIO demonstration.


Spain, Las Palmas: A LATAM Boeing 767-300on a flight from Sao Paulo Guarulhos, (Brazil) to Milan Malpensa (Italy), was enroute at FL360 about 40nm south of Las Palmas when the aircraft descended to FL300, however, maintaining heading towards Milan. About 175nm northeast of Las Palmas the crew turned the aircraft around reporting electrical problems and diverted to Las Palmas, where the aircraft landed safely.
Japan, Fukuoka: An IBEX Airlines' flight Bombardier CL-600-2C10 (CRJ-700) on a domestic scheduled flight with 57 onboard from Komatsu to Fukuoka made an emergency landing at Fukuoka due to hydraulic problem. No injuries were reported. The aircraft temporally stopped on a taxiway for eight minutes, causing 11 other commercial flights to be delayed. Hydraulic oil was found leaked in the inspection after arrival.

India, Mumbai: An Indian passenger who had never before flown on a GoAir flight from New Delhi to Patna sparked panic in mid-air when he tried to open a plane door, apparently mistaking it for the toilet. When fellow passengers asked him what he was doing he told them he needed to use the washroom urgently and kept tugging at the exit door.
China, Hong Kong: A Cathay Pacific Airbus A350-900 on a flight from Hong Kong (China) to Copenhagen (Denmark), was on approach to Copenhagen's runway 04L when the aircraft received a lightning strike. The aircraft continued for a safe landing. However, the aircraft was unable to depart for the return flight, the return flight was cancelled. The aircraft returned to service the following day after about 31 hours on the ground.
USA, New York: A Delta Airlines Boeing 767-300 on a flight from Newark, (USA) to Paris Charles de Gaulle (France) with 205 people on board, was climbing out of Newark when the crew stopped the climb at FL250 reporting a hydraulic failure. The aircraft entered a hold while the crew was working the checklists, then the crew decided to divert to New York JFK. The crew prepared the aircraft for a high speed landing, the aircraft subsequently positioned for an approach to runway 04L and landed safely at a higher than normal speed (about 191 knots over ground). The aircraft stopped, the brakes overheated and a total of four main tyres deflated.
USA, Iosco County's Wilber Township: A Beechcraft 200 Super King Air, operated by Kalitta Charters with only the pilot on board on the approach to Oscoda Wurtsmith Airport, Michigan when it impacted wooded terrain four miles from the runway. The airplane was consumed by the post-impact fire and the pilot received fatal injuries.
USA, near Rainy Pass, Alaska: Carl David Oberg, 67, the pilot of a Cessna 206 operated by Regal Air Services, died after he crashed under unknown circumstances. The AST, the Alaska Rescue Coordination Centre responded to the area of Rainy Pass and located the plane which had suffered substantial damage.

USA, Greenville Downtown Airport: A Dassault Falcon 50 corporate jet sustained substantial damage in a runway excursion accident after landing at Greenville Downtown Airport, South Carolina, USA. The aircraft overran runway 19, went down a 12 meter drop-off and crashed through a perimeter fence before coming to rest across a road. The aircraft was damaged beyond repair and the two crew on board did not survive whilst two passengers suffered critical injuries.
Japan, Sendai Pacific Ocean: A Cessna 208 apparently crashed into the Pacific Ocean, at 120 km east of Sendai, Japan. The sole Norwegian pilot was missing. The plane that had taken took off from Saipan was on a 9 hour flight to New Chitose, Japan. The first position report was normally established, the next report was not received by the Japanese ATC who dispatched two F-4's of Japan Air Self-Defence Force who noticed the aircraft flying normally over the Pacific Ocean, but could not establish any radio contact with the flight. They lost the Caravan due to clouds. Radar contact with the flight was lost at 15:28 JST. A part of the plane was later found floating on the water.
Micronesia, Chuuk/Weno International Airport: A Boeing 737-800 with 47 onboard operated by Air Niugini came to rest in a lagoon during an attempted landing at Chuuk International Airport in Micronesia. The aircraft was approaching runway 04 in rain when it landed in the water about 145 metres off shore. All occupants were rescued.


4 OCTOBER 1946

The B-29 Pacusan Dreamboat with Colonel Clarence S. Irvine as the pilot sets a world nonstop, unrefuelled distance record of 9,500 miles on a flight from Honolulu to Cairo, Egypt.


Pacusan Dreamboat was a Bell Aircraft Corporation B-29B-60-BA Superfortress, built at Marietta, Georgia. The B-29B was a lightweight variant of the B-29, intended for operation at lower altitudes. It did not have the four power gun turrets and their .50-caliber machine guns. A radar-directed 20 mm cannon and two .50-caliber machine guns in the tail were the only defensive weapons. Much of the standard armour plate was also deleted. Pacusan Dreamboat was further lightened. The tail guns were removed and the tail reshaped.

Colonel Irvine and the crew also set a record, flying from Burbank, California to overhead Floyd Bennett Field, New York, in 5 hours, 27 minutes, 8 seconds. The average speed for the 2,464-mile flight was 450.38 miles per hour (724.82 kilometers per hour). They were involved in several other record breaking flights including Guam to Washington, D.C.