THIS WEEK IN MIDWEEK UPDATE

Plan Your Weekend……..Forthcoming Events…….Aviation News

Worldwide Incidents and Accidents……This Week in Aviation History



We are not aware of any aviation events planned for this weekend.






21: Military Art Exhibition CANSA Art Gallery, Menlyn Park Tswane. Contact Munnik Marais 083 268 8701
23: Aero Club Special General meeting (SGM). EAA Auditorium Rand Airport: Contact Sandra 011 802 1100
23 & 24: Avi Afrique 2018 Africa Aviation Innovation Summit CSIR. Contact ATNS Percy Morokane E-mail:
percymo@atns.co.za

3rd Saturday of every month. Microland. Bring and braai. Fires and bykos provided. Fires start from 09h30. Contact person: Nick Swardt 082 441 8011 or Alan Hussey 072 82 2341
27: NAV Rally Baragwanath Airfield and lecture by Springbok Rally pilot Rob Jonkers. Contact Marie Reddy 083 259 7691
27: EAA Chapter 322 Year End Dinner. Bryanston Country Club.
RSVP@eaa.org.za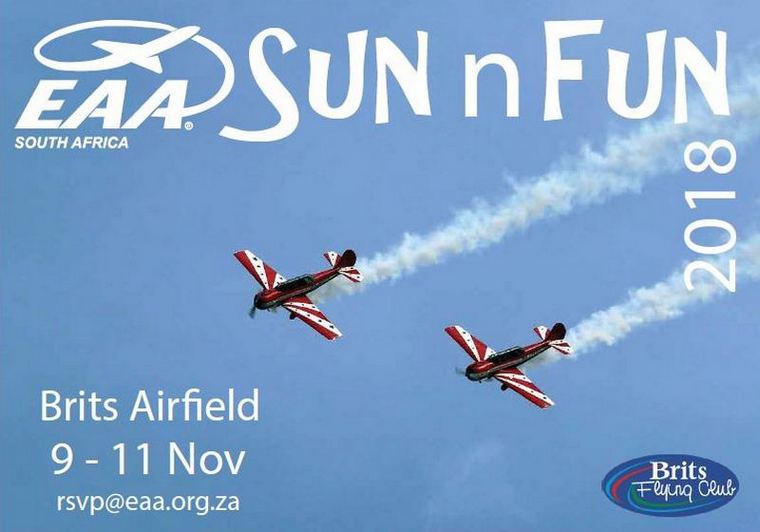 3: SAAF Museum AFB Zwartkop open practise day. Officer Commanding Museum
oc@saafmuseum.org.za
012 351 2290
3: Potties Vliegklub MISASA Fly in. Contact Nico Willemse.
nico@pottiesnuus.co.za
082 582 5961
3: Volksrust Breakfast Run. Free breakfast to all pilots and passengers. Hangar dance. To RSVP Whatsapp Robert 082 907 4917.

5-10: Gliding Training Week. Wanted to learn to fly a glider and soar? Kranskop Gliding Club is hosting a gliding training week towards a Glider Pilots License at Brits Airfield. Details: Estimated Gliding Costs for the week: R 7 000.00 Deposit of R 5 500.00 secures a booking. Contact Bennie du Plessis for bookings and enquiries Email:
bennie@geotesting.co.za
..
7: EAA Chapter 322 meeting. Dicky Fritz Moth Hall Edenvale. Contact:
clive.king@tariff.co.za
or
kevinmarsden88@gmail.com

8-11: SAMJA Jet Weekend at Henley. Contact Stan
stan@fincham.co.za

9-11: EAA Sun 'n Fun Brits Airfield. Contact Marie Reddy 083 259 7691
10: EAA Sun n Fun Adventure Rally - Brits. Contact Rob Jonkers e-mail:
rob@aerosud.co.za
Cell:082 804 7032
17: Aero Club of South Africa awards dinner 17h00 onwards. Contact E-mail:
office@aeroclub.org.za
3rd Saturday of every month. Microland. Bring and braai. Fires and bykos provided. Fires start from 09h30. Contact person: Nick Swardt 082 441 8011 or Alan Hussey 072 82 2341
24: Springs Fun Rally - Springs Airfield. Free breakfast to all that fly in on the day. Not just rally participants. Contact e-mail: chairman@sapfa.co.za cell: 082 855 9435


1: SAAF Museum AFB Zwartkop open practise day. Officer Commanding Museum
oc@saafmuseum.org.za
012 351 2290
1 to 2: Sport Aerobatics ACE of Base Brits Contact Annie Boon E-mail:
chunge@mweb.co.za

5: EAA Chapter 322 meeting. Dicky Fritz Moth Hall Edenvale. Contact:
clive.king@tariff.co.za
and
kevinmarsden88@gmail.com

3rd Saturday of every month. Microland. Bring and braai. Fires and bykos provided. Fires start from 09h30. Contact person: Nick Swardt 082 441 8011 or Alan Hussey 072 82 2341
8. WAA breakfast fly-in. RSVP
comms@flywaa.co.za




The Aviation Radio Show; get all your questions answered in one place. To listen to a recording of the live broadcast click on the link:
www.debela.co.za/aviation-radio-show








NEW ENSTROM 480B TO SOUTH AFRICA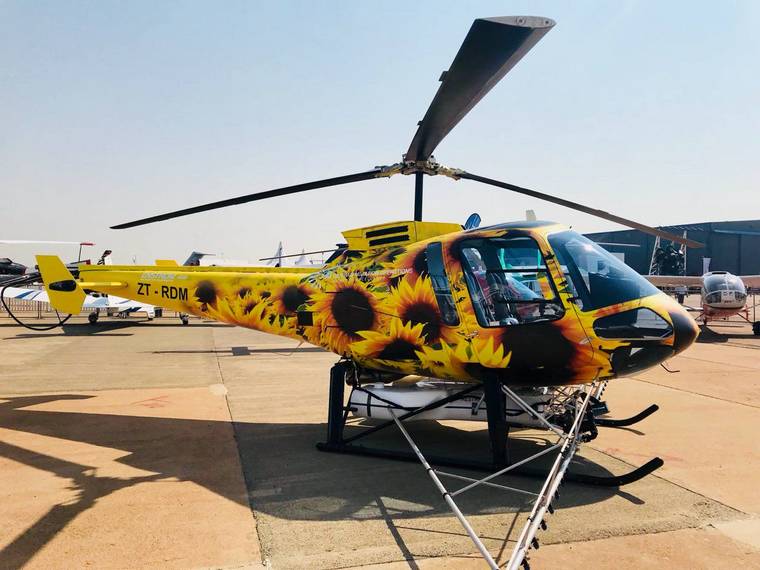 Enstrom Helicopter exhibited with Safomar Aviation, Enstrom's African distributor based in Johannesburg in the Africa Aerospace and Defence (AAD) at the bi-annual show held at Waterkloof Air Force Base in Pretoria. Dennis Martin, Enstrom Director of Sales and Marketing, joined the Safomar sales team at the show. Photo © Enstrom.

On display were two 480B turbines in crop spraying configuration and military camouflage and a 280FX which, along with the others, is used for training. All of the aircraft are operated by Safomar Aviation Operations based in Grand Central Airport Midrand.
Dennis Martin announced the sale of a new 480B helicopter which will be added to the Safomar Aviation fleet to be used for training (turbine conversions and rating, advanced training, slinging, charters) and contracts also by Safomar Aviation operations. Enstrom helicopters are maintained by Safomar Aviation Maintenance with factory trained engineers.
"With Enstrom characteristics, performance, safety, power, reliability, agility, versatility, and low operating cost, Africa is an ideal continent for the Enstrom helicopters for training, agriculture and aerial applications, light utility missions, command and control and observation" said Dennis Martin. "We are proud to team with Safomar Aviation, our distributor for most of the African continent. Safomar Aviation is undoubtedly best positioned and equipped to market, sell, and support our Enstrom brand in the continent in all aviation segments."

KENYA DEFENCE FORCE ORDERS SIX ARMED MD 530F ATTACK HELICOPTERS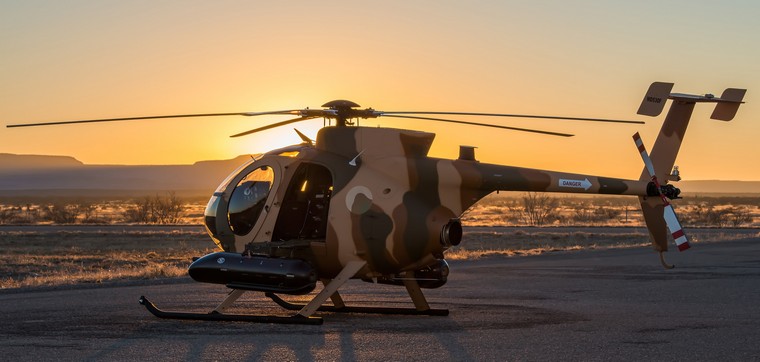 MD Helicopters, Inc. (MDHI) announced receipt of the second Delivery Order issued against its 5-year, $1.4 billion light scout attack helicopter IDIQ contract. The firm, fixed-price award is for six (6) armed MD 530F Cayuse Warrior helicopters for Kenya Defence Forces (KDF), and includes initial logistics support (ILS) for the aircraft, aircraft systems and ground support equipment. Photo MD Helicopters.


The contract was awarded through U.S. Army Contracting Command, Redstone Arsenal, Alabama. Initial deliveries will take place in April 2019, with all aircraft delivered prior to the August 2019 contract completion date.
"Our respect for and commitment to the warfighter is matched only by our legacy of providing the best in American-made rotorcraft to U.S. and Allied forces," said Lynn Tilton, Chief Executive Officer for MD Helicopters, Inc. "We look forward to delivering these MD 530F Cayuse Warrior helicopters to the Kenya Defence Forces, enhancing their ability to provide close air support and over-watch for ground operations."
The IDIQ Contract vehicle ensures an estimated quantity of up to 150 armed MD 530F Cayuse Warrior and/or MD 530G attack helicopters are available to U.S. and Partner Nation Military Forces. With the issuance of Delivery Order 2, MD Helicopters is currently under contract to deliver a total of 36 armed MD 530F Cayuse Warrior helicopters.
In addition to an advanced, all-glass cockpit and ballistically tolerant crashworthy fuel system, Kenya's MD 530F Cayuse Warrior fleet will be outfitted with the full complement of mission equipment standard to the Cayuse Warrior: FN Herstal Weapons Management System, DillonAero Mission Configurable Armament System (MCAS), DillonAero Fixed-Forward Sighting System, 62mm ballistic armor protection, FN Herstal .50 calibre HMP 400 Machine Gun Pods and M260 7-shot rocket pods.
The KDF's six armed MD 530F aircraft will also include an enhanced communication system that features the Harris RF-7850A tactical radio and the Rockwell Collins HF-9000D.
All aircraft will be delivered with a full U.S. Army-awarded Airworthiness Release (AWR).

SA PLANES MANUFACTURERS OF BUT AFRICA'S MOST SUCCESSFUL KIT AIRCRAFT AND LIGHT SPORT AIRCRAFT


Being the first new generation airplane produced in Africa, the Bushbaby family has proven to be not just South Africa, but Africa's most successful kit aircraft and Light Sport Aircraft.


Situated at the Petit Airfield, Gauteng, South Africa, Kitplanes for Africa produces 12-15 airframe kits and builds up 6 Light Sport Aircraft to test-flight completion per year. The facility is also home to Komati Flight Academy offering weight shift and light sport flight training (LSA) on tail or nose-wheel aircraft. The school specializes in tailwheel training and advanced bush flying.
To date Kitplanes for Africa has produced in excess of 350 airframes, some of which have been exported to Australia, UK, USA, Netherlands, Namibia, Zambia, Kenya, Mozambique and Zimbabwe.
Kitplanes for Africa began producing the Bushbaby Light Sport Aircraft in 1993. In 2003 the airframe benefited from some significant upgrades and the Explorer mk1 was born. During 2008 development on the Explorer continued and the Explorer Mk2 saw the light. The Mk2 Explorer has a larger luggage area than the Mk1, The same elevator as the Safari and a longer sleeker engine cowl. These small changes took the Explorer to the next level and gained instant popularity from our customers.
In 2008 development of the the Safari LSA started and continued to 2010 when the first Safari LSA's were produced and sold. The Safari LSA is an all new aircraft that has an 48 inch wide cockpit and firewall, 400mm longer fuselage, higher tail fin, external luggage door, massive luggage capacity, larger elevator and rudder.
During testing of the Safari LSA it was evident that the Safari structure far exceeded the Light Sport Aircraft (LSA) standards and that a higher certification can be sought. It was decided to start testing the Safari LSA to the EASA CS-VLA standards. This meant that the weight was increased from 600kg to 700kg. The results were outstanding and apart for some minor modifications in one or two areas the Safari passed all the structural testing to with ease.

XCUB CERTIFIED IN CANADA AND JAPAN


CubCrafters announced that its top-of-the-line aircraft, the XCub, has secured type certification from Transport Canada Civil Aviation (TCCA). The approval allows the company to begin deliveries of both land and seaplane versions of the aircraft to Canadian buyers immediately. A Type Certificate was also issued for the XCub by the Japan Civil Aviation Bureau (JCAB), and the first XCub delivery has already landed there. Photo © CubCrafters.

CubCrafters obtained FAA Type Certification for the XCub in June of 2016. Certification from the European Aviation Safety Agency (EASA) followed in April of this year, thereby clearing the way for XCub to enter into service on the European register. "XCub is finding an ever-larger audience in international markets," said Brad Damm, Vice President of Sales and Marketing at CubCrafters. "The increasing list of approvals for the XCub from international aviation authorities is an important part of our plan to expand the market reach of the CubCrafters product line. With delivery commitments for new XCubs now on five of seven continents, there is world-wide interest in the utility, safety, and best-in-class STOL performance that our aircraft offer."
"These approvals of the XCub Type Certificate are proof of exceptional effort and cooperation between TCCA, JCAB, FAA, and CubCrafters," Said Pat Horgan, President of CubCrafters. "The commitment from all stakeholders makes this a fine example of how the bilateral validation agreement between the U.S and international agencies should work. I'm extremely grateful to the FAA, TCCA, JCAB, and to my own team here at CubCrafters."

NEW MAJOR UPGRADES OF PS-28 CRUISER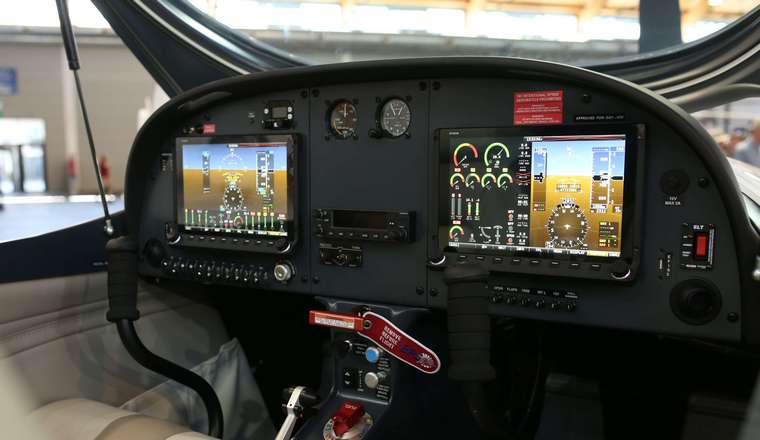 Czech Sport Aircraft is proud to announce availability of two major modifications in the PS-28 Cruiser aircraft configuration. Thanks to extensive and professional work of our R&D team type certifications of the new Premium Interior design and major avionics upgrade presented at Aero Friedrichshafen 2018 are now available for the customers! Type Design Change Approval for both upgrades has been recently granted by the European Aviation Safety Agency (EASA). Photo © Czech Sport Aircraft.


The modification of current standard utility interior includes completely redesigned comfortable seats with headrests, redesigned side panels, central box and other details in the cockpit providing the crew even more comfort during flight. The avionics upgrade provides possibility of installation of the up-to-date Dynon SkyView HDX screens. These MFDs feature improved high resolution displays, attractive design, unrivalled control ergonomics and upgraded touch interface. PS-28 Cruiser is the first EASA certified LSA aircraft with Dynon SkyView HDX avionics.
The new Premium interior and Dynon HDX avionics are now available on request on all newly ordered PS-28 Cruiser aircraft.
Martin Jurík, CEO, Czech Sport Aircraft a.s. said, "The PS-28 Cruiser has always been the innovation leader of the Light Sport Aircraft market here in Europe. Now, coming as the first one with the Dynon SkyView HDX avionics certified for our aircraft, we have proved again the technological and development leadership of our company and the PS-28 Cruiser aircraft. We believe these two latest major upgrades will be highly appreciated by the market."
Over 650 units of the PS-28 Cruiser and the SportCruiser aircraft have been already produced. The EASA certified PS-28 Cruiser successfully and reliably fulfils its role of the most efficient basic training aircraft in more than 30 flight schools in 13 European countries.

PALLAS AVIATION ANNOUNCED AS LAUNCH OPERATOR FOR LOCKHEED MARTIN LM-100J COMMERCIAL FREIGHTER



"In choosing the LM-100J, we have access to one of the newest cargo freighters that happens to have one of the most proven pedigrees in aviation: the C-130J Super Hercules. The LM-100J offers an outstanding performance record, reliability, experience and unmatched capabilities," said Emory Ellis, Pallas Aviation president. "There are other cargo aircraft in the market, but there's one LM-100J, and that's the airplane we need to do our job." Photo © Lockheed Martin.

Lockheed Martin introduced the LM-100J freighter in 2014 as an updated version of the L-100 legacy Hercules commercial variant. Lockheed Martin delivered more than 100 L-100s to private and government operators from 1964-1992. The LM-100J offers a civil-certified option for operators that build on the proven performance of the military C-130J variants, which have flown almost 2 million hours in support of a multitude of mission requirements.
"Over the past few years, we've had the honour to partner with the Pallas team in building the LM-100J and are excited to see this joint vision be a reality that we can share with the aviation industry," said George Shultz, vice president and general manager, Air Mobility & Maritime Missions at Lockheed Martin. "We can't wait for Pallas to show the world the versatility and capability that is found only in an LM-100J."
Two LM-100Js are currently flying in support of FAA type certificate update testing. The C-130J was fully FAA certified when it was first developed and the LM-100J requires an update of this certificate.


South Africa, O.R. Tambo International Airport: A SAA South African Airways Airbus A319-100 on a flight to Lusaka (Zambia), was in the initial climb out from ORT hen the crew requested to stop the climb at 8000 feet and enter a hold reporting they had a nose wheel problem, some rubber debris came out and the crew believed the debris had departed one of their nosewheels. The aircraft performed a low approach to runway 21L about 40 minutes after departure, slightly offset to the left to overfly taxiway Y for an inspection from the ground, ground observers reported a left hand nose tyre had blown out, the right hand tyre was still intact. The aircraft subsequently positioned for an approach to runway 21R, landed safely, vacated the runway and stopped for an inspection by emergency services.
Russia, St. Petersburg: A St. Petersburg court has fined Yevgeny Kuzovlev, the daring pilot who flew his helicopter underneath a bridge several weeks ago150,000 Rubles ($2,200) after he pleaded guilty to damaging a mode of transportation. Kuzovlev was filmed in August threading the needle between the motorway and the Malaya Neva River in a Gazelle helicopter. Kuzovlev later explained that he was forced to pass under the bridge because he had failed to gain altitude in time.

India, Hyderabad: A Indigo Airbus A320-200 on a flight to Goa (India) with 80 people on board, was accelerating for take-off from Hyderabad's runway 09R when the crew rejected take-off at high speed after the crew spotted a vehicle on the runway. The aircraft slowed safely and came to a stop about 1900 meters down the runway (about midpoint of the runway). The aircraft returned to the apron.
Brazil, Rio de Janeiro: An Air France Boeing 777-200 on a flight AF-457 from Sao Paulo Guarulos (Brazil) to Paris Charles de Gaulle (France), was climbing out of Sao Paulo when the aircraft encountered hail prompting the crew to stop the climb at FL270, descend the aircraft to FL200, dump fuel and divert to Rio de Janeiro, (Brazil), where the aircraft landed safely. The aircraft suffered damage to its radome.

USA, Elmendorf AFB Alaska: A Lockheed Martin F-22 Raptor assigned to JBER's 3rd Wing made an emergency landing on JBER's active runway. The aircraft reportedly had a landing gear issue. The aircraft suffered of substantial damage when a wing touched the ground. There were no injuries reported.


14 OCTOBER 1927

Dieudonne Costes and Joseph le Brix make the first non-stop aerial crossing of the South Atlantic, flying a Breguet 19 from Saint-Louis, Senegal to Port Natal in Brazil, as a part of their round-the-world 57,000 km trip.

Dieudonné Costes a French aviator who was born on 14 November 1892 was famous for setting long distance flying record as well as a fighter ace during World War I.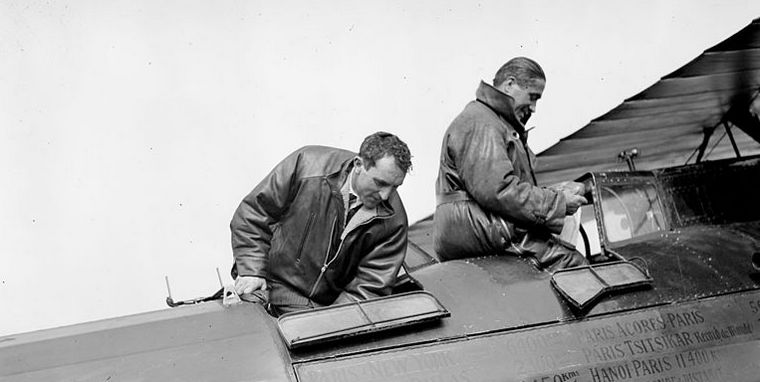 Between 10 October 1927 and 14 April 1928, Costes and Joseph Le Brix flew 57,410 km (35,652 miles) around the world, in a Breguet 19GR named Nungesser-Coli, from Paris through Argentina, Brazil, the United States, Japan, India, and Greece, although they travelled across the Pacific Ocean from San Francisco, California, to Tokyo, Japan, by ship.
During the trip, they made the first non-stop aerial crossing of the South Atlantic Ocean on 14-15 October 1927, flying between Saint-Louis, Senegal, and Natal, Brazil. While in South America, they routed themselves through every country in the continent. On 15-17 December 1928, Costes, with Paul Codos, set a world distance record in a closed circuit of 8,029 km (4,986 miles).
During World War II, Costes was an instructor in a pilot's school in Versailles, with the rank of lieutenant colonel. He died on 18 May 1973 in Paris and is buried in Passy Cemetery.

Costes received the Legion of Honour, the Croix de guerre with seven palms and a gold star, and the Médaille militaire, among other decorations. He also received the 1929 Fédération Aéronautique Internationale Gold Medal and the 1929 Harmon Trophy.
On 2 May 1928, he was awarded the Distinguished Flying Cross by special act of the Congress of the United States in recognition of his historic around the world flight.