THIS WEEK IN MIDWEEK UPDATE

Plan Your Weekend……..Forthcoming Events…….Aviation News

Worldwide Incidents and Accidents……This Week in Aviation History




3: EAA Chapter 322 Year End Dinner. Bryanston Country Club.
RSVP@eaa.org.za
3: SAAF Museum AFB Zwartkop open practise day. Officer Commanding Museum
oc@saafmuseum.org.za
012 351 2290
3: Potties Vliegklub MISASA Fly in. Contact Nico Willemse.
nico@pottiesnuus.co.za
082 582 5961
3: Volksrust Breakfast Run. Free breakfast to all pilots and passengers. Hangar dance. To RSVP Whatsapp Robert 082 907 4917.
3: Stellenbosch Nav Rally. Stellenbosch Airfield. Briefing: 09:00 in the Club House. Contact
frank.eckard@mweb.co.za
Tel: 083 269 1516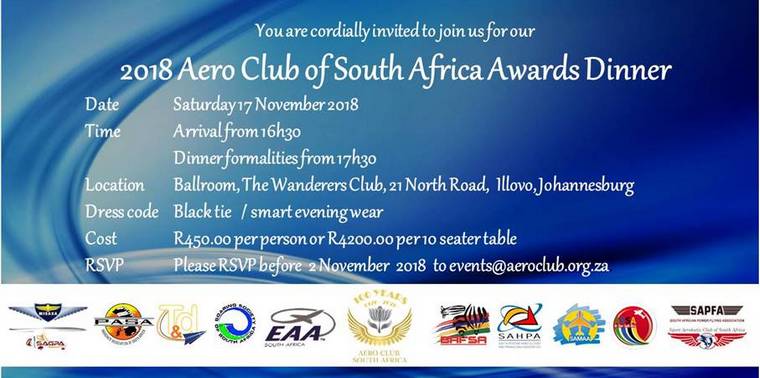 5-10: Gliding Training Week. Wanted to learn to fly a glider and soar? Kranskop Gliding Club is hosting a gliding training week towards a Glider Pilots License at Brits Airfield. Details: Estimated Gliding Costs for the week: R 7 000.00 Deposit of R 5 500.00 secures a booking. Contact Bennie du Plessis for bookings and enquiries Email:
bennie@geotesting.co.za
.
7: EAA Chapter 322 meeting. Dicky Fritz Moth Hall Edenvale. Contact:
clive.king@tariff.co.za
or
kevinmarsden88@gmail.com
8-11: SAMJA Jet Weekend at Henley. Contact Stan
stan@fincham.co.za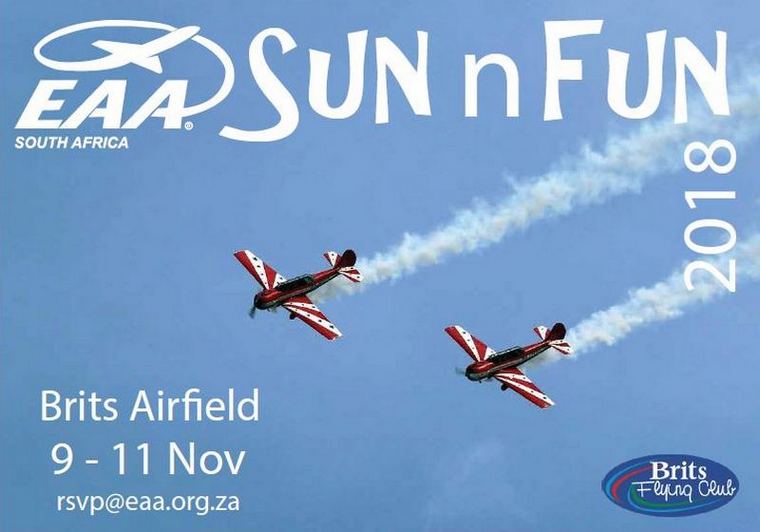 9-11: EAA Sun 'n Fun Brits Airfield. Contact Marie Reddy 083 259 7691
10: EAA Sun n Fun Adventure Rally - Brits. Contact Rob Jonkers e-mail:
rob@aerosud.co.za
Cell:082 804 7032
17: Aero Club of South Africa awards dinner 17h00 onwards. Contact E-mail:
office@aeroclub.org.za
3rd Saturday of every month. Microland. Bring and braai. Fires and bykos provided. Fires start from 09h30. Contact person: Nick Swardt 082 441 8011 or Alan Hussey 072 82 2341
24: Springs Fun Rally - Springs Airfield. Free breakfast to all that fly in on the day. Not just rally participants. Contact e-mail:
chairman@sapfa.co.za
cell: 082 855 9435



1: Mozambique Airshow. Maputo international airport . Contact Gavin Neil
mailto:gavin@haps.co.mz
1: SAAF Museum AFB Zwartkop open practise day. Officer Commanding Museum
oc@saafmuseum.org.za
012 351 2290
1 to 2: Sport Aerobatics ACE of Base Brits Contact Annie Boon E-mail:
chunge@mweb.co.za
5: EAA Chapter 322 meeting. Dicky Fritz Moth Hall Edenvale. Contact:
clive.king@tariff.co.za
and
kevinmarsden88@gmail.com

3rd Saturday of every month. Microland. Bring and braai. Fires and bykos provided. Fires start from 09h30. Contact person: Nick Swardt 082 441 8011 or Alan Hussey 072 82 2341
8. WAA breakfast fly-in. RSVP
comms@flywaa.co.za
8: SA Landing Championships. Brits Airfield. Contact Ron Stirk
melron@mweb.co.za
082 445 0373




The Aviation Radio Show; get all your questions answered in one place. To listen to a recording of the live broadcast click on the link:
www.debela.co.za/aviation-radio-show








CIRRUS AIRCRAFT LAUNCHES CIRRUS SERVICES


Cirrus Aircraft announced the launch of Cirrus Services, a newly formed customer-focused business unit within Cirrus Aircraft created to build lifetime relationships with customers by addressing their needs before, during and after initial aircraft ownership. Combining Flight Training, Service and Support into a single company division, Cirrus Services is designed to deliver complete support and care for Cirrus Aircraft pilots, owners and operators. Photo © Cirrus.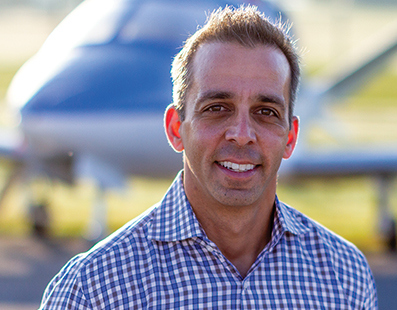 As Cirrus continues to grow aviation by bringing game-changing new personal aircraft to the market, most recently with the Vision® Jet, we recognize the importance of bringing that same innovation to developing a premium, comprehensive and lifetime Cirrus ownership experience," said Todd Simmons, Cirrus Aircraft President, Customer Experience. "Now, Cirrus Services streamlines our ability to deliver on that promise, as the new group serves to focus enterprise talent and resources on delivering world-class care to make owning a Cirrus rewarding, safe and simple for a lifetime."
Building on the success of revolutionary programs like Cirrus Approach™, Cirrus Embark and JetStream, the launch of Cirrus Services marks another milestone as Cirrus Aircraft continues to redefine general aviation by providing world-class customer service for life through training, service and more. This newly formed group will focus on growing capabilities and offerings at the company's expanding Vision Centre Campus in Knoxville, TN - including the recently opened Flight Training centre and Level D full-motion Vision® Jet simulator - as well as through a network of authorized service and training partners across the globe.
The company has selected Ravi Dharnidharka to lead this transformative addition to Cirrus Aircraft's customer experience team as Senior Vice President, Cirrus Services. Ravi joined Cirrus Aircraft in 2016 as Senior Vice President, Business Development. Prior to joining Cirrus, Ravi served as Director of Business Development for Senior Aerospace Ketema, where he led strategic planning and execution of business growth functions. He has also worked in business development with UTC Aerospace Systems focusing on aftermarket services for global airlines.
"Our goal is to welcome more people into general aviation by significantly elevating the entire customer experience" explained Ravi. "Cirrus Aircraft is already known for an exemplary new aircraft sales and delivery experience and we're excited to combine our collective talents into a fully integrated team dedicated to continuing that world-class experience throughout the lifetime of ownership."
Ravi is a lifelong aviation enthusiast and an active pilot. In his early career, he served with the U.S. Marine Corps as a fighter pilot, with experience flying the AV8B Harrier and F5N Tiger II, and continues to serve as a Lieutenant Colonel with the U.S. Marine Corps Reserve. Ravi holds an MBA from the University of Southern California and a Bachelor's of Science degree in Aeronautical Science from Embry-Riddle Aeronautical University.



FIRST DELIVERY OF TECNAM TRAINER TO THE HELLENIC AIR FORCE
By Stefano Mavilio




Tecnam announced today the delivery of the first Tecnam P2002JF aircraft to Hellenic Air Force (HAF). The aircraft was welcomed at the home of Hellenic Air Force Academy at Tatoi/Dekelia (Athens) Air Base by the General Staff of the Hellenic Air Force, in the presence of the Commander of the HAFA Mr John Gkontikoulis. Photo © Tecnam

This is the first of 12 Tecnam P2002JF low wing trainers due to be delivered to the HAF. The order being the result of a thorough and intensive evaluation process.
The delivery flight from Tecnam production facility in Capua, Italy was performed by Tecnam Chief Test Pilot, Massimo de Stefano and Tecnam Global Sales and Marketing Director, Walter Da Costa. After a stop in Lecce, the flight continued over Corfu and Oxia, arriving at HAF base of Tatoi LGTT at 2 pm local time.
The HAF selected the Tecnam P2002 JF as its next-generation screening/primary training aircraft.
In addition to the 12 P2002 JF aircraft ordered, Tecnam will provide a SOFTEK simulator and a computer-based integrated training system with ancillary support services.
The Tecnam P2002JF is a two-seat, single engine, low wing aircraft. Powered by the popular ROTAX 912, and with the latest avionic from GARMIN, it is firmly established as one of world's most popular single engine aeroplanes and the aircraft of choice by so many Flight Training Organisations and Air Forces.
In 2016 Tecnam delivered 8 P2002JF to Argentina Air Force. This fleet has amassed a total of over 6,000 hours and performed 16,000 landings to date.
Walter De Costa,Tecnam Global Sales & Marketing Director says: "We are very proud that after extensive evaluation the Hellenic Air Force selected Tecnam. With delivery today of the first of 12 P2002JF's exactly on schedule, we very much look forward to supporting our friends in Greece for many years to come".

TEXTRON AVIATION AND KING RANCH, ICONIC BRANDS LAUNCH A SPECIAL EDITION KING AIR 350I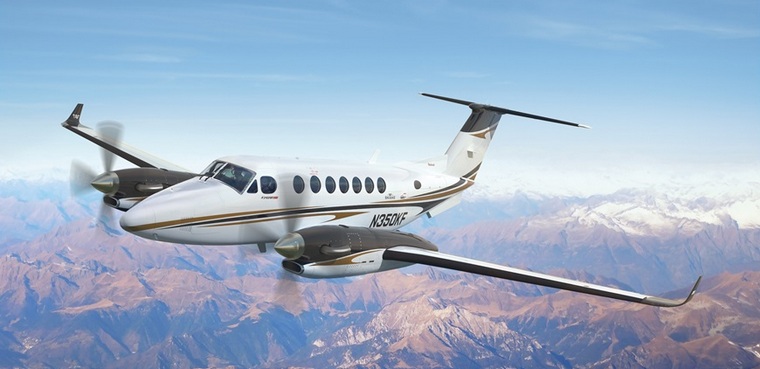 Textron Aviation Inc., a Textron Inc. (NYSE:TXT) company, announced today that it has joined with King Ranch to launch a special edition of the Beechcraft King Air 350i. Deliveries of the special edition King Ranch King Air 350i are expected to begin in 2019. Photo © Textron.

"We are proud to offer our customers an exciting new special edition King Air that brings together two iconic brands," said Rhonda Fullerton, vice president, marketing. "The legendary reliability and performance of the King Air 350i has made it the most popular business turboprop on the market while the uncompromising quality and high-tech innovation of King Ranch has placed it at the leading edge of the ranching industry."
"Just as King Ranch has evolved through the generations since Captain Richard King established it in 1853, the King Air series has delivered continual technological enhancements throughout the five decades following its entry into service," said Robert J. Underbrink, chief executive officer and president of King Ranch Inc. "Both are indisputable icons and together they bring forth an unparalleled customer experience. Rugged yet refined, elegant simplicity matched with high-calibre performance - both remain true to their legacy of innovation."
The King Ranch King Air 350i will offer a themed exterior and interior.
Featuring the King Ranch edition Matterhorn white base coat with dark caramel pearl and black pearl stripes, the livery will showcase the King Ranch Running W logo adjacent to the entry door and on the inboard side of the winglets. Inside, the theme continues with King Ranch pewter trim accents below the four cabin tables, Running W aft bulkhead quilting, King Ranch-branded throw carpets, hair-on-hide lumbar pillows, ostrich muslin vinyl headliner and window panels, Tendu wood grain side-ledges and cabinetry, crocodile-embossed leather upper sidewalls and many more distinctive elements and accessories.
"A distinguishing design of the King Ranch brand - and one of the key elements of the King Ranch King Air 350i - is the Running W emblem," Underbrink noted. "This exemplifies our emphasis to unite the past with the present and lead us into the future. This emblem is one of the most popular elements of the King Ranch brand and it aligns quite well with the Textron Aviation brand. We're proud to feature it on the King Ranch King Air 350i."

TEXTRON AVIATION DEBUTS NEW FULL-SCALE CESSNA SKYCOURIER MOCKUP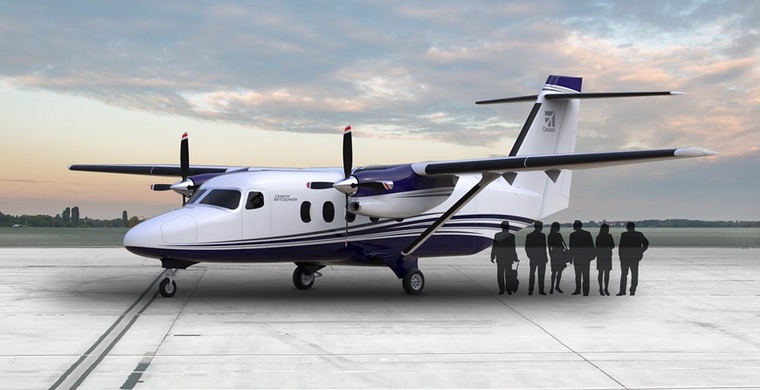 Textron Aviation Inc., a Textron Inc. (NYSE:TXT) company, today unveiled the new full-scale Cessna SkyCourier mockup at the 2018 National Business Aviation Association's Business Aviation Convention & Exhibition (NBAA-BACE) in Orlando, Florida. The cabin mockup on display at this year's event offers a preview into the Cessna SkyCourier's passenger options and standard features. Image © Textron.

"The Cessna SkyCourier was engineered to be a versatile, heavy utilization turboprop with significant payload to undertake a variety of missions," said Rob Scholl, senior vice president, Sales and Marketing. "We're excited for customers and NBAA attendees to experience many of the aircraft's distinctive features firsthand."
Combining form and function, the passenger configuration of the Cessna SkyCourier cabin offers seating for up to 19 with a generous, 32-inch (80 cm) seat pitch and separate entry doors for passengers and crew. Inside the aircraft, a netted rear cabin cargo area can accommodate luggage and equipment, and optional overhead baggage compartments provide additional storage space onboard. USB charging ports are located throughout the seating area, and large windows add natural light for greater comfort onboard.
"Since announcing the Cessna SkyCourier last year, we've seen continued interest from operators searching for a modern utility aircraft capable of flexible operations and configurations," Scholl noted. "Their feedback has enabled us to optimize many of the aircraft's features, allowing us to deliver a mission-ready platform."
ITALIAN EUROFIGHTER PROPOSAL SUBMITTED TO BULGARIA



On 1st October Italy and Leonardo submitted their offer to the Bulgarian Ministry of Defence in response to the recent Request for Proposal for the acquisition of eight fighter aircraft to replace their ageing Mig fleet. Photo © Eurofighter.


The Italian offer is based on the supply to the Bulgarian Air Force of Tranche 1 Eurofighter Typhoons from the Italian Air Force and includes also the option for the delivery of newly built aircraft as requested by Bulgaria. The proposal covers aircraft acquisition as well as training, three years in service support and weapons.
Lucio Valerio Cioffi, Leonardo's Aircraft Division Managing Director, said: "I believe that Eurofighter Typhoon can provide a cost effective and attractive solution for Bulgaria, delivering every capability and performing every mission the Bulgarian Air Force needs. The Eurofighter has already demonstrated its outstanding capabilities while performing Air Policing activities in 2017 from Graf Ignatievo Air Force Base. We are ready to support the Bulgarian Air Force with newly built aircraft or with the Tranche 1 Eurofighters of the Italian Air Force."
Eurofighter Typhoon is the biggest and most successful defence collaboration project ever undertaken in Europe. It is and will remain the backbone of NATO's European air defence for the next decades and will be a central pillar of any European future combat air system.
The selection of Eurofighter by the Bulgarian Ministry of Defence would also enable the Country and their whole Industry to benefit from the opportunities offered by joining such a proven programme.
Eurofighter Typhoon is the most advanced swing-role combat aircraft available on the world market and can be deployed in the full spectrum of air operations including air policing, peace support and high intensity conflict.
With 623 aircraft ordered, Eurofighter Typhoon is the largest military procurement programme in Europe. It is a technology driver for the European aerospace industry that offers huge opportunities for industrial participation. More than 100,000 jobs across 400 companies in Europe are secured by the programme.



KOPTER ANNOUNCES A FIRST FIRM ORDER WITH SAS FROM MALAYSIA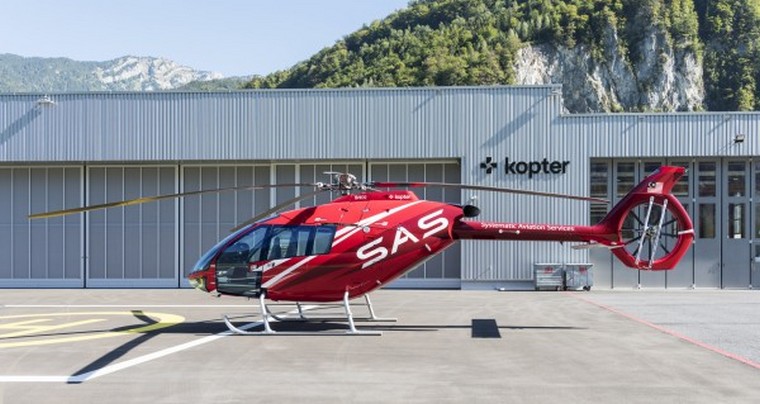 On the occasion of Helitech 2018, Systematic Aviation Services (SAS) from Malaysia has signed a firm order with Kopter for one SH09 helicopter in passenger transport configuration that will based out of the Sultan Abdul Aziz Shah Airport at Kuala Lumpur. Photo © Kopter.


To promote this new customer, Kopter has wrapped its first prototype (P1) using the paint scheme of SAS, and is exhibiting it on the Kopter booth at Helitech.
SAS operates a mixed fleet of single, twin turbine helicopters and fixed-wing aircraft and is a key player in the region with missions covering corporate and private charter, medevac, land survey, aerial photography and filming.
SAS is also a reputed Part 145 maintenance center and CAMO, serving clients from the private sector as well as key operators from the para-public domain. Ismail Ashaari, CEO has built the capability to customize, design and adapt solutions for their clients on the basis of a Design Organization Approval (DOA) and believes the SH09 will enable his operations to further expand its commercial activities and open new areas of development such as shuttle, island hopping and touristic flights.
The order is perfectly timed with recent outlooks indicating that the region offers tremendous untapped touristic potential for flights and adventures, where the SH09 will stand out with its large cabin and exceptional field of view.
SAS is seasoned in having already introduced new aircraft types into the region and Kopter believes this experience can only strengthen the market entry of the SH09 and be the start of a long term client-partnership.
Ismail Ashaari, CEO of SAS, is present in Amsterdam to mark this announcement, showing that Helitech has become a global event, attracting visitors from far beyond Europe.



LEONARDO TO SUPPLY FIVE AW119KX MULTIROLE HELICOPTERS FOR THE PORTUGUESE AIR FORCE


The contract signed with the Portuguese Ministry of Defence, worth over 20 million euros, provides for the supply of five helicopters plus options for two more units and deliveries between the end of 2018 and the beginning of 2020.


The AW119Kx will be used for different missions including crew training for various helicopter models such as the AW101 and the Super Lynx produced by Leonardo, medical evacuation, troop transport and search and rescue at sea. Almost 320 AW119 ordered to date from around 130 customers in 40 countries
Leonardo announced today that the Portuguese Ministry of Defence has chosen the AW119Kx as its new multi-role helicopter in response to its various operational needs. The contract, worth over 20 million euros, provides for the supply of five helicopters to the Portuguese Air Force, with the possibility of options for two more units.
Deliveries will be launched at the end of 2018 from the Philadelphia plant in the USA and will be completed in early 2020. The AW119Kx will be used for various operational tasks including training, medical evacuation, troop transport and short sea rescue and search, with the possibility of being used also for fire-fighting missions.
The AW119Kx was chosen after a careful evaluation among different competitors, proving to be the best solution to satisfy the customer's requirements.
This contract further strengthens the long collaboration between Leonardo and the Portuguese Ministry of Defense in the helicopter field after the supply of the AW101 used by the Italian Air Force for long-term research and rescue, utilities, personnel recovery and fishing protection, and the Super Lynx used by the Navy for naval missions and currently undergoing modernization.
The AW119Kx will ensure greater versatility and higher performance than single-engine helicopters currently used in the Portuguese Air Force, as well as extraordinary training capabilities to the benefit of the crews for the front-line models such as the AW101 and the Super Lynx.



VOLOCOPTER TO TEST ITS ELECTRICAL VERTICAL TAKE-OFF AND LANDING (EVTOL) AIR TAXIS IN SINGAPORE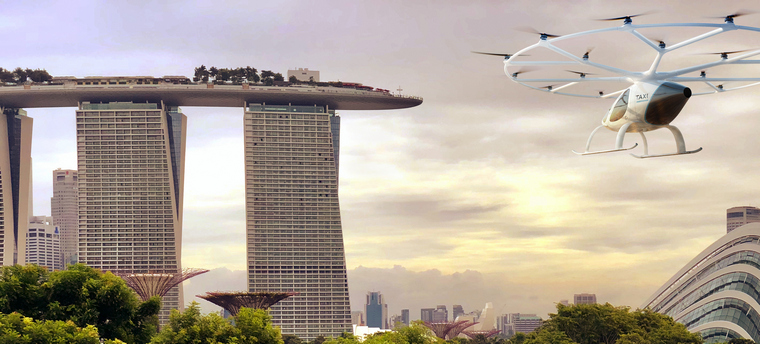 Volocopter, the pioneer in urban air mobility, announced today during Autonomy - the Summit of Urban Mobility in Paris, that they will perform a next set of inner urban flight tests in Singapore. The series of test that are scheduled to take place in the second half of 2019 are supported by the Ministry of Transport (MOT), Civil Aviation Authority of Singapore (CAAS), and Economic Development Board (EDB). Image © Volocopter.


These flight tests are designed to validate and verify the ability of Volocopter's eVTOL vehicles to operate in Singapore's urban environment and will culminate in public demo flights. Volocopter and CAAS will work together to establish the scope of the flight trials and ensure that the necessary requirements are met before flight tests are allowed to commence. In addition to the flight tests, Volocopter will be setting up a product design and engineering team in Singapore to support its expansion plans. They are also looking for real-estate developers, mobility providers and businesses ready to join their quest to enable air taxis in Singapore.
Volocopters are emission-free, electrically powered aircraft that take off and land vertically. They resemble a helicopter in looks, but are based on drone technology and can fly two people for just short of 30 km. The Volocopter is designed specifically for inner city missions. It features an extremely stable flight allowing it to maneuver micro turbulences around skyscrapers, thus offering a smooth ride for passengers. It is so quiet that at a flight height of 100 m, it cannot be heard over the typical background noise of a city.
"There is potential for air taxis, or eVTOLs, to transform mobility and logistics in urban cities. Volocopter is at the forefront of such new and innovative technology in the aviation industry. CAAS is pleased to work together with Volocopter to study the technical capabilities and develop appropriate operational guidelines to facilitate such trials in Singapore," said Mr. Ho Yuen Sang, Director (Aviation Industry), CAAS.
Mr. Tan Kong Hwee, Executive Director EDB Singapore said, "Volocopter's decision to set up a local product design and engineering team in Singapore is a testament to Singapore's aerospace engineering talent, as well as our prime position for industry players. We are excited to welcome Volocopter to Singapore and look forward to our future partnerships."
"We are getting ready to start implementing the first fixed routes in cities," says Florian Reuter CEO of Volocopter. "Singapore is a logical partner: The city is a true pioneer in technology and city development. We are confident this is another exciting step to make air taxi services a reality." Volocopter holds a preliminary permit to fly from the German authorities since 2016 and is cooperating with the European Aviation Safety Authority (EASA) to receive a full commercial license. They fly regularly in Germany and have performed numerous public flights.
In September 2017 Volocopter performed a public unmanned test flight in Dubai, where they partnered with the Roads and Transport Authority of Dubai in their endeavour to implement air taxis into the public transportation mix.


Indonesia, Jakarta: The technical log from the Boeing 737 airliner that crashed into the sea with 189 people on board had an entry from a previous flight stating that the airspeed reading on the captain's instrument was unreliable, and the altitude readings differed on the captain's and first officer's instruments. The pilot had to hand over to the first officer.
USA, Williamsport Regional Airport: An A Embrear 145with 43 passengers on board operated by American Eagle struck a deer at Williamsport Regional Airport in Montoursville. None of the passengers headed to Philadelphia was injured and they either were rebooked on a later flight. The aircraft suffered only minor damage.
USA, Colorado Springs, Colorado: A USAAF B-2 Spirit stealth bomber from the 509th Bomb Wing at Whiteman Air Force Base had to land at an airport in Colorado Springs, Colorado, after an in-flight. The B-2 was en-route to Whiteman in Missouri. Both pilots were unharmed. The Air Force has seen several emergency landings in recent months, including a one-week stretch in early June where three aircraft - a KC-135 Stratotanker, a KC-10 Extender and a CV-22 Osprey - had to land unexpectedly in separate incidents. An F-22 Raptor also made an emergency landing at Joint Base Elmendorf-Richardson in Alaska.
Iraq: According to a report released the pilot of the helicopter crash that killed seven US service members in Iraq this March misinterpreted the aircraft's navigation displays, which caused the formation to overfly the intended destination. The aircraft descended into an unplanned location where the helicopter became tangled in a steel cable strung between two towers.
USA, Washoe County's Lakeview, Nevada: A Bell OH-58A Kiowa of the Sheriffs Department aircraft experienced an inflight wire strike and subsequent precautionary landing to open brush terrain in Washoe County's Lakeview, Nevada. The helicopter apparently was not damaged and there were no reported injuries to the occupants onboard during the incident. A brush fire resultant of the wire separation was contained without injury.
USA, Santa Paula, California: Following a loss of engine power a Cessna T210G Turbo Centurion force landed in riverbed terrain during an attempted return to the point of departure at Santa Paula Airport. The airplane came to rest inverted, sustaining substantial damage, and the two occupants onboard received minor injuries.

THIS WEEK IN HISTORY

29 OCTOBER 1901

The Royal Aero Club of Great Britain is established.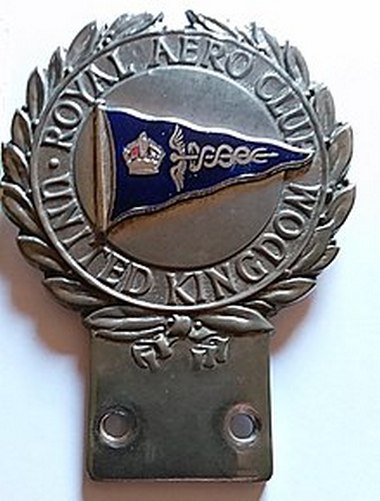 The Aero Club was founded in 1901 by Frank Hedges Butler, his daughter Vera and the Hon Charles Rolls (one of the founders of Rolls-Royce), partly inspired by the Aero Club of France. It was initially concerned more with ballooning but after the demonstrations of heavier-than air flight made by the Wright Brothers in France in 1908, it embraced the aeroplane. The original club constitution declared that it was dedicated to 'the encouragement of aero auto-mobilism and ballooning as a sport.' As founded, it was primarily a London gentlemen's club, but gradually moved on to a more regulatory role. It had a clubhouse at 119 Piccadilly, which it retained until 1961.
The club was granted its Royal prefix on 15 February 1910. From 1910 the club issued Aviators Certificates, which were internationally recognised under the Fédération Aéronautique Internationale (the FAI) to which the club was the UK representative. The club is responsible for control in the UK of all private and sporting flying, as well as for records and competitions.
Today the Royal Aero Club continues to be the national governing and coordinating body of air sport and recreational flying. The governing bodies of the various forms of sporting aviation are all members of the Royal Aero Club, which is the UK governing body for international sporting purposes. The Royal Aero Club also acts to support and protect the rights of recreational pilots in the context of national and international regulation.