1. Message from the Editor
2. A small matter of knowledge
3. Africa's 2018's Hazards, Incidents, Accidents and Safety Occurrences
4. Emergency Response Planning
5. Henley Global Aviation Safety and Quality Training
6. NTSB seeks runway alert equipment on all aircraft
7. Scientists examine why some pilots thrive under pressure, and some crack.
8. Commercial aircraft evolution puts safety first
9. Airlines warned against complacency after dream safety run
10. News from the Johannesburg Airports
11. Finale
1. MESSAGE FROM THE EDITOR
The SACAA are making changes to a number of important Regulations and Technical Standards with the inception of Safety Performance Monitoring, a change in the FDP limits and CAMO being just three of them. CAASA along with its affiliates and the SACAA are meeting regularly to ensure that the new SARPS will prove to be workable.
With the high temperatures and density altitude we are experiencing up here on the high veldt everyone is reminded to stay alert and safe.
Vivienne
2. A SMALL MATTER OF KNOWLEDGE
CHRONIC UNEASE

Chronic Unease is the opposite of complacency. It is a concept that has long been part of the Safety Management Systems of organisations with high performing safety cultures.
The reason it is not well known in most organisations is because most organisations are spending most of their safety effort investigating and managing incidents and/or establishing processes and procedures to achieve a good safety performance. It is most appropriate to focus on these aspects of safety, but to include the concept and training around "chronic unease" early on in the establishment of safety systems will get a better safety performance quicker.
Sometimes, people need to step back and challenge their safety objectives to see gaps in the systems that prevent them getting the good performance they are after. Once they identify the gaps, they can set their safety systems to include these elements as well, so they achieve the end result quicker. Sometimes it takes external challenge to be able to achieve this also. So, if you haven't previously heard of "chronic unease", you need to understand it to be able to include it as an element of your own safety systems and you will see why in a minute…
Industries and companies with high performing safety performances, generally have a culture where complacency is avoided. Unless you do, complacency leads you into a false sense of security. For example, I have worked for a company that struggled to get incidents under control, but we did with a significant culture change program. At the same time, we were changing the safety systems and procedures to provide better controls, we trained people in the new procedures and expectations and we got a significantly improved safety result. This was principally because the focus had been high and lots of people were out in the plant observing and challenging the processes to make sure that people were safe and that procedures were being followed and maintenance was being done on time. But as time went on and the safety results remained good, focus started to be shifted to how we could get the operations more efficient, more productive and more cost-effective. All admirable aims and rightly should be part of every business BUT, the focus on safety was less, complacency started to sneak in and there was less challenge to the norm. Incidents started to increase.
"Chronic unease" is about always being uneasy, being sceptical of what you see and, especially, when things are going well, start to increasingly challenge the norm questioning where things may not be quite right and areas that, perhaps, we should investigate to see whether everything is actually being done as it should be and that the necessary controls are in place and working.
This is the time when you take turns to review the documented procedures to see that everyone understands the steps, everyone is following them and that they make sense and are correct;
• This is the time when you should check that the maintenance records are up to date and that the maintenance has actually been done and not just recorded;
• This is the time to check that all training is up to date;
• This is the time to challenge the Job Hazard Analyses, Permits [Permit refers to a formal Permit to Work system permit], job start discussions; and
• This is the time that you should start to be a bit fearful that something you're not expecting could "turn around and bite you".
Complacency is one of the biggest sources of injury. Australians have a saying 'she'll be right, mate!' meaning don't worry, you don't really need to do everything as prescribed, you will get by OK without following every rule. Leaders in businesses constantly struggle to fight off complacency and get people to focus on what could go wrong to ensure that the controls and barriers in place.
Remember, humans have a tendency to do as little as they can do and get away with. If it works once, they will tend to do it again but one day the holes will line up and an incident will happen.
Article by Global Safety Management
3. AFRICA'S 2017 HAZARDS, INCIDENTS, ACCIDENTS AND SAFETY OCCURENCES
Source, amongst others, PlaneCrash info.com; News24, Aviation Herald, Flight Safety Information, SACAA
ACCIDENTS INVOLVING FIXED WING AIRCRAFT IN AFRICA DURING 2018

Date A/C Type Fatalities Location
17 Jan 18, Embraer ERJ-190 1 Mwanza, Tanzania
23 Jan 18 Savannah S, 2 Eastern Cape, RSA
25 Jan 18 Bantam 22J 0 Pyramid Aerodrome, Mpumalanga, RSA
03 Feb 18 Bathawk 0 Pilanesberg National Park, NW, RSA
13 Feb 18 A330-200 0 Lagos, Nigeria
13 Feb 18 Sling 2 0 Morningstar Airfield, WC, RSA
16 Feb 18 Piper PA43-200T 0 Kitty Hawk, GP, RSA
20 Feb 18 McDonnell Douglas MD-83, 0 Port Harcourt, Nigeria
25 Feb 18 Cessna T210N 2 Oudtshoorn, WC, RSA
04 Mar 18 Boeing 737-300 0 Lubumbashi, DR Congo
04 Mar 18 PA28 0 East London Airport, EC, RSA
26 Mar 18 King Air 200 0 Wonderboom, GP, RSA
30 Mar 18 AN-12BK 0 Gao, Mali
03 Apr 18 AV-8B Harrier II jet 0 Djibouti-Ambouli International Airport, Djibouti
05 Apr 18 Cessna C210P 0 Old Nelspruit Airfield, Mpumalanga, RSA
11 Apr 18 Ilyushin Il-76 257 Blida, Algeria
03 May 18 Falcon 900EX 0 Rand Airport, GP, RSA
04 May 18 Sling 2 0 Port Elizabeth Airport, EC, RSA
12 May 18 Zodiac CH 610 H 0 100m from threshold 11, Rand Airport, GP, RSA
05 Jun 18 Cessna 208B Grand Caravan 10 Limuru, Kenya
17 Jun 18 Crop Sprayer 0 Dargle Valley, KZN, RSA
18 Jun 18 PA31 5 Antanarivo, Madagascar
10 Jul 18 Convair 1 Wonderboom Airport GP, RSA
21 Aug 18 Cessna 172N 0 Rustenburg Airfield, NW, RSA
23 Aug 18 PA28 0 Port Alfred, EC, RSA
01 Sep 18 Aeroprakt A-22 0 Cato Ridge, RSA
10 Sep 18 Let 410 17 Between Juba and Yirol, South Sudan.
15 Sep 18 Motorised Paraglider 1 Centurion, GP, RSA
19 Sep 18 Icarus C42 2 Bethlehem, FS, RSA
24 Sep 18 Foxbat A22 0 Mountain Sanctuary, RSA
27 Sep 18 Bantam B22J 0 Blyde River Canyon, MP, RSA
28 Sep 18 Bathawk 0 In the zip line nr. Pilanesberg, RSA
29 Sep 18 Chengdu F-7Ni 1 Katampe, Nr. Abuja, Nigeria
30 Sep 18 5 x various aircraft 0 Hangar, Polokwane, RSA
03 Oct 18 AN30 & AN32 0 Khartoum, Sudan
03 Oct 18 Piper Arrow 0 Port Alfred, EC, RSA
06 Oct 18 Aquila Trike 2 Marblehall, RSA
08 Oct 18 Cessna 172 2 Vorna Valley, GP, RSA
09 Oct 18 Jabiru J450 1 Swartwater, RSA
12 Oct 18 ATR72 0 Lagos, Nigeria
03 Nov 18 MiG-29M 1 Cairo, Egypt
ACCIDENTS INVOLVING ROTOR WING AIRCRAFT IN AFRICA DURING 2018

01 Jan 18 Aérospatiale AS 350B2 Ecureuil 0 Drakensberg, Cathedral Peak -South Africa
19 Jan 18 RH44 0 Groenvlei, FS, RSA
28 Feb 18 RH 2 Ogies, MP, RSA
09 Apr 18 Aérospatiale AS 350 0 Balfour, GP, RSA
15 Aug 18 RH22 1 Ithala Game Reserve, EC, RSA
18 Sep 18 Oryx 0 Roodewaal, RSA
18 Sep 18 Bell 206B 0 KZN, RSA
19 Sep 18 Jet Ranger 0 Melmoth, RSA
02 Oct 18 Oryx 1 Phalabora, Limpopo, RSA
23 Oct 18 UH 1H 1 Western Cape, RSA
OTHER AVIATION RELATED ACCIDENTS DURING 2018

05 Jan 18 Hot Air Balloon 20 Luxor, Egypt
INCIDENTS AND OCCURRENCES DURING SEP AND OCT 2018

Date A/C Type Location Occurrence Type of Op
02 Sep 18 B737-700 Cape Town, RSA En-route at FL380 about 210nm out of FACT the crew initiated emergency descent due loss of cabin pressure. COM
06 Sep 18 B737-800 Porto, Portugal Engine failure (CFM56) - a/c returned to Porto. African Operator COM
08 Sep 18 Cessna 172 Rand Airport, RSA Bird Strike - a/c landed safely TRNG
10 Sep 18 Cessna 172 Rand Airport, RSA Radio Communications failure TRNG
11 Sep 18 DC3 Rand Airport, RSA Engine failure - a/c landed safely COM
11 Sep 18 Cessna 421 Rand Airport, RSA Engine overheated on TWY29. TRNG
12 Sep 18 B737-800 Belgrade, Serbia 4 main tyres blew on landing. African Operator COM
13 Sep 18 Rockwell 112 Rand Airport, RSA Landed without undercarriage deployed. PVT
15 Sep 18 A320 Frankfurt, Germany A/C lined up on TWY M instead of RWY25C. African Operator COM
16 Sep 18 A330-200 Algiers, Algeria A/C accelerated for take-off on RWY09 and ingested a bird. Take-off was rejected. COM
16 Sep 18 BE36 Rand Airport, RSA Electrical failure. a/c landed safely COM
16 Sep 18 Cessna 172 Rand Airport, RSA High oil temp, low oil pressure TRNG
18 Sep 18 Drone/RPA Wonderboom, RSA Operating in airport area caused near miss with training a/c RPA
28 Sep 18 DC3 Rand Airport, RSA High oil temp, low oil pressure. COM
01 Oct 18 Cessna 172 Lanseria, (FALA) RSA Runway excursion TRNG
06 Oct 18 B767-300 Montreal, Canada Loss of power on no.1 engine (CF6). African Operator COM
09 Oct 18 A319-100 Johannesburg, RSA Left hand nose tyre blew out. A/C returned to FAOR COM
13 Oct 18 B190 Richards Bay, RSA A/C lost directional control resulting in RWY excursion COM
20 Oct 18 B190 FL200 approximately 40nm East of WIV VOR, RSA The aircraft experienced depressurisation. the number 3 right hand cabin window was shuttered and blown out. COM
ROTOR WING INCIDENTS AND OCCURRENCES

03 Oct 18 Bell 206B Rand Airport Positive landing TRNG
AERODROME HAZARDS

Bamako, Mali ATC - low level of proficiency
Beni, DRC Runway condition very poor - RWY rehabilitation underway; Birds
Entebbe, Uganda ATC Staff under training; Birds
Bangui, Central African Republic People and animals alongside the runway
Goma, Democratic Republic of Congo ATC - low level of proficiency, construction hazards
Juba, Sudan Poor ATC, heavily congested airfield, large birds
Lanseria International Airport, RSA Construction work for the air gate project
Timbuktu, Mali ATC information only with RPAs (Drones) operating in the area
3. EMERGENCY RESPONSE PLANNING
Blake Emergency Services is the International Crisis Management and Contingency Planning and Response Specialist who, although based in the UK, have extensive experience in Africa having handled accidents, incidents, counselling, repatriation, DNA sampling and confirmation, in amongst others Lagos, Nigeria; Fez, Morocco; Pointe Noire, Congo; Moroni, Comores; Maputo, Mozambique and more recently Ukraine, The Netherlands, Indonesia and Mali. Please go to www.blakeemergency.com or contact
Rethea.mitchell@blakeemergency.com
If you are interested in becoming a volunteer for Blake Emergency Services, please contact Rethea at the address given above.
An Emergency Response Plan is a required section of your SMS and may also be added to your Operations Manual.
Emergency Response, Incident Response, Operations Control and Family Assistance training together with the writing of Emergency Response Plans and Procedures is now offered through Blake Emergency Services. For more information, please contact Rethea on
Rethea.mitchell@blakeemergency.com
4. HENLEY AVIATION TRAINING
Should you wish to make a booking for any of the following courses please contact Candice on +27 (0)11 024 5446/7 or by email to training1@henleyglobal.org.za. The full 2018 schedule is posted on the website -
http://henleyglobal.org.za/events/
Dates Course Lecturer Cost Excl Vat

26-27 Nov 18 Quality Assurance Auditor Dan Drew R 2,750-00
03-04 Dec 18 Safety Management System (SMS) Introductory Course Various R 2,750-00
03-07 Dec 18 Integrated Safety Management Course Various R 7,150-00
12 Dec 18 CRM - Refresher Verity Wallace R 1,080-00
12 Dec 18 Dangerous Goods Verity Wallace R 880-00
Notes:
Cost per delegate includes all training materials, refreshments and lunch. Attendees paying in cash on the day are eligible for a 10% discount. Both Recurrent CRM and Dangerous Goods Training Courses are available upon request - even at short notice.
On request we also offer - Air Cargo Security (Part 108), Health and Safety (Medical), Cargo and Warehouse Security, Risk Management & Investigations, First Aid and the Law, NEW - Maintenance Reliability Programme & NEW - Maintenance Management.
6. NTSB SEEKS RUNWAY ALERT EQUIPMENT ON ALL AIRCRAFT
The National Transportation Safety Board (NTSB) is calling on the FAA to require installation of alert systems on all aircraft that would warn pilots flying into primary airports that their aircraft are not lined up with a runway surface or the intended runway. The recommendation stemmed from the July 7, 2017 incident in which an Air Canada A320 lined up on a parallel taxiway while on approach into San Francisco. The crew initiated a go-around but had come within 100 feet of one aircraft lined up on the taxiway and 60 feet of another.
As a result, the NTSB found that "flight safety would be enhanced if airplanes landing at primary airports within Class B and C airspace were equipped with a cockpit system that provided flight crews with positional awareness information that is independent of, and dissimilar from, the current instrument landing system backup capability for navigating to a runway."
However, in his first official board meeting on an aircraft accident, newly confirmed vice chairman Bruce Landsberg highlighted a need for supporting data into applying general findings on additional equipment to general aviation.
The former long-time head of the AOPA Air Safety Institute, Landsberg suggested an amendment to limit the finding's threshold to 12,500 pounds. He said he believed the finding was a "bit broad" to include light general aviation in the recommendations. "Do we have data to support it? I have not seen any."
But that amendment was withdrawn after facing objections from other board members. New member and long-time Senate staff member Jennifer Homendy, who joined the board about the same time as Landsberg, pointed to FAA data that 85 percent of wrong-surface landings involve general aviation and noted a need for data supporting the 12,500-pound threshold.
NTSB chairman Robert Sumwalt added, "I do not believe that this agency should be concerned with a burden to the industry. Our concern should be what are the factors in the event."
7. SCIENTISTS EXAMINE WHY SOME PILOTS THRIVE UNDER PRESSURE, AND SOME CRACK
A peek into the brain could help us train the pilots of the future. Every commercial pilot would prefer nothing but uneventful flights, but sometimes the things go wrong, and pilots have to both handle drastically shifting circumstances while maintaining the mental calm to process new information as it comes in. It's a lot to ask of anyone, which is why scientists at Drexel University have begun measuring the brain activity of pilots in real-time.
Using technology called functional near-infrared spectroscopy, or fNIRS, the scientists are able to monitor pilot activity while they move about the cockpit and make decisions. An fNIRS system keeps track of blood oxygenation changes in the prefrontal cortex, the part of the brain where problem solving, memory, judgement and impulse control are located.
When a person is learning a new skill, the prefrontal cortex is highly active. But as a task becomes a more learned trait, the brain is able to spread its resources out across other areas. This gives the prefrontal cortex space to breathe, so to speak, in the case of a split-second decision needed to be made. "Unfortunately, many human-machine interfaces expose users to workload extremes, diminishing the operator's attention and potentially leading to catastrophic consequences," says Hasan Ayaz, PhD, an associate research professor at Drexel, in a press release. Ayaz and co-author Frédéric Dehais, of ISAE-SUPAERO in Toulouse, France have published their work in Frontiers in Human Neuroscience.
Researchers split 28 pilots into two teams. One team flew in actual planes and the other that stayed in flight simulators. With fNIRS systems monitoring their brain activity, the pilots began a series of memorisation tests given to them by pre-recorded air traffic control instructions for flight parameters. These varied in difficulty and in how they were distributed to the pilots. The picture depicts a pilot wearing the fNIRs headband. His brain activity is being monitored on the ground by researchers.
A clear trend emerged. Pilots in the real flight conditions had more errors and their brains had higher prefrontal cortex activation than the pilots in the simulator. It's a testament to how the pressure of real-time flight differs from even the most advanced simulations. But going forward, Ayaz and his co-authors on this paper hope that this fNIRS measuring system could be a first step towards understanding why some pilots are strive and others crack under pressure.
Pilots like Sully Sullenberger, Tammie Jo Shults and Liu Chuanjian are rightfully lauded for their quick thinking under drastic circumstances. But not every pilot can make the right call, and tragedies like the one-in-a-million Germanwings Flight 9525 show how keeping track of a pilot's brain function could help save lives.
Someday perhaps the plane itself could monitor a pilot's activity and adjust itself to help the flight out. "We believe that this type of approach will open a whole new direction of research for studying parameters in an aviation setting and eventually designing better machines," says Dehais.
Source:
https://www.popularmechanics.com/flight/a20775405/scientists-examine-why-some-pilots-thrive-under-pressure-and-some-crack/
8. COMMERCIAL AIRCRAFT EVOLUTION PUTS SAFETY FIRST.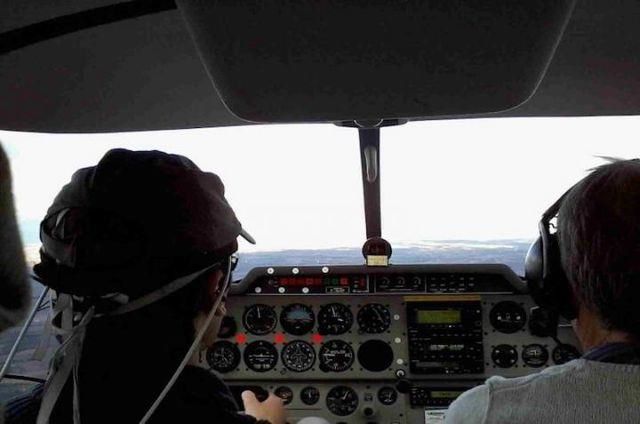 When you board a commercial aircraft, stow your carry-on luggage and buckle in, you generally assume that your jet will taxi and take off safely, keep you comfortable during the flight and deliver you to your destination.
This comfort with commercial air travel is no accident. Since 1914, which Space.com marked as the beginning of scheduled airline passenger service, passenger safety has been central to commercial aircraft evolution.
According to the Air Safety Network (ASN), 2017 was the safest year in commercial aviation history, with just 10 fatal airline accidents and 44 airline fatalities worldwide. The New York Times reported that the April 2018 death of a passenger aboard a Southwest Airlines jet marked the first passenger fatality on a U.S. commercial airliner in more than nine years. Bureau of Transportation Statistics reveals that during that time, more than 7 billion passengers took off and landed safely.
Teamwork in Innovation

So, what's behind this remarkable safety record? It begins with a singular focus on passenger safety by commercial airlines and organisations like the Federal Aviation Administration (FAA) - the overseer of U.S. civil aviation - and the National Transportation Safety Board (NTSB), the U.S. government agency that investigates civil transportation accidents. It plays out as new aerospace technologies and processes that beef up safety in the design, operation and maintenance of commercial aircraft.
"When there is an accident, it's our responsibility to get to the bottom of it in an unbiased, fully transparent fashion," said John DeLisi, director of aviation safety for the NTSB. "Our main goal is to learn the lessons from every accident and make recommendations to prevent their recurrence."
DeLisi points to improved avionics, a better understanding of fuel tank dynamics, more rigorous aircraft maintenance processes and enhancements to cabin safety as examples of lessons learned from aircraft accidents.
Safety from the Ground Up

No commercial aircraft would fly today, for example, without something like Honeywell's ground proximity warning system, an aerospace technology that helps jets avoid unplanned Controlled Flights into Terrain. "This is a great example of a safety system that has helped eliminate a complete category of accidents," said DeLisi.
According to Becky Sidelinger, vice president of safety systems, Honeywell Aerospace, traffic collision avoidance systems (TCAS), detailed by the National Business Aviation Association, have largely eliminated mid-air collisions between airliners. A TCAS "creates pilot awareness of all other nearby aircraft and sends directives to him on how to avoid any collisions," she explained. Increasingly a TCAS receives its positional data from GPS satellites, which enhances precision and passenger safety.
Another example of aerospace technology making the skies safer, added Sidelinger, is Honeywell's smart landing systems, which notify pilots if they are flying too low, too fast or even in the wrong direction as they prepare to land. "These systems are designed to prevent aircraft from overshooting or undershooting a runway, as Asiana Airlines (Flight 214) did in July 2013 on final approach to San Francisco International Airport," she said.
You Can't Win if You Don't Exit

Passenger lives can also be at risk even if a jet never leaves the tarmac. A fire that erupts in the cabin prior to takeoff can be just as dangerous as a mid-air collision. That's why commercial aircraft evolution has included a variety of NTSB-recommended upgrades to cabin safety requirements.
"Getting survivors out of a cabin quickly is an important aspect of any emergency situation," explained DeLisi. "The biggest changes in cabin safety have come from the introduction and use of fire-retardant materials on seats and internal structures such as overhead baggage compartments, walls, ceilings and cabin partitions," he added.
Other examples of FAA-motivated safety features found in commercial cabins today include floor proximity emergency escape path lighting, lavatory smoke detectors and seats that protect passengers from injury when exposed to dynamic forces of up to 16Gs.
Window into the Future

So how will future jetliners compare to the 787s and A380s ferrying us around the world today?
DeLisi expects to see us flying in totally autonomous commercial aircraft in a cocoon of safety, precision and great fuel economy. The new jets might be powered by electric or hybrid engines, and include more modular seating and entertainment options, but don't look for larger windows or standing seats.
"The recent Southwest Airlines incident will (remind) us that a window is just a transparent piece of the fuselage designed to hold in the cabin pressure we need to breathe comfortably," DeLisi said. "It's not likely that manufacturers will be eager to sacrifice a significantly larger portion of that structure by installing large windows."
And there's one more pesky, unavoidable aspect of commercial air travel: turbulence.
"As smart as we are about the weather, we still want to be able to go through it and not let it disrupt our travel plans," claimed DeLisi. "Standing up is no way to experience turbulence."
9. AIRLINES WARNED AGAINST COMPLACENCY AFTER DREAM SAFETY RUN.
SYDNEY (Reuters) - Global airlines, coming off a record-low accident rate in 2017, need to guard against complacency over safety as heavy growth in travel demand stretches the air transport system, industry leaders warned at a conference this week. There were no jet crashes in 2017 and 19 fatalities across the sector, while some 301 passengers have died in five crashes over just the first five months of 2018, including the first fatality on a U.S. airline since 2009. The other fatal accidents occurred in Cuba, Russia, Iran and Nepal.
Air transportation advocates say it is still by far the safest form of travel. But the industry also needs to modernise a fragmented infrastructure and adopt new technology to keep it safe even as demand balloons, delegates at annual talks of the International Air Transport Association (IATA) said.
Alexandre de Juniac, director-general of the group of 280 airlines, called for a continued rigid focus on safety. "No arrogance in any case: (we need) humility and work," he said after IATA's three-day meeting in Sydney.
With IATA forecasting passenger traffic will nearly double by 2036, there are worries over whether the industry will be able to attract and train enough capable pilots and engineers. Rising congestion in airspace and at airports, some of which are operating above capacity, and poor air traffic control are already posing challenges.
A deadly plane crash in Nepal in March is a case in point. Airline and airport authorities in Kathmandu have blamed each other after the US-Bangla Airlines crash that killed 49 in what is the Himalayan nation's worst air disaster since 1992. The cause of the crash is still under investigation, but a transcript of pilot radio conversations with the ground revealed confusion over the designated runway.
Aviation remains a "very, very safe industry" despite the accidents this year, but there is concern over whether systems can keep pace with future growth, said Peter Harbison, executive chairman of Sydney-based CAPA Centre for Aviation. "There are worries about having lesser-trained pilots and that creating more risk, or congested airspace, air traffic control that is not adequate to support the services going through," he said.
To view a graphic on Aviation safety, click:
NEW TECHNOLOGY FOR SAFER SKIES


IATA executives said new air traffic technology is one of the keys to keeping busy skies safe. "Implementing technology is expensive and difficult but it is available now," IATA's senior vice president of safety and flight operations, Gilberto Lopez Meyer, said on the side lines of the industry's biggest annual gathering. "It is allowing us to reduce separation safely," he said, referring to the ability for jets to fly closer together in a crowded airspace.
IATA called for airlines to share more safety data and use predictive analytics to prevent accidents. "We are always on edge, always looking to see what we can learn, what we can improve," said Alan Joyce, outgoing chairman of the IATA and also the CEO of Qantas Airways Ltd, which has not had a hull loss since the dawn of the jet age.
Although accidents are rare in air travel, with the numbers dropping over the past 15 years, they can lead to significant financial and reputational consequences. For example, Southwest Airlines expects its second-quarter unit revenue to drop by about 3 percent, hurt by lower bookings after a fatal engine blowout in April.
http://wsau.com/news/articles/2018/jun/06/airlinhttp://wsau.com/news/articles/2018/jun/06/airlin les/2018/jun/06/airlines -warned against complacency after-dream-safety run/
10. NEWS FROM THE JOHANNESBURG AIRPORTS
Users of the Johannesburg aerodromes must be aware of the fact that they all take Aviation Safety and AVSEC seriously. If you want to use these airports as a Pilot or are employed in any way on them, then we would recommend that you make yourself more than familiar with Part 139 in the SACARs and the Rules and Regulations applicable to that particular aerodrome. Be prepared for fines being levied if you breach any of the SARPs.
RAND AIRPORT, GERMISTON - www.randairport.co,za
Safety Meeting - Held On the 2nd Thursday of each month at 09.00 in the Old Customs Hall.
• The wearing of high visibility jackets/waistcoats is mandatory for all persons, excepting for passengers under escort, on airside. (SA CAR 139.02.22(6))
• Drivers found to be speeding on airside will have their access remote taken from them.
• Vehicles being driven on airside must carry proper mandatory insurance cover
• All delivery vehicles and visiting vehicles requiring access to airside MUST be escorted from the access gate to the premises and then after closure of their business back to the gate for egress.
• Cranes are not allowed onto Rand Airport unless their use has been specifically authorised by airport management
• All operators are required to report Bird Strikes to the Airport Rescue and Fire Fighting Services or the Safety Office even if there has been no structural damage to the aircraft as a result of the strike.
• Fuel must not be "trucked" into Rand Airport from other sources. Should there be a special requirement permission must be sought from the Airport Manager.
LANSERIA AIRPORT - www.lanseriaairport.co.za
Safety, Security and Stakeholders Meetings are held on the second Tuesday of each month from February to November at 12.00 in the LIA Training School.
• The wearing of high visibility jackets/waistcoats is mandatory for all persons, excepting for passengers under escort, on airside. (SA CAR 139.02.22(6))
• Drivers shall obey the published speed limits which are 30 on airside and 40 on landside - these have been enforced as from 1st May 2015
• Major earthworks are being carried out during the building of a new 3 story car park across the road from the main terminal building.
GRAND CENTRAL AIRPORT, MIDRAND
Next Safety Meeting are held on the 1st Tuesday of each month at 12.00 in the Boardroom
• The wearing of high visibility jackets/waistcoats is mandatory for all persons, excepting for passengers under escort, on airside. (SA CAR 139.02.22(6))
• Drivers found to be speeding on airside will have their access revoked
• Should an emergency occur pedestrians are requested to stand still in a safe area out of the way of responding AR&FFS vehicles.
• During any emergency Pilots, Instructors and students should try to keep the frequencies as clear as possible
• Cranes are not allowed onto Grand Central Airport unless their use has been specifically authorised by airport management
11. FINALE
SITUATIONS VACANT. If you are interested and qualified, please send your CV to
admin@aviaglobal.net
Part Time Consultant Air Safety Officers required who comply with the requirements of SA CARS Part 135, Part 121, Part 127, Part 140, Part 141 and Part 145 - must have had appropriate SMS training, previous experience and preferably been approved by the South African Air Services Licencing Council.
Part Time Quality Assurance Consultants required who are appropriately qualified and comply with the requirements of Part 135, Part 121, Part 127, Part 140, Part 141 and Part 145. Part Time Aviation Security Consultant required who is appropriately qualified for RSA and International Operations
BRITISH AIRWAYS INTRODUCES DIRECT FLIGHTS BETWEEN LONDON AND DURBAN
A decision by British Airways to introduce a direct, non-stop flight between London's Heathrow Airport and Durban's King Shaka International Airport is a game changer for KwaZulu-Natal as it will be instrumental in contributing to an increase in international arrivals from the United Kingdom and North America.
50 YEARS AGO, THE FIRST BOEING 747 WAS THE 'QUEEN OF THE SKIES' - HERE'S HOW THE AIRPLANE HELPED MAKE INTERNATIONAL AIR TRAVEL AFFORDABLE
• In 1968, the Boeing 747 premiered as the first wide-body "jumbo-jet" ever built and until 2007, it was the largest civilian airplane in the world.
• Versions of the 747 have been famous over the years - in 1990, a pair of 747-200s began operating as Air Force One, the plane that ferries around the US president.
• Today, all US airlines have retired their 747s, however the airplane will be remembered for helping to make international air travel more affordable.
On September 30, 1968, the first Boeing 747 rolled out of its custom-built assembly plant in Everett, Washington. From the beginning, everything about the plane once known as the "queen of the skies" was big.
It was the first wide-body "jumbo jet" ever built, involving about 50,000 construction workers, mechanics, engineers and others who took it from an idea to the air in just 16 months in the late 1960s. Until 2007 and the introduction of the Airbus A380, it was the largest civilian airplane in the world.
Versions of the 747 have been used in a variety of famous ways. In 1990, for example, a pair of 747-200s began operating as Air Force One, the plane that ferries around the US president.
Just to produce the 747, Boeing first had to erect what was and still is the largest building by volume ever constructed - big enough to hold 75 football fields or all of Disneyland.
I've been researching and teaching the history of American aviation for more than a quarter-century. Even though all US airlines have retired their 747s, marking the end of an era, I believe it's worth remembering the amazing story of the airplane that helped make international air travel affordable.
The jumbo jet is born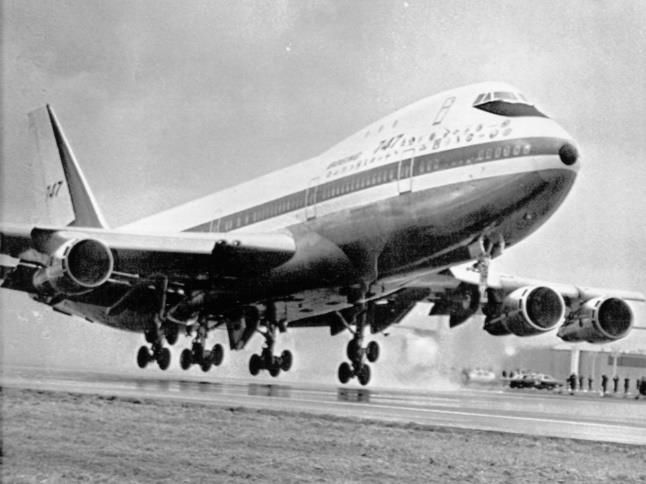 Boeing 747 prototype take off first flight. The new Boeing 747 had its first test flight on February 9, 1969. The story of the 747, like those of many other aircraft, began with a military request. In 1963, the US Air Force issued a proposal for a very large transport aircraft to carry heavier loads and have a longer range than then-existing transport aircraft such as the C-141.
Although Boeing lost its bid for what is now known as the C5 Galaxy, the designs and studies that went into its proposal didn't go to waste. That's because around the same time, Juan Trippe, the hard-charging president of Pan American World Airways, wanted Boeing to build an airliner twice the size of the first-generation jet airliner, the 707.
It would be "a great weapon for peace, competing with intercontinental ballistic missiles for mankind's destiny," he insisted.
A big risk
But at the time, it was a very risky endeavour. Many in the aviation industry - including at Boeing- believed that the future of air travel belonged to the fast, not the large. They envisioned new fleets of supersonic aircraft - such as the Concorde, which began flying in 1976 - that would make the existing subsonic flight obsolete, especially on the long routes the 747 was designed to fly. For comparison, the Concorde could make the trip from London to New York in about three hours, while a flight on a 747 (or any other subsonic commercial airliner) could take eight to 10 hours.
But Boeing ploughed ahead with the project anyway. The new plane had its first test flight on February 9, 1969 and debuted to a world audience at the Paris Air Show later that summer. By the end of the year, the Federal Aviation Administration declared it airworthy, and Pan Am took delivery of its first 747 on January 15, 1970.
Although the 747-100 at full capacity promised the airlines cost efficiency, the plane rarely flew that way, with 400 passengers. In part, this was because the 747 had the misfortune of launching during a recession and the first oil crisis, both of which resulted in fewer passengers.
In addition, the project's size itself almost threatened the aerospace company - and its banks - with bankruptcy because the aircraft's development required Boeing to take on $2 billion in debt, or about $20 billion in today's dollars.
Fortunately for Boeing, it hedged its bets by designing the aircraft to function both as a passenger airliner and as an air freighter. It was the freighter variant that required the "hump" at the top of the fuselage to hold the cockpit so that the nose section could swing open.
Since then, Boeing has built over 1,500 747s, and about 500 still fly today.
The golden age of flight
The 747 was - and is - probably the most easily recognisable jet airliner. While most people would have a hard time distinguishing between a Boeing 707 and a DC-8 - or pretty much any other pair of jet airliners - the 747's large size and distinctive "hump" at the front make it unmistakable.
It debuted at the end of the so-called golden age of flight, a time when air travel still was seen as glamorous and most airlines catered to an elite clientele. As such, early operators used the upper deck as a passenger lounge for first-class passengers, rather than filling the plane to its full capacity.
In the late 1970s, in an effort to entice more passengers, American Airlines went one step further, turning the lounge into a "piano bar" complete with a Wurlitzer organ and entertainer who led singalongs with the passengers.
Deregulation, however, soon made such glamorous amenities obsolete as airlines focused on cutting costs rather than offering high services. And over time, smaller and more efficient long-range twin-engine aircraft like the 777 and 787 diminished the need for a hulking jumbo jet.
Icon of aviation
Air Force One US Leader George Bush Boeing 747 airplane - George H. W. Bush waves as he boards the Air Force One to take the maiden voyage on the converted jumbo Boeing 747. Ron Edmonds/AP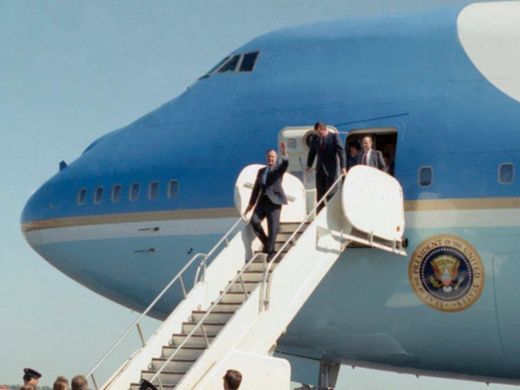 Despite its problems, the 747 won a coveted place in American popular culture.
It "starred" in two disaster movies - "Airport 1975" and "Airport '77," not to mention several films that involved hijackings, including "Air Force One."
The 747 also gained further fame from certain specialty missions. NASA, for example, used a specially modified 747 to transport the space shuttle between landing and launch sites.
And, of course, a 747 continues to fly around the "leader of the free world" and his entourage. In 2024, the 747-8 - possibly painted red, white and blue at President Donald Trump's request- will take over the job, with a longer range, slightly higher speed and a higher maximum takeoff weight.
But Boeing has no plans to assemble another for the airlines. US airlines stopped flying 747s in 2017, and what looks to be the last passenger 747-8 went to Korean Airlines that same year.
The aircraft, however, may still have a long life as a carrier of freight - UPS, for example, recently ordered 14 of them - as well as the American president, which means these icons of aviation will still fly well into the 21st century.

Can we help you with your aviation safety and / or quality assurance requirements?
Under SA CAR 140.01.2 if you and your organisation hold one of the following
? a category 4 or higher aerodrome licence;
? an ATO approval;
? an aircraft maintenance organisation approval;
? a manufacturing organisation approval;
? an ATSU approval;
? a design organisation approval;
? an AOC issued in terms of Part 101, 121, 127, 135, 141;
? a procedure design organisation approval; and
? an electronic services organisation approval,
then you shall establish a Safety Management System for the control and supervision of the services rendered or to be rendered by that organisation.
If you do not already have an approved Air Safety Officer and an approved Safety Management System then please contact us for assistance.
Avia Global in conjunction with Henley Air deliver the following SA CAA Approved training courses at Rand Airport;
? Safety Management Systems
? Integrated Safety Officer Course
? Quality Assurance Auditor
? Crew Resource Management (Initial and Recurrent)
? Dangerous Goods
? Human Factors for AME's
Should your operation be of a size whereby the full time employment of an Air Safety Officer and/or Quality Assurance Officer is not financially viable then we can provide you with Consultants who have previously held Air Services Licensing Council approval. We can also provide you with a tailor made SA CAA approved Safety Management System and all Manuals as required by your Regulatory Authority for your operation.
For further information on how we can help you please contact Rethea or Candice on +27 (0)11 024 5446/7 or e-mail admin1@aviaglobal.net