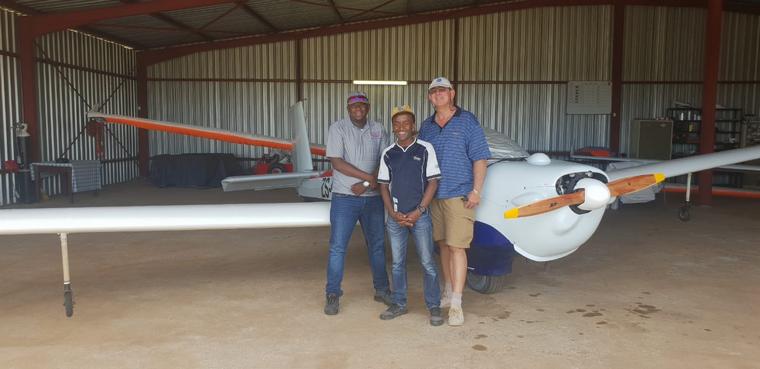 From left to right Daniel Ralefeta, the author Simon Tladi and Arjan Schaap posing in front of Daniel's Motorfalke.

It had been bantered about for over a year, at which point we summarily decided that the public holiday of the 17th of December would be the opportune moment.
......and with that, the proverbial $100 burger jaunt was on.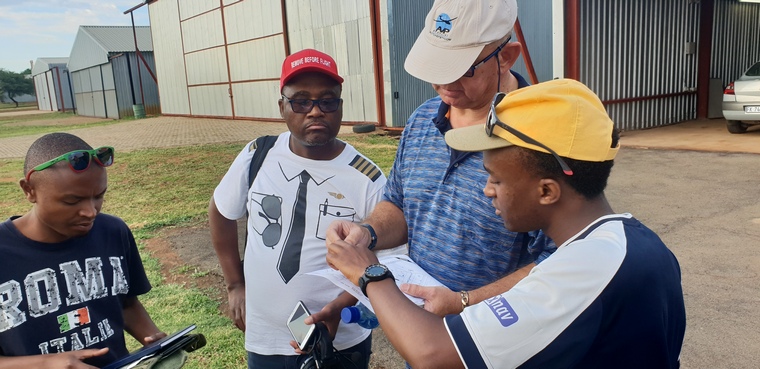 Flight planning and safety briefing for our Pax, Joseph Lebitsa and Dr. Lucas Molebale



Ready to depart from Brits Airfield


With the participating pilots on-board, choice of steed's selected, departure time set, and Lanseria International main-apron parking authorisation in place, there was nothing left for us to do; except Go.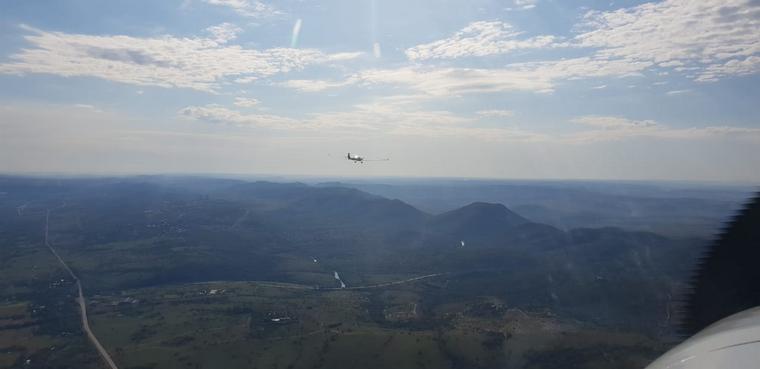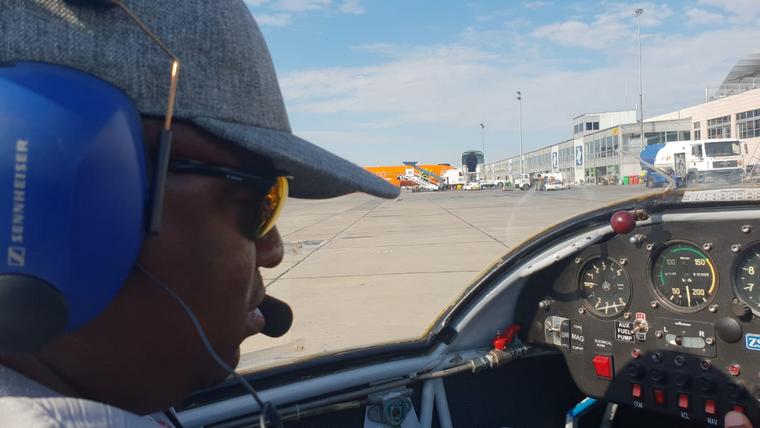 It was with childlike excitement that we awoke at the crack of dawn to a very pleasant flying day. A B&F FK9 flown by myself, Motorfalke TMG flown by Daniel Ralefeta and Whisper TMG PIC'ed by Arjan Schaap together with our respective passengers, was to carry us from Brits airfield, over the pond that is the Hartebeespoort dam, and onwards to FALA; the terrific distance of 23NM.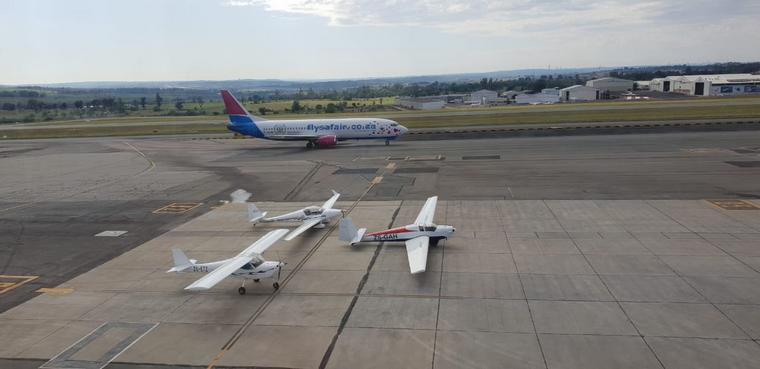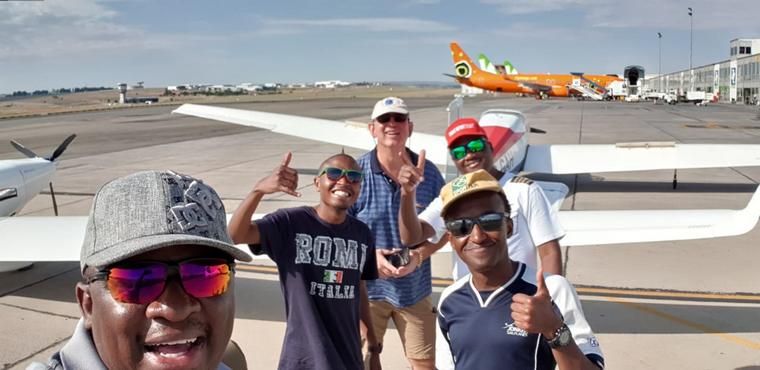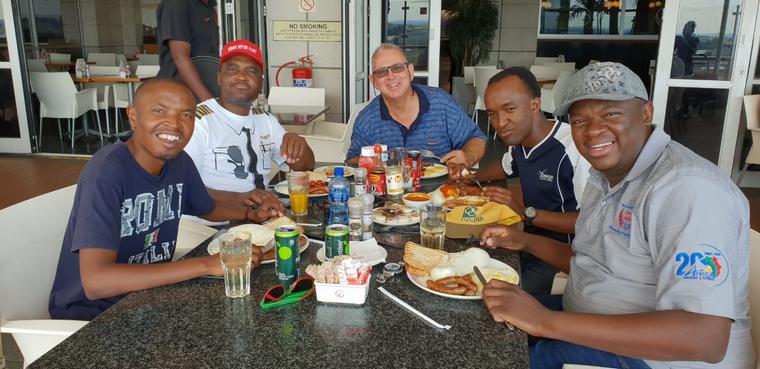 We opted to fly a lose 3-ship formation, which naturally added to the splendour of the short but characterful flight. With the jovial reception and hospitality from the controllers (air and ground) and a few customary selfies on the Bravo-3 parking bay we were very soon tucking into a hearty breakfast in the main terminals Wisenhof restaurant. The unusual view from our breakfast table of 2 TMG's and a LSA sharing close quarters with the scheduled carrier heavies certainly made this escapade fraught with the most wonderfully visceral memories.
Before long, we were all too soon cranking-over our sub-150hp motors to life and requesting taxi instruction for an intersection take-off off R/W 07.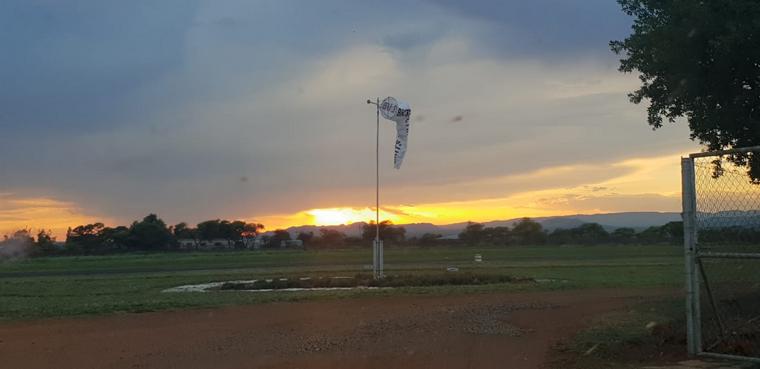 The planned return leg 3-ship formation for some or other reason, did not seem to hold as well, as it gave nod to more of a missing man formation than the intended staggered 3 ship formation.....my suspicion is the slightly less than stellar performance of Daniel's Motorfalke, over the slightly cleaner and higher powered Whisper and FK9. I blame Daniel. A few minutes later, we were all safe and sound on the ground reminiscing over the simple pleasures we had been privileged to enjoy in the preceding 2hrs.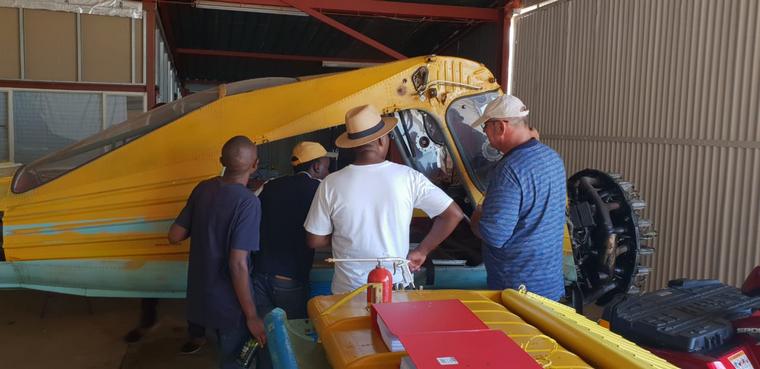 Admiring Arjan's Wilga project back at Brits Airfield.

A flight such as this tends to bring, into sharp focus, the privilege that we General Aviation purveyors have, in simply being allowed to take to the sky at ones will.
May we continue to behold this most glorious human privilege that is flight.