The Lockheed Martin and project partner Boeing F-22 Raptor is the result of the USAF's (United States Air Force) Advanced Tactical Fighter (ATF) program.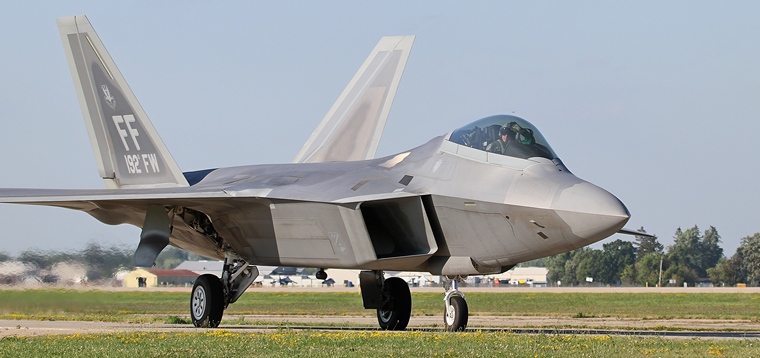 In July 1986 with the growing threat of the of Soviet Su-27 "Flanker" and MiG-29 "Fulcrum" the U.S. Air Force issued a request for proposals for an Advanced Tactical Fighter air superiority fighter to replace the F-15 Eagle and F-16 Fighting Falcon. Two proposals were received, one for a team consisting of Northrop and McDonnell Douglas and one from a consortium consisting of Lockheed, Boeing and General Dynamics. Both companies were granted 50 months in which to developed two flying prototypes, YF-22 for Lockheed and YF-23 for Northrop, for demonstration and evaluations purposes.

Designed primarily as an air superiority fighter the F-22 has additional capabilities including ground attack, electronic warfare and signals intelligence roles and it is the first operational aircraft to combine super-cruise, super-manoeuvrability, stealth, and sensor fusion in a single weapons platform. Test and demonstration flights were held during April 1991 and on the 23 April Lockheed's YF-22 was announced the winner. Although Northrop's YF-23 was the more stealthier and faster the YF-22's superior manoeuvrability clinched the deal.

Lockheed Martin Aeronautics was to be responsible for the manufacturing the airframe whilst Boeing supplied additional airframe components and was responsible for avionics integration and training. Component production was spread over almost 1,000 sub-contractors which, although leading to the creation of numerous jobs, contributed to cost over runs and delays. Final assembly took place at Lockheed's Georgia facility.