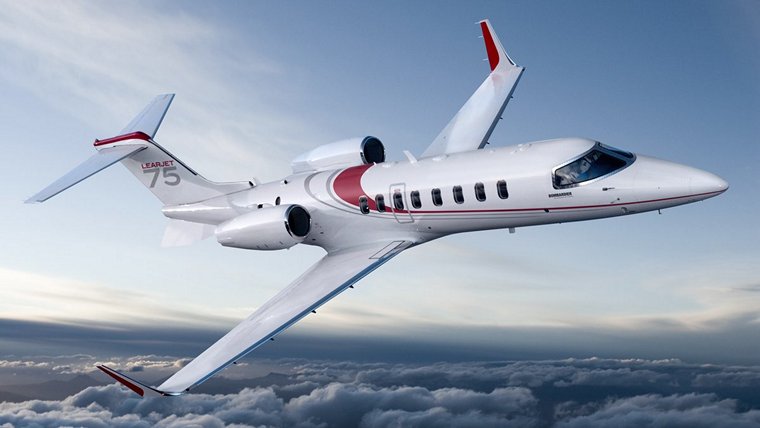 The pioneer that started it all, the Learjet 75 aircraft continues to set the standard by bringing large jet features to the most trusted light jet platform among Fortune 50 and 500 companies.
With the only 8-seat double-club configuration in the category, meet as you would on the ground in a boardroom like no other. The cabin of the Learjet 75 business jet is in a class of its own, designed for ultimate comfort and privacy: flat floor for ease of movement. As the only light jet to feature a pocket door between the cockpit and the cabin, you'll enjoy the quietest and most private ride. Step up into an unmatched light jet experience.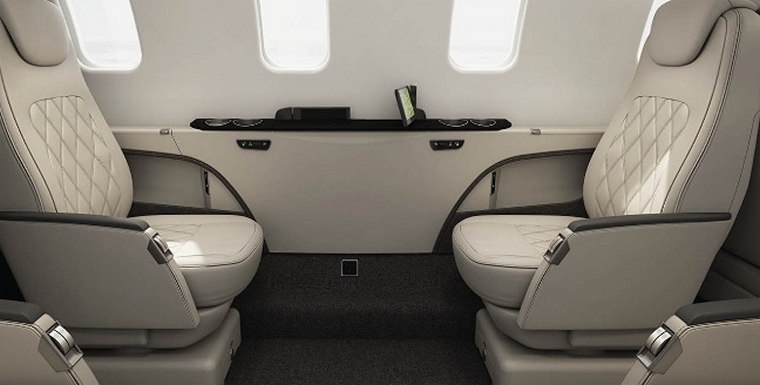 Stay connected at all times. Control your environment, access high-speed internet, and enjoy the latest entertainment. Do it your way while you're on your way. The most advanced and best equipped cabin in its class boasts a state-of-the-art cabin management system, high-definition bulkhead monitor, integrated sidewall speakers, and six personal touch-screen monitors that stow or deploy as you need. The result is the best and broadest entertainment, information and connectivity experience in its category.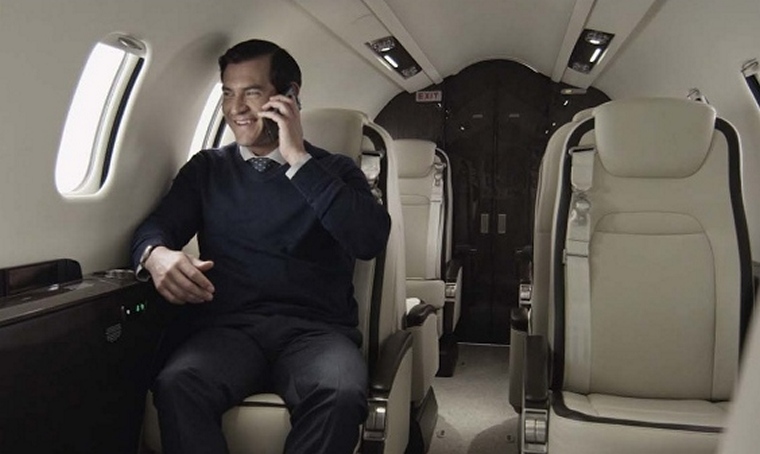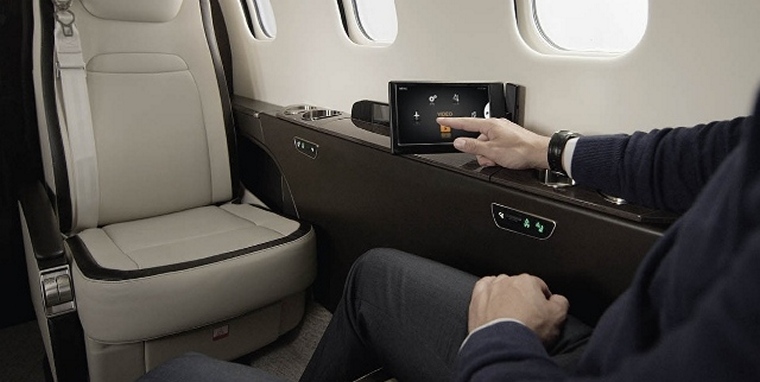 The Learjet 75 business jet leads with impressive range and travels farther than the competition with full fuel, 8 passengers and all of their valuables. You never have to leave anyone, or anything behind. Access what you require, as required. With in-flight storage, your personal items are always within reach.
Designed with the pilot's comfort in mind, the Bombardier Vision flight deck features a synthetic vision system, enhanced ergonomics, and advanced touch screen controls for a more productive mission. The Learjet 75 aircraft is fully-equipped with the category's most advanced avionics suite, built to reduce pilot workload and provide superior situational awareness.
From full flight control redundancies to dual wheel main gears with robust carbon brakes; we worry about the details so you can focus on what's important. You can rest assured knowing that the Part 25 certified Learjet 75 aircraft has been designed with safety in mind.
Fly faster, burn less fuel. Low fuel burn means there's no need to compromise speed for efficiency - that means less overall spend on an aircraft that flies at unrivalled top speeds. The Learjet 75 aircraft delivers unparalleled returns on your investment, with its faster and more fuel efficient performance contributing to the category's lowest direct operating cost per nautical mile travelled. The farther you fly without stopping, the more you get for your money. Not only is the Learjet 75 aircraft the fastest in the category, it flies farther with a full load than its competition. Enjoy stopping less while spending less.
The Learjet 75 aircraft's increased thrust contributes to a shorter take-off; faster climb rate and an unsurpassed 464 knots top speed, powered by the most recent evolution of engines proven in over 100 million flight hours. Even with these advantages and its class-leading hot-and-high performance, the Learjet 75 aircraft still offers superior fuel efficiency versus competitors traveling at similar cruise speeds.

Every Learjet is better than the last. We continually rethink and reinvent the design to integrate the most advanced technologies. For you, that means a more reliable and safer aircraft.
The Learjet 75 aircraft's class leadership results from its premium-equipped cabin, advanced cockpit technologies, comfort advantages, and baseline features offered only as expensive options by competitors. It is an aircraft designed not only to provide rapid returns as a business asset, but also to retain its value for many years to come.