THIS WEEK IN MIDWEEK UPDATE

Plan Your Weekend……..Forthcoming Events…….Aviation News

Worldwide Incidents and Accidents……This Week in Aviation History



3rd Saturday of every month. Microland. Bring and braai. Fires and bykos provided. Fires start from 09h30. Contact person: Nick Swardt 082 441 8011 or Alan Hussey 072 82 2341
26: SAPFA Rand Airport Challenge - Rand Airport. Contact Frank Eckard cell: 083 269 1516 e-mail:
frank.eckard@mweb.co.za



2: SAAF Museum AFB Zwartkop open practise day. Officer Commanding Museum
oc@saafmuseum.org.za
012 351 2290
2: SAPFA Morningstar Speed Rally - Morningstar Airfield. Contact Hans Potgieter e-mail:
hcom@mweb.co.za
6: EAA Chapter 322 meeting. Dicky Fritz Moth Hall Edenvale. Contact:
kevinmarsden88@gmail.com

9: Rand Model Aeronautical Club Pylon Racing. Corner of Swartkoppies road & Klipriver Drive, Johannesburg South. Contact
allsopp.elaine@gmail.com
9: Rustenburg Breakfast Fly-in. Contact Mauritz Muller,
mauritzmuller1@gmail.com
3rd Saturday of every month. Microland. Bring and braai. Fires and bykos provided. Fires start from 09h30. Contact person: Nick Swardt 082 441 8011 or Alan Hussey 072 82 2341


1-3: Henley RC Fly In. Meyerton, Gauteng.
2: SAAF Museum AFB Zwartkop open practise day. Officer Commanding Museum
oc@saafmuseum.org.za
012 351 2290
4-7: HAI Heli-Expo. Georgia World Congress Centre, Atlanta, Georgia. Contact E-mail:
rotor@rotor.org
Website:
www.rotor.org
6: EAA Chapter 322 meeting. Dicky Fritz Moth Hall Edenvale. Contact:
kevinmarsden88@gmail.com
9 & 10: Swellendam Flying Club Sport Aerobatic Club Regional Championships Contact Pieter Venter e-mail:
pventer@vgv.co.za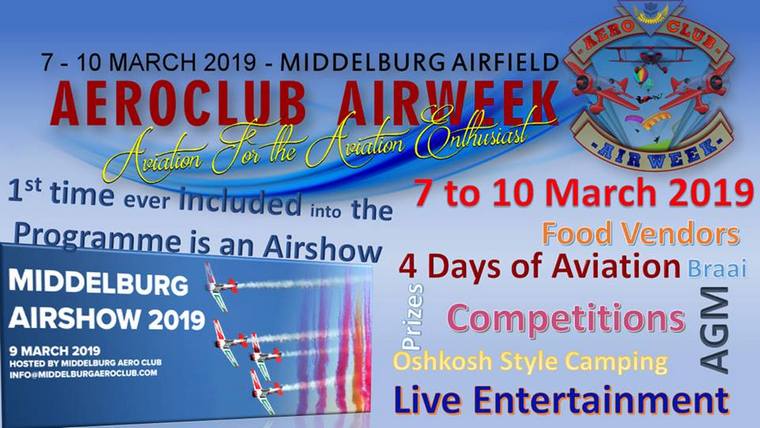 8-11: Aero Club Air Week at Middelburg. Contact Alan Evens Hanes 011 802 1100 E-mail
alan@aeroclub.org.za
9: Aero Club Airweek Speed Rally planned Saturday 9th March. Contact Rob Jonkers e-mail:
rob@aerosud.co.za
cell: 082 804 7032
9: Middelburg Aero Club Airshow.
info@middelburgaeroclub.com
12-14 March: Saudi Airshow Thumah Airport, Riyadh. Website:
www.saudiairshow.aero
13-15: Ageing Aircraft & Aircraft Corrosion seminar at OR Tambo International Airport. Contact e-mail:
lmjaviationbookings@gmail.com
23: FASHKOSK at Stellenbosch airfield. Contact Anton Theart Cell: 079 873 4567 E-mail:
gm@stelfly.co.za
3rd Saturday of every month. Microland. Bring and braai. Fires and bykos provided. Fires start from 09h30. Contact person: Nick Swardt 082 441 8011 or Alan Hussey 072 82 2341
23: SAPFA Virginia Fun Rally - Virginia Airport. Contact Mary de Klerk cell: 084 880 9000 e-mail:
maryd@expandingbranding.co.za


4-6: SAPFA Rally Nationals & Fun Rally - Stellenbosch Airfield. Contact Frank Eckard cell: 083 269 1516 e-mail:
frank.eckard@mweb.co.za
6: Robertson Annual Breakfast fly in. Contact Alwyn du Plessis cell: 083 270 5888 e-mail:
boeredata@breede.co.za
13: Uitenhage Festival. Contact Lourens Kruger e-mail:
lmk@telkomsa.net
cell: 082 320 2615
4-14: Stars of Sandstone Ficksburg, Eastern Free State. Contact
www.starsofsandstone.com
10-13 April: AERO Friedrichshafen, Germany Global show for General Aviation. Contact Stephan E-mail:
stephan.fischer@messe-fn.de
26-28: EAA National Convention Vryheid KZN. Contact Marie Reddy 083 259 7691
27: SAPFA EAA Convention Adventure Rally - Vryheid. Contact Rob Jonkers cell: 082 804 7032 e-mail:
rob@aerosud.co.za
27 & 28: SAC Judges Trophy venue TBA. Contact Annie Boon e-mail:
chunge@mweb.co.za




The Aviation Radio Show; get all your questions answered in one place. To listen to a recording of the live broadcast click on the link:
www.debela.co.za/aviation-radio-show








RAASA FUNCTIONS MOVE TO THE SACAA



As 2019 is gathering momentum for what will be a busy year, I have interviewed Neil de Lange at RAASA to pick up on progress with the transferring of recreational aviation functions to the SACAA.
The following is my take-away from our discussion:
The original thought that RAASA operations and most staff would remain much the same as they are now (but rebranded) is no longer true.
There has been no finalisation on staff movement, but it appears that the multiskilled RAASA approach will be changed to one of specialists dealing with only a single aspect, so staff who previously dealt with NPLs and ATFs will now only process one or the other; and some might move into completely new areas.
All NPLs and ATF's will be processed and issued on the new EBS system. These are new processes and a new system so some teething problems should be anticipated. The new processes do not always align with current internal protocols and some changes might be required. Delays in the processing of applications can be mitigated by pilots and aircraft owners handing in paperwork pre-emptively about 2 weeks prior to expiry.
The new EBS system does cater for the issuing of NPLs and ATFs, and it is currently envisaged that the Rand Airport Regional Office and Midrand Office will both be able to process applications. They are converting from a paper-based system to an electronic workflow, and as with all new things, there could be some delays as teething problems are addressed. Final decisions still needs to be made, and we will keep you posted.
The AROs, APs and ATO flying schools is not quite as clear. The EBS system, as it is currently configured, only caters for AMEs and fully fledged ATOs. Neil is promoting the practice of keeping the administration of APs and AROs as a manual process to the system for the moment, and issuing longer validity periods; during which time everyone involved can find common ground for an easily sustainable and safe future.
The industry has long since asked that the SACAA provides a commitment to service levels, and these are in process of being developed. It is hoped that the regulator does not opt for the longest possible reasonable processing time, but for a median reasonable processing time. We understand that exceptions may occur.
Aero Club suggests that where delays seem unreasonable, we will raise these on an individual basis. RAASA, SACAA and Aero Club all agree that nobody wishes to see any unreasonable impediments to operations. Aero Club remains committed to receiving the excellent service standards previously performed by RAASA, which we know is possible for all to achieve.
Decline in NPLs
Since 2009; RAASA has issued 5,500 NPLs of which only 1,980 have been renewed and are current. RAASA has suggested an internal review to establish the reasons for this, with the view to support anyone needing assistance (unfortunately not financial).
Fly safe,
Alan Evan-Hanes
MBA (GIBS) PDBA CISA PMD ISO9000LA
General Manager


SIKORSKY, BOEING PROVIDE FIRST LOOK AT SB>1 DEFIANT™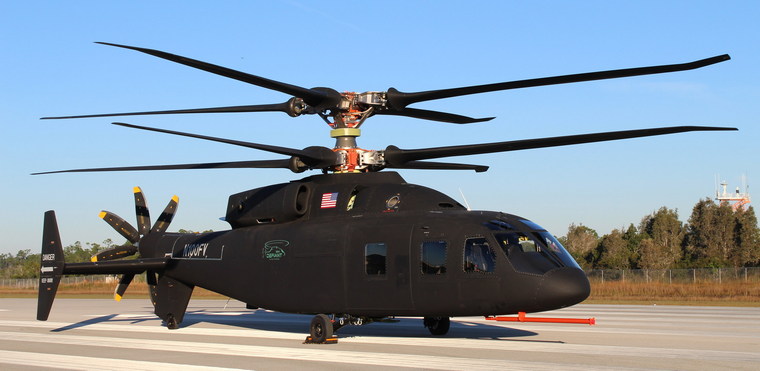 Sikorsky, a Lockheed Martin company (NYSE: LMT), and Boeing (NYSE: BA) provided the first look at the SB>1 DEFIANT™ helicopter the companies have developed for the U.S. Army's Joint Multi-Role technology demonstrator program. Photo © Lockheed Martin


The SB>1 DEFIANT™ is designed to fly at twice the speed and range of today's conventional helicopters and offers advanced agility and manoeuvrability. It will help inform the next generation of military helicopters as part of the U.S. Army's Future Vertical Lift program.
The helicopter is participating in the Army's Joint Multi-Role-Medium Technology Demonstrator program. Data from SB>1 DEFIANT™ will help the Army develop requirements for new utility helicopters expected to enter service in the early 2030s.


PC-24 SUPER VERSATILE JET TO AUTHORIZED PILATUS CENTER WESTERN AIRCRAFT DELIVERED




In a ceremony at Pilatus Business Aircraft Ltd's facility in Broomfield, Colorado, Western Aircraft, an Authorized Pilatus Sales and Service Centre since 1996, took delivery of PC-24 serial number 102. It is the second production delivery of the newly certified Super Versatile Jet. Photo © Pilatus


Western Aircraft, based in Boise, Idaho, sells and services Pilatus aircraft in the north-western United States. Covering Alaska, Northern California, Hawaii, Oregon, Washington, Idaho, Nevada, Utah, Montana, Wyoming, North Dakota, and South Dakota, Western Aircraft has sold more than 230 new Pilatus PC-12s, making it the most successful dealership in the world for the popular single-engine turboprop.
Phil Winters, Vice President of Sales and Charter for Western Aircraft, was on hand to accept their new aircraft, and commented: "We are very proud to be the first Pilatus dealer to take delivery of this fantastic new aircraft. Pilatus exceeded all the ambitious performance targets it promised five years ago whenthe PC-24 was unveiled to the public. Of course, being a partner with Pilatus forover 20 years, we know how they under-promise and over-deliver, so we did not hesitate to order as many PC-24s as they would let us take."
Western Aircraft flight crews have already completed their PC-24 type ratings at FlightSafety International, and the maintenance teams have been through training, as well. All special support tooling and spare parts for the PC-24 are already in inventory. Western has enrolled the aircraft in the PC-24's comprehensive CrystalCare™ engine, airframe, and avionics maintenance program, and will base the aircraft at their headquarters in Boise, Idaho. In addition to demonstration flying, the aircraft will eventually be available for charter on a limited basis.


BOEING SETS NEW AIRPLANE DELIVERY RECORDS, EXPANDS ORDER BACKLOG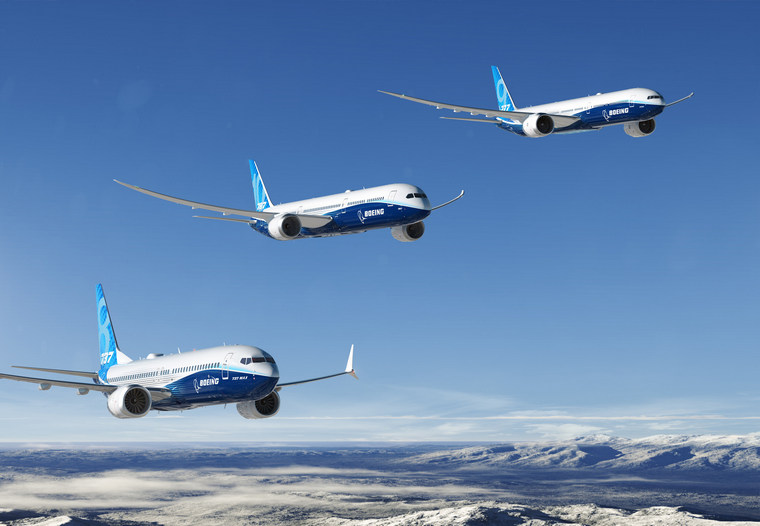 Boeing (NYSE: BA) delivered 69 737 airplanes in December and set a new annual record of 806 deliveries in 2018, surpassing its previous record of 763 deliveries in 2017. Even as Boeing delivered more jetliners, the company again grew its significant order book with 893 net orders, including 203 airplane sales in December. Photo © Boeing.


"Boeing raised the bar again in 2018 thanks to our teammates' incredible focus on meeting customer commitments, and continuously improving quality and productivity," said Boeing Commercial Airplanes President & CEO Kevin McAllister. "In a dynamic year, our production discipline and our supplier partners helped us build and deliver more airplanes than ever before to satisfy the strong demand for air travel across the globe."
With a seven-year order backlog, Boeing increased production of the popular 737 in the middle of 2018 to 52 airplanes per month. Nearly half of the year's 580 737 deliveries were from the more fuel-efficient and longer-range MAX family, including the first MAX 9 airplanes.
At the same time, Boeing continued to build the 787 Dreamliner at the highest production rate for a twin-aisle airplane to support high demand for the super-efficient jet. The Dreamliner program finished with 145 deliveries for the year.
Deliveries of various 777, 767 and 747-8 models rounded out the total of 806 airplanes for the year. 767 deliveries include the transfer of 10 767-2C aircraft to Boeing Defence, Space & Security for the U.S. Air Force KC-46 tanker program.
On the orders front, Boeing achieved sales success across its airplane portfolio with 893 net orders valued at $143.7 billion according to list prices. While growing the order backlog for nearly every program, the company showed particular strength in the twin-aisle category with 218 wide body orders last year.
The 787 Dreamliner extended its status as the fastest-selling twin-aisle jet in history with 109 orders last year or about 1,400 since the program launched. Highlights include Hawaiian Airlines switching from the Airbus A330 to the 787 and Turkish Airlines becoming a new customer. American Airlines and United Airlines added to the growing list of repeat Dreamliner purchases with 47 and 13 additional jets respectively.
The 777 family continued its steady sales momentum with 51 net orders in 2018, driven by sales of the 777 Freighter to DHL Express, FedEx Express, ANA Cargo, Qatar Airways and other major freight operators. With additional sales in December, the 777 program exceeded 2,000 orders since its launch.
The 737 MAX family also achieved a major sales milestone in December, surpassing 5,000 net orders with 181 new sales during December. For the full year, the 737 program achieved 675 net orders, including sales to 13 new customers.
"We are honoured that customers around the world continued to vote for the unmatched capabilities of Boeing's airplane and services portfolio. In addition to the ongoing demand for the 737 MAX, we saw strong sales for every one of our twin-aisle airplanes in a ringing endorsement of their market-leading performance and efficiency," said Ihssane Mounir, senior vice president of Commercial Sales & Marketing for The Boeing Company.
"More broadly, another year of healthy jet orders continues to support our long-term forecast for robust global demand that will see the commercial airplane fleet double in 20 years," said Mounir.



POLISH AIR FORCE UNIVERSITY ADDS ROBINSON R44S TO FLEET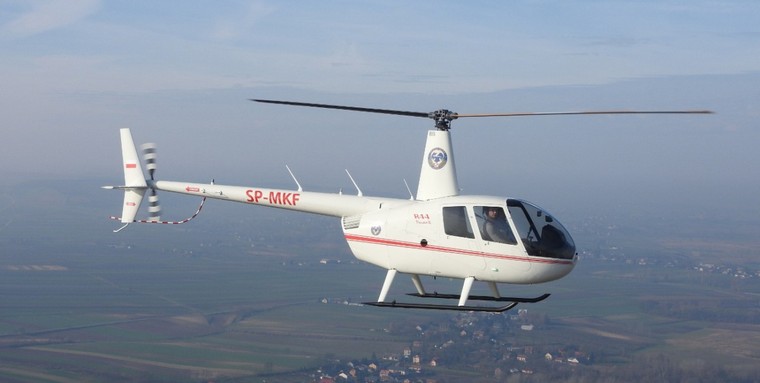 Robinson Helicopter Company delivered two R44 Raven IIs to longtime Robinson dealer, PHU Polinar of Poland. On November 13th, PHU Polinar delivered the aircraft to the Polish Air Force University, marking the first acquisition of American helicopters to be used for military training in Poland. Photo © Robinson Helicopters


Founded in 1927, the Polish Air Force University is an accredited state-owned institution that offers undergraduate degrees for officers in the Polish military as well as commercial ratings for civilian students.
According to PHU Polinar, the more than 70 Robinson helicopters successfully operating in Poland convinced the state the R44 is not only reliable but is the right vehicle for its flight training programs. Both R44s were equipped with a fully integrated glass cockpit featuring Garmin's GDU 1060 TXi, GTN 750 navigator, GTX 345 transponder with ADS-B In/Out and Spidertracks for real time tracking.
Founded in 1973, Robinson Helicopter Company is the world's leading manufacturer of civil helicopters.

IVORY COAST JOINS THE FAMILY OF C295 OPERATORS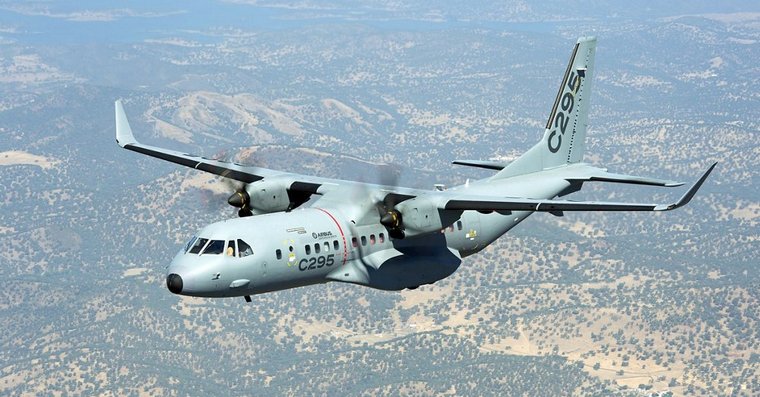 The Ministry of Defence of Ivory Coast has signed a firm order for one C295 medium transport aircraft. The aircraft, in transport configuration, will enhance the capabilities of the Ivory Coast Air Force with its proven record of excellent performance in hot and harsh conditions, and affordable maintenance and operational costs. Photo © Airbus.

Bernhard Brenner, Airbus Defence and Space Head of Marketing & Sales, said: "The C295 has proven its outstanding capabilities in the exceptionally harsh sub-Saharan Africa operating environment. The aircraft will be a game changer for Ivory Coast and we feel very proud to welcome a new operator into our C295 family."
With this new order Ivory Coast becomes the 28th nation worldwide to operate the C295. Airbus Defence and Space has to date sold 91 aircraft to 17 countries in Africa. There is a growing fleet of C295s in the North and West Africa region with up to 35 C295s contracted by Egypt, Algeria, Ghana and Mali.

A220 AIRLINER WINS APPROVAL FROM TRANSPORT CANADA FOR 180 MINUTES ETOPS CAPABILITY



The newest addition to the Airbus family of commercial aircraft, the A220, has received 180-minute extended operations (ETOPS*) approval from the Canadian civil aviation authority, Transport Canada. This achievement paves the way for A220 customers to start new direct non-limiting routings over water, remote or underserved regions. Photo © S Ramadier/Airbus.


"This A220 ETOPS milestone adds to the numerous performance capabilities which the unbeatable A220 family already offers," said Florent Massou, Head of Airbus' A220 Programme.
"Being the only in-production aircraft in its class capable of performing both steep approach and long-range operations, the A220 is definitely unlocking new route opportunities for airlines," added Rob Dewar, Head of Engineering and Customer Support, A220 Programme.
The A220 is the first commercial airliner to obtain domestic ETOPS certification from Transport Canada. This capability is available as an option for A220-100 and A220-300 operators, enabling them to fly for up to 180-minutes from the nearest diversion airport.
As the only aircraft purpose-built for the 100-150 seat market, the A220 delivers unbeatable fuel efficiency and true widebody comfort in a single-aisle aircraft. The aircraft brings together state-of-the-art aerodynamics, advanced materials and Pratt & Whitney's latest-generation PW1500G geared turbofan engines to offer at least a 20 percent lower fuel burn per seat compared to previous generation aircraft. With a range of up to 3,200 nautical miles (5,920 km), the A220 offers the performance of larger single aisle aircraft.
With an order book of over 537 aircraft to date, the A220 has all the credentials to win the lion's share of the 100- to 150-seat aircraft market. Air Tanzania recently became the first African A220 operator. It took delivery of its first aircraft in December and a second a fortnight ago.


Egypt, Cairo: An Emirates Boeing 777-300 was taking off from Cairo (Egypt) as flight to to Dubai (United Arab Emirates) with 364 people on board, was accelerating for take-off when the crew rejected take-off at high speed (about 130 knots over ground) after spotting a vehicle on the runway. The aircraft slowed safely and stopped on the runway about 1650 meters down the runway and about 100 meters short of the vehicle. A number of tyres deflated as result. The vehicle was identified as the vehicle of an electrical maintenance engineer, operating without VHF radio and transponder being on the runway without required guidance by a follow me vehicle. In the meantime the crew requested emergency services to attend to the aircraft reporting they had hot brakes and were unable to taxi.
Indonesia, Hang Nadim Airport: An Ethiopian Airlines Boeing 777-200 freighter, on a flight from Addis Ababa (Ethiopia) to Hong Kong (China) with six crew was enroute at FL410 near the equator crossing into Indonesian Airspace. The freighter entered Indonesian airspace as part of a flight from its hub at Addis Ababa to Singapore to bring an Ethiopian Rolls-Royce Trent 1000 engine to an engine shop in Singapore for overhaul. According to Indonesia the flight had entered Indonesian airspace without an overflight permit and Indonesian F-16 fighter jets intercepted the Ethiopian Boeing and forced the aircraft to land at Hang Nadim International Airport on Batam, an island south of Singapore. In a statement, Ethiopian Airlines noted the freighter was operating on a non-scheduled cargo flight from Addis Ababa to Singapore "and was crossing the Indonesian airspace in accordance with the ICAO Chicago Convention Article 5, by which a non-scheduled flight can overfly the air space of a friendly country without prior permission." It did recognize that authorities may require the aircraft to make a landing.
USA, Jesse Viertel Memorial airport: The USA NTSB report in the Bellanca Viking accident in April 2017 has found that the experienced, commercially-rated pilot flew the final approach at an extremely low altitude, much lower than normal, on a day without a cloud in the sky. So low was the aircraft that it snagged power lines half a mile north of the airport. The aircraft quickly impacted the ground and caught fire, killing both people aboard. One item that popped up during the investigation was the pilot's lack of a current FAA medical certificate. An autopsy of the pilot also revealed coronary artery disease and significant brain pathology as well as severe damage to his left optic nerve. So severe was the eye damage, the Board believed the pilot was completely blind in his left eye, a problem that would have affected the pilot's depth perception. Additionally the investigation discovered the pilot had ingested an astonishing number of psychoactive drugs, any one of which should have disqualified him from flying, including cocaine, methamphetamine, clonazepam, and diphenhydramine.
USA, Milwaukee: No one was injured when a Beechcraft 99 operated by Freight Runners Express Inc experienced a landing gear related emergency landing at General Mitchell International Airport (KMKE), Milwaukee, Wisconsin. The airplane however, did suffer damage.
Passengers on a United Airlines flight were stranded for more than 16 hours, and many had to sleep on the plane, after the jet made an emergency landing to aid a sick passenger. Flight 179 was traveling from Newark to Hong Kong on Saturday when it was diverted in Canada due to a medical emergency, the airline said. Medical personnel met the aircraft at Goose Bay Airport in Newfoundland, Canada, and transported the passenger to a local hospital, but a mechanical issue kept the plane from taking off again. The travel nightmare got even worse when passengers realized they wouldn't be able to leave the plane while crew members worked to fix the issue. "The airport did not have customs officers overnight so we were not able to let customers depart the aircraft. An alternative aircraft is being flown in to transport customers back to Newark," the airline said in a statement. "We apologize to our customers and our crew is doing everything possible to assist them during the delay." The passengers had to spend the night in the plane, with some passengers saying they were stuck for nearly 18 hours. United did not confirm those reports.
USA, SE of Kidron-Stoltzfus Airfield: An Aero Modifications AMI DC-3-65TP, a turbine engine conversion of a DC-3, owned by Priority Air Charter struck power lines, trees and impacted open field terrain under unknown circumstances to the southeast of Stoltzfus Airfield, in Wayne County, Ohio, USA. The aircraft was destroyed during the accident sequence and two occupants were fatally injured. Four others survived.




06 JANUARY 1965

Yvonne Pope becomes the first UK woman airline pilot to fly international routes, flying from Gatwick to Düsseldorf for Morton Air Service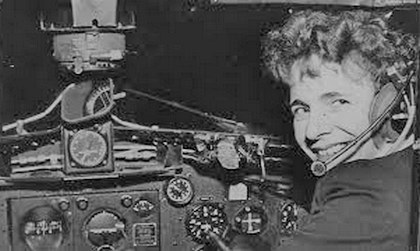 Yvonne Pope Sintes, who was born Yvonne Elizabeth van den Hoek on 8 September 1930 in Pretoria, South Africa, was the first female air traffic controller at Gatwick airport and later became Britain's first female commercial airline captain.
Sintes who got her wings in 1953 had a career within aviation that spanned multiple professions including time as an air stewardess, a member of the RAF Volunteer Reserve and flight instructor. In 1955 she became a co-founder of the British Women Pilots' Association. She worked at Gatwick Airport from 1960 to 1964 as the first female air traffic controller.
In 1965 she was recruited as a pilot by Morton Air Services and starting in 1972 she became Britain's first female commercial airline captain. Sintes flew as a pilot for UK-based airline Dan-Air from 1975 until her retirement in 1980.