THIS WEEK IN MIDWEEK UPDATE

Plan Your Weekend……..Forthcoming Events…….Aviation News

Worldwide Incidents and Accidents……This Week in Aviation History



3rd Saturday of every month. Microland. Bring and braai. Fires and bykos provided. Fires start from 09h30. Contact person: Nick Swardt 082 441 8011 or Alan Hussey 072 82 2341



1-3: Henley Model Radio Controll RC Fly In. Meyerton, Gauteng. Contact Boet Deneysschen 082 449 4623
2: SAAF Museum AFB Zwartkop open practise day. Officer Commanding Museum
oc@saafmuseum.org.za
012 351 2290
4-7: HAI Heli-Expo. Georgia World Congress Centre, Atlanta, Georgia. Contact E-mail:
rotor@rotor.org
Website:
www.rotor.org
6: EAA Chapter 322 meeting. Dicky Fritz Moth Hall Edenvale. Contact:
ronellathome@telkomsa.net
9 & 10: Swellendam Flying Club Sport Aerobatic Club Regional Championships Contact Pieter Venter e-mail:
pventer@vgv.co.za
7-10: Aero Club Air Week at Middelburg. Contact Alan Evens Hanes 011 802 1100 E-mail
alan@aeroclub.org.za
9: Aero Club Airweek Speed Rally planned Saturday 9th March. Contact Rob Jonkers e-mail:
rob@aerosud.co.za
cell: 082 804 7032
9: Middelburg Aero Club Airshow.
info@middelburgaeroclub.com
12-14 March: Saudi Airshow Thumah Airport, Riyadh. Website:
www.saudiairshow.aero
13-15: Ageing Aircraft & Aircraft Corrosion seminar at OR Tambo International Airport. Contact e-mail:
lmjaviationbookings@gmail.com
23: FASHKOSK at Stellenbosch airfield. Contact Anton Theart Cell: 079 873 4567 E-mail:
gm@stelfly.co.za
3rd Saturday of every month. Microland. Bring and braai. Fires and bykos provided. Fires start from 09h30. Contact person: Nick Swardt 082 441 8011 or Alan Hussey 072 82 2341
23: SAPFA Virginia Fun Rally - Virginia Airport. Contact Mary de Klerk cell: 084 880 9000 e-mail:
maryd@expandingbranding.co.za

3: EAA Chapter 322 meeting. Dicky Fritz Moth Hall Edenvale. Contact:
ronellathome@telkomsa.net
4-6: SAPFA Rally Nationals & Fun Rally - Stellenbosch Airfield. Contact Frank Eckard cell: 083 269 1516 e-mail:
frank.eckard@mweb.co.za
6: Robertson Annual Breakfast fly in. Contact Alwyn du Plessis cell: 083 270 5888 e-mail:
boeredata@breede.co.za
6: SAAF Museum AFB Zwartkop open practise day. Officer Commanding Museum
oc@saafmuseum.org.za
012 351 2290
13: Uitenhage Festival. Contact Lourens Kruger e-mail:
lmk@telkomsa.net
cell: 082 320 2615
4-14: Stars of Sandstone Ficksburg, Eastern Free State. Contact
www.starsofsandstone.com
10-13 April: AERO Friedrichshafen, Germany Global show for General Aviation. Contact Stephan E-mail:
stephan.fischer@messe-fn.de
26-28: EAA National Convention Vryheid KZN. Contact Marie Reddy 083 259 7691
27: SAPFA EAA Convention Adventure Rally - Vryheid. Contact Rob Jonkers cell: 082 804 7032 e-mail:
rob@aerosud.co.za
27 & 28: SAC Judges Trophy venue TBA. Contact Annie Boon e-mail:
chunge@mweb.co.za


1: EAA Chapter 322 meeting. Dicky Fritz Moth Hall Edenvale. Contact:
ronellathome@telkomsa.net
2-5: SAPFA President's Trophy Air Race - Saldanha Airfield. Contact Rob Jonkers 082 804 7032 e-mail:
chairman@sapfa.co.za
. Website:
www.sapfa.co.za
e-mail:
Race@sapfa.org.za
4:SAAF Museum airshow at AFB Zwartkops. Contact Officer Commanding e-mail:
oc@saafmuseum.org.za
Tel: 012 351 2290
11-12: NAC Bush Weekend at Letsatsi Game Reserve. Deon 082 458 5719 , Deneys 082 891 4354 or JP 083 625 4804.
10 & 11: Lowveld airshow at Nelspruit airport. Contact Monica Fourie Tel: 083 619 3597 e-mail:
monica.fourie@kishugu.com
10-12: Battlefields Fly-in. Contact Dave O'Halloran e-mail:
gm@battlefiedslodge.co.za
14-17: NAMPO Agricultural Trade Show near Bothaville, Free State . Contact Wim Venter Tel: 086 004 7246 e-mail:
Wim@grainsa.co.za
18: SAPFA Sheila Taylor Fun Rally - Krugersdorp Airfield> Contact Frank Eckard cell: 083 269 1516 e-mail:
frank.eckard@mweb.co.za
19 & 20: SAC Free State Regionals at Tempe Airport. Contact Annie Boon e-mail:
chunge@mweb.co.za
25: Botswana International Airshow Matsieng Aerodrome (FBMA). Contact Hentie de Wet e-mail:
hentie@dwddrilling.com




The Aviation Radio Show; get all your questions answered in one place. To listen to a recording of the live broadcast click on the link:

www.debela.co.za/aviation-radio-show








ONLY 22 DAYS BEFORE THE AIRWEEK IN MIDDELBURG!




Food and Refreshments
Various Braai packs can be purchased at the Airfield between R65.00 and R75.00 per pack.
A 3-course dinner is planned for Saturday Evening (Price per Person to be confirmed)
Breakfast and Lunch can be purchased from the Food Vendors on site.

Registration
If you have not registered your attendance yet, please go to www.aeroclub.org.za and follow the link
https://goo.gl/forms/I7hUX2MmGDFdpThj2



Camping
Please book your exclusive tent suite by following this link.
https://goo.gl/forms/5NuMmhJImsxilXhC2


Proposed Daily Programme


Thursday 7 March 2019
Morning Arrivals
Evening Braai


Friday 8 March 2019
Breakfast and Arrivals
SAPFA - Speed Rally Test Flights
Safety First Aviator presentation
Evening Braai


Saturday 11 March 2019
Breakfast and Arrivals
SAPFA - Speed Rally
Middelburg Airshow and Fireworks Display
Prize giving and Dinner


Sunday 10 March 2019
Breakfast and Departures







AIRBUS CREATES THE FIRST ELECTRIC AIRPLANE RACE WITH AIR RACE E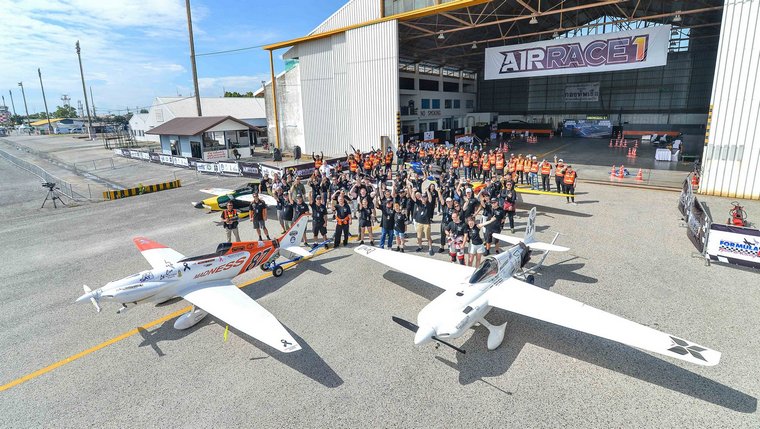 Airbus has announced a global partnership with Air Race E, the world's first electric airplane race set to launch its inaugural series in 2020. Photo © Airbus

Airbus is the Official Founding Partner of Air Race E. The competition aims to drive the development and adoption of cleaner, faster, and more technologically advanced electric engines that can be applied to urban air mobility vehicles and, eventually, commercial aircraft.
Air Race E will follow a format similar to the popular Air Race 1 series of the sport known as formula one air racing. Eight electric-powered airplanes will race directly against each other on a tight 5-km circuit, just 10 metres above the ground, and at speeds faster than any land-based motorsport.
"We want to motivate manufacturers to showcase their technologies across the full spectrum of electric propulsion systems and components." said Grazia Vittadini, Chief Technology Officer of Airbus. "This partnership enables us to demonstrate our commitment to staying at the leading edge of electric propulsion and developing a new ecosystem."
Air Race E CEO Jeff Zaltman said: "We couldn't be happier or more optimistic for success with Airbus as our Official Founding Partner. This partnership is a significant milestone in the evolution of electric power in aviation. Together, we're working to create a mainstream platform in which innovation in electric propulsion can be developed, nurtured, and accelerated more rapidly."
Airbus will work alongside other Air Race E partners, including the University of Nottingham. The University is currently developing a prototype race airplane powered by an integrated electric motor, battery, and power electronics system. The plane will help shape the model and rules for the inaugural Air Race E race in 2020.


NEW ZEELAND HEALTHY BASTARDS BUSH PILOT CHAMPIONSHIPS 2019



The Healthy Bastards Bush Pilot Champs is a Precision Landing, and STOL Take-off and Landing competition held annually at Omaka Airfield, Blenheim.


Once again, pilots of Zenith STOL aircraft took top honours at the 2019 Bush Pilot Championships in New Zealand
Congratulations to the Zenith STOL "Sky Jeep" pilots for their excellent flying at the 2019 New Zealand Bush Pilot Championships!
1st place STOL Competition (1325 lbs): Chris Anderson (Zenith STOL)
2nd place STOL Competition (1325 lbs): Hamish Crowe (Zenith STOL)
Shortest Takeoff: Deane Phillip (Zenith STOL)
Shortest Landing: Chris Anderson (Zenith STOL)



LUFTHANSA PLANS TO TERMINATE JUNKERS JU 52 PASSENGER FLIGHTS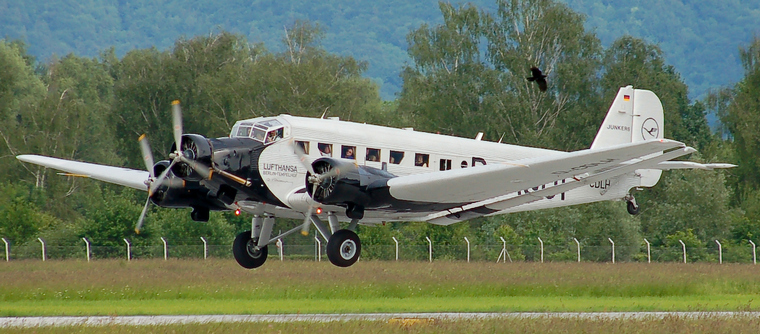 Originally built in 1936 the Ju 52 was acquired in the USA by Lufthansa in 1984 and restored over more than a year at the airline's overhaul base in Hamburg. Heavily subsidised by the company the Ju 52 has been used for public flights since 1986. Photo © wikipedia


Lufthansa recently announced that it has been subsidising the flights with a single-digit million euro sum every year and that it has no prospect of operating the 83 year old aircraft in an economical and viable manner.
The company is evaluating "alternative" options that may include continuing to fly the 16-seat aircraft for flypasts at air shows and other public events.

UNIVERSAL HELICOPTERS ANNOUNCE TECNAM FLEET ACQUISITION ACROSS THREE MODELS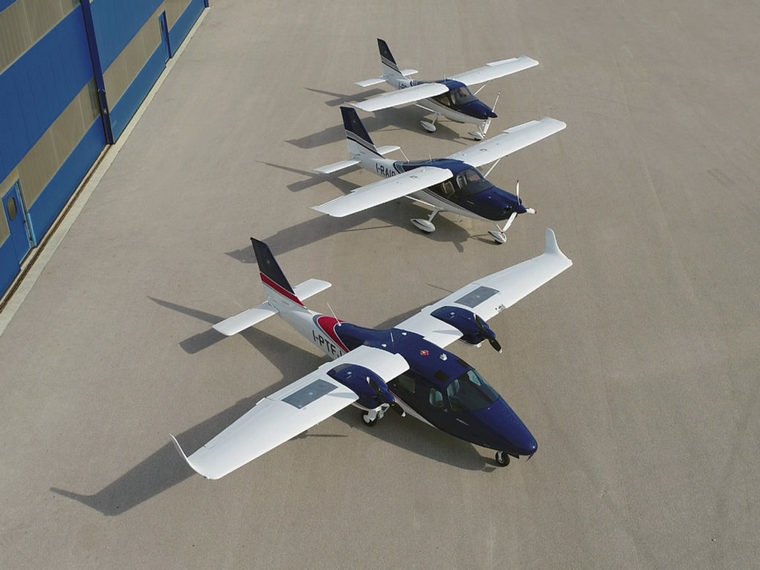 TECNAM and Universal Helicopters (UHI) today announced an aircraft purchase agreement for a fleet of 10 initial aircraft for two fixed-wing flight training locations. The purchase consists of four (4) P2008 LSA, four (4) P2010 standard category 4 place, and two (2) P2006T twins. Photo ©Tecnam.

UHI has distinguished itself over the past decade as one of the largest FAA Part 141 Training Companies in the world, operating up to 58 helicopters for flight training and has its sights set on the Fixed-Wing training market. "As we watched the shortage of fixed wing pilots increase and the hiring requirements change, I felt compelled to assist the fixed wing industry as we have done for decades with regards to the helicopter industry" stated Dr. Gordon A Jiroux, hc.
Universal's renewed push into fixed wing aircraft demanded a modern, cost-effective fleet for all training levels. Universal Fixed Wing (UFW) will be utilizing the high wing P2008 LSA for initial through IFR introduction training utilizing the Garmin G3X two screen system with Garmin autopilot and Garmin GTN 650. Students will then move to the FAA standard Category P2010 4 place single with G1000Nxi and GFC700 for completion of IFR, Commercial and CFI Certificates. Finally, students will fly the P2006T light twin with Garmin G1000Nxi to complete their Multi-Commercial and Multi-Instructor certificates.
"The Tecnam line of aircraft that we chose as our primary training aircraft, offered the perfect progression of high wing Ab-initio trainers (P2008 & P2010), culminating with their light Multi-Engine P2006 model" stated Dr. Jiroux.
Dr. Jiroux also stated, "Having the desire to bring the same level of Quality and Safety to the fixed-wing community that our helicopter students and training partners have enjoyed, we knew from our experience with the Robinson Helicopter Company, that having 3 different model aircraft from the same manufacturer was a priority. We know from our extensive helicopters training experience, that the uniformity and consistency that will exist by operating one brand of state-of-the-art airplanes that Tecnam offers, will help us deliver quality training with that extra element of safety we are always looking for".
"Tecnam aircraft being selected by UHI as their next generation training fleet is a high honour, especially when considering Universal's operational experience in the flight training industry. The Tecnam fleet solution offers easy transition to more complexity while leveraging an LSA, a Rotax powered twin and US based AOG support to keep the acquisition and operational costs down. This will allow UFW to continue to provide a safe and cost attainable pathway for students," said Shannon Yeager, Director for Tecnam in North America.
"I found Tecnam to be extremely accommodating through the negotiation process with a sincere desire to help our business grow". said Dr. Jiroux.
"We are delighted at UHI's choice for their fixed wing fleet. Our expanded commitment and direct factory involvement to the US market is showing the results we hoped for. We care a lot for our North American customers and training organizations, we are proud to be a partner on their path to success. With the widest line of aircraft in our portfolio, post-sales support and services, Tecnam is not only providing aircraft but a solid Fleet Solution." said Paolo Pascale, President of Tecnam US and CEO of Tecnam Italy.

BOEING PARTNERS WITH AERION TO ACCELERATE SUPERSONIC TRAVEL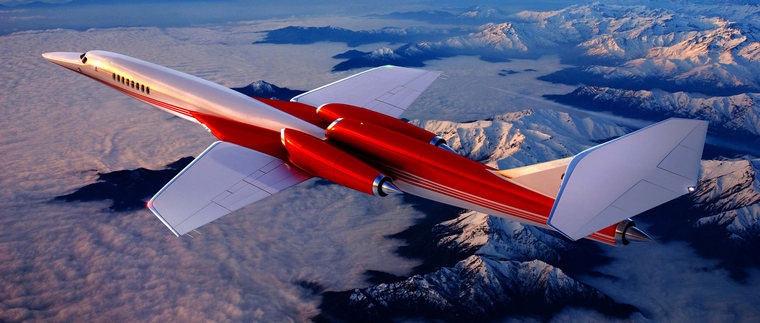 Boeing [NYSE: BA] today announced a partnership with Aerion, a Reno, Nev.-based company pioneering next-generation supersonic aircraft. As part of the agreement, Boeing made a significant investment in Aerion to accelerate technology development and aircraft design, and unlock supersonic air travel for new markets. Terms of the deal were not disclosed. Photo © Aerion.

Boeing will provide engineering, manufacturing and flight test resources, as well as strategic vertical content, to bring Aerion's AS2 supersonic business jet to market. The AS2 is designed to fly at speeds up to Mach 1.4 or approximately 1,000 miles per hour. With the ability to fly up to 70 percent faster than today's business jets, the AS2 will save approximately three hours on a transatlantic flight while meeting environmental performance requirements. The aircraft is slated for first flight in 2023.
Founded in 2003 to develop new, more efficient aerodynamic technologies for supersonic aircraft, Aerion introduced its AS2 12-passenger business jet design in 2014. The company unveiled the AS2's GE Affinity engine design in 2018.
"Aerion is the industry leader mapping out a successful, sustainable return to supersonic flight," said Tom Vice, chairman, president and chief executive officer of Aerion. "The AS2 is the launch point for the future of regulatory-compliant and efficient supersonic flight. Together with Boeing, we're creating a faster, more connected future with tremendous possibilities for enhancing humanity's productivity and potential."
Boeing NeXt works with industry partners and regulatory agencies to lead the responsible introduction of a new mobility ecosystem. The division's portfolio includes prototyping activities and programs that will shape the future of urban, regional and global mobility. These programs include autonomous air vehicles and passenger-carrying hypersonic aircraft.
Boeing is the world's largest aerospace company, the leading manufacturer of commercial airplanes and defence, space and security systems, and a major provider of government and commercial aerospace services. America's top manufacturing exporter, Boeing supports airlines and U.S. and allied government customers in more than 150 countries.

F-16 AND F-22 DEMO TEAMS TO PERFORM AT AIRVENTURE 2019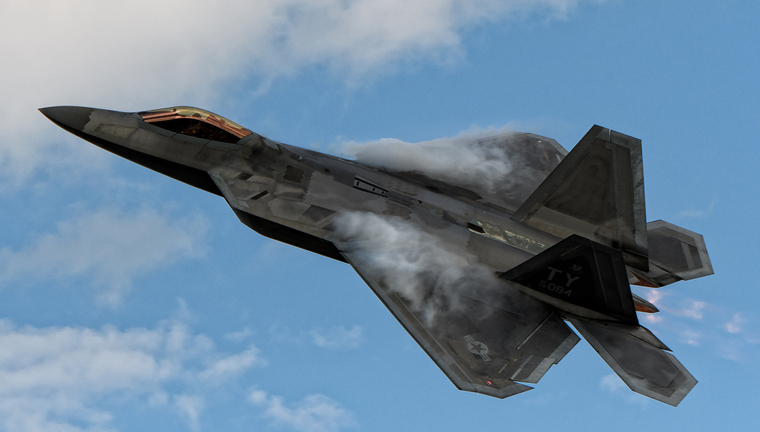 The U.S. Air Force Air Combat Command F-16 Viper Demonstration Team as well as the Air Combat Command F-22 Raptor Demonstration Team will be heading to Oshkosh this summer to take part in heritage flights during the daily air shows at EAA AirVenture Oshkosh 2019, which will be held July 22-28. Capt. Zoe Kotnick will be the F-16 demo pilot, while Maj. Paul "Loco" Lopez will be the F-22 demo pilot. Photo © Rick Moore.

The two demonstration teams announced their 2019 schedules during the International Council of Air Shows convention in Las Vegas.
Heritage flights, which feature two to four aircraft from different eras, show the different technologies of the various aviation eras and salute the people and aircraft of the U.S. Air Force. Among the warbirds that have participated in past heritage flights are the P-51 Mustang, P-47 Thunderbolt, P-38 Lightning, F-86 Sabre, and AD-1 Skyraider. Last year's heritage flights featured an F-16 from the Viper Demonstration Team, an AD-1 Skyraider, and P-51 Mustangs.

DRONE SHOWS TO LIGHT UP THE SKIES OVER LAKELAND DURING SUN 'N FUN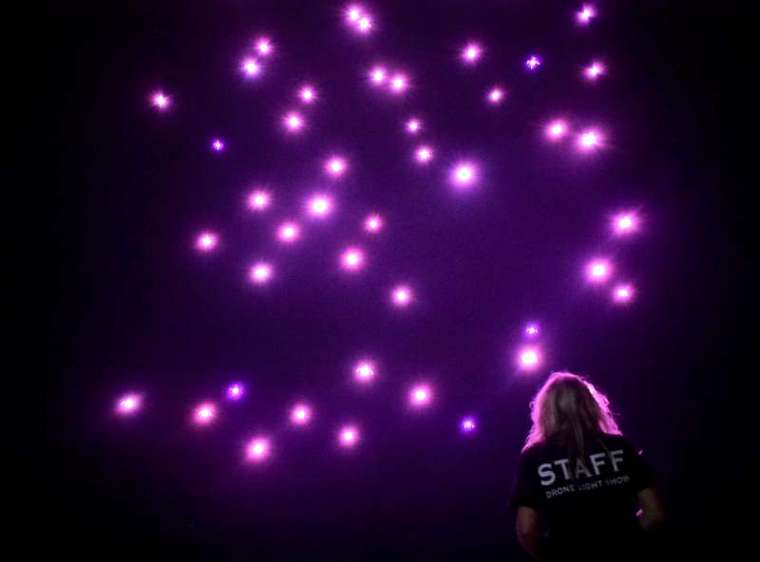 The Sun 'n FUN Fly-In strives to raise the bar each year. More spectacular air shows. Latest technology. This year is no exception. In its 45th year, the night-time airshow line up has been expanded to include a new show performer. OR should we say 60 of them. It's a drone show! Photo © Sun 'n Fun.

You saw them at the Olympics, and most recently at the Super Bowl. Now, airshow fans at the annual SUN 'n FUN International Fly-In and Expo in Lakeland can look forward to something special - the first public drone light show performance at a Florida airshow. Over 60 of the specialized aerial robots will lift off together, taking flight twice during the week-long event. SUN 'n FUN organizers are confident that this dazzling multi-coloured aerial light display set to music, dubbed the "Star Dance Spectacular," will be one of this year's most memorable highlights.
The SUN 'n FUN "Star Dance Spectacular" will take place during the night air shows that begin at 7:30 PM on Wednesday, April 3rd and Saturday, April 6th. The performance will be the closing act following a dazzling array of breath-taking performances and pyrotechnics by some of the world's most renowned aerial artists.
"Drones are the latest in aviation technology, and it's exciting to have a display like this to showcase just one of the incredible uses for them," said Greg Gibson, Airshow Director for SUN 'n FUN. "A drone light show has been on the top of our request list from the fans, and we are very proud to bring this cutting-edge demonstration to our audiences."
The science behind the spectacle is even more impressive than the twinkling, shape-shifting scenes played out against the backdrop of night. It can take up to three months to program the complex interactions and movements of so many drones that must move simultaneously while accounting for wind, humidity, and other factors. Great Lakes Drone Company, who produces the exhibition, is one of only a very few companies in the world capable of putting on drone performances of this scale. SUN 'n FUN's Aerospace Centre for Excellence (ACE), their STEM-based education complex, provides the perfect venue for this type of 21st century presentation, and an exhibit area on the ground will be part of the overall experience for show-goers.


USA, Salt Lake City: A Skywest Canadair CRJ-900 on behalf of Delta was accelerating for take-off from Salt Lake City's for a flight to Billings when the crew rejected take-off at high speed. The aircraft slowed safely and came to a stop about 2000 meters/6600 feet down the runway. The captain announced they had stopped due to an aft lavatory smoke alarm. Emergency services responded and checked the aircraft. A replacement Canadair CRJ-700 registration N641CA reached Billings with a delay of about 2 hours.
USA, northeast of Scranton, (USA): A Porter Airlines de Havilland Dash 8-400 with 34 passengers on a flight from Newark (USA) to Toronto City, (Canada) with, was en-route at 18,000 feet about 15nm northeast of Scranton when the crew needed to shut an engine (PW150) down. The crew diverted to Scranton's Wilkes-Barre International Airport for a safe landing about 20 minutes later.
Pakistan, Lahore: A Vietnam Airlines Airbus A321-200Non a delivery flight delivery flight from Baku (Azerbaijan) to Hanoi (Vietnam), was en-route at FL370 about 240nm west of Lahore when the crew needed to shut an engine (PW1130) down. The aircraft drifted down to about FL230 and diverted to Lahore where the aircraft landed safely on runway 36R about 45 minutes after leaving FL370.
Mexico, Toluca airport: A Learjet 35A air ambulance operated by Jet Rescue with nine aboard made a belly emergency landing at Toluca airport and a runway excursion under unknown reasons. No injuries were reported.
UK, Birmingham: A FlyBe Bombardier Dash 8 Q400 from Manchester to Luxembourg was diverted to Birmingham Airport when the plane filled with smoke after a bright flash from one of its engines. The aircraft landed with one engine shut down. The fire brigade then checked the plane for any damage reporting that they had "found something leaking".




17 FEBRUARY 1864

Birth of Hilda Beatrice Hewlett, first British aviatrix to earn a pilot's license, successful early aviation entrepreneur. She created and ran the first flying school in the UK.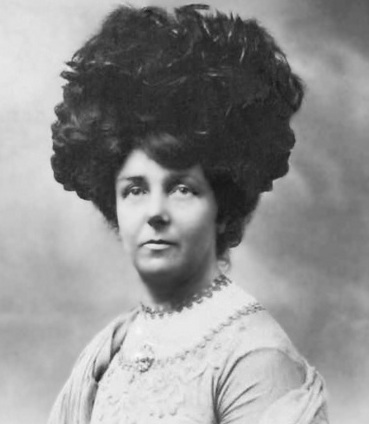 Photo © HighFlight-GraceBird commons.wikimedia.org. On 29 August 1911, at Brooklands, Hilda Hewlett became the first woman in the UK to earn a pilot's licence when she received certificate No.122 from the Royal Aero Club after completing the test in her biplane. Hewlett also taught her son, Francis, to fly; he earned pilot's certificate no. 156 on 14 November 1911.
Hewlett attended her first aviation meeting at Blackpool in 1909. Later that year, after adopting the pseudonym "Grace Bird", she travelled to the airfield at Mourmelon-le-Grand, France, to study aeronautics. She met aviation engineer Gustav Blondeau and they became business partners. Hewlett returned to England with a Farman III biplane, nicknamed the Blue Bird. In the summer of 1910 she and Blondeau opened the first flying school in the United Kingdom. Thirteen pupils graduated from the school in the year and a half it operated and, with a remarkable safety record for the time, there were no accidents.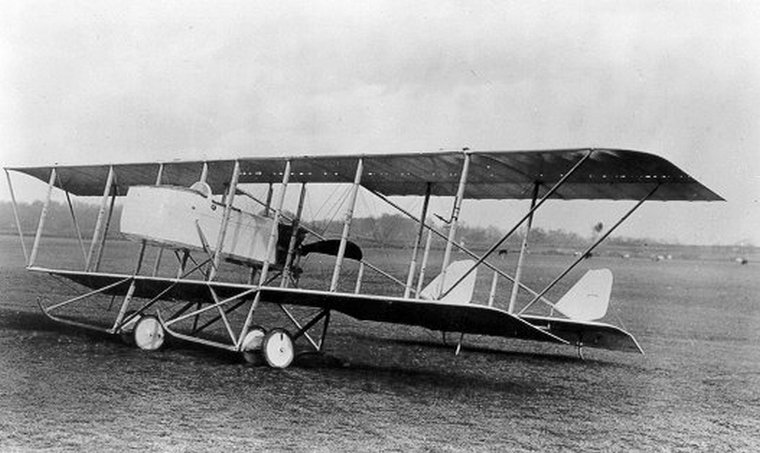 Farman Shorthorn MF11 Photo © commons.wikimedia.org

She also founded a successful aircraft manufacturing business which produced more than 800 aeroplanes and employed up to 700 people. By August 1914 the company had produced 10 different types of aircraft. During the First World War, Hewlett's company manufactured more than 800 military aircraft, a specialised 90 hp (67 kW) engine which the British government considered vital to the war effort. After the war the business diversified into making farming equipment, but the factory had closed by the end of October 1920.
Hewlett died on 21 August 1943 in Tauranga, North Island, New Zealand. Following a service on the railway wharf, she was buried at sea.