THIS WEEK IN MIDWEEK UPDATE

Plan Your Weekend……..Forthcoming Events…….Aviation News

Worldwide Incidents and Accidents……This Week in Aviation History




12-14 March: Saudi Air Show Thumah Airport, Riyadh. Website:
www.saudiairshow.aero
13-15: Ageing Aircraft & Aircraft Corrosion seminar at OR Tambo International Airport. Contact e-mail:
lmjaviationbookings@gmail.com



23: FASHKOSK at Stellenbosch airfield. Contact Anton Theart Cell: 079 873 4567 E-mail:
gm@stelfly.co.za
3rd Saturday of every month. Microland. Bring and braai. Fires and bykos provided. Fires start from 09h30. Contact person: Nick Swardt 082 441 8011 or Alan Hussey 072 82 2341
23: SAPFA Virginia Fun Rally - Virginia Airport. Contact Mary de Klerk cell: 084 880 9000 e-mail:
maryd@expandingbranding.co.za


3: EAA Chapter 322 meeting. Dicky Fritz Moth Hall Edenvale. Contact:
ronellathome@telkomsa.net
4-6: SAPFA Rally Nationals & Fun Rally - Stellenbosch Airfield. Contact Frank Eckard cell: 083 269 1516 e-mail:
frank.eckard@mweb.co.za
6: Robertson Annual Breakfast fly in. Contact Alwyn du Plessis cell: 083 270 5888 e-mail:
boeredata@breede.co.za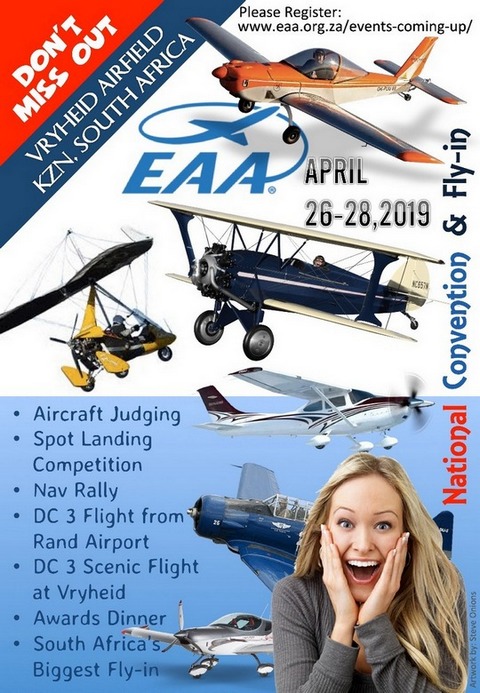 6: SAAF Museum AFB Zwartkop open practise day. Officer Commanding Museum
oc@saafmuseum.org.za
012 351 2290
6: SAAMA Pre-Nationals RC Pylon Racing at RMAC. To enter for the event go to
www.pylonracing.co.za
6: Coves Fly in Carnival: All aircraft types are welcomed to visit for the day as long as they abide by the Coves Aero Club rules, approach procedures and the indemnity requirements laid out on
www.thecoves.co.za
, or available from
admin@thecoves.co.za
All arriving aircraft must complete on their arrival an indemnity forms by no later than the 5th of April to gain access to our private airfield. Please email all forms confirming your understanding and possession of the rules of the day to The Coves Aero club chairman. JP Fourie, at
aviation@thecoves.co.za
.
13: Uitenhage Festival. Contact Lourens Kruger e-mail:
lmk@telkomsa.net
cell: 082 320 2615
4-14: Stars of Sandstone Ficksburg, Eastern Free State. Contact
www.starsofsandstone.com
10-13 April: AERO Friedrichshafen, Germany Global show for General Aviation. Contact Stephan E-mail:
stephan.fischer@messe-fn.de
19: Witbank Aeronautical Association fly-in Easter breakfast. Contact Robert Clark for more information.
Comms@flywaa.co.za
26-28: EAA National Convention Vryheid KZN. Contact Marie Reddy 083 259 7691 Register at:
www.eaa.org.za/events-comin-up/
27: SAPFA EAA Convention Adventure Rally - Vryheid. Contact Rob Jonkers cell: 082 804 7032 e-mail:
rob@aerosud.co.za
27 & 28: SAC Judges Trophy venue TBA. Contact Annie Boon e-mail:
chunge@mweb.co.za


1: EAA Chapter 322 meeting. Dicky Fritz Moth Hall Edenvale. Contact:
ronellathome@telkomsa.net
2-5: SAPFA President's Trophy Air Race - Saldanha Airfield. Contact Rob Jonkers 082 804 7032 e-mail:
chairman@sapfa.co.za
. Website: www.sapfa.co.za e-mail:
Race@sapfa.org.za
4: SAAF Museum airs how at AFB Zwartkops. Contact Officer Commanding e-mail:
oc@saafmuseum.org.za
Tel: 012 351 2290
11-12: NAC Bush Weekend at Letsatsi Game Reserve. Deon 082 458 5719, Deneys 082 891 4354 or JP 083 625 4804.
10 & 11: Lowveld airshow at Nelspruit airport. Contact Monica Fourie Tel: 083 619 3597 e-mail:
monica.fourie@kishugu.com
10-12: Battlefields Fly-in. Contact Dave O'Halloran e-mail:
gm@battlefiedslodge.co.za
14-17: NAMPO Agricultural Trade Show near Bothaville, Free State. Contact Wim Venter Tel: 086 004 7246 e-mail:
Wim@grainsa.co.za
18: SAPFA Sheila Taylor Fun Rally - Krugersdorp Airfield> Contact Frank Eckard cell: 083 269 1516 e-mail:
frank.eckard@mweb.co.za
19 & 20: SAC Free State Regionals at Tempe Airport. Contact Annie Boon e-mail:
chunge@mweb.co.za
25: Botswana International Airshow Matsieng Aerodrome (FBMA). Contact Hentie de Wet e-mail:
hentie@dwddrilling.com



The Aviation Radio Show; get all your questions answered in one place. To listen to a recording of the live broadcast click on the link:
www.debela.co.za/aviation-radio-show






THE COVES FLYING CARNIVAL TAKES OFF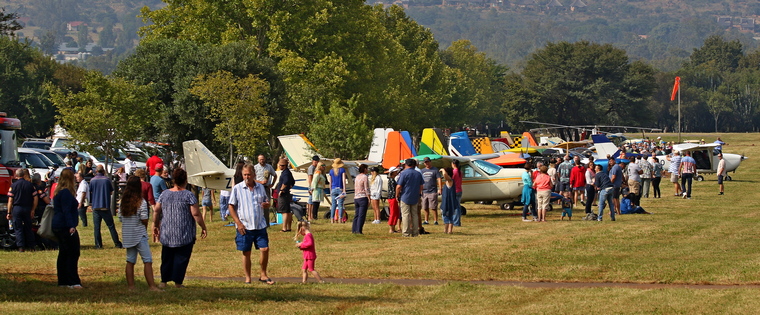 The annual "Coves Fly In" has been a popular event on the aviation calendar since 2011. The Coves is a beautiful lifestyle estate on the Western shores of Hartbeespoort Dam. Photo © Willie Bodenstein


This year promises to be particularly exciting. To reflect many enhancements to the event, The Coves community has renamed it "The Coves Flying Carnival".
The name says it all!
Aviation activities will start at sunrise, with a full programme for the day. We are expecting more than 70 visiting aircraft, plus 30 that are resident at The Coves. Several aviation activities not seen in previous years are confirmed. These include displays of powered paragliders, parachutists, radio controlled aircraft - both powered and gliders and formation flying. Highlights are several aerobatic displays by some of the most sought after teams and individuals on the continent. Helicopter flips will be available to visitors to the Carnival.
To complement the aviation, food stalls, shaded seating areas, ice cold drinks and proper sanitation will be provided. Local produce and crafts, as well as aviation toys and memorabilia will be on sale.
The voice of aviation, Brian Emmenis and his Capital Radio broadcast team will guide, entertain and keep us all informed and safe during the day.
The Coves Flying Carnival is by invitation only. Invited guests and registered aircraft are welcomed to experience a unique lifestyle estate. Visitors can enjoy a meal or drink at The Oaks bistro and see the dam and the various Coves we love to live in. Above all, the natural beauty and grandeur of living at the foot of the majestic Magaliesberg Mountain range provides an unforgettable experience.
Visiting aircraft will be welcomed for arrival up to 11:00, after which there will be sterile airspace for the various displays. The runway will reopen at 15:00 for departures. These timelines will be strictly enforced.
All aircraft types are welcomed to visit for the day as long as they abide by the Coves Aero Club rules, approach procedures and the indemnity requirements laid out on
www.thecoves.co.za
, or available from
admin@thecoves.co.za
All arriving aircraft must complete on their arrival an indemnity forms by no later than the 5th of April to gain access to our private airfield. Please email all forms confirming your understanding and possession of the rules of the day to The Coves Aero club chairman. JP Fourie, at
aviation@thecoves.co.za
Pilots are required to register on arrival at The Coves Pilot Welcom Centre, adjacent to the Outside Broadcast unit where we shall provide our visiting flying folk with a meal and coffee voucher, in appreciation of their aerial visit to The Coves Flying Carnival."
Diarise the 6th of April 2019, as a must attend event if you are an aviator. You don't want to miss it.



STELLENBOSCH AIRSHOW 2019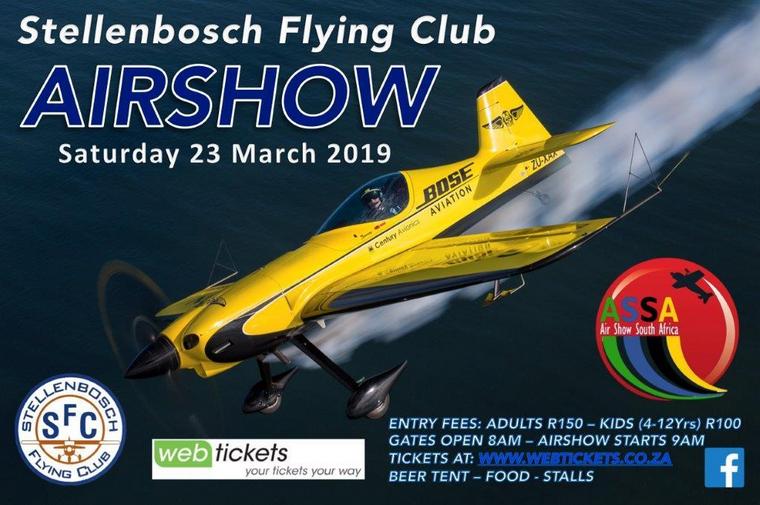 Dubbed FASHKOSH, a play on Stellenbosch's official airfield name FASH and OSHKOSH, the single biggest airshow and gathering of aviation enthusiasts in the world which takes place annually at Oshkosh Wisconsin in the USA, the 2019 Stellenbosch Airshow takes place on the 23rd of March and promises to be bigger, louder and more exciting than in previous years.


Friday 22nd March is a practice day for the participating pilots and the Stellenbosch Flying Club will host a youth development day with around 200 learners from local schools attending where they will have the opportunity to gain first hand insights into possible careers in aviation. They will also be able to get up close to the participating pilots and aircraft, in particular the South African Airforce.
Flying in

Aviators are welcome to fly in and are required to register their intention to do so by emailing airshow@stelfly.co.za or by WhatsApp to the club GM Anton Theart on 0798734567. Due to limited space the cut-off for fly-in registration is 19 March and all aircraft flying in are required to be on the ground and parked by 09 00 on the day of the event. The normal FASH joining procedure as published on the club website at
www.stelfly.co.za
is to be followed and ATC instructions should be listened for on the airfield frequency which is 119.3. Parking will be in the visitors area and you should bring your own tow bar for ground handling. All arriving pilots and their passengers are required to pay the normal R150 per person entrance fee by purchasing a ticket on Webtickets before arriving.
Those wishing to fly in the day before and camp on the field may do so for a fee of R200 which is payable on arrival. Bring your own tent to camp under the wing of your aircraft. Ablutions and braai facilities will be available.
Departures will be permitted after the completion of the display program from 16h00 onwards.
Program

The program for show day provides non-stop adrenalin and entertainment with the line-up consisting of the following:
• Power paragliders
• Large scale model jets
• The biggest SA flag skydiver (A first for Stellenbosch)
• South African Airforce Silver Falcons
• L39 fighter jet
• Ex SAAF Bosbok
• Glider and tug display
• Vintage De Haviland Tiger Moth and Chipmunk display
• Emergency vehicle cavalcade
• Bell 407 helicopter
• Vintage Howard display
• Vintage Cessna 195 display
• Boeing 737 airliner display (First for Stellenbosch)
• The HULK Sonerai 2 aerobatic display
• Pilatus PC24 Business jet (First for Stellenbosch)
• Motor glider display
• Raptors formation aerobatics display (First for Stellenbosch)
• RV solo aerobatic display
• Gyrocopter M16 display
• Shock Cub display (First for Stellenbosch)
• Team Extreme aerobatic display
• Aviat Husky short field performance display (First Stellenbosch female display pilot)
• Nashua Extra 300 (First for Stellenbosch)
• T6 Harvard display
• Vintage Boeing Stearman display
• Black Hawk Helicopter display (First for Stellenbosch)
• Huey Helicopter display
• Piper Malibu display (First for Stellenbosch)
• Piper Aerostar display
• Airborne armed response and medevac demonstration (First for Stellenbosch)
• Working on Fire demonstration
World renowned airshow commentator Brian Emmenis and Capital Sounds will bring you informative and entertaining commentary. Food and refreshments will be available throughout the day.
Food and refreshments

A wide variety of food vendors will ensure that you can have a meal to your liking. Stellenbrau will be serving their products in the beer tent and a number of wine producers from the area will have their produce available for tasting and sale.
Getting there and getting in

The show takes place on the Stellenbosch Airfield, Aerodrome road, off the R44 between Stellenbosch and Somerset West.
Gates open for spectators at 08h00 with visiting aircraft of various descriptions flying in until the emergency cavalcade procession at 1015 where after the show will be opened by the skydivers.
Tickets are available online at Webticket at R150 for adults and R100 for children. Under four years old enter for free. Numbers are limited and very few tickets will be available at the gate so get yours online early.
Look for us on Facebook and Instagram or at www.stelfly.co.za or on the Airshow South Africa website at www.airshowsa.org.za or email airshow@stelfly.co.za should you have any questions.


THE PAL LIBERTY PIONEER EDITION IS UNVEILED AT THE GIMS 2019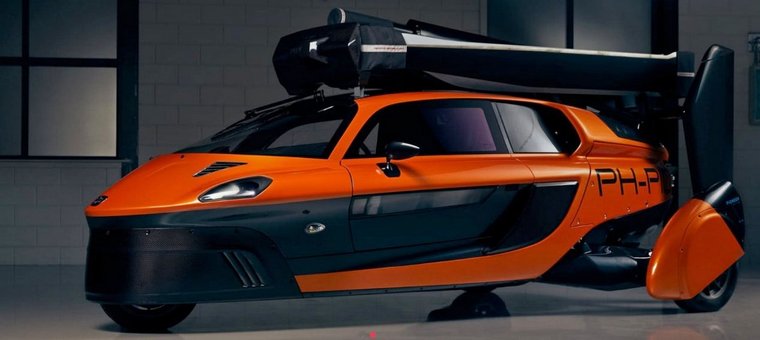 PAL-V revealed the Pioneer edition at the Geneva International Motor Show! The 90 pieces limited edition is based on the PAL-V Liberty which was unveiled last year at the GIMS. During the 5th and 6th of March (Press only) and between the 7th and 17th of March (Public days) the Pioneer edition will be on display in hall 1 at booth 1220. Photo © Pal

With the launch of the PAL-V Liberty Pioneer, PAL-V will open the next chapter of personal mobility. The Pioneer edition gives 90 people in the world the possibility to go above and beyond.
"The Pioneer Edition is for those that want to be part of the group of 90 that writes history with us. They will be at the forefront of a mobility revolution, where we will no longer have cars that can only drive." - R. Dingemanse, CEO PAL-V
The Pioneer edition will be delivered prior to any other PAL-V in your country. Only when we have delivered the Pioneer edition we will commence the delivery of the PAL-V Liberty Sport.

DAHER UNVEILS NEW TBM 940 AT OWNERS SEMINAR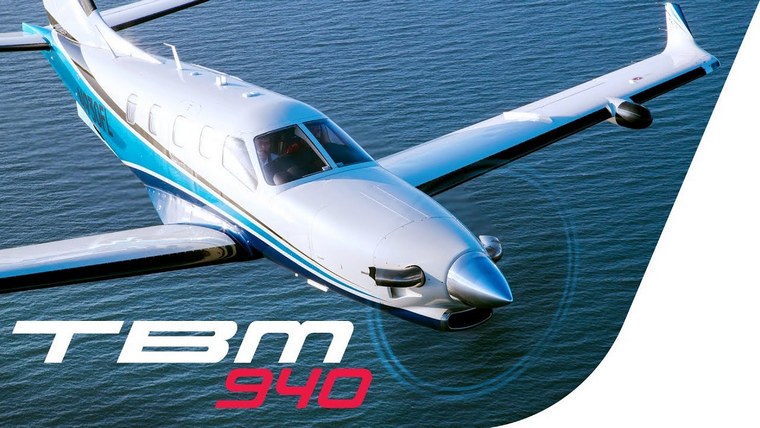 Daher launched the TBM 940, an upgraded version that succeeds its top-of-the-line 930 with new features that include an integrated autothrottle, automatic deicing system, and cabin improvements, the airframer announced today at the TBM Owners and Pilots Association Safety Seminar in Pompano Beach, Florida. Photo © Daher


"This newest TBM family member underscores our firm commitment to constant improvement for the ownership and operational experience with our very fast turboprop aircraft," said Daher Airplane Business Unit senior v-p Nicolas Chabbert.
The 940's autothrottle is the first to be installed on a single-engine turboprop weighing less than 12,500 pounds, Daher claims, and adjusts the airplane's speeds based on the preset flight profile. The autothrottle also allows the 940 to be operated at the edge of approved power regimes for the Pratt & Whitney Canada PT6A-66D.
The airplane also gets more automation on the deicing system, which is automatically activated when icing or ice accumulation is detected and the pilot doesn't take action. The cabin gets redesigned seats, a central shelf with side storage, an additional 115-volt electric outlet at the right rear seat panel, and a USB port bringing the total to six passenger and three pilot ports.
The 940's range of up to 1,730 nm is unchanged from the 930. FAA and EASA certification of the airplane, priced at $4.13 million with standard equipment, is expected next month.
COMING SOON-COULSON'S CH-47 & CH-60 HELITANKERS


These helitankers will be coming Summer 2019! Operating in both aerial firefighting and heavylift, through a joint venture with Unical.


Coulson Aviation is a family owned business that was founded in 1984 and has enjoyed 34 years and a 150,000+ safe flight hours of operations worldwide between off shore oil and gas, firefighting and heavy lift with its fleet of Sikorsky S-61 26 passenger heavy lift helicopters.
Coulson Aviation now operates a diverse fleet of Firefighting aircraft with its fixed wing air-tankers C-130 Hercules, Boeing 737 and its helicopter fleet of Sikorsky S-61 and now the Boeing CH-47 and Sikorsky UH-60.
Coulson Aviation is expanding its rotary-wing capabilities and has entered into a joint venture with Unical Aviation to bring what they claim will be the most advanced firefighting Chinook and Black Hawk helicopters to the market.
The Black Hawk and Chinook modifications follow Coulson Aviation's recently-completed, large-scale project to modify Boeing 737s into multi-use air tankers; Coulson Aviation is the first in the world to modify the 737 into what it is calling the Fireliner.
Coulson Aviation plans to modify the fuselage on the CH-47, cut the floor of the aircraft and install a 3,000-gallon tank, called the RADS-L (large). "It's going to be a newer generation Skycrane tank," Britt Coulson said, adding that the tank in the Chinook can be removed in a two-hour time period.
The company will do the same modifications on the Black Hawk, but with a smaller, 800- to 1,000-gallon removable tank, called RADS-M (medium).
Coulson Aviation's RADS series of tanks feature a common touch screen SMART Delivery System Controller, which allows for automated target drops for the company's night vision goggle firefighting program. The touch screen technology also provides the ability to adjust flow rates based on speed and altitude.

AIRBUS HELICOPTERS UNVEILS NEW H145 AT HELI-EXPO 2019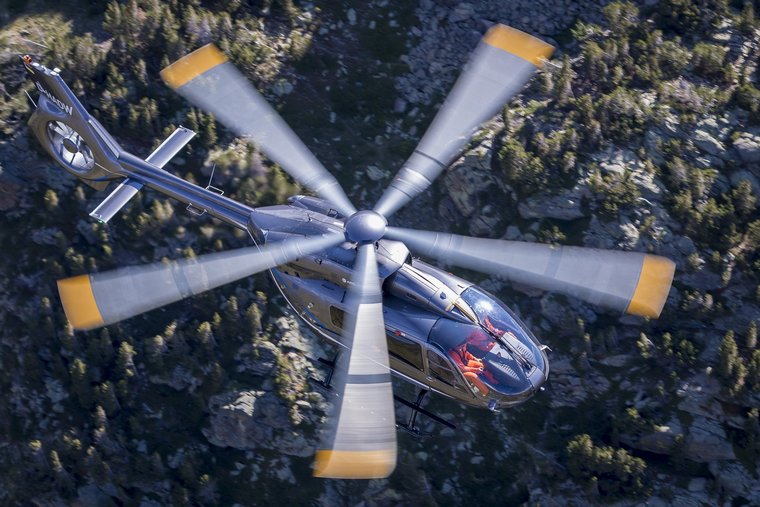 Airbus Helicopters is unveiling a new version of its best-selling H145 light twin-engine helicopter at Heli-Expo 2019 in Atlanta. Visible on the Airbus booth at the show, this latest upgrade brings a new, innovative five-bladed rotor to the multi-mission H145, increasing the useful load of the helicopter by 150 kg while delivering new levels of comfort, simplicity and connectivity. Photo © Airbus.

The H145's new five-bladed rotor brings a significant increase in overall performance, with a maximum take-off weight raised to 3,800 kg and a useful load now equivalent to the aircraft's empty weight. The simplicity of the new bearingless main rotor design will also ease maintenance operations, further improving the benchmark serviceability and reliability of the H145, while improving ride comfort for both passengers and crew. The reduced rotor diameter will allow the H145 to operate in more confined areas.
The new H145 introduces new levels of on-board connectivity to customers and operators through the integration of the wireless Airborne Communication System (wACS), allowing seamless and secure transmission of data generated by the helicopter in real-time, including in-flight.
EASA certification of the new H145 is planned for early 2020, with first deliveries to follow later that year. This upgrade will also be offered to current H145 customers as a retrofit option in order to deliver the same improvements in terms of useful load, simplified maintenance and comfort to the existing version of the H145.
Powered by two Safran Arriel 2E engines, the H145 is equipped with full authority digital engine control (FADEC) and the Helionix digital avionics suite. It includes a high performance 4-axis autopilot, increasing safety and reducing pilot workload. It's particularly low acoustic footprint makes the H145 the quietest helicopter in its class.

ROSTEC'S VRT500 PROTOTYPE TO BE READY BY END OF 2019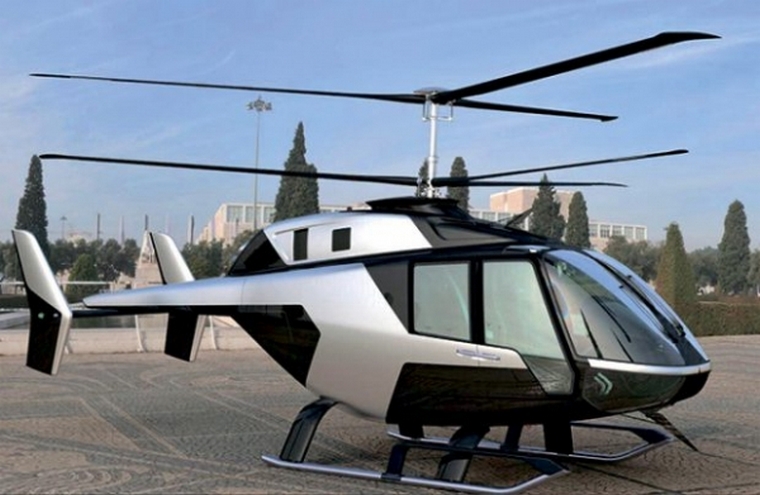 VRT500 will be capable of accelerating up to 230 km/h and will achieve a range of up to 1,000 km and payload of up to 750 kg. Photo © Russian Helicopters via Russian Aviation Insider

Russian Helicopters, part of Rostec State Corporation, will produce a light utility helicopter prototype, called the VRT500, by the end of 2019. The prototype is being designed by VR-Technologies design bureau. Rostec explains the helicopter's rotor system strength tests are now underway and VR-Technologies will soon begin aerodynamic tests, which it specializes in.
The helicopter is to be supplied in the following configurations: passenger, utility, cargo, training, VIP, and Medevac. VRT500 will be the first Medevac helicopter in the world in the segment of helicopters with maximum take-off weight up to two tons, explains Rostec, to ensure loading and unloading of unified gurneys through the rear cabin doors. Rostec states this simplifies the process and significantly reduces loading time.
Rostec continues to explain the VRT500 combines high flight performance and low pricing and operating costs. The company also claims it will hold the largest transport and cargo cabin in its class, with a total capacity of up to five people. Rostec predicts these characteristics will allow the VRT500 to occupy up to 15 per cent of the global market of civil helicopters with maximum take-off weight up to two tons.
"We expect to produce and sell an average of 700 helicopters by 2030," said Alexander Okhonko, VR-Technologies director general.
According to Okhonko, about 30 per cent of supply would be destined to the countries of Latin America and the Caribbean and about 15 per cent would be sent to North America, Asia-Pacific region, Europe, Russia and CIS.
VRT500 is a light single-engine helicopter with coaxial rotor scheme and 1600 kg take-off weight. Rostec explains the helicopter, featuring a glass cockpit avionics suite, will be capable of accelerating up to 230 km/h and will achieve a range of up to 1,000 km and payload of up to 750 kg.
URBAN AIR MOBILITY: ON THE PATH TO PUBLIC ACCEPTANCE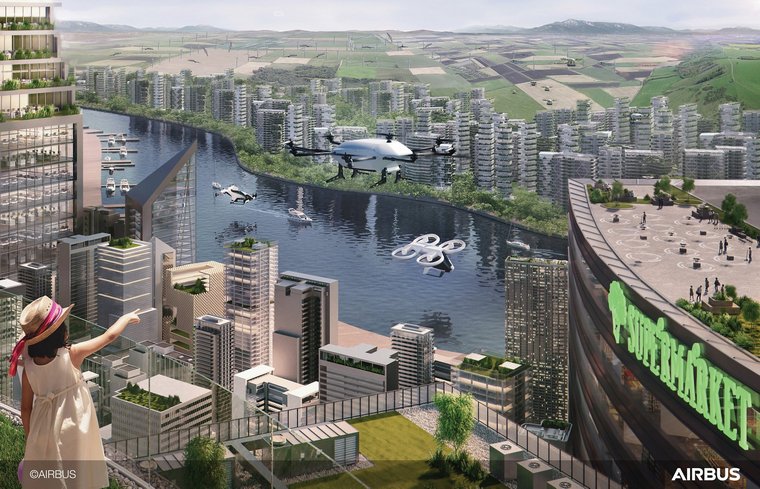 Are people ready to see their sky filled with aircraft, drones and other aerial vehicles? The answer is increasingly yes, according to a recent preliminary study on public acceptance for Urban Air Mobility. Image © Airbus.

Look up at the sky and you are bound to see a commercial aircraft or two disappearing behind the clouds. Perhaps a helicopter is surveying traffic above your city's tallest skyscrapers. Maybe a drone is filming landscapes in your neighbourhood.
A century ago, nobody ever would have imagined so many aircraft in the sky at any given moment. But today, our skies are busier than ever: current air traffic has quadrupled in the last 30 years and is set to double in the next 15.* And change is on the horizon again. Recent developments-in battery capacity, autonomy and on-board technology-are making new kinds of aerial vehicles possible. These vehicles can fly higher-and lower-than ever before and offer new possibilities, from parcel-delivery drones to an air taxi service. This is the sky of the future, powered by Urban Air Mobility (UAM) solutions.
"Our aim is to bring the public's voice to the table to create an ecosystem that better prepares cities and city dwellers for autonomous and electric aerial vehicles in a way that takes into account their desires, hopes and fears." Jessie Mooberry, Airbus UTM Head of Deployment
But how ready are people to see their sky filled with even more aerial vehicles-of various shapes and sizes-zipping around above their heads?
A recent preliminary study on UAM public acceptance addresses that very question. Airbus UTM, a division of Airbus' Urban Air Mobility Unit, conducted the study-surveying 1,540 people from Los Angeles, Mexico City, Switzerland and New Zealand-to determine their perceptions on safety, noise, inequity, visual pollution and privacy in relation to UAM deployment. This deployment component, known as unmanned traffic management (UTM), is critical to making UAM a reality because it regulates how new aerial vehicles (air taxis, delivery drones, etc.) can safely enter and share our future skies.
According to the study, nearly one in two people surveyed are in favour of UAM deployment. In fact, 44% indicate they support, or strongly support, the initiative.
The findings also reveal that 41% of participants perceive these aerial vehicles to be safe or very safe. Moreover, safety (55%) ranks as participants' leading concern for UAM implementation in their communities, followed by sound types (49%) and sound volume (48%) generated by the aerial vehicle.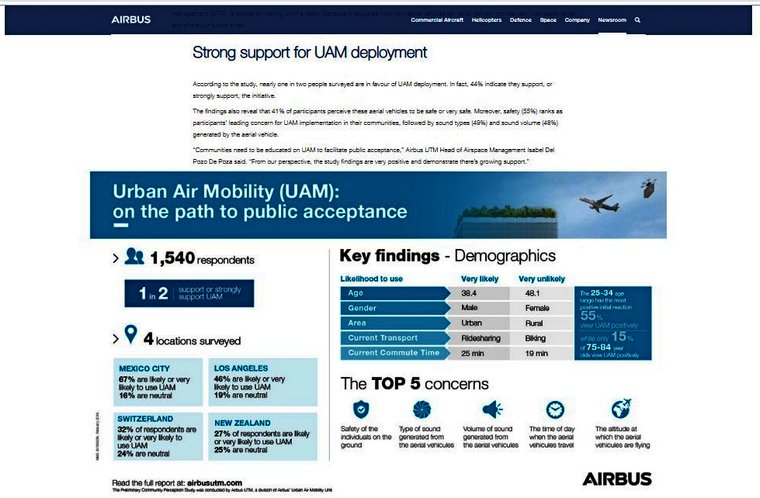 "Communities need to be educated on UAM to facilitate public acceptance," Airbus UTM Head of Airspace Management Isabel Del Pozo De Poza said. "From our perspective, the study findings are very positive and demonstrate there's growing support."


Algeria, Aun Beida Airport: A Beechcraft 1900D operated by Tassili Airlines suffered a left-hand main landing gear collapse while landing at Ain Beida Airport, in Ouargla, Algeria. The aircraft sustained unknown damage and there were no injuries between the 16 occupants on board.
Cote d'Ivoire, North of Abidjan: A Airbus A380-861 operated by Air France with 501 on board en-route from Abidjan-Felix Houphouet Boigny Airport to Paris-Charles de Gaulle Airport was climbing to the cruising altitude shortly after midnight when one of the engines failed. The flight crew decided to return to Abidjan, where a safe landing was made. The engine had suffered a compressor stall causing damage to several fan blades as well as damage to the interior of the engine cowling.
UK, London Stansted: A Laudamotion Airbus A320-200 was accelerating for take-off from Stansted for a flight to Vienna (Austria) when the crew rejected take-off after a loud bang was heard. The aircraft stopped about 270 meters/890 feet down the runway. An emergency evacuation via slides was performed. Eight passengers received minor injuries as result of the evacuation. A ground observer reported a streak of flames came out of the left hand engine followed by white sparks just when the aircraft had moved a few meters.
USA, Presque Isle: A Commutair Embraer ERJ-145 with 28 passengers and 3 crew on board operated on behalf of United, on a flight from Newark was on final approach to Presque Isle's Airport when the crew initiated a go around from about 2000 feet MSL. The aircraft positioned for another approach to runway 01 and continued for a hard touch down. The aircraft veered right off the runway, all gear collapsed. A pilot and three passengers received minor injuries, the aircraft sustained substantial damage.
Colombia, Villavicencio: A Laser Aereo Colombia Douglas DC-3 on a flight from San Jose del Guaviare to Villavicencio with 14 people on board, was on approach to Villavicencio when the crew declared an emergency. The aircraft subsequently lost height and impacted ground at La Bendicion about 2.2nm south of the aerodrome and burst into flames. All occupants perished in the accident.
Guatemala, Escuintla: A North American T-28B operated by Strong Tower Services LLC crashed during an aerial show. The pilot was injured, and the mechanic was killed. The aircraft damaged beyond repair.


13 MARCH 1967

South African Airways Flight 406, a Vickers Viscount 818, crashes into the sea while on approach to East London, South Africa, killing all 25 passengers and crew on board. The pilot of the plane suffered a fatal heart attack while on approach and the co-pilot was unable to regain control of the aircraft.

South African Airways Flight 406, also known as the Rietbok Crash, was a scheduled passenger flight on 13 March 1967 that crashed into the sea on approach to East London, South Africa. The air accident report speculated, without supporting evidence, that the pilot of the plane suffered a heart attack while on approach and the co-pilot was unable to regain control of the aircraft.
Captain Lipawsky's day started with a flight departing from Johannesburg in the afternoon on a flight to Port Elizabeth with stopovers in Bloemfontein and East London. After take-off from Jan Smuts Airport (now O. R. Tambo International Airport), the front nose wheel would not retract due to mechanical malfunction. The aircraft returned to the airport and repaired, and the same plane was used to continue the flight.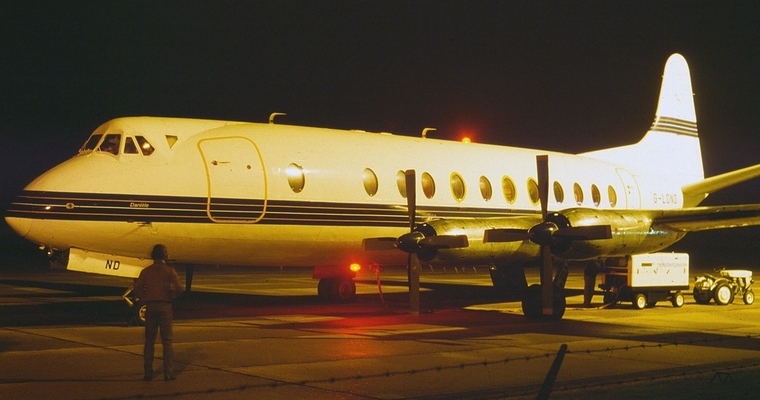 Photo © Peter Bakema/commons.wikimedia.org

At 4:41 pm GMT, Flight 406 took off from Port Elizabeth, and a 4:58 GMT, a weather report for East London was given. Acknowledgement of receipt of the weather report was given a minute later, and the pilot further requested descent clearance from flight level 90 (about 9,000 feet), which was granted. Air traffic control at East London requested the pilot to radio when he passed 4,500 ft. The pilot was recorded at Port Elizabeth tower saying that he was descending through 4,000 ft, seaward of the coastline and about 20 miles away from landing at 5:06 pm GMT.
The pilot was made aware that lights for both runways were on, but runway 10 was not available due to poor visibility. At 5:09 pm GMT (estimated), the pilot radioed to say he was at 2,000 ft and had the coast in sight. After this transmission, the plane was not heard from again.
The rescue attempt and later investigation were complicated by the plane crashing into the sea at night. The investigators were unable to recover the plane or the bodies of the passengers. The official investigation believed the plane was airworthy at the time it hit the water. Since the aircraft was airworthy, the investigation concluded the accident had two possible causes. The most likely cause was the pilot having a heart attack and the co-pilot being unable to recover the plane before it crashed.
The original report admitted the accident could have occurred due to spatial disorientation of the pilot, but believed that this was unlikely due to the pilot's experience level.
Judge Cecil Margo, one of the original investigators, later stated in his memoir 'Final Postponement' that he believed the plane crashed due to separation of the wing. At the time of the crash four Vickers Viscounts had been lost in crashes, two due to structural failure, and two over water with unknown cause. Another Viscount was lost over the sea on its way to Ireland, and yet another was lost over land in Australia. The crash in Australia allowed investigators to find the cause of in-flight disintegration, a failed wing spar.