American Aerobatic Ace Skip Stewart was introduced to aviation by his crop duster grandfather. Skip was fourteen when he went to his first airshow where he watched the great Leo Loudenslager performing his high power aerobatic display. Skip's interest in aerobatics was born.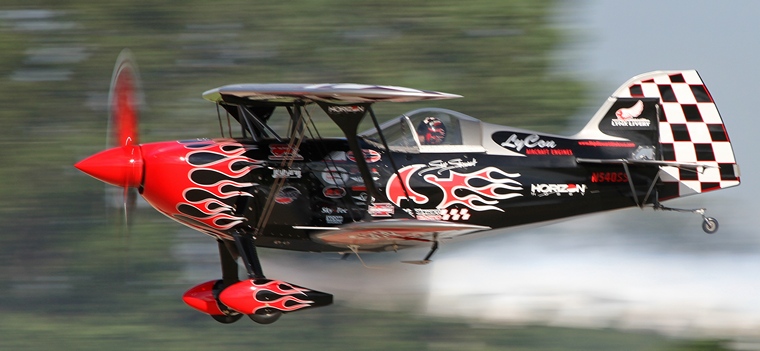 While attending Middle Tennessee State University where he graduated with a major in Aerospace Administration, he acquired his Private, Commercial, Multi-engine, CFI, CFII and MEI licenses. Skip instructed until he graduated and started his career in aviation with Northwest Airlink flying as a first officer for 15 months. He then moved to a UPS feeder for six months before being appointed as Captain by the Southern Company flying King Air, Citation II and Citation V aircraft.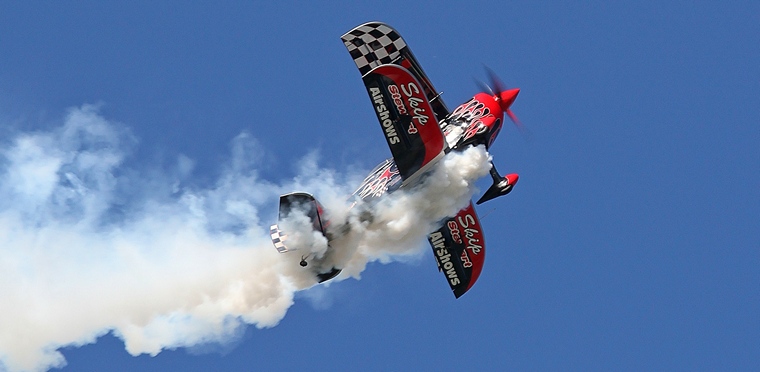 Stewart had flown RC model aircraft for many years and was very familiar with aerobatics and at age nineteen, he flew an aerobatic aircraft for the first time, a Bucker Jungmann with his friend Chris Woodward.
Stewart's first airplane was a 1976 Pitts S-2A which he sold in 2000 to buy a 1979 Pitts S-2S. He spent several off seasons modifying this aircraft into what would eventually become the original version of his trademark Prometheus muscle biplane. In 2011 he bought a second aircraft, another 1979 Pitts S-2S and used its airframe to build a second airshow aircraft, which he named Prometheus 2 (P2). The original Pitts is now referred to as P1.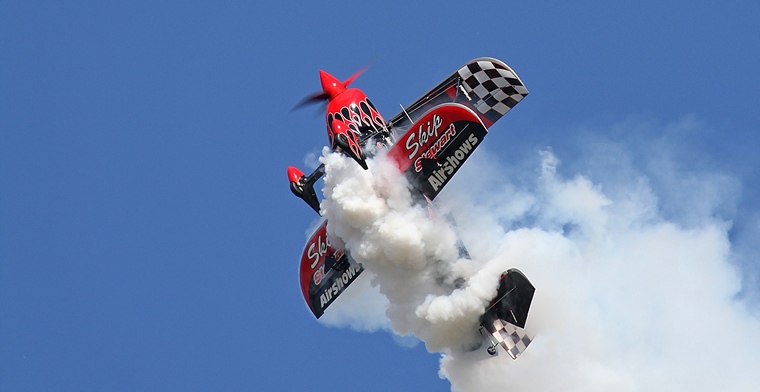 Prometheus the flying machine is part Pitts Special and the rest Skip and Christina Stewart. Starting life as a Pitts S-2S, Prometheus was modified to give Skip the airshow machine he wanted. This flying machine looks like a good old American hot rod. The horsepower was increased to 400, the big three bladed prop reminds you of oversized racing slicks, the rear canted landing gear makes it look fast sitting on the ground and the paint job yells "street rod." With a climb rate of 4,000 fpm, max speed of 197 mph, a stall speed of 58 mph, an empty weight of 1146 lbs and range of 405 miles - this is an all muscle bi-plane.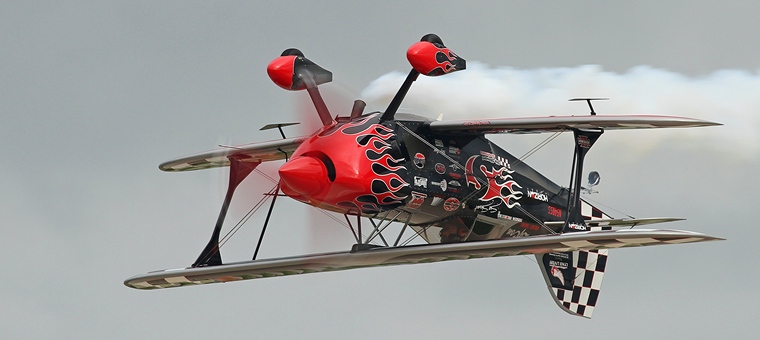 The aircraft are highly customized in order to achieve superior aerobatic performance. Both have custom wings, tails, cowlings, engines, propellers, landing gear, instrument panels, fuel tanks and even seat belts. The only stock components on the two aircraft are the horizontal stabilizers. The engines produce 400 hp (compared to the 260 hp of the stock S-2S), and the aircraft are capable of +12 and -7 G, more than twice the G-limit of the stock variant.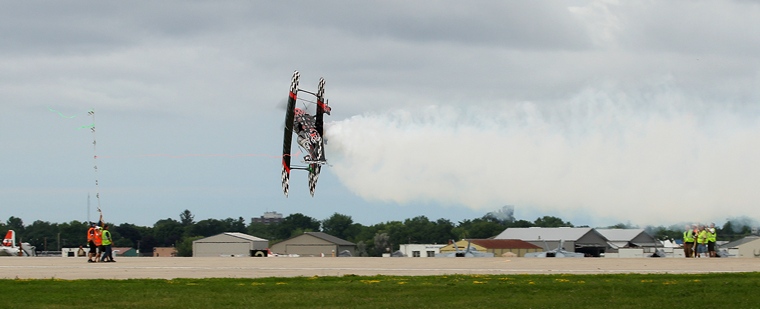 Skip Stewart is best known for his high-energy aerobatics routine which includes very low and slow knife-edge passes. His performances most often involves transitioning into slow knife-edge flight immediately after take-off, followed by an outside-banked turn as he sets up for his routine. The performances themselves involve extreme positive and negative G manoeuvres, utilizing the full performance and manoeuvring envelopes of his aircraft. He is known for performing a double ribbon-cut, in which he slices the first (upper) ribbon with his aircraft's vertical tail while in inverted flight, and the second (lower) ribbon with his lower wing while in sustained knife-edge flight. Stewart's showmanship typically continues till the very end of his performances, as he lands on one wheel and then performs smoking doughnuts on the taxiway.
He also entered in several aerobatic competitions during this time, winning many Gold Medals in regional competitions. He won two Pitts Trophies (Awarded to the highest scoring Pitts pilot in any category) and was crowned the South Eastern Aerobatic Champion in the Intermediate category in 2000 (the only contest he flew in his stock Pitts S-2S)[2] Stewart was honoured as the recipient of the 2013 Bill Barber Award for Showmanship, given to one pilot per year for demonstrating superior showmanship. Stewart states that he was honoured and humbled to receive the award and that is the most prestigious award he has ever received. The award recipient is voted on by previous recipients of the award.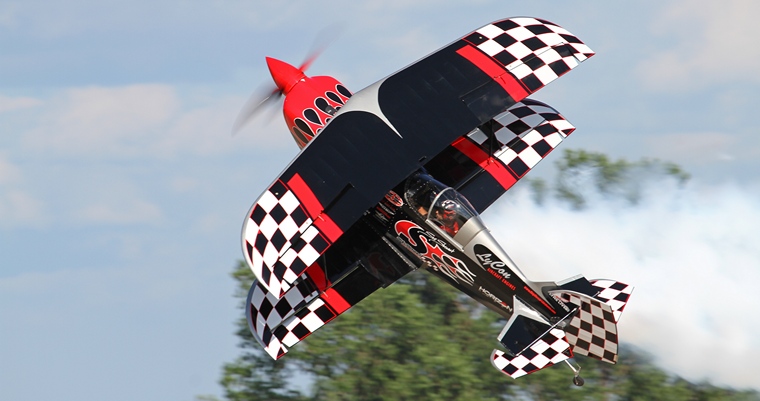 In addition to his airshow routines, Stewart makes it a point to make himself available to airshow fans and enthusiasts and enjoys interacting with the crowd. He trains hard in order to maintain the physical fitness required to withstand the intense stress of high-G flight. Even though he jokingly refers to himself as "Piloto Loco", he emphasizes that safety is always the first priority, and must be balanced with entertainment.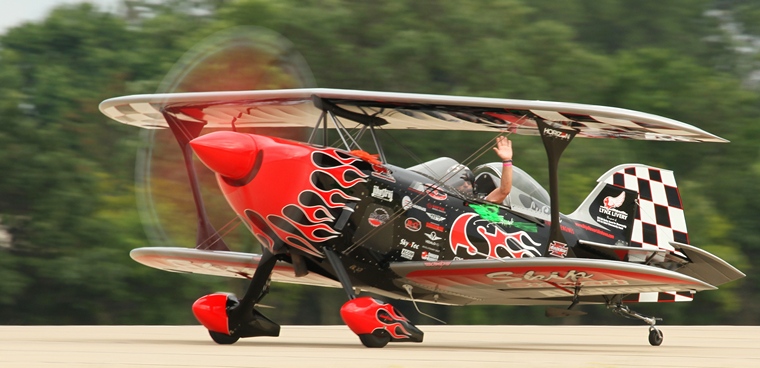 As the recipient of the 2013 Bill Barber Award for Showmanship and the 2015 Art Scholl Award, Skip Stewart has proven to be one of the most entertaining Airshow pilots in the world today.