THIS WEEK IN MIDWEEK UPDATE

Plan Your Weekend……..Forthcoming Events…….Aviation News

Worldwide Incidents and Accidents……This Week in Aviation History





23: FASHKOSK at Stellenbosch airfield. Contact Anton Theart Cell: 079 873 4567 E-mail:
gm@stelfly.co.za
3rd Saturday of every month. Microland. Bring and braai. Fires and bykos provided. Fires start from 09h30. Contact person: Nick Swardt 082 441 8011 or Alan Hussey 072 82 2341
23: SAPFA Virginia Fun Rally - Virginia Airport. Contact Mary de Klerk cell: 084 880 9000 e-mail:
maryd@expandingbranding.co.za


3: EAA Chapter 322 meeting. Dicky Fritz Moth Hall Edenvale. Contact:
ronellathome@telkomsa.net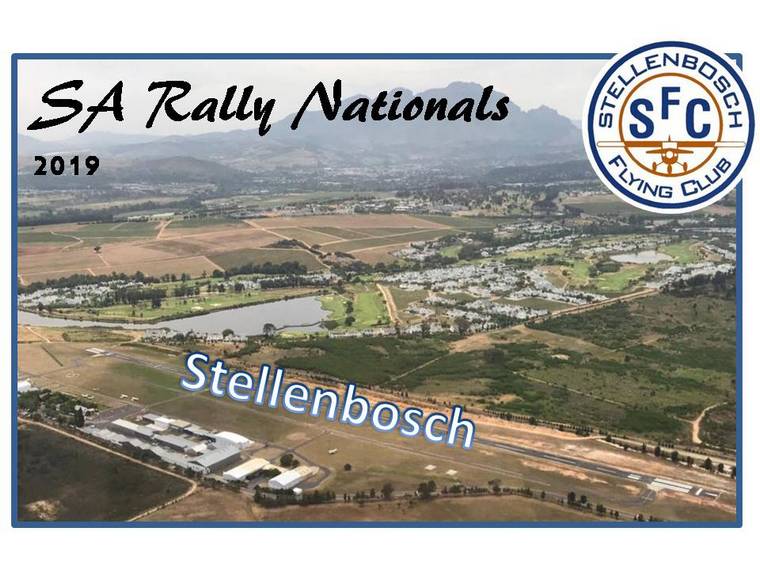 4-6: SAPFA Rally Nationals & Fun Rally - Stellenbosch Airfield. Contact
frank.eckard@mweb.co.za
Tel: 083 269 1516 or
cally.eckard@mweb.co.za
Tel: 079 695 3668. The highlight of the Rally year is that this is the competition from which the SA Rally Team will be chosen. However, in preparation for the 2020 World Rally Flying Competition, which will be held in Stellenbosch, we urge all interested pilots and navigators to take part, particularly teams who have done a few rallies now and would like to step up to the next level. A Fun Rally will be held on Saturday 6 April for those who are not brave enough to take part in the main competition. Please enter online at
www.sapfa.co.za
6: Coves Fly in Carnival: All aircraft types are welcomed to visit for the day as long as they abide by the Coves Aero Club rules, approach procedures and the indemnity requirements laid out on www.thecoves.co.za, or available from
admin@thecoves.co.za
. All arriving aircraft must complete on their arrival an indemnity forms by no later than the 5th of April to gain access to our private airfield. Please email all forms confirming your understanding and possession of the rules of the day to The Coves Aero club chairman. JP Fourie, at
aviation@thecoves.co.za
.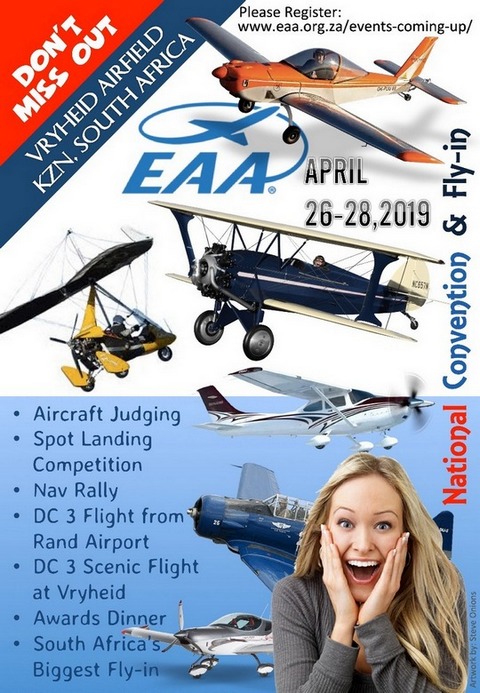 6: Robertson Annual Breakfast fly in. Contact Alwyn du Plessis cell: 083 270 5888 e-mail:
boeredata@breede.co.za
6: SAAF Museum AFB Zwartkop open practise day. Officer Commanding Museum
oc@saafmuseum.org.za
012 351 2290
6: SAAMA Pre-Nationals RC Pylon Racing at RMAC. To enter for the event go to
www.pylonracing.co.za
13: Uitenhage Festival. Contact Lourens Kruger e-mail:
lmk@telkomsa.net
cell: 082 320 2615
4-14: Stars of Sandstone Ficksburg, Eastern Free State. Visit
www.starsofsandstone.com
10-13 April: AERO Friedrichshafen, Germany Global show for General Aviation. Contact Stephan E-mail:
stephan.fischer@messe-fn.de
19: Witbank Aeronautical Association fly-in Easter breakfast. Contact Robert Clark for more information.
Comms@flywaa.co.za
26-28: EAA National Convention Vryheid KZN. Contact Marie Reddy 083 259 7691 Register at:
www.eaa.org.za/events-comin-up/
27: SAPFA EAA Convention Adventure Rally - Vryheid. Contact Rob Jonkers cell: 082 804 7032 e-mail:
rob@aerosud.co.za
27 & 28: SAC Judges Trophy venue TBA. Contact Annie Boon e-mail:
chunge@mweb.co.za


1: EAA Chapter 322 meeting. Dicky Fritz Moth Hall Edenvale. Contact:
ronellathome@telkomsa.net
2-5: SAPFA President's Trophy Air Race - Saldanha Airfield. Contact Rob Jonkers 082 804 7032 e-mail: chairman@sapfa.co.za. Website:
www.sapfa.co.za
e-mail:
Race@sapfa.org.za
4: SAAF Museum airs how at AFB Zwartkops. Contact Officer Commanding e-mail:
oc@saafmuseum.org.za
Tel: 012 351 2290
11-12: NAC Bush Weekend at Letsatsi Game Reserve. Deon 082 458 5719, Deneys 082 891 4354 or JP 083 625 4804.
10 & 11: Lowveld airshow at Nelspruit airport. Contact Monica Fourie Tel: 083 619 3597 e-mail:
monica.fourie@kishugu.com
10-12: Battlefields Fly-in. Contact Dave O'Halloran e-mail:
gm@battlefiedslodge.co.za
14-17: NAMPO Agricultural Trade Show near Bothaville, Free State. Contact Wim Venter Tel: 086 004 7246 e-mail:
Wim@grainsa.co.za
18: SAPFA Sheila Taylor Fun Rally - Krugersdorp Airfield> Contact Frank Eckard cell: 083 269 1516 e-mail:
frank.eckard@mweb.co.za
19 & 20: SAC Free State Regionals at Tempe Airport. Contact Annie Boon e-mail:
chunge@mweb.co.za
25: Botswana International Airshow Matsieng Aerodrome (FBMA). Contact Hentie de Wet e-mail:
hentie@dwddrilling.com
26: Springs Airfield MU Fly in. Contact Fanie 083 789 5507 or Gerhard 082 771 3329.


8: Bethlehem Speed Rally - Bethlehem Airfield - Contact Jonty Esser e-mail:
jonty@promptroofing.co.za
cell: 082 855 9435
10: World Precision Flying Championships - Castellon Spain - Contact Hans Schwebel e-mail:
hans.s@britsgranite.co.za
cell: 082 656 3005
12-15: Zimbabwe Air Rally. Mel Cooper cell: + 263 773 218426 e-mail:
zimairrally@gmail.com
17-23: 53rd Paris Air Show. Contact E-mail:
expo2019@siae.fr
Website:
www.siae.fr
22: SAPFA Vintage Rally - Krugersdorp Airfield
22: Mafikeng Airshow. Contact Reliable Mofokeng e-mail:
reliablemofakeng@gmail.com
cell: 073 837 0162
22: Reefsteamers train, plane and vintage car event from Krugersdorp to Magalies. Contact Ian Morrison e-mail:
imorison@worldonline.co.za
23-28: South African Hot Air Balloon Championships. Bill Harrops, Skeerpoort North West Province. Contact Richard Bovell e-mail:
chairman@bafsa.co.za
27-30: SAC National Championships Malelane airfield. Contact Annie Boon e-mail:
chunge@mweb.co.za
27-30 June: Race 4 Rhinos - Sua Pan Botswana
CANCELLED





The Aviation Radio Show; get all your questions answered in one place. To listen to a recording of the live broadcast click on the link:
www.debela.co.za/aviation-radio-show






CRAIG RALPHS, SOLE SOUTH AFRICAN DISTRIBUTOR OF VUPLEX CLEANING AGENTS FOR AVIATION


Welcome to our farming community nestled in the rolling hills of Richmond, Natal and our lives.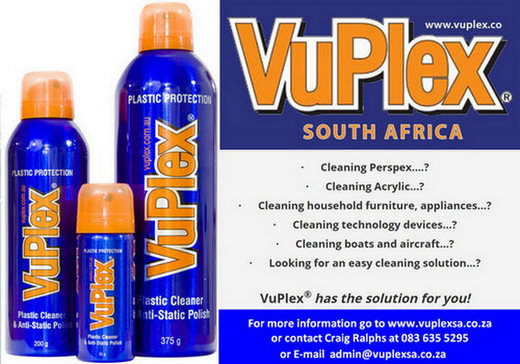 My wife and I live in a quaint farm house situated at an unmanned airfield with a grass runway. We are avid aviation enthusiasts, so much so, that within crawling distance from our house is the hangar for our airplane, this is a life of Peace and Tranquillity!
During the week I lead a Training and Development Team for a large financial institution. My wife, assists in a charming little garden coffee shop, called "The Hangar" also at the airfield which is also only a few paces from our home. At weekends we are active members of the flying community, this is where our passion lies. And in a past life, I volunteered for the NSRI (National Sea Rescue Institute) as we lived near the beach and had fun in the sun while also caravanning as a family.
So you may ask, how did our family and friends get hooked on this amazing cleaning product VuPlex®. Well, 12 years ago we became the proud owners of an airplane and so the upkeep began to keep her in pristine condition. We researched cleaning agents for aviation, that's when we happened upon VuPlex® and so impressed by the product, we continued to use it. Other avid aviation enthusiasts noticed how well maintained our aircraft was and began asking questions about the cleaning agents we use. When we ran out of supplies from our initial purchase as we shared and encouraged others to use this amazing cleaning solution we now needed to purchase more. When we came to refill our stock, the South Africa (SA) distributor was no longer in business.
We soon successfully sourced the Australian holding company who manufactures the product, and are proud to say we are now the sole South African (SA) Distributor. We have a far ranging reach through our online presence. While having an online presence, VuPlex® is also stocked in several select retail outlets in Johannesburg, Pretoria and Durban.
As you can see through our journey using this product there is an opportunity anywhere and everywhere to use VuPlex®or to recommend it to others. We hope you've enjoyed our story and we hope to meet you online or in our online store at
www.vuplexsa.co.za
Kindest regards
Craig Ralphs

ATP FLIGHT SCHOOL ACCEPTS DELIVERY OF EIGHT PIPER ARCHERS TO SUPPORT AMERICAN AIRLINES CAREER PATH THROUGH ENVOY AIR


ATP Flight School has accepted delivery of eight Archer TXs from Piper Aircraft - the largest single Archer delivery to-date for ATP. These aircraft are part of a deal between Piper and ATP, announced last year, for the purchase of up to 100 of the single-engine trainers. With a retail value of $37 million, this fleet order is ATP's second, with 114 Archers already in operation. Photo © AOPA

"Piper Aircraft is proud of our continuous partnership with ATP Flight School. The well-rounded pilot training curriculum offered by ATP combined with advanced Piper training aircraft with the latest in Garmin avionics continues to strengthen ATP's stellar reputation for providing well-trained pilots who are prepared for the demands of the aviation industry," said Simon Caldecott, Piper President and CEO.
All eight of the newly delivered, Garmin G1000 NXi equipped aircraft will be placed into service at ATP's Dallas locations, training future American Airlines pilots through the Envoy Air Cadet Program. In this program, Envoy Air - American's largest regional carrier - offers ATP students an accelerated path to a pilot career at the legacy airline, with a flow-through agreement and financial assistance. ATP is the largest participant in the Envoy Air Cadet Program.
"ATP has placed over 500 pilots with Envoy Air and has the most pilots enrolled in the Cadet Program. Our students and instructors recognize ATP as the most efficient path to a pilot career at American Airlines," said Justin Dennis, ATP President. "We are proud to make this investment to support our students' and instructors' success and to support the pilot supply for Envoy and American."
This recent delivery is one of many for 2019, with 22 additional Piper Archers scheduled for delivery to ATP through the end of the year.

TBM 930 COMPLETES PARIS-NEW YORK RECORD FLIGHT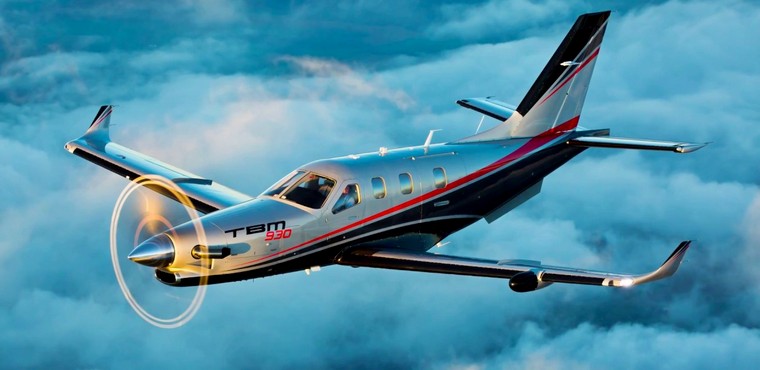 A Daher TBM 930 turboprop single piloted by Dierk Reuter and Phil Bozek completed a record-setting flight from New York to Paris on Saturday in an attempt to break a speed record held since 1985 by famed test pilot Chuck Yeager. The record must be verified by organizations such as the National Aeronautics Association and the Fédération Aéronautique Internationale. Photo © TBM.

The flight departed Westchester County Airport (HPN) in White Plains, New York, on Saturday shortly after midnight local time and landed at Le Bourget Airport (FPB) in Paris about 8 hours 35 minutes later. Pilots Reuter and Bozek worked with officials on both sides of the Atlantic in preparation to attempt to beat the record in the C1e category (turboprop aircraft with an mtow of less than 13,200 pounds/6,000 kg).
The aircraft, owned by Reuter, was fitted with an additional fuel tank to carry another 300 gallons of jet fuel. This brought total usable fuel to 600 gallons, providing more than 10 hours of flight time. The FAA provided a permit to allow for a take-off weight of 9,500 pounds, which is an increase from the TBM 930's certified mtow of 7,398 pounds. Further, the aircraft was equipped with an Iridium Go! in-flight tracking device.

CUTTING-EDGE INNOVATION AT AIRVENTURE 2019'S NEW URBAN AIR MOBILITY SHOWCASE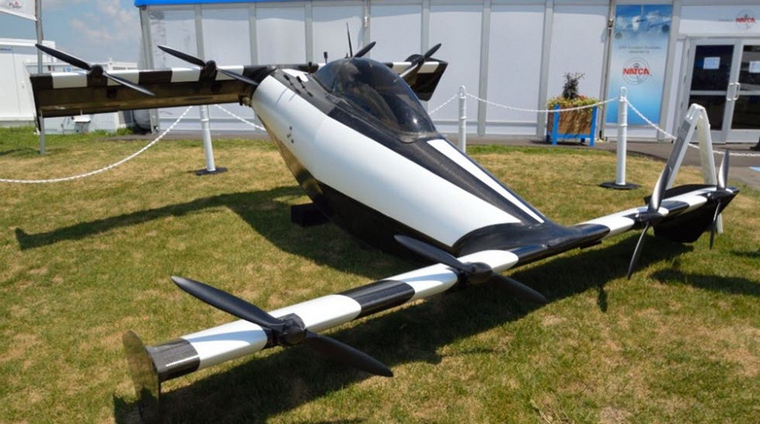 EAA AirVenture Oshkosh, long known for showcasing the latest flight technology, welcomes cutting edge innovation to this year's event with the addition of the Urban Air Mobility Showcase as part of the World's Greatest Aviation Celebration. Photo © AirVenture

Sponsored by TransportUP - The Latest News for Urban Aviation, EAA's Urban Air Mobility Showcase will highlight autonomous air vehicles, hover bikes, personal air vehicles, and leader VTOLs (vertical takeoff and landing vehicles). There are also scheduled speakers, forums, and an executive roundtable that brings industry leaders together to discuss the rapid evolution of this technology.
"The world of flight is continually advancing and Oshkosh has been the site where innovations have been showcased for a half-century," said Dave Chaimson, EAA's vice president of marketing and business development. "Urban air mobility and the next wave of experimental aircraft are moving forward at a breath taking rate, with ideas, investments, and possibilities emerging that will change the way we transport ourselves. TransportUP's support allows EAA to bring these technologies and concepts to the worldwide audience that attends AirVenture each year."
The Urban Air Mobility Showcase is one of the four featured areas at EAA's Aviation Gateway Park, which also encompasses the Innovation Showcase, the Education and Career Center, and a forum pavilion. The focus throughout Aviation Gateway Park is on innovation and possibilities within the world of flight.
"Oshkosh has long been synonymous with showcasing innovation and progress in aviation," said Naish Gaubatz, editor of TransportUP. "It's the perfect place to introduce the exciting breakthroughs in Urban Air Mobility that are on the horizon, and given TransportUP's close connection to this community, AirVenture is an ideal location for the support and showcase of this technology from new and existing aviation partners."

TEXTRON AVIATION HIGHLIGHTS MARKET-LEADING PRODUCTS AND DIVERSE SOLUTION CAPABILITIES AT AVALON 2019



Textron Aviation Inc., a Textron Inc. (NYSE:TXT) company, announced its attendance at this year's Australian International Airshow and Aerospace & Defense Exposition (Avalon), Feb. 26 to March 3 in Geelong, Victoria, Australia with a versatile array of products and solution capabilities. Photo © Cessna

The company's slate for the event includes static displays and demonstrations of the Cessna Citation Latitude and Cessna Citation CJ3+, as well as additional displays of the Cessna Grand Caravan EX, Cessna Skylane and a Beechcraft King Air 350 flown by the Royal Flying Doctor Service of Australia South Eastern Section.
"The vast landscape of Asia-Pacific demands a variety of airborne capabilities, and the Textron Aviation fleet of jets, pistons and turboprops is perfectly suited to meet the diverse needs of our customers, from flight schools to special missions operators," said Jessica Pruss, vice president, Asia-Pacific Sales. "Our robust product lineup continues to lead the region, with nearly 2,000 of our aircraft in service."
With more than 1,400 jet and turboprops based throughout Asia-Pacific, Textron Aviation aircraft make up the region's largest active fleet.
The company's jet platforms provide Australian pilots and operators with short-field performance, cutting-edge avionics and large interiors customizable for business and special missions utilization. The 1,800-nautical mile-range Citation CJ3+ can fly nonstop with four passengers from Melbourne, Australia to Auckland, New Zealand, as well as large regional hubs like Cairns, Australia.
The Citation Latitude delivers a four-passenger range of up to 2,700 nautical miles, pairing Melbourne, Australia with Asia-Pacific destinations such as Papua New Guinea and Fiji.
"Textron Aviation jets represent 40 percent of the overall jet fleet in Australia, and as business aviation continues to expand in the country and throughout Asia-Pacific, it's essential that we provide a broad range of solutions that meet the needs of our growing customer base," Pruss said. "The Latitude's ability to access smaller airfields while providing a large cabin that elevates the passenger experience, is ideally suited for the region. We're eager to showcase the jet's class-leading features and capabilities at Avalon."
Also showcased at this year's event are the Cessna Skylane, Cessna Grand Caravan EX and the Beechcraft King Air 350, aircraft representing Textron Aviation's flight training and special missions capabilities. Today, more than 1,000 Beechcraft and Cessna turboprops are based and operating throughout Asia-Pacific. The aircraft are recognized in the region for their superior reliability, rugged performance and payload capacity, making them ideal platforms for cargo, Medevac, surveillance and charter missions.
JPA'S RECREATIONAL SPEEDER-THE WORLD'S FIRST FLYING MOTORCYCLE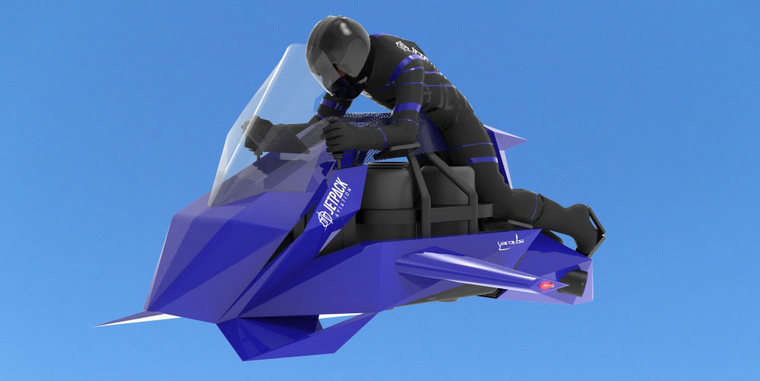 JPA is developing a recreational version of the SpeederTM and is taking pre-orders now! Flying the Recreational SpeederTM will be just like riding a motorcycle but in the sky! Image © JPA Speeder

The recreational SpeederTM will be the first turbine powered, fully stabilized vertical take off and landing (VTOL) personal aircraft ever built. Being fully stabilized means that minimal pilot training will be required. It will take off from practically anywhere and will fly at over 150 mph*
It will also fly at up to 15,000ft but we don't expect many of our customers to need this!
We plan to build two versions of the Recreational SpeederTM: The Ultralight Version and the Experimental Category Version.
The Ultralight Version (UVS) will not require a pilot's license to operate - all training will be provided by JPA or one of our authorized training centers. The Ultralight version will be limited to carrying 5 gallons of fuel and to 60 mph flying speed.
The Experimental Version (EVS) will require a private pilot's licence to fly and will have no fuel or speed restrictions. As the owner/pilot of the EVS we will host you in our manufacturing facility and you will be part of the aircraft completion process. This will satisfy the FAA rules around Experimental aircraft production.

DRONE LIGHT SHOW RETURNS TO ILLUMINATE NIGHT SKY AT AIRVENTURE 2019

The dazzling drone light show that made its debut at EAA AirVenture Oshkosh last year is returning in 2019, with more than 100 lighted drones taking flight during the night air shows on July 24 and 27 during the World's Greatest Aviation Celebration.

The night air shows have become a favourite of the weeklong event, featuring a new perspective on the precise flying skills displayed by aerobatic pilots.
The AirVenture 2019 demonstrations will expand on the 2018 debut by Great Lakes Drone Company, based in Watervliet, Michigan. The company is one of just two U.S. companies authorized by the FAA for such displays.
"EAA and Great Lakes Drone Company worked closely with the FAA to make this pioneering and innovative event possible in 2018, and we're aiming for even bigger things this year," said Dave Chaimson, EAA's vice president of marketing and business development. "What makes this event especially memorable are the intricate maneuvers that are capable by more than 100 synchronized drones, highlighting the possibilities of safe and responsible drone flying."
Great Lakes Drone Company has done numerous drone shows as stand-alone highlights at events and has been invited to additional air shows after last year's performance at Oshkosh. During AirVenture, the LED-equipped drones will perform a 10-minute custom-designed "The History of Flight" show complete with musical accompaniment. The company will also exhibit during AirVenture in the Main Aircraft Display area, giving an opportunity for attendees to engage throughout the week with the drone operators and software developers.
"Through the combined efforts of EAA, the FAA, and Great Lakes Drone Company, last year we made history in the infancy of the commercial UAS industry by incorporating a commercial UAS operation into an active air show performance," said Matt Quinn, president of the Great Lakes Drone Company. "We cannot imagine a more appropriate venue to perform with our self-built fleet at the home of homebuilt aviation. EAA AirVenture will be forever our 'air show home' where together we push the boundaries of aerial entertainment. Like any other aerial performer returning to Oshkosh, we will be doing it bigger, better, and providing the audience an experience of a lifetime!"
The EAA AirVenture Oshkosh night air shows begin at 8 p.m. on July 24 and July 27, and are included with AirVenture admission. Announced schedules are subject to change based on weather or operational conditions.


Mexico, near San Pedro Peralta, Chetumal: A HS-125-700 jet on an illegal flight with false registration numbers and with 200kg of cocaine on board sustained substantial damage in an apparent forced landing in a jungle area near San Pedro Peralta, Mexico. One of the two pilots was killed, the other sustained serious injuries.
Maldives, Kaadedhdhoo: A Maldivian de Havilland Dash 8-300 from Male to Kaadedhdhoo (Maldives) with 44 people on board was on approach to Kaadedhdhoo when the crew did not receive indication all gear was down and locked. The crew went around and entered a hold at 3000 feet for about 30 minutes, performed a low approach to have the gear inspected from the ground, which confirmed the nose gear had not extended, gear doors were closed. The crew performed an alternate gear extension, flew another low approach and subsequently positioned for a full stop landing. The aircraft landed safely on Kaadedhdhoo's runway 10.
UK, London's Gatwick Airport: A chartered flight from Barbados to London's Gatwick Airport was met by emergency services and authorities on arrival after passengers and crew reported feeling un-well mid-flight. As a precaution, the aircraft was quarantined and those on board were taken to a reception area to be examined by ambulance service personnel. Travelers on the aircraft had come exclusively from a cruise ship, the MSC Preziosa. The illness seems to have originated on board [the] ship, not the plane. All passengers have since continued their onward journeys.
China, Zhuhai: A China Southern Boeing 737-800 with 138 passengers was accelerating for takeoff from Zhuhai for a flight to Changde when the crew received multiple fire indications for at least one engine and the APU. The crew rejected takeoff at high speed. The aircraft slowed safely and came to a stop about abeam the terminal buildings about 1800 meters/5900 feet down the runway. An emergency evacuation was performed via slides. No injuries are being reported, emergency services found no trace of undue fire, heat or smoke.
Philippines, Kalibo: A Far Eastern Air Transport McDonnell Douglas MD-83 with 122 people on board on a flight from Taipei (Taiwan) to Kalibo (Philippines) , landed at Kalibo's and rolled out safely. However, when the aircraft attempted to turn around to backtrack to the terminal, the aircraft's nose gear went off the paved surface of the runway, the aircraft became disabled. The aircraft needed to be towed back onto paved surface and to the apron.



18 MARCH 1965

Cosmonaut Aleksei Leonov, leaving his spacecraft Voskhod 2 for 12 min, becomes the first person to walk in space.


Russian Alexey Arkhipovich Leonov born on 30 May 1934 was one of the 20 Soviet Air Force pilots selected to be part of the first cosmonaut group in 1960.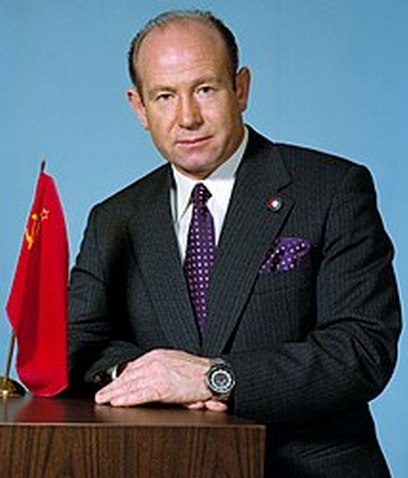 His walk in space was originally to have taken place on the Voskhod 1 mission, but this was cancelled, and the historic event happened on the Voskhod 2 flight instead. He was outside the spacecraft for 12 minutes and nine seconds on 18 March 1965, connected to the craft by a 5.35-metre (17.6 ft) tether.
At the end of the spacewalk, Leonov's spacesuit had inflated in the vacuum of space to the point where he could not re-enter the airlock. He opened a valve to allow some of the suit's pressure to bleed off and was barely able to get back inside the capsule.
In 1968 Leonov was selected to be commander of a circumlunar Soyuz 7K-L1 flight. This was cancelled because of delays in achieving a reliable circumlunar flight. He was also selected to be the first Soviet person to land on the Moon, aboard the LOK/N1 spacecraft. This project was also cancelled.