THIS WEEK IN MIDWEEK UPDATE

Plan Your Weekend……..Forthcoming Events…….Aviation News

Worldwide Incidents and Accidents……This Week in Aviation History






This is to advise you of the upcoming 78th Annual General Meeting of the members of The Aero Club of South Africa. The details of this meeting are as follows:
Date: 23 April 2019
Time: 18h00 for 18h30
Place: EAA auditorium, Hurricane Ave, Rand Airport, Germiston

Available on the Aero Club website www.aeroclub.org.za are the following documents:
• The agenda
• The draft minutes of the last AGM no 77
• Proxy form
• Nomination form
• Council Members Election Process - extracts from the Constitution (given as part of the nomination form document)
Should you wish to place any items on the Agenda under General, please notify the Aero Club Office at office@aeroclub.org.za for inclusion.




28 March: General Aviation Hangar Talk with the SACAA Cape Town. RSVP to Mpho Ramoshaba Tel 011 545 1601 E-mail:
rasmoshabamm@caa.co.za
3 April: EAA Chapter 322 meeting. Dicky Fritz Moth Hall Edenvale. Contact:
ronellathome@telkomsa.net


4-6: SAPFA Rally Nationals & Fun Rally - Stellenbosch Airfield. Contact
frank.eckard@mweb.co.za
Tel: 083 269 1516 or
cally.eckard@mweb.co.za
Tel: 079 695 3668. The highlight of the Rally year is the competition, from which the SA Rally Team will be chosen. However, in preparation for the 2020 World Rally Flying Competition, which will be held in Stellenbosch. We urge all interested pilots and navigators to take part, particularly teams who have done a few rallies and would like to step up to the next level. A Fun Rally will be held on Saturday 6 April for those who are not brave enough to take part in the main competition. Please enter online at
www.sapfa.co.za
6: Coves Fly in Carnival: All aircraft types are welcomed to visit for the day as long as they abide by the Coves Aero Club rules, approach procedures and the indemnity requirements as laid out on www.thecoves.co.za, or available from
aviation@thecoves.co.za
. All arriving aircraft must complete on their arrival indemnity forms by no later than the 5th of April to gain access to our private airfield. Please email all forms confirming your understanding and possession of the rules of the day to The Coves Aero club chairman. JP Fourie, at
aviationdirector@thecoves.co.za
.
6: Robertson Annual Breakfast fly in. Contact Alwyn du Plessis cell: 083 270 5888 e-mail:
boeredata@breede.co.za
6: SAAF Museum AFB Zwartkop open practise day. Officer Commanding Museum
oc@saafmuseum.org.za
012 351 2290
6: SAAMA Pre-Nationals RC Pylon Racing at RMAC. To enter for the event go to
www.pylonracing.co.za
13: Uitenhage Festival. Contact Lourens Kruger e-mail:
lmk@telkomsa.net
cell: 082 320 2615
4-14: Stars of Sandstone Ficksburg, Eastern Free State. Contact
www.starsofsandstone.com
10-13 April: AERO Friedrichshafen, Germany Global show for General Aviation. Contact Stephan E-mail:
stephan.fischer@messe-fn.de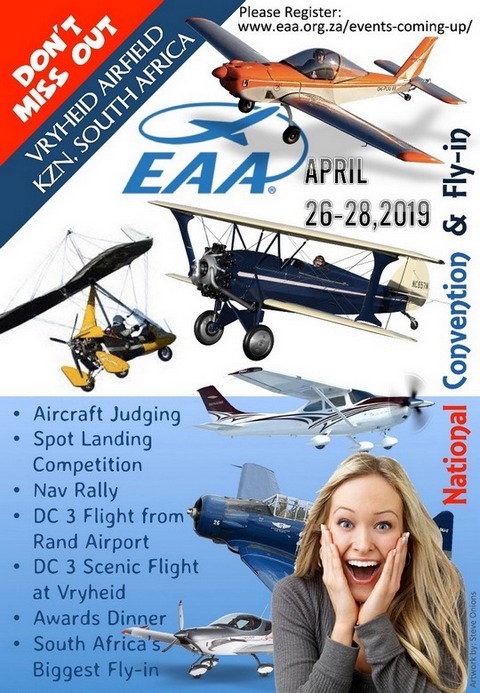 19: Witbank Aeronautical Association fly-in Easter breakfast. Contact Robert Clark for more information.
Comms@flywaa.co.za
23: This is to advise you of the upcoming 78th Annual General Meeting of the members of The Aero Club of South Africa. The details of this meeting are as follows: Date: 23 April 2019. Time: 18h00 for 18h30. Place: EAA auditorium, Hurricane Ave, Rand Airport, Germiston
26-28: EAA National Convention Vryheid KZN. Contact Marie Reddy 083 259 7691 Register at:
www.eaa.org.za/events-comin-up/
27: SAPFA EAA Convention Adventure Rally - Vryheid. Contact Rob Jonkers cell: 082 804 7032 e-mail:
rob@aerosud.co.za
27 & 28: SAC Judges Trophy venue TBA. Contact Annie Boon e-mail:
chunge@mweb.co.za


1: EAA Chapter 322 meeting. Dicky Fritz Moth Hall Edenvale. Contact:
ronellathome@telkomsa.net
2-5: SAPFA President's Trophy Air Race - Saldanha Airfield. Contact Rob Jonkers 082 804 7032 e-mail:
chairman@sapfa.co.za
. Website: www.sapfa.co.za e-mail:
Race@sapfa.org.za
4: SAAF Museum airs how at AFB Zwartkops. Contact Officer Commanding e-mail:
oc@saafmuseum.org.za
Tel: 012 351 2290
11-12: NAC Bush Weekend at Letsatsi Game Reserve. Deon 082 458 5719, Deneys 082 891 4354 or JP 083 625 4804.
10 & 11: Lowveld airshow at Nelspruit airport. Contact Monica Fourie Tel: 083 619 3597 e-mail:
monica.fourie@kishugu.com
10-12: Battlefields Fly-in. Contact Dave O'Halloran e-mail:
gm@battlefiedslodge.co.za
14-17: NAMPO Agricultural Trade Show near Bothaville, Free State. Contact Wim Venter Tel: 086 004 7246 e-mail:
Wim@grainsa.co.za
18: SAPFA Sheila Taylor Fun Rally - Krugersdorp Airfield> Contact Frank Eckard cell: 083 269 1516 e-mail:
frank.eckard@mweb.co.za
19 & 20: SAC Free State Regionals at Tempe Airport. Contact Annie Boon e-mail:
chunge@mweb.co.za
25: Botswana International Airshow Matsieng Aerodrome (FBMA). Contact Hentie de Wet e-mail:
hentie@dwddrilling.com
26: Springs Airfield MU Fly in. Contact Fanie 083 789 5507 or Gerhard 082 771 3329.


8: Bethlehem Speed Rally - Bethlehem Airfield - Contact Jonty Esser e-mail:
jonty@promptroofing.co.za
cell: 082 855 9435
10: World Precision Flying Championships - Castellon Spain - Contact Hans Schwebel e-mail:
hans.s@britsgranite.co.za
cell: 082 656 3005
12-15: Zimbabwe Air Rally. Mel Cooper cell: + 263 773 218426 e-mail:
zimairrally@gmail.com
17-23: 53rd Paris Air Show. Contact E-mail: expo2019@siae.fr Website:
www.siae.fr
22: SAPFA Vintage Rally - Krugersdorp Airfield
22: Mafikeng Airshow. Contact Reliable Mofokeng e-mail:
reliablemofakeng@gmail.com
cell: 073 837 0162
22: Reefsteamers train, plane and vintage car event from Krugersdorp to Magalies. Contact Ian Morrison e-mail:
imorison@worldonline.co.za
23-28: South African Hot Air Balloon Championships. Bill Harrops, Skeerpoort North West Province. Contact Richard Bovell e-mail:
chairman@bafsa.co.za
27-30: SAC National Championships Malelane airfield. Contact Annie Boon e-mail:
chunge@mweb.co.za
27-30 June: Race 4 Rhinos - Sua Pan Botswana
CANCELLED






The Aviation Radio Show; get all your questions answered in one place. To listen to a recording of the live broadcast click on the link:
www.debela.co.za/aviation-radio-show






UPDATE ON THE INTEGRATION OF THE RECREATIONAL AVIATION ADMINISTRATION OF SOUTH AFRICA (RAASA) FUNCTIONS INTO THE SACAA


In 2008 the South African Civil Aviation Authority (SACAA) designated the oversight of recreational aviation to the Recreation Aviation Administration of South Africa (RAASA) in response to a need for the Regulator to strengthen safety and security oversight in this sector of the industry. Before this time, the SACAA had delegated these functions to the Aero Club of South Africa and due to the gaps that existed in this designation model at the time, the Regulator sought a more progressive structure that would ensure optimum oversight of the activities in this sector of the civil aviation industry.
RAASA was therefore registered as a non-profit company in 2008, and designated to provide oversight of recreational aviation until 31 March 2019.
With effect from 1 April 2019, the recreational aviation functions will be integrated into the SACAA and the following changes will apply:
Recreation Aviation Service Bouquet

All the services currently being offered by RAASA will be offered in totality by the SACAA under a new department named General Aviation. These services will be offered at the current RAASA offices at Rand Airport.
Premises

The current RAASA premises will continue to be used until the SACAA moves to the new SACAA Head Office. The RAASA offices at Rand Airport will therefore remain operational until further notice.
RAASA Staff Movements

On 01 April 2019 all current RAASA employees will officially be SACAA employees. All the staff members will remain at the current RAASA offices at Rand Airport until the Regulator moves to the new premises at OR Tambo in the near future. Only one staff member, who is joining the Legal and Aviation Compliance division, will move to the SACAA offices in Midrand as of 01 April 2019.
Communications Tools

Emails
All RAASA employees will be contactable on their current RAASA email addresses. Their new SACAA email addresses are being introduced gradually, to avoid any confusion.
Telephone Numbers
The old telephone numbers will continue to be operational, except for the one staff member who is moving to the SACAA premises from 01 April 2019.
SA Civil Aviation Authority
Private Bag X73
Halfway House
1685
Tel: (011) 545 1000
Fax: (011) 545 1201
Website:
www.caa.co.za
Website

The old RAASA website will continue to be available for a period of 6 months. From 01 October 2019, all recreational aviation information will be available on the SACAA website on
www.caa.co.za
Structural Placement of Recreational Aviation within the SACAA business

The bulk of the RAASA functions will be placed under the Aviation Safety Operations division as from 01 April 2019. The new name of this department is General Aviation.
Forms and other official documentation

With effect from 01 April 2019, all applications for licences, permits and approvals will be done on official SACAA branded stationery that will be available on the current RAASA website. All official communications will be done by using the official SACAA letterhead.
Banking Details

From 01 April 2019 all EFT payments for recreational aviation services must be paid into the following account:
Account Name: South African Civil Aviation Authority
Standard Bank, Brooklyn
Branch Code: 051001
Account number: 0013007971
Reference: "OTHERRAASA" followed by licence number, or name, or invoice number, or other identification number. (You will be limited to 17 additional characters.)
There is a deposit reference validation that is performed at Standard Bank branches and for Standard Bank Internet banking, and if the deposit reference does not start with the characters "OTHERRAASA" the transaction might be rejected by the system.
Proof of payment has to accompany applications. The proof of payment must be sent to financedepartment@caa.co.za. All current RAASA clients' payment queries will be handled by Ms Natasha Steyn and her email address is
Steynn@caa.co.za
Conclusion

Any further queries related to this transition can be directed to the Client Service office, using the following email address: updates@caa.co.za or direct queries can be directed to Ms Lerato Molefe at 011 545 1345. The normal RAASA contact details, also available on the current RAASA website, can be used for any recreational aviation queries.
Regards,
Ms Poppy Khoza
Director of Civil Aviation

MOKULELE READY TO TEST AMPAIRE HYBRID AIRCRAFT BETWEEN KAHULUI AND HANA, HAWAI




Ampaire, a California tech start-up, plans to launch test flights of its hybrid electric aircraft from Kahului to Hana starting this fall. The Cessna 337 Skymaster has been retrofitted with an electric motor, technology that could eventually prove a "game changer" for interisland carriers like Mokulele Airlines. Photo courtesy of Brice Nzeukou


"Ampaire is bringing the prototype plane to Maui this fall and will partner with Mokulele on a series of test flights over a period of six months", Mokulele President Rob McKinney said. "I think we would be the ideal launch customer for this technology with the length of route that we fly and the conditions that we fly in," McKinney said. "We don't have to contend with super cold weather."
"It's a really unique aircraft because it has one combustion engine in the front and an electrical motor in the back," Nzeukou said. "We're bringing that aircraft to Maui and working with Mokulele to figure out how to operationally include a hybrid electric aircraft into a fleet."
Ampaire started in 2016 with a focus on retrofitting aircraft to fly on electric power, a less expensive alternative to building them from scratch. Nzeukou said the advantages of an electric aircraft come down to maintenance and fuel costs. Maintenance on a traditional combustion engine can be costly. For the kind of aircraft that Mokulele flies, it costs about $300,000 to $400,000 to overhaul the engine every 5,000 to 6,000 hours of operation.
"For an electric motor, it's much less complicated," Nzeukou said. "It really only has one moving part, so the time between major overhauls is much longer."
Fuel is another huge cost. Switching to electric generation is much cheaper, even in a place like Hawaii where electricity is generally more expensive than other places, Nzeukou said. He estimated that an electric aircraft could reduce fuel costs for Mokulele by 50 to 70 percent.
Nzeukou said that electric-powered aircraft could catch on faster than electric vehicles, because the cost of parts for an electric aircraft are comparable to the costs for a combustion engine. Components for electric vehicles, meanwhile, are more expensive than for gasoline-powered cars. In the long run, airports will have to start thinking about putting in the "robust charging infrastructure" needed for the new aircraft.
Nzeukou said Ampaire is "laser-focused" on bringing retrofitted planes to the market, but that doesn't mean the company won't look into building all-electric aircraft from the ground up in the future.
For now, "we see retrofitting as the most practical and most compelling proposition for aviation," he said.
AIRBUS DELIVERS FIRST UPGRADED TRANCHE 1 EUROFIGHTER TO SPANISH AIR FORCE




Airbus has delivered the first upgraded Tranche 1 Eurofighter to the Spanish Air Force. The upgrade was carried out at Airbus facilities in Getafe and involved the introduction of hardware modifications which support the Operational Flight Program 02 (OFP-02) developed by the Armament and Experimental Logistics Centre (CLAEX). Photo © Airbus.

The upgrade developed by Airbus includes modifications that integrate Tranche 2 and Tranche 3 equipment on the aircraft, not least a Computer Symbol Generator, Digital Video and Voice Recorder, Laser Designator POD and Maintenance Data Panel.
This first single-seat Eurofighter (serial number SS003), to be followed by a second two-seat aircraft currently undergoing the upgrade, will be used initially by CLAEX as a test aircraft for the qualification of these new capabilities that will be implemented on the Air Force's fleet of 15 Tranche 1 Eurofighters.

FEMALE AVIATORS GATHER FOR EAA WOMENVENTURE AT AIRVENTURE 2019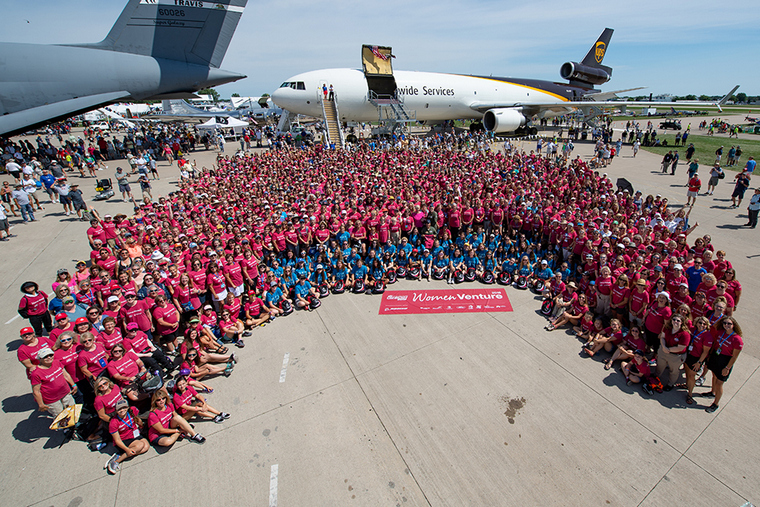 For the 12th straight year, the opportunity for women who love aviation to build camaraderie and open doors to mentorship and participation comes to EAA AirVenture Oshkosh, as EAA WomenVenture activities will take place during the week. Photo © Connor Madison

EAA WomenVenture is presented by The Boeing Company, with additional support from Endeavor Air, Ford Motor Company, GE Aviation, General Aviation Manufacturers Association (GAMA), Glasair Aviation, L3 Commercial Aviation, Ninety-Nines Inc., The Outlet Shoppes at Oshkosh, United Airlines, and Women in Aviation International.
Since 2008, EAA WomenVenture has offered the opportunity to bring together female aviators from throughout the flying community. The activities are designed to encourage participation by women in aviation, as only 6 percent of all pilots in the U.S. are female.
"EAA WomenVenture is a tremendous experience for women, particularly as it comes during the World's Greatest Aviation Celebration at Oshkosh," said Tara Parkhurst, a pilot and EAA museum educator, who is leading the organization of this year's activities. "These activities can be a springboard to motivate other women to get involved in aviation, either for fun or as a future career, as we'll present activities that motivate, inform, and inspire."
The schedule includes:
Monday, July 22, 5:30 p.m. - The EAA WomenVenture social, presented by Endeavor Air. This kickoff to the 12th annual WomenVenture schedule invites all women to meet and connect in a fun atmosphere of an ice cream social. Preregistration online at www.EAA.org/WomenVenture is required.
Wednesday, July 24, 11 a.m. - Annual EAA WomenVenture group photo on AirVenture's showcase Boeing Plaza.
Wednesday, July 24, 11:30 a.m. - The EAA WomenVenture Power Lunch at Theater in the Woods. Tickets are $5 each and preregistration for this lunch is required at www.EAA.org/WomenVenture. This year's speaker is U.S. Air Force Col. Kim Campbell, a decorated A-10 combat pilot who earned a Distinguished Flying Cross after flying an A-10 damaged by anti-aircraft fire during aerial combat over Iraq. She became one of the few pilots ever to land an A-10 in manual mode, with no hydraulics.
Wednesday, July 24, 7 p.m. - EAA WomenVenture evening program at Theater in the Woods. Participants to be announced as they are confirmed.
As in past years, a limited-edition EAA WomenVenture T-shirt is available to all women who participate (while supplies last). Those T-shirts must be reserved in advance via the EAA WomenVenture website and may be picked up at the EAA AirVenture Welcome Centre beginning Monday, July 22. The printed T-shirt registration or confirmation of T-shirt registration on a mobile device must be shown when picking up the T-shirt. Women are encouraged to wear the T-shirt for the July 24 group photos to show the collective strength of women in the aviation community.
In addition, women are invited to the Welcome Center to sign the EAA WomenVenture logbook any day during EAA AirVenture Oshkosh 2019.

AIRBUS CERTIFIES A400M CARGO HOLD TANKS REFUELLING UNIT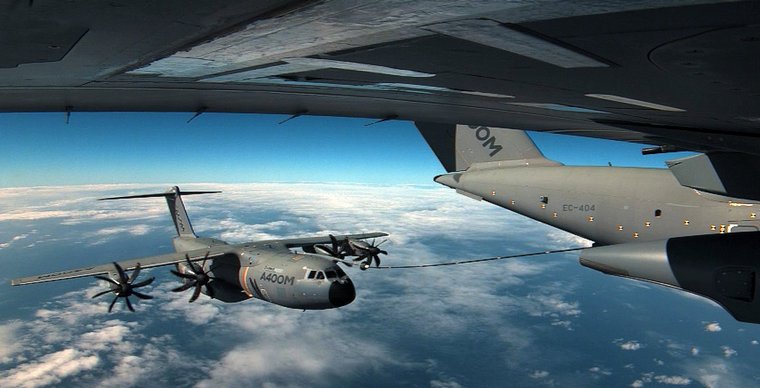 Airbus has successfully completed the certification flight tests for the A400M Cargo Hold Tanks (CHT) refuelling unit, taking a new step towards the full certification of the aircraft for air-to-air refuelling operations as a tanker. Photo © Airbus

The campaign, performed together with the Spanish Air Force Test Centre (CLAEX), featured a total of nine flights where 90 tonnes of fuel were dispensed to Spanish Air Force F-18 receivers and to another A400M prototype as a representative heavy aircraft receiver.
The test campaign included the development and certification of the Cargo Hold Tanks with the latest Fuel Quantity Management System software, to be certified during 2019, enhancement of the night refuelling vision system and preliminary testing of helicopter air-to-air refuelling capabilities.

ROLLS-ROYCE TAKES MAJOR STEP TOWARDS ELECTRIFYING FLIGHT WITH SUCCESSFUL HYBRID AERO PROPULSION TESTS


Rolls-Royce has taken a significant step towards realising our ambition to provide hybrid-electric propulsion systems for the next generation of aviation, with successful ground tests of a hybrid system using our M250 gas turbine - a highly successful engine usually powering helicopters. Image © Rolls Royce

The tests are part of one of the world's most comprehensive hybrid aerospace turbine engine development and integration programmes and pave the way for experimental flights on aircraft in 2021.
Rolls Royce successfully tested the hybrid version of the M250 gas turbine in a ground demonstration setting in three operating modes: Series Hybrid, Parallel Hybrid and Turbo-Electric. The M250 hybrid is planned to be used as a propulsion plant with power ranging from 500kW to 1MW and has the potential to transform aviation power. The system will be used across a range of transport platforms to enable distributed electric propulsion, including EVTOLs (hybrid electric vertical take-off and landing vehicles), general aviation aircraft and hybrid helicopters.
Rolls-Royce engineers based in the United States, UK and Singapore have developed this engine into a hybrid-electric propulsion system. The M250 gas turbine engine has powered more than 170 varieties of fixed-wing military, civilian aircraft and helicopters since its initial development. Rolls-Royce selected this engine for its maturity, power-density, ease of maintenance, and high reliability. In the past half-century, M250 variants have logged more than 250 million flight hours and nearly 33,000 M250 engines have been delivered to customers.
Complete engine testing took place at their state-of-the-art facility in Indianapolis, US, where each component and sub-system of the hybrid engine was individually tested for electrical performance. These tests included simulating use across take-off, cruise, landing and taxiing and confirmed the system's suitability for a range of transport platforms including aircraft with a range of up to 1000 miles and weighing up to 2000kg. This would support the Rolls-Royce EVTOL concept which was unveiled during the Farnborough Air Show in the UK last year as well as meeting many other customers' requirements.
Dr Mekhiche added: "Electrification is one of the most exciting developments in aviation since the birth of the jumbo jet. We are determined to use our pedigree in aerospace to be at the forefront of developing innovative propulsion systems to meet the needs of the next chapter in aviation. When this happens, it's going to transform the way aero transport is designed and produced, reducing the time required to travel, revolutionising cargo delivery and changing the way we design our cities and infrastructure."
The Rolls-Royce hybrid electric propulsion system demonstrator integrates a M250 gas turbine engine with a high energy density battery system, electric generators, power converters and an advanced power management and control system. The power management system optimises overall propulsion performance in order for the system to be suitable across a variety of platforms, including EVTOL, while delivering efficiency gains, reduced noise and lower emissions.
The next step is to further advance the hybrid propulsion system towards integration on an aircraft and experimental flights in 2021. The M250 hybrid power pack complements the AE 2100 2.5MW system being developed for larger aircraft, including regional aviation, and is being tested with Airbus on the E-Fan X demonstrator platform.


AIRBUS' SKYWAYS DRONE TRIALS WORLD'S FIRST SHORE-TO-SHIP DELIVERIES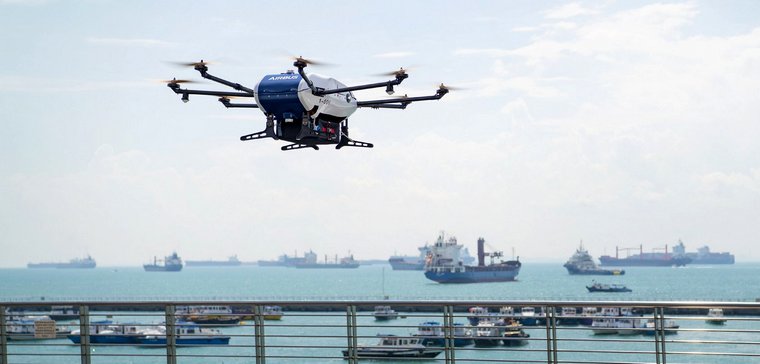 Airbus has begun shore-to-ship trials in Singapore with its Skyways parcel delivery drone. This marks the first time drone technology has been deployed in real port conditions to deliver a variety of small, time-critical maritime essentials to working vessels at anchorage. Photo © Airbus.

The maiden shore-to-ship delivery flight was made to the Swire Pacific Offshore's Anchor Handling Tug Supply vessel "M/V Pacific Centurion," 1.5 km from the shoreline of Singapore's Marina South Pier, carrying 1.5 kg of 3D printed consumables. Landing safely on the ship deck and depositing its cargo to the shipmaster, the Skyways unmanned air vehicle swiftly returned to its base, with the entire flight taking within 10 minutes.
The trials are being undertaken in conjunction with partner Wilhelmsen Ships Services, one of the world's leading maritime logistics and port services company. During the trials, Airbus' Skyways drone will lift off from the pier with a payload capability of up to 4 kg, and navigate autonomously along pre-determined 'aerial corridors' to vessels as far as 3 km from the coast.
Airbus' Skyways lead, Leo Jeoh, shared his excitement at the milestone flight: "We are thrilled to launch the first trial of its kind in the maritime world. Today's accomplishment is a culmination of months of intense preparation by our dedicated team, and the strong collaboration with our partner, as we pursue a new terrain in the maritime industry."
"The now proven, seamless operation of drone deliveries from shore to ship, in one of the world's busiest ports proves the hard work, investment and faith we, and indeed our partners, placed in the Agency by Air project over the past two years was not misplaced," said Marius Johansen, Vice President Commercial, Ships Agency at Wilhelmsen Ships Services.
"Delivery of essential spares, medical supplies and cash to master via launch boat, is an established part of our portfolio of husbandry services, which we provide day in and day out, in ports all over the world. Modern technology such as the unmanned aircraft systems, are just a new tool, albeit a very cool one, with which we can push our industry ever forward and improve how we serve our customers," he added.


USA, SW of Delaware Municipal Airport: A Cessna 421C Golden Eagle operated by Classic Solutions Co Inc on approach to Delaware Municipal Airport impacted farm field terrain in Union County northeast of Plain City, Ohio. The airplane sustained substantial damage upon impact with the terrain and powerline supports. The sole pilot onboard the aircraft received fatal injuries. Weather may have been a factor to the incident.
Egypt, Hurghada: A FlyEgypt Boeing 737-800 was departing from Hurghada for a flight to Graz (Austria) when upon rotation a loud bang was heard on board of the aircraft. The crew continued take off, climbed to about 7500 feet MSL and returned to Hurghada for a safe landing on runway 34R about 20 minutes after departure. A Post flight inspection revealed damage to the tail skid assembly.
USA, Sundance Airport (KHSD), Yukon, Oklahoma City: A IAI 1124 Westwind on a flight from Panama City rolled inverted seconds before touchdown at Sundance Airport. The aircraft suffered severe damage and the two persons on board was fatality injured.
USA, Grant County International Airport: A United States Navy (USN) EA-18G Growler made an emergency landing at the Grant County International Airport due to one of the crew suffering from hypoxia, or lack of oxygen. The aircraft landed safely. Both pilots were checked out by paramedics, who determined the pilots were in good health. The USN continues to struggle with finding out exactly what's causing persistent reports of "hypoxia-like" symptoms across the F/A-18 Hornet, F/A-18E/F Super Hornet, and Growler fleets. In February of 2018, a U.S. Navy EA-18G Growler made it back to base after suffering a terrifying mid-air incident, which caused its two-person crew to fly blind and frostbitten after the aircraft's environment control system failed in part because of a pair of high-tech wrist watches.
Malaysia, Kuala Lumpur-Sultan Abdul Aziz Shah Airport: A Bombardier BD-100-1A10 Challenger 300 operated by Berjaya Air jet sustained damage to the left-hand wing after colliding with an airport engineering vehicle after landing at Kuala Lumpur-Sultan Abdul Aziz Shah Airport, Malaysia. The driver of the vehicle was critically injured.
Australia, Carrapateena Mine: A Eurocopter AS 350B3 Ecureuil operated by Aeropower Holdings Pty Ltd on contract for ElectraNet during string power line operations hit an electricity pole and crashed. The pilot did not survive the accident.




FIFTY YEARS AGO, THE MAIDEN FLIGHT OF THE CONCORDE


Fifty years ago on 2 March 1969 the Concorde made its first commercial flight, reaching a milestone in a fantastic journey that started sometime around 1955 when the first designs of what was to become the world's first supersonic aircraft was put on paper.
To share the expense of what was forecasted to be a costly project, the British and French governments negotiated and in November 1962, they agreed to join efforts and so the Concorde was born.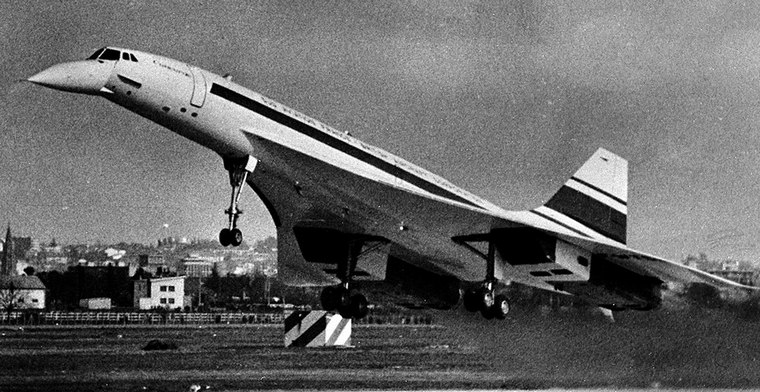 Photo © André Cros/wikipedia

The first prototype of the Concorde was assembled in Toulouse, in Sud Aviation's plant. Concorde 001 rolled out from the assembly line on 11 December 1967 in front of a thousand spectators. Two years later, after all systems were tested, the "big white bird" took off from runway 32 at Toulouse-Blagnac Airport (TLS) for a 42 minutes maiden flight.
It would take a year and a half for the Concorde to get to its cruise speed of Mach 2 for the first time, and six more years for its first commercial flight to take place. But on 2 March 1969, one of the greatest feats of aviation engineering took to the skies for the first time.
Today, the Concorde 001 is displayed side by side with one of Air France's Concorde at the Air and Space Museum at Paris-Le Bourget Airport (LBG).