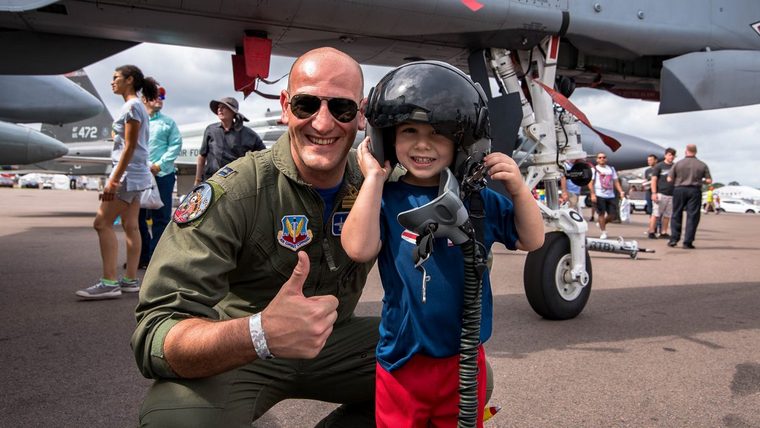 Lakeland, Florida: Each year, there are thoughtful predictions from the regulars as to the theme for the upcoming SUN 'n FUN International Fly-In and Expo. When those who go reflecting back on the event's 45 year history, they agree that one thing has made it the second largest aviation expo in the world - comradery. It's the friendships, memories, and the experiences that make it special. This year's theme of "First in Fun - Fast in Flight" celebrates the people that have formed the traditions, activities, and essence of the SUN 'n FUN Fly-in.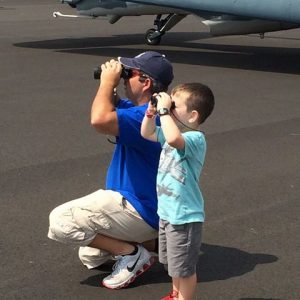 No longer simply Spring Break for Pilots, SUN 'n FUN has evolved into a true gem of Lakeland. More than just Florida's largest annual convention, it is now the largest of over 90 fundraising events for the Aerospace Centre for Excellence (ACE). Over 3500 volunteers donate their time, expertise, and sweat knowing their efforts will fund a scholarship for another high school student's private pilot license, another 10-year old's summer camp experience, or an exhibit in the award-winning museum preserving the legacy of aviation.
The "How can I help you?" attitude of this volunteer corps makes the event's 200,000 guests and 500+ exhibitors feel welcome and appreciated. Some just call it southern hospitality, but it's obvious that those who donate their time and talents to the event truly enjoy their work experience and have fun.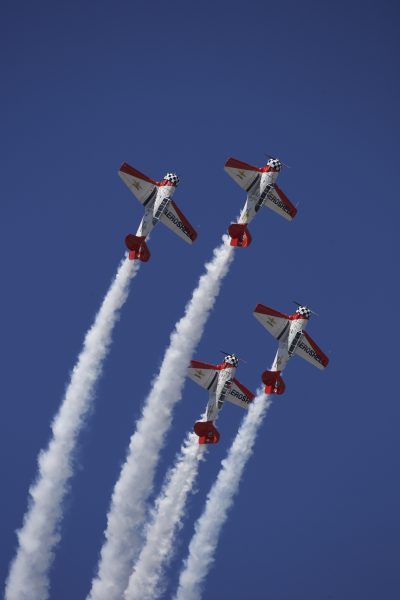 From sunrise to long into the evening hours, there are countless ways to find the FUN in SUN 'n FUN. One can spend time perusing 200+ acres of new aviation products and services from manufacturers like Cirrus, BOSE, and Lincoln Electric as well as distributors like Gulf Coast Avionics. There's the Parts Exchange, Ladies Pavilion, Kid Zone, Drone Zone and more! On the airside, browse among hundreds of aircraft from every era, including Golden Age, Warbirds, Vintage Jets, Homebuilt, Ultralights, and Modern Military. After sunset, the fun is just getting started. You can cuddle up with your honey, enjoy some popcorn, and watch an aviation-based movie at Ace's Flyin' Flicks in the campground among friends. Or for some knee-slapping entertainment, checkout the Corn Roast Stage with nightly live music…and yes, their roasted corn is awesome.
Precision aerobatic flight is an awe-inspiring sight; it's almost religion. Ask anyone that has attended SUN 'n FUN, and they'll immediately tell you their favorited air show performer. The daily air shows consist of performers that push their aircraft to the limit, challenging the craft to match their elite personal skills. Airshow teams like the Phillips 66 Aerostars, GEICO Skytypers, and Aeroshell Aerobatic Team perform in symphonic unison, while individual demonstrations fill the sky with skill and daring from aerial artists like Patty Wagstaff, Greg Koontz and Michael Goulian. A list of all the performers and the airshow schedule can be found on the www.flysnf.org site.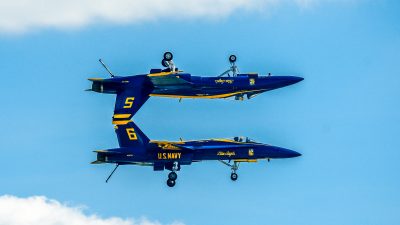 Some fans will say that Warbirds are their favourite. The US Air Force Heritage Flight always stops crowds in place as past meets present with a vintage fighter flying alongside one from today's military arsenal. This year, the Cavanaugh Flight Museum's Vietnam-era re-enactment will be performed for the first time, complete with explosions, flares, and gun-runs! For military lovers, the USAF F-16 Viper Demo team will be piercing the sky and the US Navy Blue Angels will demonstrate the pinnacle of aerobatic precision in their six F-18 Hornets.
The fun doesn't end at sunset, not by a long shot! On Wednesday and Saturday, SUN 'n FUN's fan-fave night air shows will light the night with dramatic performances. The Paradigm Aerobatic Team adds a new twist to formation flight with a jaw-dropping display in their powered parachutes, and performers like Bob Carlton in his Sub-Sonex Microjet blaze through the sky leaving a comet's tail of shimmering sparks. All night airshow performers possess special talents…but what about 60 drones? The Star Dance Spectacular debuts at SUN 'n FUN and will dazzle the dusk, and on Saturday the show will close with a dramatic fireworks display.
Let's not forget the 300+ forums on all things aviation, as well as hands-on workshops, youth workshops, seminars, museum tours, Veterans Plaza, …the list is endless. Guests are encouraged to make use of the SUN 'n FUN MOTORVERSE mobile app to schedule, find, and enjoy all there is to offer throughout the 6-day event.
45 years running means an event is truly something special. So special that it draws visitors from over 80 countries each year to one of aviation's most celebrated traditions. The shows, sights, activities, and celebrities are what brings a person to SUN 'n FUN once, but it's the culture and that famous comradery that draws them back each year. "First in Fun - Fast in Flight" - that's SUN 'n FUN!