THIS WEEK IN MIDWEEK UPDATE

Plan Your Weekend……...Forthcoming Events……..Aviation News

Worldwide Incidents and Accidents……This Week in Aviation History




19: Witbank Aeronautical Association fly-in Easter breakfast. Contact Robert Clark for more information.
Comms@flywaa.co.za
20: Rand Airport Easter Fly-in and SAPFA Easter Adventure Rally. Contact Rob Jonkers 082 804 7032
rob@aerosud.co.za
or Carolle Olivier 011 827 8884 events.randairport@gmail.com
CANCELLED

23: Aeroclub AGM. EAA Auditorium Rand Airport. Contact
office@aeroclub.org.za
. Website
www.aeroclub.org.za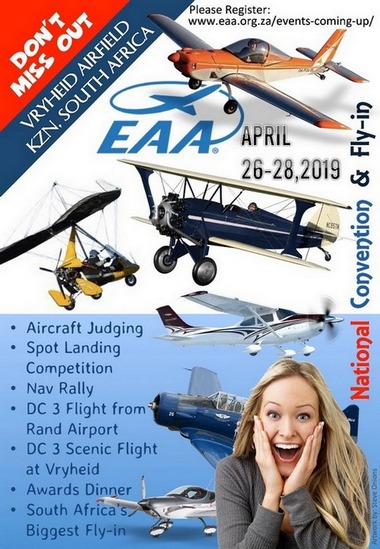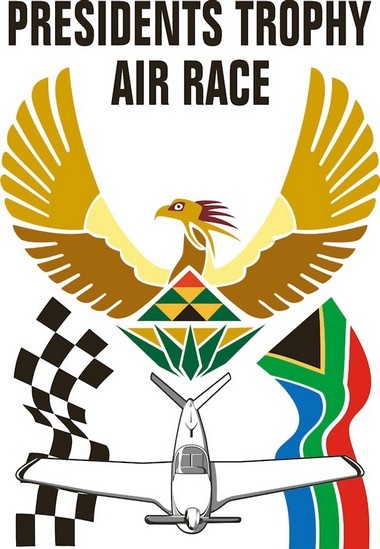 26-28: EAA National Convention Vryheid KZN. Contact Marie Reddy 083 259 7691 Register at:
www.eaa.org.za/events-comin-up/
27: SAPFA EAA Convention Adventure Rally - Vryheid. Contact Rob Jonkers cell: 082 804 7032 e-mail:
rob@aerosud.co.za
27 & 28: SAC Judges Trophy venue TBA. Contact Annie Boon e-mail:
chunge@mweb.co.za

1: EAA Chapter 322 meeting. Dicky Fritz Moth Hall Edenvale. Contact:
ronellathome@telkomsa.net
1: Military Festival Voortrekker Monument.
2-5: SAPFA President's Trophy Air Race - Saldanha Airfield. Contact Rob Jonkers 082 804 7032 e-mail:
chairman@sapfa.co.za
. Website:
www.sapfa.co.za
e-mail:
Race@sapfa.org.za
4: SAAF Museum Air Show at AFB Zwartkops. Contact Officer Commanding e-mail:
oc@saafmuseum.org.za
Tel: 012 351 2290
POSTPONED


11-12: NAC Bush Weekend at Letsatsi Game Reserve. Deon 082 458 5719, Deneys 082 891 4354 or JP 083 625 4804.
10 & 11: Lowveld Air Show at Nelspruit airport. Contact Monica Fourie Tel: 083 619 3597 e-mail:
monica.fourie@kishugu.com
10-12: Battlefields Fly-in. Contact Dave O'Halloran e-mail:
gm@battlefiedslodge.co.za
14-17: NAMPO Agricultural Trade Show near Bothaville, Free State. Contact Wim Venter Tel: 086 004 7246 e-mail:
Wim@grainsa.co.za
18: SAPFA Sheila Taylor Fun Rally - Krugersdorp Airfield. Contact Frank Eckard cell: 083 269 1516 e-mail:
frank.eckard@mweb.co.za
19 & 20: SAC Free State Regionals at Tempe Airport. Contact Annie Boon e-mail:
chunge@mweb.co.za
25: Botswana International Air Show Matsieng Aerodrome (FBMA). Contact Hentie de Wet e-mail:
hentie@dwddrilling.com
26: Springs Airfield MU Fly in. Contact Fanie 083 789 5507 or Gerhard 082 771 3329.

1: Newcastle Airshow. Contact Johan Pieters
johan@champ.co.za
082 923 0078
1: Klipriver Breakfast Fly-in. Contact Freddie 083 442 5683
8: Bethlehem Speed Rally - Bethlehem Airfield - Contact Jonty Esser e-mail:
jonty@promptroofing.co.za
cell: 082 855 9435
8: Kroon Fly-in. For more info contact Dawie 083 576 2355 or Marius 083 419 6613
10: World Precision Flying Championships - Castellon Spain - Contact Hans Schwebel e-mail:
hans.s@britsgranite.co.za
cell: 082 656 3005
12-15: Zimbabwe Air Rally. Mel Cooper cell: + 263 773 218426 e-mail:
zimairrally@gmail.com
17-23: 53rd Paris Air Show. Contact E-mail: expo2019@siae.fr Website:
www.siae.fr
22: SAPFA Vintage Rally - Krugersdorp Airfield
22: Mafikeng Airshow. Contact Reliable Mofokeng e-mail:
reliablemofakeng@gmail.com
cell: 073 837 0162
22: Reefsteamers train, plane and vintage car event from Krugersdorp to Magalies. Contact Ian Morrison e-mail:
imorison@worldonline.co.za
23-28: South African Hot Air Balloon Championships. Bill Harrops, Skeerpoort North West Province. Contact Richard Bovell e-mail:
chairman@bafsa.co.za
27-30: SAC National Championships Malelane airfield. Contact Annie Boon e-mail:
chunge@mweb.co.za




The Aviation Radio Show; get all your questions answered in one place. To listen to a recording of the live broadcast click on the link:
www.debela.co.za/aviation-radio-show






V1.0: MEET THE NEW CERTIFIED SINGLE-ENGINE AIRCRAFT BY VULCANAIR.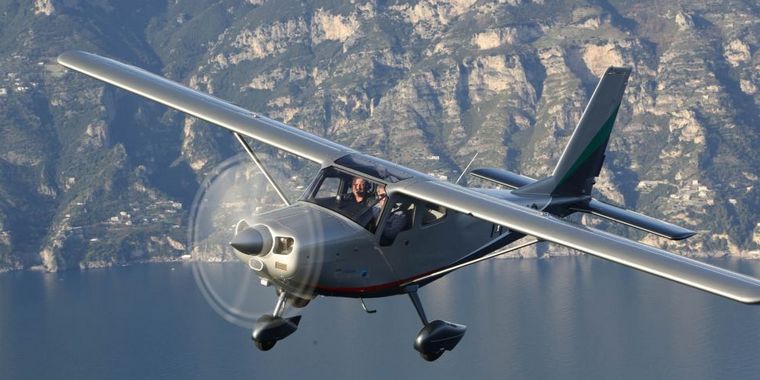 Built tough, the V1.0 favours durable metal versus expendable plastic materials. The V1.0 is in line with Vulcanair's design philosophy: the quest for durability, safety and exceptional value. Photo © Vulcanair


Vulcanair has decided to leverage its long experience in designing and manufacturing more complex certified multi-engine aircraft to supply an exceptionally priced single engine aircraft to allow more pilots to become members of the Vulcanair Aircraft owners' family.
Excellent aircraft performance, state-of-the-art manufacturing techniques, modern avionics and exceptional value in terms of acquisition costs make the V1.0 a serious alternative in today's piston single engine aircraft arena.
The V1.0's structure is a combination of welded steel tubes arranged in an articulate reticular fashion (main cabin) coupled with a riveted aluminium wing, tail cone and empennage sections. This arrangement insures a strong protective cabin for pilot and passengers and a lightweight structure altogether.
The V1.0 is powered by the 180 hp Lycoming IO-360-M1A that is capable of running with AvGas or alternative fuels. To satisfy the owner's profile, the aircraft is offered with a constant pitch propeller.
The aircraft cabin is extremely functional with four seats and three doors and a luggage capacity of 40 kg (88lb) in a separate and dedicated compartment.
The aircraft cockpit has been designed to keep all the commands and switches and circuit breakers in an ergonomic position for the pilot and its shape has been designed to minimize parallax errors.
The standard avionics package of choice features a Garmin G500 coupled with a GTN650 unit and a JPI digital engine monitoring system. Mid Continent's latest digital back-up digital instrument (SAM) is offered standard in the aircraft package as well as an AoA (angle of attack indicator). An optional full IFR version is also available.
Finally, the V1.0 is a utility category aircraft which further expands the V1.0's ambitions.


KAZAKHSTAN BORDER SERVICE PLACES ORDER FOR AIRBUS C295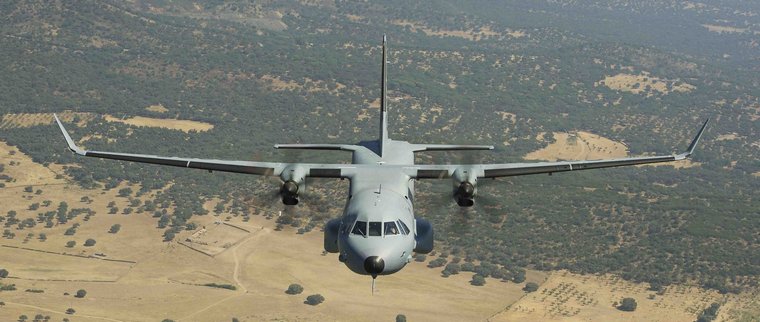 The Border Service of the Republic of Kazakhstan has signed a firm order for one C295 medium transport aircraft. Through this new agreement, which includes training, spares and ground support equipment, the overall C295 fleet operating in Kazakhstan will increase to nine aircraft. Photo © Airbus


The new C295, in transport configuration, will play a vital role in border control activities and homeland security operations due to its demonstrated reliability and cost efficiency in operation at low temperatures.
With this new order, the Border Service of Kazakhstan becomes the 31st operator of the C295 and brings the total number of orders up to 13 aircraft in the CIS.


BELL AND ROLLS-ROYCE COLLABORATE ON ADVANCED PROPULSION SYSTEMS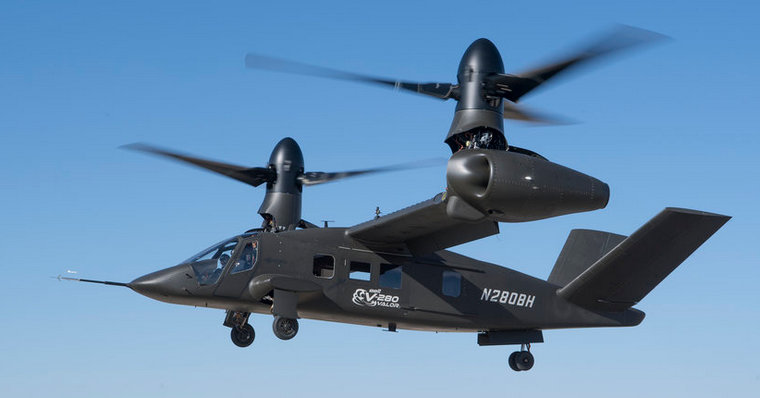 Bell Helicopter, a Textron Inc. (NYSE: TXT) company, announced a teaming agreement with Rolls-Royce for the development of an optimized propulsion system and continued risk reduction efforts aimed at the V-280 Valor and V-247 advanced vertical lift platforms. The collaboration will focus on the integration of Rolls-Royce's proven low-risk and advanced propulsion systems into future Bell aircraft. Photo © Bell

"The goal of this collaboration is to further enhance the performance and affordability of our aircraft. Future Vertical Lift programs bring revolutionary solutions for warfighters; Bell and Rolls-Royce are focused on delivering those capabilities." Said Keith Flail, vice president of Advanced Vertical Lift Systems at Bell.
This agreement extends Bell's support for the U.S. military's aviation modernization and acquisition priorities. Building industry relationships delivers options to rapidly mature technology and provide capability to the war fighter. The result will be more options to create aircraft with revolutionary capabilities for vertical lift programs.
"Bell is at the forefront of creating highly capable and sustainable aircraft that vastly outperform legacy platforms, and Rolls-Royce is a world leader in advanced engines and propulsion systems. We are excited to enhance our long-standing relationship with Bell and help deliver on customer requirements through innovative solutions and proven technologies." Said Jason Propes, senior vice-president, Defence Customer Relations at Rolls-Royce.
As part of this teaming agreement, Bell will lead the design, development and production of advanced vertical lift systems, and Rolls-Royce will provide its technical expertise in propulsion systems to provide potential customers with tested, high-performance solutions. This collaboration extends a successful relationship between Bell and Rolls-Royce that has existed for more than 50 years.
ABOUT ROLLS-ROYCE
Rolls-Royce employs 6,000 people in 27 states across the U.S., literally coast-to-coast, from southern California to Walpole, Massachusetts. Indianapolis is the largest Rolls-Royce engineering, design and manufacturing site in the U.S. The company produces engines and propulsion systems for multiple U.S. military aircraft at Indianapolis, including the C-130J transport, V-22 Osprey Global Hawk unmanned aerial vehicle, and the LiftSystem for the F-35B Lightning II. Rolls-Royce engines manufactured in Indianapolis and elsewhere power a wide array of aircraft and ships for all services of the U.S. military -- the Air Force, Marine Corps, Navy, Army, and Coast Guard. In addition, Rolls-Royce supports more than 52,000 jobs across the U.S., adding nearly $9 billion to the nation's economy each year. Rolls-Royce has invested nearly $1 billion in Research and Development in the US since 2013, and is nearing completion of a $600 million investment to modernize its Indianapolis facilities and for new technology development.

RUSSIAN HELICOPTERS PRESENTED A MOCKUP OF THE VRT500 AT MILAN DESIGN WEEK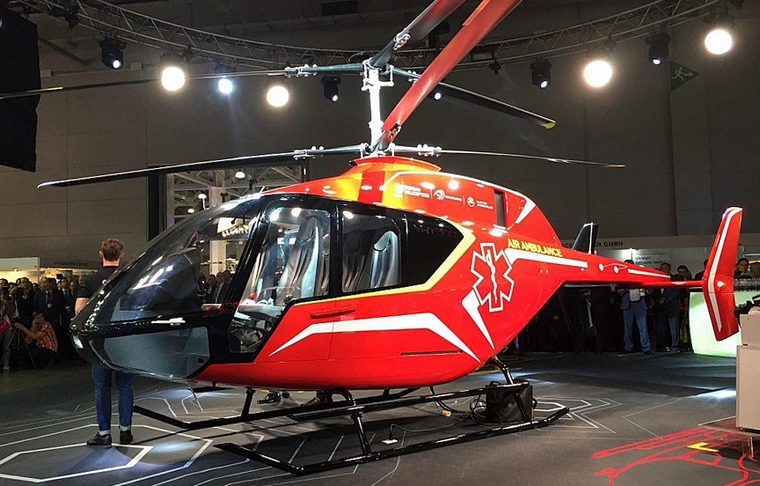 The design bureau VR-Technologies, subsidiary of Rostec's Russian Helicopters holding company, presented a mock-up of the light multi-purpose helicopter VRT500 at the Fuorisalone exhibition (part of the Milan Design Week, held April 8-14). The helicopter model is presented at the exhibition of ItalDesign, which was one of the developer companies of VRT500. Photo © Russian Helicopters

Currently specialists of Russian Helicopters are developing the design documentation of the helicopter. This stage is scheduled to be finished at the end of 2021 with the production of the first series of VRT500 in the Ulan-Ude aviation plant.
"VRT500 will become a competitive product in the market of light single-engine helicopters and allows us to join this new segment for the first time. We consider Europe as a potential market and plan to apply the helicopter for certification to the European Aviation Safety Agency (EASA) this year. We'll start testing the first prototype in 2020", pointed out Alexander Okhonko, the General Manager of VR-Technologies.
VRT500 is a light single-engine helicopter with coaxial rotors and maximum take-off weight of 1600 kg. It will be equipped with the latest interactive avionics and have the most spacious passenger cabin in its class with the total capability of 5 persons. The helicopter can reach a max speed of 250 km/h, has a flight range of 860 km and can carry a payload of up to 730 kg.

AIRBUS CONFIRMS H145M BID IN KEY AUSTRALIAN MILITARY ROTARY WING CAMPAIGN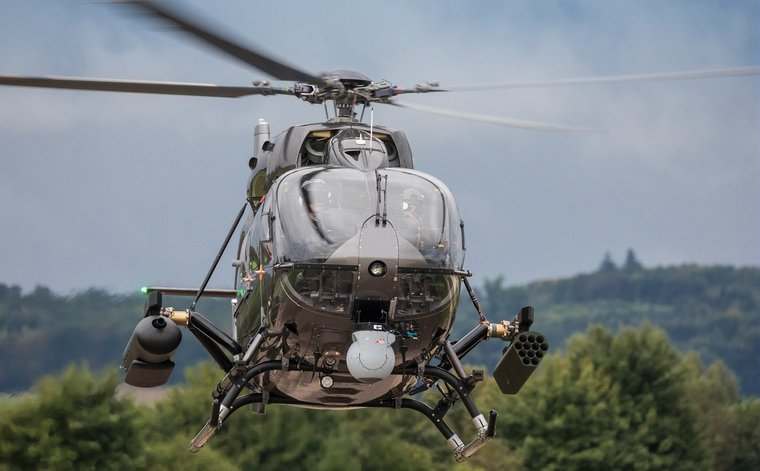 Airbus Australia Pacific Managing Director Andrew Mathewson today confirmed that Airbus has recently responded to the Commonwealth of Australia's request for information for a four-tonne class, rapidly deployable, multi-role helicopter for Australian Special Forces. Photo © Airbus

"The Airbus H145M helicopter is the military version of the H145 - the most advanced member of Airbus' multi-purpose twin-engine category. It is based on a commercial off-the shelf platform with military-specific modifications and is an operationally proven, affordable and low-risk option for Australia," said Andrew Mathewson.
"The H145M programme and systems are based on around five million hours of flying experience with the H145 family of aircraft which has over 1,300 units in service today.
The Airbus Australia Pacific response included selected industry partners and the provision of training, maintenance, logistics and engineering activities. A comprehensive transfer of technology and skills will make Airbus Australia Pacific a regional centre able to proactively support Australian operational needs, and export this knowledge back into the wider H145M community," he added.
"Airbus stands ready to respond to the next stage in the tender process," Mathewson added.


THE EHANG 216 TAKES FLIGHT IN VIENNA




On April 4th, the EHang 216 made its first successful public test flight in the Generali Arena in Vienna, Austria. The flight lasted only a few minutes, and the drone was restricted to an altitude of about 30 ft. inside the stadium, as the drone was not yet certified to fly in Austrian airspace. However, the Chinese firm EHang remained firmly confident in the EHang 216's capabilities. Photo © Ehang


The EHang 216 is completely autonomous, and can fly at up to 80 mph for nearly half an hour. Equipped with two passenger seats, it can carry a total load of up to 570 lb. The 750 lb. drone features 8 sets of rotors, for a total of 16, which currently emit a noise level of 90 decibels, possibly uncomfortable for passengers and onlookers. The firm expresses future intentions to bring down the noise level to at least 75 decibels. A 17 kilowatt battery allows the EHang 216 to travel at consumption levels "comparable to an electric car in an urban environment."
EHang, currently partnered with FACC, an Austrian aerospace company owned by Chinese aerospace group AVIC, expresses plans to begin mass-production of the drone soon, with a goal of 300 drones by mid-2021. So far, the company reported that they have already received thousands of offers, with the highest interest coming from China, as well as companies aiming to utilize short-haul services for passengers, industrial equipment and urgent medical deliveries.
EHang says it eventually hopes to use to the drone to carry passengers at low altitude over distances of up to 35 kilometres but for now still needs to be cleared for use by aviation authorities. However, both EHang and Austria remain optimistic. Austrian Transport Minister Norbert Hofer, who was present at Thursday's demonstration, said that "I hope that Austria will be the place where thousands of these drones, of these air taxis will be built and I hope that very soon we will see a lot of these air taxis in the air."


SAMAD AEROSPACE UNVEILS ITS HOME AND URBAN MOBILITY AIRCRAFT (HUMA) CONCEPT



Samad Aerospace, having already announced its partnership with Strand Aerospace, has also recently announced its concept for the Samad HUMA-a smaller modular transportation method that utilizes the same technology Samad is developing for its larger eVTOL.
Samad Aerospace is a startup in the UK focusing on developing a business-class style eVTOL called the Starling Jet. More than just developing a jet, Samad considers itself a pioneer in aerodynamics, aircraft design, and propulsion systems, with the goal of changing how both goods and people move around the world. Samad envisions a seven-year development plan in which it begins commercialization of its UAV aircraft in 2019, and moves on to launch the e-Starling passenger eVTOL in 2022.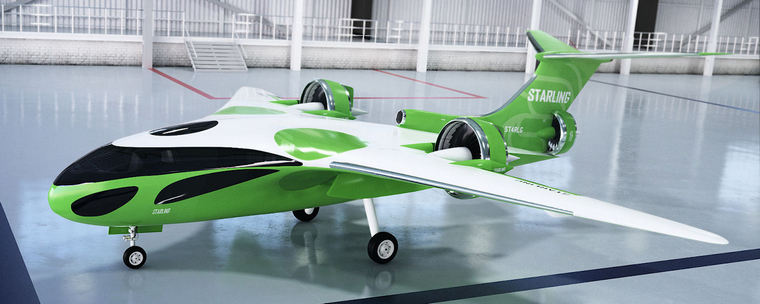 The Samad Starling Jet, the electric version of which will be commercialized in 2022.

Samad's latest advent, the Home and Urban Mobility Aircraft (HUMA) system, shows the Samad is not just thinking about the Starling Jet, but about Urban Air Mobility as a whole. The HUMA system, according to Samad CEO Seyed Mohseni, is a two-seater 2-in-1 combo of all-electric VTOL aircraft and car. Said Mohseni: "Samad Aerospace has been watching the development of urban air mobility closely. We believe that the technology we're developing will be applicable in many ways to the market as it evolves from today's best practices." With HUMA, Samad intends to design an aircraft that "addresses all of the key criteria tailored to the urban mobility market: minimum acquisition and operating costs, as well as improved efficiency and ease in air travel." Notably, the HUMA system resembles the design of the Airbus Pop.UP modular transport system: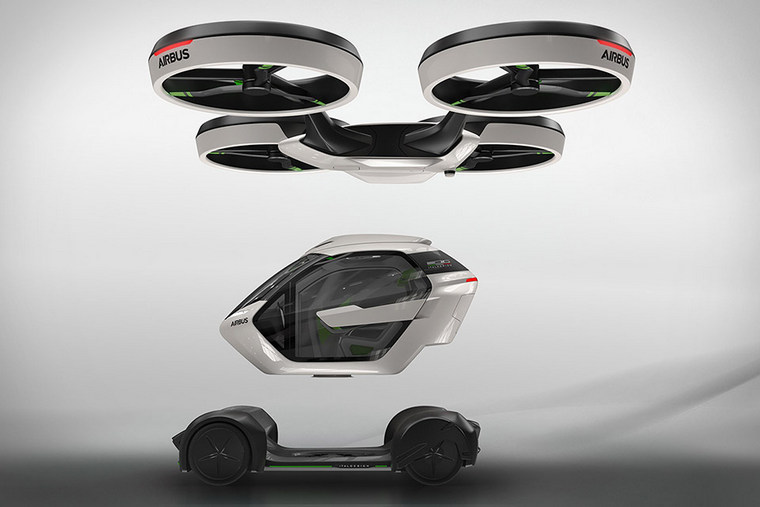 Airbus's Pop.UP modular transport system, the design of which is similar to the Samad HUMA system.

Samad's announcement of HUMA came at the Langkawi International Maritime and Aerospace Exhibition (LIMA19') late this March in Malaysia.
Why it's important: While not much is yet known about the HUMA system, Samad's release of the concept shows the breadth to which Samad Aerospace aspires. While it's going full throttle on the Starling Jet, the company also seems to be focusing on urban air mobility as a whole, considering how it's technology can best be used within the UAM space.


Japan, Pacific, 135 km E of Misawa Air Base: A Lockheed Martin F-35A Lightning II of the Japan Air Self-Defence Force went missing over sea while it was engaged in training with three other F-35A jets. Some debris from the stealth fighter, including the tail, has been found a day after. The ocean is 1500m deep at that point. The fate body of the pilot was found two day later. The aircraft had been in the air for 28 minutes when contact was lost. The pilot had 3,200 hours of flight time, with 60 hours on the F-35.
UK, Manchester: An American Airlines pilot David Copeland pleaded guilty to performing an aviation task while intoxicated at the Manchester Magistrates' Court. Copeland was scheduled to work a flight from Britain to Philadelphia in February, but was arrested at Britain's Manchester Airport after being suspected of excessive alcohol consumption. a security guard at the airport smelled alcohol on Copeland's breath during an examination of Copeland's baggage. Copeland was reportedly instructed to leave the plane's cockpit while it was on the runway before failing a breathalyser test. He was found to have a blood alcohol concentration of 0.027.
Spain, Tenerife Sur Reina Sofia: A Ryanair Boeing 737-800 on a flight from Tenerife Sur Reina Sofia, (Spain) to Glasgow Prestwick, (UK), was climbing out of Tenerife's runway 07 when the captain stopped the climb at FL250 after the first officer had become ill and became incapacitated. The captain returned the aircraft to Tenerife Sur Sofia Reina for a safe landing on runway 07 about 45 minutes after departure.
USA, McGhee Tyson Airport: A Beechcraft C90 King Air operated by Central Virginia Aviation Inc with two on board sustained a landing gear collapse on landing and slid from the runway. There were no injuries.
Taiwan, Kaohsiung: A Cathay Dragon Airbus A330-343 on a flight from Kaohsiung to Hong Kong-Chek Lap Kok International Airport, returned to Kaohsiung, Taiwan after suffering engine problems on departure. Shortly after departure, loud noises were heard and sparks were observed from the exhaust of one of the engines. The flight crew shut down the engine and made a safe landing back at Kaohsiung Airport.
Dominica, Douglas-Charles Airport: A British Aerospace 4100 Jetstream 41 operated by Sky High Aviation Services, suffered a runway excursion after landing at Dominica's Douglas-Charles Airport. Photos from the scene show an undercarriage leg and debris on the runway with the aircraft having come to rest in the grass next to the runway. All occupants evacuated safely from the aircraft that had suffered substantial damage.


9 APRIL 1964

Official retirement of the Avro Lancaster at Downsview, Ontario, Canada

In 2017, formerly retired after its Cold War service and more than 50 years on display in Edmundston, New Brunswick, Lancaster KB 882 moved to its new home at the National Air Force Museum of Canada in Trenton, Ontario where it will be restored and placed alongside the museums' restored RAF Handley Page Halifax heavy bomber. NA 337

Photo Avro by Canadian Forces/commons.wikimedia.org

Of the 17 surviving and largely intact Lancasters known to exist, two are airworthy; one, PA474, based in Coningsby, the UK, is operated by The Battle of Britain Memorial Flight, and the other, called Vera (coded VR-A, FM213), is in Canada, operated by the Canadian Warplane Heritage Museum in Mount Hope, a suburb of Hamilton, Ontario. Another Lancaster, Just Jane, NX611, a B MkVII, based in East Kirkby Lincolnshire Aviation Heritage Centre is able to taxi but is not currently airworthy, though there are plans to return her to flight in the future. The fourth Lancaster with working engines and able to taxi is Bazalgette FM159 based at the Bomber Command Museum of Canada in Nanton, Alberta. It has been carefully restored from a vandalised state and is now a main tourist attraction.
In 2014, the Canadian aircraft toured the UK in a series of joint displays with the BBMF aircraft.
For the 2018 flying season, to commemorate the 75th anniversary of Operation Chastise, the Canadian Warplane Heritage Lancaster was painted in the markings of Guy Gibson's 617 Squadron aircraft (Code AJ-G, ED932) when he commanded the "Dambusters" raids.