THIS WEEK IN MIDWEEK UPDATE

Plan Your Weekend……...Forthcoming Events……..Aviation News

Worldwide Incidents and Accidents……This Week in Aviation History




11-12: NAC Bush Weekend at Letsatsi Game Reserve. Deon 082 458 5719, Deneys 082 891 4354 or JP 083 625 4804.
10 & 11: Lowveld Air Show at Nelspruit airport. Contact Monica Fourie Tel: 083 619 3597 e-mail:
monica.fourie@kishugu.com
10-12: Battlefields Fly-in. Contact Dave O'Halloran e-mail:
gm@battlefiedslodge.co.za




14-17: NAMPO Agricultural Trade Show near Bothaville, Free State. Contact Wim Venter Tel: 086 004 7246 e-mail:
Wim@grainsa.co.za
18: SAPFA Sheila Taylor Fun Rally - Krugersdorp Airfield. Contact Frank Eckard cell: 083 269 1516 e-mail:
frank.eckard@mweb.co.za
or Cecile Ferreira 082 374 5559.
19 & 20: SAC Free State Regionals at Tempe Airport. Contact Annie Boon e-mail:
chunge@mweb.co.za
25: Botswana International Air Show Matsieng Aerodrome (FBMA). Contact Hentie de Wet e-mail:
hentie@dwddrilling.com
26: Springs Airfield MU Fly in. Contact Fanie 083 789 5507 or Gerhard 082 771 3329.


1: Newcastle Airshow. Contact Johan Pieters
johan@champ.co.za
082 923 0078
1: Klipriver Breakfast Fly-in. Contact Freddie 083 442 5683
8: Bethlehem Speed Rally - Bethlehem Airfield - Contact Jonty Esser e-mail:
jonty@promptroofing.co.za
cell: 082 855 9435
8: Kroon Fly-in. For more info contact Dawie 083 576 2355 or Marius 083 419 6613
10: World Precision Flying Championships - Castellon Spain - Contact Hans Schwebel e-mail:
hans.s@britsgranite.co.za
cell: 082 656 3005
12-15: Zimbabwe Air Rally. Mel Cooper cell: + 263 773 218426 e-mail:
zimairrally@gmail.com
17-23: 53rd Paris Air Show. Contact E-mail:
expo2019@siae.fr
Website:
www.siae.fr
22: V-Dubs and Harvards Grassland's Flying Club Breakfast Fly-inn. Contact Adrienne 071 604 4648.
22: SAPFA Vintage Rally - Krugersdorp Airfield
22: Mafikeng Airshow. Contact Relibile Mofokeng e-mail:
relibilemofokeng@gmail.com
cell: 073 837 0162
22: Reefsteamers train, plane and vintage car event from Krugersdorp to Magalies. Contact Ian Morrison e-mail:
imorison@worldonline.co.za
23-28: South African Hot Air Balloon Championships. Bill Harrops, Skeerpoort North West Province. Contact Richard Bovell e-mail:
chairman@bafsa.co.za
25: Rustenburg Breakfast Fly-in. Contact Mauritz Muller
mauritzmuller1@gmail.com
27-30: SAC National Championships Malelane airfield. Contact Annie Boon e-mail:
chunge@mweb.co.za


4-6: AERO South Africa Wonderboom National Airport, Pretoria. Contact: Tel +27 120 599 6151 e-mail:
Amanda.Dube@za.messefrankfurt.com
12-14: EAA Nysltroom Viegklub Taildraggers. Contact Richard Nicholson cell: 082 490 6227 e-mail:
flybenchmark@gmail.com
13: SAPFA Hoedspruit Fun Rally Hoedspruit Civil Airfield> Contact Frank Eckard cell: 083 269 1516 e-mail:
frank.eckard@mweb.co.za
22-28: EAA AirVenture Oshkosh, Wisconsin, USA. Camping on the airfield contact Neil Bowden E-mail:
neil1@telkomsa.net
. Hotels in Appleton contact Calvin Fabig E-mail:
calvin@designer.co.za
25-27: Brits - Air Navigation Race (ANR) Nationals - Brits Airfield. Contact Frank Eckard e-mail:
frank.eckard@mweb.co.za
cell: 083 269 1516




The Aviation Radio Show; get all your questions answered in one place. To listen to a recording of the live broadcast click on the link:
www.debela.co.za/aviation-radio-show








THE AERO CLUB OF SA IS AN ENDORSED PARTNER AERO SOUTH AFRICA

Dear Member,
The Aero Club of SA as an endorsed partner, has been able to secure a favourable rate for affiliated companies wishing to participate in AERO Wonderboom on 4 - 6 July 2019.

The Aero Club of South Africa will also be present at this show and invite all recreational affiliated aviation industry partners to take part in this featured business to business expo modelled on Europe's biggest general aviation show, AERO Friedrichshafen. With the specific focus areas of AERO South Africa, it makes perfect sense for Aero Club Members to participate.

Members who book via Aero Club will secure a discount on indoor and outdoor space.

For more information on pricing and bookings, please contact the Aero Club at office@aeroclub.org.za

Yours in preserving Free Flight

The Aero Club of South Africa
011 082 1100





PIPISTREL OBTAINED A MICROLIGHT CERTIFICATION ACCORDING TO NEW GERMAN 600KG RULES AS THE FIRST IN THE WORLD



On the premise of EASA new basic regulation, permitting for MTOM of 600kg for microlights in Europe, Germany was the first country to implement the new regulation. As a testament to excellent collaboration between DULV and Pipistrel since decades, Pipistrel became the first to obtain new microlight certification according to new German 600kg technical LTFUL 2018 rules. Photo © Pipistrel.


Germany was the first country which has declared the opt-out. It is also the first country which developed and published the necessary airworthiness requirements for these aircraft (LTF-UL 2019, (NfL 2-446-19). The Second Implementing Regulation for the Regulation of Inspection of the Aircraft (2nd DV LuftGerPV) on April 10, 2019, appears in the Federal Journal. Proudly and with satisfaction we are now able to hand over the first 600-kg type-certificate to the company Pipistrel for the VIRUS SW 600 D as an authorized body of the Federal Ministry of Transport. It is not only the first type certification in this category for us - probably also the first in Europe. The German type approval is recognized in many European countries. By this and in connection with the high quality of the Pipistrel products, we wish the VIRUS SW 600 D every success
Tine Tomažic PhD, the director of Pipistrel Vertical Solutions, said: "Pipistrel Vertical Solutions welcomes the exemplary working process with DULV, which allowed for a quick and diligent verification of Virus SW 600 D conformance to LTF-UL2019 rules. Developing this new product, we wanted to set a benchmark in safety, and set the bar in how certification is done. I am proud of the Pipistrel Vertical Solutions team which I have the privilege to lead. The new 600 kg UL class allows for more safety enhancing features in the airplanes, and all manufacturers should keep this in mind when they pursue this new segment, rather than just making "heavier" ultralights
The first of the Virus SW 600D was delivered to a German customer during the occasion. The General Manager of Pipistrel, Ivo Boscarol, handed over the keys of the aircraft to the German distributor, Mr Peter Goetzner


FLYING AT JET SPEEDS IN ITALIAN STYLE WITH THE PIAGGIO P.180 AVANTI EVO TURBOPROP







THE PAL-V LIBERTY WILL MAKE ITS SPANISH PREMIERE AT THE AUTOMOBILE BARCELONA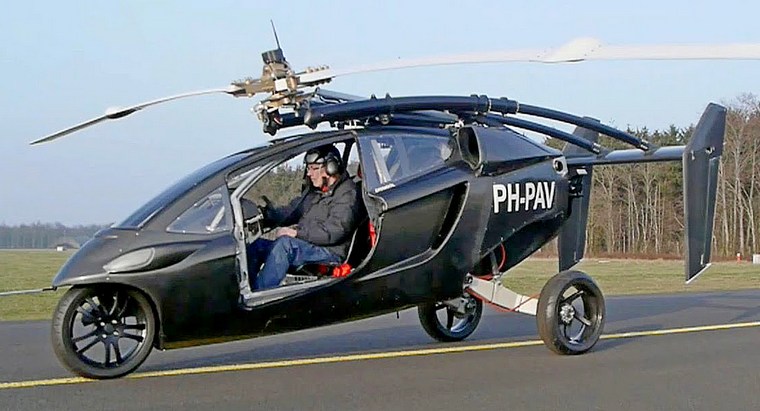 "This will be the first time that PAL-V will be present at a car show in Spain. The dream of having a flying car started around the same time as the first edition of Automobile Barcelona therefore celebrating the 100 year anniversary of the show together with our Spanish premiere of the PAL-V Liberty Pioneer is the perfect combination." Robert Dingemanse, CEO of PAL-V. Photo © PAL-V


"The Pioneer edition is for those that want to be part of a unique group that writes history with us. They will be at the forefront of a mobility revolution, where we will no longer have cars that can only drive. They will be the first CarFlyers in their country, FlyDriving to any destination," Robert Dingemanse added.
Amongst other features, the Pioneer edition is equipped with a dual control cockpit and the Electronic Flight Instrument System. The full carbon package clearly distinguishes the Pioneer from the standard Liberty as well as a tailor-made interior and exclusive characteristic two tone colour scheme.
Developing a flying car takes a long time and a lot of persistence. It's a revolutionary development, especially as PAL-V developed a commercial vehicle that complies with existing regulations, very different from an interesting technical concept. Mike Stekelenburg, chief engineer of PAL-V, says: "People have been trying to find a solution to commercializing a flying car since the inception of the Automobile Barcelona. After 100 years and many technology breakthroughs later, we are able to build and certify a flying car based on the gyroplane principle that was originally invented by Spaniard Juan de la Cierva. The gyroplane principle not only provides us with a safe and easy to operate flying car but it also enables us to make it compact and within existing regulations."
The Pioneer edition gives 90 people in the world the possibility to go above and beyond. First deliveries are planned for 2020.

DART-550 PROVES ITS CAPABILITIES DURING FIRST CUSTOMER DEMONSTRATION FLIGHTS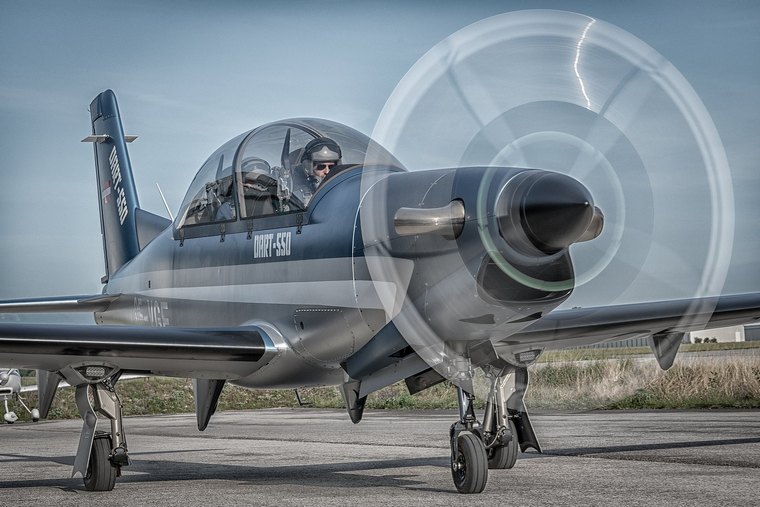 With a globally aging fleet of military training aircraft and the rising demand for pilot training, the DART-550, Diamond Aircraft's new turboprop trainer, aims to be on the sweet spot of modern training requirements. Photo © Diamond Aircraft.

Diamond Aircraft, for the first time ever, has invited an exclusive group of potential customers to fly the DART-550 trainer aircraft in order to experience and prove its capabilities and potentials for pilot training purpose. Despite the ongoing and intensive certification program, the aircraft had been blocked for two consecutive weeks to facilitate potential customer demonstrations that took place in Wiener Neustadt, the headquarters of Diamond Aircraft. Diamond Aircraft's Chief Test Pilot Sören Pedersen took the potential clients on multiple waives including aerobatics, low level manoeuvring, low speed manoeuvres, circuit patterns as well as customer specific requests.
Among the potential customers were high ranked delegations from the Paraguay Air Force (PAF) and further undisclosed participants like an Air Force from Europe and European Service Providers. We are proud to have hosted the Paraguay Air Force as the very first international Air Force to test the new DART-550.
The feedback received from the professional test pilots is very positive in all aspects and confirms Diamond Aircraft's plan to provide the military training market with a state-of-the-art basic trainer at an unmatched price tag. The demonstration proved that the DART-550 outreaches basic training requirements of modern training environment in all aspects. Especially when it comes to formation training, the DART-550 outperforms certain competitors due to great visibility combined with simple and precise engine controls. The 550 SHP flat-rated engine provides the full range of power up to around 18,000 ft, which results in a very competitive performance envelope.
Capitán PAM Hernán Dioverti, Chief test Pilot of Fuerza Aérea Paraguaya said that he is "very impressed by the aircraft DART-550, an excellent trainer that combines great aerodynamics with the latest in avionics technology and a powerful engine with very low cost of operation and maintenance. An ideal airplane for the different phases of military flight training.
Markus Fischer, Director Special Mission Aircraft, Diamond Aircraft Austria: "We are glad that we have got the opportunity to demonstrate the capabilities of the DART-550 to potential clients for the very first time and even more about the positive feedback from the professional pilots. The DART-550 is a full composite turboprop trainer in tandem seat configuration, equipped with a state-of-the-art avionic suite (Garmin G3000 touch control), Martin-Baker MK16 ejection seats and an ECU controlled General Electric H75-A turboprop engine. With the experience made it is also a confirmation of our strategy as well as a motivation for the team to keep on the hard work in order to introduce the aircraft to the market on time."



PIPER AIRCRAFT COMPLETES DELIVERY OF ARCHER TX AIRCRAFT TO COAST FLIGHT TRAINING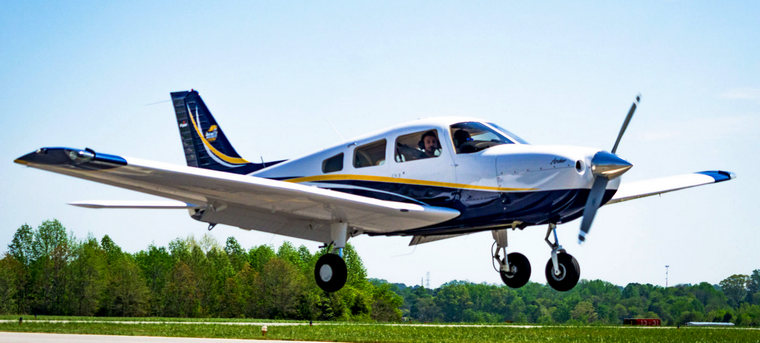 Piper Aircraft has completed delivery of ten (10) new Piper Archer TX single-engine trainers to San Diego based, Coast Flight Training. The Garmin G1000 equipped Archer TX is the first in a series of new aircraft acquisitions Coast is undertaking to expand its fleet to meet growing training demand. These aircraft will primarily serve students enrolled in the American Airlines Cadet Academy at Coast Flight's campus in San Diego. Photo © Piper


"Piper Aircraft is proud that the robust Piper Archer was selected as the primary training aircraft for Coast Flight Training. These 10 aircraft will be added to an already impressive fleet of 40 aircraft and will provide the school with a training tool that has a proven track record of assisting student pilots to become full-fledged aviators," said Piper President and CEO Simon Caldecott. He added, "We look forward to continuing to support Coast Flight Training's expansion as they work towards providing quality commercial pilots to the industry.
"The Piper Archer is a relentless workhorse," said Bryan Simmons, President of Coast Flight Training. "Providing the most modern, single-engine aircraft equipped with a glass cockpit affords our students a competitive advantage for flying in the contemporary world and prepares them for a career as a professional pilot. We know we have the power to equip aspiring pilots with the greatest knowledge and technical abilities by handing them the controls to the most proficient training aircraft."

SMALL EYE IN THE SKY: SPECIAL FORCES WILL SOON HAVE NEW ENDURING ISR OPTION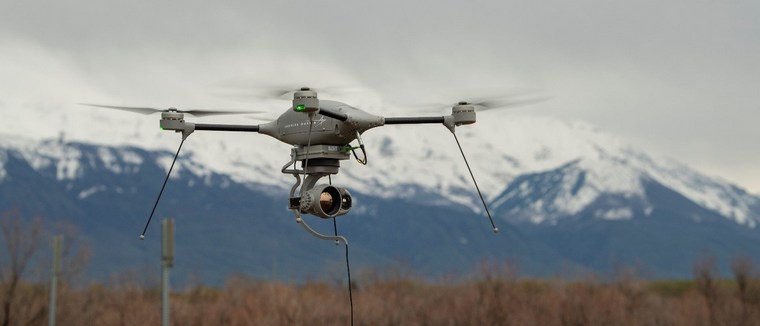 Combating counterinsurgency, conducting reconnaissance, collecting information vital to national security, United States Special Forces conduct some of the most sensitive and critical missions. Photo © Lockheed Martin.

The people and infrastructure required for these missions also require constant protection through reliable intelligence and surveillance. That's why Lockheed Martin [NYSE: LMT] expanded its Indago portfolio to include a tethered option.
Without the tether, Indago 3 flies for 50-70 minutes and can be carried in a rucksack, leading the group 1 small unmanned aerial system (UAS) industry in endurance and transportability. For uninterrupted ISR, special forces can quickly configure the tether, taking away the need for battery reliance.
"When it comes to unmanned systems and capability, size does matter," said Michael Carlson, Business Development manager for Indago. "We want to make something as important as force and facility protection as simple and effective as possible - the tethered Indago can do that."
Its payloads provide high resolution, daytime, electro-optical imagery capable of reading a license plate from a 1000-foot standoff distance. For nighttime, it provides detailed thermal infrared that can identify a person, weapon, and other intelligence, such as warmth of vehicle tracks on the surface. This includes imagery in black hot, white hot, and iron bow, an orange and purple heat map colour scheme.


Russia, Moscow: Forty-one people were killed Sunday when a Russian Sukhoi Superjet with 78 on board made an emergency landing in Moscow. The aircraft burst into flame whilst careening across the runway at Moscow's Sheremetyevo Airport before skidding to a stop perpendicular to the runway. Passengers scrambled out of the burning hulk down emergency slides, some with children in their arms. Aeroflot said the plane was forced to return to the airport because of a "technical reason" and that its engines caught fire as it touched down.
USA, Seattle: An American Airlines Boeing 737-800 was climbing out of Vancouver for a flight to Chicago, when a runway inspection found fragments of a tyre as well as a hydraulic bracket. The crew was informed and decided to divert to Seattle. Descending towards Seattle the crew advised hydraulic system A had depleted to about 23% hydraulic quantity and the ANTI-SKID INOPERATIVE light had illuminated. The crew declared emergency and performed a safe landing on Seattle's runway 16L.
USA, A Skywest Canadair CRJ-200 operating on behalf of American Airlines performing was accelerating for take-off for a flight to Meridian, MS when the aircraft struck a deer and rejected take-off. The aircraft returned to the apron.
USA, Kawainui, Kailua, Hawaii. A Robinson R44 Clipper operated by Novictor Helicopters impacted a road in Kawainui, Kailua, Hawaii. The helicopter was consumed by the post-impact fire and all 3 occupants on board received fatal injuries.
USA, University-Oxford Airport: Eight minutes after taking off from University-Oxford Airport and seconds before the 13 April crash of a Rockwell Sabreliner twinjet near New Albany, Mississippi, the crew reported an electrical malfunction, according to a preliminary NTSB report. According to ATC recordings, at 3:06 p.m., after the jet took off and was climbing through 1,300 feet, controllers advised of moderate to severe precipitation in the area and provided a clearance to 11,000 feet. At 3:08 p.m., ATC asked the pilots for their altitude (the transponder was not emitting Mode 3A information) and informed them of moderate to heavy precipitation along their route. The crew acknowledged the radio call and told ATC they were climbing through 9,000 feet for 11,000 feet. The airplane maintained an approximate heading of 080 degrees from 3:06 p.m. until about 3:10 p.m., when it turned right to about 120 degrees. Two minutes later, the airplane made a left turn to about 040 degrees and ATC asked the crew if they were having navigation issues or if they were deviating. The flight crew responded they were deviating but that they also were having "AC voltage problems." The last radio call received from the aircraft was an acknowledgment of a heading assignment to 095 degrees at 3:13 p.m. However, the airplane began a right turn to about 270 degrees when radar and radio contact was lost. At the crash site in remote wooded terrain the NTSB said broken trees indicated the airplane attitude at impact was about 50 degrees' right bank and 20 degrees' nose low. "The wreckage was highly fragmented and spread over an area about 800 feet wide and 1,500 feet long." The CVR was recovered. The two pilots and passenger were killed.
Canada, East of Makkovik, Labrador: A Piper PA-46-350P Malibu operated by Southern Aircraft Consultancy Inc with two on board on a flight from Goose Bay to Narsarsuaq Airport crashed under unknown circumstances in Makkovik. The two pilots on board survived with unspecified but apparent serious injuries.
USA, near Waurika Lake, Jefferson County: A United States Air Force Beechcraft T-6 Texan II based at Wichita Falls-Sheppard AFB with two on board crashed at Waurika Lake, Jefferson County, Oklahoma 40 miles from its base. The aircraft was destroyed and the two pilots ejected without apparent injury.
USA, Florida: A Boeing 737-800 slid off a runway into a river at a Florida military base, injuring 22 people. The plane chartered by the U.S. military landed during a thunderstorm at Naval Air Station Jacksonville on Friday night and was arriving from Naval Station Guantanamo Bay in Cuba with 136 passengers and seven crew members. The failure of the left-hand "thrust reverser" on the was one of the factors investigators were looking at. Another possible cause was the pilot's decision to change to a runway that had equipment set up on it, reducing the length of available landing space to 7,800 feet (2377 meters) from a total runway length of 9,000 feet (2743 meters). The aircraft landed at a speed of 163 knots (188 mph) with a tail wind of 15 knots (17 mph) that increased its ground speed to 178 knots (205 mph) on landing.




9 MAY 1978

David Cook makes the first crossing of the English Channel in a powered hang-glider.


This was a record-setting trip not only because this was the first time someone had crossed the Channel in a hang-glider, but it was powered by the smallest engine that had been used on any aircraft crossing the Channel.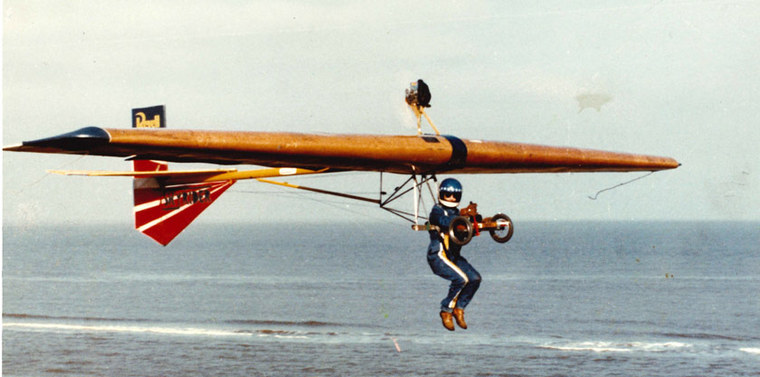 David Cook Piloting the Glider © Museum of Science and Industry, Manchester / SSPL. Creative Commons BY-NC-SA

The glider itself was not manufactured with an engine, but was modified by David Cook to include an engine taken from a 125cc go-kart, giving an output of just 9 horsepower (for reference, that's relying on an engine with less output than a standard ride-on lawn mower).
He also made his own speedometer, as he would need to carefully keep track of his speed to ensure he didn't run out of fuel. He travelled with about 10 litres of fuel in order to keep the glider as light as possible, and used all of it in the 25-mile journey. It took David just over an hour to fly from Walmer Castle, Kent, to a spot just south-west of Calais.
For this accomplishment, Cook was awarded the 'Medal of Aviation Achievement' by Prince Charles at the Royal Aero Club, and the hang-glider was acquired by the Manchester Air and Space Museum, which joined with the Museum of Science and Industry in 1985.