THIS WEEK IN MIDWEEK UPDATE

Plan Your Weekend……...Forthcoming Events……..Aviation News

Worldwide Incidents and Accidents……This Week in Aviation History




25: Botswana International Air Show Matsieng Aerodrome (FBMA). Contact Hentie de Wet e-mail:
hentie@dwddrilling.com
26: Springs Airfield MU Fly in. Contact Fanie 083 789 5507 or Gerhard 082 771 3329.



1: Newcastle Airshow. Contact Johan Pieters
johan@champ.co.za
082 923 0078
1: Klipriver Breakfast Fly-in. Contact Freddie 083 442 5683
8: Bethlehem Speed Rally - Bethlehem Airfield - Contact Jonty Esser e-mail:
jonty@promptroofing.co.za
cell: 082 855 9435
8: Kroon Fly-in. For more info contact Dawie 083 576 2355 or Marius 083 419 6613
9: LSA (Large Scale Aerobatics) Regional Competition. RMAC (Rand Model Aeronautical Club) Alberton, Johannesburg. Contact: Justin Gomersall,
justin@dgkitchens.co.za
, 0844651000
10: World Precision Flying Championships - Castellon Spain - Contact Hans Schwebel e-mail:
hans.s@britsgranite.co.za
cell: 082 656 3005
12-15: Zimbabwe Air Rally. Mel Cooper cell: + 263 773 218426 e-mail:
zimairrally@gmail.com
22: V-Dubs and Harvards Grassland's Flying Club Breakfast Fly-inn. Contact Adrienne 071 604 4648.
22: SAPFA Vintage Rally - Krugersdorp Airfield
22: Mafikeng Airshow. Contact Relibile Mofokeng e-mail:
relibilemofokeng@gmail.com
cell: 073 837 0162
22: Reefsteamers train, plane and vintage car event from Krugersdorp to Magalies. Contact Ian Morrison e-mail:
imorison@worldonline.co.za
23-28: South African Hot Air Balloon Championships. Bill Harrops, Skeerpoort North West Province. Contact Richard Bovell e-mail:
chairman@bafsa.co.za
25: Rustenburg Breakfast Fly-in. Contact Mauritz Muller
mauritzmuller1@gmail.com
27-30: SAC National Championships Malelane airfield. Contact Annie Boon e-mail:
chunge@mweb.co.za


4-6: AERO South Africa Wonderboom National Airport, Pretoria. Contact: Tel +27 120 599 6151 e-mail:
Amanda.Dube@za.messefrankfurt.com
12-14: EAA Nysltroom Viegklub Taildraggers. Contact Richard Nicholson cell: 082 490 6227 e-mail:
flybenchmark@gmail.com
13: SAPFA Hoedspruit Fun Rally Hoedspruit Civil Airfield. Contact Frank Eckard cell: 083 269 1516 e-mail:
frank.eckard@mweb.co.za
22-28: EAA AirVenture Oshkosh, Wisconsin, USA. Camping on the airfield contact Neil Bowden E-mail:
neil1@telkomsa.net
. Hotels in Appleton contact Calvin Fabig E-mail:
calvin@designer.co.za
25-27: Brits - Air Navigation Race (ANR) Nationals - Brits Airfield. Contact Frank Eckard e-mail:
frank.eckard@mweb.co.za
cell: 083 269 1516


3 & 4: SAC KZN Regionals Ladysmith airfield. Contact Annie Boon e-mail:
chunge@mweb.co.za
21-31: SAC Unlimited World Championships in France. Contact Annie Boon e-mail:
chunge@mweb.co.za
24: Bethlehem Airshow. Contact Stephan Fourie e-mail:
fouriesj1491@gmail.com
26-31: SAPFA World Precision Flying Championships - Castellon Spain. Contact Hans Schwebel cell: 082 656 3005 e-mail:
hans.s@britsgranite.co.za




The Aviation Radio Show; get all your questions answered in one place. To listen to a recording of the live broadcast click on the link:
www.debela.co.za/aviation-radio-show






ELIXER AIRCRAFT-A BIG STEP TOWARDS CERTIFICATION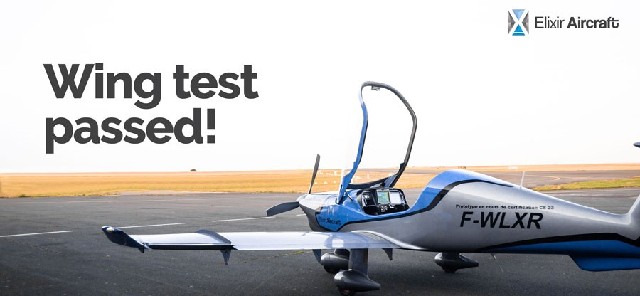 After several months of work, we have just reached an important milestone regarding EASA CS-23 certification. As part of the latter, structural tests must be carried out on major parts. The goal is to demonstrate the reliability of the OneShot structure of the Elixir. Photo © Elixer.



After weeks of preparation, the OneShot Elixir wing has successfully passed its resistance test. It withstood 8.6 tons. We had voluntarily carried out a major repair on one side of the wing, while simulating impacts at each root to put it in the most extreme conditions possible.
The 8-meter OneShot wing is firmly attached to the multi-ton steel frame, ready to impose enormous stresses on it. The test begins, the stresses increase step by step, hundred kilos per hundred kilos, ton per ton, the bending takes shape. The bending increases further, until each end of the wing is raised to more than 50 centimetres. Constraint displayed on the screen: 8.6 tons.
A major step has just been made not only for Elixir Aircraft, but also for general aviation. It is a success in 3 main aspects:
• In accordance with the requirements of EASA CS-23, the test demonstrated the safety of the wing's OneShot structure.
• The repair process is validated.
• The wing remains safe even when it has impacts.
At the same time our industrialization is progressing well and is almost completed. We now have 800m² to produce the first airplanes. Regarding our commercial activities, we have 76 pre-orders, 3 of the last are from the Aéro Touring Club de France, a major aero club near Paris.


LILIUM UNVEILS FIVE-SEATER AIR TAXI PROTOTYPE AFTER A SUCCESSFUL MAIDEN FLIGHT FOR ITS LATEST JET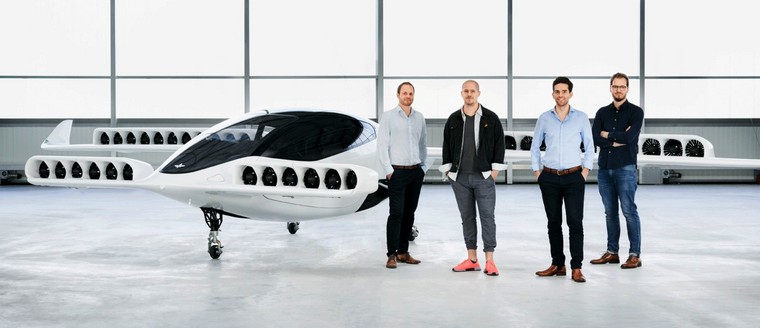 Lilium's new five seater Vtol Jet first took to the air on 4th May 2019. The prototype aircraft that was controlled remotely from the ground will now undergo a more rigorous flight test campaign to lay the foundations for certification of the aircraft against commercial aircraft safety standards. Photo © Lilium


Following extensive ground testing the new Lilium five seater has taken off and landed. The new five-seater is a full-scale, full-weight prototype that is powered by 36 all-electric jet engines to allow it to take-off and land vertically, while achieving remarkably efficient horizontal or cruise flight.
The new jet performed in the sky as the company's models and ground testing had predicted, providing much needed validation for the Lilium team. Lilium isn't in the aircraft design and manufacturing business, but sees itself as a fully vertical mobility company for flights on demand, much like the Uber's business model.
With a top speed of 300 km/h and a range of 300km the Lilium jet is capable of completing much longer journeys than the majority of its competitors. This is, in part, thanks to the fixed wing design of the aircraft. This will see it rely on the lift generated by the fixed wing to remain in the air, meaning it will require less than ten per cent of its maximum 2000 horsepower during cruise flight.
The next big milestone will be achieving transition flight where the aircraft moves from vertical take-off to horizontal flight.

GULFSTREAM TO BRING RECORD-BREAKING, AWARD-WINNING FLEET TO EBACE 2019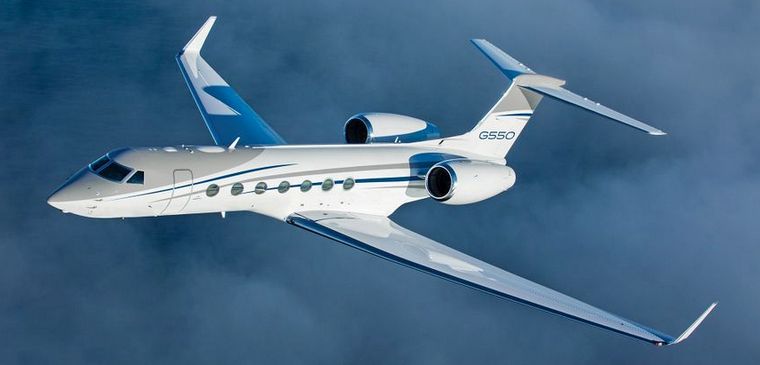 Gulfstream Aerospace Corp. announced it will showcase its record-breaking, award-winning fleet at the upcoming European Business Aviation Convention & Exhibition (EBACE) in Geneva. The event will take place May 21-23 at Palexpo and Geneva International Airport. Photo © Gulfstream

Gulfstream will bring the super-midsize Gulfstream G280™; the high-performing Gulfstream G550™; the all-new, award-winning Gulfstream G500™ and Gulfstream G600™; and the flagship Gulfstream G650ER™ for customer viewing.
"Customers in Europe have long recognized Gulfstream as the leader in providing high-performing, technologically advanced aircraft with an exquisite passenger environment," said Mark Burns, president, Gulfstream. "Backed by our growing Customer Support network, Gulfstream operators in Europe are assured of the comprehensive, world-renowned Gulfstream experience. Europe continues to be a strong market for Gulfstream, and we look forward to another successful EBACE."
The newest aircraft in Gulfstream's fleet, the clean-sheet G500 and G600, are equipped with the award-winning Symmetry Flight Deck™, the most technologically advanced flight deck in business aviation. The G600 is capable of flying 6,500 nautical miles/12,038 kilometres at Mach 0.85 and can connect Geneva to Hong Kong at Mach 0.90. The G500 is able to fly 5,200 nm/9,630 km at Mach 0.85. The aircraft is also capable of connecting Geneva to Chicago and did so in 8 hours and 1 minute, setting a city-pair record.
Gulfstream's exhibit at EBACE will also include the G500 and G600 Symmetry Flight Deck experience, where guests can conduct a pilot-led simulated flight using the active control sidesticks and extensive touchscreen technology.
Gulfstream's flagship, the ultralong-range G650ER, has a range of 7,500 nm/13,890 km at Mach 0.85 and can connect Geneva to Singapore at Mach 0.90 and Geneva to Santiago at Mach 0.87. The aircraft recently set a record for the farthest, fastest, nonstop business jet flight in history, connecting Singapore to Tucson, Arizona - a distance of 8,379 nm/15,518 km, in 15 hours and 23 minutes. To date, the G650 family has earned 90 city-pair records.
The iconic G550 has a maximum range of 6,750 nm/12,501 km and can link Geneva to Tokyo at Mach 0.85. The aircraft remains a popular choice for both commercial and special mission applications.
Gulfstream's agile G280 can fly 3,600 nm/6,667 km at Mach 0.80 and easily connects Geneva to Dubai at Mach 0.84; the jet holds more than 65 city-pair records, including New York to Geneva in 7 hours and 34 minutes.
"Our aircraft offer the industry's best combination of range, speed and performance, as demonstrated by our fleet's consistently growing number of city-pair records" said Burns. "Gulfstream aircraft continue to win awards, set records and redefine the capabilities of business jet aircraft."
In addition to the Symmetry Flight Deck™, the Gulfstream exhibit will also feature a real-time seat configurator, showcasing Gulfstream design innovation, paired with a physical seat display to see and feel comfort and design options.

US AIR NATIONAL GUARD TO TRIAL LEONARDO'S BRITECLOUD EXPENDABLE ACTIVE DECOY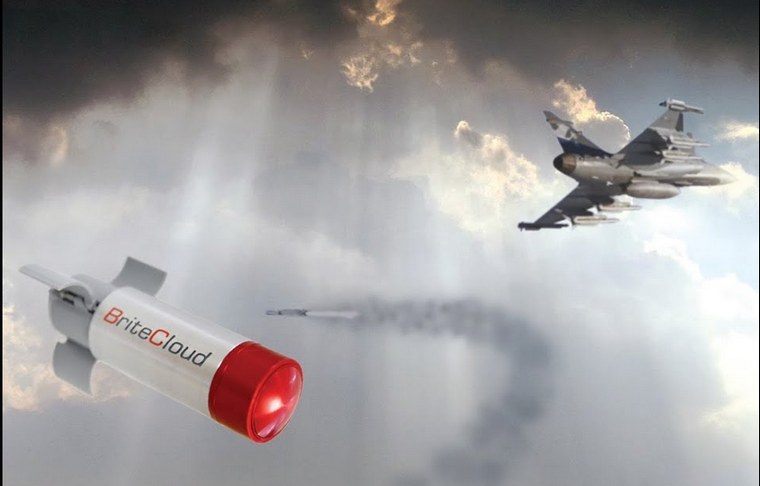 Leonardo has announced at the Electronic Warfare Europe conference that the United States Department of Defence has selected its BriteCloud expendable active decoy (EAD) to be evaluated under the US Foreign Comparative Testing (FCT) programme. Image © Leonardo.

BriteCloud is a compact, self-contained radio-frequency (RF) countermeasure system that is launched by a combat aircraft pilot to defeat attacks from radar-guided missiles. Effective against the latest and most-advanced radar-guided threat systems, BriteCloud provides an extra layer of survivability for pilots. By completely separating from its host aircraft and falling away, the decoy improves aircraft survivability by guiding the incoming missile away from the aircraft.
As a world-first technology, BriteCloud will be evaluated under the Office of Secretary of Defence (OSD) Foreign Comparative Testing (FCT) programme. The trials could lead to BriteCloud entering service with the United States Air Force (USAF) Air Combat Command and other US services.
The Air National Guard (ANG) will lead this FCT by evaluating BriteCloud as it is launched from countermeasure dispensers installed on US Air Force ANG aircraft. During the trials, ANG F-16 jets will dispense BriteCloud rounds, demonstrating the ability to enhance F-16 survivability. BriteCloud will be tested in a variety of challenging scenarios to provide a high level of confidence in the performance of the system.
The mission of the FCT programme is to find, evaluate and field products and technologies produced by US allies, such as the UK, where these products have a high technology readiness level in order to satisfy valid defence requirements more quickly and economically.
Leonardo is the number one supplier of electronics to the UK for military aircraft and its Electronic Warfare self-protection technology is in active service with the US Armed Forces and other allies around the world.

VIETNAM LAUNCHES TOURISM FLIGHTS OVER ICONIC HA LONG BAY WITH BELL 505 JRX HELICOPTERS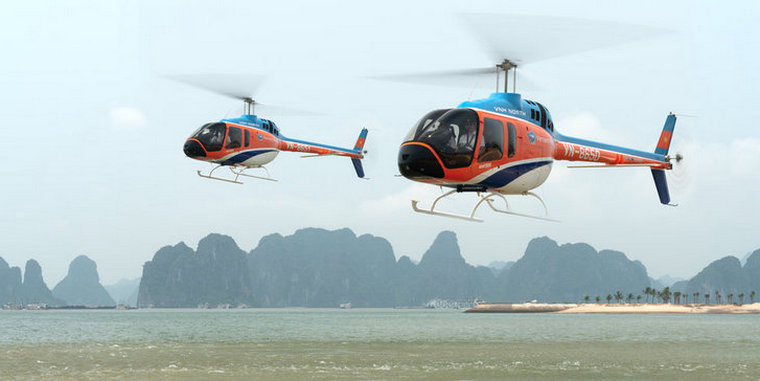 Bell Helicopter, a Textron Inc. (NYSE: TXT) company, announced that Northern Vietnam Helicopter Company (VNH North), a subsidiary of state-owned helicopter operator Vietnam Helicopter Corporation, has launched the first ever helicopter tourism flights with the Bell 505 in Vietnam's iconic Ha Long Bay. Photo © Bell Helicopter.

Vietnam Helicopter Corporation and VNH North operate a fleet of modern helicopters providing utility and transport services across several industries such as oil and gas, tourism, air ambulance, search and rescue and VIP transportation. The company plans to offer point to point transfers from Hanoi to Ha Long Bay, charter flights, wedding photography and aerial surveys with the Bell 505 helicopters.
VNH North has also selected to opt into Bell's Customer Advantage Plans (CAP) at today's ceremony. CAP provide customers with comprehensive coverage solutions for their daily operations. The plans offer a fixed cost per flight hour service option that protects customers' budgets and their aircraft and increases aircraft availability at rates competitive to published direct maintenance costs.
With a speed of 125 knots (232 km/h) and useful load of 1,500 pounds (680 kg), the Bell 505 is designed to be safe and easy to fly while providing significant value to the operator. Forward-facing seats and large windows give all passengers outstanding visibility during flight while large doors make boarding and loading cargo easier.

ENSTROM 480B HELICOPTER RECEIVES CANADIAN CERTIFICATION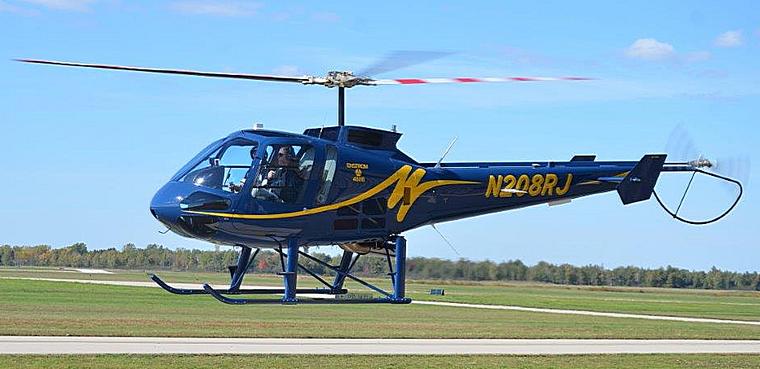 Enstrom Helicopter Corporation announced it has received Transport Canada validation of their model 480B helicopter on 25 January 2019. The 480B joins the other Enstrom models listed under FAA Type Certificate H1CE which have been approved for operation in Canada including the F-28A, 280, F-28C, F-28C-2, 280C, F-28F, 280F, and 280FX. Photo © Enstrom.


"Enstrom has a long history in Canada," commented Enstrom's Director of Sales & Marketing, Dennis Martin. "A number of our customers have expressed a desire to operate 480B's in Canada and this new validation will allow them to do so under Canadian registration." Enstrom is already in working with their first launch customer in Canada and expects the market to open quickly from there. "With its legendary toughness, fully articulated rotor head, and low operating costs, we feel the 480B is a natural in the demanding Canadian environment. Our piston aircraft have proved their worth there for years and we look forward to giving turbine customers a new, versatile option."

ROBINSON DELIVERS TWO MORE CADETS TO THE UNIVERSITY OF NORTH DAKOTA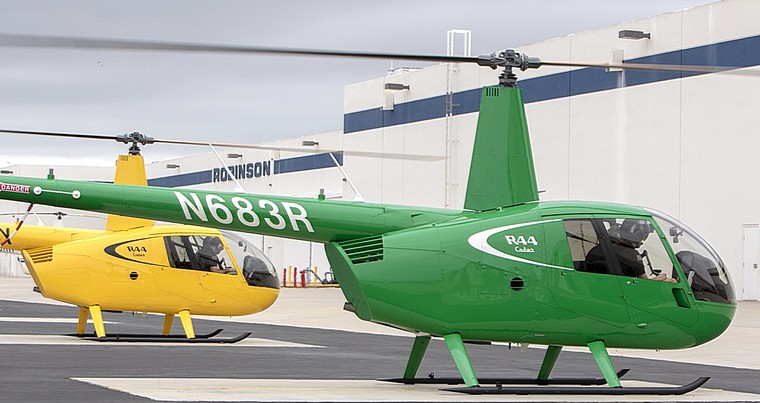 On May 8th, Robinson Helicopter Company delivered two R44 Cadets to the University of North Dakota (UND). The bright green and yellow helicopters are the latest additions to the University's growing fleet of Cadets. Photo © Robinson Helicopters

As with the two previously acquired Cadets, purchased in 2017 and 2018, the new Cadets will be used for training at UND's helicopter division located at the Grand Forks, North Dakota campus. The acquisition attests to UND's commitment to transitioning to an all R44 helicopter training fleet.
In 2018, thirty students in the helicopter division received ratings, ranging from private to CFI, and logged more than 1200 hours in Cadets.
The new aircraft are equipped for VFR and IFR training with a fully integrated glass cockpit featuring Garmin's G500H 1060 TXi (touchscreen) flight display, GTN 750 GPS/COM/NAV, and GTX 345 transponder with ADS-B In/Out.


UAE, about three miles south of Dubai International Airport: A British-registered Diamond DA62 operated by Flight Calibration Services Ltd/Honeywell crashed near Dubai International Airport. The aircraft was on a mission to calibrate terrestrial navigation systems at the Dubai International Airport (DXB). Three British and one South African national were on board. All four occupants were killed.
USA, Texas: A Navy flight instructor and a student sustained minor injuries Friday when their T-45 Goshawk jet crashed at Naval Air Station Kingsville, Texas. The pilots safely ejected from the aircraft just before it crashed just short of the runway inside the airfield perimeter fence.
USA, Alaska: Four people have been confirmed killed, two remain missing and 10 others were hospitalized after a de Havilland DHC-2 Beaver and a de-Havilland Otter DHC-3 collided in mid-air under unknown circumstances over Alaska. Both planes were flying excursions sold through Princess Cruise Lines. Local authorities state that there were five people on board the Beaver and 11 people were on board the Otter. Five of the fatalities were from an independent air tour, four Royal Princess guests and one pilot.
USA, near March Air Reserve Base: A United States Air Force F-16 fighter jet crashed into a warehouse under unknown circumstances near March Air Reserve Base, in Riverside County, California. The aircraft was destroyed and the sole pilot on board survived with unspecified injures after ejecting safely.
Honduras, Trujillo: All five people on board were killed after a Piper Cherokee Six plummeted into the Atlantic shortly after take-off from the popular tourist destination of Roatan enroute to the port of Trujillo. Rescue boats with police divers and firemen recovered four bodies within minutes of the crash, and transported another to a hospital, where he died shortly after of internal injuries.

29 MAY 1952

Aerial refuelling is used on a combat mission for the first time, with twelve F-84 Thunderjets of the 159th Fighter Bomber Squadron being refuelled by a KB-29 Superfortress on their way to Sariwon

In January 1948, General Carl Spaatz, then the first Chief of Staff of the new United States Air Force, made aerial refuelling a top priority of the service. In March 1948, the USAF purchased two sets of FRL's looped-hose in-flight refuelling equipment, which had been in practical use with British Overseas Airways Corporation (BOAC) since 1946, and manufacturing rights to the system. FRL also provided a year of technical assistance. The sets were immediately installed in two Boeing B-29 Superfortresses, with plans to equip 80 B-29s.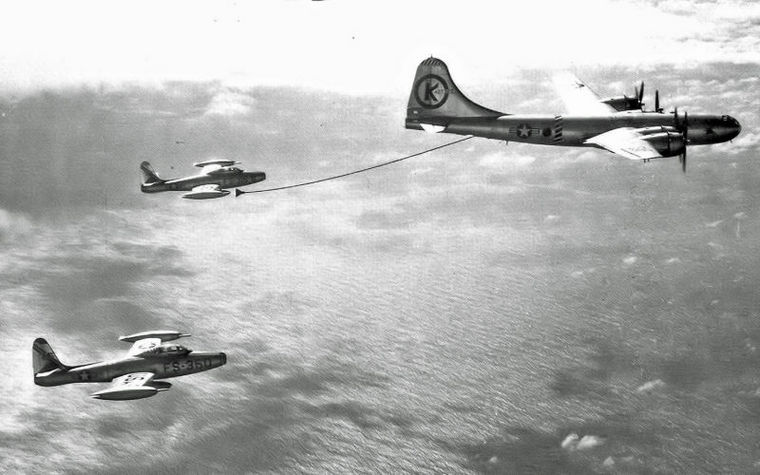 Flight testing began in May 1948 at Wright-Patterson Air Force Base, Ohio, and was so successful that in June orders went out to equip all new B-50s and subsequent bombers with receiving equipment. Two dedicated air refuelling units were formed on June 30, 1948: the 43d Air Refuelling Squadron at Davis-Monthan Air Force Base, Arizona, and the 509th Air Refuelling Squadron at Walker Air Force Base, New Mexico. The first ARS aircraft used FRL's looped-hose refuelling system, but testing with a boom system followed quickly in the autumn of 1948.
The first use of aerial refuelling in combat took place during the Korean War, involving F-84 fighter-bombers flying missions from Japanese airfields, due to Chinese-North Korean forces overrunning many of the bases for jet aircraft in South Korea, refuelling from converted B-29s using the drogue-and-probe in-flight refuelling system with the probe located in one of the F-84's wing-tip fuel tanks.