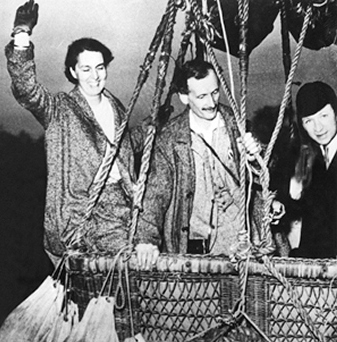 Jeannette left Husband Jean right.
Born on 5 January 1805 Jeannette Ridlon Piccard was the first licensed female balloon pilot in the U.S. and the first woman to fly to the stratosphere.
Accompanied by her husband, Jean, a member of the Piccard family of balloonists and the twin brother of Auguste Piccard, she reached a height of 10.9 miles (17.5 km) during a record-breaking flight over Lake Erie on 23 October 1934, retaining control of the balloon for the entire flight.
The Century of Progress hydrogen gas balloon at 105 feet (32 m) wide and 600,000 cubic feet (17,000 m3), the balloon's envelope took 700 hydrogen cylinders to fill was the largest in the world. Conceived for the 1933 Century of Progress International Exposition the fair's organizers planned a balloon flight to the stratosphere and hoped to lure Auguste as pilot.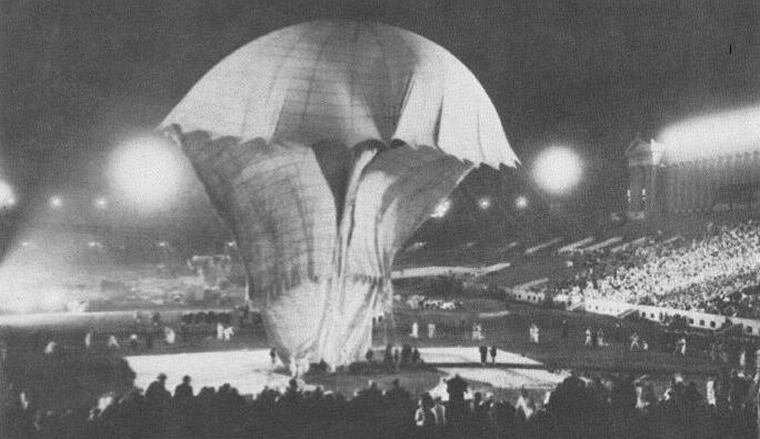 Century of Progress balloon Chicago 1933. Photo © commons.wikimedia.org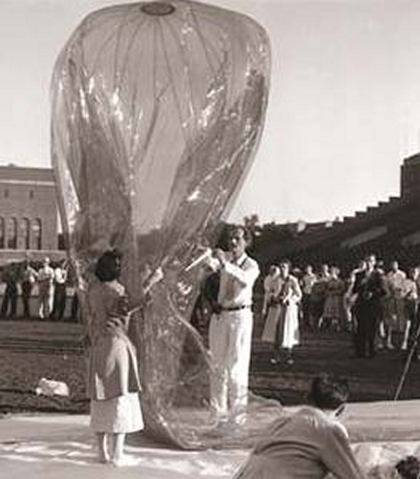 The Piccards in 1936 Photo © en.wikipedia.org

During the negotiations, the organizers agreed to give Jean and Jeannette the balloon and gondola after its initial flight, in exchange for Jean remaining on the ground. On 16 June 16, 1934, Jeannette flew her first solo flight. Later that year, the National Aeronautic Association made her the first woman licensed balloon pilot in the U.S.
The Troposphere extends from 0 to 12 km, the Stratosphere extends from 12 to 50 km, and the Mesosphere from 50 to 80 km, and the Thermosphere from 80 km and higher.
On 23 October 1934 forty-five thousand spectators came to see the Piccard's off at their record attempt. Jeannette piloted the reconditioned Century of Progress and the couple took along their pet turtle, Fleur de Lys. Jean changed the flight path and shortened the flight time because of cloudy skies, which reduced the amount of scientific work they were able to do while Jeannette made unplanned and impulsive manoeuvres.
The newspaper alliance had offered to pay them US$1,000 if they broke the altitude record, so they jettisoned all of their sandbags, attempting to go higher. They reached 57,579 feet (17,550 m) or about 10.9 miles (17.5 km) up, travelled for eight hours on a journey over Lake Erie and landed about 300 miles (480 km) away from Dearborn, near Cadiz, Ohio.
After her husband's death in 1963, she worked as a consultant to the director of NASA's Johnson Space Centre for several years. Jeannette held the women's altitude record for nearly three decades and according to several contemporaneous accounts was regarded as the first woman in space. She passed away on 17 May 1981 and was posthumously inducted into the International Space Hall of Fame in 1998.