THIS WEEK IN MIDWEEK UPDATE

Plan Your Weekend……...Forthcoming Events……..Aviation News

Worldwide Incidents and Accidents……This Week in Aviation History




12-15: Zimbabwe Air Rally. Mel Cooper cell: + 263 773 218426 e-mail:
zimairrally@gmail.com
15: Big Five Fly-in. Legend Golf and Safari Resort, Sterkriver.
15: Maputo Airshow in Mozambique. Contact Mark Mansfield
mcubedmedia@outlook.com
14 to 19: Orient Motorglider Challenge. Contact Ivan Hancock. 072 600 2935 or email
27726002935@vodamail.co.za




22: V-Dubs and Harvards Grassland's Flying Club Breakfast Fly-inn. Contact Adrienne 071 604 4648.
22: Mafikeng Airshow. Contact Relibile Mofokeng e-mail:
relibilemofokeng@gmail.com
cell: 073 837 0162
22: Reefsteamers train, plane and vintage car event from Krugersdorp to Magalies.
CANCELLED
23-28: South African Hot Air Balloon Championships. Bill Harrops, Skeerpoort North West Province. Contact Richard Bovell e-mail:
chairman@bafsa.co.za
27-30: SAC National Championships Klerksdorp airfield. Contact Annie Boon e-mail:
chunge@mweb.co.za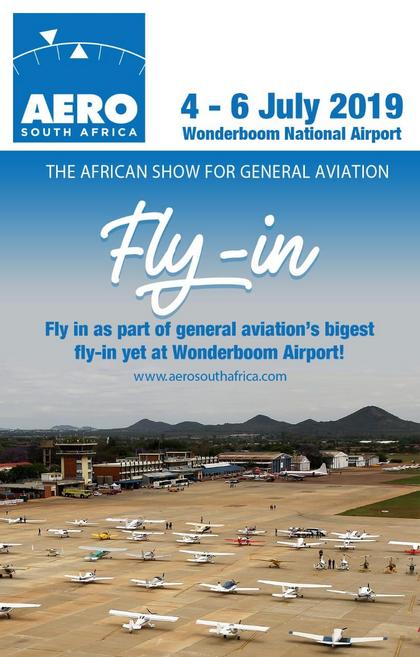 4-6: AERO South Africa Wonderboom National Airport, Pretoria. Contact: Tel +27 120 599 6151 e-mail:
Amanda.Dube@za.messefrankfurt.com
12-14: EAA Nysltroom Viegklub Taildraggers. Contact Richard Nicholson cell: 082 490 6227 e-mail:
flybenchmark@gmail.com
13: SAPFA Hoedspruit Fun Rally Hoedspruit Civil Airfield> Contact Frank Eckard cell: 083 269 1516 e-mail:
frank.eckard@mweb.co.za
20: Lowveld Speed Run Radio Control Pylon Racing. For more information go to
www.pylonracing.co.za
22-28: EAA AirVenture Oshkosh, Wisconsin, USA. Camping on the airfield contact Neil Bowden E-mail:
neil1@telkomsa.net
. Hotels in Appleton contact Calvin Fabig E-mail:
calvin@designer.co.za
25-27: Brits - Air Navigation Race (ANR) Nationals - Brits Airfield. Contact Frank Eckard e-mail:
frank.eckard@mweb.co.za cell
: 083 269 1516


3 & 4: SAC KZN Regionals Ladysmith airfield. Contact Annie Boon e-mail:
chunge@mweb.co.za
21-31: SAC Unlimited World Championships in France. Contact Annie Boon e-mail:
chunge@mweb.co.za
24: Bethlehem Airshow. Contact Stephan Fourie e-mail:
fouriesj1491@gmail.com
26-31: SAPFA World Precision Flying Championships - Castellon Spain. Contact Hans Schwebel cell: 082 656 3005 e-mail:
hans.s@britsgranite.co.za
31: SAAF Museum Airshow AFB Zwartkop.



BELL-THIRTY YEARS AND COUNTING IN SOUTHERN AFRICA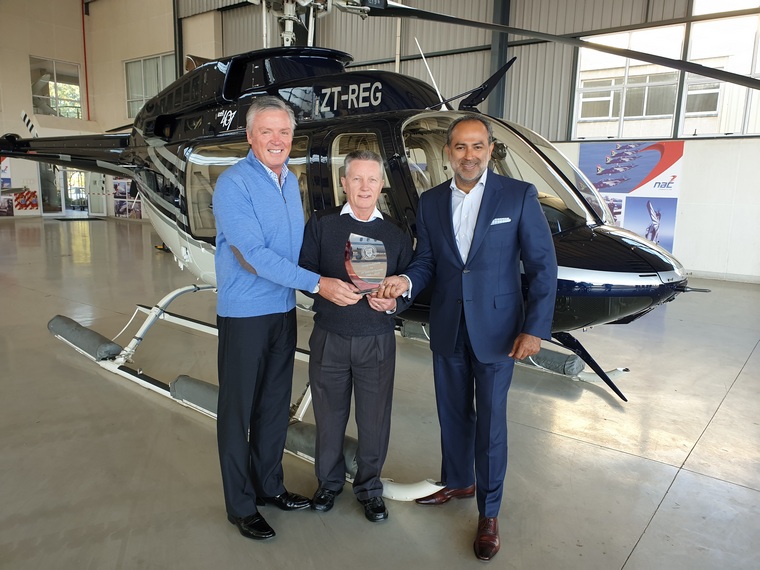 Left to right: Martin Banner - CEO NAC, Sameer Rehman - Bell Managing Director and Gary Phillips - NAC Executive Director. This year marks a special anniversary for both Bell and Bell Independent Representative, National Airways Corporation (NAC). Thirty years ago, in 1989, Bell teamed up to offer helicopter solutions to go above and beyond flight in the southern part of Africa. Photo ©Bell.


One of the most prominent markets on the African continent is South Africa. With 225 Bell aircraft in operation in the country alone, the demand for vertical lift solutions has been high, particularly for light single-engine aircraft. This success is due to the outstanding collaboration between Bell and NAC and the combination of advanced vertical lift aircraft with award winning local support, training and expertise.
Established in 1946, NAC offers a full range of aviation products and services, including new and pre-owned sales, maintenance, parts, charter flights, international operations, air ambulance services, aircraft leasing and pilot, technical and air traffic control training. NAC is based at Lanseria International Airport in Johannesburg and operates a South African network.
Since 1989, we have achieved many milestones, including:
1989 - NAC becomes Bell, Independent Representative.
1993 - First Bell 230 delivered to Amplats.
1997 - Bell 430 delivery to Amplats.
1996 - Bell 407 enters southern African market.
2016 - Corporate customer purchases first Bell 429 at AAD airshow.
2018 - First Bell 505 delivery into southern Africa.
2018 - NAC celebrates grand opening of new state-of-the-art Heliport facility
Today - NAC Helicopter Operations supports anti-poaching efforts with a Bell 407 in Chinko, Central African Republic
During a private ceremony this week, the two companies celebrated their past, present and future in southern Africa.
"At NAC, we pride ourselves on the long-term relationships we build with partners, suppliers and customers. Our partnership with Bell is one of which we are extremely proud and we are thrilled to have maintained great momentum for the brand over three decades. With Bell's market leading product range, we will continue to grow their share even further, backing it up with world class support through our Bell Customer Service Facility at Rand Airport. We look forward to another 30 years of success together." Martin Banner, chief executive officer, National Airways Corporation.

HORTEN HX-2 FLYING WING COMING TO AIRVENTURE OSHKOSH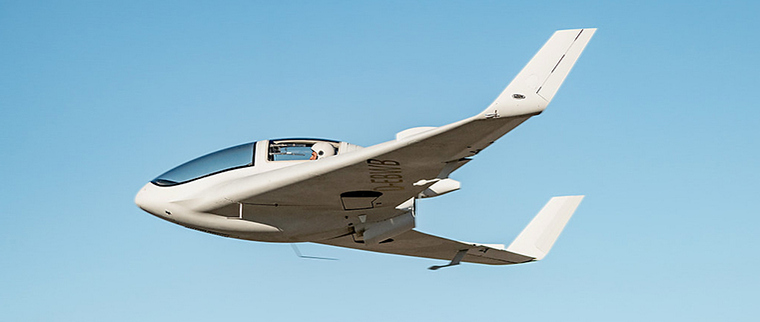 The Horten HX-2 is a new design inspired by the Horten brothers' flying wings of the 1930s-1940s, and the prototype will be coming to EAA AirVenture Oshkosh 2019. Photo © AirVenture.

"We are so proud to become part of the biggest air show of the world," said Horten Aircraft Managing Director Bernhard Mattlener. The light two-seater, which has been undergoing flight testing in Germany, is powered by a 100-hp Rotax 912iS, and will be on display in the Aviation Gateway Park courtyard during the week.
The Horten HX-2 light aircraft has been three years in development and is undergoing flight testing. Its wing span is a sweeping 10 meters, with lifted tips, but its tailless, tiny two-seater cabin has a maximum length of just two meters.
Bernhard Mattlener, managing director of Horten Aircraft, a part of the LIFT Air group, says that "due to its low aerodynamic resistance, the flying wing flies farther and faster than a comparable aircraft with a fuselage. The design of the airframe makes it easily adaptable for installing new propulsion technologies we anticipate will become available in the future," he added.

LEGENDARY AIRCRAFT DESIGNER BURT RUTAN TO BE CELEBRATED AT AIRVENTURE 2019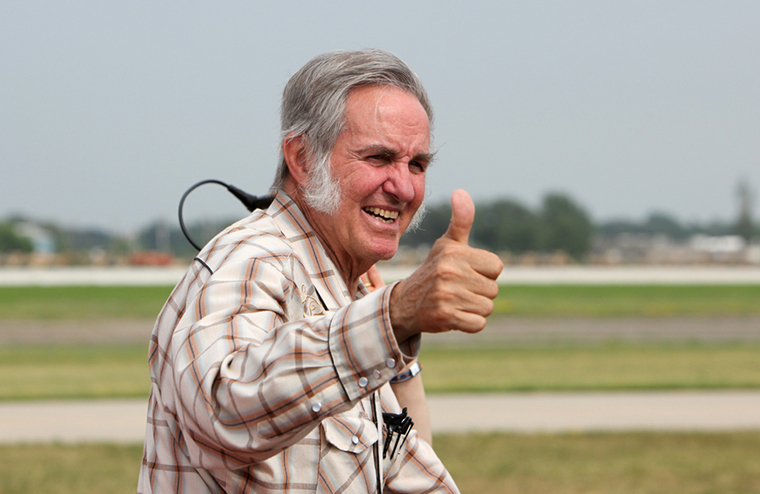 Renowned aerospace engineer and aircraft designer Burt Rutan will be celebrated at EAA AirVenture Oshkosh 2019 this July with a number of presentations and Rutan-designed airplanes on display. Photo © AirVenture


"We're thrilled to honour Burt Rutan, who has been at the forefront of aerospace innovation for decades, this year at AirVenture," said Rick Larsen, EAA vice president of communities and member programs, who also coordinates AirVenture features and attractions. "His work in the aviation industry has continuously pushed the envelope in terms of design and energy efficiency and has inspired many to think outside the box."
Burt, the founder of two innovative aerospace companies, Rutan Aircraft Factory and Scaled Composites, has developed 48 research aircraft throughout his lengthy career, is a member of both the International Air & Space Hall of Fame and National Aviation Hall of Fame and has been the co-recipient of the Collier Trophy on two separate occasions. Among the notable aircraft Burt has designed or helped develop are:
Iconic homebuilt designs: VariViggen, VariEze, Quickie, Defiant, Long-EZ, Solitaire, Catbird, and Boomerang. Voyager, which was the first airplane to fly around the world nonstop without refuelling and earned Burt the 1986 Collier Trophy along with pilots Dick Rutan and Jeana Yeager. SpaceShipOne, the first and still the only privately developed and funded manned craft to reach space, and the aircraft that earned Burt the 2004 Collier Trophy.
He was a near-continuous visitor to AirVenture from 1971 to 2015. From 1972 to 2010 his companies unveiled 24 separate research prototypes at the EAA fly-in conventions.
"I'm looking forward to returning to Oshkosh and taking part in AirVenture 2019," Burt said. "Since debuting the VariViggen at EAA Oshkosh in 1972, Oshkosh has been an important part of my career and life and I always enjoy interacting with homebuilders, EAA members, and aviation enthusiasts in general."


BELL 505 JET RANGER X RECEIVES CERTIFICATION FOR HIGH-ALTITUDE OPERATIONS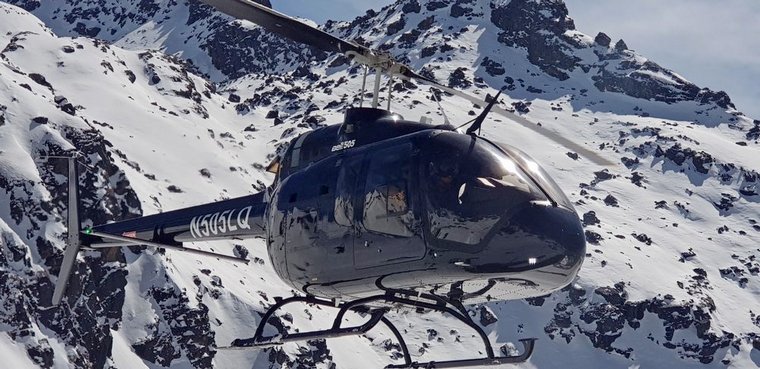 Bell Helicopter, a Textron Inc. (NYSE: TXT) company, announced today Type Certification for performance information expansion at up to 22,500 feet density altitude, setting the bar for high altitude operations for aircraft in its class. Photo © Bell

"The Bell 505 is the most advanced short light single helicopter in the world, and we are proud to bring more performance to our operator's missions," said LaShan Bonaparte, program director, Bell 505 and Bell 429. "High-altitude demonstrations are another testament to the aircraft's ability to perform in the most demanding environments, across a variety of segments."
This spring, the Bell 505 showcased several performance capabilities during a successful high-altitude flight test demonstration in Nepal. Testing efforts included numerous take offs and landings at density altitudes between 18,000 and 18,500 feet as well as the evaluation of landings with the loss of control system hydraulic boost.
With a speed of 125 knots (232 km/h) and useful load of 1,500 pounds (680 kg), the Bell 505 is designed to be safe and easy to fly while providing significant value to the operator. The customer-driven design of the aircraft places safety, performance and affordability at the forefront, blending proven systems with advanced technology and a sleek, modern design.
The Bell 505 has crossed the 13,000-flight hour mark and is flying across six continents.


ULTRA RARE P-51H MUSTANG COMING TO AIRVENTURE 2019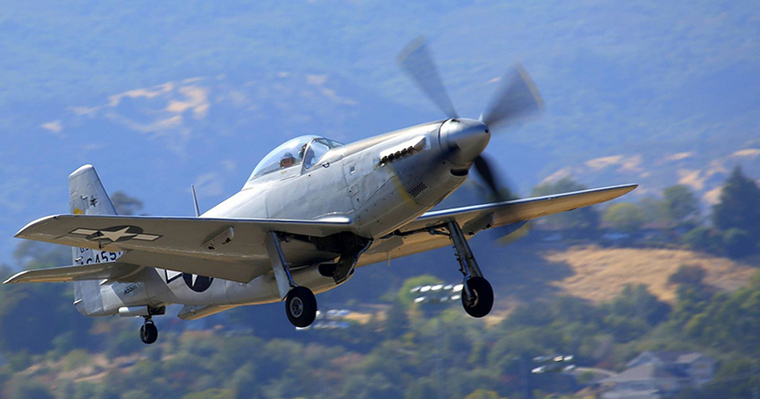 EAA AirVenture Oshkosh 2019 will see many rare warbirds on site, including Nicholas Coutches's P-51H Mustang. One of only two flyable H-model Mustangs, the airplane will venture to Oshkosh as part of the Mustangs for Bud gathering honouring Col. Bud Anderson. Photo © John King/AirVenture.

For the first time in recent history, most Mustang variants will be joining us in Fightertown including the P-51B, P-51C, P-51D, P-51H, and the XP-82 Twin Mustang. Attendees can also see EAA's XP-51 Mustang in the EAA Aviation Museum.
First flown in February 1945, the H-model Mustang was basically a clean sheet design, and it shares very few parts with earlier models. More than 500 P-51Hs were built, but none of them saw service in World War II and most ended up with stateside Air National Guard units. Coming in at almost 600 pounds lighter than the D-model Mustang, the H-model was also the fastest production P-51.

SIKORSKY FORMALLY RESPONDS TO CALL FOR COMPETITION FOR GERMANY'S NEW HEAVY LIFT HELICOPTER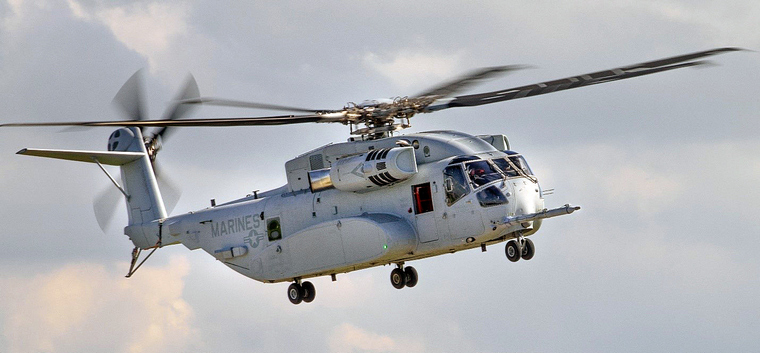 The Sikorsky CH-53K, shown here during ILA Berlin 2018, is an all-new aircraft designed to ensure reliability, low-maintenance, high availability and enhanced survivability in extreme environments. Photo © Sikorsky.


Sikorsky, a Lockheed Martin company (NYSE: LMT), formally responded to the German Air Force "Schwerer Transporthubschrauber" (STH) Program call for competition. Sikorsky expects to offer the most modern heavy lift helicopter in production, the CH-53K King Stallion, in response to the official Request for Proposals, which is expected this summer. The new STH heavy lifter will allow the Bundeswehr to move troops and equipment more quickly, safely and effectively than ever before.
Sikorsky and its Germany industry partners, including Rheinmetall, remain confident that the Sikorsky CH-53K offers the best value to the Bundeswehr and offers unrivalled growth potential over its lifecycle. German partners include: Rheinmetall, MTU, ZF Luftfahrttechnik GmbH, Autoflug, HYDRO Systems KG, Collins Aerospace, Vincorion, Hensoldt, Liebherr and Rohde & Schwarz.
The U.S. Marine Corps on May 17 awarded Sikorsky a contract for 12 more CH-53K aircraft. Sikorsky is now on contract for a total of 14 LRIP aircraft, plus the four development and test aircraft that will also go to the Marines, with one aircraft already delivered. The Marine Corps program of record is 200 aircraft.
"We are very glad about the decision of the U.S. Marine Corps," Wiegand said. "This sign of confidence from the U.S. government perfectly demonstrates the trust in the performance of the CH-53K. It is the most modern, intelligent and powerful available Heavy Lift Helicopter in the market and we were able to get an impression of the CH-53K's enormous capabilities in USA. Countless successful test flights with the helicopter are approved for the advanced maturity of the test program."
The all-new CH-53K, designed to be survivable in the most difficult conditions, has flown more than 1,400 test hours and has met all the outer reaches of the test envelope. The King Stallion is in the midst of a rigorous test program to ensure safe, effective operations moving more equipment over longer distances and higher altitudes than any other heavy lift aircraft in production.
Accomplishments to date include: high altitude, hot temperature, and degraded visual environment flights, maximum weight single-point cargo hook sling load of 36,000 pounds (16,329 kilograms); forward flight speed of over 200 knots; 60 degrees angle of bank turns; altitude of 18,500 feet mean sea level (MSL); 12-degree slope landings and take-offs; external load auto-jettison; and gunfire testing.

EMBRAERX, AIR TRANSPORT WILL NEVER BE THE SAME



India, between Jorhat and Mechuka: An Indian Air Force (IAF) Antonov An-32 with two sets of crew, with a pilot, co-pilot and navigator each was on a familiarisation trip of the area when it went missing. Satellites, spy aircraft, fighters, helicopters and foot soldiers are conducting a massive search operation in the area based on the last radar and radio contact by the ill-fated AN-32.
Brazil, Buenos Aires: An Avianca Airbus A330-200on a flight from Lima (Peru) to Buenos Aires Ezeiza (Argentina), was en-route at FL350 about 10nm north of Tucuman,TU (Argentina) when the aircraft encountered turbulence causing altitude deviations of up to +100 feet. Nine passengers received injuries, a doctor travelling as passenger provided first aid treating mainly whiplash, cuts, blows and a number of passengers vomited. The aircraft continued to Buenos Aires for a landing without further incident about 70 minutes later. Paramedics treated the injured at Buenos Aires.




10 JUNE 1908

First flying club and civil airport established. Aeronautical Society chartered at New York City, and Morris Park air field established.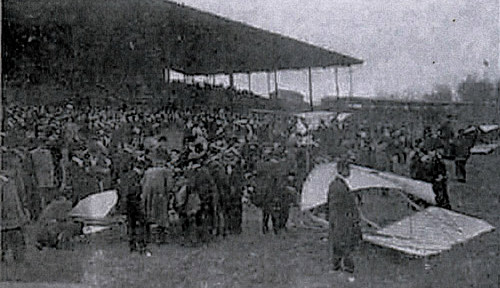 Morris Park in New York City was a well-known racetrack, which hosted the Belmont Stakes from the mid-19th century until 1904. In 1908, the New York Aeronautical Society rented out the former Morris Park racetrack and invited some of the world's aviation inventors - including the creator of the helicopter - to try out their flying machines at the site.
In 1908 the abandoned racetrack became the world's first formal airfield and the American Eagle. The fences around the old racetrack were removed to create an unobstructed straightway for a flight of at least one kilometre.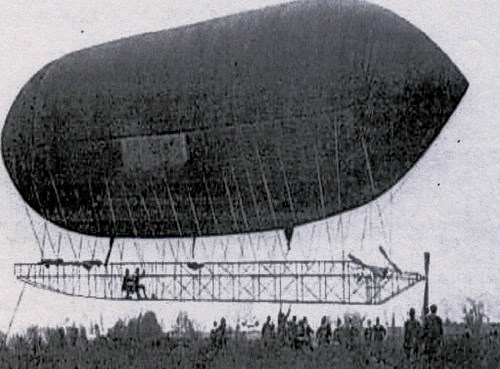 The largest dirigible in history to that time at a full 105 feet in length, was built there, and one of the first gliders, piloted by 17-year-old Lawrence Lesh, was launched from the former track that year.
Wilbur H. Kimbull's helicopter, upon which he has been working for several years, was also assembled at Morris Park. Some of the machines were able to take off - others just looked very impressive.
An airplane that won design for best airplane hosted at the field couldn't even fly, others made it into the air did not go far.