THIS WEEK IN MIDWEEK UPDATE

Plan Your Weekend……...Forthcoming Events……..Aviation News

Worldwide Incidents and Accidents……This Week in Aviation History



22: V-Dubs and Harvards Grassland's Flying Club Breakfast Fly-inn. Contact Adrienne 071 604 4648.
22: Mafikeng Airshow. Contact Relibile Mofokeng e-mail: relibilemofokeng@gmail.com cell: 073 837 0162
CANCELLED

22: Reefsteamers train, plane and vintage car event from Krugersdorp to Magalies. Contact Ian Morrison e-mail: imorison@worldonline.co.za
CANCELLED

21-23: SAC National Championships and Airshow. Klerksdorp airfield Contact Annie Boon e-mail:
chunge@mweb.co.za
23-28: South African Hot Air Balloon Championships. Bill Harrop's, Skeerpoort North West Province. Contact Richard Bovell e-mail:
chairman@bafsa.co.za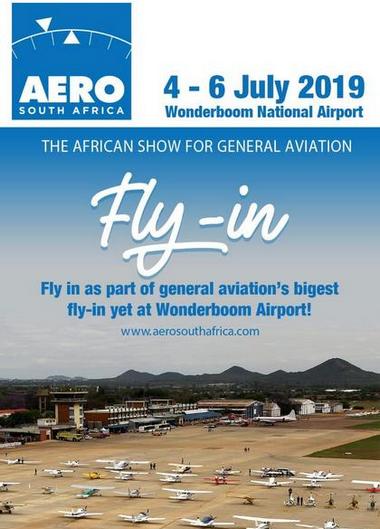 4-6: AERO South Africa Wonderboom National Airport, Pretoria. Contact: Tel +27 120 599 6151 e-mail:
Amanda.Dube@za.messefrankfurt.com
12-14: EAA Nysltroom Viegklub Taildraggers. Contact Richard Nicholson cell: 082 490 6227 e-mail: flybenchmark@gmail.com
13: SAPFA Hoedspruit Fun Rally Hoedspruit Civil Airfield> Contact Frank Eckard cell: 083 269 1516 e-mail:
frank.eckard@mweb.co.za
20: Lowveld Speed Run Radio Control Pylon Racing. For more information go to www.pylonracing.co.za
22-28: EAA AirVenture Oshkosh, Wisconsin, USA. Camping on the airfield contact Neil Bowden E-mail: neil1@telkomsa.net. Hotels in Appleton contact Calvin Fabig E-mail: calvin@designer.co.za
25-27: Brits - Air Navigation Race (ANR) Nationals - Brits Airfield. Contact Frank Eckard e-mail: frank.eckard@mweb.co.za cell: 083 269 1516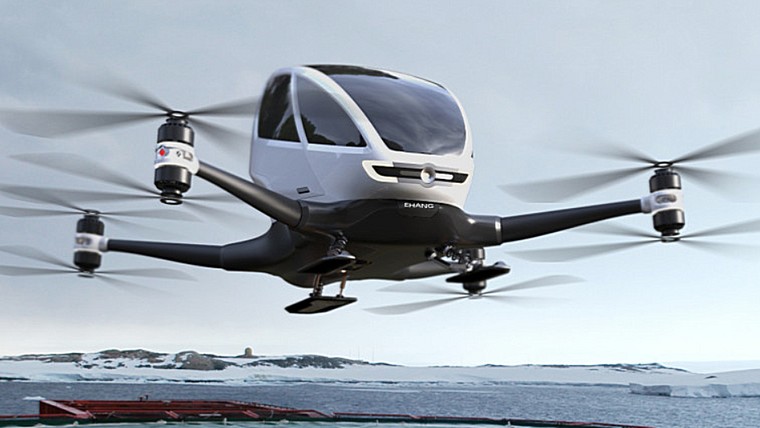 3 & 4: SAC KZN Regionals Ladysmith airfield. Contact Annie Boon e-mail:
chunge@mweb.co.za
21-31: SAC Unlimited World Championships in France. Contact Annie Boon e-mail:
chunge@mweb.co.za
24: Bethlehem Airshow. Contact Stephan Fourie e-mail:
fouriesj1491@gmail.com
26-31: SAPFA World Precision Flying Championships - Castellon Spain. Contact Hans Schwebel cell: 082 656 3005 e-mail:
hans.s@britsgranite.co.za
31: SAAF Museum Airshow AFB Zwartkop.

7: SAPFA Grand Central Fun Rally - Grand Central Airport. Contact Rob Jonkers cell: 082 804 7032 e-mail:
rob@aerosud.co.za
14: Vans RV Fly-in to Kitty Hawk. Contact Frank van Heerden e-mail:
frankvh@sandown.co.za
. website:
www.fakt.co.za
8-13: World ANR Championships - Santa Cruz Portugal - Contact Hans Schwebel e-mail:
hans.s@britsgranite.co.za
cell: 082 656 3005
21-22: PMS South Africa is proud to present the South African Nationals 2019, hosted by IPMS Cape Peninsula. This is the premier event on the South African scale modelling calendar and promises to attract the cream of the crop in scale plastic modelling.




NEW HOME FOR SONACA AIRCRAFT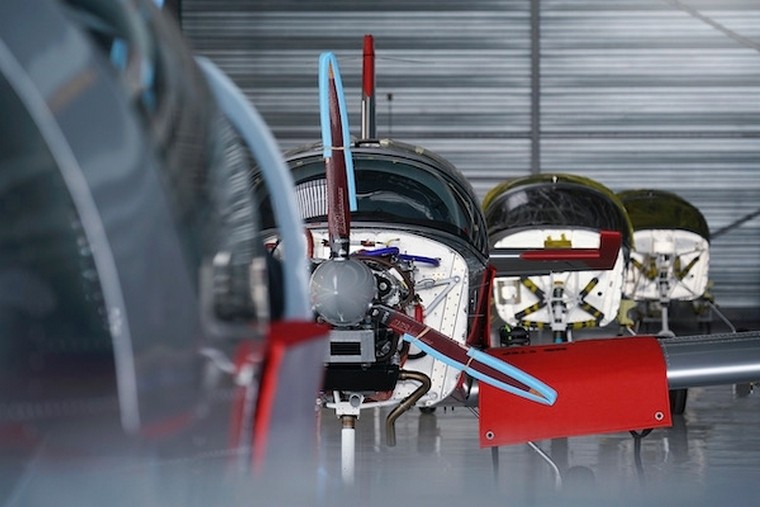 Sonaca Aircraft took possession of its new premises. Sonaca Aircraft is a subsidiary of the Sonaca Group, a major stakeholder with over 80 years' experience in the development, manufacture and assembly of advanced aeronautical structures for the civil, military and space markets. Photo © Sonaca.


The company's new premises, that include an assembly hall with an area of 2,000 m², offices and a showroom are located at Namur airfield (EBNM) in Belgium.
Sonaca have already been delivered six Sonaca 200s that are being operated by flight schools and flying clubs. About fifty aircraft have been ordered by customers in Belgium, France, Germany, Turkey and the UK. Sonaca Aircraft is preparing to ramp up its pace and produce two planes per month from summer 2019.
The Sonaca 200 stands out due to its robust structure which is entirely made of metal, its sound handling, its high payload mass, and it's very low operating cost thanks to the expertise of a global aeronautics group.

DAHER EXPANDS PRODUCT RANGE WITH QUEST BUY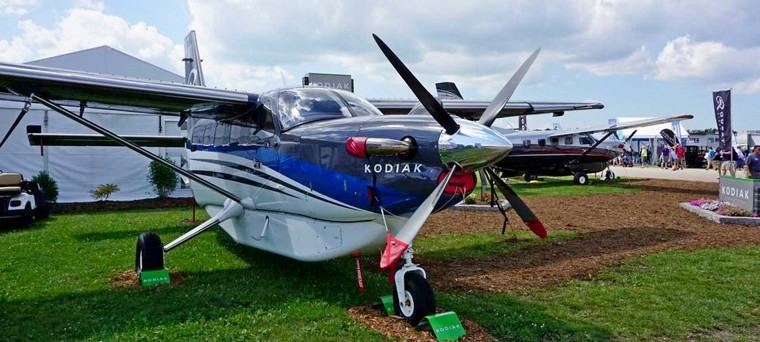 French airframer Daher, manufacturer of the popular TBM line of single-engine turboprops, will expand its aircraft portfolio with the purchase of U.S.-based Quest Aircraft, the company announced today. Photo © Quest Aircraft


The Sandpoint, Idaho company builds the 10-seat, unpressurized Kodiak 100, with more than 270 in service. The rugged, single-engine, high-wing turboprop is certified in 67 countries and is capable of operating on uneven or very short runways.
"As a powerful and manoeuvrable aircraft, used particularly for humanitarian missions to provide aid to isolated communities, the Kodiak 100 perfectly complements our TBM product range and is fully in line with Daher's long-term vision as a company committed to the future of aviation," explained Patrick Daher, chairman of the family-owned company.
All 240 Quest employees are expected to join Daher, and according to company CEO Didier Kayat, the purchase, which is expected to be completed by the end of the year, also represents a larger, strategic expansion. "The Quest Aircraft Company's acquisition represents an additional step in our development in the United States and an overall strengthening of our aircraft manufacturing business," said Kayat. "In addition to making Daher the world's seventh largest aircraft manufacturer in business aviation, it provides us with our first industrial site in the United States, thereby reinforcing Daher's position as a Tier-1 aerospace equipment and systems manufacturer, as well as a logistics and services provider."

HOW THE ALBATROSS IS INSPIRING NEXT GENERATION OF AIRCRAFT WINGS AT AIRBUS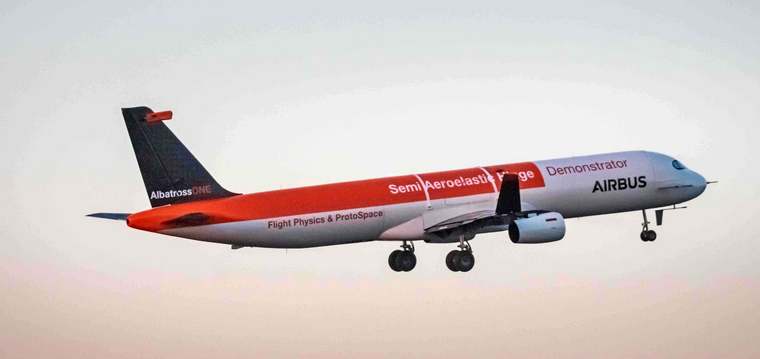 Airbus engineers have developed a scale-model aeroplane with the first in-flight, flapping wing-tips that could revolutionise aircraft wing-design. Photo © Airbus.
The aerospace giant has drawn on nature to develop its 'semi-aeroelastic hinge' concept to reduce drag and overall wing weight, while combating the effects of turbulence and wind gusts.
Known as AlbatrossOne, the remote-controlled aircraft has already taken its first flights to prove the concept and the team will now conduct further testing before the demonstrator, based on the manufacturer's A321 plane, is scaled-up further.
"While hinged wing-tips are not new - military jets employ them to allow greater storage capacity on aircraft carriers - the Airbus demonstrator is the first aircraft to trial in-flight, freely-flapping wing-tips to relieve the effects of wind gusts and turbulence," explained Airbus engineer Tom Wilson, based in Filton, north Bristol, UK.
"We drew inspiration from nature - the albatross marine bird locks its wings at the shoulder for long-distance soaring but unlocks them when wind-gusts occur or manoeuvring is required.
"The AlbatrossOne model will explore the benefits of unlockable, freely-flapping wing-tips - accounting for a up to a third of the length of the wing - to react autonomously during in-flight turbulence and lessen the load on the wing at its base, so reducing the need for heavily reinforced wing boxes."
Jean-Brice Dumont, Airbus' Executive Vice-President of Engineering, said the project showed "how nature can inspire us". He said: "When there is a wind gust or turbulence, the wing of a conventional aircraft transmits huge loads to the fuselage, so the base of the wing must be heavily strengthened, adding weight to the aircraft.
"Allowing the wing-tips to react and flex to gusts reduces the loads and allows us to make lighter and longer wings - the longer the wing, the less drag it creates up to an optimum, so there are potentially more fuel efficiencies to exploit."
The first test flights of the AlbatrossOne demonstrator, developed by Airbus engineers in Filton, were concluded in February after a 20-month development programme. Speaking in Toulouse, Dumont said AlbatrossOne was the "first Filton aircraft since Concorde".
It has been constructed from carbon fibre and glass fibre-reinforced polymers, as well as components from additive-layer manufacturing.
Initial testing of AlbatrossOne has examined the demonstrator's stability with the wing-tips locked and completely unlocked, says fellow Filton engineer James Kirk. "The next step is to conduct further tests to combine the two modes, allowing the wing-tips to unlock during flight and to examine the transition," he added.


SIKORSKY FLIES BLACK HAWK WITH OPTIONALLY PILOTED VEHICLE TECHNOLOGY



A technology kit developed by Sikorsky was used for the first time to operate a Black Hawk helicopter with full-authority, fly-by-wire flight controls. Photo © Sikorsky.


The flight marked the official start to the flight test program for the soon-to-be optionally piloted aircraft. Follow-on flight testing aims to include envelope expansion throughout the summer leading to fully autonomous flight (zero pilots) in 2020. This is the first full authority fly-by-wire retrofit kit developed by Sikorsky that has completely removed mechanical flight controls from the aircraft.
"This technology brings a whole new dimension of safety, reliability and capability to existing and future helicopters and to those who depend on them to complete their missions," said Chris Van Buiten, Vice President, Sikorsky Innovations. "We're excited to be transforming a once mechanically controlled aircraft into one with fly-by-wire controls. This flight demonstrates the next step in making optionally piloted - and optimally piloted - aircraft, a reality."
Through DARPA's Aircrew Labour In-Cockpit Automation System (ALIAS) program, Sikorsky is developing an OPV approach it describes as pilot directed autonomy to give operators the confidence to fly aircraft safely, reliably and affordably in optimally piloted modes enabling flight with two, one or zero crew. The program aims to improve operator decision aiding for manned operations while also enabling both unmanned and reduced crew operations.
Sikorsky has been demonstrating its MATRIX™ Technology on a modified S-76B™ called the Sikorsky Autonomy Research Aircraft (SARA). The aircraft, which has been in test since 2013, has more than 300 hours of autonomous flight.
Sikorsky announced in March that its S-92® helicopter fleet update will include the introduction of phase one MATRIX Technology that will bring advanced computing power to the platform. This foundation enables adoption of autonomous landing technology

TEXTRON AVIATION DISPLAYS AIR AMBULANCE CONFIGURED CITATION LATITUDE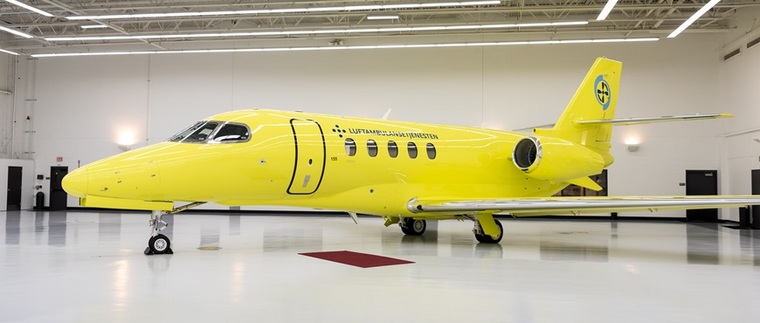 Textron Aviation Inc., a Textron Inc. (NYSE:TXT) company showcased its first air ambulance configuration of the popular Citation Latitude at its static display at the 2019 European Business Aviation Convention & Exhibition, highlighting the company's strength in special mission capabilities across its wide range of Beechcraft and Cessna aircraft. Photo © Cessna.

The Latitude, purchased by Babcock Scandinavian Air Ambulance for aeromedical operations in Norway, delivers the first custom OEM interior solution for medevac missions on the platform. The production-certified interior configuration offers compatibility with a wide range of medical equipment, giving operators flexibility in selecting the perfect fixtures to meet their mission requirements.
"For our mission-centric customers, we are excited about what the medevac Citation Latitude offers by the way of range, cabin size and speed in emergency situations where minutes count," said Doug May, vice president, Special Missions. "Having our medical interior certified in production as part of the aircraft type certificate is another major win for our customers, providing significant cost and risk reduction for those outfitting the Latitude with their medical equipment of-choice as it comes off the line."
With the interior certified in 2018, the medevac Citation Latitude on display also features a single-sled stretcher, expanded cabin door and a SATCOM radio system for emergency communications. Plans for interior certifications on other aircraft, including medevac options for the pressurized Citation CJ4 and Citation XLS+, are also underway. Future aircraft, notably the Cessna Denali and Cessna SkyCourier, are progressing through design phases with technical renderings and engineering expertise from the Special Missions team to incorporate mission capabilities as part of their respective type certifications.

UBER ANNOUNCES EVTOL PARTNER AT ELEVATE SUMMIT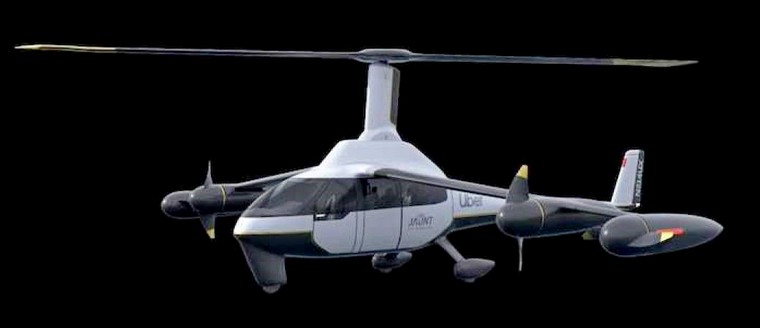 Jaunt Air Mobility and Uber will partner to develop an electric vertical take-off and landing (eVTOL) air taxi, Uber announced today at the opening of its Uber Elevate Summit 2019 in Washington, D.C. According to Uber, Jaunt has expertise in reduced rotor operating speed (ROSA) aircraft. Image © eVtol


"Jaunt Air Mobility has assembled a highly talented team of experienced engineers with a long history of designing and certifying eVTOL vehicles," Uber Elevate director of engineering Mark Moore said. "Martin Peryea, Jaunt's chief technology officer, has led many helicopter development programs as a chief engineer and brings invaluable insights to developing low noise, reliable, and safe aircraft."
ROSA will enable an air vehicle design that offers quiet operations, maximum safety, and enhanced ride quality that keeps passengers in a level position from take-off to landing, according to Uber. Jaunt's specialized rotor and wing design provides both high hover and cruise flight efficiency, allowing it to meet Uber's mission requirements with an all-electric propulsion system.
In a separate but related announcement today, Honeywell Aerospace and Jaunt signed a memorandum of understanding to define avionics, navigation, flight control, and connectivity for Jaunt's eVTOL. The two companies will work to develop the technical requirements and a definitive agreement that will support Jaunt's eVTOL demonstration program by fall 2021, according to Honeywell.


URBAN AIR MOBILITY SHOWCASE BRINGING THE FUTURE TO OSHKOSH 2019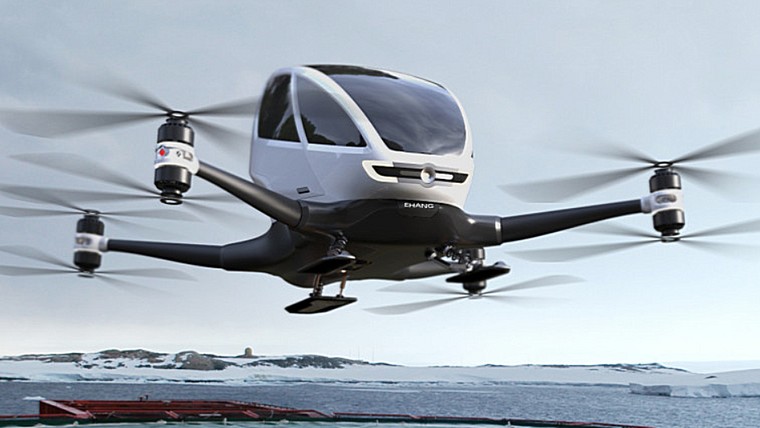 The newest venue in Aviation Gateway Park is the Urban Air Mobility (UAM) Showcase. The UAM Showcase will include a number of prominent and innovative companies in the urban air mobility industry. Members and attendees will want to visit the UAM Showcase to see everything from eVTOLs to hover bikes: to put it plainly, it's the home of innovations and experimental aircraft that exemplify what the future of aviation looks like. Image © Ehang.


Attendees at the UAM Showcase will be able to learn about the new technologies from the multitude of companies attempting to solve the air mobility challenge, as well as interact personally with those making the largest leaps forward. The following 11 companies are all anticipated to attend, and share their work with curious AirVenture attendees.
AeroMobil is an international team of more than 40 experts from the automotive and aerospace sectors representing over eight countries across the world. Based in Central Europe they work together to design and manufacture unique and innovative flying cars (AeroMobil 4.0 STOL and AeroMobil 5.0 VTOL) within all existing regulations for road and air transport, with the features of automobiles and airplanes combined.
Athena Aerospace is an independent engineering consultancy for advanced systems. Combining vast engineering skills with a thorough knowledge of manufacturing, we help organizations develop outstanding technologies for Aviation, Space, Defence and other demanding domains.
Assen Aero is bringing the Assen Aero A1, an electric hoverbike that is adapted from a café style motorbike. Three ducted fans allow for propulsion, lift, and stability, and the pilot rides the hoverbike with the same stance that they would a normal motorcycle.
BETA Technologies is a small, cross-functional team working on inventing the next generation of electric aircraft and recharging systems. BETA has put an eVTOL in the air, designed the world's largest electric aircraft, and began manufacturing the world's first megawatt-scale aircraft recharging station.
BLADE is a digitally powered aviation company based in New York City. BLADE allows users to create their own crowdsourced flights or purchase seats on pre-existing flights between Manhattan, the Hamptons, Nantucket, the Jersey Shore, Miami, and all surrounding airports. As of April 2019, BLADE also operates scheduled service in Southern California and the San Francisco Bay Area. BLADE's mobile platform bridges the needs of consumers and aviation operators to reduce the cost of air travel on private aircraft by maximizing passenger capacity utilization.
EHANG is an intelligent autonomous aerial vehicle company with integrated capacities of R&D, manufacturing, sales, and services. EHANG 184 AAV is a safe, smart, and eco-friendly low-altitude autonomous aerial vehicle, aiming to provide medium- to short-distance communication and transportation solutions.
Lift Aircraft allows pilots and nonpilots to experience controlled flight. The company has developed a multi-rotor, single passenger aircraft that a rider can operate within a geofenced area. After flying in a sim and tutorial, the pilot is free to explore the sky.
VerdeGo Aero has shifted gears from developing its own flying car to developing hybrid-electric propulsion systems (integrated distributed electric propulsion) for eVTOL aircraft. The company will focus on hybrid systems until battery technology improves to the point that fully electric solutions are capable.

BOEING'S AUTONOMOUS PROTOTYPE CRASHES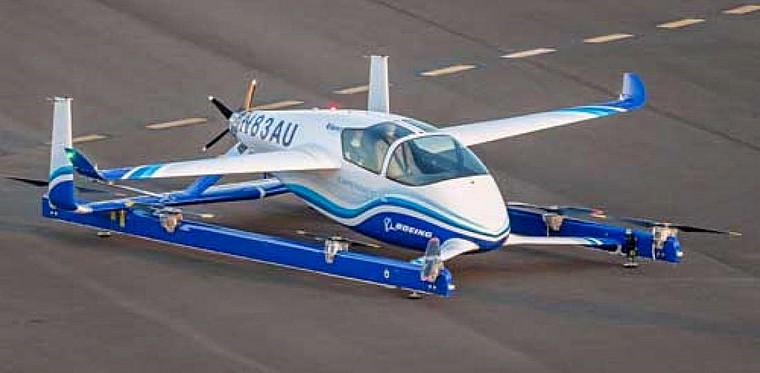 The PAV (passenger air vehicle) Boeing's entry into the developing urban air mobility market crashed earlier this month after four successful unmanned test flights. Image © Aurora Flight Sciences PAV.

Boeing and its subsidiary Aurora Flight Science's unmanned passenger air vehicle (PAV) prototype crashed during its fifth test flight in Manassas, Virginia, Aurora spokeswoman Luisa Guerra confirmed at the Uber Elevate Summit in Washington, D.C. Guerra said the crash is under investigation and a determination of cause is pending.
The vehicle previously had four successful test flights, Guerra noted, and it crashed in a closed area. "We are operating in a safe, confined space," she said. "We follow strict protocols during flight testing."
Guerra declined to disclose further details of the crash. The 30-foot-long, 28-foot-wide electric-powered vehicle completed its first flight on January 22. It is expected to have a range of up to 50 miles and operate autonomously from take-off to landing.
The air-taxi concept demonstrator completed a controlled take off, hover, and landing during its first flight, with later tests focusing on forward, wing-borne flight and the transition between hover and forward flight.


Nigeria, Lagos: An Air Peace Boeing 737-300 on a flight from flight P4-7091 from Port Harcourt touched down hard when landing at Lagos, rolled out and taxied to the apron. A passenger reported the hard landing and investigators were dispatched to the site and found the occurrence confirmed, the right hand engine's cowling had contacted the runway surface causing damage to compressor blades of the engine, the right main landing gear oleo and strut had been fully compressed and "bottomed", the #4 tyre's (right outboard) sidewall was scoured. The aircraft had been grounded since the occurrence and is currently awaiting hard landing inspections including inspections of the wing tips, wing roots and engine pylons due to concerns over the heavy impact. The AIB accused Air Peace of concealing the occurrence from the AIB.
USA, 7th Avenue, Midtown, New York: An Agusta A109E Power operated by American Continental Properties LLC with one on board following a technical issue force landed on the roof of AXA Equitable Building (787 7th Avenue) in Midtown Manhattan, New York. There is no helipad on top of the building. The helicopter was however destroyed by the post-crash fire and the sole pilot on board was fatally injured.
USA, 1.3 miles NE of Butler Memorial Airport: A Cessna 425 Conquest I following a reported mechanical problem impacted a grain silo about 1.3 miles northeast of Butler Memorial Airport (BUM/KBUM), in Bates County, Missouri, during the diversion to the mentioned airport. The aircraft was destroyed and the sole experienced pilot on board was fatally injured.
USA, Hawaii: A small snake managed to stow away on a flight from Fort Lauderdale to Hawaii. The little snake managed to get through airport security and remained undiscovered for the more than eight-hour flight only slithering out of a tourist's backpack when he arrived at his vacation rental in Maui. The owners of the property immediately reported the non-venomous southern black racer to local police because snakes are prohibited on the island. An official with Hawaii's Department of Land and Natural Resources was called to the property and detained the snake. Snakes have no natural predators on the islands, making them a serious threat to Hawaii's environment, wildlife officials said. The snake is about the size of a ballpoint pen and appears to be a newborn, wildlife official said. However, Southern black racers, which are mainly found in Florida, can grow up to 6 feet long.
Italy, Genoa: An Alitalia A319-100 with 140 people on board was accelerating for take-off from Genoa for a flight to Rome when an engine ingested a bird, reportedly a sea gull, prompting the crew to reject take-off at high speed. The aircraft slowed safely and vacated the runway about 1400 meters/4650 feet down the runway. The flight was cancelled; the passengers were rebooked onto other flights.
India, Chandigarh: An AirAsia India Airbus A320-200 performing a flight from Delhi to Srinagar (India) with 175 people on board, was enroute at FL340 about 80nm west of Chandigarh (India) when the left hand engine (CFM56) stalled prompting the crew to select the emergency code into the transponder and descend the aircraft. The crew inadvertently selected the code for unlawful interference into the transponder prompting (military) ATC and emergency services to activate the hijack protocols. The crew soon after corrected their mistake and explained what happened and requested to return to Delhi, however, the aircraft was redirected to Chandigarh where emergency services and police awaited the aircraft landing on single engine about 40 minutes later.
Switzerland, Basil: An ALK Airlines Boeing 737-300 with 121 on board on a flight from Pristina (Kosovo) to Basel/Mulhouse (Switzerland/France) was enroute at FL340 over South Tyrol about 30 minutes prior to landing in Basel when the aircraft encountered turbulence causing injuries to 10 passengers while deviating around an isolated active thunderstorm cell. The aircraft continued for a safe landing on Basel's runway 15 about 30 minutes later. The Airport reported 10 passengers needed to be taken to hospitals with minor injuries. Passengers reported even seats were ripped out of their anchoring.




19 JUNE 1918

Italy's highest-scoring ace, Maggiore Francesco Baracca is killed by Austrian ground fire. He had claimed 34 victories.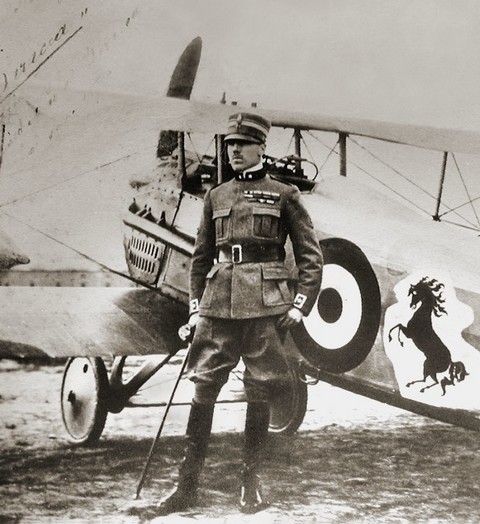 Born on 9 May 1888 Count Francesco Baracca was Italy's top fighter ace of World War I. He was credited with 34 aerial victories. The younger Baracca initially studied at a private school in Florence before entering the Military Academy of Modena in October 1907.
Baracca became interested in aviation and learned to fly at Reims, France, receiving his pilot's license on 9 July 1912. He then served with the Battaglione Aviatori and in 1914 with the 5th and 6th Squadriglie.
After Italy's entry into the war on the Entente side in May 1915, he was sent to Paris to convert to Nieuport two-seaters. Upon his return in July, he was assigned to the 8a Squadriglia Nieuport. The Nieuport 10s that equipped this squadron were almost useless against Austro-Hungarian raids. It was only on April 1916 after having converted to the Nieuport 11 single-seat fighter with Lewis guns that Baracca scored his first victory. This was also Italy's first aerial victory in the war.
By the end of 1917 he had raised his score to thirty. However, Baracca remained a modest, sensitive man conscious of his duty and compassionate to both his squadron comrades and to his defeated enemies. He would try to visit his victims in hospital afterwards, to pay his respects, or he would place a wreath on the grave of those he killed.
On 19 June 1918 he failed to return from a strafing mission on the Montello area. Four days later, after an Austro-Hungarian retreat, Baracca's remains were recovered from where they lay, four meters from the burnt remnants of his Spad VII.
The emblem he wore side by side on his plane of a black horse prancing on its two rear feet inspired Enzo Ferrari to use it on his racing car and later in his automotive company.