THIS WEEK IN MIDWEEK UPDATE

Plan Your Weekend……...Forthcoming Events……..Aviation News

Worldwide Incidents and Accidents……This Week in Aviation History




4-6: AERO South Africa Wonderboom National Airport, Pretoria. Contact: Tel +27 120 599 6151 e-mail:
Amanda.Dube@za.messefrankfurt.com


12-14: EAA Nysltroom Viegklub Taildraggers. Contact Richard Nicholson cell: 082 490 6227 e-mail:
flybenchmark@gmail.com
13: SAPFA Hoedspruit Fun Rally Hoedspruit Civil Airfield. Contact Frank Eckard cell: 083 269 1516 e-mail:
frank.eckard@mweb.co.za
13: Krugersdorp Flying Club spot landing competition and airfield festival. Entries to 079 213 9059
www.fakr.co.za
20: Lowveld Speed Run Radio Control Pylon Racing. For more information go to
www.pylonracing.co.za
22-28: EAA AirVenture Oshkosh, Wisconsin, USA. Camping on the airfield contact Neil Bowden E-mail:
neil1@telkomsa.net
. Hotels in Appleton contact Calvin Fabig E-mail:
calvin@designer.co.za
25-27: Brits - Air Navigation Race (ANR) Nationals - Brits Airfield. Contact Frank Eckard e-mail:
frank.eckard@mweb.co.za
cell: 083 269 1516


3: Lydenburg Fly-in Festival. Nav rally, spot landing, spitbraai, camping and more. Contact Dean Hunter 082 905 4546
3: Thabazimbi Apiesdoring Carnival Fly-in. Enquiries Chris 082 371 4492 or Gert 083 652 6208
3 & 4: SAC KZN Regionals Ladysmith airfield. Contact Annie Boon e-mail:
chunge@mweb.co.za
21-31: SAC Unlimited World Championships in France. Contact Annie Boon e-mail:
chunge@mweb.co.za
24: Bethlehem Airshow. Contact Stephan Fourie: e-mail:
fouriesj1491@gmail.com
26-31: SAPFA World Precision Flying Championships - Castellon Spain. Contact Hans Schwebel cell: 082 656 3005 e-mail:
hans.s@britsgranite.co.za
31: SAAF Museum Airshow AFB Zwartkop.


7: SAPFA Grand Central Fun Rally - Grand Central Airport. Contact Rob Jonkers cell: 082 804 7032 e-mail:
14: Vans RV Fly-in to Kitty Hawk. Contact Frank van Heerden e-mail:
frankvh@sandown.co.za
. website:
www.fakt.co.za
8-13: World ANR Championships - Santa Cruz Portugal - Contact Hans Schwebel e-mail:
hans.s@britsgranite.co.za
cell: 082 656 3005
21-22: PMS South Africa is proud to present the South African Nationals 2019, hosted by IPMS Cape Peninsula. This is the premier event on the South African scale modelling calendar and promises to attract the cream of the crop in scale plastic modelling.


DASSAULT/AIRBUS NEXT-GEN FIGHTER GETS LIFT FROM SPAIN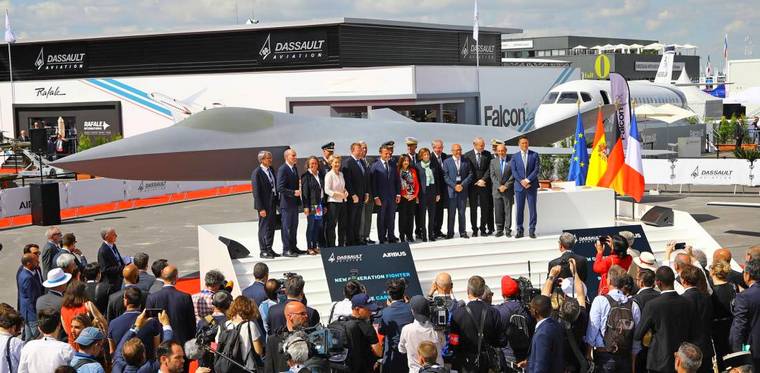 Amid considerable fanfare, the full-scale mock-up of the Dassault/Airbus New Generation Fighter (NGF) was revealed in front of French President Emmanuel Macron at the Paris Air Show. Florence Parly, Ursula von der Leyen, and Margarita Robles-respectively the defence ministers of France, Germany, and Spain-signed documents there formally welcoming Spain into the program. Photo © Dassault.

NGF is the major manned element of the Système de Combat Aerien du Futur (SCAF) program that seeks to develop a "system of systems" to meet European airpower needs from 2040. Intended to replace the current Typhoon and Rafale fleets, the SCAF project-also termed Future Combat Air System (FCAS)-was first agreed as a Franco-German program in July 2017.
During the ceremony, Dassault Aviation chairman and CEO Eric Trappier and Airbus Defence and Space CEO Dirk Hoke formally submitted a joint industrial proposal for the first demonstration phase of SCAF, covering a period from this year to mid-2021.
Along with the NGF, the SCAF program includes unmanned remote carrier platforms that act as "loyal wingman" force-multipliers and an air combat cloud network. The integration of legacy assets is also included in the SCAF program. A contract is expected in the fourth quarter and demonstrators are planned to fly by 2026. Dassault and Airbus will design and build the NGF, with Dassault as design lead, and Airbus heading remote carrier and air combat cloud efforts.

GKN FOKKER SUPPORTS PAL-V IN CERTIFICATION, DEVELOPMENT, AND PRODUCTION OF FLYING CARS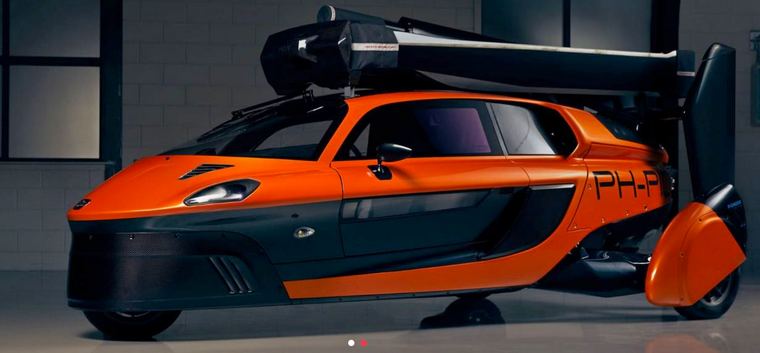 GKN Fokker has agreed to advise PAL-V as it seeks support to make the future of mobility a reality. The parties have signed a MOU during the Paris Air Show. Photo © PAL-V.


GKN Fokker will advise and assist PAL-V in design, certification, engineering, and manufacturing of its products. This will further accelerate the certification and production start of the PAL-V Liberty, the world's first commercial flying car. GKN Aerospace is the world's leading multi-technology tier 1 aerospace supplier.

ROLLS-ROYCE BUYS SIEMENS' ELECTRIC AIRCRAFT BUSINESS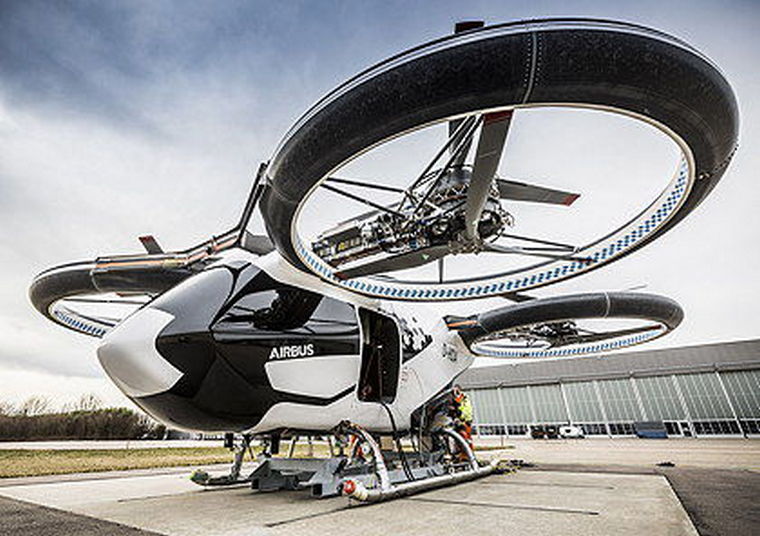 Rolls-Royce has agreed to buy Siemen's electric and hybrid-electric aerospace propulsion activities for an undisclosed sum. The move - announced at the Paris Air Show - is aimed at accelerating Rolls' electrification strategy and boosting its ambition to become the leading supplier of electric and hybrid-electric propulsion systems for aircraft and to play a major role in the "third era" of aviation. The acquisition is expected to complete late 2019, following a period of employee consultation. Image © Airbus

The business - which Siemens calls eAircraft - is based in Germany and Hungary, and employs around 180 electrical designers and engineers who have been developing all-electric and hybrid-electric propulsion systems for the aerospace industry for about ten years. The eAircraft team has already worked with Rolls-Royce and Airbus (with which it entered a development partnership in 2016) on the E-Fan X project which is designed to demonstrate hybrid-electric propulsion at the scale needed to power regional aircraft.
The eAircraft business has been working with various partners to create prototypes for propulsion systems with power ratings ranging from less than 100kW to several thousand kilowatts. One example is Airbus' CityAirbus ¬- a four-seater "multicopter" that is intended to advance remotely piloted electric vertical take-off and landing (eVtol) flight. A full-scale demonstrator of the CityAirbus took off for the first time last month when it performed a "tethered jump".
"The electrification of flight is just one part of Rolls-Royce's commitment to making aviation more sustainable," points out Rolls-Royce's chief technology officer, Paul Stein. "We are continuing to increase the fuel efficiency of our gas turbines, encouraging the development of environmentally friendly and sustainable aviation fuels, and pursuing the electrification of aviation.
Rolls Royce has already performed successful ground tests of a hybrid propulsion system that can be used in smaller transport platforms including hybrid eVtols, general aviation aircraft, and hybrid helicopters. These tests are part of one of the world's most comprehensive development and integration programmes on hybrid turbine engines, paving the way for experimental test flights in 2021.
The ground tests involved a Rolls-Royce M250 gas turbine operating in series-hybrid configuration, where the engine operates as a turbo-generator that charges an on-board battery system; as a parallel hybrid, where the aircraft's thrust is supplied by a combination of the engine and the electrical system; and in a turbo-electric mode, where the engine operates as a pure turbo-generator supplying electric power for thrust and other power needs on the aircraft.
Last year Rolls-Royce unveiled an eVtol concept, which could be powered by such a hybrid system. It is also developing an all-electric demonstrator aircraft, as part of the Accel initiative that will attempt to break the world speed record for all-electric flight next year.

TECNAM COMPLETES DELIVERY OF 12 TRAINER AIRCRAFT TO THE HELLENIC AIR FORCE




Tecnam announced the completion of delivery of twelve new Tecnam P2002JF aircraft to the Hellenic Air Force (HAF). An impressive ceremony took place on 12 June 2019 at the Dekelia Air Base in Tatoi (Athens), in the presence of the Minister of National Defence, Evangelos Apostolakis, and Italian Ambassador Efisio Luigi Marras. Photo © Tecnam.

The event celebrated the last batch of delivery of twelve Tecnam P2002JF low-wing trainers delivered to the HAF as a result of a thorough and intensive evaluation process.
The arrival of the new training aircraft is part of the implementation of the flight education upgrade program that takes place at the Ikarian School for the initial selection and introduction to flying, as well as for the broader planning of the Armed Forces for the whole of air training. The Tecnam P2002JF replaced the old trainer T-41D, which was used for about fifty years, since 1969.
As part of the ceremony, the last three delivered P-2002JF training aircraft that arrived the previous day, flying from TECNAM headquarters in Capua, were presented by the Minister of National Defence and the Chief of Staff, respectively.
In addition to the twelve P2002 JF aircraft, Tecnam has provided a SOFTEK simulator and a computer-based integrated training system with ancillary support services.
The Tecnam P2002JF is a two-seat, single-engine, low-wing aircraft. Powered by the popular ROTAX 912, and with the latest avionics from GARMIN, it is firmly established as one of world's most popular single-engine aeroplanes and the aircraft of choice for a large number of Flight Training Organisations and Air Forces.
In 2016 Tecnam delivered eight P2002JF aircraft to the Argentina Air Force. This fleet has amassed a total of over 7,000 hours and performed 16,000 landings to date.

IAG BACKS THE A321XLR WITH AN ORDER FOR 14 AIRCRAFT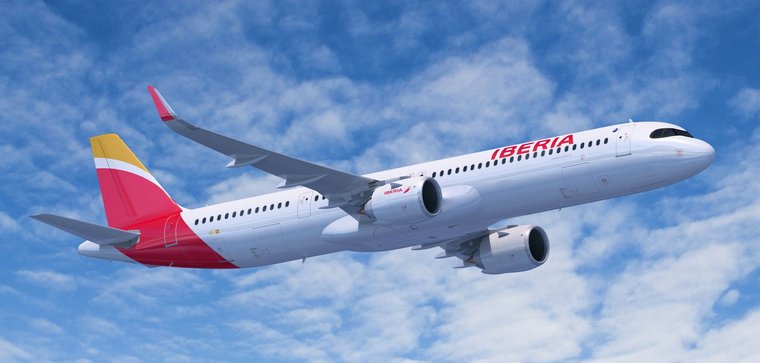 International Airlines Group (IAG) has selected the A321XLR to expand its fleet of highly efficient single aisles with a firm order for 14 aircraft. Of these, eight are destined for Iberia and six for Aer Lingus. Photo © Airbus

IAG, the parent company of leading airlines also including British Airways, Level and Vueling, is one of Airbus's largest customers and this agreement will take the overall order from the group to 530 aircraft. IAG airlines combined operate one of the world's largest Airbus fleets with over 400 aircraft.
The aircraft will enable Aer Lingus to launch new routes beyond the US East Coast and Canada. For Iberia, this is a new aircraft type that will enable it to operate new transatlantic destinations and increase frequencies in key markets.
The A321XLR is the next evolutionary step from the A321LR which responds to market needs for even more range and payload, creating more value for the airlines. From 2023, it will deliver an unprecedented Xtra Long Range of up to 4,700nm - 15% more than the A321LR and with 30% lower fuel burn per seat compared with previous generation competitor aircraft. This will enable operators to open new world-wide routes such as India to Europe or China to Australia, as well as further extending the Family's non-stop reach on direct transatlantic flights between continental Europe and the Americas. For passengers, the A321XLR's new Airspace cabin will provide the best travel experience, while offering seats in all classes with the same high-comfort as on a long-haul wide-body, with the low costs of a single-aisle aircraft.

AIRBUS TO MARK 50 YEARS OF PIONEERING ACHIEVEMENTS AT PARIS AIR SHOW 2019 WITH INNOVATIVE TECHNOLOGIES, PRODUCTS AND SERVICES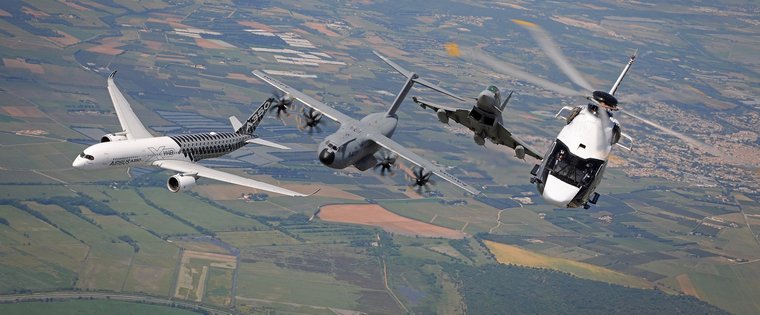 Airbus to mark 50 years of pioneering achievements at Paris Air Show 2019 with innovative technologies, products and services. Photo © Airbus

At the Paris Air Show 2019, Le Bourget, Airbus SE will present a broad portfolio of innovative products, technologies and services which meet the aerospace industry's requirements for today and into the future. This year Paris is also the stage to celebrate Airbus' 50 years of pioneering progress which created a string of world aerospace firsts to drive the industry's transformation.
In the flying and static displays at the show, Airbus will demonstrate its modern and highly efficient range of commercial aircraft. The daily flying display will include Airbus' long-range leaders including the A350-1000 flagship - the world's most efficient large wide body, and the A330neo which offers double-digit fuel burn improvements over its predecessor. Towards the end of the week and on the weekend, a Hi-Fly A380 will also be in the flying display.
The static display will feature an airBaltic A220-300 and an A330neo flight-test aircraft. In addition, on Tuesday 18 June the first A321neo single-aisle aircraft destined for La Compagnie will showcase its all-business class cabin with 76 full-flat seats on transatlantic flights. Also present in the static display will be the "Vahana" - Airbus' single-passenger (or cargo), all-electric, fully-autonomous, vertical-take-off-and landing demonstrator. At this year's show, there is also a dedicated "Services Centre" mini-pavilion, where visitors meet experts to learn more about how Airbus' global commercial aftermarket presence, powered by Skywise, can efficiently support airline and MRO operations.
Airbus Helicopters will be highlighting its modular and versatile military platforms at Le Bourget. A full-scale mock-up of the new H160M can be found at the stand of the ministry for the French armed forces, alongside a Tiger HAD and a mock-up of the front section of the NH90 for 'special forces'. The best-selling H145M and an H125M mock-up will be on display both equipped with the Airbus-designed weapon management system which confers light attack capabilities. The VSR700 unmanned reconnaissance helicopter which has been designed to provide navies with extended surveillance capabilities will also be on show. On the civil side, show-goers can visit the 'super-medium class' twin-engine H175 destined for the oil and gas, private and business aviation, and search-and-rescue markets.
Meanwhile, Airbus Defence and Space will demonstrate its broad product portfolio of military aircraft, space systems, secure communications and drones. A highlight is the FCAS Experience Centre where visitors can see what Europe's Future Combat Air System could look like. In particular, it will showcase the interaction and governance of the various components which a European Combat Air System could consist of from 2040 onwards. Over in the static display will be various military exhibits including: the latest variant of the Eurofighter combat aircraft; an A330 MRTT "Multi-Role Tanker-Transport" aircraft; a full-scale mock-up of Europe's "Medium-Altitude Long-Endurance Remotely Piloted Aircraft System (EuroMALE RPAS); plus smaller UAVs such as the ALIACA and DVF 2000 ER designed for intelligence, surveillance and inspection missions. An A400M military transporter in French Air Force colours will also be in the static display.



XTI AIRCRAFT COMPANY ANNOUNCES ADDITIONAL ORDERS FOR THE TRIFAN 600 HYBRID-ELECTRIC VERTICAL TAKEOFF AIRPLANE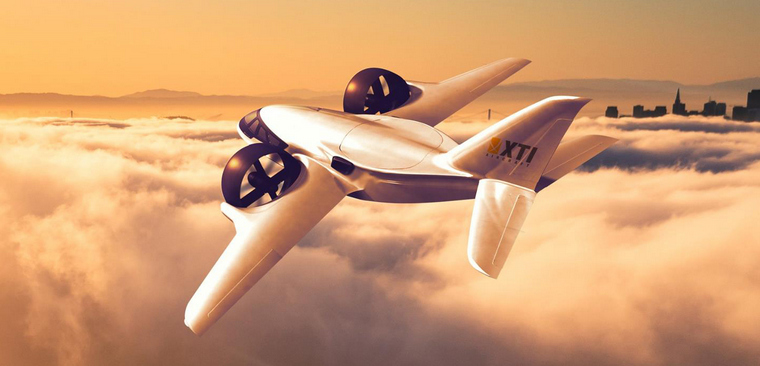 XTI Aircraft Company (XTI) announced today that customers in North America and Australia have placed additional orders for the TriFan 600 vertical take-off airplane under XTI's pre-sales program. This brings our total to 80, representing over a half billion dollars in future revenues. Photo © XTI.


"The new orders come on the heels of our successful initial hover tests, which we announced on May 8," LaBelle continued, "and our sales and service agreement with Heliflite in Australia. There has been an increase in the level of interest since we began the flight test program."
"Two orders are from Heliflite, our new partner in sales and service in Australia, New Zealand, Oceania, Indonesia and the Philippines" said LaBelle. "As our development program progresses, operators and others increasingly see the value proposition of our unique and revolutionary airplane with its cleaner state-of-the-art hybrid-electric propulsion system, extremely low operating costs, and patented technology, vertical take-off combined with the ability to fly long-range and the speed and comfort of a business aircraft."
The company has consistently grown the number of orders from customers around the world, beginning with the first orders at the 2017 Paris Air Show. This was followed by orders at the October 2017 and October 2018 NBAA conventions.
The TriFan 600 is a major breakthrough in aviation and air travel. The six-seat TriFan 600 will have the speed, range and comfort of a luxury business aircraft and the ability to take off and land vertically, like a helicopter. It will travel at 345 miles an hour, with a range of up to 1,200 miles. Using three ducted fans, the TriFan lifts off vertically. Its two wing fans then rotate forward for a seamless transition to cruise speed and its initial climb. It will reach 30,000 feet in just ten minutes and cruise to the destination as a highly efficient business aircraft.

EVIATION ALICE WHY THE AGE OF ELECTRIC FLIGHT IS FINALLY UPON US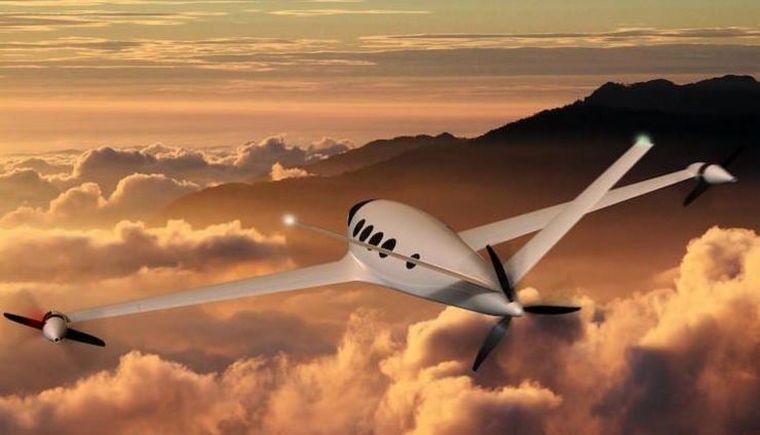 Israeli start-up Eviation Aircraft claims it now has the money to certify its "Alice" all-electric business and commuter aircraft. The 9-passenger electric plane will sit on a static stand in Paris before being shipped to the U.S. for flight tests. Image © Evation Aircraft.


This week's Paris Airshow saw the launch of the world's first commercial all-electric passenger aircraft - albeit in prototype form. Israeli firm Eviation says the craft - called Alice - will carry nine passengers for up to 650 miles (1,040km) at 10,000ft (3,000m) at 276mph (440km/h). It is expected to enter service in 2022.
Alice is an unconventional-looking craft: powered by three rear-facing pusher-propellers, one in the tail and two counter-rotating props at the wingtips to counter the effects of drag. It also has a flat lower fuselage to aid lift.
"This plane looks like this not because we wanted to build a cool plane, but because it is electric," says Eviation's chief executive Omer Bar-Yohay. You build a craft around your propulsion system. Electric means we can have lightweight motors; it allows us to open up the design space."
Eviation has already received its first orders. US regional airline Cape Air, which operates a fleet of 90 aircraft, has agreed to buy a "double-digit" number of the aircraft.



JAPAN NATIONAL POLICE AGENCY PLACES WORLD'S FIRST ORDER FOR SUBARU BELL 412EPX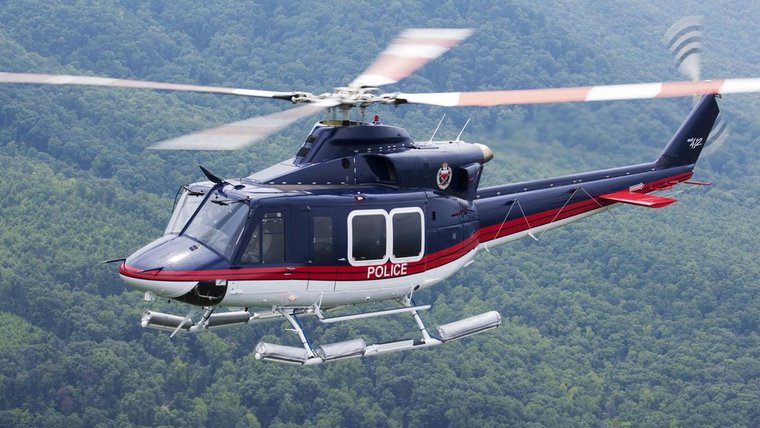 At a ceremony held, Bell Helicopter, a Textron Inc. (NYSE: TXT) company, and SUBARU CORPORATION, announced that the Japan National Police Agency (JPNA) has placed the first order for a SUBARU BELL 412EPX. Photo © Bell.


Last year, BELL and SUBARU announced their collaboration on a commercial enhancement of the SUBARU BELL 412EPX, the newest upgrade of the renowned Bell 412 series, which was co-developed by the two companies as the platform for the New Utility Helicopter for JMOD (Japan Ministry of Defense) program. SUBARU delivered the prototype to the New Utility Helicopter to JMOD for testing in February 2019.
Together with SUBARU's unique laser peening technology, the SUBARU BELL 412EPX will benefit from a more robust main rotor gearbox dry run capability, increased internal Maximum Gross Weight to 12,200 lbs. and mast torque output of +11% at speeds below 60 knots. This will provide operators the ability to transport more supplies and achieve better operational efficiency.
The BELL 412 has the impeccable reputation of reliability in some of the most extreme climates. Its versatile cabin accommodates an array of options to suit any specific mission needs. The Bell 412 continues to be the twin-engine helicopter of choice in the para-public sector, with governments in Australia, Canada, Indonesia, Japan, United States and Thailand incorporating the aircraft in their operations.
BELL's history in Japan started with the delivery of three Bell 47D-1s to Mainichi Press, Yomiuri Press and Chunichi Press on Nov. 24, 1952. Historically, Bell has supplied most of the helicopters - more than 1,500 aircraft - that have been used or are still in service in Japan.
SUBARU has a long established partnership with Bell since 1960s for the licensed production of the HU-1B/204B. Since then, through the cooperation with Bell, SUBARU has been manufacturing and supporting more than 400 helicopters in Japan, including the UH-1H/204B-2, UH-1J/205B and AH-1S to the JMOD. SUBARU has been providing helicopter maintenance, repair and overhaul support to the Japan Coast Guard, Japan National Police Agency, and to the Japan Firefighting and Disaster Relief Government Agencies.


USA, Newark: A passenger at Newark Liberty International Airport tried to bring six smoke grenades through the airport's security checkpoint before boarding a flight to the Dominican Republic. Transportation Security Administration screeners spotted the smoke grenades tucked inside bubble wrap when reviewing the X-ray of his carry-on bag. Smoke grenades are not illegal and the man does not face any charges, but they are prohibited from planes.
USA, Philadelphia: An American Airlines Boeing 767-300 on a flight from Manchester, (UK) was on final approach to Philadelphia's runway 27L when a bird impacted and penetrated the leading edge of the left hand wing, the crew told tower they thought an eagle had just impacted the aircraft. The aircraft continued for a safe landing on runway 27L about 2 minutes later.
USA, Atlanta: A Delta Airlines Boeing 757-300 on a flight from Seattle landed on Atlanta's runway 09R and turned to vacate onto taxiway N10 when the crew of another aircraft reported that the Delta aircraft's left hand tyre was on fire. Another crew chimed in confirmed that the left side of the 757-300 was on fire. A ground operations vehicle on ground frequency also reported the left main gear of the 757-300 was on fire. The aircraft stopped at the intersection with taxiway N, emergency services responded and put the fire out.
Japan, New Chitose Airport: A Bombardier DHC-8-402 Dash 8 operated by All Nippon Airways was preparing for a flight from New Chitose to Nakashibetsu when the flight was cancelled since delamination of some upper surface panels of the left wing was found in the pre-flight check. The plane had flown seven legs the day before, and no abnormality was found in the post-flight check after the last flight.
USA, Oklahoma City: Brandon Ganus, 32, of Weatherford, Texas, allegedly was drunk and unruly on the flight out of Pittsburgh brawling with the passenger sitting next to him and punching a female flight attendant in the chest, police say. He also tried exiting out of the front door. Ganus was eventually forcibly confined to his seat with crew members and other passengers zip-tying his hands and duct-taping him in place. The flight was diverted to Oklahoma City, where police boarded the plane and arrested Ganus. He was charged with public drunkenness, assault and battery and disorderly conduct.




26 JUNE 1911

As spectators watch in amazement, Lincoln Beachey flies his Curtiss pusher biplane over Horseshoe Falls, the most spectacular of the Niagara Falls.

Born on 3 March 1887 Lincoln Beachey was a pioneer American aviator and barnstormer. He became famous and wealthy from flying exhibitions, staging aerial stunts, helping invent aerobatics, and setting aviation records.
In June the organizers of the U. S.-Canadian Carnival offered $1,000 to the first person to fly an aeroplane over Niagara Falls. Beachey responded in his Curtiss D biplane, and on June 27, 1911, Beachey took off into a drizzle and flew over the lower falls of Niagara Falls, then above American Falls, before an estimated 150,000 spectators. While gradually climbing, Beachey circled his plane over the falls several times. After he completed this performance he dove down into the mists of the falls, within 6 meters (20 feet) of the surface of the Niagara River. Then he flew his plane under the Honeymoon Bridge 6 meters (20 feet) above the rapids and down the length of the Niagara Gorge.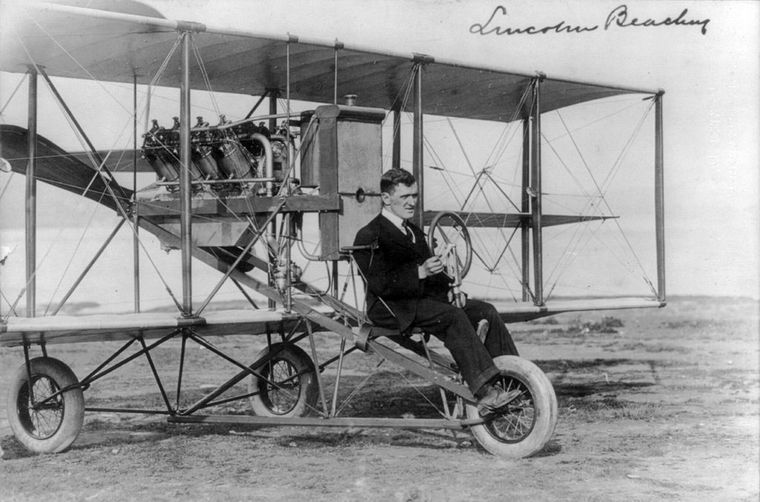 It was at the Panama-Pacific International Exposition that Beachey made his final flight. He took the plane up in front of a crowd of 50,000 (inside the Fairgrounds-with another 200,000 on the hills), made a loop, and turned the plane onto its back. He may have been so intent on levelling the plane inverted he failed to notice he was only 2,000 feet (610 m) above San Francisco Bay. He pulled on the controls to pull the plane out of its inverted position, where it was slowly sinking. The strain caused the rear spars in its wings to break, and the crumpled plane plunged into the bay between two ships. Navy men jumped into action, but it took 1 hour and 45 minutes to recover Beachey's body.