In September 2018 at the Africa Aerospace and Defense exhibition held at AFB Waterkloof, Tokkie Botes, of Flying for Freedom realising the huge need by the pilots of the SAN Parks's airwing, stationed at Skukuza in the Krugers National Park for modern noise cancelling headsets brought together Bose and Century Avionics its distributors to find a solution to the problem.


Mr. Isaac Phaahla, SAN Parks General Manager Communications and Marketing during his opening address.

The Airwing is in the forefront against the war with poachers in the reserve and communication between the aircrew and ground crew are of the utmost of importance. The donation of 34 Bose A20 Aviation Headsets from BOSE Aviation and Century Avionics for use by both fixed wing and helicopter pilots operating in the Kruger National Park will assist in improving communication between aviators and ground crews during conservation operations including anti-poaching. The donation is seen as a crucial tool to both ground and flying crew and was warmly accepted by the KNP management.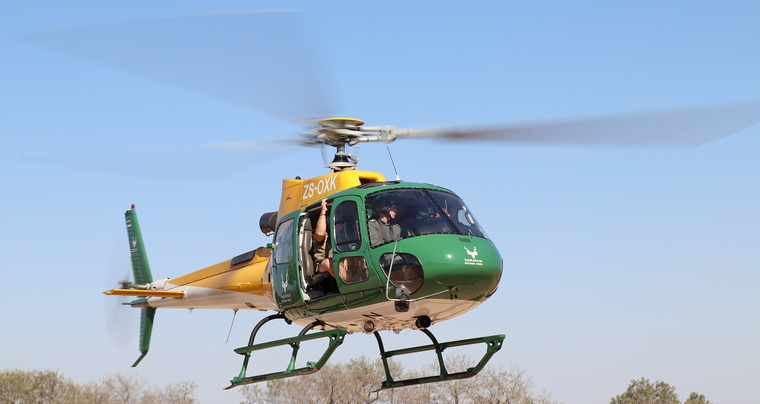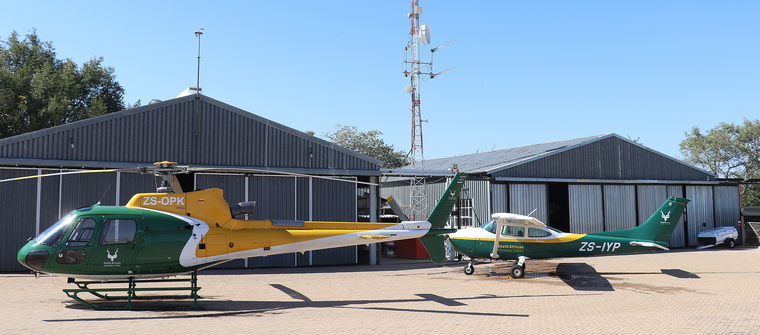 Some of the SAN Parks Airwing aircraft at Skukuza on 1 July.

SAN Parks has a growing number of aircraft in its fleet. The Kruger National Park has four Squirrel single-engine helicopters (two of which were acquired through money donated by the Howard Buffet Foundation), three Bat Hawk light sport aircraft, a Cessna 206 and a Cessna 182. One of the Bat Hawks recently had a new Rotax engine installed, replacing the out of production Camit engine.
The majority of SAN Parks air wing flights are in support of anti-poaching activities but other tasking's include casualty evacuation, rescuing snared animals, game counting, slinging equipment and animals and tracking escaped animals.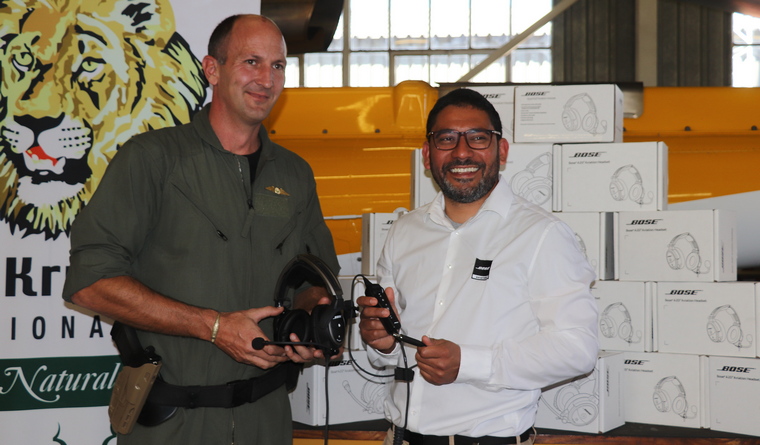 Bose's Garmir Decosta with SAN Park's pilot Jaco Mol during the handover.

Representing Bose at the Airwing's hanger on 1 July when the donation of the 29 headsets each covered by a five-year guarantee was officially handed over to SAN Parks was Bose's Garmir Decosta. Garmir said that when Bose realized the problems faced by the airwing it had a change to contribute to the protection of South Africa's wildlife. "The quality of the headsets will make the job a lot easier for the pilots while on duty. The headsets are very comfortable and the quality of sound is very clear, which makes it easier for the pilot and passengers to communicate while carrying out their duties." said Garmir. A month ago the company donated 24 headsets to Air Mercy Services of Cape Town.
Development of the company's noise-cancelling headphones (and first over-ear headphones) began in 1978. A prototype Bose product was used to prevent hearing loss in pilots during the first non-stop around-the-world flight in the Rutan Voyager. The company was the first to release active noise cancelling headphones as a consumer product.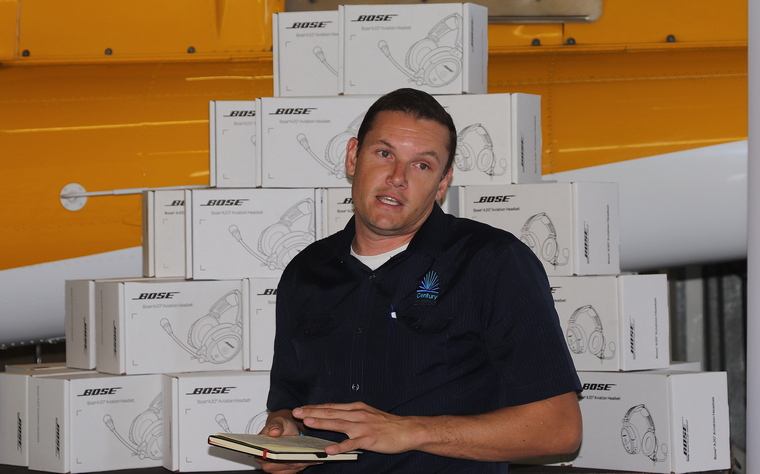 Century's Clinton Faria.

Lanseria based Century Avionics, Bose's South African agents, will be responsible for the maintenance of the headsets. Century has ambitious goals this year, from continuing to expand its business to enhancing operator avionics training to supporting the conservation of endangered wildlife. Located at Lanseria International Airport, the service center specializes in general aviation avionics for fixed- and rotary winged aircraft. Being in business for nearly 40 years, Century Avionics is the largest and oldest privately owned avionics facility in Southern Africa, according to the three owners.
Century's Clinton Faria expressed how proud they are to be able to lend a hand in this vigorous fight against poaching and in support of conservation in the iconic KNP, he further explained that the headsets have a five-year warranty and said "We are pleased to hand them over to a unit that will utilize them to their fullest capacity and save our species for future generations "concluded Faria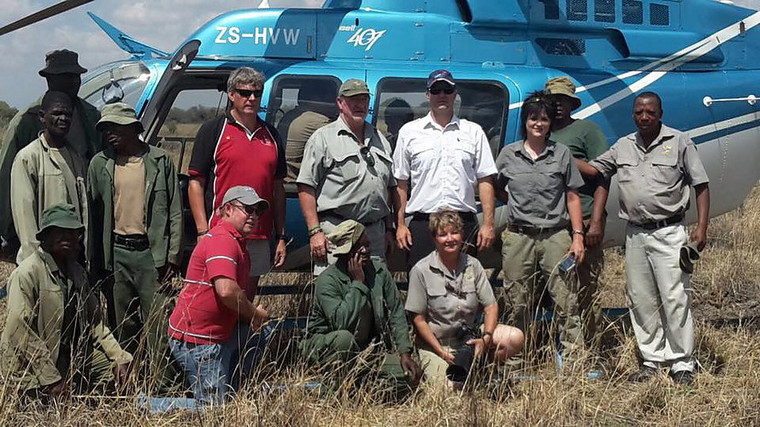 A Flying for Freedom operation to rescue another animal in distress.

Flying for Freedom SA is all about animals and the conservation of animals. Wild life conservation is of great importance to the organization and they strive every day to improve the quality of life for these helpless animals. When it comes to continuation of a species a lot of help is needed and Flying for Freedom SA do exactly that. They fly for freedom; the Freedom of these beautiful creatures.
Congratulations to Bose and Century. A lot of companies pays lip service to its social responsibilities. Bose and Century has again proved that they are prepared to help were help is needed.
For more information on Fly for Freedom go to
www.fffsa.org.za