THIS WEEK IN MIDWEEK UPDATE

Plan Your Weekend……...Forthcoming Events……..Aviation News

Worldwide Incidents and Accidents……This Week in Aviation History




12-14: EAA Nysltroom Viegklub Taildraggers. Contact Richard Nicholson cell: 082 490 6227 e-mail:
flybenchmark@gmail.com
13: SAPFA Hoedspruit Fun Rally Hoedspruit Civil Airfield> Contact Frank Eckard cell: 083 269 1516 e-mail:
frank.eckard@mweb.co.za
13: Krugersdorp flying club Spotlanding competition. For more info
www.fakr.co.za



20: Lowveld Speed Run Radio Control Pylon Racing. For more information go to
www.pylonracing.co.za
22-28: EAA AirVenture Oshkosh, Wisconsin, USA. Camping on the airfield contact Neil Bowden E-mail:
neil1@telkomsa.net
. Hotels in Appleton contact Calvin Fabig E-mail:
calvin@designer.co.za
25-27: Brits - Air Navigation Race (ANR) Nationals - Brits Airfield. Contact Frank Eckard e-mail:
frank.eckard@mweb.co.za
cell: 083 269 1516


3 & 4: SAC KZN Regionals Ladysmith airfield. Contact Annie Boon e-mail:
chunge@mweb.co.za
21-31: SAC Unlimited World Championships in France. Contact Annie Boon e-mail:
chunge@mweb.co.za
24: Bethlehem Airshow. Contact Stephan Fourie: e-mail:
fouriesj1491@gmail.com
26-31: SAPFA World Precision Flying Championships - Castellon Spain. Contact Hans Schwebel cell: 082 656 3005 e-mail:
hans.s@britsgranite.co.za

7: SAAF Museum Airshow AFB Zwartkop.
7: SAPFA Grand Central Fun Rally - Grand Central Airport. Contact Rob Jonkers cell: 082 804 7032 e-mail:
rob@aerosud.co.za
14: Vans RV Fly-in to Kitty Hawk. Contact Frank van Heerden e-mail:
frankvh@sandown.co.za
. website:
www.fakt.co.za
8-13: World ANR Championships - Santa Cruz Portugal - Contact Hans Schwebel e-mail:
hans.s@britsgranite.co.za
cell: 082 656 3005
21-22: PMS South Africa is proud to present the South African Nationals 2019, hosted by IPMS Cape Peninsula. This is the premier event on the South African scale modelling calendar and promises to attract the cream of the crop in scale plastic modelling.




APACHE AVIATION AND BREITLING IN SEARCH OF CO SPONSORS TO OPERATE JET TEAM AROUND THE GLOBE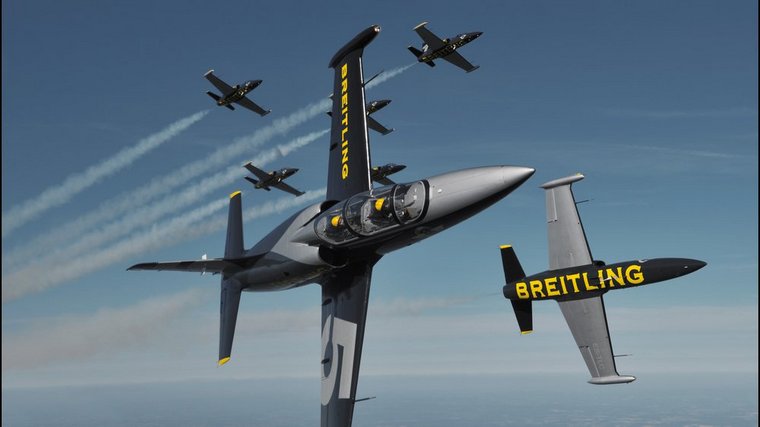 For 17 years, Apache Aviation has operated the Breitling jet team, the world's first professional civil jet team and its seven L39 Albatros jets. Breitling's long-standing contract with Apache Aviation will expire on the 31st of December 2019. Breitling has decided not to renew its sponsorship as sole and exclusive partner of Apache Aviation, but is open to staying on board as co-sponsor. Photo © Breitling.


Today, Breitling is a global brand and as a consequence, the Swiss watchmaker aims to activate its partnership with Apache Aviation not only in Europe but also in Asia and America, where there is a huge community of aviation aficionados who would love to see the Jet Team performing in their own skies or offering guests a unique flight experience. This continuation of internationalization and increased visibility, however, requires a substantial additional investment.
The arrangement would be patterned after global sports disciplines that benefit from the contributions of strong multiple sponsors, such as Formula 1 and sailing. Breitling and each partner organization would share the cost of the operation of the Jet Team.
The partnership between Breitling and Apache Aviation has led to the worldwide success and reputation of the Breitling Jet Team. New financial partners would ensure the continued visibility and viability of the team around the world.
Jacques Bothelin, CEO of Apache Aviation, and Breitling are hoping that the right sponsors will be found so that the Jet Team's unique know-how, developed over the past 17 years, will continue to impress and enthuse people around the globe.


VARIETY OF BURT RUTAN DESIGNS FLYING AT AIRVENTURE 2019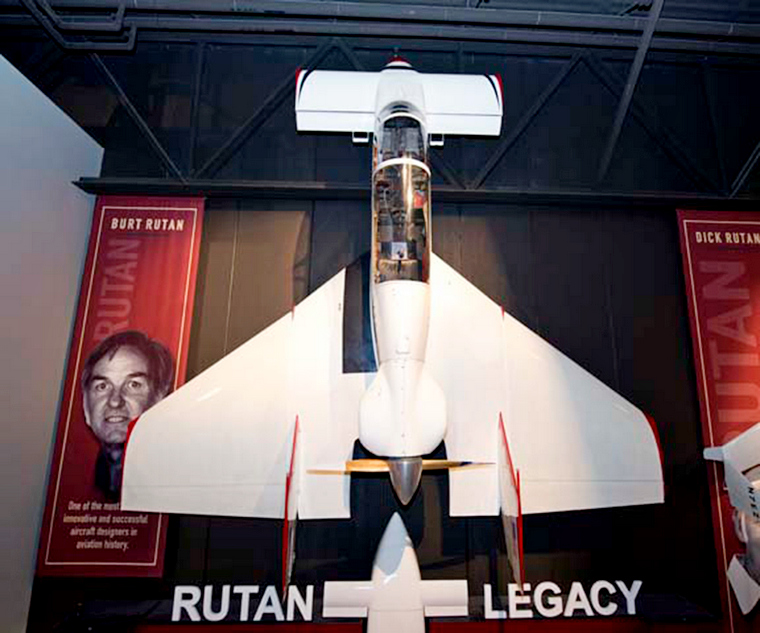 Various Burt Rutan designs will be in attendance at EAA AirVenture Oshkosh 2019, and they are expected to all fly together in a diverse gathering of Rutan designs never seen before in Oshkosh. Photo © AirVenture

At least one flying Long-EZ, VariEze, Quickie, Defiant, VariViggen, Solitaire, Boomerang, and Catbird are all expected to attend AirVenture 2019, to coincide with Burt Rutan's own attendance at aviation's family reunion. In addition, Burt is flying into Oshkosh in a Beechcraft Starship, the canard-equipped twin-turboprop aircraft that he and his team at Scaled Composites designed in the 1980s.
Burt was a near-continuous AirVenture visitor from 1971 to 2015, where he initially displayed many of the aircraft that will be assembled in his honour. The iconic aircraft pioneer will be celebrated at Oshkosh through presentations in addition to the aircraft themselves, including Theater in the Woods evening programming on Thursday, July 25, as well as daytime forums and a Homebuilts in Review session.

BOMBARDIER UNVEILS NEW LEARJET 75 LIBERTY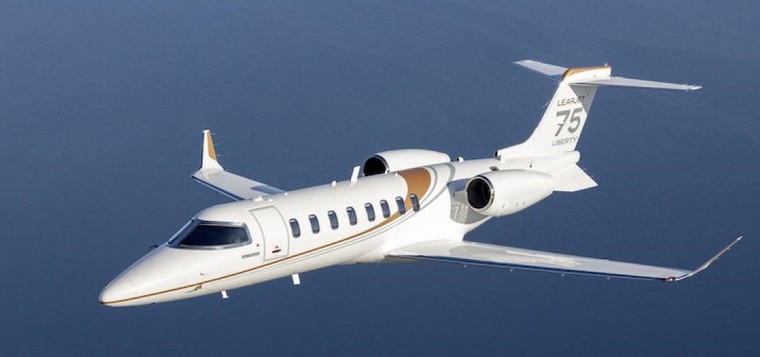 Bombardier today announced the $9.9 million Learjet 75 Liberty as its newest offering in the storied business jet brand. To accomplish this, the Liberty will have fewer seats and options than the original Learjet, shaving about $3 million off the price tag while keeping the performance. Photo © Bombardier.


The 75 Liberty sheds two seats in the forward cabin-for a total of six seats-replaced by two fold-down ottomans and fold-out tables, creating what it calls the "executive suite" for the two remaining seats in the forward section of the cabin. The four remaining aft seats are in a club configuration.
The jet retains its 51,000-foot ceiling and high-speed cruise of Mach 0.79, but range improves by 40 nm to 2,080 nm with NBAA IFR reserves. Also standard on the Liberty is the Bombardier Vision flight deck with the recently announced upgrade to the jet's Garmin G5000 avionics, as well as Gogo ATG 4G wireless connectivity.
Bombardier hopes the lower price tag will drive a new segment of buyers to the Wichita-assembled aircraft, which has seen steadily declining deliveries over the past five years to just a dozen last year. Deliveries are expected to begin next year.

D-DAY SQUADRON C-47S COMING TO OSHKOSH FROM NORMANDY

A group of roughly 10 C-47s that are part of the D-Day Squadron group that made the trip to Normandy for the 75th anniversary of D-Day is coming back across the sea to EAA AirVenture Oshkosh 2019. Photo © Michael Kutz.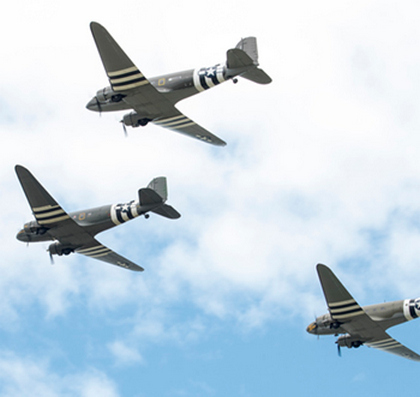 All of the C-47s are meticulously restored and the pilot's formation qualified, and the group is scheduled to include Placid Lassie; That's All, Brother; Betsy's Biscuit Bomber; Legend Airways; Flabob Express; two Miss Montanas; Miss Virginia; Virginia Ann; and Rendezvous with Destiny.
The D-Day Squadron is the American contingent that flew over the English Channel on June 6 to commemorate the quarter-century anniversary of D-Day.
In total, more than 30 aircraft dropped hundreds of paratroopers over the shores of Normandy in honour of those who bravely did the same 75 years prior.



THE HIGH ALTITUDE FLIGHT CAMPAIGN OF THE NEW H145 STARTS IN CHILE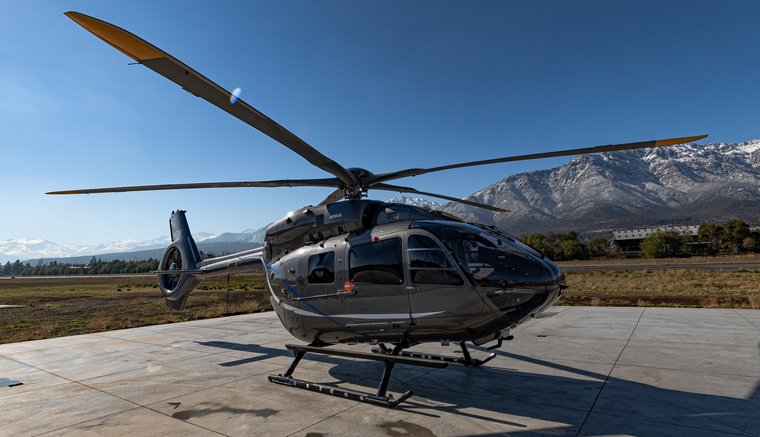 The prototype of the five-bladed H145, which Airbus Helicopters unveiled at Heli-Expo in Atlanta last March, has just arrived in Chile where the aircraft will start a high altitude flight campaign. EASA certification is expected in early 2020, with deliveries following later that year. Photo © Airbus


The new H145 is ready to take on the Andes, with altitudes up to 20,000 feet above sea level, after having already performed some altitude tests in the French Pyrenees during the summer of 2018. The objective of this campaign is to expand the flight envelope of the new helicopter and demonstrate its capabilities at high altitudes.
Due to its multi-mission capacity and excellent performance in hot and high conditions, present in many countries in Latin America, the H145 family is one of the region's favourite light twin engine helicopters. The flight campaign will provide some operators with the opportunity to fly the new version and experience first-hand the improvements brought by the new five-bladed rotor - an increased useful load of 150 kg and new levels of comfort.
The H145's new five-bladed rotor brings a significant increase in overall performance, with a maximum take-off weight raised to 3,800 kg and a useful load now equivalent to the aircraft's empty weight. The simplicity of the new bearingless main rotor design will also ease maintenance operations, further improving the benchmark serviceability and reliability of the H145, while improving ride comfort for both passengers and crew. The reduced rotor diameter will allow the H145 to operate in more confined areas.
The new H145 introduces new levels of on-board connectivity to customers and operators through the integration of the wireless Airborne Communication System (wACS), allowing seamless and secure transmission of data generated by the helicopter in real-time, including in-flight.



TWO FAIREY FIREFLYS TO BE DISPLAYED AT AIRVENTURE


The Firefly was designed by Fairey Aviation in 1940 to meet a British Admiralty requirement for a carrier-borne fighter and reconnaissance aircraft. The Firefly is a low-wing, all-metal monoplane with folding wings for carrier storage. Deliveries of production Firefly F Mk I's began in March 1943, although it was July 1944 before the type became operational. Its first assignment was on the aircraft carrier HMS Indefatigable. Photo © The Canadian Warplane Heritage Museum.

Fairey Firefly WB518 is owned by Capt. Eddie Kurdziel, a retired U.S. Navy and commercial airline pilot with thousands of hours. During Warbirds in Review, attendees will hear about his journey with the Fairey Firefly, which began in 1974. The aviation community recognized the dedication of the eight-year restoration of his warbird with the Grand Champion award at EAA AirVenture Oshkosh 2002, the Rolls-Royce Aviation Heritage Trophy, and the National Aviation Hall of Fame People's Choice Award.
The Canadian Warplane Heritage Museum's Firefly was built in 1951 and first served with the Royal Naval Volunteer Reserve, at Ford, United Kingdom. Later, it was transferred to the Royal Australian Navy in 1953 where it served until 1960. Then it was transferred to a museum in New South Wales, Australia. The CWHM purchased it from that museum in 1979. Although a Mk VI, it has been restored in the colours and markings of a Royal Canadian Navy No. 825 Squadron Firefly Mk. V operating from HMCS Magnificent in 1949-50.

BERNIE THALMAN'S THORP T-18 TO RETURN FOR 50 CONSECUTIVE YEARS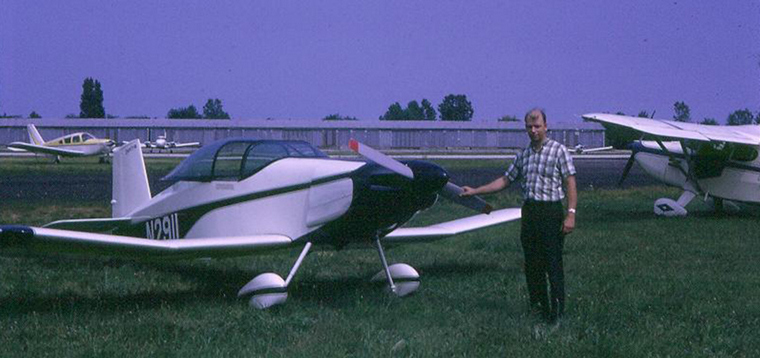 Joseph Thalman, EAA 570237, and his father Bernard (Bernie) Thalman, EAA 11495, will be flying the same homebuilt Thorp T-18 that was here at the 1970 fly-in to EAA AirVenture Oshkosh 2019. Photo © Bernie Thalman


Bernie had the chance to meet John Thorp and was so inspired by John that he bought the plans to build his own T-18. He built N2911 in four years, and it first flew in 1967, the year Joseph was born. Bernie attended all of the Rockford conventions, and later visited every single Oshkosh fly-in with the Thorp T-18.
Joseph said being able to celebrate 50 years in Oshkosh with the Thorp is really important to both him and his father.
"I grew up flying them," Joseph said. "I got to fly them to college where I enrolled in ROTC. I became an Air Force F-16 pilot, instructor pilot, test pilot, combat pilot, and was privileged to bring the aircraft to the 1995 AirVenture show for the week. It's really special for me to be able to see my father's Thorp here in Oshkosh after 50 years of so much family history."


Israel, Tel Aviv: An Electra Airways Boeing 737-400 with 152 people on board on flight from Cologne to Tel Aviv was climbing out of Cologne, when tyre debris was found on the departure runway. The crew was informed about the debris and elected to continue to Tel Aviv. The aircraft entered a hold on approach to Tel Aviv where Israeli fighter aircraft inspected the aircraft. A massive emergency response, more than 100 ambulances were put on standby at the airport, was initiated, the airport was closed for the emergency and arriving flights redirected. The aircraft landed on Tel Aviv's runway 26 (length 4030 meters/13,300 feet) and came to a stop on the runway short of the intersection with runway 12/30 with a damaged left main tyre.
India, Mumbai: A Spicejet Boeing 737-800 on a flight from Jaipur to Mumbai landed at Mumbai in heavy rain but overran the end of the runway at about 80 knots over ground and came to a stop about 160 meters past the runway end with the nose gear collapsed, the passenger oxygen masks had come down during the overrun. There were no injuries, the aircraft sustained substantial damage.
Egypt, Cairo: A Yemenia Airbus A310-300 flight to Aden (Yemen) was climbing out of Cairo's runway 05L when the crew stopped the climb at about 4000 feet due to a problem with one of the engines (PW4156) and decided to return to Cairo. The aircraft landed on Cairo's runway 05R about 12 minutes after departure but blew both right hand forward main tyres and became disabled on the runway. The passengers disembarked via mobile stairs.
Bahamas, Nassau-Lynden Pindling International Airport: The ground crew of a Saab 340A operated by Western Air was preparing the aircraft for re-positioning at the Nassau-Lynden Pindling International Airport, Bahamas. During its run up checks, the wheel chocks did not restrain the aircraft resulting in a collision with a covered walkway. The nose landing gear collapsed and several propeller blades on the no.1 prop were severed.




15 JULY 1941

Luftwaffe ace Werner Mölders shoots down two Soviet aircraft, raising his victory total to 101. He becomes the first pilot to claim 100 victories.

Werner Mölders born 8 March 1913 was a World War II German Luftwaffe pilot, wing commander, and the leading German fighter ace in the Spanish Civil War. Mölders was instrumental in the development of new fighter tactics that led to the finger-four formation.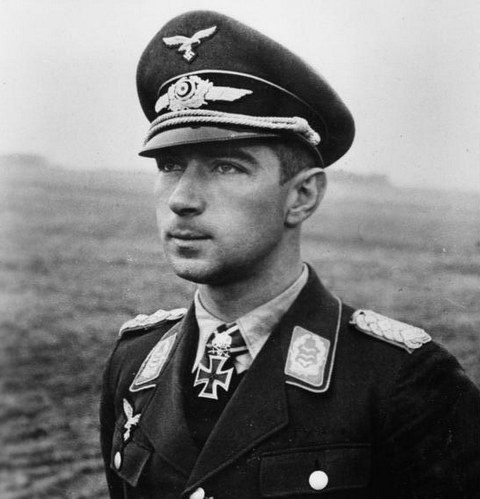 Mölders joined the Luftwaffe, the air force of Nazi Germany, in 1934. In 1938, he volunteered for service in the Condor Legion, which supported General Francisco Franco's Nationalist side in the Spanish Civil War, and shot down 14 aircraft. With the start of World War II, he took part in the "Phoney War", Battle of France, and the Battle of Britain.
At the outbreak of World War II on 1 September 1939, Mölders' Staffel was stationed in the west protecting Germany's border in the Mosel-Saar-Pfalz region. On 5 June 1940, on his 133rd combat mission of the war, engaging in aerial combat for the 32nd time, Mölders was shot down in his Bf 109 E-4 while engaged in aerial combat with French Air Force Dewoitine D.520 near Compiègne at about 18:40. Mölders was then captured by French soldiers and taken prisoner of war but liberated three weeks later upon the armistice with France.
With his tally standing at 68 victories, Mölders and his unit, the Jagdgeschwader 51 (JG 51), were transferred to the Eastern Front in June 1941 for the opening of Operation Barbarossa, achieving 101 victories by mid-July 1941.
On 22 November 1941, Mölders travelled as a passenger in a Heinkel He 111 of Kampfgeschwader 27 "Boelcke" from the Crimea to Germany to attend the funeral of his superior, Ernst Udet, who had committed suicide. Attempting to land at Breslau during a thunderstorm, the aircraft crashed. Mölders, pilot Oberleutnant Kolbe and flight engineer Oberfeldwebel Hobbie were killed.