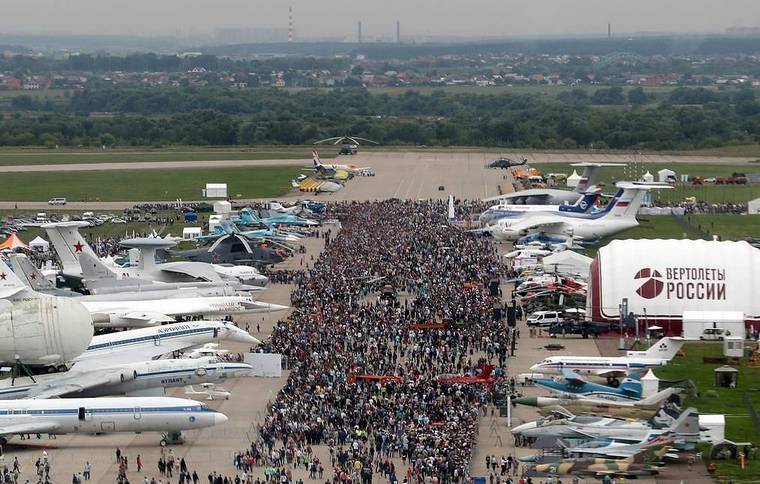 Opened by Russian president Vladimir Putin, MAKS 2019 held at Zhukovsky International Airport outside Moscow at Zhukovsky International, the newly inaugurated airport that will serve 200 million passengers when all phases are completed MAKS this year promised to be bigger and better than ever before.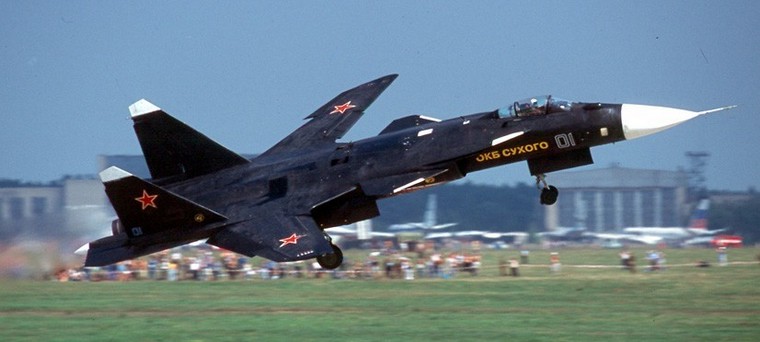 The Berkut forward swept wing experimental fighter. Photo © Leonid Faerberg / commons.wikimedia.org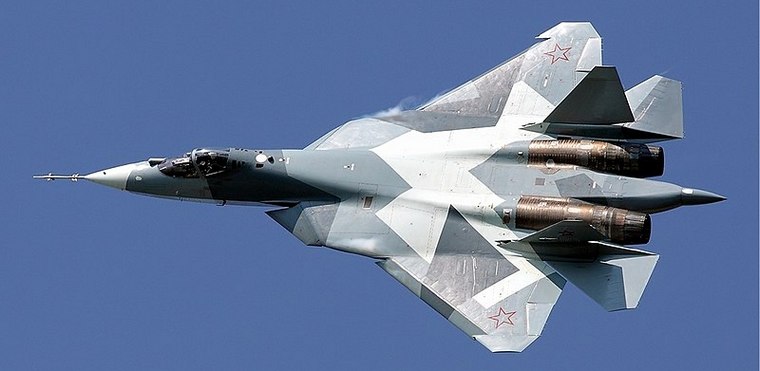 Russia's Fifth-generation Su-57 fighter jet. Photo © Maxim Maksimov / commons.wikimedia.org




At the air show, a group of four Su-57s flew in a tight diamond formation just meters away from each other, while performing manoeuvres with unparalleled synchronism. A single Su-57 then stole the limelight of the show by doing some incredible stunts. Photo © MAKS 2019.

MAKS 2019 was packed with new insights into the future of Russian aviation combined with some rare and fascinating projects from Russia's past. On Monday a extremely rare Sukhoi Su-47 "Berkut" experimental test aircraft that had its first flight in September 1997 was towed from storage to the static display area. Visitors were also treated to Russia's Fifth-generation Su-57 fighter jet being put through its paces during a demonstration that displayed the aircraft's incredible flight envelope.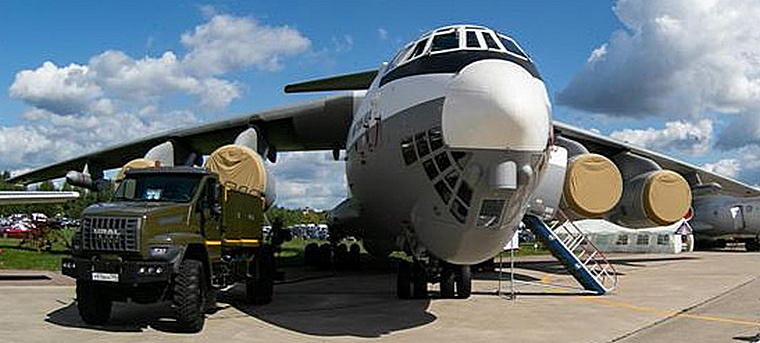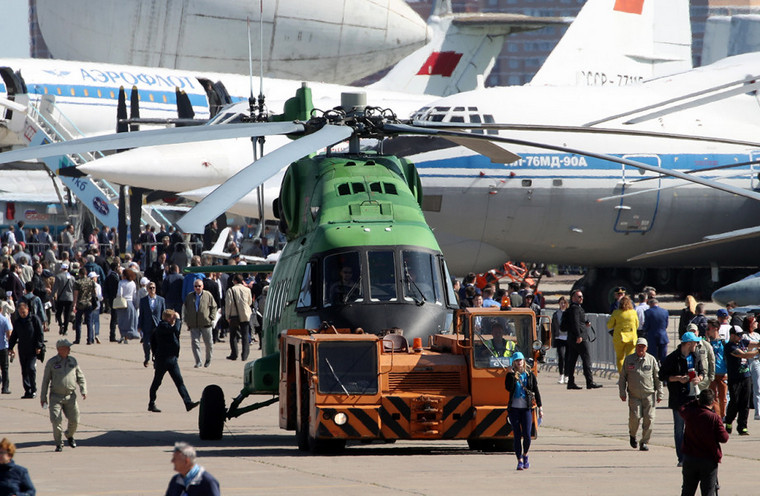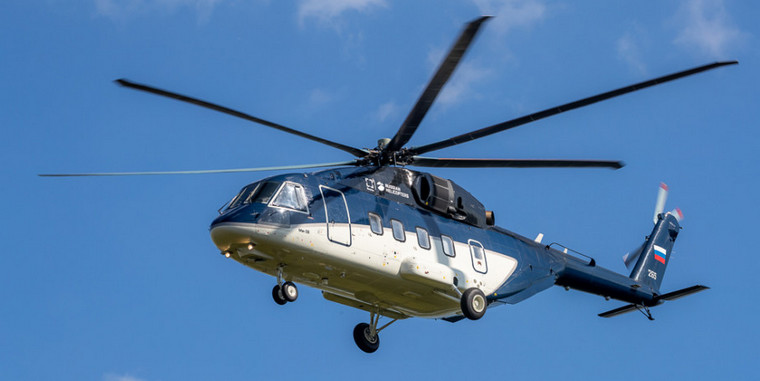 Russia's Rosoboronexport had as was to be expected a huge presence at MAKS. Photo © MAKS 2019.


Rosoboronexport hosted more than fifty systems and products for the air force and about thirty air defence systems for foreign customers. The company displayed more than 160 samples of military products mainly for the Air Force and Air Défense at its exhibit. A first by any company at an international exhibition of armament and military equipment was a large-scale interactive installation featuring Russia's multipurpose fighters the Su-35 and MiG-35, military transport aircraft Il-76MD-90AE, multipurpose helicopter Mi-38, unmanned aerial vehicles "Orlan-10E" and SAM "Viking". A first for Rosoboronexport at MAKS was the display of the IL-78MK-90A refuelling aircraft and IL-112VE light military transport aircraft, as well as upgraded Mi-28NE and Mi-171Sh helicopters for special and anti-terrorist operations.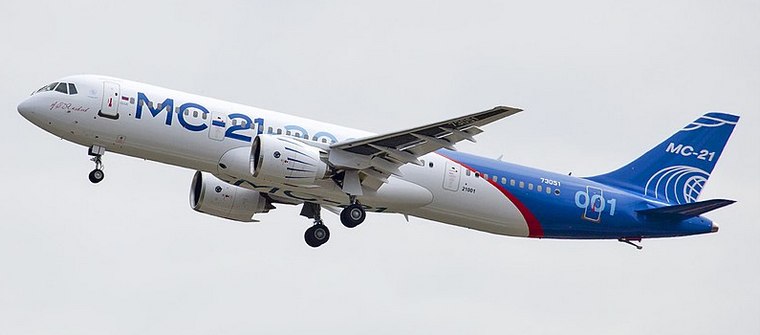 The MC-21 medium-haul airliner, which Russia is developing, was demonstrated to the public for the first time at the MAKS-2019. Photo © Denis Fedorko / commons.wikimedia.org


Announced at MAKS-2019 were the first agreements of intent for the delivery of the latest MS-21-300 medium-haul aircraft were signed with three operators: the Russian airline Yakutia for five airliners, the Kazakh company Bek Air for 10 units and with an undisclosed customer for five more. Delivery start dates and other material terms were not disclosed. Currently, the MC-21's portfolio of solid contracts is 175 aircraft, with agreements of intent and memoranda of understanding covering another 160 aircraft.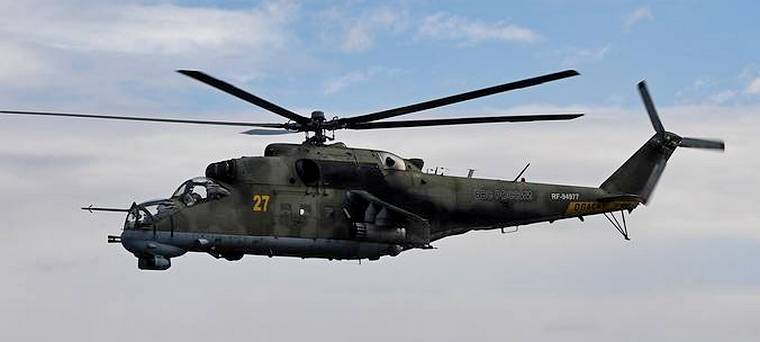 The new Mi-24P has a has an upgraded unified targeting and navigation system and more. Photo © MAKS 2019.


Russia's corporation Rostec displayed an upgraded version of its combat and transport helicopter Mi-24P-1M with new generation onboard electronic equipment. The updated Mi-24P helicopter has an upgraded unified targeting and navigation system, a panoramic targeting optoelectronic system, a phased array radar (optional), an advanced autopilot, onboard defence system and a new power supply system. The helicopter's empty weight has been reduced to 430 kilograms.

Yakovlev Yak-152 will replace the Russian Airforce's Yak 52 trainers. Photo © Veland / commons.wikimedia.org.


The Yakovlev Yak-152 primary trainer aircraft from the Yakovlev Design Bureau has been ordered by the Russian Air Force to replace its current Yakovlev Yak-52 trainers. Photo © Veland / commons.wikimedia.org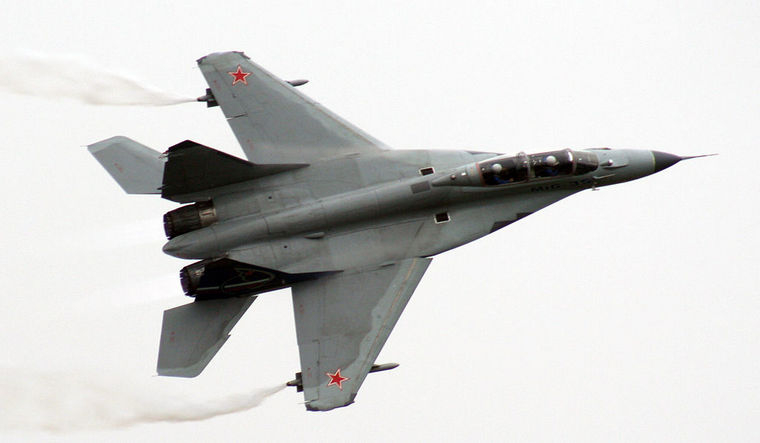 Mig 35 multi role fighter is set to replace the Mig-29. Photo © Carlos Menendez San Juan / commons.wikimedia.org.


Another Russian top-notch multipurpose fighter jet, the MiG-35, showed off moves that seemingly defied physics, as it soared up while performing aileron rolls, only to later do a loop and enter a controlled spin. The multi-role fighter aircraft, set to replace the older generation MiG-29 warplanes, can track up to 30 airborne targets at a distance of up to 160km (100 miles) as well as hit six aerial and four ground targets at once.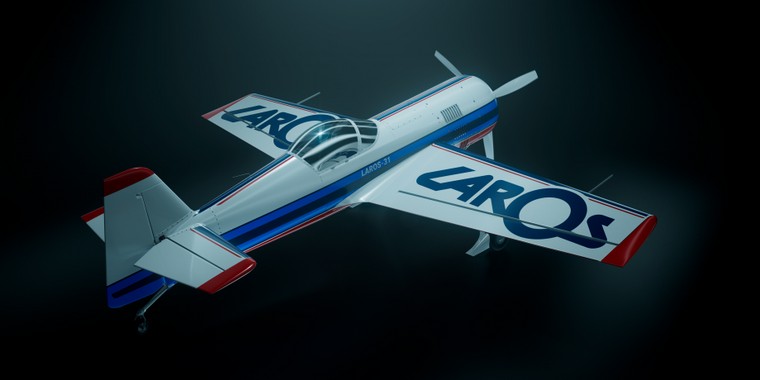 The Laros 31 is intended to eventually replace the Su-26, Su-29 and Su-31 aerobatic aircraft. Photo © Laros.


The LAROS-31 design bureau has been working on the development for about three years. As a basis for the project, the design bureau specialists took a series of the best Soviet-era sports aerobatic aeroplanes Su-26, Su-29 and Su-31, which were produced by the Sukhoi Design Bureau in 1983-1997.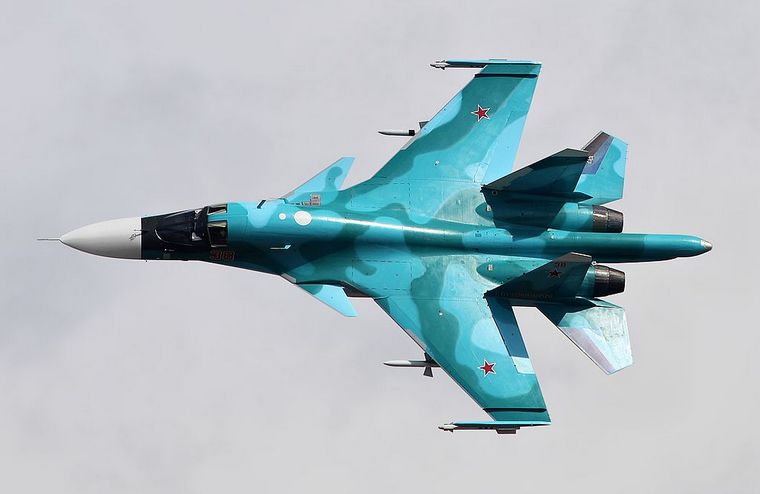 A Su-34 fighter-bomber jet was another of the Russian heavy metal to display during the afternoon airshow. Photo © Vitaly V. Kuzmin commons.wikimedia.org


Based on the Sukhoi Su-27 Flanker air superiority fighter, the Su-34 has an armoured cockpit for side-by-side seating of its two-man crew.[14] The Su-34 is designed primarily for tactical deployment against ground and naval targets (tactical bombing/attack/interdiction roles, including against small and mobile targets) on solo and group missions in daytime and at night, under favourable and adverse weather conditions and in a hostile environment with counter-fire and electronic Warfare (EW) counter-measures deployed.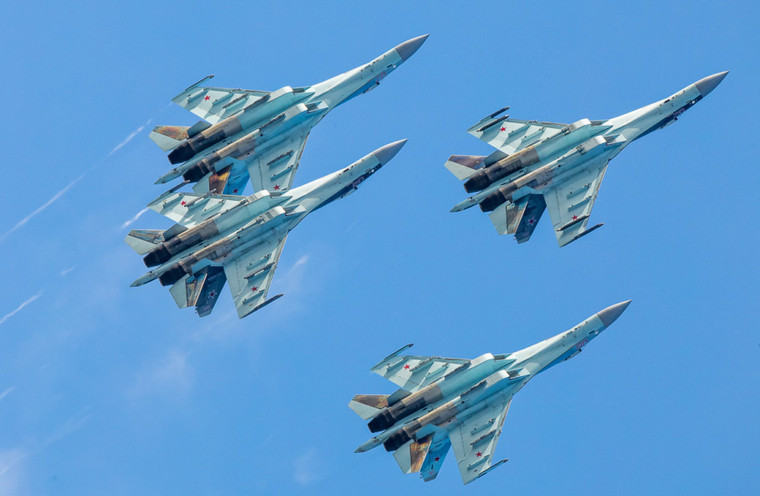 The Russian Knights during their display demonstrated offensive and defensive actions during close manoeuvre combat. Photo © Maks 2019.


The Russian group aerobatics team flying Su-30SM aircraft during their display performed such manoeuvres as the "Synchronous Barrel", the "Bell" and the "Counter-discharge". The Strizhey Aerobatic Team is a group flying six Mig-29s that thrilled the hundreds of thousands that flocked to MAKS for the airshow as did the Falcons of Russia who flew Sukhoi Su-35s and demonstrated offensive and defensive actions during close manoeuvre combat.
Russia really pulled all the stops out at MAKS 2019 and this year saw more than 800,000 passing through the gates. MAKS, packed with new insights into the future of Russian aviation, did not disappoint.