THIS WEEK IN MIDWEEK UPDATE

Plan Your Weekend……...Forthcoming Events……..Aviation News

Worldwide Incidents and Accidents……This Week in Aviation History

Notice Board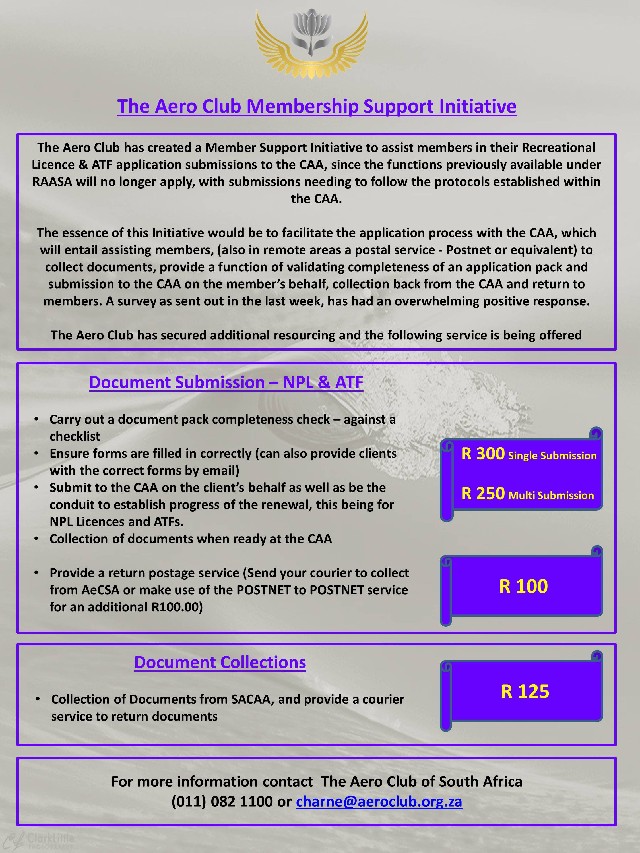 6-7: Heidelberg Varkfees Fly-inn. For more information go to
www.varkfees.co.za
7: SAAF Museum Airshow AFB Zwartkop. For more information Mark Kelbrick Cell 082 413 7577 or E-mail:
markkelbrick@yahoo.com



8-13: World ANR Championships - Santa Cruz Portugal - Contact Hans Schwebel e-mail:
hans.s@britsgranite.co.za
cell: 082 656 3005
14: SAPFA Grand Central Fun Rally - Grand Central Airport. Contact Rob Jonkers cell: 082 804 7032 e-mail:
rob@aerosud.co.za
14: Vans Fly in to Kitty Hawk. Contact Frank van Heerden e-mail:
frankvh@sandown.co.za
. website:
www.fakt.co.za
14: The annual TAF breakfast fly-in. Our breakfast fly-in will be held rain or shine at Tedderfield Airpark, 23 Nettleton Road, Eikenhof (FATA). Contact
sales@airplanefactory.co.za
19: Oudshoorn Cango RC Scale Flying Club Event. Contact
i
nfo@cangoflyingclub.co.za
20-23: Model Gliding Association of SA Nationals. For more information
1jansime@gmail.com
21-22: PMS South Africa is proud to present the South African Nationals 2019 plastic model competition hosted by IPMS Cape Peninsula. This is the premier event on the South African scale modelling calendar and promises to attract the cream of the crop in scale plastic modelling.
24: Puma Energy Rhino Park Fly-in. Contact Juan at
juan.thessner@pumaenergy.com
28: Barnstormers Radio Model Warbirds Airshow. For more information go to
www.barnstormersmfc.com
28: Wings & Wheels Matjhabeng Welkom airport. For more information contact Ian Buchanan 083 388 1678 or Dirk Smit 082 558 3914


5-6: Western Cape Regional Aerobatics Swellengrebel, Swellendam. Contact Annie Boone at
chunge@mweb.co.za
19: SA Landing Championships - Brits Airfield - Contact Ron Stirk e-mail:
melron@mweb.co.za
cell:082 445 0373
26: SAPFA Baragwanath Fun Rally - Baragwanath Airfield. Contact Frank Eckard cell: 083 269 1516 e-mail:
frank.eckard@mweb.co.za
26: SAAMA RC Model Helicopter Heli Fun, Bloemfontein. For more info go to
www.reynekepark.co.za


2: SAPFA Rally Championships - Stellenbosch airfield. Contact Frank Eckard cell: 083 269 1516 e-mail:
frank.eckard@mweb.co.za
8-10: EAA Sun n Fun Brits Airfield. Contact Marie Reddy 083 259 7691
9: EAA Sun & Fun Adventure Rally - Contact Rob Jonkers e-mail:
rob@aerosud.co.za
cell: 082 804 7032
22: World Canopy Piloting Championships Wonderboom South Africa.
23: SAPFA Springs Speed Rally - Springs Airfield. Contact Jonty Esser cell: 082 855 9435 e-mail:
jonty@promptroofing.co.za
30 to 1 December: SAC Ace of Base Vereeniging Airfield. Contact Annie Boon e-mail:
chunge@mweb.co.za




THE NEW LANCAIR BARRACUDA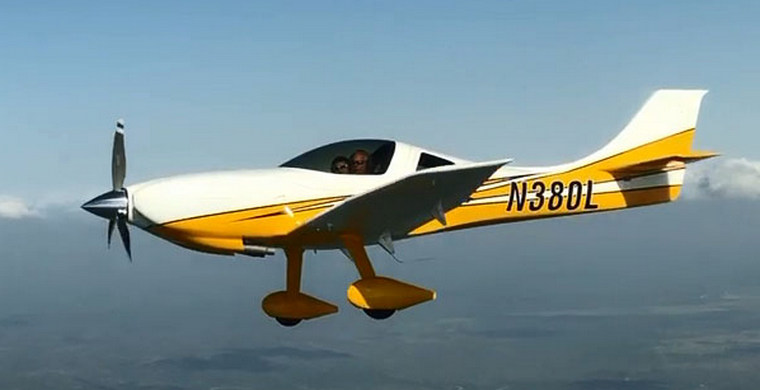 The latest innovation from Lancair is a new 2-seat "little brother" to the ground breaking Mako - the Barracuda. Establishing a new standard for value, Barracuda offers high performance, operational economy and Lancair's trademark aerodynamic style in a cost-effective package for two. Photo © Lancair.


Barracuda is the latest design from Lancair's legendary innovators. A beautiful 2-place, composite single with exceptional performance and style at an affordable price point.
Power to climb. Speed to take you to new places. The innovation that only Lancair can bring you. Three decades after revolutionizing the world of two-seat aircraft, a rich history of unparalleled innovation and record-setting performance continues with the Lancair Barracuda. Updated and optimized from tip to tail, Barracuda is faster, more agile and easier to build than its predecessors. Barracuda represents years of continual research, testing and invaluable input from Lancair builders and flyers around the globe.
Featuring the innovative auto-retracting nose gear pioneered on the Lancair Mako, Barracuda offers much of the speed and responsiveness of a full-retract aircraft with the simplicity and cost savings of a fixed-gear model. Barracuda easily cruises at 200 knots with O-390 power, offering comfort and range to spare -and all with the same great flight characteristics pilots have come to expect from Lancair.
Fitted with a 210 hp Lycoming O-390 X 4 powerplant, the Barracuda upholds Lancair's performance reputation with a typical cruise speed of well over 200 mph and a range of more than 1,200 statute miles (with reserves). As we like to say at Lancair, "Gear and costs stay down, speed and fun stay up."
Lancair engineers didn't stop with performance, durability and good looks when they completely redesigned the two-seat Lancair. Inside the cabin, creature comforts, ergonomics and luxury are foremost customer considerations. A wider and taller cabin (43.5" wide, 44.5" tall) now offers generous shoulder and headroom, providing valuable space for its occupants.
When you build your Barracuda, you'll receive unlimited, free technical assistance, five days a week, eight hours a day-for life. In conjunction with a very comprehensive, graphically detailed builders' instruction manual, Lancair staff is available to advise our builders on all aspects of your assembly, from spinner to tail. This assistance also includes advice on powerplant, propeller selection, avionics and panel layout, final system installations, and placement options.


TECNAM P2012 TRAVELLER ACHIEVES FAA CERTIFICATION

Stefano Mavilio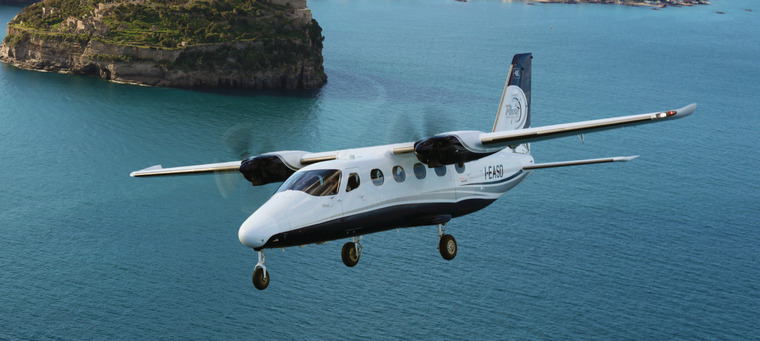 Tecnam announced today that the Federal Aviation Administration (FAA) has awarded full Type Certificate to the P2012 Traveller with the number A00076CE for Part 23 of the FAA Regulations. Photo © Tecnam.


Tecnam is now on track to commence deliveries to aviation companies across the globe, beginning with the first 20 of the one hundred P2012 Travellers eagerly awaited by Cape Air in Massachusetts, US.
The first few P2012 Travellers, already produced and ready to go, will fly from Capua to the Cape Air base in Hyannis, MA in the upcoming weeks.
Powered by two 375 HP turbo-charged Lycoming engines, the Tecnam P2012 Traveller features a modern design and state-of-the-art equipment, allowing single-pilot operations, depending on individual country regulations. The aircraft's simple and easily accessed airframe and systems, fixed landing gear, robust interiors and easy-to-replace parts, result in high efficiency and low maintenance costs. These attributes, and many more, make it the ideal aircraft for regional airlines.
The arrival into service of the next-generation 11-seat, twin-engine P2012 Traveller is much anticipated by a large number of airlines, who have been demanding a replacement for the many hundreds of 'heritage' aeroplanes in the FAR23/CS23 category currently in service around the world. This aircraft is set to open many profitable opportunities in Short Haul transportation and is revolutionising the Piston Engines sector.
Already established as a leader in both the Flight Training and Private General Aviation sectors, the entry into service of the P2012 Traveller will undoubtedly herald very similar success for Tecnam in the very competitive commuter airline market.
This key certification milestone will add and ensure new and significant profitable revenue streams for Tecnam, which have been built on a foundation of over 70 years' aircraft manufacturing.
The Tecnam board is particularly proud to have met all schedules announced at the time of the application for the certification program: the first P2012 prototype made its maiden flight in July 2016, the European Aviation Safety Agency (EASA) awarded full Type Certification in December 2018, and now the FAA validation is also in place.
Tecnam's Managing Director, Giovanni Pascale says: "The FAA certification of the P2012 Traveller marks a significant milestone for the Tecnam team, our very first commuter airline aircraft. We have embraced new challenges and developed new skills. I am very proud, together with my father Paolo, to lead one of the most innovative and growing global aviation companies. We dedicate this important achievement to Luigi and Giovanni Pascale, the two brothers, my grandfather and my great-uncle, who started all this in 1948."

FIRST PC-24 SUPER VERSATILE JET FLIES IN SOUTH AMERICA



In a ceremony at Pilatus Business Aircraft Ltd, the first PC-24 to enter service in South America was delivered to Chilean customer Ignacio del Rio. The Super Versatile Jet flies under Chilean registry. It was the 40TH PC-24 delivered since the new business jet was certified in December 2017. Photo © Pilatus Aircraft.

Ignacio del Rio, already a Pilatus owner flying a PC-12 NG, will keep both aircraft and operate them out of his base in Santiago. The new PC-24 will be used in support of del Rio's agriculture and real estate businesses in Chile, Peru, and Colombia. The PC-24's speed will allow him to reduce trip times relative to those in his PC-12 NG, yet utilise the same runways, some as short as 2,930 feet (893 metres).
Jose Eduardo Ippolito Brandao, CEO of Synerjet Corporation, the Authorised Pilatus Centre for South America stated: "We are excited to help bring the first PC-24 to Chile, and to our loyal customer, Ignacio del Rio. The PC-24's speed, range, cabin size, and ability to use short and unpaved runways make it the perfect aircraft for South America. We look forward to showing off the PC-24's capabilities to many interested prospects, and to delivering many more over the next several years."
Thomas Bosshard, President and CEO of Pilatus Business Aircraft Ltd added: "We are very pleased that Ignacio is staying within the Pilatus family with both his PC-12 NG and now his new PC-24 Super Versatile Jet. All of us at Pilatus are grateful for his trust in us to help him grow his business and transport his family."

SECOND FIVE-BLADED H145 PROTOTYPE PERFORMS MAIDEN FLIGHT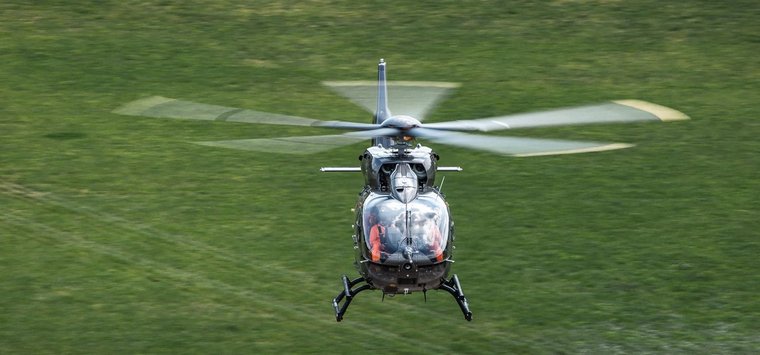 Early August, the second prototype of the new five-bladed H145 took off for its maiden flight at the Airbus Helicopters site in Donauwörth. Photo © Airbus.

The helicopter will be used for additional flight tests to achieve EASA certification of the new five-bladed H145 in early 2020. The first prototype is currently performing a high-altitude test campaign in South America. The second prototype will be mainly used for autopilot testing, performance and airframe structural validation.
The new H145, that was unveiled at Heli-Expo this year in Atlanta, offers 150 kg of additional useful load, while also raising the bar for in-flight comfort, simplicity, and connectivity

QUANTUM SIGNS FOR 26 ELECTRIC AIRPLANES FROM BYE AEROSPACE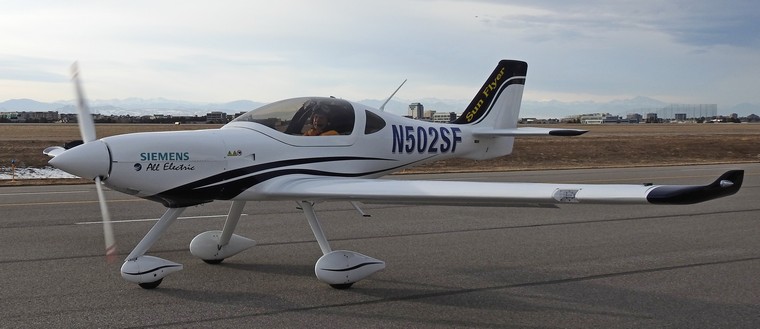 Aerospace announced that Quantum Air has signed a purchase deposit agreement for 22 of its all-electric four-seat eFlyer 4s and 2 two-seat eFlyer 2 airplanes. The company also signed a comprehensive agreement that includes two future advanced aircraft under development from Bye Aerospace. Photo © Bye Aerospace.

George E. Bye, CEO of Bye Aerospace, welcomed Los Angeles-based Quantum Air to the growing list of Bye Aerospace customers. "One of Quantum Air's goals is to disrupt aviation, providing more accessible, cost-efficient, high speed air transportation solutions - including FAA Part 135 on-demand air taxi travel- to help alleviate the noise and CO2 emissions challenges that accompany traditional internal combustion aircraft," he said.
Quantum's new fleet of eFlyers cements its status as the first and leading air taxi service in Los Angeles. "With the arrival of electric aircraft, we are entering a new Golden Age in aviation," said Tony Thompson, Quantum CEO. "Since the dawn of flight, point to point air travel has been a luxury available only to a privileged few. Quantum's ground-breaking air taxi service will finally make point to point air travel widely available."
"The future has arrived," added Scott Akina, Quantum's Vice President and Chief Pilot. "By electrifying aviation, Quantum will ignite urban and regional mobility. Electric aircraft are safer, quieter, and more efficient than legacy aircraft, and they are more fun, more comfortable, and do not pollute."
In addition, Bye will join Quantum's board of advisers. According to Thompson: "With George Bye on our board of advisers, Quantum will tightly integrate with Bye Aerospace, producing a superior flight experience for our customers."
Bye Aerospace is developing the FAA FAR 23-certified family of eFlyer general aviation aircraft, starting with the eFlyer 2, for the flight training mission. All of Bye Aerospace's current and future families of aircraft, including the eFlyer 2 and the eFlyer 4, feature exemplary engineering, research, and electric aircraft solutions producing no CO2, and are designed to answer compelling market needs. These include significantly lower operating costs, zero emissions, and decreased noise.

RUSSIAN DEBUT FOR EMBRAER'S NEWEST AND LARGEST EVER PASSENGER JET AT MAKS-2019



Following a successful tour through China, Japan, and Asia Pacific, Embraer's latest Profit Hunter, the E195-E2, will make its Russian debut at the upcoming Moscow air show, MAKS-2019. Featuring the quietest cabin and lowest emissions of any single-aisle jet, as well as a special 'Tech Lion' livery covering the entire aircraft, the jet is set to make quite an impact. Photo © Embraer

Speaking in advance of the Moscow event, Martyn Holmes, Vice President Europe, Russia, and Central Asia, Embraer Commercial Aviation said, "This jet is a real game changer, and MAKS-2019 is a superb opportunity to showcase this special aircraft to our customers in Russia and the surrounding region."
Holmes continued, "The E195-E2 is the largest of the three aircraft in the E-Jets E2 family, accommodating between 120 and 146 passengers depending on configuration. Therefore, covering a different market segment to aircraft that offer fewer than 120 seats. Operators such as Air Astana love their E2s as they provide unrivalled economics and efficiency, superior operational flexibility, reliability and unsurpassed passenger comfort. As the most efficient single-aisle jet in the market, the E195-E2 is the ideal aircraft to establish and grow regional hubs, and complement existing low-cost and mainline fleets. Such are the economics of this aircraft it has become known as the 'Profit Hunter' and we are already seeing significant interest from operators in the region."
In April, the E195-E2 received type certification simultaneously from three major world regulatory authorities - ANAC (the Brazilian Civil Aviation Agency), the FAA (U.S. Federal Aviation Administration) and EASA (European Aviation Safety Agency). The aircraft will enter service with Brazil's Azul Linhas Aéreas Brasileiras S.A. in the second half of 2019.
The E195-E2 is the most environmentally friendly aircraft in its class. It has the lowest levels of external noise and emissions. The cumulative margin to ICAO Stage IV noise limit ranges from 19 to 20 EPNdB, 4.0 EPNdB better than its direct competitor.
E195-E2 carries more payload and burns 25.4% less fuel per seat than the previous generation aircraft. Its maximum range is 2,600 nautical miles (4,815 km) with a full passenger load, 600 nm more than the E195, and has three additional seat rows. Airlines may choose to configure the cabin in two classes with 120 seats or a single class with up to 146 seats.
Like the E190-E2, the E195-E2 has the longest maintenance intervals in the single-aisle jet category - 10,000 flight hours for basic checks and no calendar limit for typical E-Jet operations. This means an additional 15 days of aircraft utilization over a period of ten years compared to current generation E-Jets.
Embraer is the world's leading manufacturer of commercial aircraft up to 150 seats with more than 100 customers from all over the world. For the E-Jets program alone, Embraer has logged more than 1,800 orders and 1,500 aircraft have been delivered. Today, E-Jets are flying in the fleet of 80 customers in 50 countries. The versatile 70 to 150-seat family is flying with low-cost airlines as well as with regional and mainline carriers.

SUCCESSFUL FIRST AUTONOMOUS FLIGHT OF THE BELL AUTONOMOUS POD TRANSPORT (APT) 70


Bell Textron Inc., a Textron Inc. (NYSE: TXT) company, announced today the successful first autonomous flight of the Autonomous Pod Transport (APT) 70 at their testing site near Fort Worth. Bell plans to continue to test the vehicle under an experimental type certificate throughout the remainder of the year. Photo © Bell.

"We are excited to reach this milestone, and look forward to continuing to advance this technology for our customers," said Scott Drennan, vice president, Innovation. "The APT is designed to be capable of various mission sets, from package delivery to critical medical transport to disaster relief. We believe this capability will change the way unmanned aerial systems are used commercially in the future."
APT 70 is part of the eVTOL family of vehicles Bell is developing and can reach speeds of more than 100mph and has a baseline payload capability of 70 lbs. Bell's APT systems allow for flexible mission capabilities while keeping operations simple, efficient and fast; they are capable of twice the speed and range of a conventional multirotor. The vehicle is designed for rapid deployment, quick reconfiguration, and nimble battery swap and recharge.


Portugal, Porto: A Jet2.com Boeing 757-200 on a flight from Manchester, (UK) to Funchal (Portugal), was en route about 150nm north of Porto when one of the two pilots felt unwell and became incapacitated prompting the other pilot to divert the aircraft to Porto for a safe landing on runway 17 about 26 minutes later. A company pilot travelling as passenger offered to assist the pilot flying and went to the cockpit, where he stayed until the ill pilot with an oxygen mask was taken out of the cockpit on a wheelchair.
USA, Santa Barbara Airport: A private Lockheed C-130A that had its first flight in 1959 was substantially damaged when it suffered a runway excursion after landing at Santa Barbara Municipal Airport, California. The aircraft departed from Santa Maria with the planned destination being Phoenix Gateway Airport. Shortly after the take-off, the crew reported hydraulic problems and diverted to Santa Barbara Municipal Airport. The seven people onboard were not injured.
India, Dhanipur Airstrip:A Cessna 560XL Citation Excel corporate jet operated by Air Charter Services with six on board crashed while on final approach to Dhanipur Airstrip. The aircraft reportedly contacted high tension wires and came down short of the runway. A fire erupted, but all six occupants evacuated safely with no injuries. The aircraft was damaged beyond repair.
China, Beijing Capital Airport: An Airbus A330-343 operated by Air China caught fire on tarmac under unknown reason. A statement by the company confirmed a storage unit in the aircraft produced black smoke. There were no passengers on board and operations at the airport was not affected.
Germany, Frankfurt-Egelsbach Airport: A Cessna 525 CitationJet CJ1 Jet suffered a runway excursion after landing. The aircraft went through a chain link fence and suffered substantial damage to the landing gear, a wing and a tank. The 82-year-old pilot was unhurt.



2 SEPTEMBER 1910

Blanche Stuart Scott makes the first solo airplane flight by a woman in the United States subsequently recognized by the Early Birds of Aviation.


Born on 8 April 1884 Blanche Stuart Scott in 1910 became the second woman, after Alice Huyler Ramsey, to drive an automobile across the United States and the first driving westwards from New York City to San Francisco, California.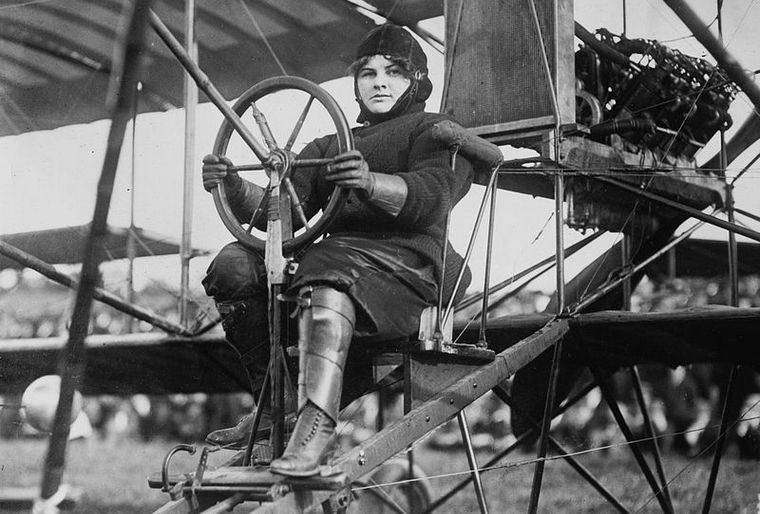 Photo © United States Library of Congress


Scott subsequently became a professional pilot and when on 24 October 1910 she made her debut as a member of the Curtiss exhibition team at an air meet in Fort Wayne, Indiana she became the first woman to fly at a public event in America. Her exhibition flying earned her the nickname "Tomboy of the Air".
In 1911, by then an accomplished stunt pilot, she became the first woman in America to fly long distance when she flew 60 miles non-stop from Mineola, New York. In 1912 Scott contracted to fly for Glenn Martin and became the first female test pilot when she flew Martin prototypes before the final blueprints for the aircraft had been made.
She retired from flying in 1916 because she was bothered by the public's interest in air crashes and an aviation industry which allowed no opportunity for women to become mechanics or engineers.