THIS WEEK IN MIDWEEK UPDATE

Plan Your Weekend……...Forthcoming Events……..Aviation News

Worldwide Incidents and Accidents……This Week in Aviation History

Notice Board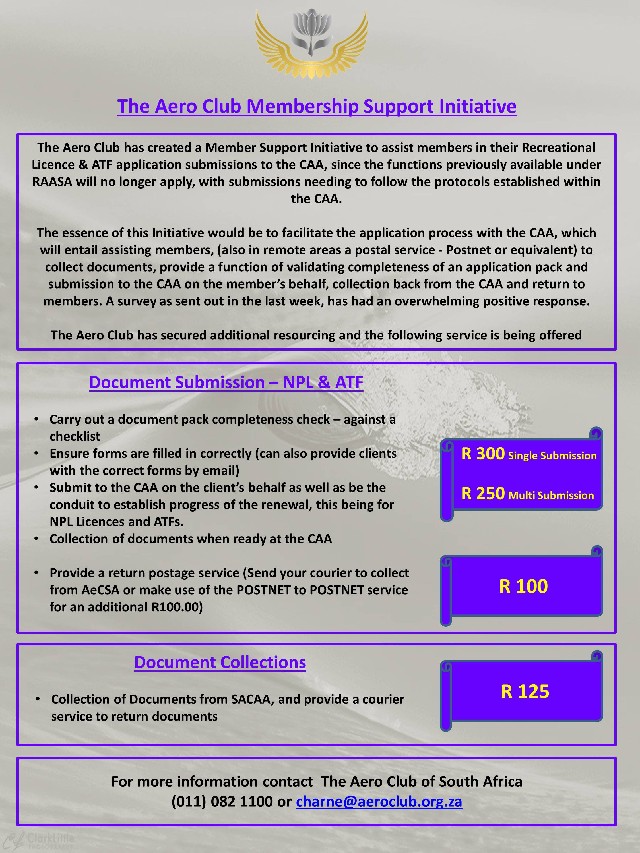 5-6: Western Cape Regional Aerobatics Swellengrebel, Swellendam. Contact Annie Boone at
chunge@mweb.co.za



19: SA Landing Championships - Brits Airfield - Contact Ron Stirk e-mail:
melron@mweb.co.za
cell:082 445 0373
26: SAPFA Baragwanath Fun Rally - Baragwanath Airfield. Contact Frank Eckard cell: 083 269 1516 e-mail:
frank.eckard@mweb.co.za
26: SAAMA RC Model Helicopter Heli Fun, Bloemfontein. For more info go to
www.reynekepark.co.za


2: SAPFA Rally Championships - Stellenbosch airfield. Contact Frank Eckard cell: 083 269 1516 e-mail:
frank.eckard@mweb.co.za
2: Fete, Parade and Veterans Military Fair to be hosted by Moth Ex-Servicemen's Cottage Association. Moth Ex-Servicemen's Cottage Association, along with MOTH Shellhole Dickie Fritz, Edenvale.
8-10: EAA Sun n Fun Brits Airfield. For more information contact Marie Reddy 083 259 7691
9: EAA Sun & Fun Adventure Rally - Contact Rob Jonkers e-mail:
rob@aerosud.co.za
cell: 082 804 7032
16 : Aero Club of South Africa annual awards. For more information contact AeCSA office 011 082 1100 E-mail:
office@aeroclub.org.za
22: World Canopy Piloting Championships Wonderboom South Africa.
23: SAPFA Springs Speed Rally - Springs Airfield. Contact Jonty Esser cell: 082 855 9435 e-mail:
jonty@promptroofing.co.za
30 to 1 December: SAC Ace of Base Vereeniging Airfield. Contact Annie Boon e-mail:
chunge@mweb.co.za




MDHI AWARDED CLS & TRAINING CONTRACT TO SUPPORT KENYAN MD 530F CAYUSE WARRIOR FLEET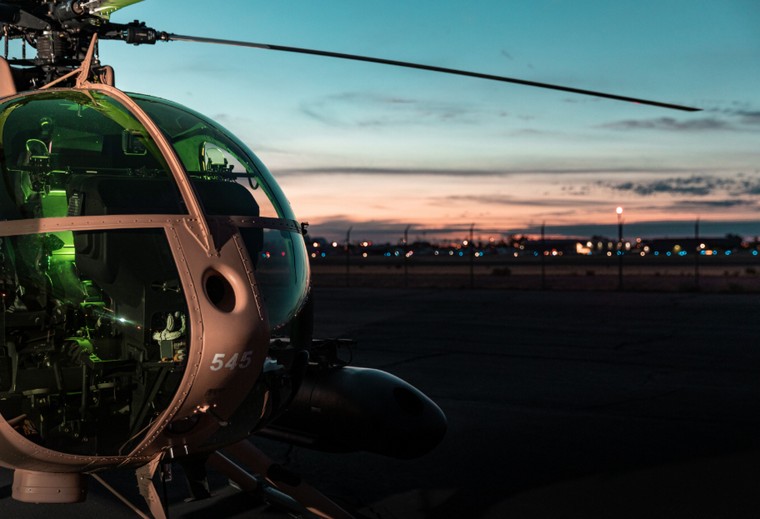 MD Helicopters, Inc. (MDHI) is proud to announce it has been awarded a Firm Fixed-Price contract for the provision of Contractor Logistics Support (CLS), Contractor Field Service Representatives (CFSR), and both CONUS and OCONUS training. Photo © MD Heli.


The contract - issued through Army Contracting Command-Redstone Arsenal on behalf of the Multinational Aviation Special Project Office (MASPO) - will provide support for the six (6) MD 530F Cayuse Warrior helicopters ordered for the Kenya Defence Forces (KDF) via MD Helicopters' 5-year $1.4B IDIQ Contract.
"We are pleased MD Helicopters was selected to provide mentorship, maintenance expertise, and Pilot and Maintainer training to the Kenya Defence Forces," said Lynn Tilton, MD Helicopters, Inc. Chief Executive Officer. "As the aircraft OEM, no one is better suited to provide the full spectrum of aftermarket operations, training, and support services to our customers."
Shipment of the 6-aircraft Kenyan MD 530F Cayuse Warrior fleet - which will include a U.S. Army-issued AWR - will be complete by the end of the year. Powered by the Rolls-Royce 250-C30 650shp turbine engine, these aircraft will feature an advanced, all-digital glass cockpit, ballistically tolerant crashworthy fuel system, Harris RF-7850A tactical radio, Rockwell Collins HF-9000D, and the full complement of mission equipment that is standard to the Cayuse Warrior:
FN Herstal Weapons Management System
DillonAero Mission Configurable Armament System (MCAS)
DillonAero Fixed-Forward Sighting System
62mm ballistic armour protection
FN Herstal .50 calibre HMP 400 Machine Gun Pods
M260 7-shot rocket pods
"Excellence in product design and customer support is the cornerstone of our decades-long legacy serving U.S. and Allied forces," Tilton continues. "This legacy, coupled with the recent approval of GFRC, enhances U.S. Government confidence in our ability to provide comprehensive ground and flight support in accordance with the highest operational standards."

Effective 1 September 2019, this contract has an initial period of performance through 30 December 2020. Transition training will take place at the MD Helicopters headquarters in Mesa, Arizona, with OCONUS operations, including field service support, armament, and gunnery training, scheduled to occur at Laikipia Air Base, Kenya.
"The MD 530F Cayuse Warrior is a proven platform for light scout attack combat operations," Tilton concludes. "Supported by the skilled men and women of the MD Helicopters team, our military operators have successfully flown hundreds of missions annually, maintaining operational readiness rates in excess of 90%. We welcome the Kenya Defence Forces to the global MD Helicopters family, and are committed to exceeding the training, support, and performance expectations of both our U.S. Army and KDF customer."


CIRRUS AIRCRAFT UNVEILS TRAC SERIES OF FLIGHT TRAINING AIRCRAFT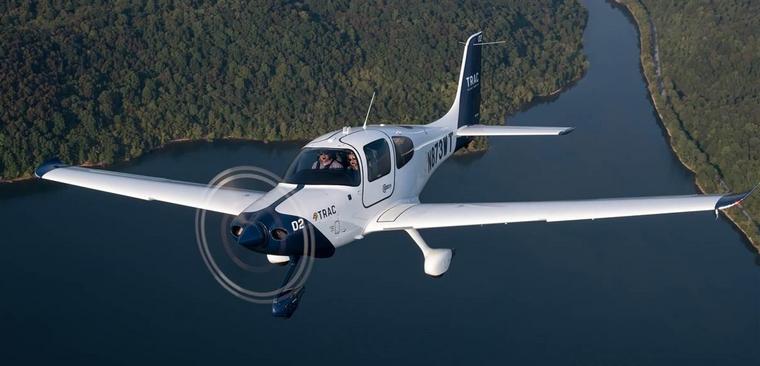 Cirrus Aircraft announced the TRAC Series, a purpose-built configuration of the best-selling SR Series line of aircraft developed specifically for flight training institutions. The TRAC Series is thoughtfully crafted with reliability, durability and economy in mind to meet the rigors of high-tempo flight operations, while providing industry-leading safety and performance for both the pilot trainee and flight instructor. Combining the Perspective+TM by Garmin® flight deck along with the unrivalled performance and safety uniquely found in the SR Series, the TRAC Series includes tailored features such as rear seat push-to-talk functionality and a landing gear simulator aimed at increasing training productivity. Photo © Cirrus.


"Our commitment to flight training goes far beyond innovation in aircraft design to include a unique approach to attracting and training future generations of aviators," said Zean Nielsen, CEO at Cirrus Aircraft. "The TRAC Series delivers a 21st century solution for world-class, forward-thinking flight training institutions."
Designed to be the ultimate training platform, the technologically-advanced TRAC Series boasts an impressive list of features and capabilities that complement the aircraft's stable flight characteristics. The integrated Perspective+ flight deck includes two large flight displays, a Flight Management System (FMS) keypad controller, an Electronic Stability and Protection system, as well as integrated engine indication and crew alerting/warning systems - all features found on today's advanced airliners.
"Premier flight programs around the world continue to select Cirrus Aircraft for their training fleets," said David Moser, Vice President of Fleet & Special Mission Aircraft Sales at Cirrus Aircraft. "These partnerships have been instrumental in our development of the technologically-advanced, cost-effective TRAC platform designed exclusively for leading flight academies and universities across the globe."

Cirrus Aircraft has redesigned the interior to meet the unique needs of a high-utilization training environment, replacing the luxury materials found in the SR Series with a durable all-weather floor liner and easy to clean wear-resistant seats. The spacious cabin provides an optimal workspace to learn and train, with more space than typical training aircraft, rear seats for additional students or observers and optional air conditioning for comfort in all seasons.
The TRAC SR20 comes equipped with a modern Lycoming IO-390, 215HP power plant, providing reliability and efficiency for up to 2,400 hours before overhaul, and features a durable all-composite airframe structure with the signature Cirrus Airframe Parachute System® (CAPS®), making the TRAC Series one of the safest and most versatile training airplanes available today. The TRAC Series is further enhanced by a wide array of interactive, tailored flight training content through Cirrus ApproachTM, including online courses, engaging videos and the award-winning iFOM (interactive Flight Operations Manual) for convenient learning anywhere in the world.
With the TRAC Series, Cirrus Aircraft is poised to expand an already impressive list of world-class flight training programs around the globe that operate fleets of Cirrus aircraft, including Emirates Airline, Lufthansa Aviation Training, the United States Air Force Academy, Airbus Flight Academy, Western Michigan University, Oklahoma State University, Japan Civil Aviation College, the Royal Saudi Air Force and many more.



TWO NEW SPORTSTAR RTC TRAINING AIRCRAFT START OPERATION IN FLIGHT SCHOOL "KRYLJA" IN BELARUS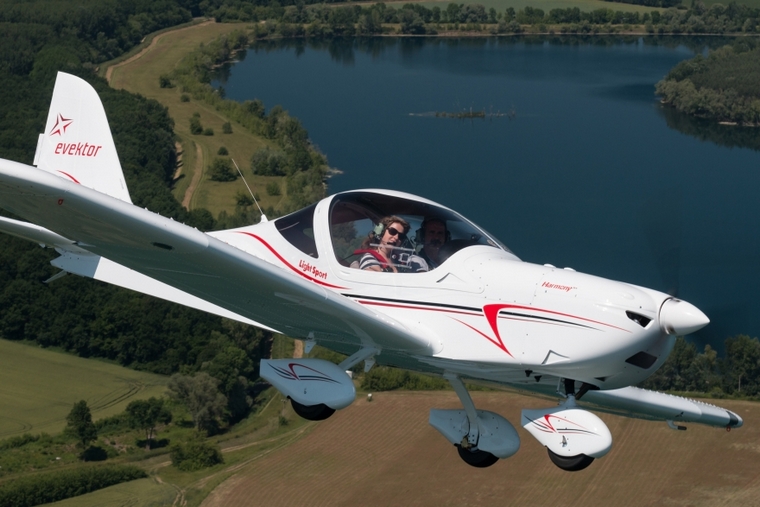 Two new SportStar RTC aircraft acquired by flight training academy "Krylja" started operation in Republic of Belarus this week. "Krylja" is the new established pilot training organization, based at Machulischi airbase (UMLI) located south of Minsk capital, specializing in training of private pilots (PPL). Photo © Evektor.

"Our flight school selected the SportStar RTC following to our exhaustive evaluation of a range of training aircraft available on the market, keeping focus on aircraft modern design, safety, outstanding flight characteristics, easy maintenance, low operating costs and flight schools proven reliability." said Andrey Martynchik, pilot and director of the school.
Both delivered SportStar RTC, registration marks EW-535SL and EW-536SL are equipped with the latest Garmin G3X Dual 10.6 Touch Screens Glass Cockpit, NAV/COM Garmin GNC 255 and Ballistic Recovery System.
In April Evektor delivered two SportStar RTC aircraft to Aviation Career Centre from Maribor in Slovenia. Aviation Career Centre, based at Maribor international airport, is a professional pilot training organization, specializing in training of airline pilots from zero to ATPL, Airbus A320 Type rating, commercial and private pilots training. The company is one of the most competitive Flight Academies in Europe providing pilot training services to students from more than 20 countries around the world.
The SportStar RTC is EASA certified aircraft for PPL and Night rating training, CPL single engine training and Solo time building in flight training organizations and air clubs. Modern design, latest avionics equipment, spacious cockpit, best in class useful load and range 1300 km make the SportStar RTC popular also for touring of private pilots.
Evektor is a design, engineering and aircraft manufacturing company from the Czech Republic, with almost 50 year of aircraft manufacturing experience and sales network in 40 countries worldwide. Evektor produces light sport aircraft and has under development utility twin engine turboprop EV-55 Outback for transportation of 9 to 14 passengers. The company produces components for civil and military aircraft industry and has extensive development activities in automotive and mechanical engineering industry.


THE NEW AIRBUS H145 LANDS ON TOP OF THE ANDES


Airbus Helicopters has reached new heights: the latest version of the H145 has set its skids down on the Aconcagua, the highest mountain in the Southern Hemisphere, culminating at 6,962 metres (22,840 feet). This is the first time a twin-engine helicopter has landed at this altitude, confirming the performance and the extensive flight envelope of the new H145. Photo © Airbus.

The conditions for this mission were extreme, due to the atmospheric conditions in the area and the winter season. The aircraft took off from Mendoza, Argentina, flew 30 minutes to the foot of the Aconcagua where it began its ascension. After 15 minutes of climbing, the helicopter landed at 1.45 pm on the summit, at a temperature of -22ºC. The crew onboard the helicopter consisted of Alexander Neuhaus, experimental test pilot and Antoine van Gent, experimental flight test engineer.
"We had to stay focused on the mission due to severe winds with gusts up to 30 knots and the low air density. The handling qualities of the new H145 are excellent and combined with Helionix and its 4 axis-autopilot, we reached the summit safely," said Alexander Neuhaus, experimental test pilot at Airbus Helicopters. "The aircraft performed outstandingly. We flew over the summit of the Aconcagua and still had power reserves that would have allowed us take two people on-board."

The flight test was supported by the Fuerza Aerea Argentina, who provided aerial support with their Lama helicopters; Patrulla de Rescate de Alta Montaña de Policia de Mendoza, who assisted with a contingency plan; Parque Provincial Aconcagua, facilitating operations and logistics, and Helicopters AR, a local operator with over 15 years of experience flying in the Aconcagua area with their Airbus H125 helicopter.
This is not the first mountain Airbus Helicopters has mastered. On 14 May 2005, the flight test pilot Didier Delsalle landed a single-engine H125 on Mount Everest, the highest mountain in the world.
Prior to the successful high-altitude test campaign in South America, the new H145 performed several test campaigns including in Spain at medium altitudes and Finland for cold weather. In total, more than 400 flight hours have already been clocked on the two five-bladed H145 prototypes to ensure EASA certification by early 2020, followed by FAA certification and first deliveries later that year.
The new version of its best-selling H145 light twin-engine helicopter was unveiled at Heli-Expo 2019 in Atlanta in March. This latest upgrade adds a new, innovative five-bladed rotor to the multi-mission H145, increasing the useful load of the helicopter by 150 kg. The simplicity of the new bearing-less main rotor design will also ease maintenance operations, further improving the benchmark serviceability and reliability of the H145, while improving ride comfort for both passengers and crew.



SUN 'N FUN AEROSPACE EXPO, 31 MARCH - 5 APRIL 2020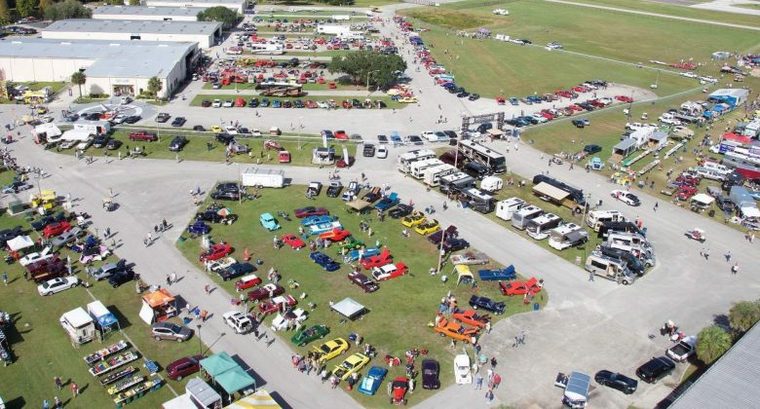 Sun 'n Fun Aerospace Expo is a non-profit organization in Lakeland, Florida dedicated to the promotion of aviation education. It is best known for the annual week-long fly-in and airshow at Lakeland Linder International Airport in Lakeland, Florida, usually held during late March or early April.

In addition to the fly-in, Sun 'n Fun also operates the Florida Air Museum and supports the Central Florida Aerospace Academy-an aviation-focused career academy operated by the Polk County School Board as part of Kathleen High School.
The event was founded in 1974 and was first organized by the local chapter of the Experimental Aircraft Association, but is now an independent corporation and not affiliated with EAA. Sun 'n Fun is primarily a volunteer organization, with a small year-round staff.
In April 2010 Sun 'n Fun received a US$7.5M grant from the Aviation Education Foundation for the new Central Florida Aerospace Academy building. The school is an existing aviation-oriented high school and career academy that is already located on the airport grounds. Completed in August 2011 it accommodates 500 high school students, increasing its current capacity of 175 students.

The first weekend fly-in, called Mid-Winter Sun 'n Fun, was held in January 1975 at the Lakeland Municipal Airport and was limited to pilot's and EAA, SESAC and FSAACA members. A total of 1,980 guests and 365 aircraft were present. The following year the fly-in was expanded to a full week and the City of Lakeland approved a lease for the convention site to be moved to the southwest quadrant of the airport. The public was invited on a limited basis. The number of visiting aircraft more than tripled compared to the first year, with 1,200 aircraft including 200 homebuilt, 180 antiques, 260 classics, and 28 warbirds on site.
In 1978 the fly-in became the second largest in the United States, topped only by the EAA convention in Oshkosh, Wisconsin, a position it holds to the present day.
In 1992 The Sun 'n Fun Air Museum (now the Florida Air Museum) held its grand opening. In 1997 the Brazilian Air Force's Aerial Demonstration Squadron (known as the Smoke Squadron) was the featured act. In 2000 Airshow legend Bob Hoover performed the last flight of his Shrike Commander at the fly-in.
In 2011 on March 31, an EF1 tornado hit the grounds of the air show, resulting in damage to 40-50 aircraft, along with display tents and exhibits. Fifteen people received minor injuries. The airshow continued the next day. The 2015 show featured the first US performance of the Breitling Jet Team. In 2017 the show featured the French Air Force Patrouille de France aerobatic team, making it the second appearance in the US in more than 30 years.

AIRBUS A400M PERFORMS FIRST HELICOPTER AIR-TO-AIR DRY CONTACTS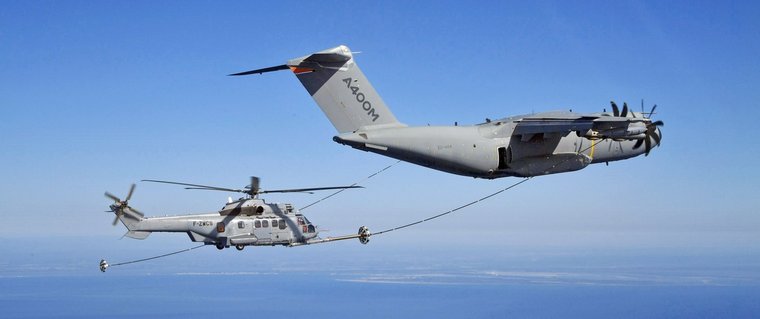 The Airbus A400M new generation airlifter has successfully achieved its first helicopter air-to-air refuelling contacts with an H225M. Over the course of 4 flights, operated in day conditions over the south of France, the A400M performed 51 dry contacts marking a decisive milestone towards its full capability as a tanker. These tests were performed under the coordination of the French "DGA Essais en vol" flight test centre. Photo © DGA Essais en vol.

The tests, involving no fuel and performed between 1,000 ft and 10,000 ft at flight speeds as low as 105 knots, confirmed the positive results of previous proximity flights conducted at the beginning of 2019. The next step in the flight test program will involve wet contact operations scheduled to take place before the end of 2019 ahead of final certification in 2021.
The flight test campaign also included the first proximity trials between the A400M and an H160 helicopter requested by the French Defence Procurement Agency (DGA) in the frame of the feasibility study for the Guépard (future military multirole helicopter for the French armed forces). Tests were performed successfully.


BOEING MQ-25 UNMANNED AERIAL REFUELER COMPLETES FIRST TEST FLIGHT



Boeing and the U.S. Navy successfully completed the first test flight of the MQ-25™ unmanned aerial refueller on 19 September. The MQ-25 test asset, known as T1, completed the autonomous two-hour flight under the direction of Boeing test pilots operating from a ground control station at MidAmerica St. Louis Airport in Mascoutah, Ill., where the test program is based. Photo © Boeing.


The aircraft completed an autonomous taxi and take-off and then flew a pre-determined route to validate the aircraft's basic flight functions and operations with the ground control station.
"Seeing MQ-25 in the sky is a testament to our Boeing and Navy team working the technology, systems and processes that are helping get MQ-25 to the carrier," said Boeing MQ-25 Program Director Dave Bujold. "This aircraft and its flight test program ensure we're delivering the MQ-25 to the carrier fleet with the safety, reliability and capability the U.S. Navy needs to conduct its vital mission."
The Boeing-owned test asset is a predecessor to the engineering development model (EDM) aircraft and is being used for early learning and discovery to meet the goals of the U.S. Navy's accelerated acquisition program. Boeing will produce four EDM MQ-25 air vehicles for the U.S. Navy under an $805 million contract awarded in August 2018.
The MQ-25 will provide the Navy with a much-needed carrier-based unmanned aerial refuelling capability. It will allow for better use of the combat strike fighters currently performing the tanking role and will extend the range of the carrier air wing.
"Today's flight is an exciting and significant milestone for our program and the Navy," said the Navy's Unmanned Carrier Aviation (PMA-268) Program Manager Capt. Chad Reed. "The flight of this test asset two years before our first MQ-25 arrives represents the first big step in a series of early learning opportunities that are helping us progress toward delivery of a game-changing capability for the carrier air wing and strike group commanders."
T1 received its experimental airworthiness certificate from the FAA in September, verifying that the air vehicle meets the agency's requirements for safe flight. Testing will continue with T1 to further early learning and discovery that advances major systems and software development.


Tanzania, near Seronera Airstrip, Serengeti: A Cessna 208B Caravan EX operated by Auric Air was damaged beyond repair when it crashed shortly after take-off from Seronera Airport under unknown circumstances. The pilot and one passenger were fatally injured. The exact number of occupants is unknown.
.

London, Heathrow:
A British Airways Airbus A320-200 on a flight from Zurich to London was just established on the localizer at Heathrow when the crew declared PAN PAN reporting smoke in the cabin. While ATC sent a number of aircraft already released from the holding patterns for approach back into the holding patterns, the aircraft continued for a safe landing about four minutes later. Emergency services were in their stand by positions. A number of passengers and cabin crew required medical attention for smoke inhalation. The passengers disembarked via the stairs.
Thailand, Moo 2, Sai Yok district: A Cessna 208 Caravan of the Thai Department of Royal Rainmaking and Agricultural Aviation was destroyed after impacting terrain during a training flight. The instructor pilot and trainee died in the crash. The aircraft was being used by the Department of Royal Rainmaking for cloud seeding operations. This process of artificial rain making is used to combat drought in farming areas.
Canada, Campbell River, BC: A Bell 206B-3 JetRanger III operated by E & B Helicopters Ltd crashed and impacted the roof of a house for unknown reasons. There was a post impact fire. The sole pilot on board died and the aircraft was damaged beyond repair.
USA, Denver International: A United Airlines flight from Washington to San Francisco was diverted due to a female passenger getting stuck in a bathroom for about an hour due to malfunctioning door. Five firefighters and a mechanic got onboard and freed the woman, who was embarrassed but otherwise unharmed.
USA, Atlanta: Atlanta police say an employee at Hartsfield-Jackson Atlanta International Airport was killed this week in what appears to be a freak accident on the tarmac. The operator of a bag loader vehicle was backing the machine up to the opening of an airplane on Wednesday when the victim, operating as a spotter, became caught between the vehicle and the airplane. The victim was transported to Grady Hospital where he later died.
Hong Kong: The Cathay Pacific Group has terminated two airline employees for allegedly tampering with a Cathay Dragon aircraft's oxygen canister prior to a flight. News of the partially emptied canister, which was discovered on a flight bound for Hong Kong from Kuala Lumpur, comes amid investigations into several other instances of oxygen canisters being tampered with on Cathay Pacific flights. The portable canisters are designed to be used by the flight crew in the case of a depressurization event, as the bottles allow cabin crew to be able to remain mobile on the aircraft. Cathay Dragon immediately reported the case to the Hong Kong Police, who have launched a parallel investigation into the matter and the Hong Kong Civil Aviation Department (CAD) has been informed. Cabin crews are now being instructed to thoroughly inspect certain plane compartments, as well as the oxygen canisters, ahead of flights.




2 OCTOBER 1910

The first mid-air collision takes place near Milan. Both pilots survive, but one is badly injured.

The first recorded collision between aircraft occurred at the "Milano Circuito Aereo Internazionale" meeting held between 24 September and 3 October 1910 in Milan, Italy.
On 3 October, Frenchman René Thomas, flying the Antoinette IV monoplane, collided with British Army Captain Bertram Dickson by ramming his Farman III biplane in the rear. Both pilots survived, but Dickson was so badly injured that he never flew again.
The first fatal collision occurred in Douai, France, on 19 June 1912. Captain Marcel Dubois and Lieutenant Albert Peignan, both of the French Army, crashed into one another, killing both pilots.