THIS WEEK IN MIDWEEK UPDATE

Plan Your Weekend……...Forthcoming Events……..Aviation News

Worldwide Incidents and Accidents……This Week in Aviation History

Notice Board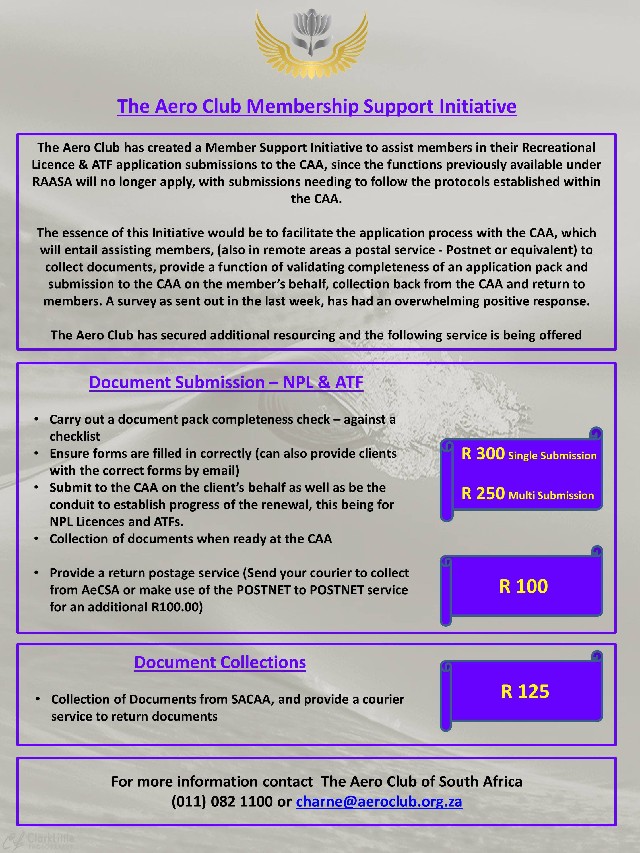 12: Krugersdorp Heli Olympics



19: SA Landing Championships - Brits Airfield - Contact Ron Stirk e-mail:
melron@mweb.co.za
cell:082 445 0373
25-26: SACAA Ladysmith Aviation Careers Expo. Contact Kgomotso Malema E-mail:
malemak@caa.co.za
Cell 083 451 2661
26: SAPFA Baragwanath Fun Rally - Baragwanath Airfield. Contact Frank Eckard cell: 083 269 1516 e-mail:
frank.eckard@mweb.co.za
26: SAAMA RC Model Helicopter Heli Fun, Bloemfontein. For more info go to
www.reynekepark.co.za


2: SAPFA Rally Championships - Stellenbosch airfield. Contact Frank Eckard cell: 083 269 1516 e-mail:
frank.eckard@mweb.co.za
2: Fete, Parade and Veterans Military Fair to be hosted by Moth Ex-Servicemen's Cottage Association. Moth Ex-Servicemen's Cottage Association, along with MOTH Dickie Fritz Shellhole, Edenvale.
7-8: SAAMA Safari Cup. Henley Model Airfield.
8-10: EAA Sun n Fun Brits Airfield. For more information contact Marie Reddy 083 259 7691
9: EAA Sun & Fun Adventure Rally - Contact Rob Jonkers e-mail:
rob@aerosud.co.za
cell: 082 804 7032
16: Aero Club of South Africa annual awards. For more information contact AeCSA office 011 082 1100 E-mail:
office@aeroclub.org.za
22: World Canopy Piloting Championships Wonderboom South Africa.
23: SAPFA Springs Speed Rally - Springs Airfield. Contact Jonty Esser cell: 082 855 9435 e-mail:
jonty@promptroofing.co.za
30: The Elders Flight, Rand Airport. SMS Felix Gosher on 066 485 0407 (SMS's only please)
30 to 1 December: SAC Ace of Base Vereeniging Airfield. Contact Annie Boon e-mail:
chunge@mweb.co.za




BRITS ANR & NATIONAL LANDING COMPETITION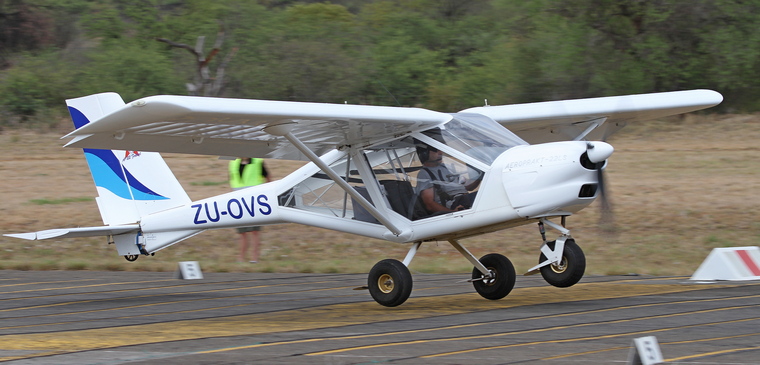 This event will consist of an Air Navigation Race (ANR) of two rounds, followed by the National Landing Competition. Photo © Willie Bodenstein


With the Protea team fresh back from the World ANR Championships held in Portugal in August, and the excitement of watching the whole competition in live format, we will have the team on hand to mentor local teams in how to fly an ANR. There will be two rounds, with a precision landing.
Thereafter, the National Landing Championships with one round of 4 landings will be held with those that wish to enter can enter in the Sportsman or Open Class.
Live tracking will be done for all to see at the airfield and anybody at home as well.
Where: Brits Airfield
Dates: 19th October 2019
Saturday Agenda: ANR Briefing 8.00 am, first take-off 9.30 am, Landing Briefing 13h00, Prize Giving at 16h00

Organiser: - Ron Stirk Contact melron@mweb.co.za Tel: 082 445 0373
Please enter online at sapfa.co.za





RALLY TRAINING IN STELLENBOSH - WITH INTERNATIONAL PARTICIPATION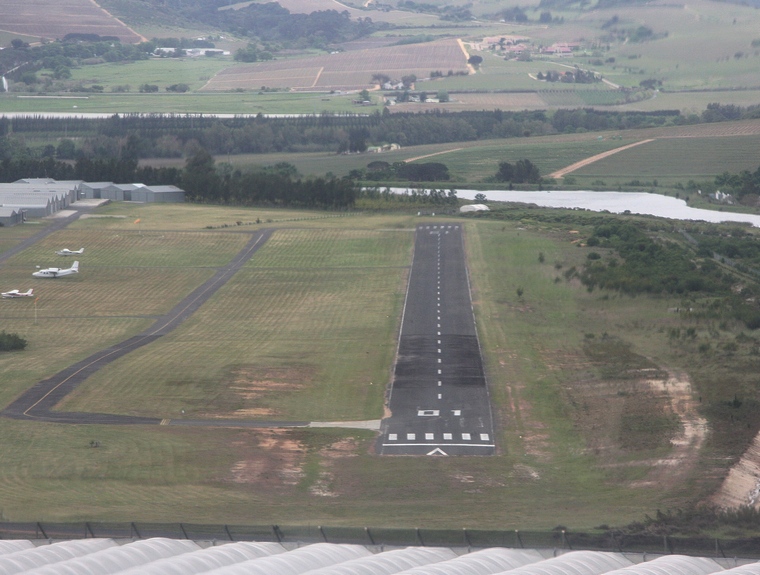 Rally Training will be held at Stellenbosch Airfield from Tuesday 29th Oct to Sat 2 Nov 2019. Photo © Willie Bodenstein.


This is the first of two events leading up to the World Rally Flying Championships that will include International team participation who are coming out for training and familiarisation of the Western Cape area. There will be teams from Austria, Switzerland, Poland, France. This is also a great opportunity to learn from these world champions.
Frank and Cally Eckard will be facilitating this event, especially for South African pilots and navigators who have a desire to achieve Protea Colours. This is one of those golden opportunities to hone flying and navigating skills, as a precursor to the selection National to be held in April 2020. Anybody may participate, for those who have never flown a rally before but would like to, and for those who have flown rallies before but would like to improve their skills.

Where: Stellenbosch Airport
Dates: 29 Oct - 2 Nov 2019
Daily briefings: 09:00
Training Rallies: 09:00 - 14:00 daily
Competition & Fun Rally: 2 Nov 09:00 - 14:00

Organisers - Frank and Cally Eckard
Contact frank.eckard@mweb.co.za Tel: 083 269 1516
Contact cally.eckard@mweb.co.za Tel: 079 695 366
Please enter online at sapfa.co.za





FIRST BATCH OF TECNAM P2012 TRAVELLERS ARRIVES IN THE US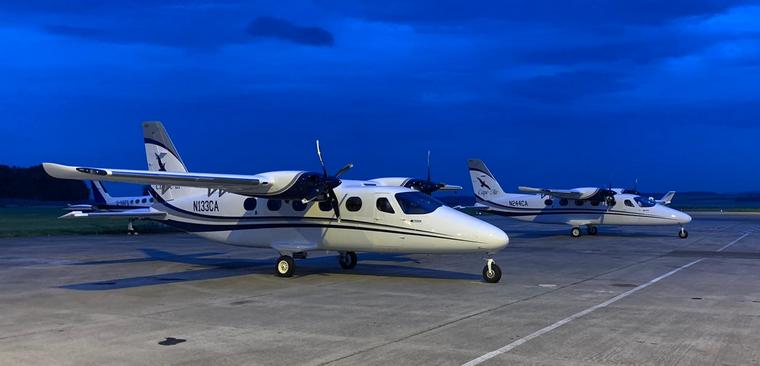 It was an historical day for Tecnam and for the P2012 program when the first two Traveller aircraft were ready to depart Tecnam headquarters in Capua, Italy, and wing their way across the world to Massachusetts, US. Photo © Tecnam


With this ferry flight to the first customer, the P2012 Traveller is officially born and in service. These first two aircraft represent the first batch of the 100 Travellers ordered by Cape Air as a result of a thorough and intensive development process in conjunction with Tecnam.
A ferry flight across the Atlantic takes more than a safe, reliable aeroplane. It also takes skill, confidence and a great deal of experience. So, when Tecnam needed a crew to fly these first two P2012 Traveller aircraft from Italy to the US, who better to take on the task than the Managing Director himself?
Grandson of the founding brothers, 28-year-old Giovanni Pascale stepped up to the role of Pilot in Command and successfully led his crew on this 4,000 NM journey, which took only three days to complete. He ferried one of the P2012 Travellers together with Co-pilot Elio Rullo, while Capt. Vito Preti and Technician Antonio Covino flew the other. There may have been just four crew members on board, but to these men it seemed that, spiritually, the entire Tecnam team had accompanied them on their journey, staying in close communication at all times, and cheering them on from afar.

There were fuel stops in five different countries. Their first airport was Groningen Airport in the Netherlands, followed by Inverness in Scotland and Reykjavic in Iceland. Next came Narsarsuaq in Greenland, which is known as one of the world's most demanding airports because landing requires approach to the runway through a fjord, surrounded by mountains and glaciers.
Their final refuelling was at Goose Bay Airport in Canada, before heading due south to Barnstable Airport in Hyannis, Massachusetts, US., where they were greeted by enthusiastic Cape Air Executives, Founder & CEO Dan Wolf, President Linda Markham and James Goddard - Senior Vice President, Fleet Planning & Acquisitions.
The Tecnam crew members were kept constantly busy during the flight. In the air, they were hyper alert, flying around the weather in very tough and sometimes challenging conditions. When on the ground there was no time to rest or eat, they were refilling fuel and filing flight plans and then getting back in the air as quickly as possible to take advantage of the weather.
Powered by two 375 HP turbo-charged Lycoming engines, the 11-seat Tecnam P2012 Traveller has a fuel capacity of 750 litres in the wings, but on this ferry flight - the longest ever for Tecnam - they carried an extra 450 litres in a collapsible ferry tank in the rear of the aircraft, significantly extending their range.
It was a very rewarding experience for the Tecnam crew, chasing the sun from one country to another, right across the world, with breath-taking landscapes and stunning topography along the way, especially crossing the Labrador Sea between Greenland and Canada.


EMBRAER PRAETOR 500 RECEIVES EASA AND FAA APPROVAL, ACHIEVING TRIPLE-CERTIFICATION AND BECOMING THE BEST MIDSIZE JET ON THE MARKET



Embraer announces that the company's new Praetor 500 midsize business jet was granted its Type Certificate by EASA (European Union Aviation Safety Agency) and by the FAA (Federal Aviation Administration). The Praetor 500 received regulatory approval from Brazil's Civil Aviation Authority (ANAC-Agência Nacional de Aviação Civil) in August, less than a year after having been announced in October 2018. Photo © Embraer.

The Praetor 500 surpassed its certification goals achieving an intercontinental range of 3,340 nautical miles (6,186 km-NBAA IFR Reserves with four passengers), a high-speed cruise of 466 KTAS, a full-fuel payload of 1,600 lb (726 kg), a take-off distance of only 4,222 ft (1,287 m) and an unfactored landing distance of 2,086 ft (636 m). For a 1,000-nautical-mile mission, the take-off distance is a mere 2,842 ft (867 m).
The Praetor 500 outperforms its class, becoming the best midsize jet ever developed and the only jet in its class with Ka-band internet connectivity. With the best cabin altitude, the Praetor 500 is the only midsize jet with full fly-by-wire, which complements the superior cabin experience of the Embraer DNA interior design with turbulence reduction for the smoothest and most efficient flight possible.

"The triple-certification by ANAC, EASA and FAA reaffirm the most disruptive and technologically advanced design of the Praetor 500 as the best midsize jet ever made," said Michael Amalfitano, President & CEO, Embraer Executive Jets. "Praetor 500 owners will now enjoy the ultimate customer experience in the midsize class, with the highest level of performance, technology and comfort."
The Praetor 500 is now the farthest- and fastest-flying midsize jet, able to make true corner-to-corner nonstop flights in North America, from Miami to Seattle, or Los Angeles to New York as well from New York to London, London to Dubai and Jakarta to Tokyo, all non-stop. The Praetor 500 also connects the west coast of North America to Europe and to South America, from Los Angeles to London or to São Paulo, with single-stop performance. In addition to connecting the Brazilian city of Porto Alegre to New York or São Paulo to Paris, with only one stop, the Praetor 500's superior performance allows access to special operation airports, such as Angra dos Reis and Jacarepaguá, in Brazil.

AIR GREENLAND SELECTS AIRBUS H225 HELICOPTER FOR SEARCH AND RESCUE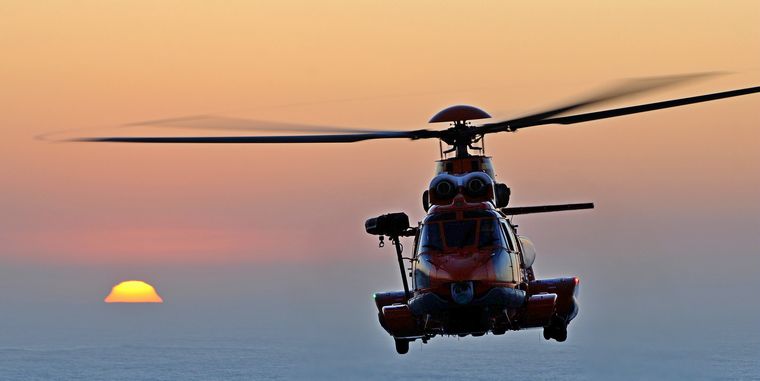 Air Greenland has ordered two Airbus H225 heavy helicopters to support its bid to win its home country's search and rescue (SAR) contract. Under the terms of a firm contract assisted by Airbus Helicopters, two H225s repurposed from the oil and gas industry will be delivered over the coming months to replace the ageing S-61 helicopter currently used for the service. Photo © Airbus.


Airbus will provide a comprehensive maintenance and support package as well as pilot and crew training.
Airbus Helicopters Head of Europe Region Olivier Michalon said: "At Airbus, we are proud that the deployment of the H225 will help ensure the safety of global maritime traffic transiting the Greenland-Iceland gap to and from the Arctic region".
The 11-tonne category, twin-engine H225 is the latest member of Airbus Helicopters' Super Puma family with more powerful engines providing a smoother ride and enhanced performance compared to earlier models.
It is the largest model in Airbus Helicopters' portfolio and has accumulated more than 600,000 flight hours out of more than 5.5 million flight hours recorded by the Super Puma family.
Equipped with state-of-the-art electronic instruments and a 4-axis autopilot system, the H225 offers outstanding endurance and fast cruise speed, and can be fitted with a wide range of SAR equipment. Operated by two pilots, it can be configured with up to 18 seats or six stretchers and has all-weather capability including full anti-icing.
The H225 and military H225M are benchmarks in SAR and combat SAR and are operated by 20 nations worldwide.
Air Greenland CEO Jacob Nitter Sørensen said: "These two specific aircraft have low numbers of flight hours and their remarkable capability on SAR operations ensures that they will be able to provide a highly effective service in that role for many years to come."

FLAGSHIP CESSNA CITATION LONGITUDE ENTERS SERVICE, SIGNALS NEW DIMENSION FOR BUSINESS AVIATION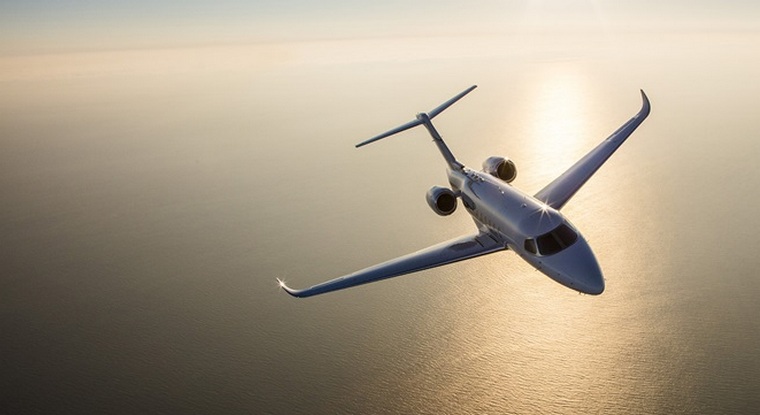 Textron Aviation Inc., a Textron Inc. (NYSE: TXT) company, announced the first deliveries of the company's new flagship Cessna Citation Longitude super-midsize business jet, signaling the start of a new dimension in business travel. The Longitude received FAA type certification on Sept. 21, 2019. Photo © Textron.


"The newly certified Citation Longitude brings unrivalled technology to the business travel market, for both the passenger and the pilot, offering our customers the most efficient and productive super-midsize jet now in operation," said Ron Draper, president and CEO. "We are thrilled to now transition this program into service."
The Longitude features the longest maintenance intervals in its class - 800 hours or 18 months - and is the most cost-effective aircraft in its category.
"The Longitude was designed around maximizing reliability and operational availability for our customers," said Kriya Shortt, senior vice president, Global Customer Support. "The Longitude's industry-leading on-board diagnostics system is backed by Textron Aviation's team of 3,000 customer service employees. Our expert technicians trained alongside the development of the program and are ready to support our customers wherever they are in the world."

The clean-sheet design of the Longitude integrates the latest technology throughout the aircraft, including the next evolution of the Garmin G5000 flight deck. The comfortable, bespoke interior of the Longitude has class-leading legroom, cabin sound levels that are nearly twice as quiet as the nearest competitor, a low cabin altitude of 5,950 feet and more standard features than all other competitors in this segment.
With a range of 3,500 nautical miles (6,482 kilometres) and full fuel payload of 1,600 pounds (726 kilograms), the Citation Longitude is designed to elevate passenger expectations in the super-midsize class by delivering the quietest cabin, a low cabin altitude (5,950 feet/1,814 meters), more standard features and a comfortable, bespoke interior. With seating for up to 12 passengers, including an optional crew jump seat, the Longitude features a stand-up, 6-foot tall flat-floor cabin. A standard double-club configuration delivers the most legroom in the super-midsize class. Fully berthable seats are designed and manufactured in-house and a spacious walk-in baggage compartment is accessible throughout the entire flight. State-of-the-art cabin technology enables passengers to manage their environment and entertainment from any mobile device, while high-speed internet maximizes in-flight productivity.


NASA TAKES DELIVERY OF FIRST ALL-ELECTRIC EXPERIMENTAL AIRCRAFT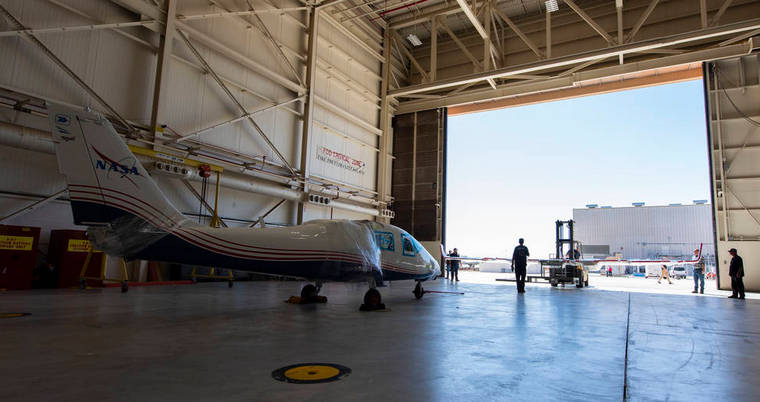 NASA's X-57 Maxwell, the agency's first all-electric X-plane and first crewed X-planed in two decades, is delivered to NASA's Armstrong Flight Research Center in Edwards, California, in its Mod II configuration. The first of three primary modifications for the project, Mod II involves testing of the aircraft's cruise electric propulsion system. Photo © NASA.

Delivery to NASA from prime contractor Empirical Systems Aerospace of San Luis Obispo, California, marks a major milestone for the project, at which point the vehicle is reintegrated for ground tests, to be followed by taxi tests, and eventually, flight tests. X-57's goal is to further advance the design and airworthiness process for distributed electric propulsion technology for general aviation aircraft, which can provide multiple benefits to efficiency, emissions, and noise.
The X-57, NASA's first all-electric experimental aircraft, or X-plane - and the first crewed X-plane in two decades - was delivered by Empirical Systems Aerospace (ESAero) of San Luis Obispo, California on Wednesday, Oct. 2, in the first of three configurations as an all-electric aircraft, known as Modification II, or Mod II.
The X-57's Mod II vehicle features the replacement of traditional combustion engines on a baseline Tecnam P2006T aircraft, with electric cruise motors. The delivery is a major milestone for the project, allowing NASA engineers to begin putting the aircraft through ground tests, to be followed by taxi tests and eventually, flight tests.

"The X-57 Mod II aircraft delivery to NASA is a significant event, marking the beginning of a new phase in this exciting electric X-plane project," said X-57 Project Manager Tom Rigney. "With the aircraft in our possession, the X-57 team will soon conduct extensive ground testing of the integrated electric propulsion system to ensure the aircraft is airworthy. We plan to rapidly share valuable lessons learned along the way as we progress toward flight testing, helping to inform the growing electric aircraft market."
While X-57's Mod II vehicle begins systems validation testing on the ground, efforts in preparation for the project's following phases, Mods III and IV, are already well underway, with the recent successful completion of loads testing on a new, high-aspect ratio wing at NASA Armstrong's Flight Loads Laboratory. Following completion of tests, the wing, which will be featured on Mods III and IV configurations, will undergo fit checks on a fuselage at ESAero, ensuring timely transition from the project's Mod II phase to Mod III.
"ESAero is thrilled to be delivering the MOD II X-57 Maxwell to NASA AFRC," said ESAero President and CEO Andrew Gibson. "In this revolutionary time, the experience and lessons learned, from early requirements to current standards development, has the X-57 paving the way. This milestone, along with receiving the successfully load-tested MOD III wing back, will enable NASA, ESAero and the small business team to accelerate and lead electric air vehicle distributed propulsion development on the MOD III and MOD IV configurations with integration at our facilities in San Luis Obispo."
A goal of the X-57 project is to help develop certification standards for emerging electric aircraft markets, including urban air mobility vehicles, which also rely on complex distributed electric propulsion systems. NASA will share the aircraft's electric-propulsion-focused design and airworthiness process with regulators and industry, which will advance certification approaches for aircraft utilizing distributed electric propulsion.
The X-57 team is using a "design driver" as a technical challenge, to drive lessons learned and best practices. This design driver includes a 500% increase in high-speed cruise efficiency, zero in-flight carbon emissions, and flight that is much quieter for communities on the ground.
The X-57 project operates under the Integrated Aviation Systems Program's Flight Demonstrations and Capabilities project, within NASA's Aeronautics Research Mission Directorate.


Tanzania, Mwanza: An Air Tanzania Bombardier C-Series CS-300on a from Mwanza to Dar es Salaam was about 160nm southeast of Mwanza when the crew needed to shut an engine down. The aircraft returned to Mwanza for a safe landing about 70 minutes after departure.
Mozambique, Maputo: A Mozambique Expresso Embraer ERJ-145, on a flight from Nacala to Maputo (Mozambique) with 25 passengers and 4 crew, landed on Maputo's runway 05 in gusting cross winds but veered off the runway and came to a stop with all gear on soft ground entangled with bushes. There were no injuries, the damage to the aircraft needs to be assessed. At the time of the landing the wind was at 50 miles. An investigation has been opened.
Belize, Blue Creek: A Gulfstream II, that had no flight plan nor carry a formal registration number crashed whilst attempting to land on a dirt road near Blue Creek, Orange Walk, Belize. There were no distress calls, and when the crash site was found, there were no people and no cargo, which suggests people were trying to flee the scene. This leads investigators to believe that this plane was being used to transport drugs or other illegal items across the border between Belize & Mexico. It's believed that there were no casualties, though I guess it's also possible that there may have been serious injuries or casualties, and there was an attempt to cover up the identity of those people, so they could have been removed from the scene.
USA, DeLand, Volusia County Florida: A Cessna 421 Golden Eagle impacted wooded terrain in Volusia County, DeLand, Florida. The aircraft was destroyed, there was a post impact fire. The three occupants onboard received fatal injuries.
India, Hyderabad: The Indian Directorate General of Civil Aviation suspended the licences of the two SpiceJet pilots for four months after determining that they "forgot" to turn their plane's 'bleed switch' to the 'ON' position. The incident in question is from June 14 this year when a SpiceJet Hyderabad-Jaipur flight had to turn back shortly after take-off due to "pressurisation failure". The bleed switch is essentially a button on the cockpit panel that diverts air from an aircraft's engines into its cabin. This ensures enough cabin pressure, without which passengers or crew would be unable to breathe at the height's passengers' jets fly.
Ukraine, Lviv: An UAA Ukraine Air Alliance Antonov AN-12 freighter, on a flight from Vigo, (Spain) to Lviv with 7 crew and one passenger, was on approach to Lviv about 7.4nm before the airport when the aircraft disappeared from radar. The aircraft was subsequently found on the ground about 0.8nm before runway 31 in soil and vegetation, near a soccer stadium and a cemetery, where the crew had attempted an emergency landing due to running out of fuel. Five occupants were killed, three occupants were taken to hospitals with injuries.



10 October 2011

Flying a modified Yakovlev Yak-3U powered by a Pratt & Whitney R-2000 engine, William Whiteside sets an official international speed record for piston-engined aircraft in the under-3,000 kg (6,615-pound) category.


Whiteside, a former airline pilot and motorcycle racer, one year flew to the Reno flew to the Reno Air Races with friend Lloyd Hamilton in Hamilton's Hawker Sea Fury named Baby Gorilla that was entered in the Unlimited-class. After watching Hamilton, Whiteside determined he would compete at Reno someday.
He did, starting off with a Lancair and working his way up the classes until he heard about a Yak -3U that was for sale. The Yak was made in Romania and was the last propeller-driven fighter made by the Romanians. Original powered by a radial Shvetsov Whiteside's Yak was re-engined and power is from a Pratt & Whitney R-2000 7M2 with anti-detonation injection (ADI) to boost power.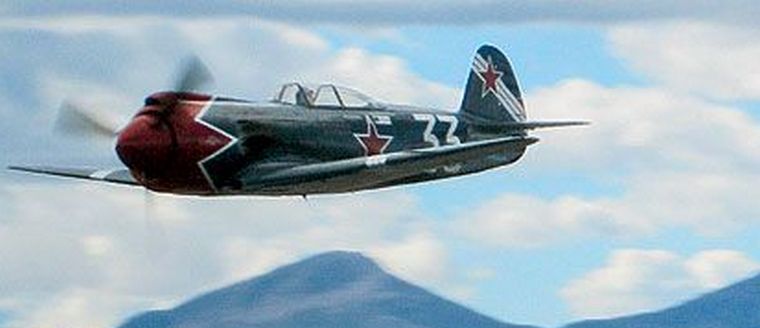 Engineered by Pete Law, former thermodynamics department manager at Lockheed's Skunk Works the stock R-2000 that powered the DC-4 and the big twin-engine Caribou, a Canadian military transport, makes about 1,450 horsepower. However, after Pete Law has done his magic in there are now 1750 horses up front. That's a lot of engine for a small, light trainer that weighs only 5,300 pounds empty, less than 70 percent of the weight of a standard P-51D Mustang.
To transform the trainer into a racer-SteadFast-Whiteside and his team rebuilt much of the airplane, replacing the canopy, the prop, and the spinner along with its afterbody. Like the Sea Fury, this Yak is cowled extremely tightly for speed.
All the hard work paid off when on 10 October 2011 Whiteside reached 655 km/hr (407 mph) over a 3-km (1.863-mile) course at the Bonneville Salt Flats in Utah in the United States, greatly exceeding the previous record of 491 km/hr (305 mph) set in 2002 by Jim Wright.