Compiled by Willie Bodenstein

THIS WEEK IN MIDWEEK UPDATE

Plan Your Weekend……...Forthcoming Events……..Aviation News

Worldwide Incidents and Accidents……This Week in Aviation History

Notice Board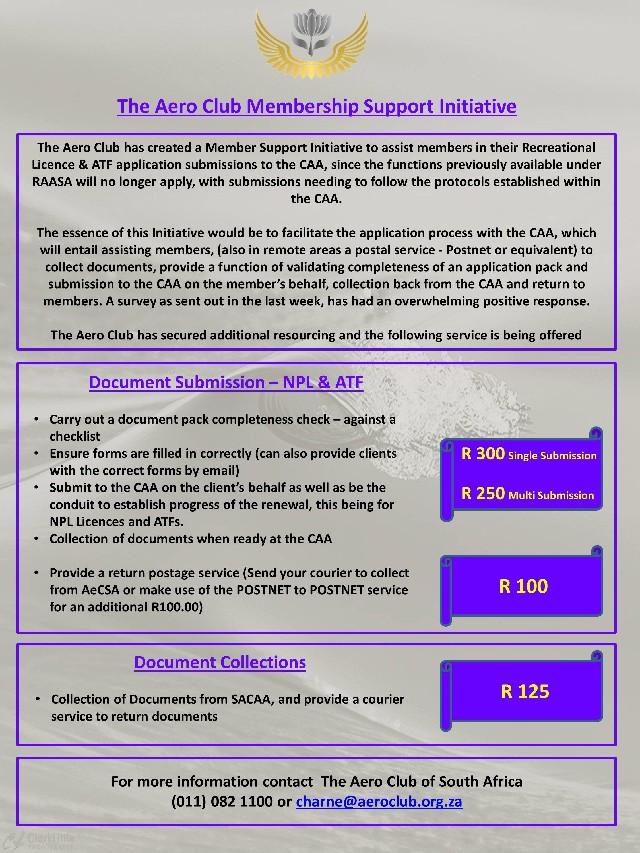 19: SA Landing Championships and ANR Rally- Brakpan Airfield - Contact Ron Stirk e-mail:
melron@mweb.co.za
cell:082 445 0373
19: Springs Free Breakfast Fly-in. Springs Airfield.



25-26: SACAA Ladysmith Aviation Careers Expo. Contact Kgomotso Malema E-mail:
malemak@caa.co.za
Cell 083 451 2661
26: SAPFA Baragwanath Fun Rally - Baragwanath Airfield. Contact Frank Eckard cell: 083 269 1516 e-mail:
frank.eckard@mweb.co.za
26: SAAMA RC Model Helicopter Heli Fun, Bloemfontein. For more info go to
www.reynekepark.co.za


2: SAPFA Rally Championships Practise - Stellenbosch airfield. Contact Frank Eckard cell: 083 269 1516 e-mail:
frank.eckard@mweb.co.za
2: Fete, Parade and Veterans Military Fair to be hosted by Moth Ex-Servicemen's Cottage Association. Moth Ex-Servicemen's Cottage Association, along with MOTH Dickie Fritz Shellhole, Edenvale.
7-8: SAAMA Safari Cup. Henley Model Airfield.
8-10: EAA Sun n Fun Brits Airfield. For more information contact Marie Reddy 083 259 7691
9: EAA Sun & Fun Adventure Rally - Contact Rob Jonkers e-mail:
rob@aerosud.co.za
cell: 082 804 7032
16: Aero Club of South Africa annual awards. For more information contact AeCSA office 011 082 1100 E-mail:
office@aeroclub.org.za
22: World Canopy Piloting Championships, Wonderboom South Africa.
23: SAPFA Springs Speed Rally - Springs Airfield. Contact Jonty Esser cell: 082 855 9435 e-mail:
jonty@promptroofing.co.za
30: The Elders Flight, Rand Airport. SMS Felix Gosher on 066 485 0407 SMS only please!
30 to 1 December: SAC Ace of Base Vereeniging Airfield. Contact Annie Boon e-mail:
chunge@mweb.co.za


18 - 19: SAC Gauteng Regionals Annie Boon
chunge@mweb.co.za
25: Rand Airport Challenge Rally - Rand Airport Contact Frank Eckard e-mail:
frank.eckard@mweb.co.za
cell: 083 269 1516
25: SAPFA AGM - Time: 2 PM Rand Airport Contact Rob Jonkers e-mail:
rob@aerosud.co.za
cell: 082 804 7032




SONEX AIRCRAFT ANNOUNCES 2-PLACE SUBSONEX PROJECT




Sonex Aircraft has announced the development of a 2-place variant of the popular SubSonex Personal Jet! SubSonex JSX-2T is designed to be the lowest cost jet trainer ever! It will be a perfect trainer for the single-place JSX-2, and for those who want to share the unique experience of jet-powered flight in a light aircraft. Photo © Sonex


The JSX-2T is configured with side-by-side seating for optimum flexibility in CG/loading and offers an ideal training environment for its crew. With a wing span of 21.8 feet JSX-2T, will have similar wing loading and handling to the single-place JSX-2. The two-place jet will utilize the same proven PBS TJ-100 turbojet engine system. An optional, more powerful PBS TJ-150 will achieve even higher performance.
The SubSonex Personal Jet aircraft first began development in 2009, and is now being sold around the world as the most popular and affordable kit jet aircraft. The SubSonex, a popular and serious aerobatic air show performer that delivers high top speeds and a true fighter jet feel, also shares the docile, low speed handling characteristics enjoyed by the Sonex, Waiex, and Onex designs.
JSX-2T Estimated Specifications & Performance
Length 18' 7.75? [5.68 m]
Wingspan 21' 9.6? [6.65 m]
Wing Area 87.2 sq ft [8.1 sq m]
Height 5' 8.2? [1.73 m]
Width with Outboard Wing Panels Removed 7' 6? [2.29 m]
Cabin Width 42? [106.68 cm]
Empty Weight (estimated) 530 lbs [240.4 kg]
Gross Weight 1500 lbs [680.39 kg]
Useful Load (estimated) 970 lbs [440 kg]
Fuel Capacity 50 U.S. Gallons [189.3 l]
Baggage Capacity 40 lbs [18.14 kg]
Stall Speed (estimated) 65 mph [104.6 km/h]
Cruise Speed (estimated) 200+ mph [321.9+ km/h]
Never Exceed Speed 275 mph [442.6 km/h]
Load Factors (Utility) +4.4 Gs, -2.2 Gs
Load Factors (Aerobatic) +6 Gs, -3 Gs
The JSX-2T is destined to be an outstanding choice for those demanding an affordable 2-place recreational personal jet!

PORSCHE AND BOEING TO PARTNER ON PREMIUM URBAN AIR MOBILITY MARKET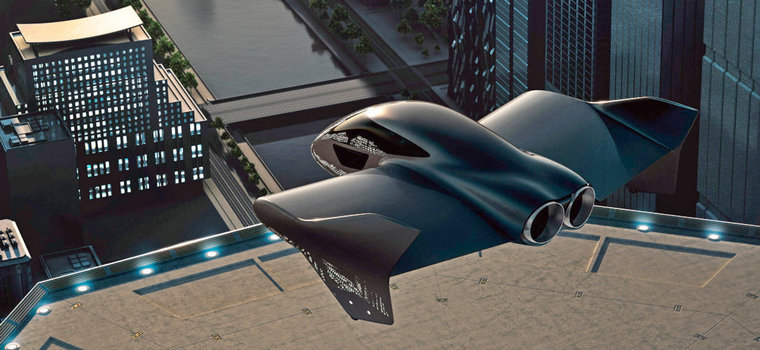 Porsche and Boeing [NYSE: BA] signed a Memorandum of Understanding to explore the premium urban air mobility market and the extension of urban traffic into airspace. With this partnership, both companies will leverage their unique market strengths and insights to study the future of premium personal urban air mobility vehicles. Image © Boeing.


"Porsche is looking to enhance its scope as a sports car manufacturer by becoming a leading brand for premium mobility. In the longer term, this could mean moving into the third dimension of travel," says Detlev von Platen, Member of the Executive Board for Sales and Marketing at Porsche AG. "We are combining the strengths of two leading global companies to address a potential key market segment of the future."
As part of the partnership, the companies will create an international team to address various aspects of urban air mobility, including analysis of the market potential for premium vehicles and possible use cases.
Boeing, Porsche and Boeing subsidiary Aurora Flight Sciences are also developing a concept for a fully electric vertical take-off and landing vehicle. Engineers from both companies, as well as Porsche subsidiaries Porsche Engineering Services GmbH and Studio F.A. Porsche, will implement and test a prototype.
"This collaboration builds on our efforts to develop a safe and efficient new mobility ecosystem, and provides an opportunity to investigate the development of a premium urban air mobility vehicle with a leading automotive brand," said Steve Nordlund, Vice President and General Manager of Boeing NeXt, an organization that is laying the foundation for a next-generation mobility ecosystem in which autonomous and piloted vehicles can safely coexist. "Porsche and Boeing together bring precision engineering, style and innovation to accelerate urban air mobility worldwide."
A 2018 study by Porsche Consulting forecasts that the urban air mobility market will pick up speed after 2025. The study also indicates that urban air mobility solutions will transport passengers more quickly and efficiently than current conventional means of terrestrial transport, at a lower cost and with greater flexibility.



VERSATILE. LETHAL. SUSTAINABLE. BELL ANNOUNCES 360 INVICTUS FOR U.S. ARMY FARA COMPETITION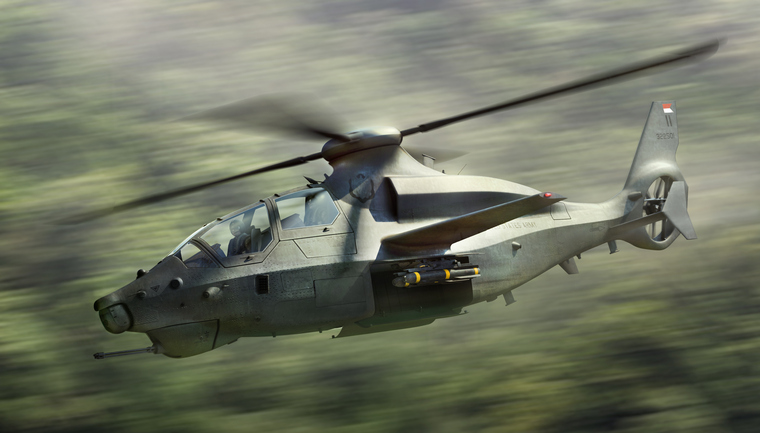 Bell Textron Inc., a Textron Inc. (NYSE: TXT) company, has announced a new rotorcraft, Bell 360 Invictus, as the company's entrant for the U.S. Army's Future Attack Reconnaissance Aircraft (FARA) Competitive Prototype program. Photo © Bell

Bell's innovative approach to designing the Bell 360 Invictus combines proven low-risk technologies with advanced processes to deliver soldiers an affordable, agile and lethal solution to win on the modern battlefield. The Bell 360 Invictus meets or exceeds all requirements as laid out under the FARA contract.
"The Bell 360 will deliver advanced battlefield situational awareness, as well as lethal options, in support of the manoeuvre force at an affordable cost" said Vince Tobin, executive vice president of Military Business at Bell. "The multi-domain fight will be complex, and our team is delivering a highly capable, low-risk solution to confidently meet operational requirements with a sustainable fleet."

The Bell 360 Invictus' design emphasizes exceptional performance using proven technologies to fulfil the Army's FARA requirements at an affordable cost and on schedule. One example is the Invictus' rotor system. This design is based on Bell's 525 Relentless rotor system which has been tested and proven at speeds in excess of 200 Knots True Air Speed (KTAS). By incorporating proven designs and the best available technologies from commercial and military programs, Bell delivers a low-risk path to a FARA program of record.
This advanced aircraft will have a transformative impact through next-generation flight performance, increased safety and greater operational readiness-all to deliver decisive capabilities.
Some of the key 360 Invictus features include:
Lift-sharing wing to reduce rotor lift demand in forward flight, enabling high-speed manoeuvrability. Supplemental Power Unit increases performance during high power demands. Robust articulated main rotor with high flapping capability enabling high speed flight. Fly-by-wire flight control system-synthesizes technologies, reduces pilot workload and provides a path to autonomous flight. Speed: >185 KTAS. Combat radius: 135nm with >90 minutes of time on station. Achieves 4k/95F Hover Out of Ground Effect (HOGE).
Armed with a 20 mm cannon, integrated munitions launcher with ability to integrate air-launched effects, and future weapons, as well as current inventory of munitions. Provisioned for enhanced situational awareness and sensor technologies. Modular Open Systems Approach (MOSA) enabled by a Digital Backbone from Collins Aerospace. Robust design integrating lifecycle supportability processes early to ensure high OPTEMPO availability in multi-domain operations. Design-as-built manufacturing model and digital thread enabled tools to enhance affordability, reliability, and training throughout the lifecycle of the aircraft.



BELL BOEING V-22 OSPREY FLEET SURPASSES 500,000 FLIGHT HOURS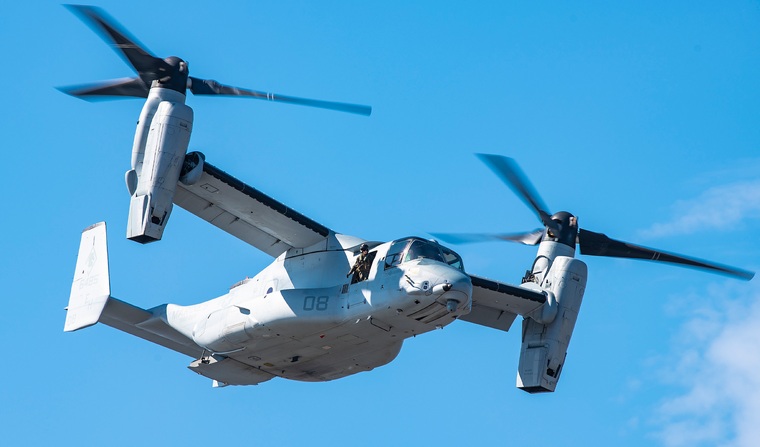 The V-22 fleet of tiltrotor aircraft built by Bell Textron Inc., a Textron Inc. [NYSE: TXT] company, and Boeing [NYSE: BA] has topped the 500,000-flight hour milestone. More than 375 Ospreys logged the hours, including the U.S. Air Force CV-22 and the U.S. Marine Corps MV-22. Photo © Bell.

The V-22 Osprey is the world's only production tiltrotor aircraft, enabling servicemen and women to conduct diverse missions throughout the most difficult operating environments. Most recently, the aircraft deployed to assist relief efforts in the Bahamas following Hurricane Dorian.
"Since delivery of the first V-22 aircraft, Bell Boeing has ensured that our men and women in uniform have this indispensable asset available to protect heroes and save lives," said Kristin Houston, vice president, Boeing Tiltrotor Programs and director, Bell Boeing V-22 Program.
Bell Boeing supports V-22 readiness through a comprehensive sustainment effort that includes maintenance, training, on-site field representatives and data analytics. Bell Boeing is also working with the V-22 program office on several efforts to improve V-22 readiness. The Marines' Common Configuration Readiness and Modernization program (CC-RAM), the Air Force's configuration reducing modification plan, and nacelle wiring and structure improvements are expected to increase readiness of the V-22 fleet.
"V-22 is one of the highest demand platforms in the Department of Defence. This achievement is a great testament to the Marines and Air Commandos operating this platform in all environments," said Chris Gehler, Bell V-22 vice president and Bell Boeing deputy program director. "We are committed to providing unparalleled support to our partners by steadily improving Osprey readiness and capabilities now and in the future."
Since 2007, the V-22 has continuously served the Marines and Navy, as well as Air Force Special Operations. A third variant, the CMV-22, is scheduled to join the U.S. Navy fleet in 2020.

BOMBARDIER'S INDUSTRY FLAGSHIP GLOBAL 7500 JET FLIES FARTHER AGAIN WITH ANOTHER MISSION IN EXCESS OF 8,000 NAUTICAL MILES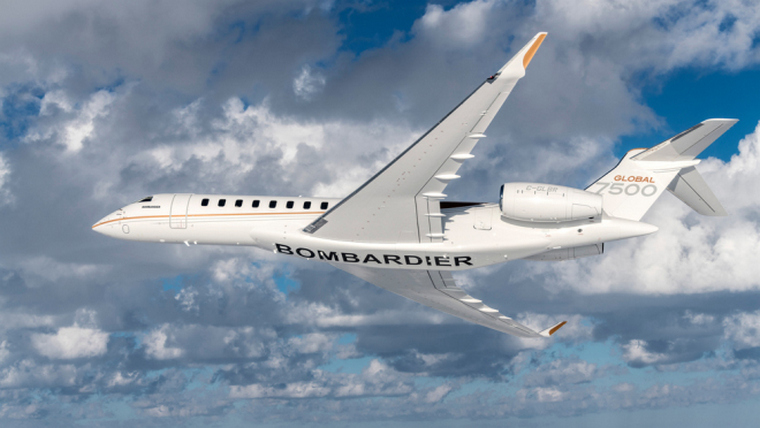 As the industry flagship, the Global 7500 business jet continues to set the bar for its combination of performance, cabin experience, and smooth ride. The aircraft continues to garner accolade upon accolade, having been honoured with a string of prestigious awards in 2019. Photo © Bombardier

Bombardier announced that its unrivalled Global 7500 business jet has once again flown another mission in excess of 8,000 nautical miles, successfully connecting Sydney and Detroit in one non-stop flight, the longest city-pair in business aviation in history flown by a purpose-built aircraft.
With low tailwinds averaging approximately 20 knots, the multi-award winning Global 7500 aircraft smoothly and effortlessly completed the journey from Sydney, Australia to Detroit, Michigan on October 6, 2019. Point-to-point distance between the two cities is 8,225 nautical miles, eclipsing the 7,990 nautical mile distance between Singapore and Tucson, which the plane previously flew.
"Since entry-into-service, the Global 7500 aircraft continue to go above and beyond expectations, flying farther and farther, setting new benchmarks for exceptional performance and comfort," said Peter Likoray, Senior Vice President, Worldwide Sales and Marketing, Bombardier Business Aircraft. "It's an incomparable advantage for our customers to know that they can travel great distances in style and ultimate comfort thanks to Bombardier's signature smooth ride."
The aircraft's unbeatable combination of performance, size and comfort has been widely applauded with a string of prestigious awards, among them Robb Report's Business Jet of the Year for 2019, the 2019 Aviation Week Grand Laureate Award and a Red Dot Award for design.
The Global 7500 aircraft provide the industry's largest and best cabin experience offering a spaciousness that is unique among business jets and features an award-winning interior that includes a full-size multi-functional kitchen space and a stateroom with a permanent bed. Other industry-leading amenities on the Global 7500 aircraft include Bombardier's patented Nuage seat, designed for maximum comfort and relaxation on long-haul flights thanks to an all-new deep recline position, and the innovative Soleil lighting system, aviation's first circadian rhythm-based cabin lighting technology featuring the revolutionary Dynamic Daylight Simulation, which can help combat jet lag.
With its sophisticated slats and flap system, the Global 7500 aircraft's most advanced wing in business aviation generates unprecedented amounts of lift on take-off and approach, maximizing aerodynamic efficiency and boosting performance while improving safety and offering a smoother, more restful ride.

FIRST ROYAL CANADIAN AIR FORCE C295 SHOWS OFF ITS FINAL LIVERY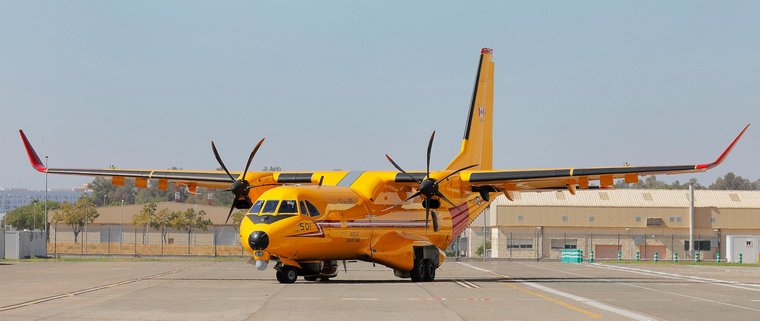 The first Airbus C295, purchased by the Government of Canada for the Royal Canadian Air Force's (RCAF) Fixed Wing Search and Rescue Aircraft Replacement (FWSAR) programme, rolled out of the paint shop showing off its final livery at Airbus facility in Seville, Spain. The aircraft will now go through the final preparation phase before its delivery to the customer, planned to take place in Spain before the end of the year. Photo © Airbus.


The aircraft adopts the yellow paint scheme following the tradition defined in the 1970s for Search and Rescue aircraft, giving high visibility for those in the air and on the ground.
The contract, awarded in December 2016, includes 16 C295 aircraft and all In-Service Support elements including, training and engineering services, the construction of a new Training Centre in Comox, British Columbia, and maintenance and support services.
The aircraft will be based where search and rescue squadrons are currently located: Comox, British Columbia; Winnipeg, Manitoba; Trenton, Ontario; and Greenwood, Nova Scotia.
Considerable progress has been made since the FWSAR programme was announced two and a half years ago: the first aircraft is due to be delivered in Spain in the coming months; another six aircraft are either completing flight tests or in various stages of final assembly; and seven simulators and training devices are starting up preliminary acceptance tests.
The first RCAF crews started training in late summer 2019 at Airbus' International Training Centre in Seville, Spain.


SIKORSKY CEREMONY SHOWCASES NEW COMBAT RESCUE HELICOPTER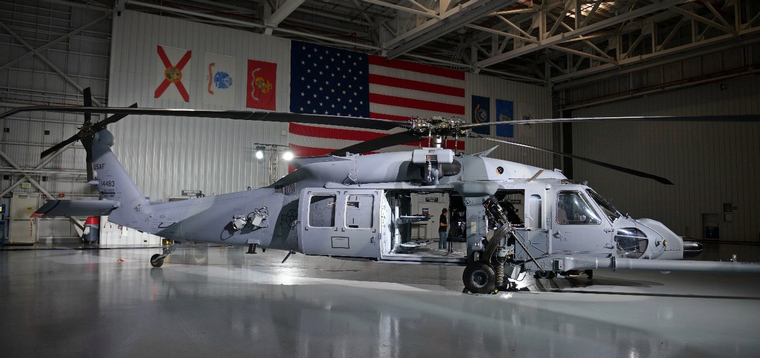 Sikorsky, a Lockheed Martin company (NYSE: LMT), showcased the next generation Combat Rescue Helicopter (CRH) during a ceremony at its Development Flight Centre in West Palm Beach, Florida. Photo © Lockheed.
During the event, United States Air Force General James M. Holmes, Commander, Air Combat Command, Joint Base Langley-Eustis, Virginia (91) described the HH-60W helicopter as critical took for the war fighter.
"I want to say thanks to everyone from Sikorsky for your dedication to your craft, for consistently living up to your mission statement of pioneering flight solutions that bring people home everywhere every time. And that partnership is incredibly valuable to us and the guys on the ground," Gen. Holmes said. "We're proud to work with you to deliver the most intuitive, precise, technologically advanced systems to our airmen."
Other dignitaries attending the event included Dr. Will Roper, Assistant Secretary of the Air Force for Acquisition, Technology and Logistics and Rep. Brian Mast (R-FL) from Florida's 18th District.
The achievement of the Milestone C production decision on Sept. 24 launched the contract award known as Low Rate Initial Production for Sikorsky to build 10 CRH helicopters.
The U.S. Air Force program of record calls for 113 helicopters to replace the HH-60G PAVE HAWK™, which perform critical combat search and rescue and personnel recovery operations for all U.S. military services.

"The Combat Rescue Helicopter is the new era in Air Force aviation and a pivotal milestone that ties to our company's legacy of bringing people home," said Sikorsky President Dan Schultz. "Sikorsky employees and our nationwide supply chain are ready to begin producing, delivering and supporting this all-new aircraft for the war fighter."
The HH-60W Combat Rescue Helicopter is significantly more capable and reliable than its predecessor, the HH-60G.The aircraft hosts a new fuel system that nearly doubles the capacity of the internal tank on a UH-60M BLACK HAWK®, giving the Air Force crew extended range and more capability to rescue those injured in the battle space. The HH-60W specification drives more capable defensive systems, vulnerability reduction, hover performance, electrical capacity, avionics, cooling, weapons, cyber-security, environmental and net-centric requirements than currently held by the HH-60G.
"We send in brave men and women who are going to find a way to get the job done," Dr. Roper said. "But they'll tell you about flying in and not being certain that they could land safely or putting the broad side of their vehicle between a downed pilot and gunfire. When you hear those stories, you realize that we put heroes on these vehicles. We pick up heroes in these vehicles and they deserve every technology advantage we can give them."


Senegal, Blaise Diagne International Airport's: An Ethiopian Airlines Boeing 767-300 with 90 on board was in the initial climb out of Blaise Diagne International Airport's runway when the right hand engine failed and caught fire prompting the crew to stop the climb at about 2500 feet and return to Dakar for a safe landing about 8 minutes after departure, the aircraft vacated the runway. Emergency services put the fire out, the passengers subsequently disembarked normally via stairs at the left-hand doors.
USA, Seattle: Southwest Airlines confirmed that two of their Boeing 737 NG planes have been grounded because of cracks in a critical part of a 737 NG known as the pickle fork. A pickle fork is the part that helps attach a plane's fuselage to its wing structure. It helps manage the stress, torque and aerodynamic forces that bend the connection between the wings and the body of the jet. Engineers design pickle forks to last the lifetime of the plane, more than 90,000 landings and take-offs, a term known as "flight cycles" in the aviation industry, without developing cracks. There could be dire results if the pickle fork system on the jet fails in flight. Overall, around 500 of the planes from airlines around the world have been inspected for the issue. Twenty-five planes so far have been discovered with the cracking. The FAA has ordered emergency inspections, known as an "airworthiness directive," or "AD," to take place within seven days on all 737 NGs'
Portugal, Faro: An EasyJet flight from Manchester to Tenerife was forced to divert to Portugal after an argument between two groups of men that saw one allegedly spit at a woman. Witnesses said a group of four men at the back of the plane started punching each other but were broken up by a member of the cabin crew, who moved one of the men to the front of the plane. But according to reports, the man returned to the group, where the argument broke out again. Another group of men on the plane for a stag party then got involved and the situation escalated. The plane was diverted to Faro, Portugal, where security staff bundled seven men, the four-man group and three members of the stag party, off the plane.
USA, Lynwood, Illinois: A suburban Chicago housewife, Linda Dian that lives blocks from the Lansing Municipal Airport in Illinois found what is believed to be a helicopter wheel lodged in the ceiling of her home's bathroom. She found the wheel poking through the ceiling. Federal Aviation Administration officials say it appears to be a dolly wheel assembly from a helicopter. The agency was investigating when and from which aircraft the part fell.
USA, Orlando, Florida: A woman was able to board a Delta Airlines aircraft in Orlando, Florida without a ticket. Delta employees discovered the fact after having asked her for her ticket because she was in someone else's seat. The woman said she threw her ticket away and didn't have identification. A TSA official confirmed that the woman went through security. The woman was taken off the plane, and officials screened all passengers again.
USA, Bangor, Main: A United Airlines flight with 197 passengers and 13 crew members en-route to Amsterdam from San Francisco made an emergency landing in Maine, due to a cabin pressurization issue. Oxygen masks were released due to the cabin pressure change but it is unclear whether passengers were told to use the masks. The aircraft landed without incident and passengers disembarked normally.
USA, Miami International Airport: A man ran past a gate agent, down a jet bridge and onto an American Airlines plane at Miami International Airport, prompting police to remove him. A video showed the man in handcuffs, face down on the ground in the airport and surrounded by police. Others did a full security sweep of the jet after removing all passengers.
USA, near Camarillo Airport: An experimental Bede BD-5, amateur built by John F. Simmons, impacted farm field terrain in Ventura County southeast of the Camarillo Airport (KCMA), Camarillo, California when it tried to return after it lost power shortly after take-off. The aircraft was partially consumed by the post-impact fire and the sole pilot onboard received fatal injuries.
Germany, Zemmer-Rodt: A U.S. Air Force F-16 fighter jet assigned to the 480th Fighter Squadron, 52nd Fighter Wing, at Spangdahlem on a routine training sortie crashed near the German town of Zemmer-Rodt. The pilot ejected safely and was recovered with minor injuries.

Somalia, Mogadishu: A Mars Avia Antonov AN-74T-100 was on approach to Mogadishu when the crew could not extend the landing gear. After working the checklists, which failed to lower the landing gear, the crew declared emergency, prepared for a gear up landing with emergency services on stand by and landed on the belly of the aircraft. There were no injuries, the damage to the aircraft is being assessed.
Russia, Koltsovo Airport, Yekaterinburg: An Antonov An-12 transport plane of the Russian Air Force with 17 on board made a gear up landing at Yekaterinburg-Koltsovo Airport, Russia. No one was injured. The aircraft suffered substantial damage.
USA,
San Francisco: Two flights out of San Francisco International Airport needed to return to the runway Wednesday evening for emergency landings. The first flight involved a United Airlines aircraft that struck a bird. The plane was headed to Orange County. The flight was able to return to SFO safely, United Airlines said. All the passengers on the flight were moved to a different aircraft and took off shortly afterward Wednesday night. The second flight involved a Lufthansa plane en route to Munich, Germany. It was reported that an engine fire may have forced the pilot to make the emergency landing. The flight took off after 8:45 p.m. and landed safely shortly before 10 p.m.
Kenya, Nairobi-Wilson Airport: A Fokker 50 operated by Silverstone Air Services crashed on takeoff from Nairobi-Wilson Airport, Kenya. There were 50 passengers and five crew members on board. Two passengers sustained minor injuries. The aircraft was damaged beyond repair.



12 OCTOBER 1997

Singer-songwriter John Denver was killed when the Long-EZ aircraft he was piloting crashed just off the coast of California at Pacific Grove, shortly after taking off from the Monterey Peninsula Airport.


Denver rose to worldwide superstardom in the early and mid-'70s with a string of hits that included "Take Me Home, Country Roads," "Rocky Mountain High," "Annie's Song" and many more. He spent some of the fortune that he earned as one of the world's most popular country and pop artists on his passion for flying, buying a series of rare and experimental aircraft that he loved to pilot.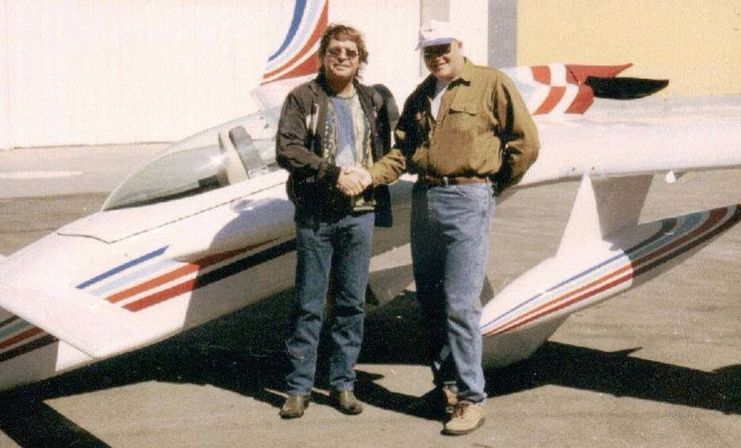 On 21 April, 1989, the singer was piloting a vintage 1931 biplane when he went in for a landing at Holbrook Municipal Airport in Arizona. Denver had stopped to refuel on a flight from Carefree, Ariz., to Santa Fe, N.M., according to the Los Angeles Times, when he got into an accident while taxiing down the runway. Reports said a gust of wind caught the plane, which spun around and sustained "extensive damage" as a result of the crash, but Denver was unharmed in the accident.
The singer left on another plane without seeking medical attention, but sadly, his luck did not hold. On 12 Oct. 1997, Denver died on impact when his experimental Rutan Long-EZ plane crashed into Monterey Bay near Pacific Grove, Calif., while Denver was making a series of touch-and-go landings at Monterey Peninsula Airport. Denver's body had to be identified through his fingerprints due to the extensive damage sustained in the accident, which was attributed to a design flaw in the mechanism to switch between fuel tanks during the flight.
Denver was 53 at the time of his death.