Compiled by Willie Bodenstein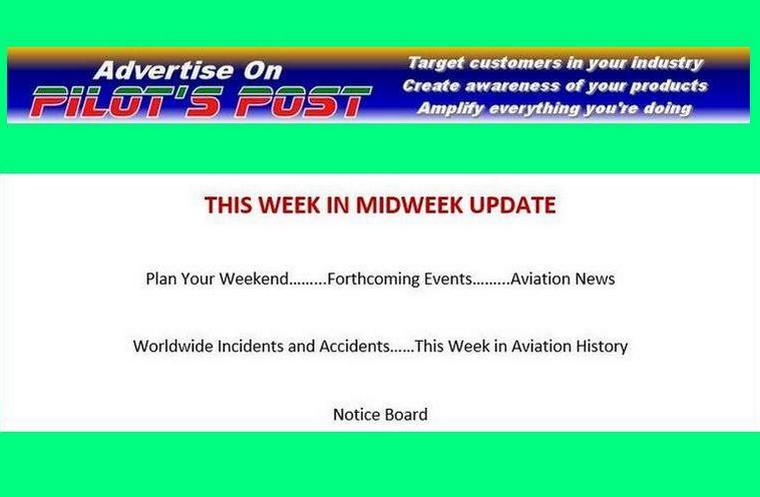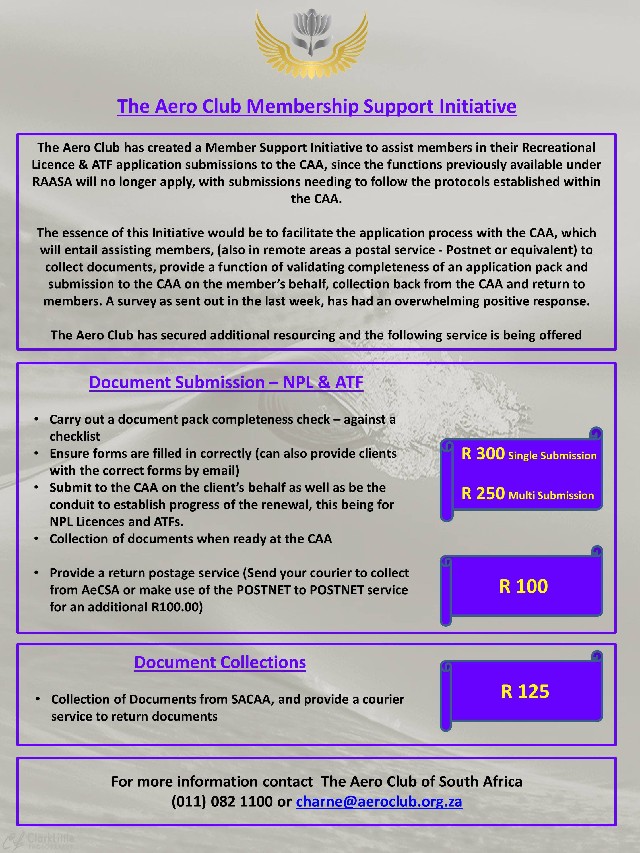 15: Wings Park Fly-in. For more information contact Donald Hicks
Donald@aqpm.co.za
16: Golden Mile Estate Gyro and Trike Fly in, Witbank. Contact Rob McFie 082 498 8590
16-17: Wavecrest Fly-in. For more information contact Donald Hicks
Donald@aqpm.co.za
16: Aero Club of South Africa annual awards. For more information contact AeCSA office 011 082 1100 E-mail:
office@aeroclub.org.za
22: World Canopy Piloting Championships Wonderboom South Africa.
23: SAPFA Springs Speed Rally - Springs Airfield. Contact Jonty Esser cell: 082 855 9435 e-mail:
jonty@promptroofing.co.za
30: The Elders Flight, Rand Airport. SMS Felix Gosher on 066 485 0407
30: SAA Museum at Rand Airport - Airline Collectibles Fair.
30 to 1 December: SAC Ace of Base Vereeniging Airfield. Contact Annie Boon e-mail:
chunge@mweb.co.za


30 to 1 December: SAC Ace of Base Vereeniging Airfield. Contact Annie Boon e-mail:
chunge@mweb.co.za


18 - 19: SAC Gauteng Regionals Annie Boon
chunge@mweb.co.z
a
25: Rand Airport Challenge Rally - Rand Airport Contact Frank Eckard e-mail:
frank.eckard@mweb.co.za
cell: 083 269 1516
25: SAPFA AGM - Time: 2 PM Rand Airport Contact Rob Jonkers e-mail:
rob@aerosud.co.za
cell: 082 804 7032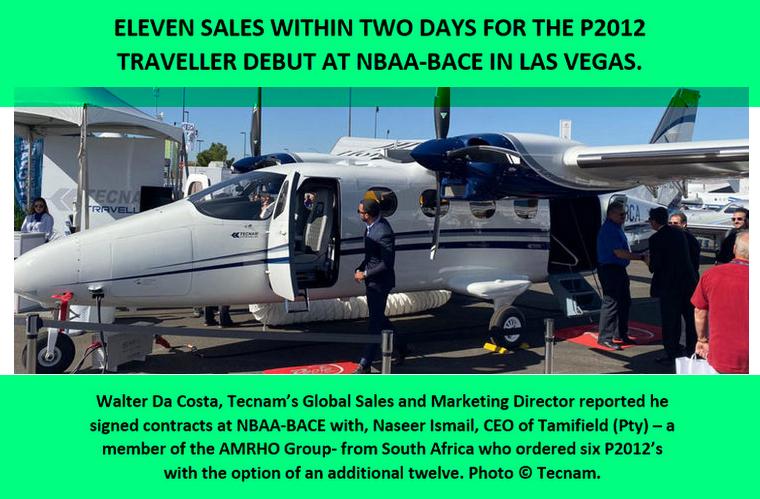 Along with Capt. Alfredo Andres Ortiz Osoria, CEO of Charter Express - SAS - from Columbia who ordered five P2012's with the option of an additional five.
Tecnam Global Sales and Marketing Director, Walter Da Costa, stated: "We are thrilled to present the new P2012 Traveller in Vegas. The impressive number of sales signed here at NBAA confirms the P2012's leadership in the general aviation marketplace."
The Tecnam P2012 is powered by two 375 HP turbo-charged Lycoming engines and features a modern design with state-of-the-art equipment, allowing single-pilot operations depending on individual country regulations. The aircraft offers high efficiency and low maintenance costs by design with its simple and easily accessed airframe and systems, such as- fixed landing gear, robust interiors and easy-to-replace parts. These attributes and many more, make it the ideal aircraft for regional airlines.
The arrival of the next-generation 11-seat, twin-engine P2012 Traveller is highly anticipated by a large number of airlines around the world who have been demanding a replacement for the many hundreds of 'heritage' aeroplanes in the FAR23/CS23 category. This aircraft is set to open many profitable opportunities in Short Haul transportation and is revolutionising the Piston Engine sector. Already established as a leader in both the Flight Training and Private General Aviation sectors, Tecnam's P2012 Traveller will undoubtedly herald very similar success for Tecnam in the very competitive commuter airline market.
To ensure maximum customer service, Tecnam signed an agreement with Boeing that will assume the P2012 Traveller replacement parts distribution responsibilities. This will include forecasting, ordering and delivering of all original equipment manufacturer (OEM) genuine parts through their Aviall distribution network.
"High-frequency is where this aircraft really shines. The P2012 would excel at transporting executives on short flights or routes involving multiple stops", says Tecnam Managing Director, Giovanni Pascale.
Base price of the P2012 in 2020 is € 2.35 million ($ 2.6 million), for standard airline configuration. VIP, Cargo, passenger-cargo combination, Medevac and Special Mission are also immediately available as optional configurations. The P2012 is already EASA and FAA certified.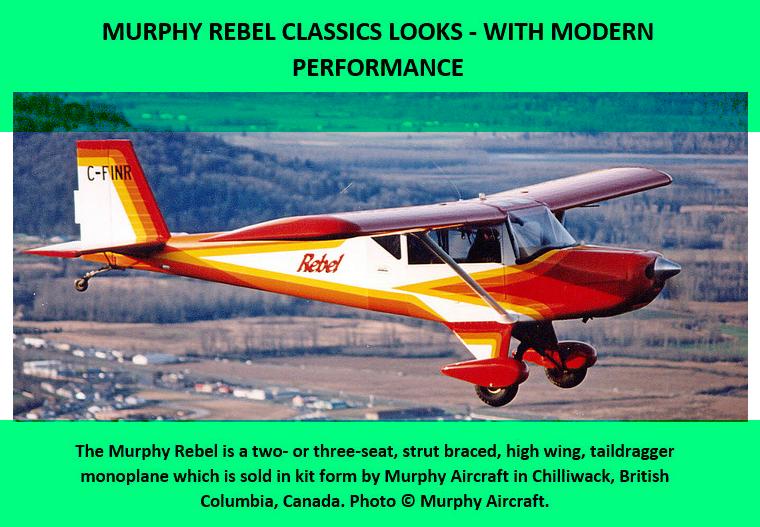 The Rebel was designed by Murphy Aircraft President Darryl Murphy and Dick Hiscock, who was one of the designers of the De Havilland Canada DHC-2 Beaver.
A STOL, all-aluminium, side by side, high wing, taildragger with several engine options, the Rebel was designed to be a personal-use bush plane. It can operate from short, unimproved airstrips and can carry a useful load of up to 750 lbs. You'll not find the Rebel's long-range cruising capability and more leg, head, and shoulder room in any comparably priced aircraft kit.
The aircraft features a strut-braced high-wing, a two or three seat enclosed cabin accesses via doors, fixed conventional landing gear and a single engine in tractor configuration. The aircraft is made from sheet aluminium. Its 30.0 ft (9.1 m) span wing employs a NACA 4415 mod airfoil, has an area of 149 sq ft (13.8 m2) and is equipped with flaps.
The recommended engines for the Rebel are the 160 hp (120 kW) Lycoming O-320, the 116 hp (87 kW) Lycoming O-235 and the 80 hp (60 kW) Rotax 912,
Visibility from the Rebel is exceptional. The low-profile cowling offers excellent forward visibility and the wide, outward folding door windows give a perspective of the countryside and cityscapes that turns every flight into an engaging adventure.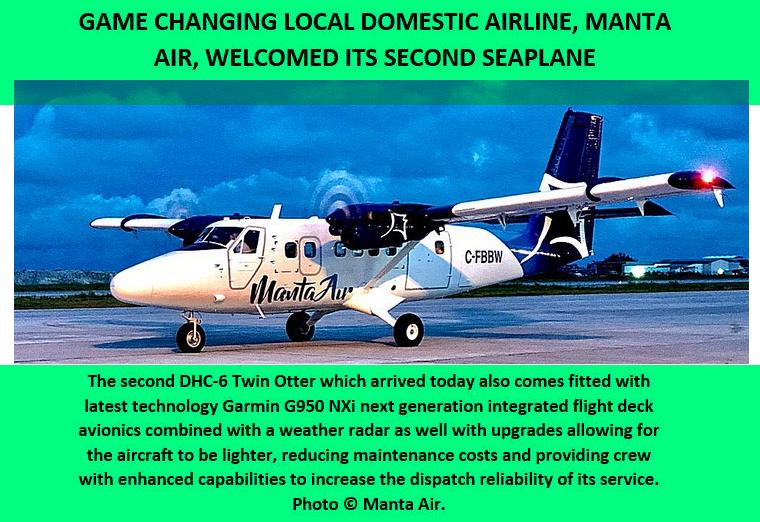 Manta Air officials aim to set a new benchmark for the seaplane service standards in the Maldives as it follows the high standards already set by the Manta Air's domestic ATR operations. The arrival of Manta Air has already been a game changer in the domestic aviation industry, removing the fears of flight uncertainty for passengers flying in the Maldives, and setting new standards in service excellence along the way with pre-published schedules and a tailored approach to provide an amazing experience to all passengers.
Manta Air officials also said that final preparations are now underway as the company is now gearing up towards starting its seaplane operations in November.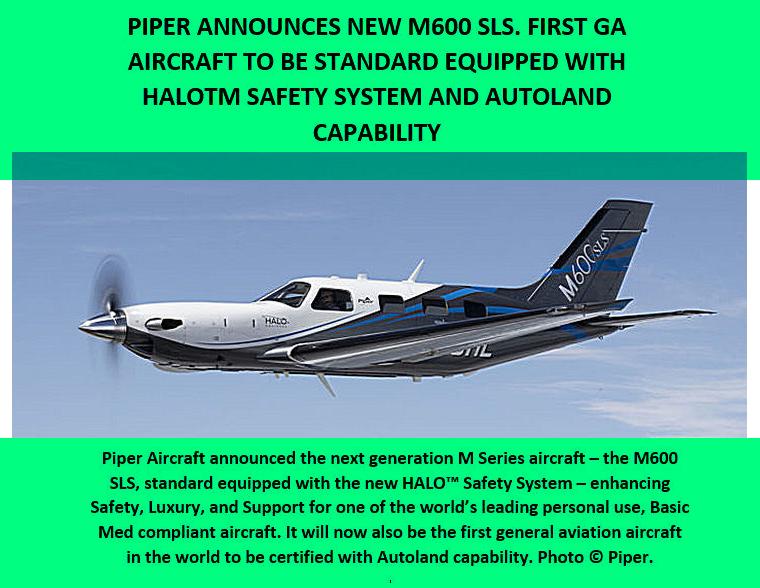 The HALO™ Safety System is a compilation of innovative technologies unique to the M600 SLS and the Garmin G3000 avionics suite. The system includes Auto-throttle, Emergency Descent Mode, Enhanced Stability and Protection, Surface Watch, Safe Taxi, Flight Stream connectivity and more. However, of greatest significance is the addition of Garmin Autoland - digital technology that safely lands the aircraft at the nearest suitable airport in the event that the pilot is incapacitated.
The Halo system, once engaged either automatically or by a passenger, gains immediate situational awareness and assumes control of all systems necessary to bring you and your passengers safely to the best suited runway. During all phases of flight, it communicates with passengers and appropriate air traffic control facilities regarding the new flight plan route and estimated time until landing.
Halo continually monitors all aircraft system parameters and real-time external inputs as if the pilot were at the controls. It takes into account runway size and orientation, wind, time, fuel range, glide path and considers weather conditions and terrain en route to the nearest suitable runway. Once Halo has landed the aircraft, the braking system will activate and will bring the aircraft to a full and complete stop. Finally, the engine will shut down and instructions will be provided on how to exit the aircraft.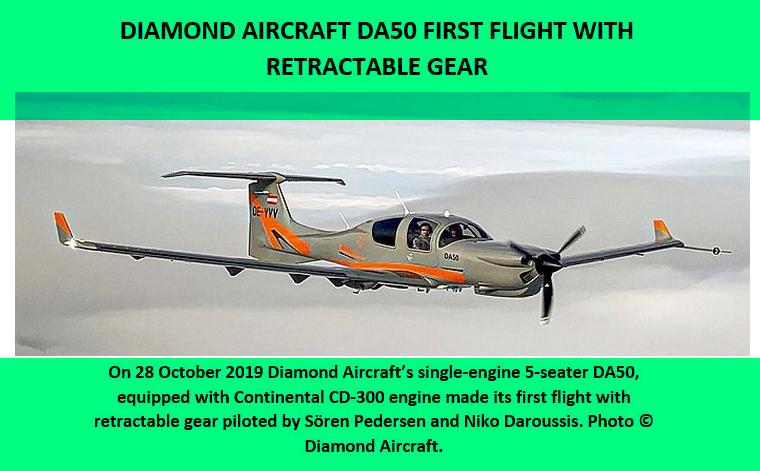 In April 2019 at AERO Friedrichshafen, Diamond Aircraft announced changes on the DA50 program, including a new engine concept with the 300 hp Continental CD-300 and retractable gear.
Sören Pedersen, Head of Flight Test, Diamond Aircraft Austria: "The first flight was conducted by the crew as planned and all systems were working as expected. Since all new elements are already well known from other aircraft out of the Diamond aircraft family, the DA50 made a very mature impression from the first lift off on. A first cruise performance test point showed that the expectation could be met easily. The DA50 showed a good agility and an "easy to fly" behaviour, meaning that the handling qualities were very satisfying on the first impression."
The all carbon fibre DA50 with an extra-large luxurious cabin and excellent payload will be ideal for single piston pilots needing more seats and space and for charter operators looking for a low-cost alternative.
Diamond Aircraft is aiming for basic certification from the European Union Aviation Safety Agency (EASA) for the 5-seat version equipped with CD-300 engine and retractable gear in Summer 2020.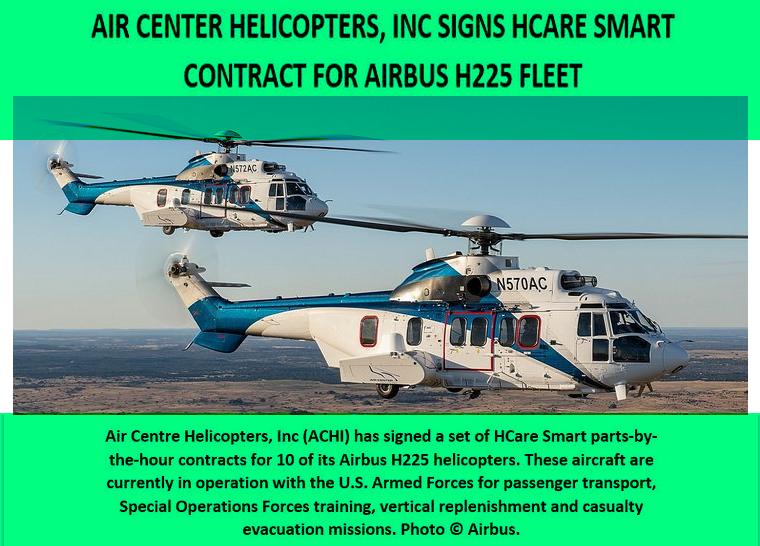 The HCare Smart contracts cover a three-year period and have been customized to meet the material support and spare parts requirements of helicopters flying in demanding theatres of operation, including a dedicated spare parts consignment stock. With this contract, 10 of the 17 H225s in ACHI's fleet are now covered by HCare.
"Our in-service H225 fleet was repurposed from the offshore oil & gas market and retrofitted for new missions in just under one year," said Rod Tinney, CEO of ACHI. "Today these 10 civilian helicopters are on contract performing military missions for the U.S. Navy, U.S. Air Force and U.S. Army in three countries and two oceans. In a short amount of time, they have already accumulated more than 3,000 flight hours. Having in-service support, we can rely on through HCare is indispensable and will help us continue this momentum, flying an expected 400 to 1000 flight hours per year per aircraft."
"Thanks to ACHI's innovative approach, these civil aircraft have been swiftly put back in service for new missions with military customers, making their H225 fleet among the world's largest," said Christoph Zammert, Executive Vice President of Customer Support & Services at Airbus Helicopters. "Ensuring aircraft availability through support packages tailored to the unique needs of military operators is an essential requirement, and one that we're honoured to provide ACHI."
ACHI's remaining seven H225s are currently undergoing retrofit for their new missions and are expected to all enter operation by March 2020. As of today, around 55 former oil & gas H225s have been reconfigured for aerial work, utility, firefighting and search and rescue.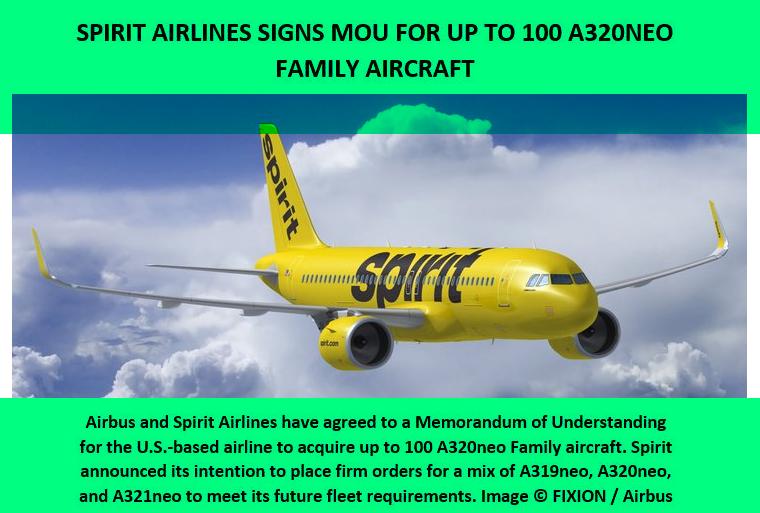 "This new order represents another milestone for Spirit," said Spirit Airlines' President and CEO Ted Christie. "The additional aircraft will be used to support Spirit's growth as we add new destinations and expand our network across the U.S., Latin America, and the Caribbean. We look forward to working with our valued partners at Airbus to finalise our agreement."
"The Airbus A320 Family has been a strong platform for the remarkable success of Spirit over the past several years," said Airbus Chief Commercial Officer Christian Scherer. "The ongoing, enthusiastic spirit the airline demonstrates in our A320neo Family is most rewarding, and we look forward to playing a part in the Spirit team's continued growth for many, many years to come."
Spirit is a fast growing ultra-low-cost carrier in the Americas, based in South Florida.
Featuring the widest single-aisle cabin in the sky, the best-selling A320neo Family, comprising the A319neo, A320neo, and A321neo, deliver at least 20% reduced fuel burn as well as 50% less noise compared to previous-generation aircraft, thanks to incorporating the very latest technologies including new-generation engines and Sharklets. At the end of September 2019, the A320neo Family had received more than 6,650 firm orders from nearly 110 customers worldwide.

USA, Leroy, N.Y: John Yates the 48-year-old pilot of the Beechcraft A-36 that had crashed on take-off was flying without the required medical certification. The FAA website shows Yates' last medical clearance was in December 2016. FAA rules state that pilots over 40 years old must recertify every two years. The Beechcraft A-36 passenger plane crashed into an embankment and ended up in the grass along the runway. On board with Yates was his wife, and two children. They were all taken to Strong Memorial Hospital with minor injuries.
USA, Woodbridge township, Colonia: A Cessna 414A Chancellor operated by Warbird Association on a flight from Leesburg Executive Airport, Linden Airport, NJ to crashed into houses in Woodbridge township, Colonia, New Jersey of which were set on fire. The aircraft was destroyed and the pilot didn't survive.
USA, 80 miles from Alamogordo-Holloman AFB New Mexico: A USAF Lockheed Martin F-16C, assigned to the 49th Wing on a training flight crashed 80 miles from Alamogordo-Holloman AFB. (HMN/KHMN). The pilot ejected and was taken to hospital and later released. The aircraft was destroyed.

Australia, Sydney: Qantas grounded one Boeing 737NG due to a structural crack in the "pickle fork" which helps connect the wing to the fuselage. The airline has ordered urgent inspection to 32 others for the flaw. The grounding is the latest safety concern for Boeing, as it reels from two 737 MAX crashes. The US aviation authority this month ordered checks of Boeing 737NG planes that had flown more than 30,000 times. Qantas said it had found the fault in a more lightly used aircraft, one that had recorded fewer than 27,000 flights.
USA, East of Ocala-Taylor Field Florida: A Beechcraft 58 Baron struck an occupied motor vehicle and impacted roadway terrain during a force landing near Ocala-Taylor Field. The pilot tried to return due to a mechanical issue during a maintenance flight. The aircraft was consumed by the post-crash fire and the two occupants onboard sustained fatal injuries. An occupant of the vehicle was injured.
Japan, Sea of Japan close to South Korea: An Eurocopter EC 225LP Super Puma Mk2+ operated by Gyeongbuk Fire Service with seven people onboard crashed into the sea near a pair of islands disputed with Japan. The helicopter had picked up an injured crab fisherman. On board were two pilots, three fire department responders, the patient and a friend.
USA, Witham Field Florida: A Grumman OV-1D Mohawk crashed at Witham Field (SUA, KSUA), Stewart, Florida, during the Stuart Air Show. The aircraft was destroyed and the pilot was killed.

This week in history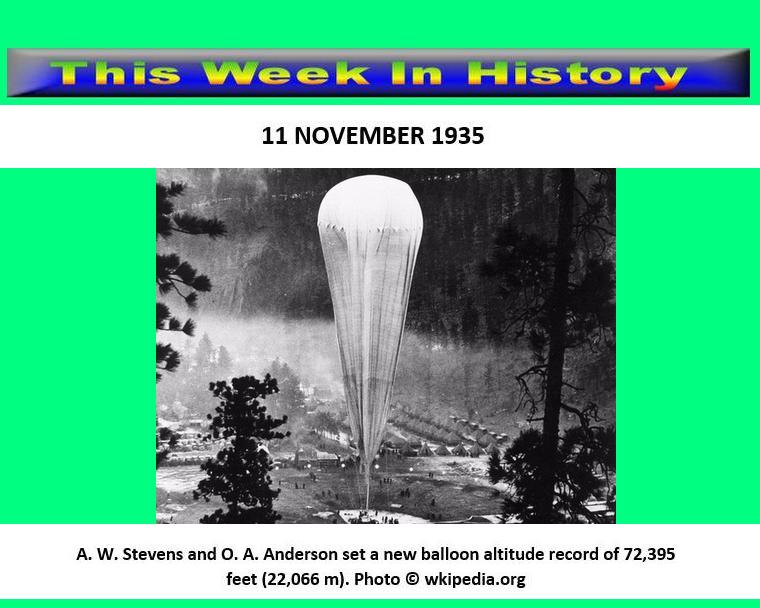 Albert William Stevens an officer in the United States Army Air Corps, balloonist, and aerial photographer was born on 13 March 1886 in Belfast, Maine.
In 1930 Stevens, while flying over South America, took the first photograph of the Earth in a way that the horizon's curvature was visible. Stevens also pioneered the use of infrared-sensitive film for long-distance aerial shots whose subjects were visually obscured.
Accompanied by Lieutenant Charles D. McAllister of the Army Air Corps in August of 1930, Stevens took the first photograph of the Moon's shadow projected onto the Earth during a solar eclipse.
Twenty thousand spectators were present when on 11 November 1935, Stevens, along with Captain Anderson, made a record balloon ascent from the Stratobowl near Rapid City, South Dakota. Millions listened to a live NBC broadcast. During the ascent their sealed gondola Explorer II climbed to 72,395 feet (22.066 km), nearly 14 miles (23 km), a record unequalled until 1956.
Stevens was twice awarded the Distinguished Flying Cross - one award each for his two famous balloon flights. He died on 26 March 1949, in Redwood City, California.