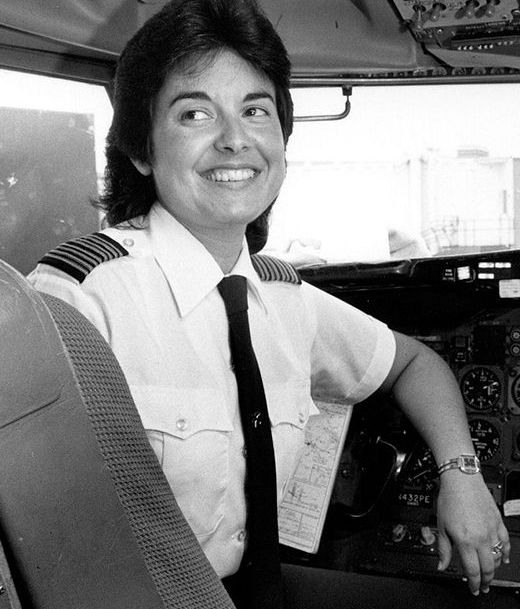 Photo Robert Burns / commons.wikimedia.org. Captain Beverly Lynn Burns is the first woman to captain the Boeing 747 jumbo jet. On the afternoon of 18 July 1984, Burns made her maiden voyage as Captain when she commanded People Express aircraft 604 from Newark International Airport to Los Angeles International Airport
In addition to her qualifications on the flight deck, Burns had acquired an understanding of the airlines as a business. From 1971 to 1978, she worked as stewardess for American Airlines while attending flight school. In 1978, she held positions as a flight instructor and charter pilot for Hinson Airways. The following year, she flew as captain for Allegheny Commuter until 1981, when she went to work for People Express.
Captain Burns received numerous awards and commendations. On 31 January 1985, she received the Amelia Earhart Award, presented by New Jersey Governor Thomas Kean and the CEO of People Express, Donald Burr for her historic flight as captain of the Boeing 747 on July 18, 1984. Prior to that award, on 14 August 1984, she received an Award of Recognition from Baltimore Mayor William Donald Schaefer, which cited her as one of Baltimore's best. On 16 August she received a letter of congratulations from New Jersey Senator C. Louis Bassano, who prepared a resolution in her honour. On 21 August U.S. Senator Frank R. Lautenberg of New Jersey credited her with "opening doors for millions of American women"
By the time she retired from Continental in 2008, she had been a captain with the airlines for twenty-seven years and amassed over twenty-five thousand hours of flight time and captained the 727, 737, 747, 757, 767, 777 and DC-10.