Compiled by Willie Bodenstein





AIRLINK RE-INTRODUCES ITS EARLY FLIGHT TO WINDHOEK, INCREASING CUSTOMER CONVENIENCE AND CONNECTIONS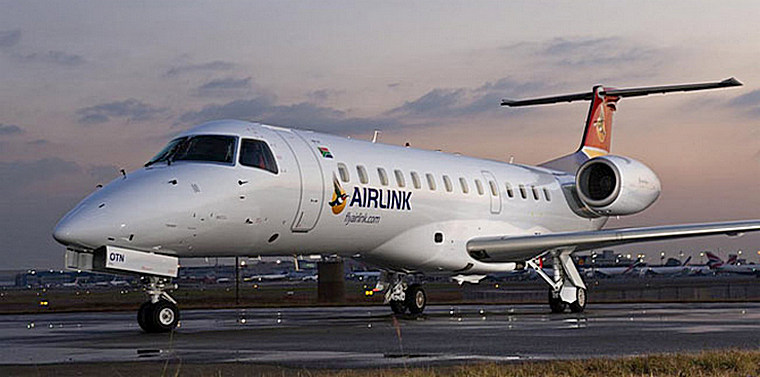 Airlink has announced that it will be re-introducing its early morning flight between Cape Town and Windhoek from 18 November 2019. The additional morning flight will operate weekdays, Monday to Friday departing from Cape Town International Airport at 05h55 arriving at Windhoek - Hosea Kutako at 08h00. The return flight will depart from Windhoek - Hosea Kutako at 08h50 arriving at Cape Town International at 10h55. The service is operated by an Embraer 135 regional jet.
The re-introduction of the early morning flight is in response to customer requests and will allow travelers the freedom to choose from two flights per day offering added convenience and flexibility. The flight has been timed to maximize connection opportunities for guests travelling onward to destinations in Namibia by road and air to places such as Etosha National Park, Sossusvlei, Skeleton Coast and Damaraland among others.
CEBU PACIFIC FINALISES ORDER FOR 16 A330NEO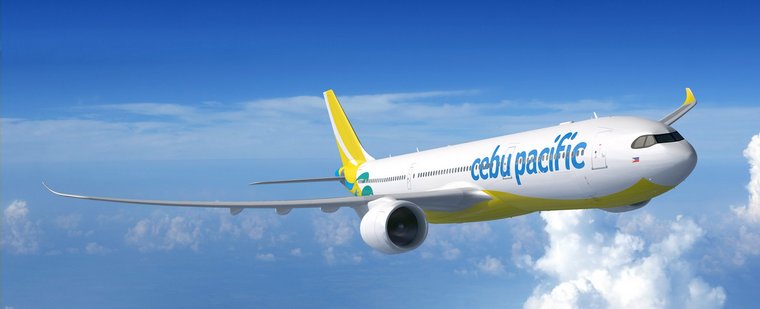 Cebu Pacific (CEB), a carrier based in the Philippines, has signed a firm order with Airbus for 16 long-range A330neo aircraft. The order firms up the wide-body portion of a previously announced Memorandum of Understanding (MoU), which also includes commitments for 10 A321XLR and five A320neo single-aisle aircraft.
The A330neo ordered by Cebu Pacific is a higher-capacity version of the A330-900, with up to 460 seats in a single-class configuration. Cebu Pacific plans to operate the aircraft on trunk routes within the Philippines and the rest of Asia, as well as on longer range services to Australia and the Middle East.
Lance Gokongwei, Cebu Pacific President and CEO said: "The A330neo is integral to our fleet modernization program. With this purchase, we aim to reduce our fuel emission and build a more sustainable operation. This will also give us the lowest cost per seat, at the same time enabling CEB to increase seat capacity and maximise valuable airport slots in Manila and other Asian megacities."
AIR PREMIA ANNOUNCES COMMITMENT FOR FIVE BOEING 787 DREAMLINER JETS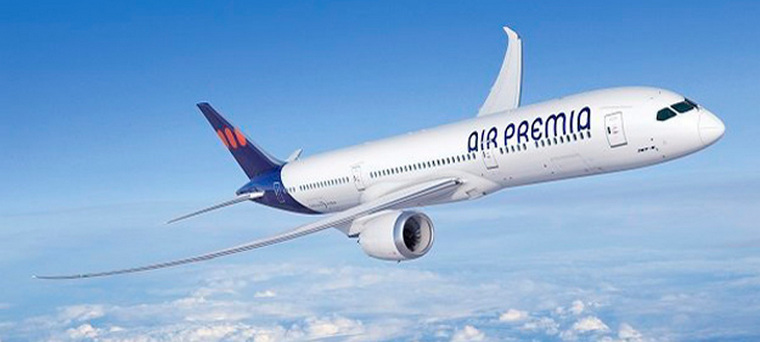 Boeing [NYSE:BA] and Air Premia announced that the Korean startup airline plans to buy five 787-9 Dreamliner airplanes, following an agreement to lease three 787-9 jets from Air Lease Corporation earlier this year. Air Premia, which plans to launch operations in 2020 is poised to become South Korea's second Dreamliner operator.
The commitment, valued at $1.4 billion at list prices, will be reflected on Boeing's Orders & Deliveries website when it is finalized.
The 787-9 is a super-efficient widebody airplane that can fly 296 passengers in a standard configuration with a published range of 7,530 nautical miles (13,950 km). The Dreamliner model, powered by a revolutionary design and advanced engines, enables airlines to reduce fuel use and emissions by 20 to 25 percent compared to previous airplanes. The combination of unrivaled fuel efficiency and long-range capabilities of the 787-9 has helped airlines save more than 40 billion pounds of fuel and open more than 235 non-stop routes.
EMIRATES FIRST ON-BOARD WITH BIOMETRIC BOARDING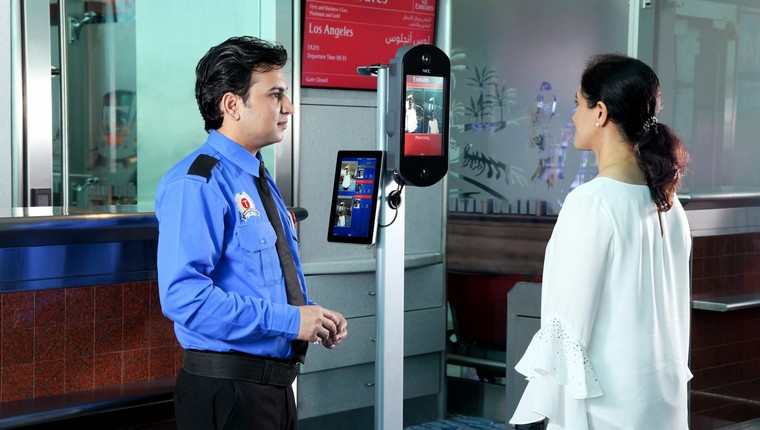 Emirates is once again pushing the boundaries of technology, becoming the first airline outside America to receive approval for biometric boarding from the U.S. Customs Border Protection (CBP).
Soon, customers flying from Dubai to any of Emirates' 12 destinations in the U.S. will be able to choose facial recognition technology at the departure gates, reducing the time taken for identity checks to two seconds or less. No pre-registration is required, and customers may also choose not to use the technology. Emirates does not store any biometric records of its customers - all the data is managed securely by CBP.
The technology was piloted at the departure gates of Emirates' flights from Dubai to New York and Los Angeles through the peak periods in July and August. The results were encouraging with some flights achieving 100% biometric boarding and zero manual checks. The airline expects to make biometric boarding available for all its U.S. destinations by year-end, once the equipment is in place.
How biometric boarding works: at the boarding gate, the system clicks the passenger's photo, which is matched against CBP's gallery in real-time to verify the person's identity in two seconds or less. The system may not work for those who haven't travelled to the U.S. for a long time or whose images are not in CBP's gallery, in which case they can simply approach the gate desks.
VIETJET ORDERS A321XLR AND SIGNS AIRBUS TRAINING SERVICES AGREEMENT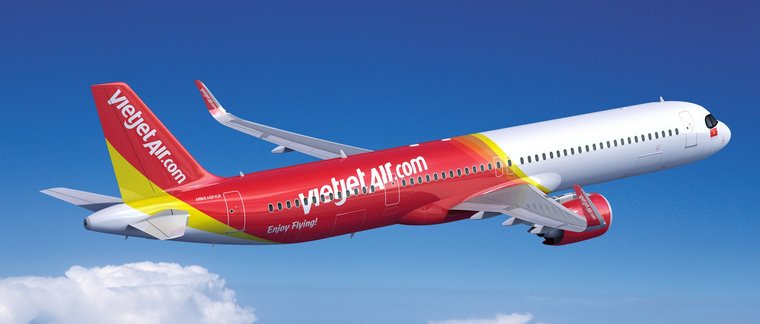 Vietnamese carrier Vietjet has announced that it will add the A321XLR to its fleet, with a firm order for 15 aircraft and the conversion of five A321neo aircraft from its existing backlog. The announcement was made during a visit to Airbus headquarters in Toulouse by Vietjet President & CEO Nguyen Thi Phuong Thao, hosted by Airbus CEO Guillaume Faury.
Vietjet will be among the first airlines to receive the A321XLR. The addition of the aircraft to its fleet will allow Vietjet to further expand its network, flying longer routes across Asia, as well as to destinations as far afield as Australia and Russia.
The A321XLR is the next evolutionary step from the A321LR which responds to market needs for even more range and payload, creating more value for the airlines. The aircraft will deliver an unprecedented Xtra Long Range of up to 4,700nm - with 30% lower fuel consumption per seat, compared with previous-generation competitor jets. At the end of September 2019, the A320neo Family had received more than 6,650 firm orders from nearly 110 customers worldwide.
KLM ROYAL DUTCH AIRLINES AND GULF AIR IN CODESHARE PARTNERSHIP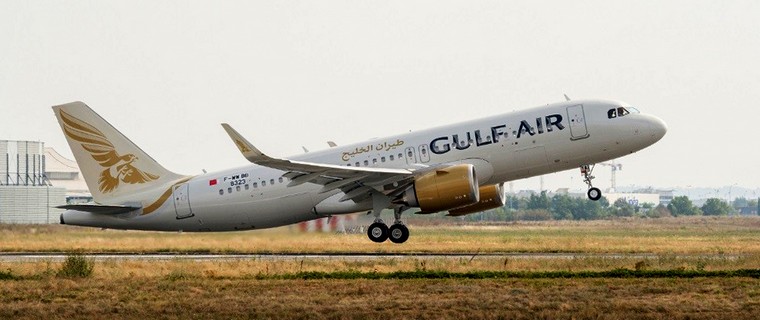 KLM Royal Dutch Airlines and Gulf Air, the national airline of the Kingdom of Bahrain, have signed a codeshare partnership, for travel commencing from 27 October 2019. The announcement follows the signing of a Memorandum of Understanding (MOU) between the two airlines and will further strengthen the strong ties between the Kingdom of Bahrain and the Netherlands.
Gulf Air will place its 'GF' code on KLM flights from Bahrain to Amsterdam and flights from Amsterdam to Frankfurt. On the other hand, the agreement will see KLM place its 'KL' code on Gulf Air flights from Bahrain to Sialkot, Karachi, Lahore and Peshawar.
GULFSTREAM SURPASSES 25 G500 DELIVERIES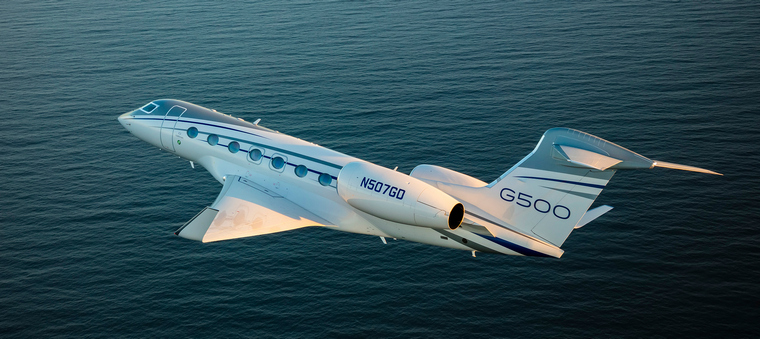 Gulfstream Aerospace Corp. has announced that it has delivered more than 25 Gulfstream G500TM aircraft to customers just over a year after the aircraft entered service. The aircraft's first delivery to a Brazilian customer has also taken place.
The G500 can fly 5,200 nm/9,630 km at Mach 0.85 and 4,400 nm/8,149 km at Mach 0.90. Its maximum operating speed is Mach 0.925. The G500 features Gulfstream's Symmetry Flight DeckTM, with the first electronically linked active control sidesticks in civil aviation and the most extensive use of touch screens in business aviation. The G500 cabin environment includes 14 Gulfstream panoramic windows, whisper-quiet sound levels, 100 percent fresh air and a low cabin altitude.
To date, the G500 has achieved more than 35 city-pair speed records.
SSJ100 WILL BE SHOWCASED DURING RUSSIA-AFRICA ECONOMIC FORUM IN SOCHI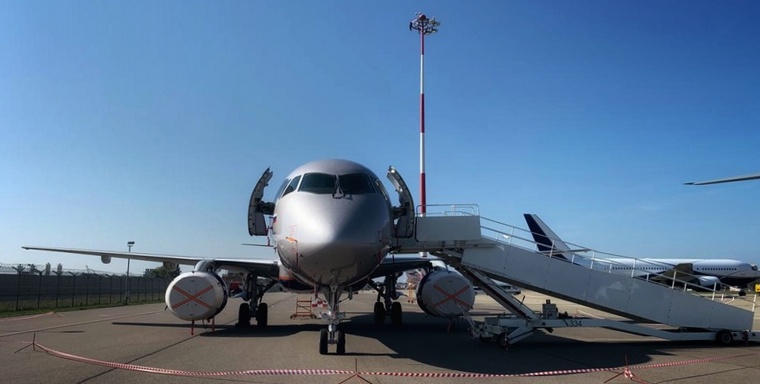 SSJ100 aircraft in its basic and business configurations was demonstrated at Russia-Africa Economic Forum in Sochi.
The African market, according to Sukhoi, is a good opportunity for a regional aircraft with the capacity of up to 100 passengers due to the specifics of the passenger flow in the region. The bigger part of such passenger flow falls to the intercontinental and domestic flights. Key potential countries to operate SSJ100 are RSA, Nigeria, Angola and some Maghreb countries. They are characterized by the most developed route network and stable economic relations with Russia.
"The SSJ100 can be operated in the most efficient way by the airlines with a traffic volume from 50 up to 200 thousand passengers per year. This includes flights between the countries of South, Western and Eastern Africa. They account for almost 60% of all passenger traffic in Africa South of the Sahara," stated Mr. Andrey Lebedinets, Deputy Director General for Marketing and Business Development of Sukhoi Civil Aircraft Company.
INDIGO SIGNS FOR 300 A320NEO FAMILY AIRCRAFT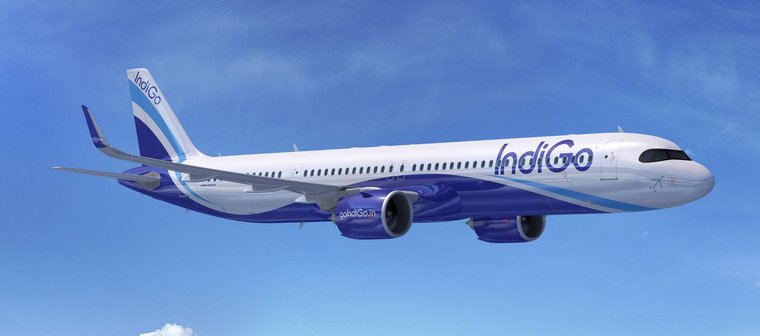 India's IndiGo has placed a firm order for 300 A320neo Family aircraft. This marks one of Airbus' largest aircraft orders ever with a single airline operator. This latest IndiGo order comprises a mix of A320neo, A321neo and A321XLR aircraft. This will take IndiGo's total number of A320neo Family aircraft orders to 730.
IndiGo is among the fastest growing carriers in the world. Since its first A320neo aircraft was delivered in March 2016, its fleet of A320neo Family aircraft has grown into the world's largest with 97 A320neo aircraft, operating alongside 128 A320ceos.
The A321XLR is the next evolutionary step from the A321LR which responds to market needs for even more range and payload, creating more value for the airlines. The aircraft will deliver an unprecedented Extra Long Range of up to 4,700nm - with 30% lower fuel burn per seat compared with previous generation competitor jets.
At the end of September 2019, the A320neo Family had received more than 6,650 firm orders from nearly 110 customers worldwide.
EMBRAER DELIVERS 17 COMMERCIAL AND 27 EXECUTIVE JETS IN 3Q19



Embraer (NYSE: ERJ; B3: EMBR3;) delivered a total of 44 jets in the third quarter of 2019 (3Q19), of which 17 were commercial aircraft and 27 were executive jets (15 light and 12 large). As of September 30th, the firm order backlog totaled USD 16.2 billion.
In the beginning of 3Q19, Embraer signed a contract with SkyWest, Inc. for a firm order of seven E175 jets in a 70-seat configuration. SkyWest will operate the aircraft for Delta. The order has a value of USD 340 million, based on 2019 list prices, and was already included in Embraer's 2019 second-quarter backlog as an "undisclosed" customer. Deliveries are expected to begin in the fourth quarter of 2019.
In the third quarter, Embraer also delivered its first E195-E2, the largest of the three members of the E-Jets E2 family of commercial aircraft. The recipients were AerCap, the world's largest aircraft leasing company, and Azul Linhas Aéreas Brasileiras. Azul is the global launch operator for the E195-E2 and had placed firm orders for 51 of the type. The airline will receive another five aircraft in 2019.
LUFTHANSA GROUP, TRAVELLING ON AN INTERCONTINENTAL JOURNEY WITH HAND LUGGAGE ONLY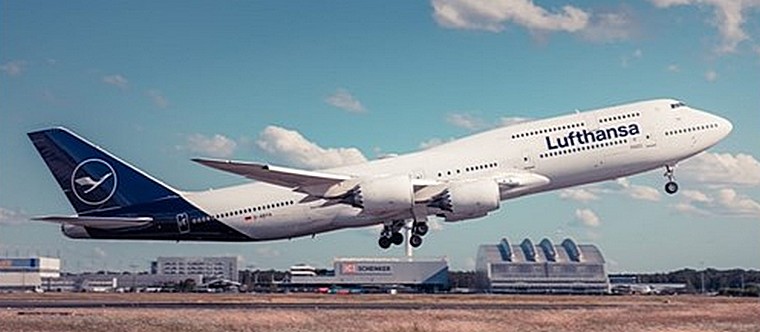 The "Economy Light Fare" is successively available for further intercontinental routes operated by Austrian Airlines, Lufthansa and SWISS from 30 October 2019 (in Germany, Austria and Switzerland from 6 November). Lufthansa Group now also offers Economy Light Fare on routes to Africa, Asia, Middle East and South America
The fare has been available for North America since summer 2018 and is the cheapest choice for price-conscious passengers who want to travel with hand luggage only and do not require ticket flexibility. If required, passengers can individually book a piece of luggage for a fee. Meals and beverages on board remain free of charge for passengers.
EMBRAER WELCOMES AMASZONAS TO THE E-JETS FAMILY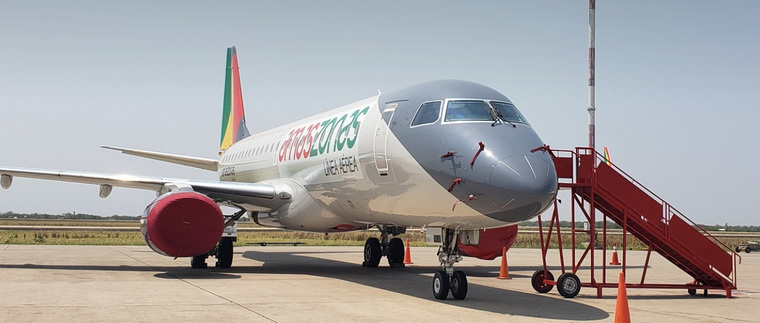 Línea Aérea of Bolivia is the newest Embraer E-Jet operator. The airline started flying an E190 between Santa Cruz de la Sierra's Viru Viru Airport and La Paz. Amaszonas is adding a total of six E190s to its fleet. The airplanes will fly to several domestic and international destinations.
The first two E190s are leased from GECAS and configured with 112 seats in a single class layout. The other four aircraft will be leased from CDB Leasing and have 110 seats in a single class layout. The airline will also operate the E190s at Montevideo's Carrasco International Airport in the future.
"The range of the E190 allows us to replace our smaller regional jets and support our expansion plans in Bolivia and Uruguay," Sergio de Urioste, President & CEO of Amaszonas Línea Aérea. "Our E-Jets give us the flexibility we need to add more frequencies and destinations. We know our passengers are going to love the comfort of the E190 cabin."