The weather forecasted for Sun 'n Fun at Brits on Saturday was cloudy conditions in the morning with some rain showers in the afternoon. I arrived by road at Brits Airfield at 0800 and on the way there, it was cloudy but the base was relatively high. There was only a handful of aircraft at the field when I arrived most belonging to those that flew in on Friday afternoon. Friday's visitors stayed overnight, some brave souls camping at the field while others opted to stay in town.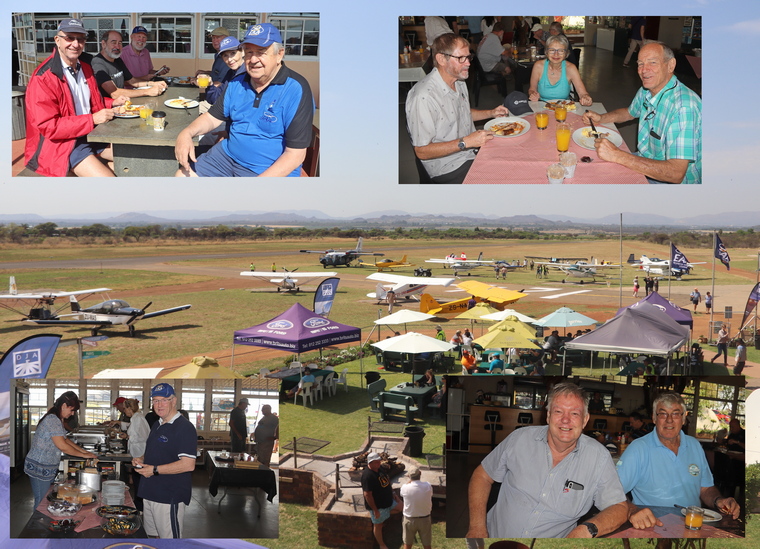 I was met with the smell of bacon frying and friends having breakfast. Peter Lea who flew all the way from Baberton, was there and camped with Derek Hopkins, who flew in from Rand. Karl Jensen, who has just retired as chairman of Chapter 322 was sharing a table with other 322 members. Andrea and Glyn from Aviation Direct and Mark Clulow and Chapter 322's treasurer were other early visitors.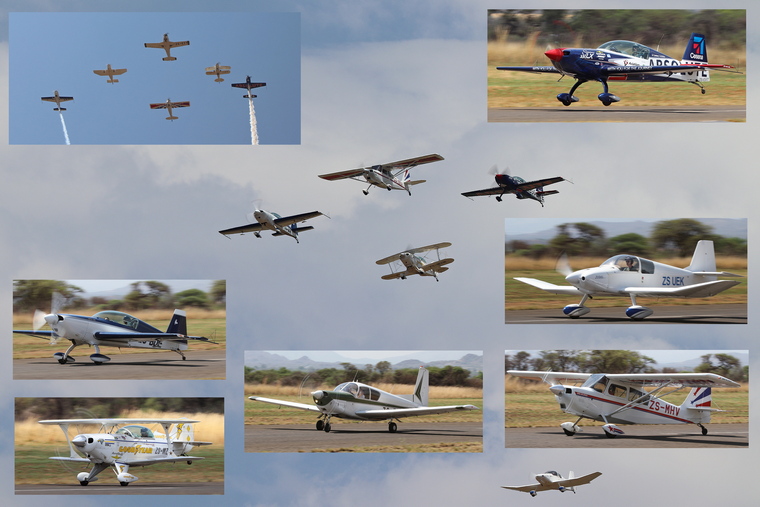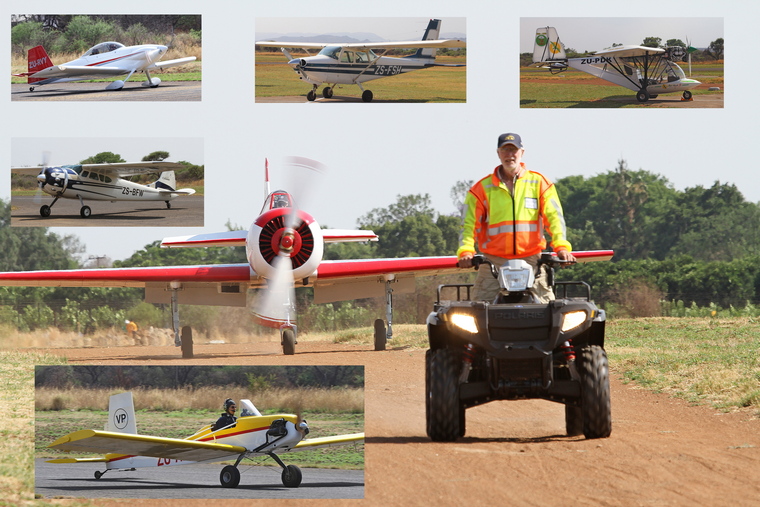 Fortunately, the numbers swelled as more and more aircraft arrived. One gaggle made the short hop from the Coves Estate while others arrived from all over Gauteng. Safety Officer Nigel Musgrave and his team of marshals and the ATNS team manning the tower soon had their hands full as more and more visitors arrived.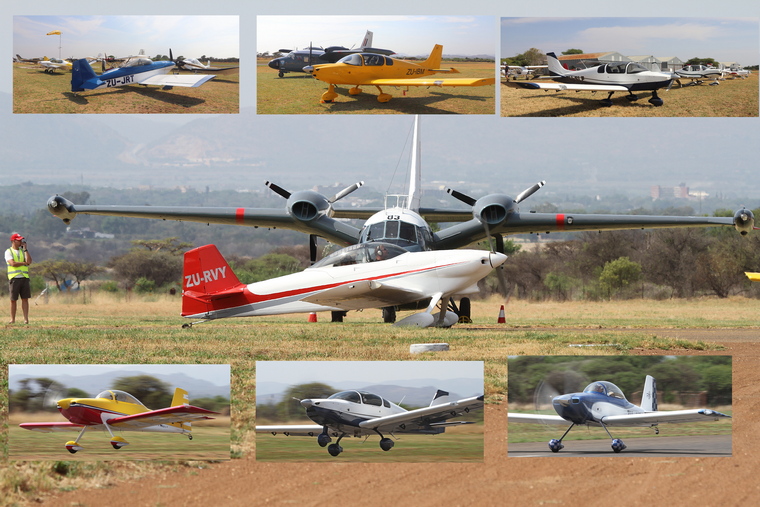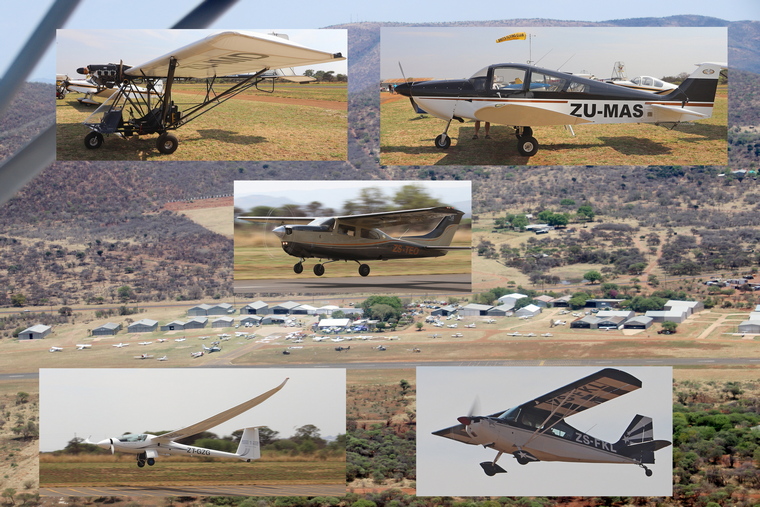 It didn't take long before the handful had swelled to 70 plus visitors. Some flew in for a quick chat and a bite to eat while others stayed on for longer. A large number of the visitors cosisted of true experimentals with the Aircraft Factorie's Slings and Van's RVs making up the majority of home builts. Most well-known types including SA's own Bathawks, Kitplanes for Africa's Safari and ICP's Savanah's as well as some lesser known gems made the journey to Brits.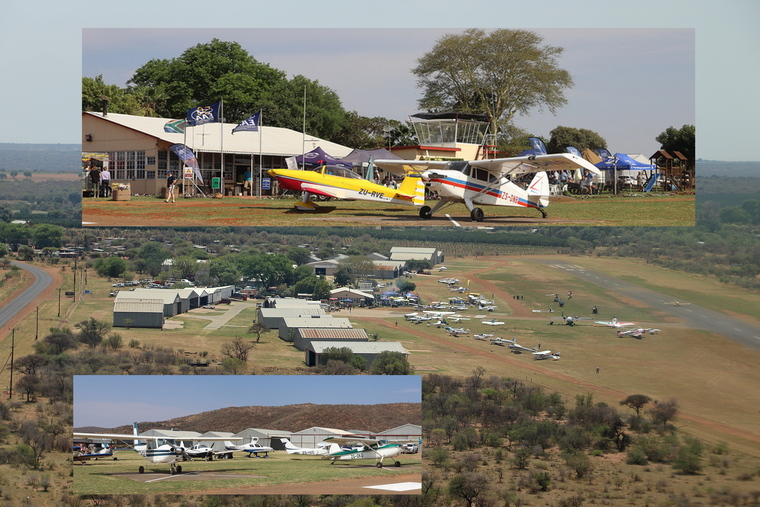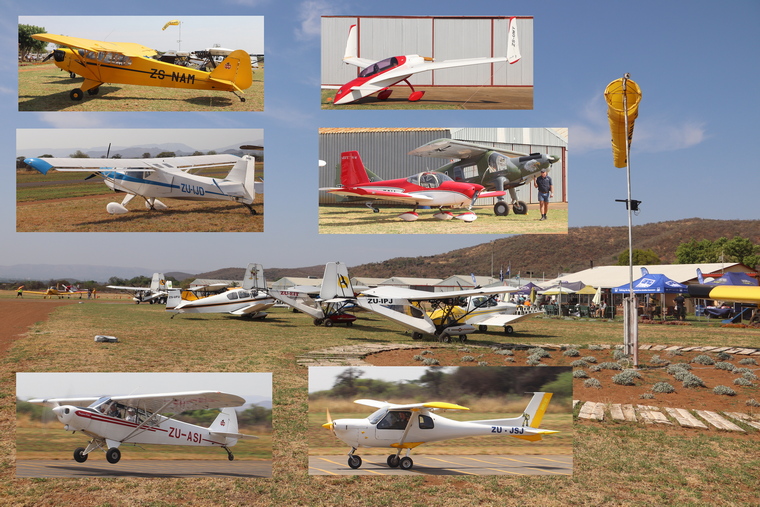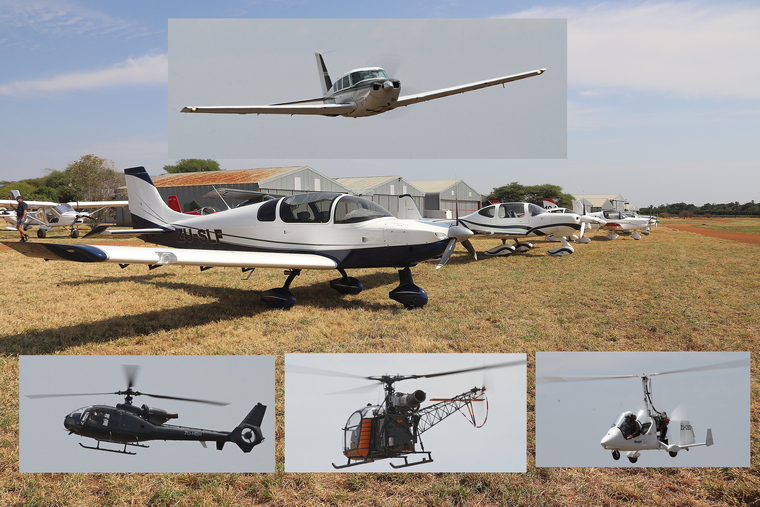 The weather stayed perfect and the rain stayed away. Apparently only a few drops fell sometime during the night. Brits has for long time been a favourite fly in destination. Its friendly atmosphere, well run club and with fuel available make it the ideal venue for Fun 'n Sun. I do believe that Groblesdal may be hosting it next year.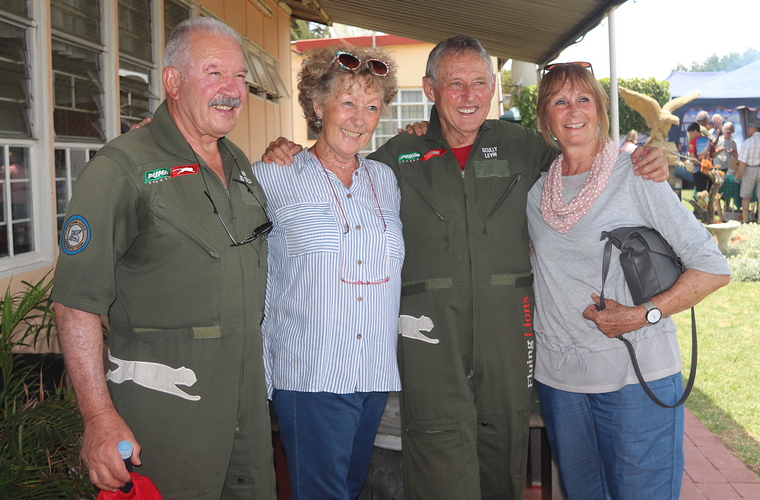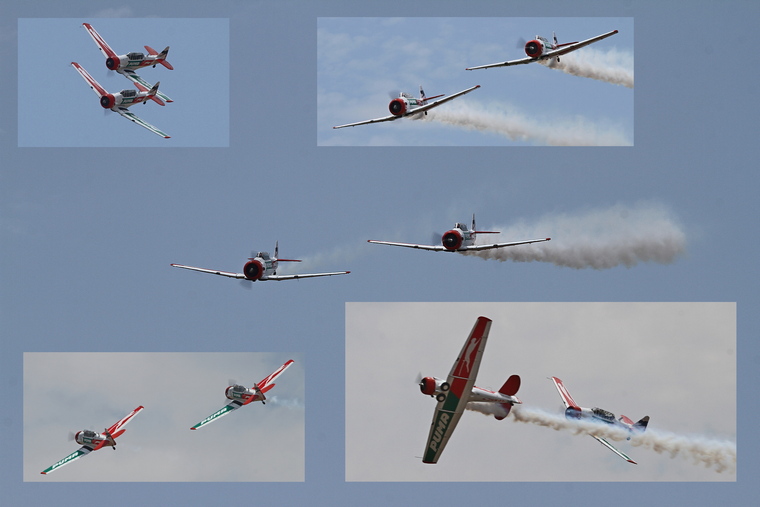 Arnie and Scully flew in (here with some lady admires), after having performed a two-ship display of precision aerobatic flying. Scully then held a talk on safety briefing that was attended by just about every soul present the field.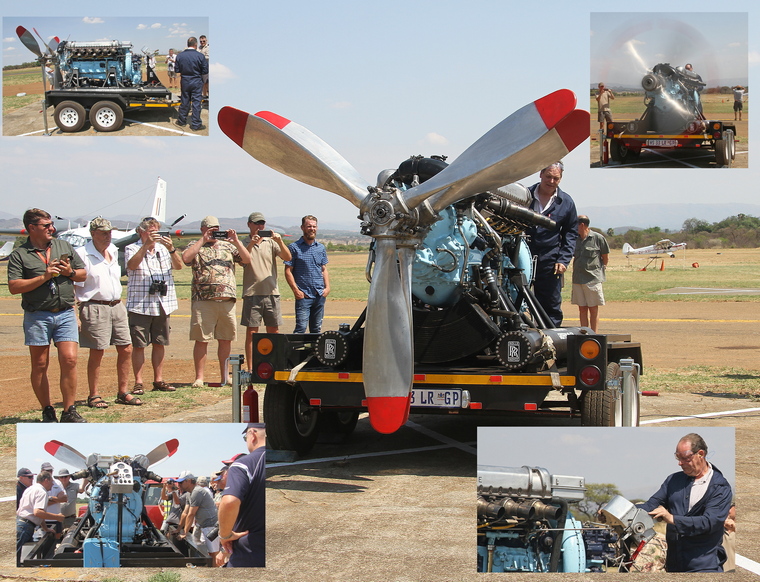 Having debuted his immaculately restored Rolls Royce Griffon engine at a Chapter 322 function at Krugersdorp a while ago and shown it at the SAAF Museum Swartkop Airshow a couple of weeks ago, Ian Reed brought it Brits where the monster was the subject of much interest.
Ian's Griffon unit which took about 2400 hours to restore was one of the 8,108. It was one of four that powered an Avro Shackleton which was delivered to the SAAF as 1717 in October 1957. Modified to drive the contra-rotating propellers of the Shackleton, the Griffon developed 2,340 hp (1,745 kW) at 750 ft (230 m) and 2,100 hp (1,565 kW) at 12,250 ft (3,740 m).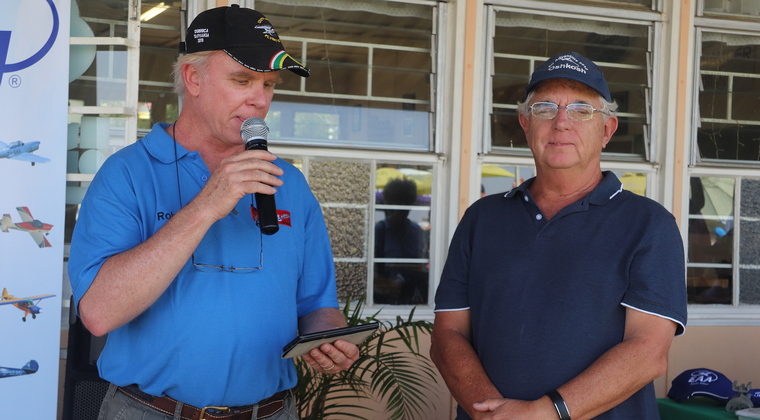 Rob Jonkers, before announcing the winners of the Adventure Rally that was held earlier on as part of the day's program, introduced Neil Bowden, of the famous AirAdventure Oshkosh Tours who on Wednesday was elected as the new chairman of Chapter 322. Rob's report on the rally is published separately.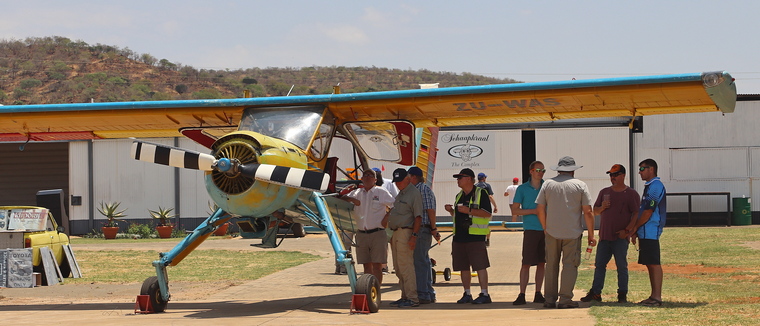 A highlight of the day that I unfortunately missed was the first flight of Arjan Schaap's recently restored Wilga, with Derek Hopkins at the controls. Arjan is a hangar owner and club member and glider pilot at Brits. You can read the full story on the restoration at
www.pilotspost.com/arn0001757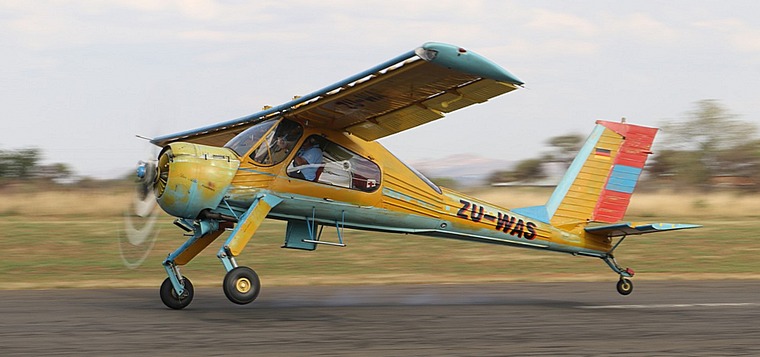 The Wilga taking to the sky. Photo by kind permission of Garth Calitz


Many thanks to Brian Appleton for lending me his Citabria and for Jason Beamish flying me for the photoshoot. Thanks also to all at Chapter 322 for organizing what has become one of the not-to-be missed events on the aviation calendar
I, unfortunately had to get back home and work (some of us must keep the economy going) and did not stay for the evening's braai and entertainment, but I believe that much fun was had by all.