Photos by Willie Bodenstein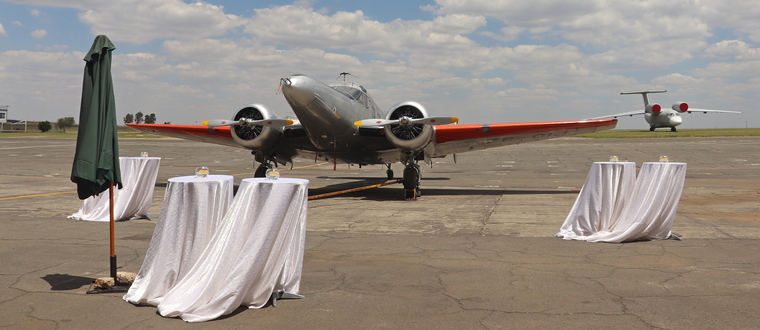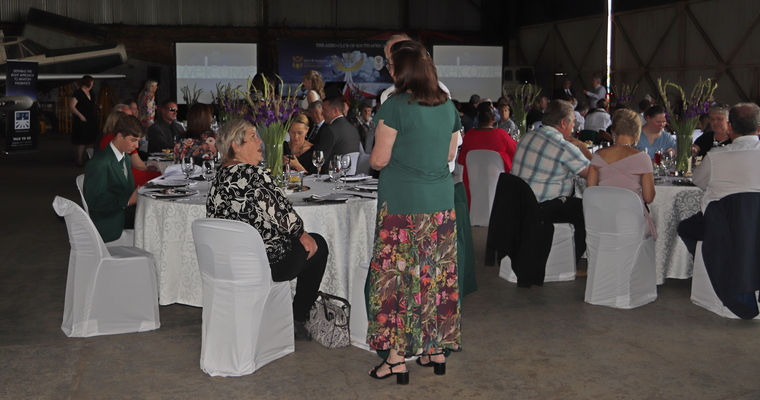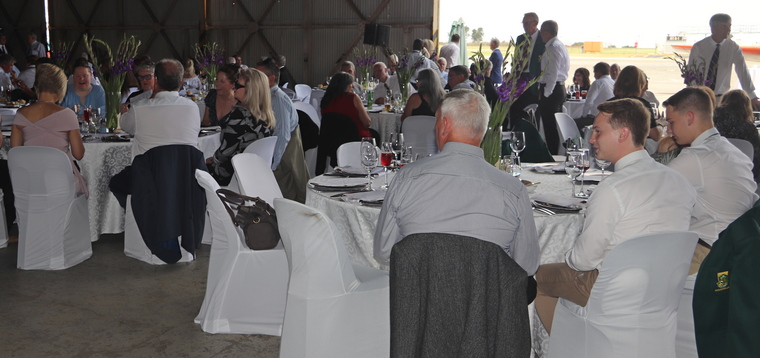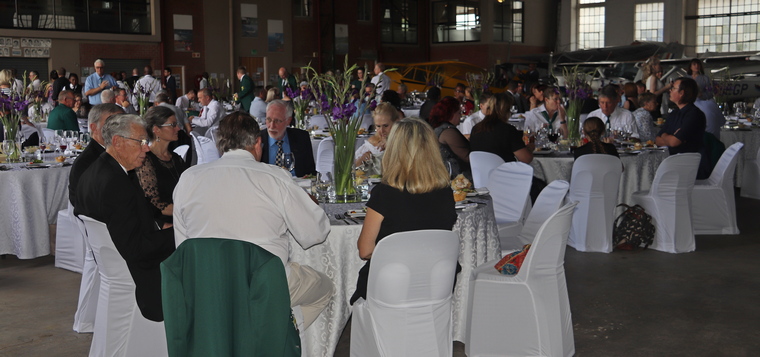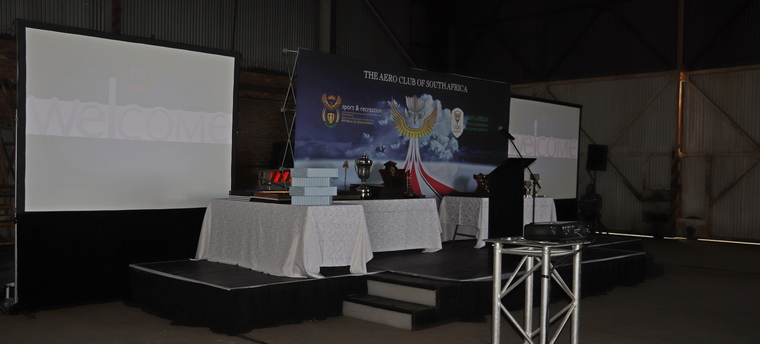 Breaking away from tradition this year's award function took place during the afternoon instead of an evening like in the past. Held at Rand Airport in the hangar of Springbok Classic Air, the change made for a much more relaxed atmosphere and the general consensus was that it was one of the most enjoyable awards events ever.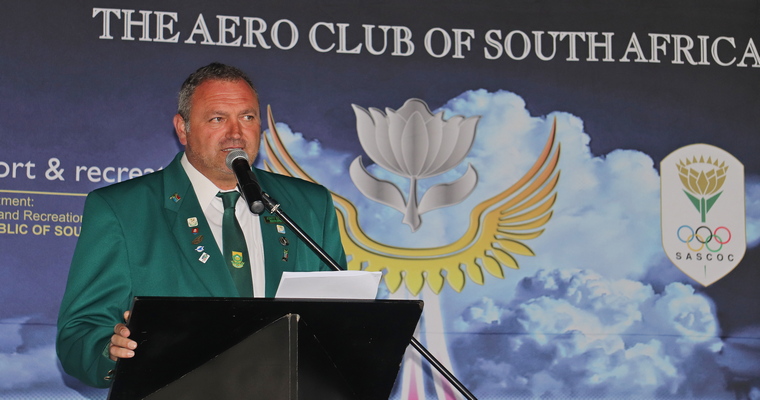 Master of ceremonies Jonty Esser had a rather strict timetable to work in and kept to it. His first function was to announce and introduce Paul Lastrucci, the Chairman of the Aeroclub.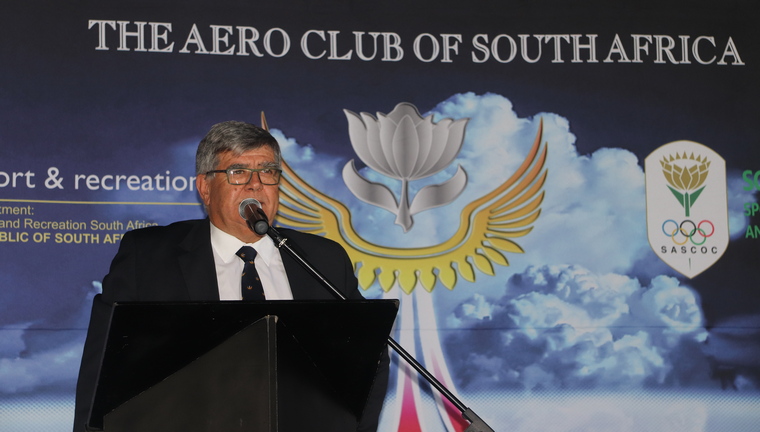 Paul opened his address by welcoming all with a special welcome to Mary Stephens and Neil de Lange from the SA CAA, Bruce Harrison, Chairperson of RAFOC, Jeff Earle the past Aero Club Chairman and their partners, as well as Jonty Esser, the MC.
"Today", Paul said, "we celebrate the achievements of our Aero Club members who have contributed for many years and also to those that have represented our country in a numerous recreational aviation disciplines this year, we will share these special times with friends and fellow members as they receive well deserved accolades and awards for their achievements."
"Every year, and this one is no exception, we see a number of South African aviation enthusiasts achieve so much, well beyond our international standing, and through their efforts it's confirms that the South African recreational aviation fraternity continues to be held in high regard worldwide."
"On a slightly sombre note, our Aero Club membership numbers have declined for the period 2018-19 from 3479 to 3115 members currently, largely due to the tough economic conditions, a turbulent regulatory environment and a few other challenges that we find ourselves in that plays a large part in lessening the recreational participation within the sections. We have also declined by over 1000 members from 2014 to date, so we knew that 2019 will be a challenging year for the Aero Club. Given this, we could not be paralysed by the boiled frog syndrome, so we attempted to interpret these conditions by taking a strategic view and as to how we will increase membership. To support thus we developed a high road budget and a low road budget in order to be proactive as to how we would go forward in 2019 and to ensure that we remain solvent and are able to provide the work and benefits we undertake to the recreational aviator."
Paul's full speech will be published on Sunday 24 November.


Next was what most have anxiously been waiting for; the awards ceremony.
SASCOC PROTEA COLOURS & SPECIAL ACKNOWLEDGEMENTS

The South African Olympics Committee - SASCOC - only acknowledges participating competitors and their team managers by awarding them Protea colours. Yet many sports require the support of others for competitions to actually take place. Aero Club acknowledges those whose dedication, commitment and sacrifice is equal to that of the competitors, and as necessary; by awarding their efforts with Special Acknowledgement Certificates.

SOUTH AFRICAN MODELLING AIRCRAFT ASSOCIATION (SAMAA)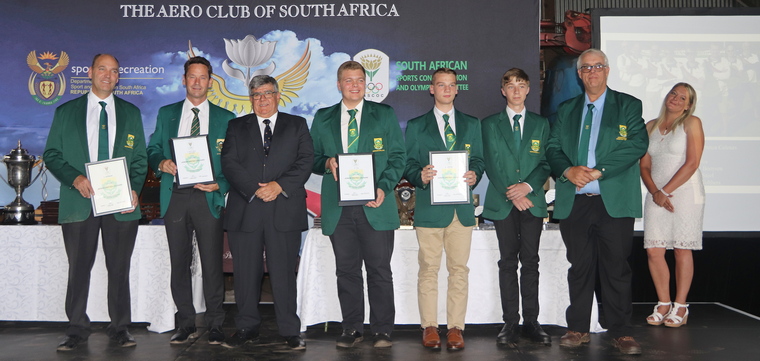 Senior Protea Colours were awarded to Alan Smith, Bernard Vos, Craig Goodrum, Brett Lewis while Junior Protea Colours were awarded to Aldo Vos, Oliver Booysen, James Steel and Theo Wolthers for participating in the FAI F3K World Championships for Model Gliders held at Jakabszallas, Hungary from the 12th to the 20th of July 2019.

Senior Protea Colours were awarded to André Stockwell, Clinton Cater-Brown, Grant Brook, Neil Twomey and Junior Protea Colours to Joshua Twomey for participating in the FAI F3A World Championships for Aerobatic Model Aircraft held at Calcinatello, Italy from the 3rd to the 10th of August 2019.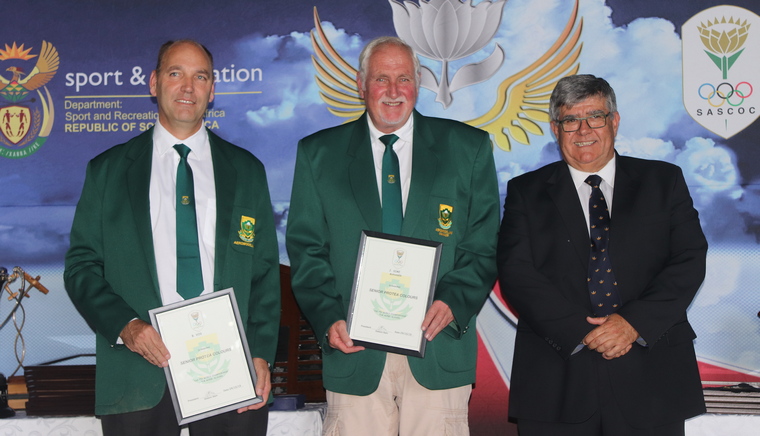 Senior Protea Colours were awarded to Bernard Vos and Jan Sime for participating in the FAI F5J World Championship for Model Gliders held at Trnava, Slovakia from the 11th to the 17th of August 2019.

SOUTH AFRICAN POWER FLYING ASSOCIATION (SAPFA)




Senior Protea Colours were awarded to Jonty Esser, Jonathan Esser, Anthony Russell, Pamela Russell, Mary de Klerk, Matthys van der Merwe, Hans Schwebel, Ronald Stirk, Christiaan Du Plessis and Sandra Goddard for participating in the World Air Navigation Race Championships held at Santa Cruz Beach, Portugal from the 5th to the 14th of September 2019. Ursula Schwebel and Barbara Frieboese were awarded Special Acknowledgement certificates for being the International Judges at the World Air Navigation Race Championships.

SPEED RALLY CHAMPIONSHIP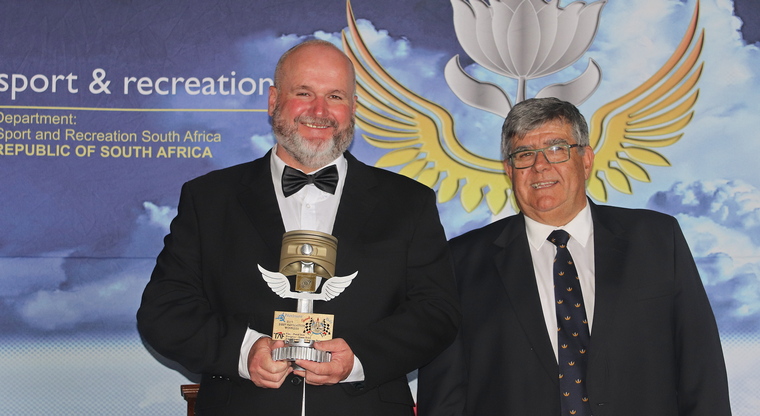 - Shortest Route - Best Navigation Championship winners - David Ross and James Braid.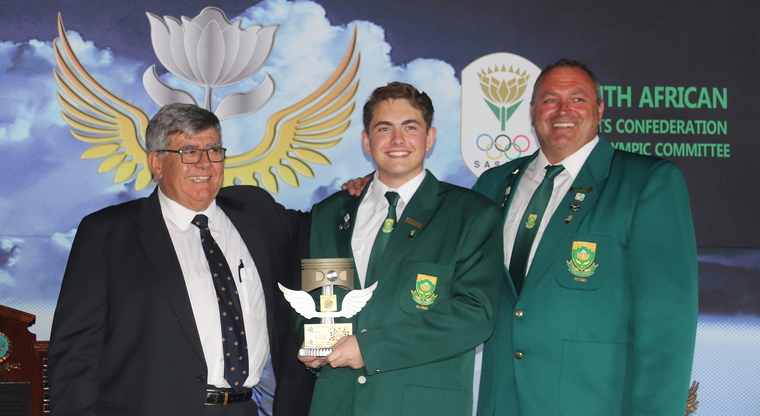 Fastest closest to handicap - Championship winners - Jonty Esser and Jonathan Esser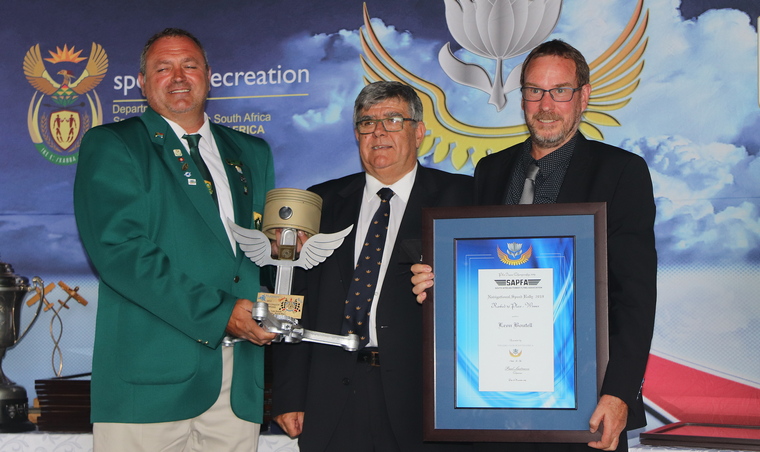 Aero Club Colours were presented to Leon Boutell and Martin Meyer for being the Winners of the Speed Rally- Pilot Insure 2019 Championships.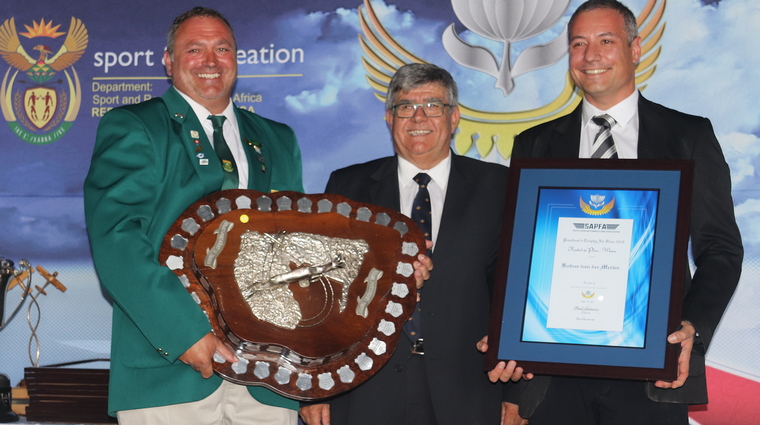 Aero Club Colours were presented to the winners of the Presidents Trophy Air Race 2019. Kobus van der Merwe and Sarel van der Merwe.

SPORT AEROBATIC CLUB OF SOUTH AFRICA - SAC

SPECIAL RECOGNITION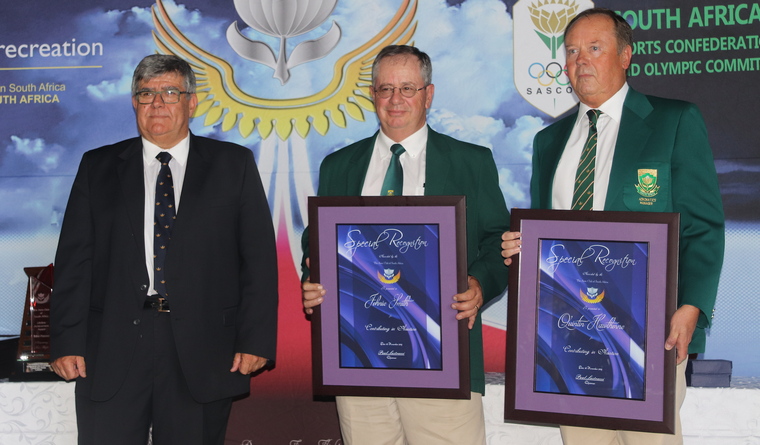 Johnie Smith and Quintin Hawthorne served as 1st Class Judges at the World Intermediate Contest and the SAC would like to commend them for their contribution to the sport. International Judges are subjected to scrutiny at World Championships where their performance is analysed in detail as part of the sophisticated scoring system. To be ranked No 1 at the end of this process, in effect proves that the judges concerned performed better than all the other judges at the contest. This ranking is used for selection purposes at subsequent contests.

PARACHUTE ASSOCIATION OF SOUTH AFRICA - PASA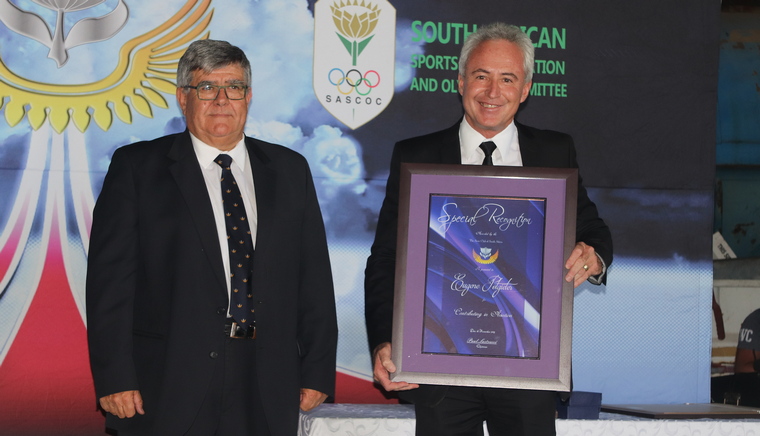 Eugene (Pottie) Potgieter started skydiving in March 2003 and holds numerous instructional ratings. He was elected to the Johannesburg Skydiving Club Committee in 2004 and has served as Chairman since 2007. He has organised many events locally including the 5th FAI Canopy Piloting World Cup in 2009 and PASA National Skydiving Championships in 2013 as well as the 2019 Makgadikgadi Epic in Botswana. He has done a 151-person large formation skydives and holds SA records in Formation Skydiving and Wingsuit Flying. PASA recognises his contribution to growing the sport by awarding him this Special Recognition Certificate.

MICROLIGHT AND LIGHTSPORT ASSOCIATION OF SOUTH AFRICA - MISASA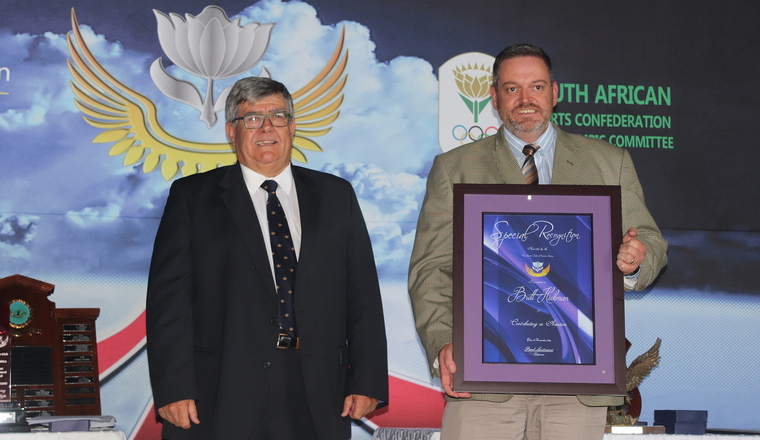 Brett Hickman has been a MISASA Committee member since 2008. He has served in various roles but primarily as the MISASA Treasurer. He is the convener and organiser of the very popular "MISASA Africa Cup" that is hosted at Numbi Hotel, Hazeyview, Mpumalanga. It is during this event that Brett acted unselfishly and with absolutely no consideration for self when he went to extract two members out of a stricken aircraft after a landing accident. MISASA would like to thank him for this effort by awarding him this Special Recognition Certificate.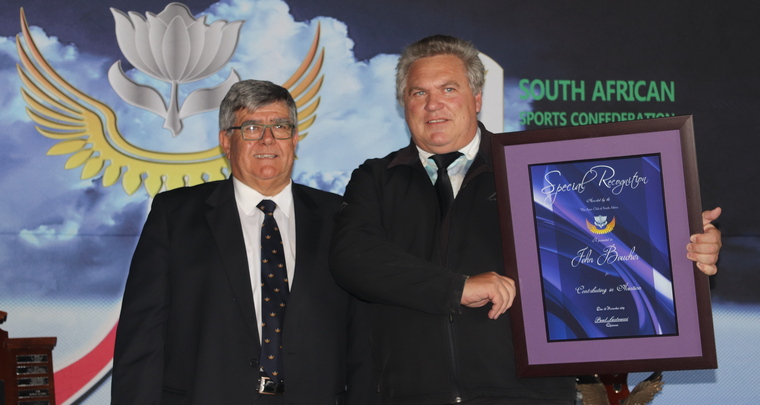 John Boucher, chairman of MISASA, for his personal dedication, professionalism, leadership and significant contributions that have materially advanced recreational aviation interests and communications within the South African Aviation industry over the past two years.

SOUTH AFRICAN POWER FLYING ASSOCIATION - SAPFA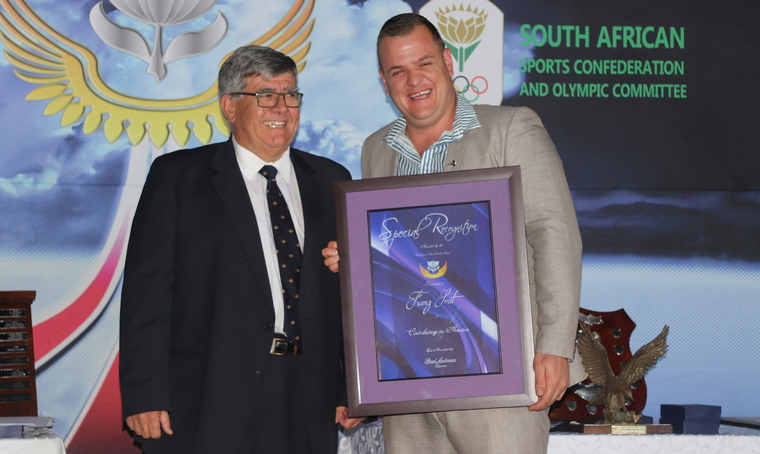 Franz Smit has shown huge commitment, enthusiasm and contribution toward the growth of the fastest growing General Aviation Sport in South Africa - The SAPFA Speed Rally. From the first event, he has been instrumental in getting participants excited in competing in the new format, helped with supporting the officials in their various tasks, and overall promotion of this now prestigious event on the Recreational Aviation calendar.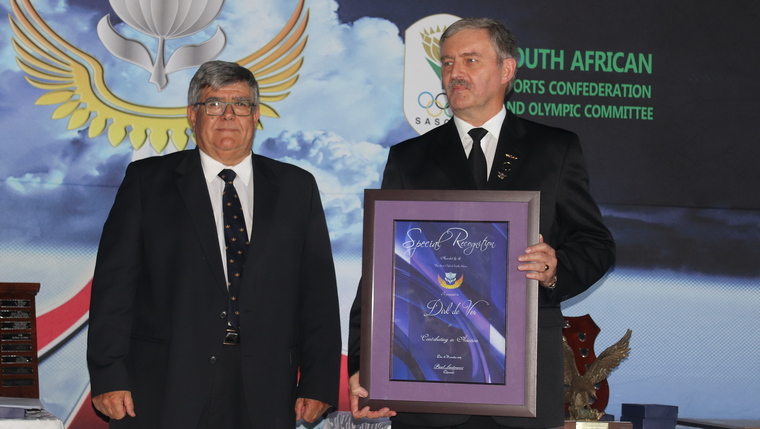 Dirk de Vos has been part of the SAPFA Presidents Trophy Air Race handicapping & scoring team for 30 years, and with the advent of the Speed Rally has developed a specialised automated scoring system, allowing results to be made available within a very short time frame for this single day event. This Special Recognition also recognises Dirk's 30th year of SAPFA support.

EXPERIMENTAL AIRCRAFT ASSOCIATION - EAA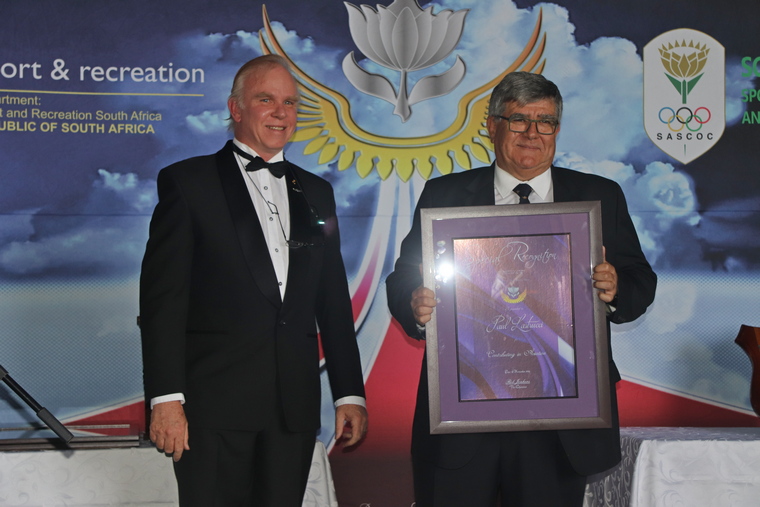 Paul Lastrucci invests enormous effort, time and legal skills in his dedication to heading the Aero Club of SA. His ability in steering the organisation through the challenging advocacy & governance regime is invaluable to all members and disciplines of the Aero Club. Paul's dedication and involvement are always exceptional despite his intense professional and family commitments.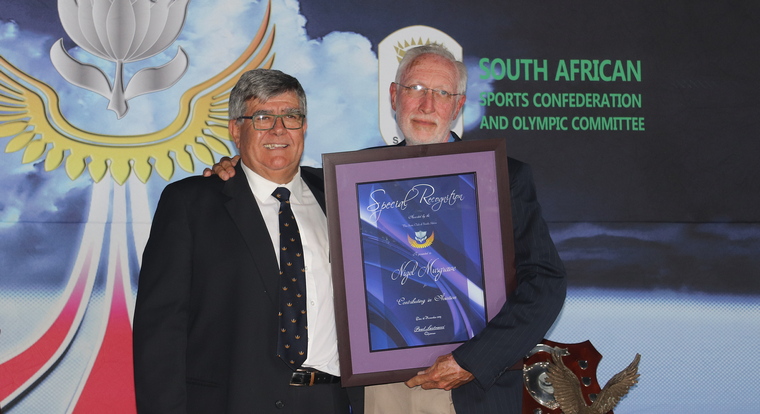 Nigel Musgrave has involved himself intensely in the task of being Safety Officer for all EAA flying events as well as regular Safety Officer at many Airshows and SAPFA flying events throughout South Africa. Nigel is a dedicated Safety Officer of the highest calibre. Although Nigel has at times been the assistant to a Chief Safety Officer, which is testament to his dedication in that the accident rate this past year has been ZERO and the incident rate insignificant. All of Nigel's work has been on a voluntary basis and most often at his personal cost. Most often Nigel has carried out the required pre-event surveys and submitted all CAA required paperwork timeously. Nigel has also made his personal radio equipment available to the ATNS personnel when ATNS have not been able to provide their own equipment.

FAI RECORDS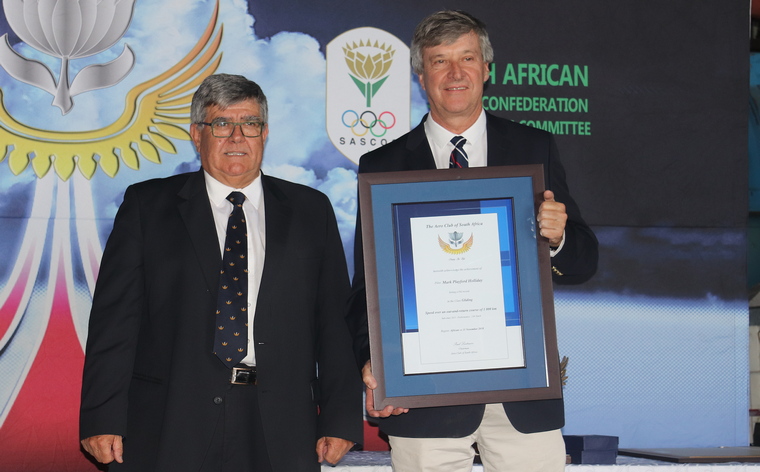 Mark Playford Holliday. Mark did a 1000 km out and return from Orient to Postmasburg. He achieved an average speed of 139kph. He was awarded a continental record, the previous record being a speed of 122kph. The glider he did it in was a 15m ASW-27 without the assistance of a motor.

YOUTH DEVELOPMENT CERTIFICATES

The Youth development Certificate is awarded to 2 worthy recipients this year, one being a commercial pilot and currently training with Loutzavia towards her flight instructors rating and the other is an avid Aviator with a SACAA Pilots License. He has accomplished himself as an active young man in the general aviation scene and transformation and development projects.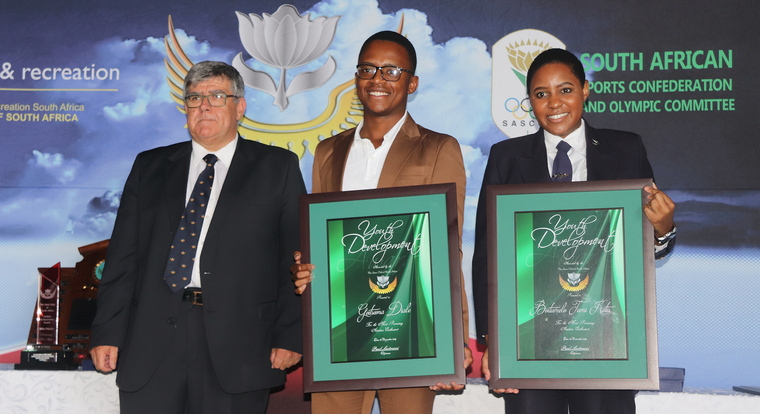 Goitseona Diale and Boitumelo Tumi Katisi.

Goitseona Diale is an avid Aviator with a SACAA Pilots Licence. He has accomplished himself as an active young man in the general aviation scene and transformation and development projects. IF you can't pronounce this name call him "Mr G". Goitseona has valuable experience in Flight Operations in Part 121 and Part 135 operations. His is currently running and assisting a local charter Swift Flite in their day to day Flight Operations as a Flight Operations Officer. He has dreams to become one of the first Sportsman rated aerobatic pilots of colour and to become a vital role play in the growth of aviation sports in South Africa through collaboration and development. Goitseona is proud to be a board member of Rise Above Aviators, an association deeply rooted in aviation awareness and development. Goitseona is one of the biggest supporters of The Airplane Factory and is now in collaboration for future exciting projects. Boitumelo Tumi Katisi Is also one of the founders and Chairperson for an NPO called Aviation Development in Africa which focuses on aviation awareness in less remote areas and townships and rural areas. Tumi hosted the first biggest aviation career day in Soweto this year with her organization Aviation Development in Africa for her Birthday in April as a form of giving back to her community. Over 1500 kids from townships around Johannesburg and Pretoria attended, while there were young professionals across all streams in the aviation sector who made presentations to the kids and also had a flight simulator for the kids to fly and different aviation companies present and many sponsors.

THE DON TILLEY TROPHY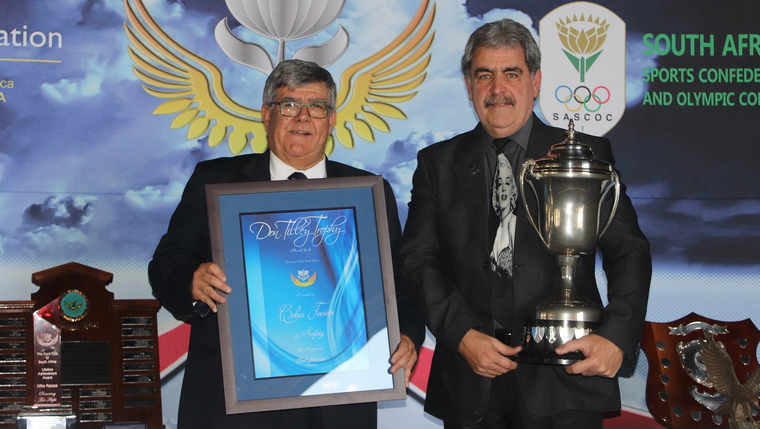 The Don Tilley Trophy was presented to Cobus Toerien for his significant Contribution to Safety in Aviation. In recognition of his significant contribution to the flying fraternity by upholding and promoting the highest level of aviation safety in South Africa. His commitment to making aviation safer and his unwavering dedication to building relationships with industry stakeholders has been acknowledged by the aviation community in South Africa.

AIR SHOW OF THE YEAR AWARD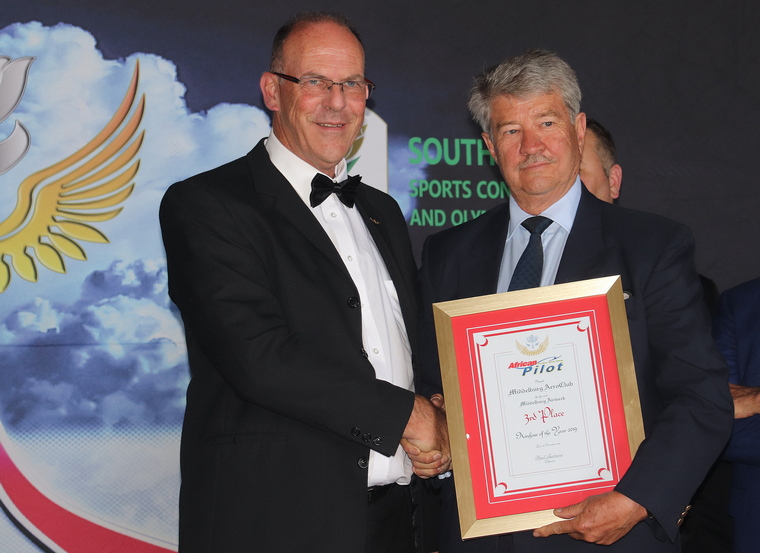 In 3rd place Middelburg Air Week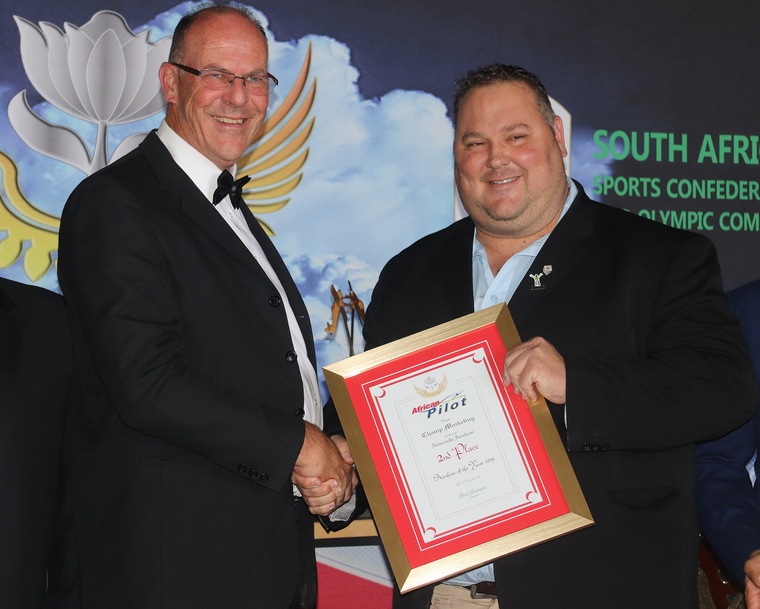 And in 2nd place Newcastle Airshow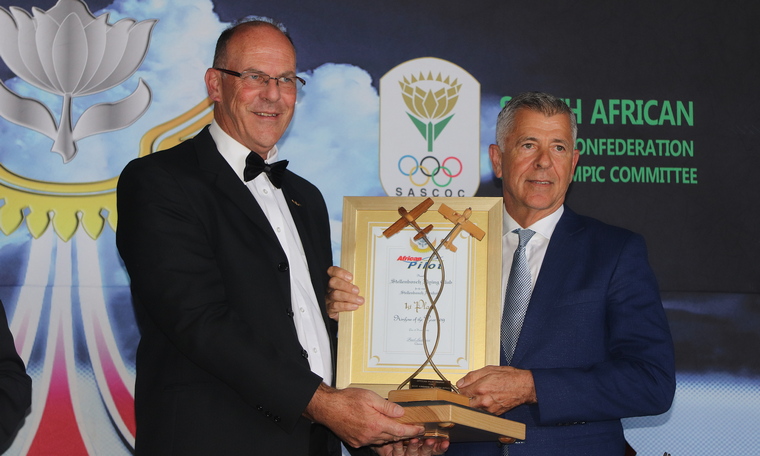 And in 1st place Stellenbosch Flying Club

THE JAMES GILLILAND TROPHY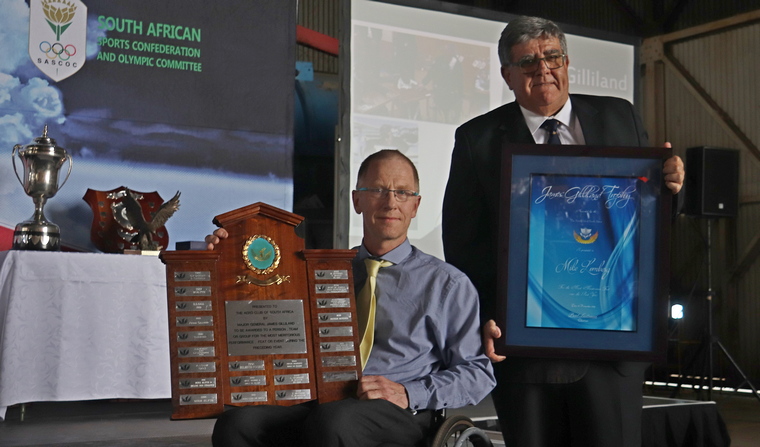 The disabled Aviation Association of South Africa nominated Mike Lomberg for the James Gilliland - Most meritorious feat over the past year. The award celebrated the life of Mike Lomberg, a pilot and paraplegic from Cape Town, who in November 2018 embarked on a humanitarian mission to fly around the world with Handiflight, a Swiss based disability flying organization. The mission was to engage with communities in the countries they visited by creating disability awareness and inspiring the disabled. By all accounts the mission was a fantastic success, where not only were communities transformed, but Mike himself was deeply humbled by the enthusiasm and motivation of the people he met. Mike died in a crash on December 30, 2018 while leading the Handiflight team into landing in Thailand.

Simon Smith collected the award on behalf of Mike Lomberg's Family.

THE SA EAGLE TROPHY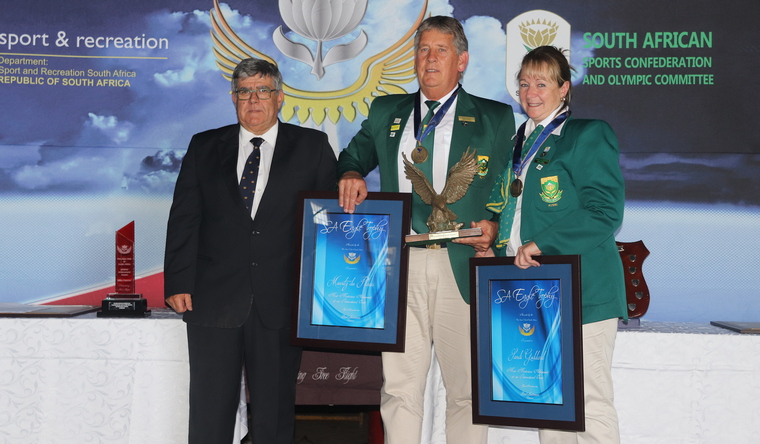 The SA Eagle trophy was presented to Mauritz Du Plessis and Sandi Goddard for the Most meritorious achievement at an international event. Mauritz du Plessis and Sandi Goddard achieved a Bronze Medal in the Landing Section at the recent World Air Navigation Race Championships held in Santa Cruz Beach, Portugal.

THE PGS TROPHY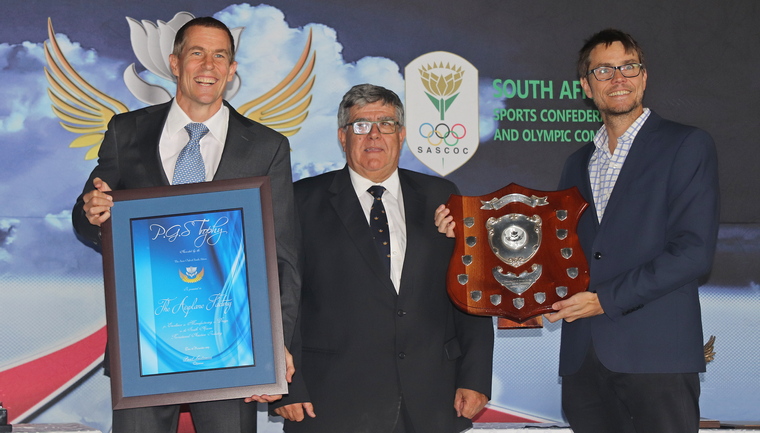 The Airplane Factory has achieved a major milestone in passing 500 Sling aircraft sales. The ongoing success of The Airplane Factory is testament to the vision and energy of James Pitman and Mike Blyth in the production of great aircraft that are ideally suited to the recreational aviation community. Further, the employment and skills development of individuals who come from disadvantaged backgrounds is an example to all South African citizens. The Airplane Factory is a noteworthy center of excellence in our country.

SILVER WINGS

Silver Wings are presented to an Aero Club member for an exceptional project to further the goals of the Aero Club of South Africa.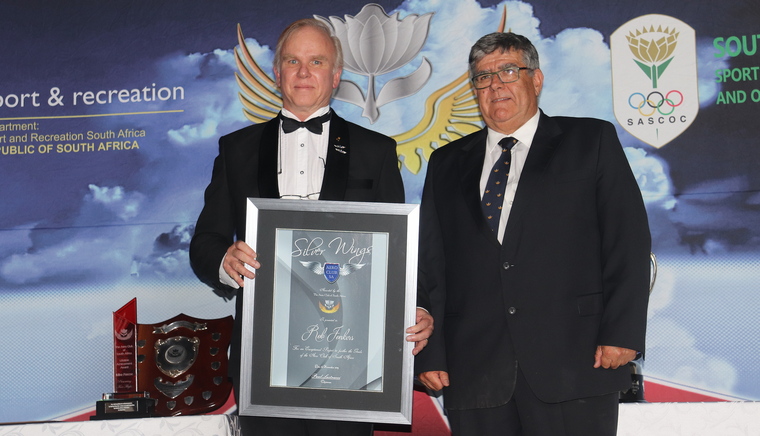 Rob Jonkers was presented with Silver Wings. Rob has been instrumental in the design of the new Speed Rally format and which has been the fastest growing General Aviation Sport in South Africa. He has developed the route and map format for participants to use at each event and acted as the Competition Director from inception, developing the format to continuously improve safety and experience. He has been instrumental in revitalising the President's Trophy Air Race based on the knowledge and experience gained in the Speed Rally format. He has also been a guiding light in the upgrading of piloting and navigation skills through his involvement and encouragement for pilots to participate in numerous and regular Fun Navigation Rallies which he so tirelessly designs and runs.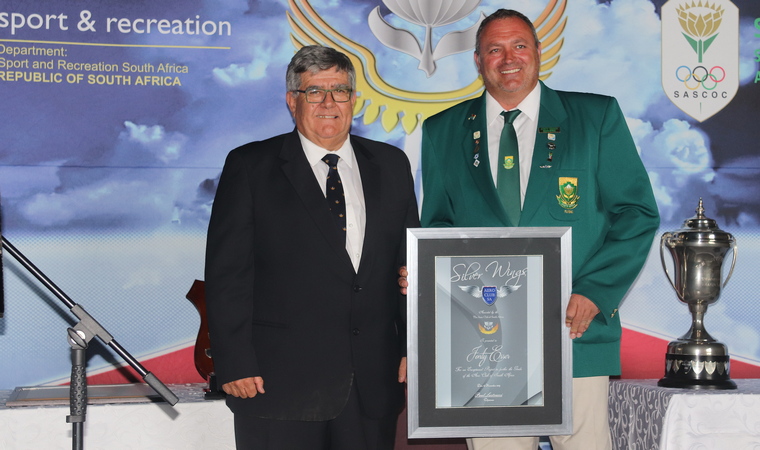 Jonty Esser is presented with Silver Wings. Jonty is the father of the Speed Rally format. It was his brain child to put together the idea of an event that would excite the GA fraternity to take part, that was not as technical as a rally, but to tap into a real two person crew participation in flying and navigating skills utilising basic paper map based navigation. He has through, his passion and energy, incited participation from far and wide, where it is now the fastest growing recreational event on the SAPFA calendar.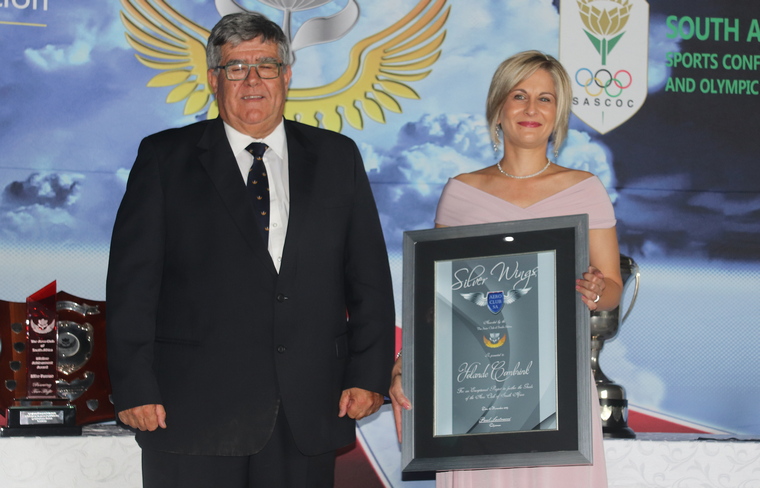 Yolande Combrinck is presented with Silver Wings. Yolande is the South African Gyro Planes Association Chair, and has become well versed in the Civil Aviation Regulations CATS & CARS as well as being active in the development of Manuals of Procedures for their ARO, which also was passed on to other ARO's as a benchmark. With this background, she became deeply involved and instrumental in the proposed changes to the Regulations governing Approved Persons under Part 66 and took the Part 66 subpart 4 regulation under her wing to write up a more practical solution for the governance of Approved Persons together with the regulator. She has spoken with authority in all engagements between the regulator and the industry to ensure workable solutions and is held in high esteem by all in the interpretation of the interwoven regulatory framework. She is also playing a leading role in establishing a framework of rules written up for the commercial license for Gyro Planes which is under consideration at the SACAA.

GOLD WINGS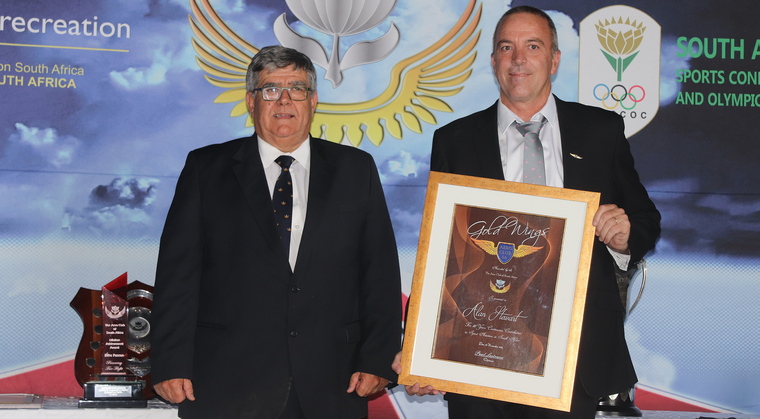 Gold Wings were presented to Alan Stewart. Alan obtained his Microlight Pilot licence in 2005. Like all good students, he immediately got involved with all the schools & clubs' activities. The big difference, Alan never stopped for a day ever since. He is truly the epitome of what the Aero Club Gold Wings stand for. Fly-in's, fly-out's, fly away's, regulatory updates, newsletters, technical assistance, competitions, preaching safe aviation, pilots and builders support, weather updates, introduction flights, student pilots' guidance, as well as being an active member on various forums, just to mention a few. But most importantly, even though Alan has moved on to higher licenses and faster aeroplanes, he has never lost touch with grass roots aviation and you will forever find him sharing his knowledge. He is a regular visitor to Oshkosh and other international air events and aviation museums. He then goes to great lengths to share his experiences and joys, in order to make us all feel part of it, without being there. Alan and his wife Cathy have recently taken over an ailing flying school with the main purpose of encouraging new pilots into aviation. Your dedication, sacrifice and immense contribution are truly appreciated.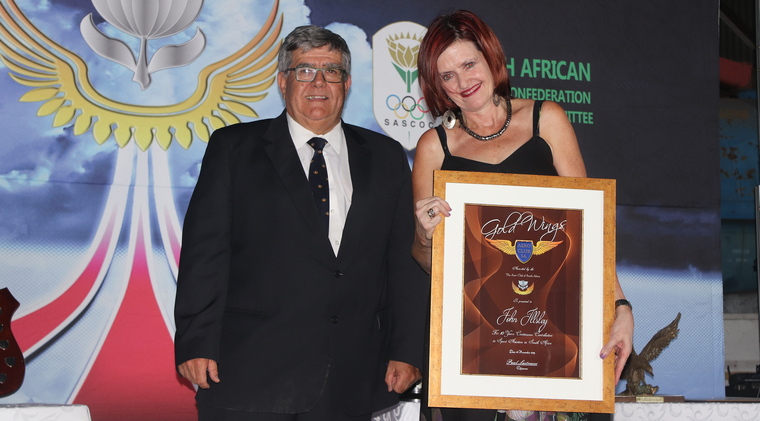 Gold Wings are presented to John Illsley. John formed the Pretoria Boys High School Aviation Society more than 25 years ago. John has ensured that the many young men have been given hands on meaningful experiences in many facets of aviation from military commercial, historic and recreational aspects. This has involved and invoked the long-term interest and involvement in aviation to many appropriate young men who have subsequently pursued careers in these varied fields and serving the interests of Aero Club and the ethos it espouses.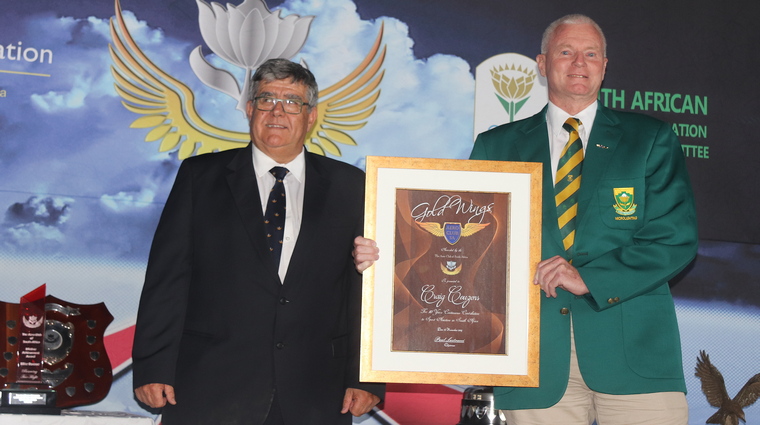 Gold Wings are presented to Craig Couzens. Having been involved in flying for 30 plus years and having made WCM's his full-time career since 1994, he has a vast amount of experience and intimate knowledge in this field. Craig has 25 years of experience instructing students to learn to fly microlights as well as teaching students to become instructors themselves. Furthermore, prior to becoming owner of Solo Wings, he was involved with the previous owners of the business and used this opportunity to expand his flying knowledge with manufacturing and technical aspects of the planes.

AERO CLUB LIFETIME ACHIEVEMENT AWARD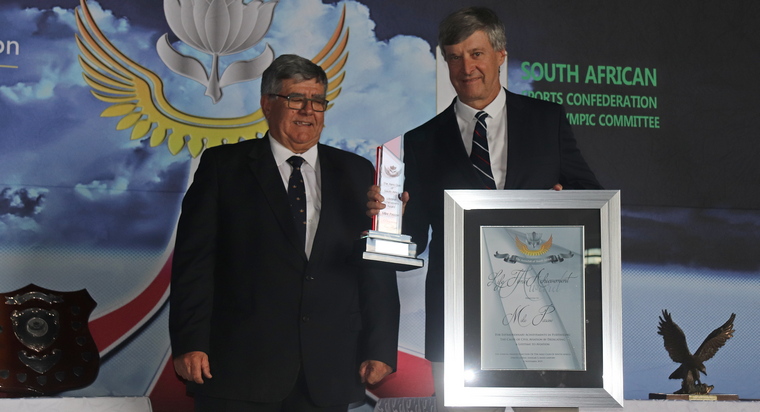 The Lifetime Achievement Award went to Mike Pascoe which was collected by Mark Holliday. Mike took his first flight in a glider on 25th May 1969 at the age of 22. In this moment, a lifelong dedication and passion for soaring was born. After completing his studies, he started his ab-initio training and went solo on 5th June 1971 at age 24 and he later completed his instructors rating in September 1982. In 1988 he became the Assistant CFI of the Cape Gliding Club and was promoted a year later, serving as the club CFI until 1996. In 1998 Mike continued his service to the gliding community by serving as the Soaring Society National CFI for fifteen years from 1998 to 2013. During this time Mike trained countless instructors and students across South Africa, setting the bar higher to establish impeccable safety and competency levels within the soaring community. To this day Mike remains an active and humble instructor, at age 73. Throughout his nearly five decades of service to aviation and the gliding community Mike has logged over 4300 glider flights and 3100 gliding hours, of which 1200 hours were instructional flights. Mike also authored and published a book on the history of Cape Gliding Club and a gliding training manual. As an Approved Person for 25 years, he has undertaken countless airworthiness inspections of gliders and is a key part of maintaining the Cape Gliding Club fleet. Mike was the recipient of the Airmanship Award from the SSSA in 1995 and the Aero Club Gold Wings Award, for 10 years continuous contribution to sports-aviation in SA, in 2013. He has been an honorary member of the Cape Gliding Club from 1996 and of the SSSA from 2015. The effort and energy which Mike puts into gliding development, training and safety, is enormous. He is an example to others and remains an invaluable source of knowledge and guidance, which is always shared with a dry sense of humour. He is deeply respected and sincerely appreciated by the entire soaring community.

THE PAUL TISSANDIER DIPLOMA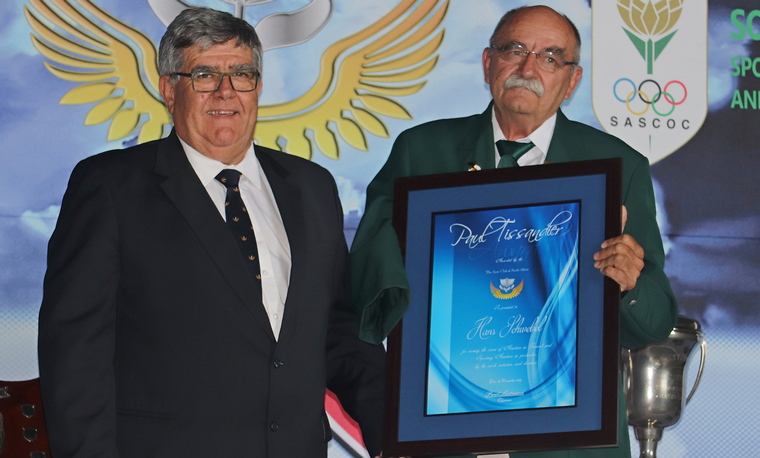 Ron Stirk collected the report on behalf of Hans. Hans Schwebel obtained his PPL in 1972 at the Brits Flying Club. He has accumulated 3850 flying hours and has participated in both national and international events and competitions since 1990. He has been a member of the Brits Flying Club since 1972. He served several times as chairman, vice- chairman and treasure and is still on the committee today. He has been a member of the Aero Club since 1988 and served as a Board member for more than 10 Years. He has been a member of SAPFA since 1990. Since 1992 he served on the committee until now and has also served as chairman between 1997 to 1999. He has been the South African delegate to the FAI/GAC since 1999. From 2000 he served as a member of the Rally Flying Sub-committee. He presented the successful bids on behalf of SAPFA for the 2003 WRFC /Rustenburg, 2007 GAC meeting /Cape Town and the 2011 WPFC / Brits and recently the 2020 WRFC / Stellenbosch and 2020 GAC Meeting / Stellenbosch bids. He has served as Vice-President and Secretary of the FAI/GAC from 2010 until now. Has has represented SA since 1994 at 24 different World Flying Championships in rally and precision flying, as well as at the first ANR in Spain and the second ANR in Portugal. Hans Schwebel is qualified as FAI/GAC International Judge and Jury and served as Jury President at the FAI/GAC World Precision Flying Championship in Austria in 2017 and Chief Judge at the FAI/GAC World Precision Flying Championship in Spain in 2019. For his service to Sport Aviation, he is awarded the Paul Tissandier diploma by the FAI.

THE LILIENTHAL GLIDING MEDAL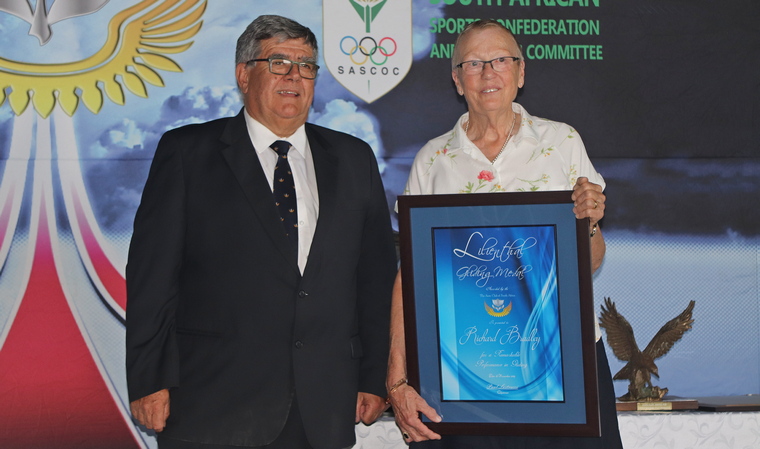 Richard Bradley was awarded with the Lilienthal Gliding Medal, Richard could not attend the ceremony and his wife Brenda collected his award on his behalf. At the International Gliding Commission (IGC) Plenary Meeting in Istanbul, 8th and 9th March 2019, Richard Bradley was awarded the Lilienthal Gliding Medal for his contribution to the IGC. It is unclear exactly when Dick Bradley became the International Gliding Commission (IGC) representative for South Africa as IGC archives are from 1996 only. Dick was Vice President & continued as 1st IGC Vice President until 1999. In 1996 he was appointed Treasurer and remains so until today. In 2000 he was Chairman of the IGC Strategical & Business Plan working group, which was tasked to bring IGC into the new era. Dick was involved with a number of objectives and planned actions to incorporate the wider responsibilities, as the body responsible for the stewardship of the sport of gliding, as stated in the FAI statutes. In 2001 he was World Gliding Championship director of the very successful event held in Maflkeng, South Africa. In 2004, it was recommended that he be re-elected as a Vice President, which he declined due to his high workload. In 2004 Dick noted the objectives stated in the 2000 plan were still correct, but that IGC was still not visible to many soaring pilots. Four Action Items were presented: Establish and legitimise the Business Development Group (BOG) and to start generating additional income streams. The IGC website was the major communication medium and should be developed, popularised and commercialised. Develop policy positions on glider pilot's licenses, medicals, and airspace for FAI to promote at ICAO. ICAO had recently created a licensing Panel, which included GPLs under its terms of reference. The IGC Strategy 2004 was unanimously approved by delegates and Mr Bradley was confirmed as the Chairman of the BOG in 2005. From 2006 to 2016, he was the Steward Manager, Championship Manager and the BID specialist. The SSSA executive committee as well as the IGC Bureau believe he is very deserving of the Lilienthal Gliding Medal.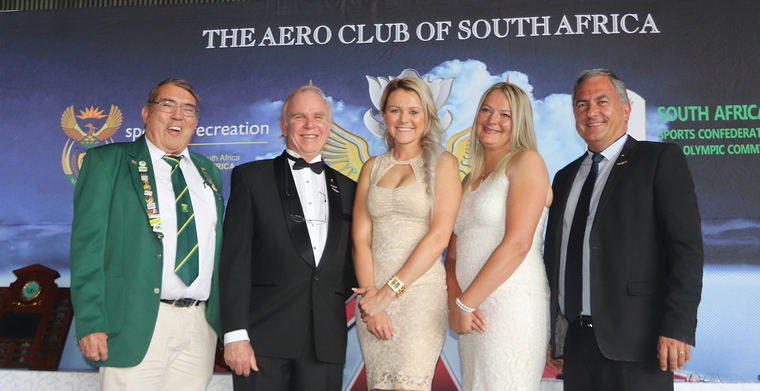 No function such as the awards event can be successful without sponsorship and those that work tirelessly behind the scenes to make a success of it.
Thanks go to Flippie Vermeulen of "Springbok Classic Air" for the venue, the Catering Company for food and service and also to the guests, VIP's and Press for attending. Thanks for also conferred to Rand Airport Management for use of the airport and to the Harvard Café for the bar service.
The event sponsors were:
Airlink, Pilots Post, DJA Aviation, Wings and Things, Distell and AC Containers.