Compiled by Willie Bodenstein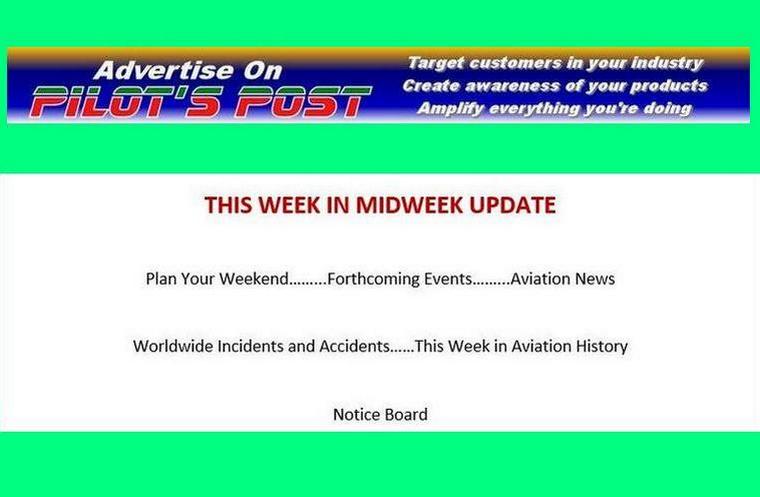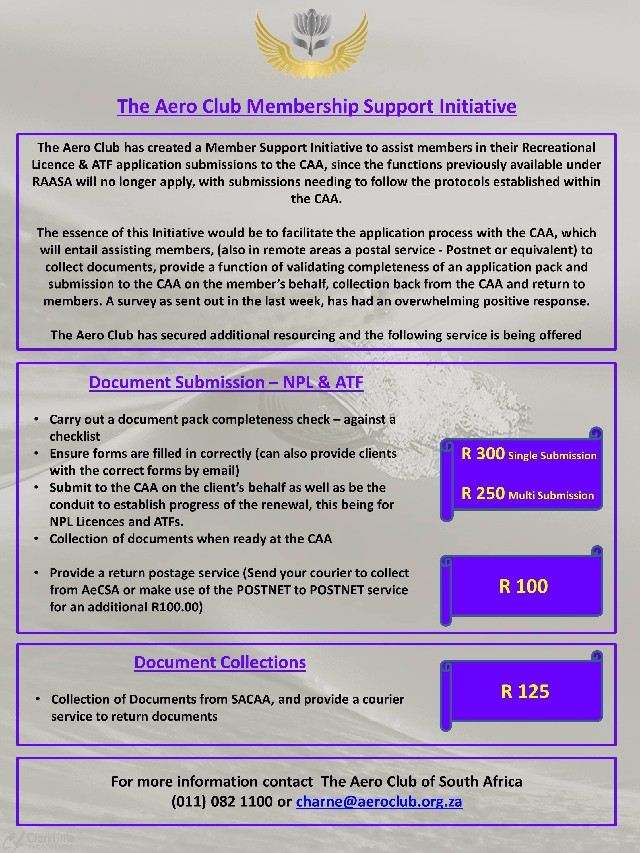 22: World Canopy Piloting Championships Wonderboom South Africa.
23: SAPFA Springs Speed Rally - Springs Airfield. Contact Jonty Esser cell: 082 855 9435 e-mail:
jonty@promptroofing.co.za



30: The Elders Flight, Rand Airport. SMS Felix Gosher on 066 485 0407
30: SAA Museum at Rand Airport - Airline Collectibles Fair.
30 to 1 December: SAC Ace of Base Vereeniging Airfield. Contact Annie Boon e-mail:
chunge@mweb.co.za


18 - 19: SAC Gauteng Regionals Annie Boon
chunge@mweb.co.za
25: Rand Airport Challenge Rally - Rand Airport Contact Frank Eckard e-mail:
frank.eckard@mweb.co.za
cell: 083 269 1516
25: SAPFA AGM - Time: 2 PM Rand Airport Contact Rob Jonkers e-mail:
rob@aerosud.co.za
cell: 082 804 7032




A TRIBUTE TO COLIN BROCK
Written by Theo Truter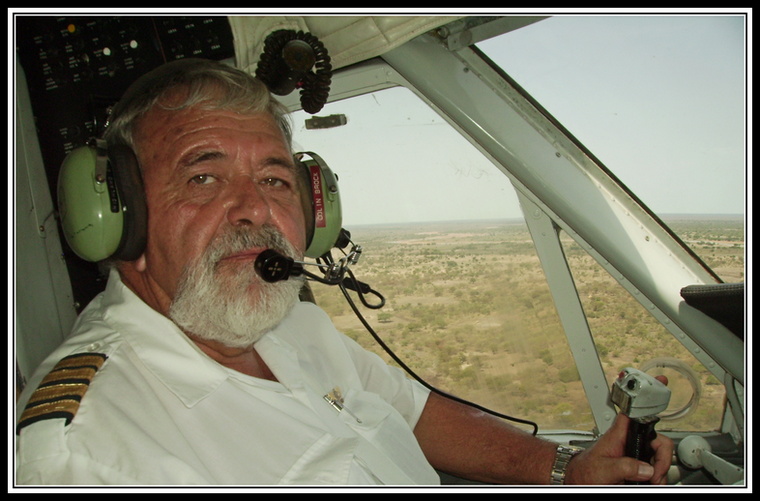 On Thursday 1st November, ex-Lesotho Airways pilot, Colin Brock un-expectantly passed away in Johannesburg. Originally, he lived in Port Elizabeth, but moved to Johannesburg to be near his daughters after his wife passed away.
Like so many other 'Mountain Pilots' before him, he managed to survive having acquired the skills in Lesotho's mountains.
Yours truly was lucky to either write or chat to Colin on the useful WhatsApp on a daily basis. Colin related how he met Scully Levin in Maseru when Scully landed there in a SAA HS-748. These meetings led to an entourage of friends flying to Ladybrand in 4 Piper Super Cubs, to overnight at Colin's house or at Norman Dixie's house. He mentioned names of Ellis Levin, Flippie Vermeulen, Mike Waite.
From Ladybrand they flew into the Lesotho mountainous area, to land on several of the ultra-short high-elevation airstrips, such as St.Theresa Mission, Mashai Store, Mokhotlong, etc. Scully often spoke about that occasion.
A group of family and friends attended a 'life-celebration 'at The Garden Venue.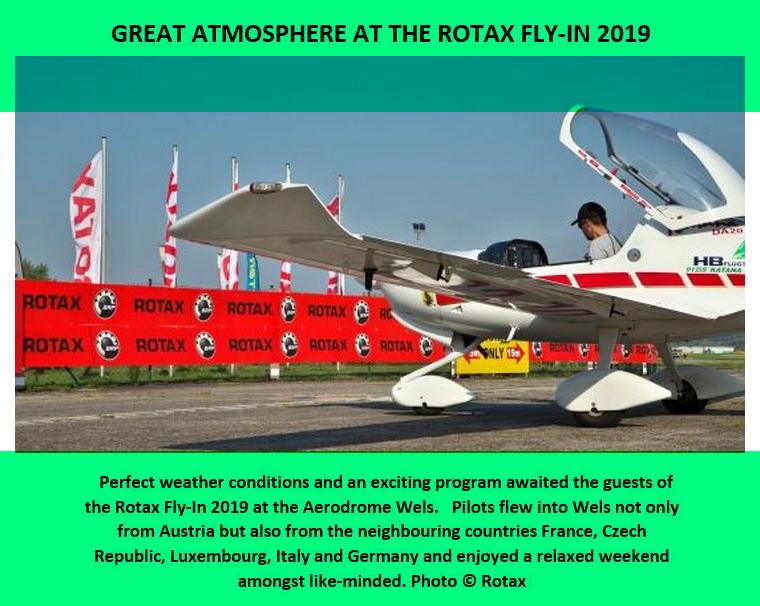 "The Rotax Fly-In offered a great possibility to talk to fellow pilots and aircraft enthusiasts", said Peter Oelsinger, General Manager BRP-Rotax / Member of the Management Board, Vice President Sales, Marketing RPS-Business & Communications. "The guests were really enjoying the atmosphere and the chance to experience a demo flight in different aircraft."
The Rotax Fly-In program offered not only demo flights, simulators, Q&A sessions and evening entertainment with BBQ, but also a highly-anticipated company tour to have a look at the state-of-the-art facilities of BRP-Rotax. The participants of the Rotax Fly-In - among them also ten BRP-Rotax employees, were the lucky winners of entry tickets awarded at an internal employees' lottery - enjoyed a nice event and asked already if there will be a next Fly-In.
With more than 180,000 engines sold in more than 40 years, Rotax aircraft engines lead the light sport and ultra-light aircraft market. With 17 authorized distributors and a network of more than 220 points of sale and repair centres supporting customers worldwide, Rotax aircraft engines are supplied to more than 80% of all aircraft manufacturers in its segment.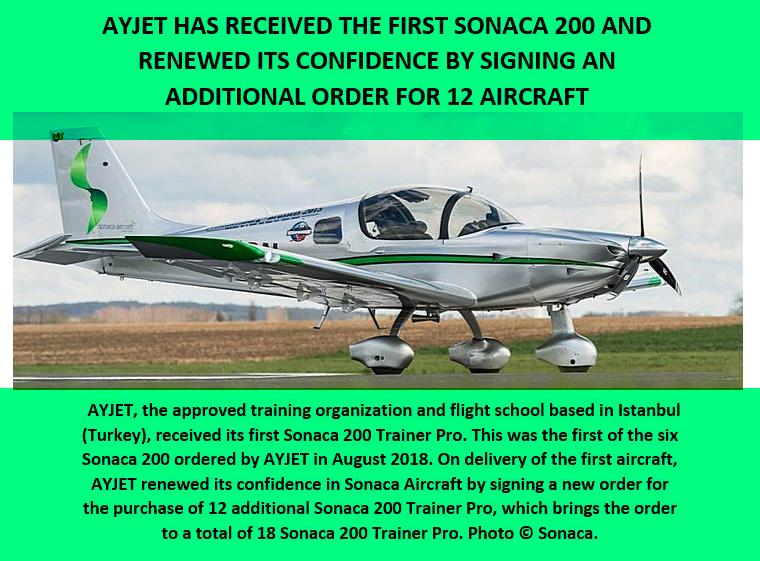 "During the ferry flight (Namur-Istanbul), our pilot instructors particularly liked the aircraft's reactivity, precision and stability, the comfort on board, the piloting position and the space between the pilots. The AYJET instructors also appreciated the aircraft's fuel efficiency, a decisive factor in selecting our trainer aircraft" said Capt. Celal Cingoz, AYJET General Manager.
The new contract was signed at the Consulate of Belgium in Istanbul in the presence of AYJET General Manager Capt. Celal Cingoz (AYJET General Manager), Harold van der Straten (Sonaca Aircraft CEO) and Pierre Van Wetter (Sonaca Aircraft Chief Commercial Officer).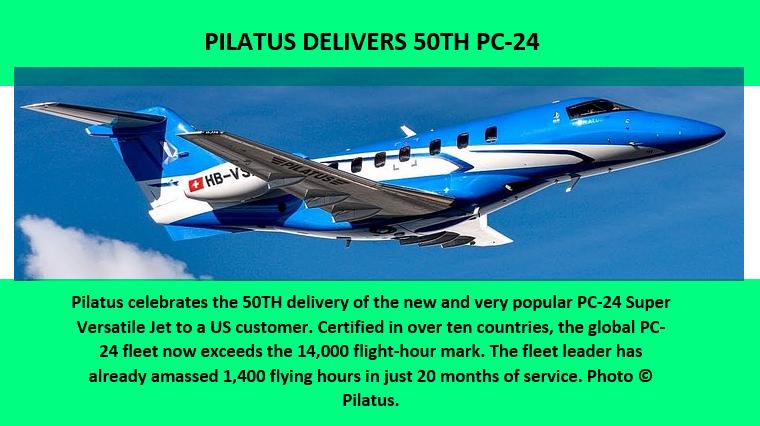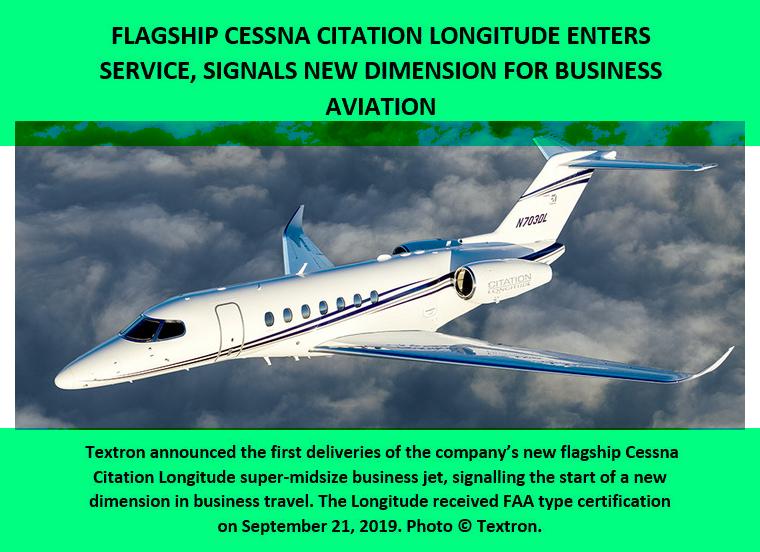 "The newly certified Citation Longitude brings unrivalled technology to the business travel market, for both the passenger and the pilot, offering our customers the most efficient and productive super-midsize jet now in operation," said Ron Draper, president and CEO. "We are thrilled to now transition this program into service."
The Longitude features the longest maintenance intervals in its class - 800 hours or 18 months - and is the most cost-effective aircraft in its category.
"The Longitude was designed around maximizing reliability and operational availability for our customers," said Kriya Shortt, senior vice president, Global Customer Support. "The Longitude's industry-leading on-board diagnostics system is backed by Textron Aviation's team of 3,000 customer service employees. Our expert technicians trained alongside the development of the program and are ready to support our customers wherever they are in the world."
The clean-sheet design of the Longitude integrates the latest technology throughout the aircraft, including the next evolution of the Garmin G5000 flight deck. The comfortable, bespoke interior of the Longitude has class-leading legroom, cabin sound levels that are nearly twice as quiet as the nearest competitor, a low cabin altitude of 5,950 feet and more standard features than all other competitors in this segment.
With a range of 3,500 nautical miles (6,482 kilometres) and full fuel payload of 1,600 pounds (726 kilograms), the Citation Longitude is designed to elevate passenger expectations in the super-midsize class by delivering the quietest cabin, a low cabin altitude (5,950 feet/1,814 meters), more standard features and a comfortable, bespoke interior. With seating for up to 12 passengers, including an optional crew jump seat, the Longitude features a stand-up, 6-foot tall flat-floor cabin. A standard double-club configuration delivers the most legroom in the super-midsize class. Fully berthable seats are designed and manufactured in-house and a spacious walk-in baggage compartment is accessible throughout the entire flight. State-of-the-art cabin technology enables passengers to manage their environment and entertainment from any mobile device, while high-speed internet maximizes in-flight productivity.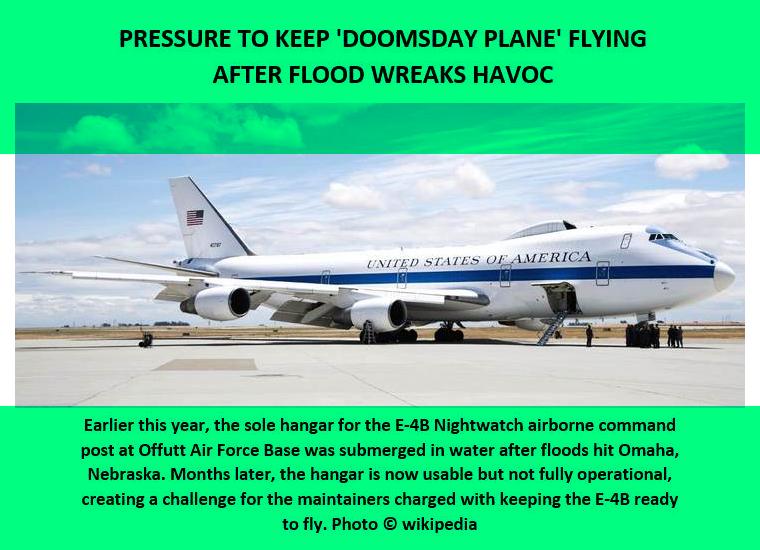 Nicknamed the "Doomsday plane" due to its ability to withstand a nuclear blast, the iconic blue and white E-4B derivative of the iconic 747 serves two purposes: to provide a secure and survivable command centre in the event of a nuclear war and, until recently, to transport the USA defence secretaries around the world.
The U.S. Air Force only operates four E-4Bs, all based at Offutt, and at least one of those aircraft must be on alert 24/7 year-round. As one E-4B is usually going through a yearlong depot maintenance period and another is typically receiving modifications, two aircraft are left to fulfil mission requirements.
The flood has made it difficult to keep at least one those planes functional, said Maj. James Hodges, who leads the 595th Aircraft Maintenance Squadron.
The 595th AMXS was able to move its equipment and tools to the north side of the base before the flood covered some parts of Offutt in up to 8 feet of water. None of the Nightwatch planes were damaged by the flood, but in the immediate aftermath of the disaster, the squadron was displaced, often having to fly to Wright-Patterson Air Force Base in Ohio to conduct heavy maintenance.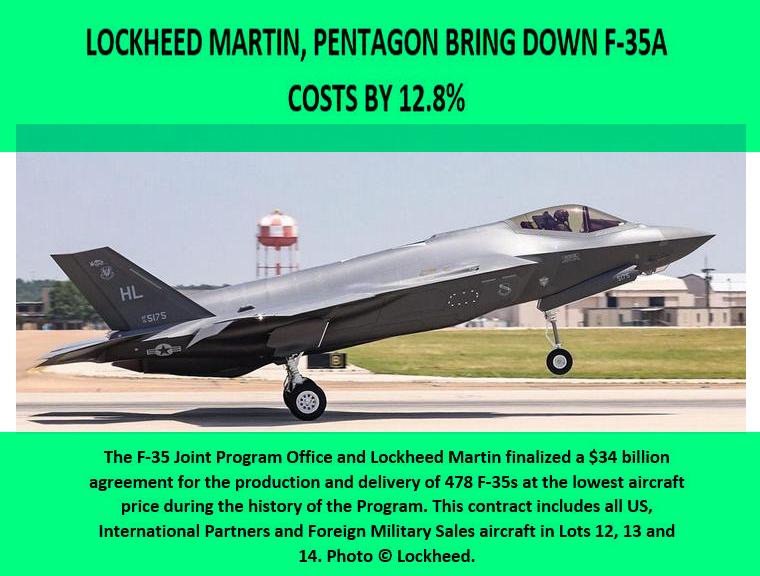 In the agreement, the F-35 Enterprise meets and exceeds its long-stated cost reduction targets for each variant - and the F-35A unit price, including aircraft and engine, is now below $80 million in both Lot 13 and Lot 14. The F-35A unit cost represents an estimated overall 12.8 percent reduction from Lot 11 costs for the conventional landing variant, and an average of 12.7 percent savings across all three variants from Lot 11 to 14.
The agreement includes 291 aircraft for the US Services, 127 for F-35 International Partners, and 60 for F-35 Foreign Military Sales customers.
"With smart acquisition strategies, strong government-industry partnership and a relentless focus on quality and cost reduction, the F-35 Enterprise has successfully reduced procurement costs of the 5th Generation F-35 to equal or less than 4th Generation legacy aircraft," said Greg Ulmer, Lockheed Martin, F-35 Program vice president and general manager. "With the F-35A unit cost now below $80 million in Lot 13, we were able to exceed our long-standing cost reduction commitment one year earlier than planned."
With more than 450 aircraft operating from 19 bases around the globe, the F-35 is playing a critical role in today's global security environment. More than 910 pilots and 8,350 maintainers have been trained, and the F-35 fleet has surpassed more than 220,000 cumulative flight hours. Eight nations have F-35s operating from a base on their home soil and seven Services have declared Initial Operating Capability.


Egypt, Sharm el-Sheikh International Airport: a SkyUp Airlines Boeing 737-86Q suffered a fire in the left-hand main landing gear after arriving at the stand at Sharm el-Sheikh International Airport. Ground personnel grabbed portable fire extinguishers and started dousing the fire 53 seconds after it erupted. The fire caused minor damage to the aircraft.
Thailand, Chiang Mai: A young western man could be facing up to 7 years in prison as Thai authorities take an increasingly serious view of an incident that occurred last Wednesday in Chiang Mai when he dramatically and violently opened an emergency exit of an aircraft as the flight taxied for take-off for its flight to Bangkok. The captain of the aborted take-off then radioed for help from security. The foreign man was then forcibly removed from the flight.
Philippines, Manila: An Asiana Airlines Airbus A350-900 with 310 people on board on a flight from Seoul (South Korea) to Singapore (Singapore), was enroute at FL320 over the South China Sea near Manila when the crew needed to shut the right-hand engine down. The aircraft diverted to Manila for a safe landing. The airline reported the crew shut the right-hand engine down due to a failure in the engine's fuel system.
Netherlands, Rotterdam: A Transavia Boeing 737-700 on a flight from Rome Fiumicino (Italy) to Rotterdam (Netherlands), was on approach to Rotterdam at about 2000 feet MSL deviating around weather when the aircraft was struck by lightning causing a bright flash and a loud bang. The aircraft continued for a safe landing on Rotterdam's runway 24 about 5 minutes later. The aircraft remained on the ground in Rotterdam for about 14 hours, where minor damage to wing and stabilizer surfaces was found.

USA, Cleveland, Ohio: A Skywest Canadair CRJ-200 with 51 people on board on a flight from Chicago O'Hare, IL to Akron-Canton, was on approach to Akron-Canton when the crew stopped the descent at 3000 feet reporting they had a FLAPS FAIL indication. The aircraft entered a hold while the crew worked the related checklists, after which the crew subsequently requested to divert to Cleveland due to the longer runways available. The aircraft climbed to 5,000 feet for the diversion and landed safely on Cleveland's runway 24L
Tatarstan: Rustem Salikhov, the pilot at the controls of the Tatarstan Airways Boeing 737-500 on a flight from Moscow on 17 November 2013 that nosedived onto the tarmac after an aborted landing Salikhov had used falsified documents to get his pilot's license According to Russia's Investigative Committee. Salikhov, had no basic knowledge, skills and experience as a pilot and together with his co-pilot, Viktor Gutsul, made a series of mistakes that killed all 44 passengers and six crew members onboard.
Brazil, Maraú-Barra Grande Airport: A Cessna 550 Citation II corporate jet with ten on board on a domestic non-scheduled passenger crashed on landing at an airstrip at the Kiaroa Eco-Luxury Resort at Barra Grande, Maraú, Brazil. The aircraft burst into flames. One occupant was killed.
USA, San Antonio: - A Cessna Citation CJ3 accidentally thrusted during taxi and collided with a parked Cessna Citation Encore while taxing at the San Antonio International Airport. No one was injured. The CJ3 was carrying a pilot, a mechanic and two passengers.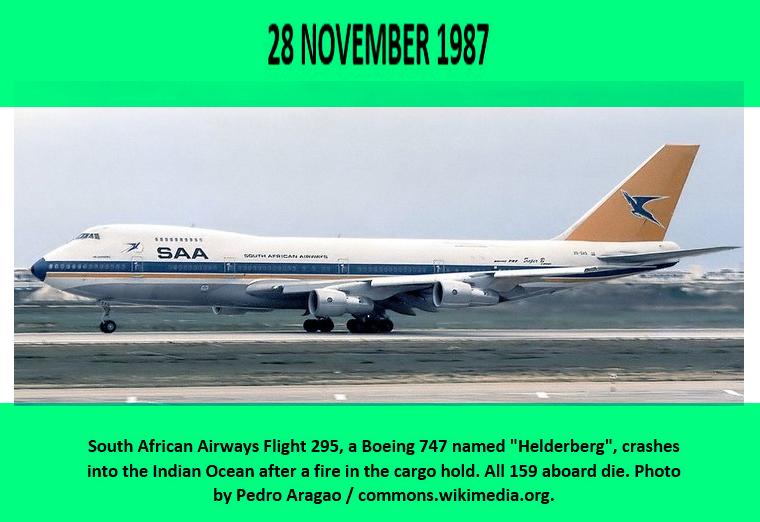 South African Airways Flight 295 was on a commercial flight from Chiang Kai-shek International Airport, Taipei, Taiwan to Jan Smuts International Airport, Johannesburg, South Africa, with a stopover in Plaisance Airport, Plaine Magnien, Mauritius. Flight 295 had 140 passengers on board and six pallets of cargo on the main deck.
The aircraft involved, a Boeing 747-244BM Combi registered ZS-SAS and named Helderberg, made its first flight on 12 November 1980 and was delivered to South African Airways on 24 November 1980. The Boeing 747-200B Combi model permits the mixing of passengers and cargo on the main deck according to load factors on any given route and Class B cargo compartment regulations.
At some point during the flight, believed to be during the beginning of its landing approach, a fire developed in the cargo section on the main deck which was probably not extinguished before impact. The 'smoke evacuation' checklist calls for the aircraft to be depressurised, and for two of the cabin doors to be opened. No evidence exists that the checklist was followed, or that the doors were opened. A crew member might have gone into the cargo hold to try to fight the fire. A charred fire extinguisher was later recovered from the wreckage on which investigators found molten metal.
South Africa mounted an underwater search, named Operation Resolve, to try to locate the wreckage. After recovery of the wreckage from 4,000 m (13,000 ft) below the surface of the ocean, the aircraft's fuselage and cabin interior were partly reassembled in one of SAA's hangars at Jan Smuts Airport where it was examined and finally opened for viewing to the airline's staff and selected members of the public.
The official inquiry, headed by Judge Cecil Margo, was unable to determine the cause of the fire but determined that inadequate fire detection and suppression facilities in the class B cargo bays were the primary cause of the aircraft's loss. This lack of a conclusion led to conspiracy theories being advanced in the years following the accident.