Compiled by Willie Bodenstein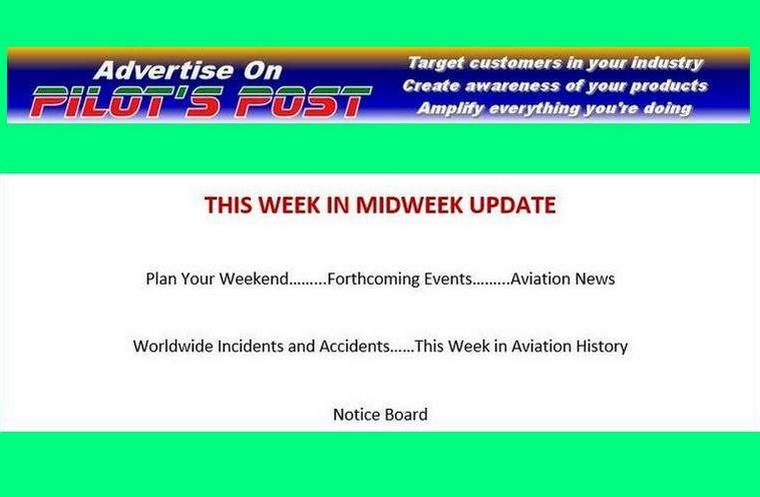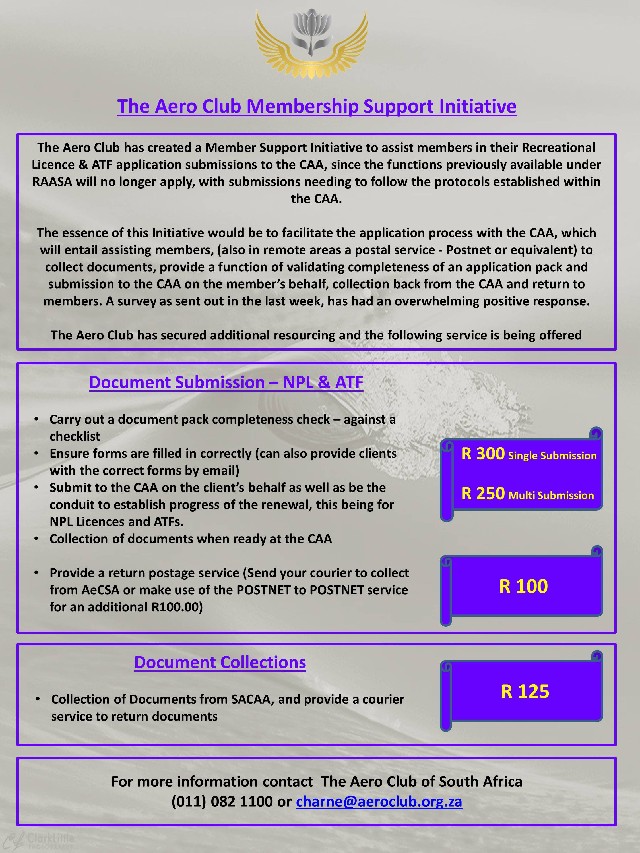 30: The Elders Flight, Rand Airport. SMS Felix Gosher on 066 485 0407
30: SAA Museum at Rand Airport - Airline Collectibles Fair.
30 to 1 December: SAC Ace of Base Baragwanath Airfield. Contact Annie Boon e-mail:
chunge@mweb.co.za
1: Large Scale Aerobatics at Barnstormers.
www.largescaleaerobatics.co.za


18 - 19: SAC Gauteng Regionals Annie Boon
chunge@mweb.co.za
25: Rand Airport Challenge Rally - Rand Airport Contact Frank Eckard e-mail:
frank.eckard@mweb.co.za
cell: 083 269 1516
25: SAPFA AGM - Time: 2 PM Rand Airport Contact Rob Jonkers e-mail:
rob@aerosud.co.za
cell: 082 804 7032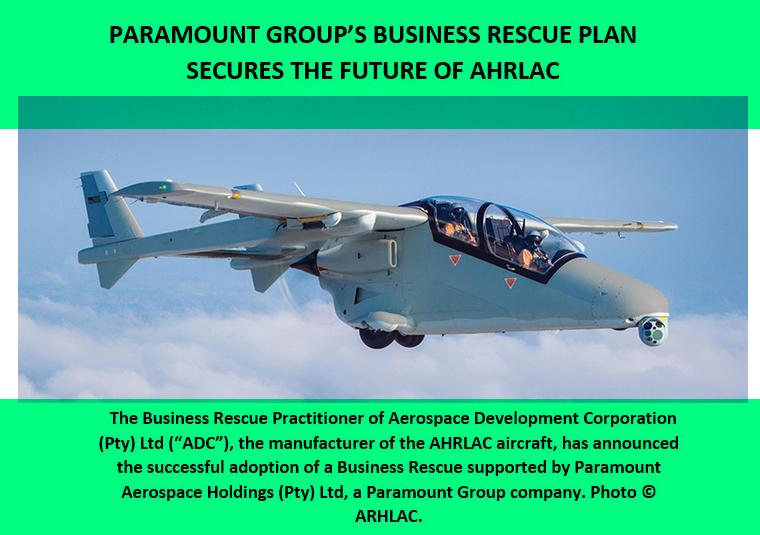 The Business Rescue Plan will secure the future of the AHRLAC aircraft, its employees and will see the resumption of sales, marketing and manufacturing of the aircraft to customers around the world.
Paramount Group has already injected new capital in the form of post commencement funding, and will inject significant further capital into the business over the coming months.
Paramount is committed to building a strong sustainable aircraft and aerospace systems capability in South Africa and this transaction supports this objective.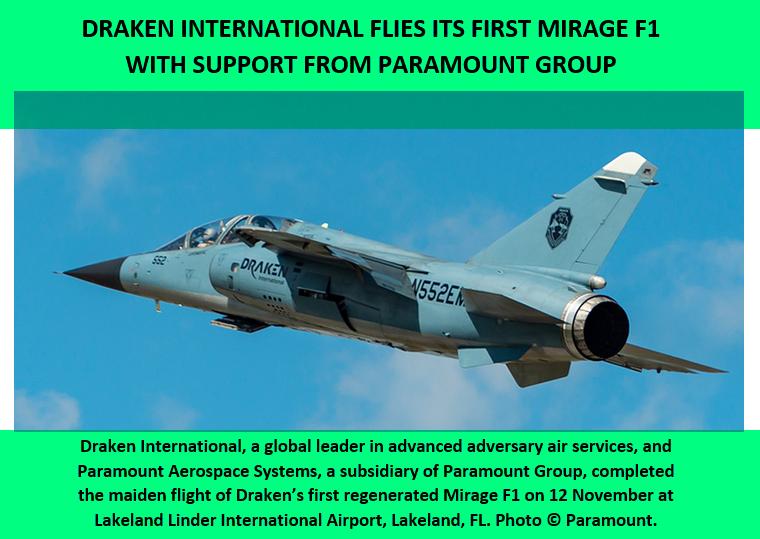 The supersonic, radar-equipped F1 is part of a fleet of ex-military fighter aircraft currently being regenerated by Draken assisted by Paramount Aerospace Systems. The former Spanish Air Force F1 fleet will soon join Draken's 13 A-4 Skyhawks and 23 L-159 Honey Badgers that currently support the USAF out of Nellis AFB.
Paramount Aerospace Systems and Draken signed a contract last year for the overhaul and ongoing engineering support of the fleet of Mirage F1's. The Mirage F1's are undergoing reassembly, restoration and airworthiness certification at Draken's Lakeland, Florida maintenance facility.
Paramount Group spokesperson said: "We are proud to support Draken's Mirage F1 regeneration programme. Paramount has extensive capability on this aircraft with full airframe and engine overhaul capability, as well as the ability to upgrade, modernise avionics and mission systems. It is exciting to be working with Draken and this paves the way for a strong long-term relationship. The deployment of Paramount's team in-country has proven the importance of having such expertise available on the ground to ensure we can provide the ultimate solution to our customers."
Paramount Aerospace specializes in the modernization of fixed wing platforms including leading the previous modernization of the Mirage F1M while still in Spanish Air Force military service.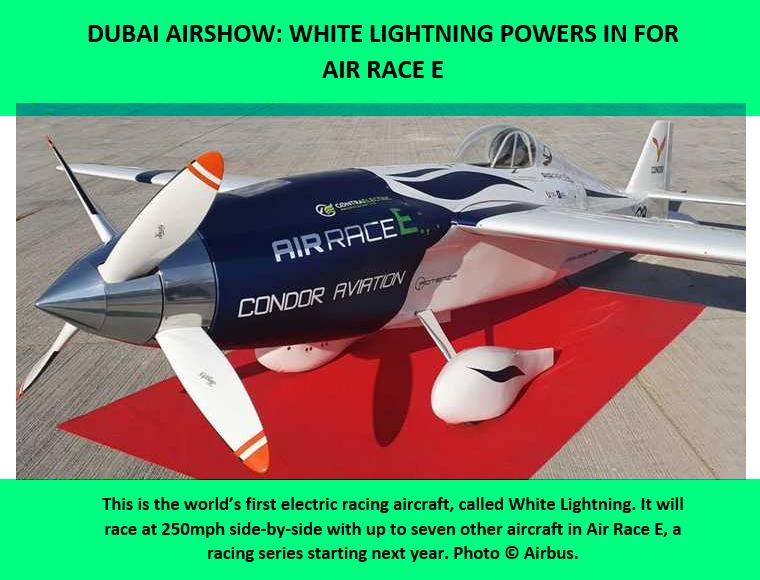 The aircraft was unveiled by air racing promoter, Jeff Zaltman and Sandra Bour Schaeffer, head of group demonstrators at Airbus, which is supporting the pioneering series as official founding partner.
"This is a monumental moment," said Zaltman. "Air Race E offers the opportunity for teams from around the world to play a part in creating aviation history and contribute to finding a solution to cutting carbon emissions from air transport."
Bour Schaeffer confirmed Airbus' interest was part of its drive towards de-carbonising air transport. "We believe in the technology," she said.
White Lightning was built by Condor Aviation, a specialist engineering company in the UK, headed by Martyn Wiseman, who said the most difficult engineering challenge was the tiny aircraft's weight and balance because of the batteries required.
"The batteries weigh as much as the rest of the aircraft," said Wiseman. "However, I love the engineering challenge, and I love to be a pioneer. I also like racing!

The aircraft is based on a Cassutt F1, an already racing single-seater, though it's been heavily modified. The electric propulsion unit is from ContraElectric, another UK company, with two electric motors powering two contra-rotating propellers. Maximum power is 150kW (about 200hp) giving it a maximum speed of 250mph.
Each race in the Air Race E series will see eight electric aircraft compete against each other on a tight 5km circuit, just 10 metres above the ground, with pilots experiencing heavy G-forces in high-speed turns around an oval circuit. The first pilot across the line is the winner.
"It's full-on motorsport," said Zaltman, "and motorsport is inherently dangerous. However, we'll be doing lots of tests to make it as safe as possible."
Four of the teams were announced at last June's Paris Air Show with the remaining four expected to be named later this week. Dates and venues for the series have yet to be revealed.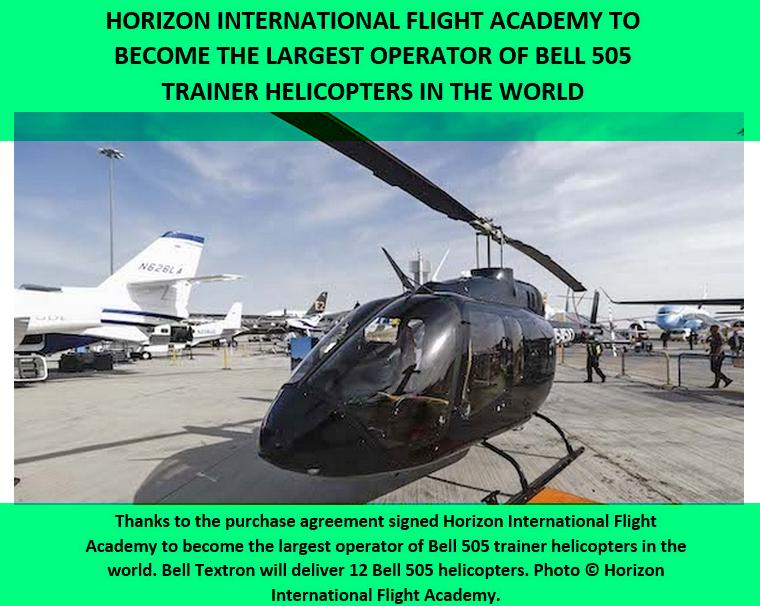 Based at Al Ain International Airport Zone and purpose-built for flight training, Horizon International Flight Academy uses its Bell-only fleet to provide unparalleled flight training to local and international students for the civilian and military sector.
Hareb Thani Al Dhaheri, chief executive officer, Horizon, stated, "The addition of single-engine glass cockpits will enable us to meet the latest technology needs of aspiring pilots and will prepare them to fly with modern helicopters when they are back at their units."
With over 200 delivered worldwide, the aircraft is already demonstrating excellent performance with customers all over the world. The Bell 505 Jet Ranger X incorporates the familiarity of the Jet Ranger family with new advanced avionics technology. The integrated glass cockpit enables pilots in training to experience modern controls on a single engine aircraft, enabling them to transition more easily to flying advanced aircraft, such as the Bell 429 twin-engine helicopter. Its reliability, speed, performance and manoeuvrability are integrated with a flat floor and open cabin that is configurable for a wide variety of missions and payloads.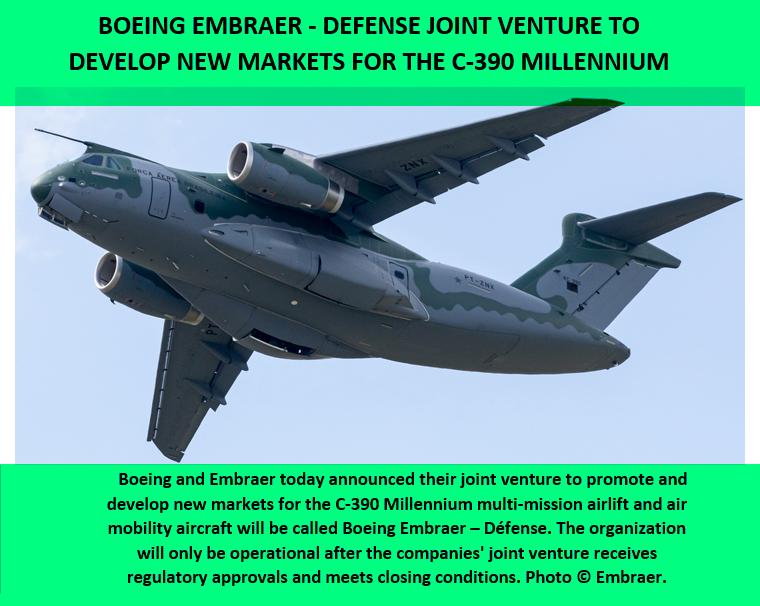 The C-390 Millennium is a tactical transport aircraft designed to set new standards in its category, while presenting the lowest life-cycle cost on the market. The aircraft brings airlift and air mobility into the jet age with increased mobility, rugged design, higher flexibility, state-of-the-art proven technology and easier, more efficient maintenance. The C-390 Millennium can perform a variety of missions, such as aerial refuelling, cargo and troop transport, cargo and paratrooper airdrop, search and rescue, aerial firefighting and humanitarian missions.
The C-390 Millennium received its Civil Certification from the Brazilian National Aviation Agency (ANAC) in 2018 and is now in full production. In August 2019, Portugal signed a contract to acquire five aircraft with deliveries slated for 2023. The Brazilian Air Force (FAB) received its first aircraft on September 4, 2019. The delivery of the second aircraft to the Brazilian Air Force is scheduled to happen in 4Q19.
Embraer will have 51 percent ownership of Boeing Embraer - defence, with Boeing holding the remaining 49 percent. The C-390 Millennium partnership is one of two planned joint ventures between the companies. Boeing Brazil - Commercial will be a joint venture comprising the commercial aviation operations of Embraer, with 80 percent owned by Boeing and 20 percent owned by Embraer. Both joint ventures remain subject to regulatory approval and customary closing conditions. The companies expect their transaction to close in early 2020.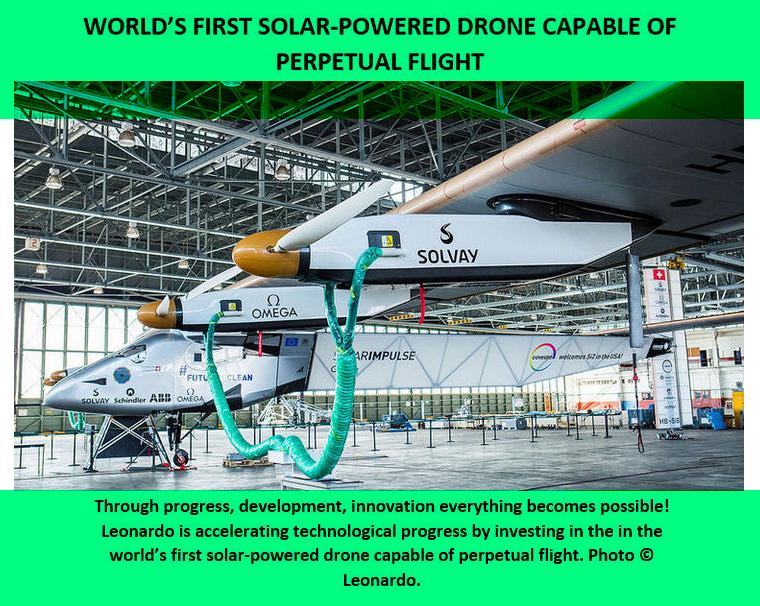 Leonardo is investing in Skydweller Aero Inc., a US/Spanish start-up specialising in large-scale solar-powered unmanned air systems. The initiative will result in the development and deployment of the Skydwellerdrone, the world's first fully electric unmanned aircraft capable of carrying large payloads with unlimited range and ultra-persistent endurance.
Thanks to its unique features, Skydweller combines potentially unlimited persistence and range with the flexibility of an aircraft. It will operate from existing airbases around the world, deploy thousands of miles away to areas of high need and remain overhead for orders of magnitude longer than current aircraft. This revolutionary platform will be used for purposes ranging from land and maritime surveillance to monitoring the environment and infrastructure, from industrial geo-information services to telecommunications and precision navigation. During emergencies and disaster-recovery situations, the system can be rapidly deployed from distant locations to provide backup communications and direct support to first responders.

The Skydweller project builds on a proven and mature aircraft that successfully circumnavigated the globe in 2016. The first phase focuses on converting the aircraft from a manned platform into an Optionally-Piloted Vehicle (OPV) by integrating advanced autonomy algorithms and vehicle management systems. The second step of the project will culminate in the first production aircraft, designed solely for unmanned operations and hardened against a range of environmental conditions. Autonomous flights of the OPV are projected for 2020 and the first production model of the unmanned version of the aircraft is expected in 2021.
The system will comply with European export laws and will not be subject to International Traffic in Arms Regulations (ITAR) restrictions. This will enable the aircraft to satisfy government and commercial needs around the world. Leonardo will act as the prime contractor for commercial opportunities in Italy, the United Kingdom, Poland and NATO.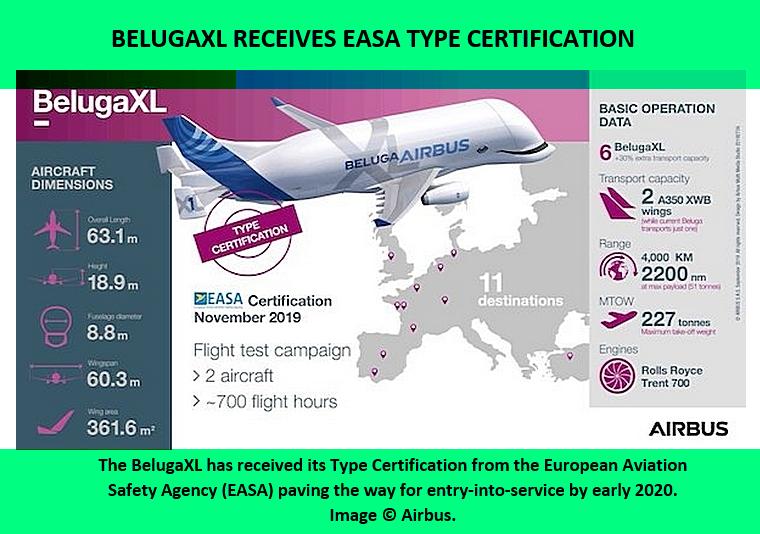 The aircraft is an integral part of Airbus' industrial system and a key enabler for production ramp-up requirements beyond 2019. The BelugaXL allows for 30% extra transport capacity being 7 metres longer and 1 metre wider than its BelugaST predecessor.
With the largest cargo bay cross-section of all existing cargo aircraft worldwide, the BelugaXL can carry two A350 XWB wings compared to the BelugaST, which can only carry one. With a maximum payload of 51 tonnes, the BelugaXL has a range of 4,000km (2200nm).
The aircraft gets its stamp of approval following an intensive flight test campaign that saw the BelugaXL complete more than 200 flight tests, clocking over 700 flight hours. In total, six aircraft will be built between 2019 and 2023, gradually replacing the current fleet of BelugaST transporters.
Launched in November 2014, the BelugaXL is based on an A330-200 Freighter, with a large re-use of existing components and equipment, the BelugaXL is powered by Rolls Royce Trent 700 engines. The lowered cockpit, the cargo bay structure and the rear-end and tail were newly developed jointly with partners, giving the aircraft its distinctive look.
The BelugaXL is the latest addition to Airbus' transportation portfolio. While air transport remains the primary method for transporting large aircraft components, Airbus also uses road, rail and sea transport to move parts between its production sites. Like the BelugaST, the aircraft will operate from 11 destinations in Europe, continuing strengthen industrial capabilities and enabling Airbus to deliver on its commitments.

Germany, Frankfort: An Air Namibia Airbus A330-243 struck a Korean Air flight Boeing 777-3B5ER on a taxiway at Frankfurt Airport, Germany. The Boeing had landed on runway 25L and then followed the parallel taxiway and held short of runway 25C. The Namibian Airbus landed two minutes later and followed the same taxiway. It attempted to pass the Boeing 777 but the A330's left-hand wing tip impacted the right-hand horizontal stabilizer of the B777. Both aircraft suffered minor damage.
New Zealand, Ohakea Air Base: A Qantas Boeing 737-800 on a flight from Melbourne, (Australia) to Wellington (New Zealand), was on short final to Wellington descending through about 400 feet MSL when the crew initiated a go around due to asymmetric flaps and considered that it was safer to divert. The aircraft climbed to 7000 feet and diverted to Ohakea Air Base (New Zealand), about 90nm north of Wellington, where the aircraft landed safely.
Greece, Athens: An El Al flight from Ben Gurion International Airport to Berlin in Germany had to make an unscheduled landing in Athens, Greece to offload an unruly passenger. The passenger in question was found smoking in the plane's lavatory and began cursing and yelling when confronted by airline staff. After the plane was diverted to Athens, local police took the apparently intoxicated man in for questioning.

Indonesia, Kupang: A Batik Air Airbus A320-200 with 155 people on board on a flight from Jakarta to Kupang was descending towards Kupang when the captain began to complain about headache, subsequently stating he felt weak and unable to concentrate. The captain became unconscious. The first officer assumed command of the aircraft. Cabin crew took care of the captain. The first officer declared an emergency and continued for a safe landing in Kupang. The aircraft stopped on the runway, the first officer shut down the engines while emergency services entered the runway, boarded the aircraft and provided first aid to the captain and subsequently took him to a local hospital.
USA, Washington: The U.S. National Transportation Safety Board on Tuesday called on Boeing Co to redesign the fan cowl structure on 737 NG planes after a passenger was killed on a Southwest Airlines plane in April 2018 after an engine failure. The NTSB said the engine failure was caused by a broken fan blade, and the board said the U.S. Federal Aviation Administration should require Boeing to determine the fan blade impact location or locations on the engine fan case and redesign the structure to minimize the potential of a catastrophic failure. The board did not fault Boeing's analysis in the mid-1990s when it developed the plane.
Afghanistan, Logar province: A Boeing CH-47 Chinook operated by the UA Army crashed after a technical malfunction near Pangram village, Charkh district, Logar province in Afghanistan. Two US servicemen died in the crash. The aircraft was damaged beyond repair.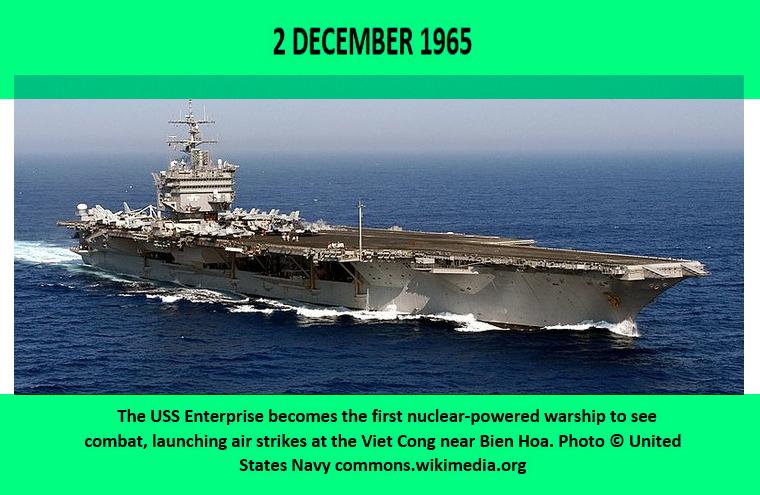 The USS Enterprise becomes the first nuclear-powered warship to see combat, launching air strikes at the Viet Cong near Bien Hoa. Photo © United States Navy commons.wikimedia.org

The USS Enterprise was the first nuclear-powered aircraft carrier and the eighth United States naval vessel to bear the name. At 1,088 feet (332 m), she is one of the longest naval vessels ever built. Her 93,284-long-ton (94,781 t) displacement ranks her as the 12th-heaviest carrier, after the ten carriers of the Nimitz class and USS Gerald R. Ford. Enterprise had a crew of some 4,600 service members.
In October 1962, Enterprise was dispatched to her first international crisis. Following revelations that the Soviet Union was constructing nuclear missile launch sites on Cuba, President John F. Kennedy ordered the United States Department of Dťfense to conduct a large-scale build-up and on 22 October, President Kennedy ordered a naval and air "quarantine" (blockade) on shipment of offensive military equipment to Cuba,
In November 1965, Enterprise was transferred to the Seventh Fleet, home-ported at NAS Alameda, California. The following month, on 2 December, she became the first nuclear-powered ship to engage in combat when she launched aircraft against the Viet Cong near BiÍn HÚa City. Enterprise launched 125 sorties on the first day, unleashing 167 short tons (151 t) of bombs and rockets on the enemy's supply lines. On 3 December, she set a record of 165 strike sorties in a single day.
She was inactivated on 1 December 2012, and officially decommissioned on 3 February 2017, after over 55 years of service. She was struck from the Naval Vessel Register the same day.