Design studies for a giant helicopter were started at the Mil OKB in 1959, receiving official sanction in 1961 by the GKAT instructing Mil to develop a helicopter capable of lifting 20 to 25 t (44,000 to 55,000 lb). The GKAT directive was followed by a more detailed specification for the V-12 with hold dimensions similar to the Antonov An-22, intended to lift major items of combat material as well as 8K67, 8K75 and 8K82 inter-continental ballistic missiles.

Photo commons.wikimedia.org

The transverse rotor system of the V-12, which eliminates the need for a tail rotor, consists of two Mi-6 transmission systems complete with rotors mounted at the tips of the approximately 30 m (98 ft) span inverse tapered wings.
Construction of the V-12 first prototype, after exhaustive testing with test-rigs and mock-ups including a complete transmission system, began at Panki in 1965. The large fuselage accommodated the 28.15◊4.4◊4.4 m (92.4◊14.4◊14.4 ft) cabin and crew section in the extreme nose, housing pilot, co-pilot, flight engineer and electrical engineer in the lower cockpit, with the navigator and radio operator in the upper cockpit.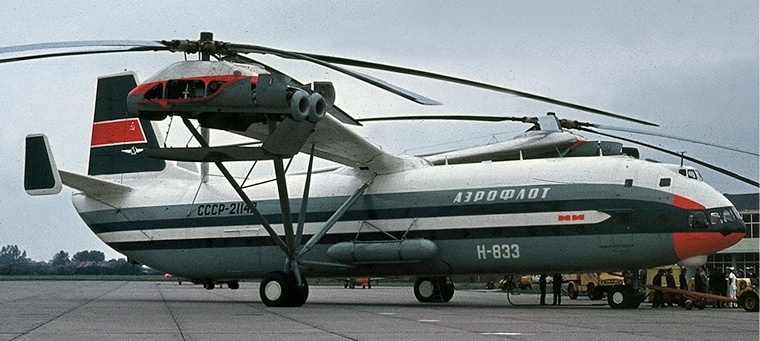 Photo commons.wikimedia.org


The power system and wings are mounted above the centre fuselage with interconnecting shafts ensuring synchronisation of the main rotors which overlap by about 3 m (9.8 ft). Drag and lift losses are reduced by the inverse taper wings with minimum chord in regions of strongest down-wash. Each power unit comprises two Soloviev D-25VF turbo-shaft engines mounted below the main gearboxes which each drive five-bladed 35 m (115 ft) diameter rotors and their synchronisation shafts which run from wing-tip to wing-tip.
Construction of the first prototype was completed in 1968. A first flight on 27 June 1967 ended prematurely due to oscillations caused by control problems. On 10 July, the prototype made its first operational flight from the Mil factory pad in Panki to the Mil OKB test flight facility in Lyubertsy.
The prototype V-12s outperformed their design specifications, setting numerous world records which still stand today and brought its designers numerous awards such as the prestigious Sikorsky Prize awarded by the American Helicopter Society for outstanding achievements in helicopter technology.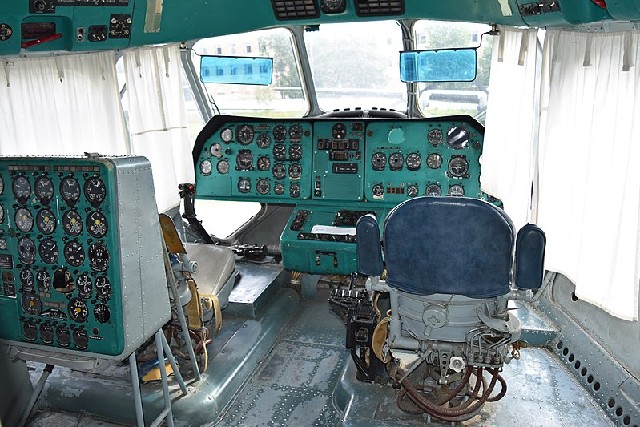 Lower cockpit. Photo © Alan Wilson / commons.wikimedia.org

In February 1969, the first prototype lifted a record 31,030 kg (68,410 lb) payload to 2,951 m (9,682 ft).On 6 August 1969, the V-12 lifted 44,205 kg (97,455 lb) to a height of 2,255 m (7,398 ft), also a world record.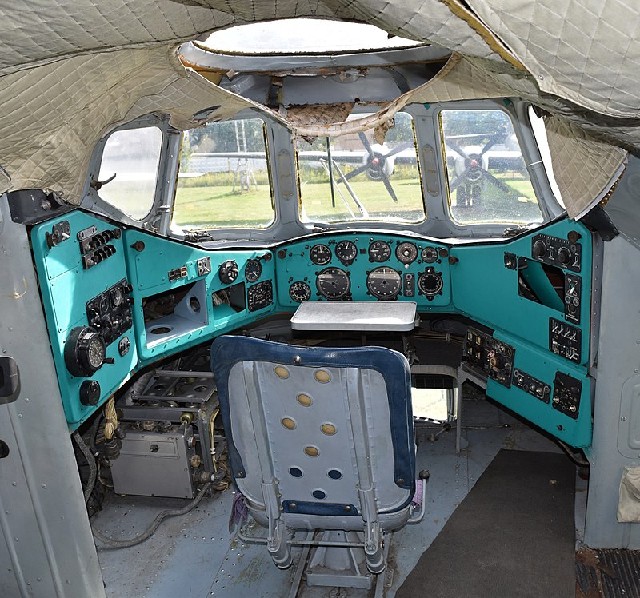 Upper Cockpit. Photo © Alan Wilson / commons.wikimedia.org

Despite all of these achievements, the Soviet Air Force refused to accept the helicopter for state acceptance trials for many reasons, the main one being that the V-12's most important intended mission no longer existed, i.e. the rapid deployment of heavy strategic ballistic missiles.
All development on the V-12 was stopped in 1974. The first prototype remained at the Mil Moscow Helicopter Plant in Panki-Tomilino, Lyuberetsky District near Moscow. The second prototype was donated to Central Air Force Museum 50 km (31 mi) east of Moscow for public display.
Specifications (V-12)
General characteristics:

Crew: 6 (pilot, co-pilot, flight engineer, electrician, navigator, radio operator)
Capacity: 196 passengers
normal 20,000 kg (44,000 lb)
maximum 40,000 kg (88,000 lb)
Length: 37 m (121 ft 5 in)
Wingspan: 67 m (219 ft 10 in) across rotors
Height: 12.5 m (41 ft 0 in)
Empty weight: 69,100 kg (152,339 lb)
Gross weight: 97,000 kg (213,848 lb)
Max take-off weight: 105,000 kg (231,485 lb)
Freight compartment: 28.15◊4.4◊4.4 m (92.4◊14.4◊14.4 ft)
Powerplant: 4 ◊ Soloviev D-25VF turboshaft engines, 4,800 kW (6,500 shp) each
Main rotor diameter: 2◊ 35 m (114 ft 10 in)
Main rotor area: 962 m2 (10,350 sq ft) two 5-bladed rotors located transversely, area is per rotor
Performance:

Maximum speed: 260 km/h (160 mph, 140 kn)
Cruise speed: 240 km/h (150 mph, 130 kn)
Range: 500 km (310 mi, 270 nmi)
Ferry range: 1,000 km (620 mi, 540 nmi) with external fuel tanks
Service ceiling: 3,500 m (11,500 ft)
Disk loading: 50.5 kg/m2 (10.3 lb/sq ft) at gross weight
Hovering ceiling in ground effect: 600 m (2,000 ft)
Hovering ceiling out of ground effect: 10 m (33 ft)
Avionics:

AP-44 autopilot
VUAP-2 EXPERIMENTAL AUTOPILOT
ROZ-1 Lotsiya weather and navigational radar