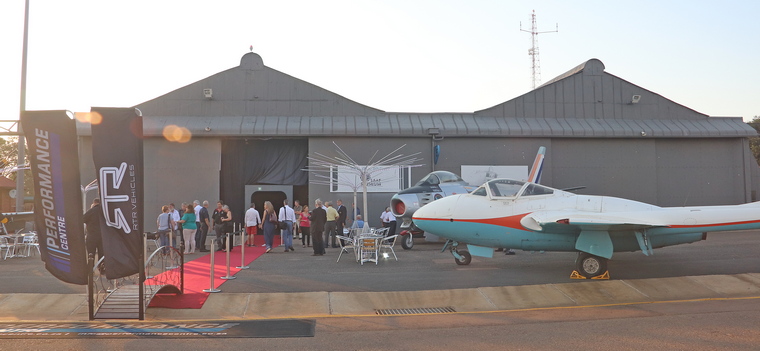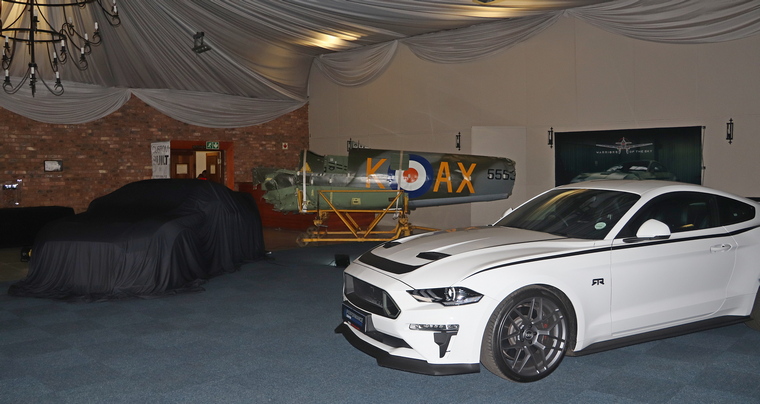 DBH still under wraps with the Spitfire fuselage in the background and a ordinary RTR Mustang in the foreground.

On Thursday evening 28 November 2019 the SAAF Museum Spitfire restoration project came a step closer to reality with the reveal of a 5.0 L Ford Mustang, the first in a series of ten cars, that will raise R750 000.00 to rebuild the last remaining South African Air Force Spitfire.
Spitfire 5518 arrived in South Africa in 1947 and served in the Cape and at Air Force Base Waterkloof before being decommissioned. She then served as a gate guard at Waterkloof for a number of years. In the early 1990s the South African Air Force Museum motivated the restoration of an iconic Spitfire to flying condition to serve as the star attraction at Air Force Air Shows to promote the Air Force and aviation among the youth. 5518 took to the skies in 1994 as 5553 "The Spirit of Reutech". Unfortunately, she crashed at an air show at Swartkop in 2000 and was consigned to a container.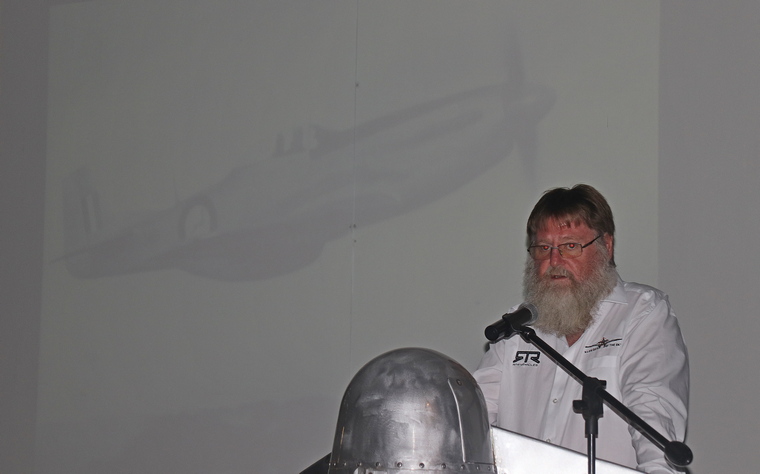 Phil Scallan, Project Representative on the SAAF Museum Council outlined the objectives of the project during his speech.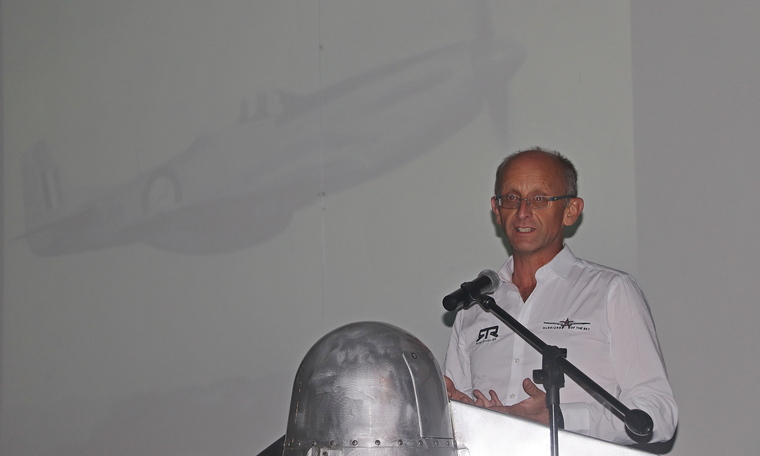 Ian Grace, project lead of the Spitfire Restoration Project outlined the difficulties involved in the restoration project.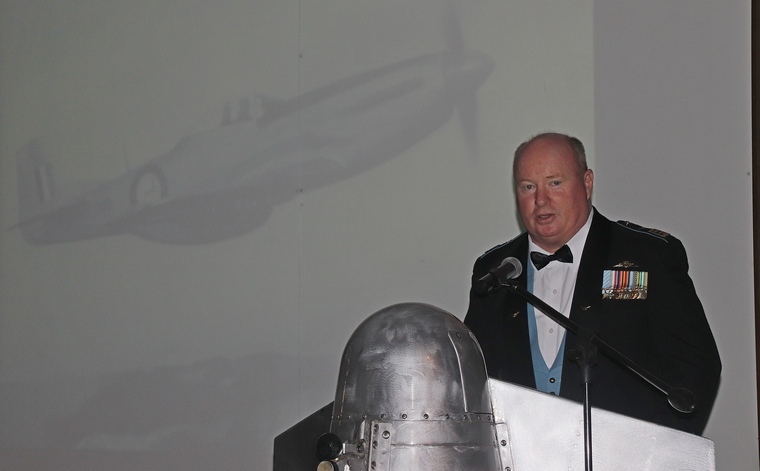 Colonel Keith Fryer, Director Aviation Safety at SA Air Force, gave a talk on the history of 2 Squadron.

The objective of the project is to preserve the honour, history and legacy of those South Africans who gave their lives in the fight against tyranny in WWII.
This campaign, assisted by Ford SA's Performance Centre, is done in conjunction with the SA Air Force, Friends of the SAAF Museum and Spitfire Restoration Project and will have a major spin-off for all involved.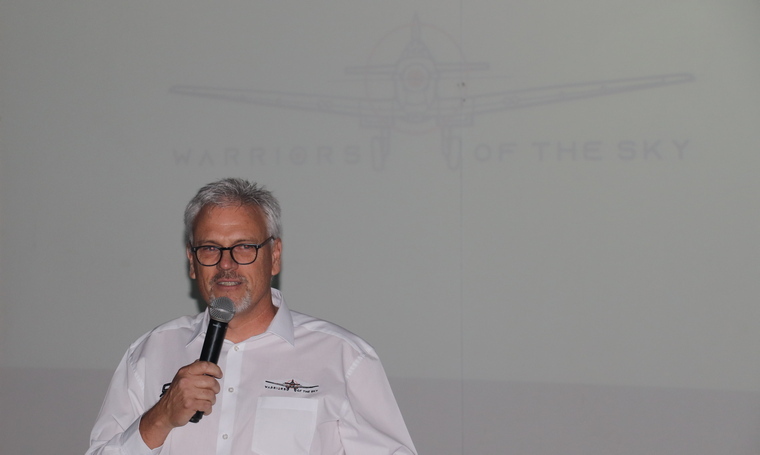 CEO of Ford Performance Centre, Grant Askham outlined the project.

Performance Centre has acquired 10 licenses to convert standard 5.0 L Mustangs into RTR Spec 5 wide bodies. These are limited edition Spitfire replicas and are supercharged. Each Mustang will be unique, will have a custom number badge and will be named after one of the aircraft flown by a famous South African airman in World War II.
Each of the 10 Mustang RTR Spec 5 wide bodies will be for sale with a portion of the funds going to the rebuild of the Spitfire. DBH, the museum's Spitfire is the 1st Mustang RTR Spec 5 wide body in the world.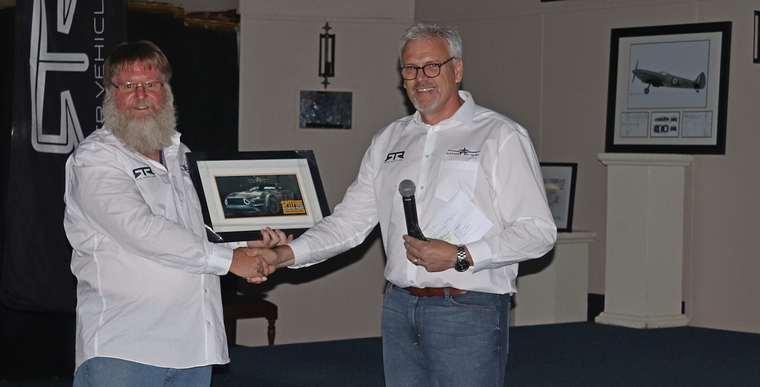 Grant handing over a framed photographed of the finished product.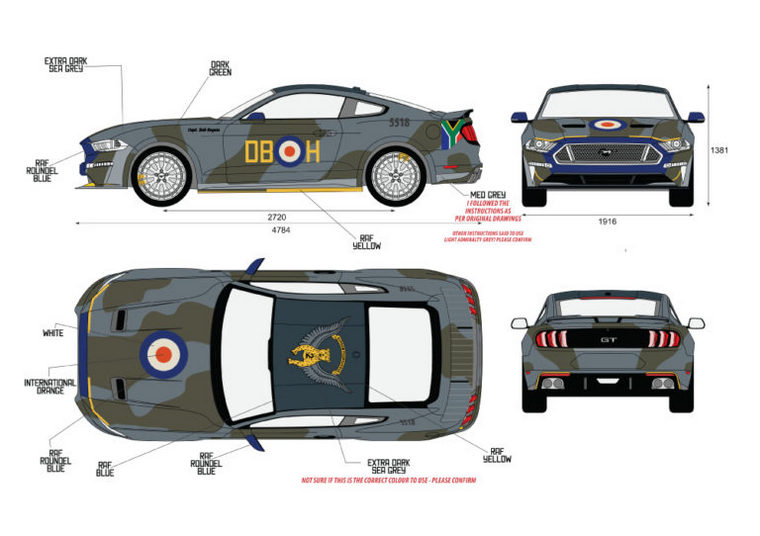 There was only one good reference for the colour scheme at the time of completion and this was of AX-K 5553. So, #5518 changed identity, and became #5553.


The RTR Mustang is linked to Capt. Bob Rogers (later Lieutenant General and Chief of the SAAF). Robert Harry Doherty "Bob" Rogers was born on 7 November 1921 in Warden in the Orange Free State. He joined the SA Air Force, commencing his ?ying training in January 1941. He matriculated from Maritzburg College in 1938, upon which he enrolled as a medical student at the University of the Witwatersrand until mid-1940, before joining the South African Air Force as a volunteer for active service in World War 2, ?rst qualifying as an air gunner. When he volunteered to train as a pilot, he went to Southern Rhodesia for training. By October 1941, Rogers was assigned to 208 Squadron (RAF) in Egypt, where he ?ew Hurricanes and Spit?res in North Africa, Sicily, Italy and Austria. He was shot down near Benghazi in 1942, but managed to escape capture. In August 1942, despite having a ?nger shot off, he fought off four Luftwaffe ME 109s. By December 1943, he had been promoted to Lieutenant Colonel and placed in command of 225 Squadron, RAF. For his services he was awarded a DSO, DFC and Bar.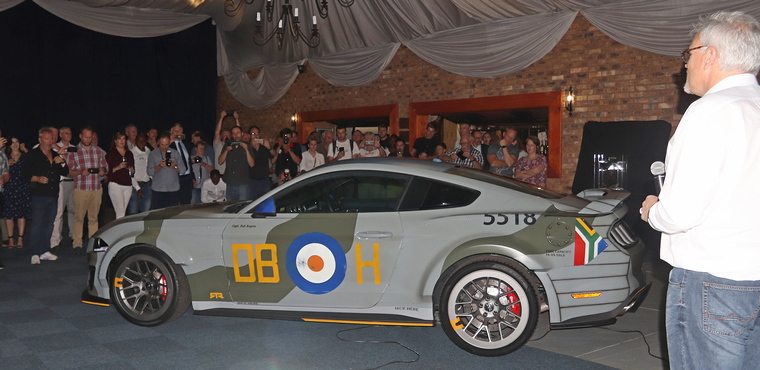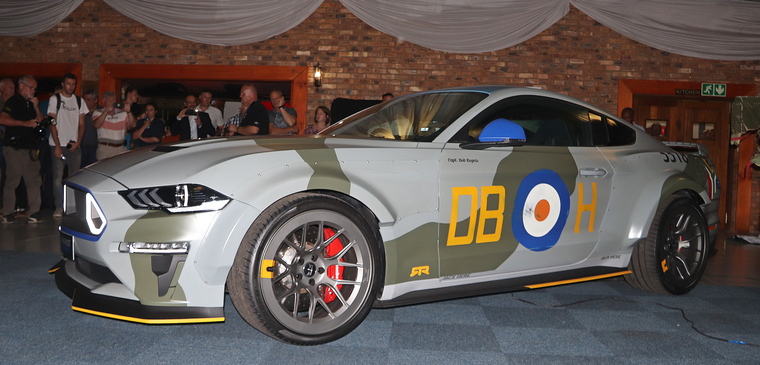 The RTR Mustang was revealed in all its glory to loud applause and gasps of admiration. She indeed is a work of art and a fitting tribute to those that fought for freedom from tyranny during WWII.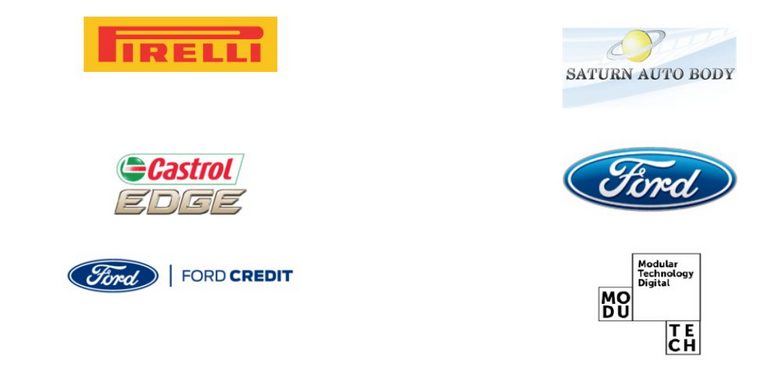 The support of these companies is indeed laudable and will go a long wat to making the dream of a South African Spitfire true. Please support those that support this cause.