Compiled by Willie Bodenstein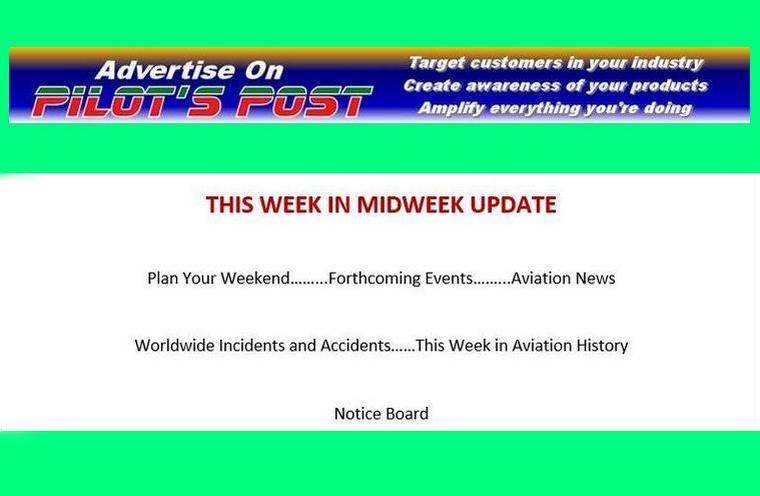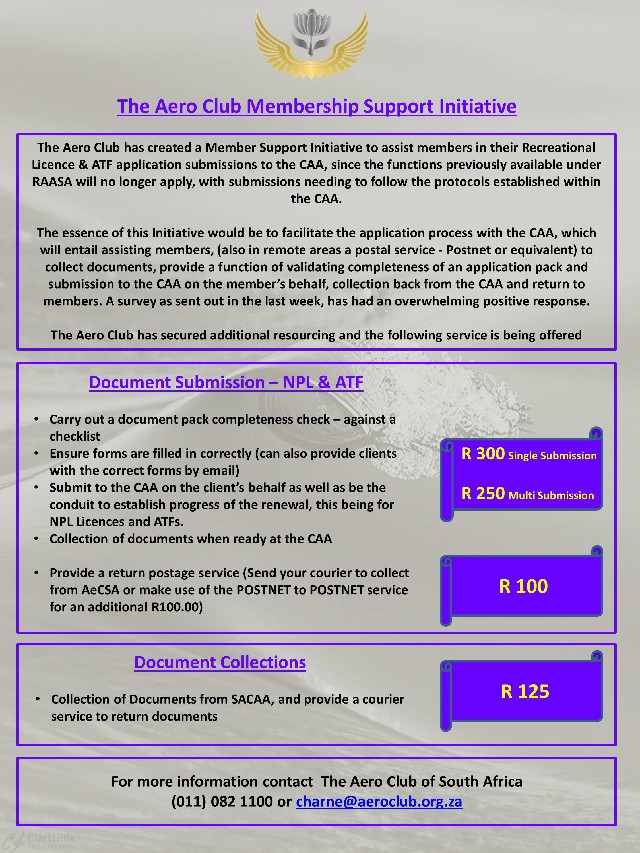 There are no events planned for the weekend that we are aware off.





18 - 19: SAC Gauteng Regionals Vereeniging Airfield. Contact: Annie Boon
chunge@mweb.co.za
25: Rand Airport Challenge Rally - Rand Airport. Contact: Frank Eckard e-mail:
frank.eckard@mweb
.co.za cell: 083 269 1516
25: SAPFA AGM - Time: 2 PM Rand Airport. Contact: Rob Jonkers e-mail:
rob@aerosud.co.za
cell: 082 804 7032


1: Witbank Speed Rally - Klerksdorp Airfield. Contact: Jonty Esser
jonty@promptroofing
cell: 082 855 9435
7 - 9: SAPFA Committee Bosberaad - Paddafontein. Contact:
rob@aerosud.co.za
Cell: 082 804 7032
22: FASHKOSH Stellenbosch.
29: Rally Navigation Training Course - Venue Aerosud. Contact: Mary de Klerk e-mail:
maryd@expandingbranding.co.za
cell: 084 880 9000


7: Brakpan Fun Rally - Brakpan Airport - Contact: Frank Eckard e-mail:
frank.eckard@mweb.co.za
cell: 083 269 1516
21: Bethlehem Speed Rally - Heidelburg Airfield - Contact: Jonty Esser e-mail:
jonty@promptroofing.co.za
cell: 082 855 9435
21: The Airplane Factory Fly-in, Tedderfield. Contact: Shanelle 011 948 9898



Obituary for Lt. John Henry Joseph (508 hours on Spitfires) Martin. 4 Squadron SAAF (Retired)

2 June 1923 - 21 November 2019. 96 years young.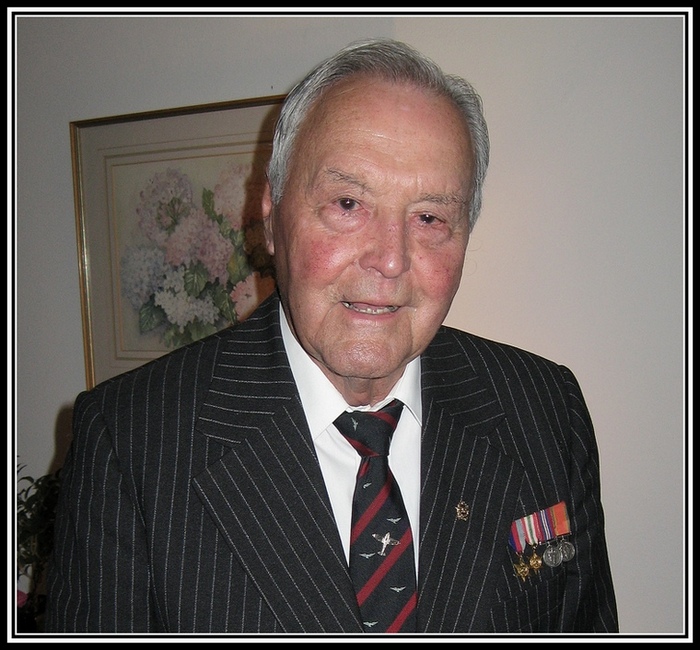 By Gordon Dyne
It is with sadness, tinged with relief, that I have to advise everyone that John Martin has made his last journey - to the big hangar in the sky - on 21 November.


John suffered a serious fall two weeks ago and although he had the strength of a lion, he finally succumbed to the ravages of time and his injuries. John 'passed on' at the Sandton Clinic with many of his family by his bedside. John was a devout Catholic and was happy with his faith. I believe he was really excited at meeting his Lord. Rest in peace John at the right hand of God.
John was born in Johannesburg on 2 June 1923. His mother was born in England and his father was born in Mauritius.
John was educated at St. Aidan's college in Grahamstown from where he matriculated. After school, John worked in the family business - the well-known jewellers - Max Martin.
John joined the South African Air Force (SAAF) in 1942 as a trainee pilot. He completed his initial training of 78 hours on De Havilland Tiger Moths from April to June 1943. He then transferred to 22 Air School in Vereeniging flying North American Harvards and was awarded his wings on 13th November 1943.
"Once the wings go on, they never come off whether they can be seen or not. It fuses to the soul through adversity, fear and adrenaline." This is a long poem, but finishes with the words:
"Because we fly, we envy no man on earth." So true!
The Harvards were built in the 1930s and onwards. Many still fly today. One of John's favourite 'throw away lines' was: "that when he flew Harvards - they were new!"
John was flown to Cairo on 2 March 1944 and was posted to 73 Operational Training Unit (OTU) flying Spitfire Mark 1s and 5s. He was then posted to Italy where he joined the SAAF's 4 squadron flying Spitfire Mark 9s. John's first operational flight was 29 May 1944, just prior to D-day and he made his last operational flight on 19 March 1945. John celebrated his 21st birthday, on 2 June 1944, whilst on operations in Italy. On 19 March 2019, John celebrated his 74th anniversary of climbing out of his Spitfire for the very last time.
John spent ten months on operations with the squadron as it progressed north through Italy. His squadron operated from nine different airfields during these ten months, carrying 500-pound bombs and flying close support work with the army on the ground. His Spitfire was armed with 2 x 20mm cannons and 4 x .303" machine guns. John completed 150 sorties and 508 hours on Spitfires and was flown home on 19 March 1945, with World War ll practically over. John transferred within the SAAF to flying 'twins' which he disliked intensely after the thrill of flying Spitfires. In his own words: "I flew a Douglas DC3, as co-pilot to Cairo, to bring home some of our 'boys' and fell asleep!" That was that! John was honourably discharged from the SAAF on 4 December 1945 and returned to civilian life, joining his father in the family business once more, which now became 'Max Martin and Son.'
John's squadron did not experience any 'air to air' combat during his time in Italy as the Allies had virtual control of the skies, so the task that befell 4 Squadron was to bomb and strafe enemy airfields and road and rail convoys. This was vastly more dangerous than 'air to air' combat due to intense anti-aircraft fire - Ack Ack from the ground. The Spitfires had to fly very low to ensure bombing accuracy. So much so that in John's ten months of operations, 25 of the squadron's Spitfires were shot down or crashed and 13 of John's fellow pilots were killed. That was about 60% of the squadron. John lost some good friends.
John married Maureen on 31 January 1948 and enjoyed 61 years of marital bliss until Maureen 'passed away' on 2 January 2009. They were a devoted couple. A wonderful example to us all.
I was introduced to John Martin and his delightful family in 2009 and took John flying in my Nanchang Dragon - a Chinese trainer war bird with tandem seating resembling a Spitfire, although very far from one! This was his first flight in a small aircraft for 64 years! I gave John control and one would think he had been flying all his life. He was an absolute 'natural!' We had two hours of absolute heaven! The first flight of many we have taken together.
For the past decade our families have become firm friends and thanks to many dear friends and pilots within The Experimental Aircraft Association (EAA) Chapter 322 led by the irrepressible Captain Karl Jensen SAA (retired), the SAAF and the Royal Air Force Officers' Club (RAFOC) we have kept John up in the air, attending lunches and dinners so that he barely had time to draw breath.
I genuinely believe that the camaraderie amongst our aviation community has helped towards John's longevity.
John leaves behind three wonderfully supportive children - Kevin, Linda and Michelle, six grandchildren and eight great-grandchildren. A delightful family.
Fly safely in your Spittie John and keep a few beautiful angels for me.
It has been my privilege to write these few words of tribute to my dearest friend and surrogate father John Martin.
The family would like to thank the wonderful caring doctors and staff at the Sandton Clinic and all the friends who visited John whilst he was there. Also grateful thanks to those many people who flooded the family and me with dozens of e-mails, Whatsapps and phone calls of support. Thank you all.
The funeral will be held at the Lady of Lourdes Catholic Church, corner North and Rivonia Roads, Rivonia on Saturday 7 December at 1030 hours. A fly-past will take place followed by refreshments.
Finally, John said to me and his family: "By the time I 'fall off the perch' all my friends will have pre-deceased me, so there will not be anybody to come to my funeral!' I am sure we can safely 'knock that notion' well and truly on the head on the 7th. Hope to see you there.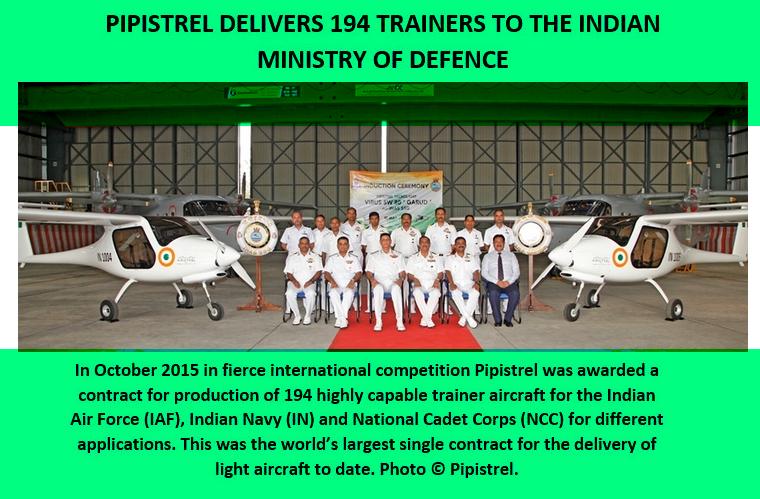 Deliveries began in 2016 and we are proud to announce that on 20 September we received the great news from our Indian partner Skytec Solutions that the last batch of the 194 aircraft has been successfully delivered to the end user customer by Pipistrel.
The part of the contract concerning delivery is thus concluded, but the customer support, guarantees, servicing and delivery of spare parts will continue for a long time. During the next 15 years large number of Indian military pilots and NCC cadets will be trained on the Pipistrel aircraft.
The deliveries were made to 85 locations, where the Indian team assembled the aircraft in the presence of end user representatives of the Ministry of Defence, tested them in the air and handed them over to the customer.
By successfully completing the deliveries, Pipistrel has proven itself to be a professionally capable, reliable industry partner to one of the most demanding military institutions in the world. Although India is only the fourth military superpower by size, it has a reputation of being a tough negotiator and being nearly impossible to strike a deal with. Few accepted businesses are known to become finalized and this is another reason why we are very proud an honoured that Pipistrel can be among them.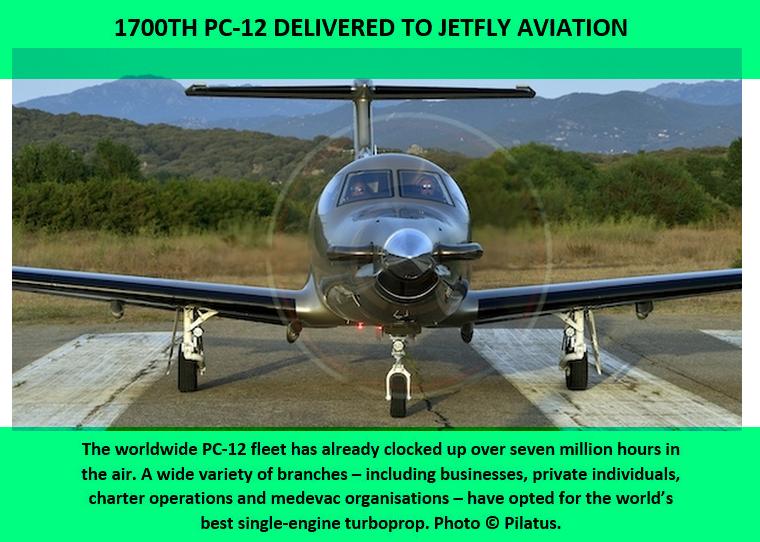 As in the past, Pilatus expects deliveries of the PC-12 to exceed 80 by the end of 2019. Market demand remains strong for the Swiss single-engine turboprop as the 1,700th PC-12 enters service. Pilatus handed over the brand-new "milestone" PC-12 to long-time fleet customer Jetfly Aviation.
The key to the 1,700th PC-12 with serial number 1912 was presented to Maxime Bouchard, Managing Director of Jetfly Aviation, at the head office site in Stans. Cédric Lescop, CEO of Jetfly, commented with enthusiasm: "We are thrilled to be taking delivery of the 1,700th PC-12. Jetfly operates the largest fleet of PC-12s in Europe, with 40 aircraft in service. The success of the Jetfly fractional programme would not have been possible without this ecological, safe, economic and high-performance aircraft."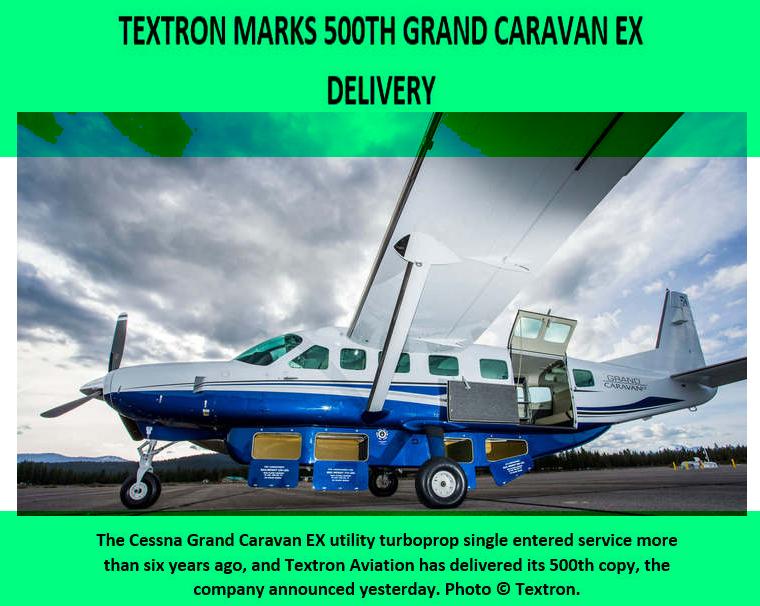 Certified in 2013, it is the third variant of the successful Caravan line first introduced in 1986, but with a more powerful Pratt & Whitney Canada PT6A-140 engine that improved its rate of climb by 38 percent over its predecessor.
Accepting the milestone Grand Caravan EX was Albuquerque, New Mexico-based South Aero, a charter and freight hauler that operates five Cessna Caravans and nearly 11 flights a day. "The dependability and load-carrying capability of the Grand Caravan EX allows our fleet to operate for thousands of hours across the continental U.S.," South Aero owner and CEO Wayne South said. "This is an outstanding aircraft for our operations and a platform that our pilots love to fly."
The $2.68 million airplane-which includes the optional under-belly cargo pod-can seat up to 14 passengers with a useful load of 3,692 pounds (1,675 kg) and a maximum range of 912 nm.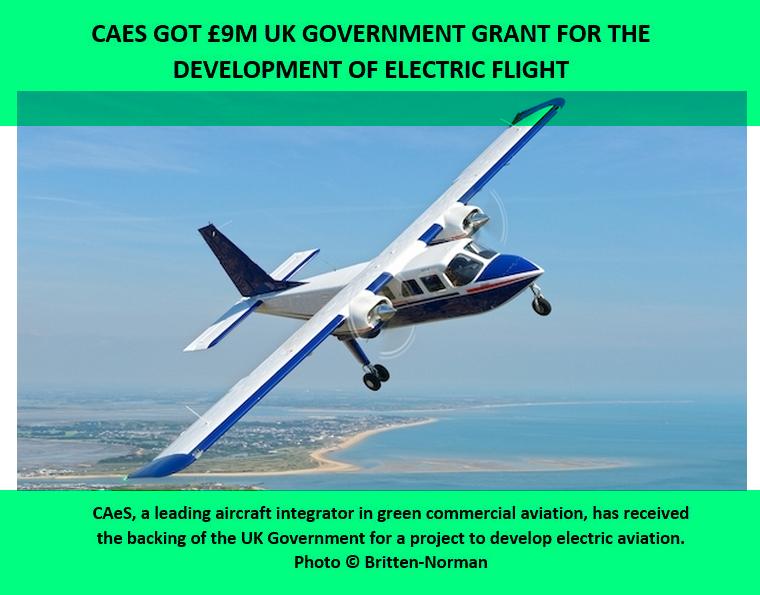 Project Fresson has received a grant of £9 million to design, manufacture and integrate a hybrid-electric propulsion system into a 9-seat Britten-Norman (B-N) Islander aircraft, which is typically used on short flights such as island-hopping routes.
The grant is provided through the ATI Programme: a partnership of the Aerospace Technology Institute (ATI), the Department for Business, Energy & Industry Strategy, and Innovate UK to maintain and grow the UK's competitive position in civil aerospace design and manufacture.
The Project Fresson team includes UK businesses: Rolls-Royce, who will be supplying the power management system; the Denis Ferranti Group, supplying the electric motors; Delta Motorsport, providing battery packs; WMG (University of Warwick), who will perform battery testing and characterisation, and Britten-Norman, the aircraft OEM (Original Equipment Manufacturer) providing the baseline aircraft and aircraft data/design support. CAeS parent Cranfield University will be researching key technology solutions vital for the 30-month project.
The Fresson project supports Rolls-Royce's commitment to making aviation more sustainable. This electric flight technology demonstrator enables Rolls-Royce to introduce a new concept in aircraft-level power distribution control that optimises all the elements of the power and propulsion system.
Following the demonstrator project, CAeS will go on to certify the modification through EASA to obtain a Supplemental Type Certificate. This will then be immediately available in the global market, allowing the current operators of the 400+ B-N Islanders to convert their aircraft reducing operating costs and their carbon footprint.

The twin-engine helicopter will be mainly dedicated to VIP transfers, but thanks to the high versatility of its cabin configuration, the aircraft will also be used for emergency medical transport and fire-fighting.
Established in 1999, Airlift was a pioneer in helicopter operations in Greece, where it has built a strong reputation for the quality and safety of its services. The new H145 will be the fifth helicopter to join Airlift's Airbus fleet, which is currently composed of H125, H130 and H135 family models.
The Airbus H145 leads the light twin-engine helicopter market, incorporating an innovative Helionix avionics system and 4-axis autopilot. The aircraft's combination of speed and performance, along with its large cabin and rear-loading clamshell doors, makes it the aircraft of choice for a variety of civil missions worldwide.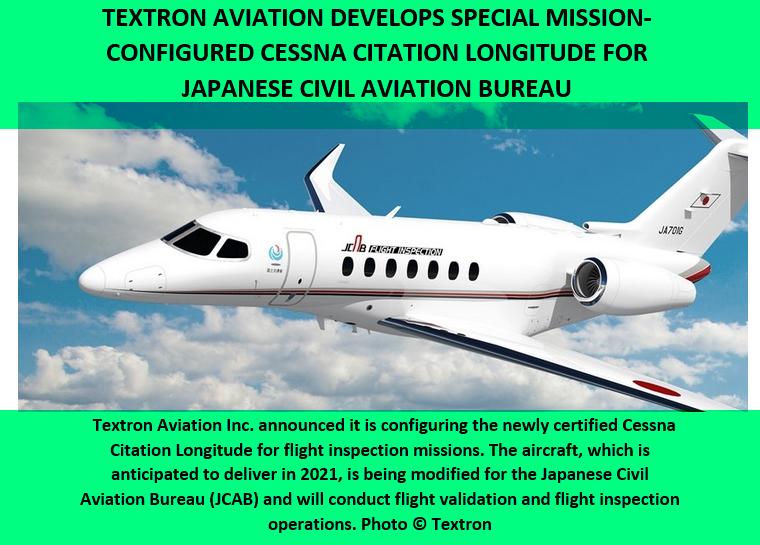 "From its early design stages, the clean-sheet design of the Citation Longitude gave us the flexibility to incorporate a wide-range of special missions capabilities into the platform," said Bob Gibbs, vice president, Défense & Special Missions Sales. "We're pleased to be working with long-time customer JCAB as it expands its mission profile with the addition of the Citation Longitude. The enhanced performance, large cabin and advanced capabilities of the aircraft give JCAB a new level of efficiency and productivity in maintaining the operational integrity of its airports and airways."
The JCAB Longitude is outfitted with newly designed UNIFIS 3000-G2 flight inspection equipment to perform critical verification of navigation aids such as Instrument Landing System Category I, II, and III (ILS Cat I,II,III) approaches, Ground Based Augmentation System (GBAS), Very High Frequency Omni-Directional Range (VOR), Tactical Air Navigation System (TACAN) and much more.
In addition to the Longitude, JCAB also operates five Citation CJ4 jets in a similar flight inspection capacity.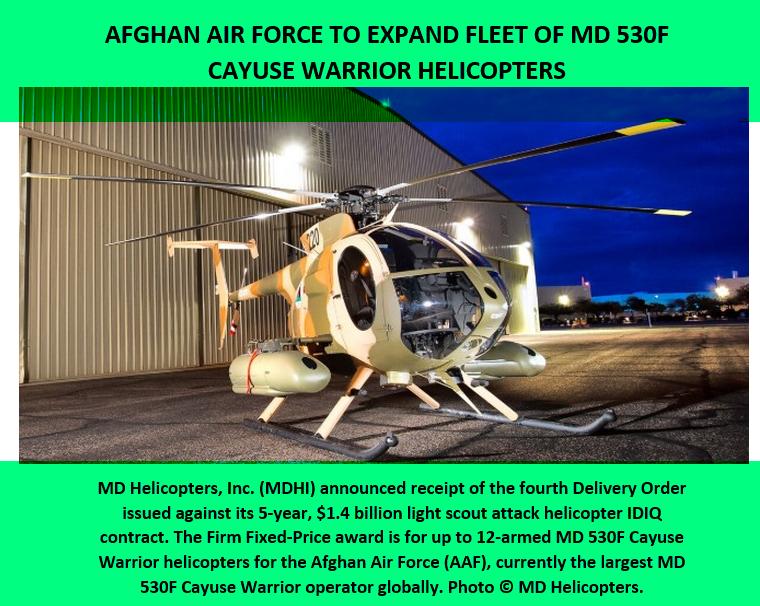 Awarded through U.S. Army Contracting Command, Redstone Arsenal, Alabama, on behalf of the Multi-national Aviation Special Project Office (MASPO), this award follows the successful delivery of all aircraft ordered via Delivery Order 1.
"The MD 530F Cayuse Warrior has played a critical role in creating an effective and sustainable air force in Afghanistan," said Lynn Tilton, Chief Executive Officer for MD Helicopters, Inc. "We are honoured to be the light scout attack helicopter of choice for the Afghan Air Force and a growing number of partner nation aviation forces."
The IDIQ Contract vehicle ensures an estimated quantity of up to 150 armed MD 530F Cayuse Warrior and/or MD 530G attack helicopters are available to U.S. and Partner Nation Military Forces. To date, 54 of 150 helicopters are currently under contract with multiple operators.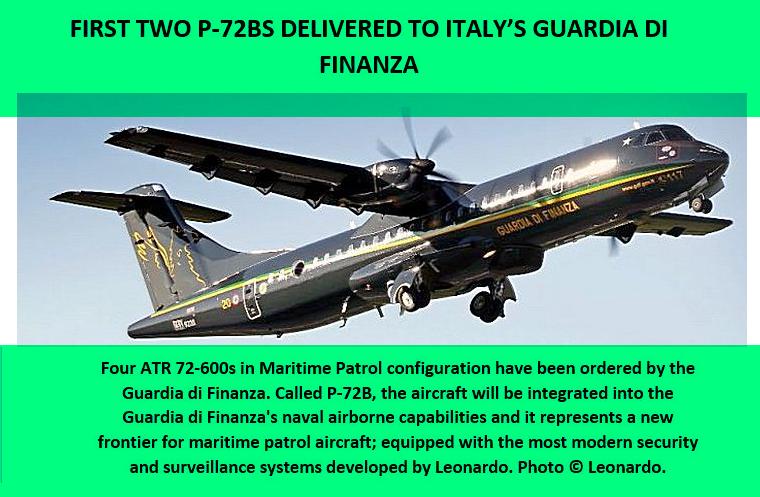 The first two out of four P-72Bs ordered by Italy's Guardia di Finanza have been handed over during an official ceremony held at Leonardo's Caselle Torinese facility today. Deliveries will be completed by 2022.
Lucio Valerio Cioffi, Aircraft Division MD at Leonardo, said: "We are proud that Guardia di Finanza has chosen to integrate our ATR 72MP into its naval airborne capabilities. This aircraft fully represents Leonardo's technological capabilities and it combines reliability, low operating costs in addition to the ATR 72-600 regional passenger transport benefits."
Designated as P-72B, the aircraft will be integrated into the aeronautical capabilities of Guardia di Finanza, within the framework of the multirole tasks assigned to the operator. The Guardia di Finanza is the only law enforcement agency with general jurisdiction capable of exercising incisive and constant supervisory activities along the entire nation's coastal development and in international waters, carried out also due to the advanced technological equipment installed on its own aircraft.
Specific latest generation capabilities embedded for the first time into the ATR 72MP will be useful to support dedicated surveillance activities entrusted to the Guardia di Finanza. The ATR 72MP will operate in air-sea patrol and research missions, using on-board sensors to identify, even discreetly, sensitive objects, monitor their behaviour, acquire evidence, and lead the intervention of naval units and land patrols.
The ATR 72MP, already in service with the Italian Armed Forces in a military version called P-72A, is equipped with the modular Leonardo ATOS (Airborne Tactical Observation and Surveillance) mission system. The ATOS manages a wide range of aircraft sensors, combining the information received in an overall tactical situation and presenting the results to the operators of the mission system in the most suitable format, providing a high level and constantly updated scenario.
Thanks to its commercial derivation, the ATR 72MP delivers its crew levels of ergonomics that increase its efficiency and effectiveness during maritime patrol, search and identification missions, search and rescue operations, counter drug trafficking, piracy, smuggling and preventing any illegal action across the territorial waters, which can typically last more than 8 hours.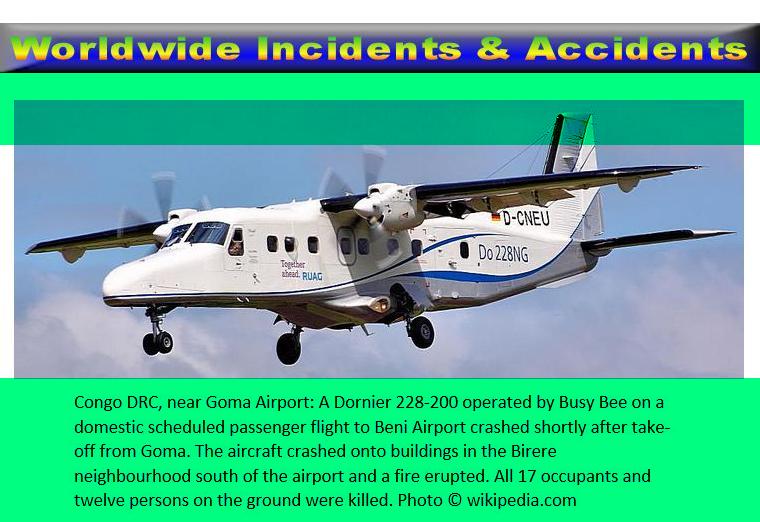 South Africa, Johannesburg: A South African Express Airways de Havilland Dash 8-400, registration ZS-YBU performing flight SA-1453 from Johannesburg to Port Elizabeth with 12 passengers and 4 crew, was climbing through FL160 out of Johannesburg when the crew needed to shut the left-hand engine down. The crew returned the aircraft to Johannesburg for a safe landing about 25 minutes after departure. The aircraft remained on the ground for about 6.5 hours, then performed a test flight and subsequently resumed service.
Zambia, Lusaka: A Proflight Air Services de Havilland Canada DHC-8-311 Dash 8 leased from Cemair on a domestic scheduled passenger flight sustained substantial damage after encountering a hail storm on a flight from Livingstone to Lusaka in Zambia.
Russia, Rostov on Don:
An Aeroflot Airbus A320-200 on a flight from Moscow Sheremetyevo to Anapa (Russia), was enroute about 120nm north of Rostov on Don (Russia) when the first officer's (49) health rapidly deteriorated prompting the captain to divert the aircraft to Rostov on Don. The first officer collapsed and did not show any sign of life anymore during the approach. The aircraft landed safely; medical services attended to the first officer but had to pronounce him dead.
Papua New Guinea, Between Kandrian and Gasmata: A Tropicair Cessna C208 Grand caravan with nine on board was apparently hijacked by eight hijackers. Only baggage was stolen from the plane. No one was injured. It is not clear whether the incident occurred in flight or on the ground.
India, Raipur: An Air India Airbus A321-200 with 180 people on board on a flight from Bhubaneswar to Mumbai (India), was climbing out of Bhubaneswar when a passenger alerted cabin crew of seeing fire and sparks from the left hand engine exhaust after which the flight attendants informed the flight deck. After some checks the pilots decided to shut the engine down and divert to Raipur (India), where the aircraft landed safely about 40 minutes after departure. The aircraft was evacuated via slides. There were no injuries.
Canada, Kingston Ontario: A Texas pilot, his wife and three children - along with a Canadian couple - died when their plane, a Piper PA-32, went down in the city of Kingston. Pilot Otabek Oblokulov, along with his wife and kids - ages 3, 11 and 15 - all of Houston, were killed. Another couple, Bobomurod Nabiev and his wife, who live in the Toronto area but are originally from Uzbekistan, also died on board, according to the report. The aircraft was headed to Quebec City from Buttonville Municipal Airport in Markham, Ontario, the outlet reported. But at some point, it changed course to Kingston, and crashed a few miles north of the city's airport. The plane appeared to have come down on a steep incline.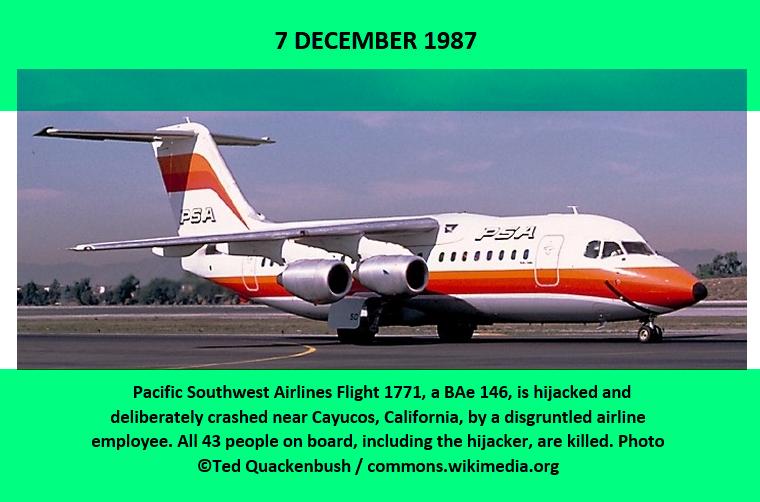 Pacific Southwest Airlines Flight 1771 was a scheduled flight from Los Angeles, California, to San Francisco. On 7 December 1987, the British Aerospace 146-200A, registration N350PS, crashed in Cayucos, California, as a result of actions by one of the passengers. All 43 passengers and crew aboard the plane died including the two pilots.
USAir, which had recently purchased Pacific Southwest Airlines (PSA), terminated David A. Burke, a ticketing agent, for petty theft of $69 from in-flight cocktail receipts; he had also been suspected of involvement with a narcotics ring. After meeting with Ray Thomson, his manager, in an unsuccessful attempt to be reinstated, Burke purchased a ticket on PSA Flight 1771, a daily flight from Los Angeles International Airport (LAX) to San Francisco International Airport (SFO).
Thomson was a passenger on the flight, which he regularly took for his daily commute from his workplace at LAX to his home in the San Francisco Bay Area. Flight 1771 departed from LAX at 15:31 PST, scheduled to arrive in San Francisco at 16:43.
Using USAir employee credentials that he had not yet surrendered, Burke, armed with a Smith & Wesson Model 29 .44 Magnum revolver that he had borrowed from a coworker, was able to bypass the normal passenger security checkpoint at LAX. After boarding the plane, Burke wrote a message on an airsickness bag, but it is not known if he gave the message to Thomson to read before shooting him. The note read:
Hi Ray. I think it's sort of ironical that we end up like this. I asked for some leniency for my family. Remember? Well, I got none and you'll get none.
The exact sequence of events remains undetermined; however, the Mayday episode that focuses on the crash suggests that this was Burke entering the lavatory to draw his revolver discreetly, possibly loading it and giving Thomson time to read the note before killing him. Captain Gregg Lindamood, 44, and First Officer James Nunn, 48, were asking air traffic control about turbulence when the CVR picked up the sound of two shots being fired in the cabin. It is likely that Burke first shot Thomson twice. Thomson's own seat was never recovered.
First Officer Nunn immediately reported to air traffic control that a gun had been fired. The CVR then recorded the cockpit door opening and flight attendant Deborah Neil telling the cockpit crew, "We have a problem!", to which Captain Lindamood replied, "What's the problem?" A shot was heard as Burke shot the flight attendant dead and announced "I'm the problem." He then fired two more rounds. Most likely, he shot the captain and first officer once each, incapacitating them, if not outright killing them. Several seconds later, the CVR picked up increasing windscreen noise as the airplane pitched down and accelerated. The remains of the flight data recorder (FDR) indicated Burke had pushed the control column forward into a dive or that one of the shot pilots was slumped over it.
A final gunshot was heard followed not long after by a sudden silence. It is most likely that Burke killed Douglas Arthur, PSA's chief pilot in Los Angeles, who was also on board as a passenger and who may have been trying to reach the cockpit to save the aircraft.
The plane was estimated to have crashed slightly faster than the speed of sound, at around 770 mph (1,240 km/h), disintegrating instantly.