Compiled by Willie Bodenstein




COMAIR RECOGNISED AS ONE OF SOUTH AFRICA'S CERTIFIED TOP EMPLOYERS 2020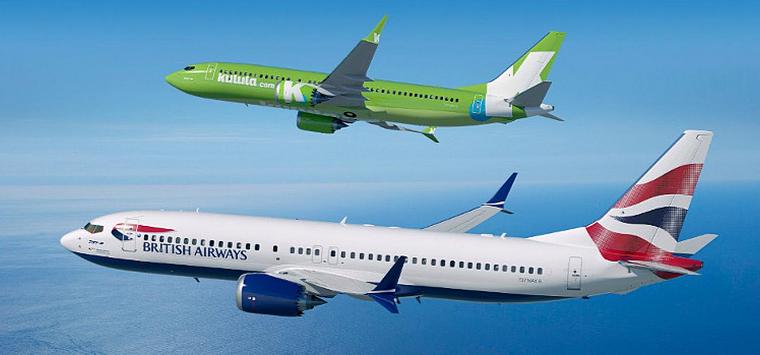 Comair Limited has been officially recognised by the Top Employers Institute as a Top Employer 2020 in South Africa. Organisations certified as Top Employers dedicate themselves to providing the very best working environment for employees through their progressive 'people-first' HR practices.
Top Employers Institute CEO David Plink says, 'To become recognised as a Top Employer, an organisation will have to prove that the implementation of their people strategies enriches the world of work of their employees. The certified participants are a shining example of a dedication to people practices as they continuously commit to empowering their employees for a better world of work. Congratulations!'
Wrenelle Stander, Comair's Joint CEO says, 'An integral part of Comair's success is the people we employ. As Comair we strive to be an employer of choice and invest significantly in the relationship with our people by delivering a holistic employee value proposition. We are proud to be certified as a Top Employer 2020 in South Africa!'

AIR ALGÉRIE, WILL BE LAUNCHING A NEW ROUTE TO BRUSSELS SOUTH CHARLEROI AIRPORT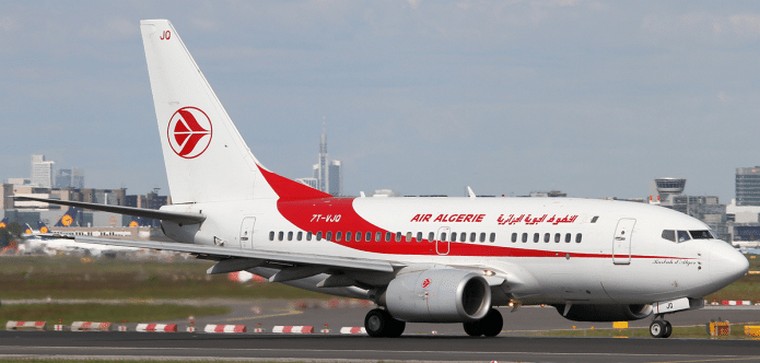 Algeria's national airline, Air Algérie, will be launching a new route to Brussels South Charleroi Airport on 18 December. Two flights a week will be connecting the capital of Algeria to Brussels South Charleroi Airport on Tuesdays and Sundays. Tickets are already available on the airline's website.
Algeria's capital will be available via a second operator as of 18 December 2018. A Boeing 737-600, seating 101 passengers, will be flying between BSCA and the capital of Algeria.
The national airline Air Algérie was founded in 1962 and is the eighth airline to be working at Brussels South Charleroi Airport. It is also the third national airline to put its trust in the services of Brussels-Charleroi. The airline is experiencing considerable growth at the moment in terms of sales, carrying more than 6.1 million passengers a year to a network of more than 70 destinations. Air Algérie has a fleet of 59 aircraft, operating on four continents.

ETHIOPIAN COLOURFULLY CELEBRATES 20TH ANNIVERSARY OF SHEBAMILES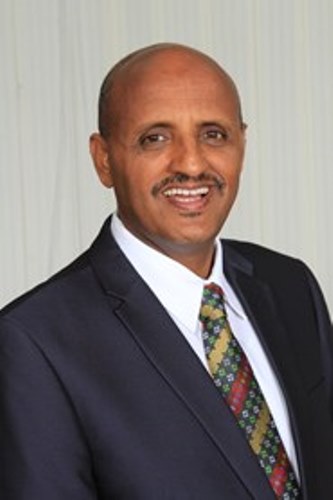 Ethiopian Airlines, the Largest Aviation Group in Africa and SKYTRAX Certified Four Star Global Airline has colourfully celebrated the 20th anniversary of its loyalty program, ShebaMiles, and Customers' Day on 12 November 2019 at Ethiopian Skylight Hotel.
On the occasion, Ethiopian Airlines awarded its ShebaMiles platinum members and cargo customers for their continuous support and patronage to the airline.
Airlines Group CEO Tewolde GebreMariam said" We are excited to offer our members with more ways to earn miles over the years. Throughout these years, our customers have contributed immensely to the development of the loyalty program. Our Frequent Flyer Program has teamed up with several airlines and non-airline partners to create a world of choices for members to accumulate miles. Going forward, we will continuously strive to offer enormous privileges for our customers underpinned by our digital solutions. We sincerely thank our loyal members and partners for their continued support throughout the years and for inspiring us to constantly enrich their travel and overall travel experiences."
EMIRATES ORDERS 30 BOEING 787 DREAMLINERS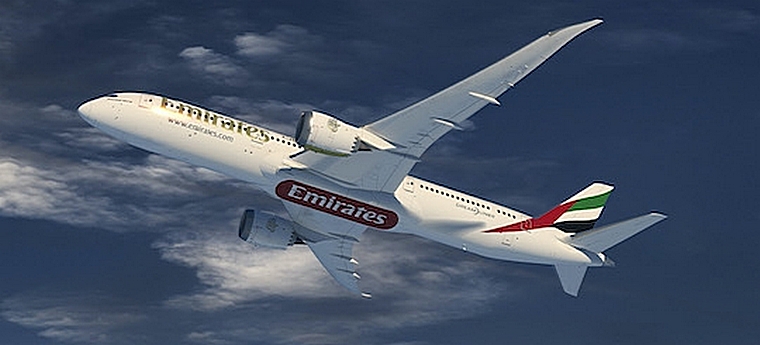 At the Dubai Airshow Boeing and Emirates have finalized a purchase agreement for 30 787-9 Dreamliner airplanes, valued at $8.8 billion according to list prices. Emirates had previously signed an initial agreement for the larger 787-10 variant. In officially selecting the 787-9, Emirates adds a medium-sized widebody airplane to complement the airline's larger 777 aircraft. Both airplane families lead their respective category for superior range and fuel efficiency.
HH Sheikh Ahmed bin Saeed Al Maktoum, Emirates Chairman and Chief Executive said: "I am pleased to announce a firm order for 30 Boeing Dreamliners. This is an important investment and addition to our future fleet and it reflects Emirates' continued efforts to provide the best quality air transport services to our customers. The 787s will complement our fleet mix by expanding our operational flexibility in terms of capacity, range and deployment. We are also pleased to reaffirm our commitment to the Boeing 777X program and look forward to its entry into service.


AIR FRANCE NEW A350 OFFERS INMARSAT GX AVIATION ADVANCED CONNECTIVITY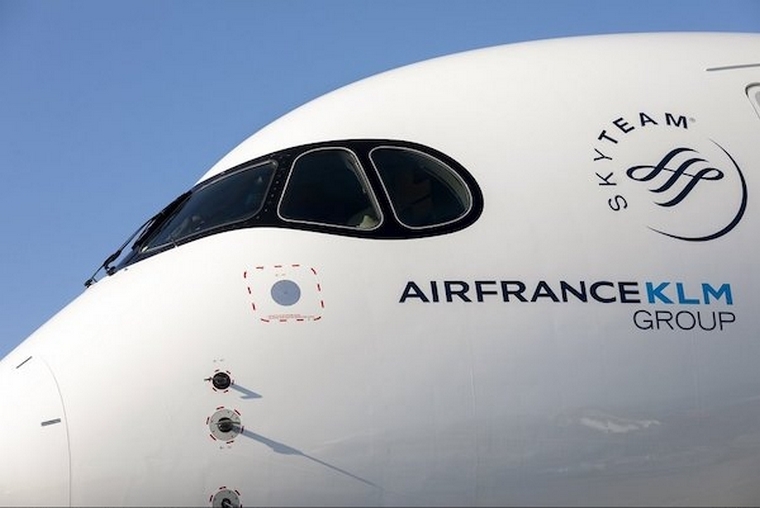 Air France's first Airbus A350, named 'Toulouse', was delivered with GX Aviation installed, making inflight broadband solution accessible for passengers travelling on brand new aircraft. The aircraft entered commercial service in October with an inaugural flight to Toronto, which it will serve daily throughout the winter season. The aircraft will eventually operate to six destinations on four continents from Charles de Gaulle airport in Paris.
GX Aviation is a key part of Air France's Airbus A350 onboard experience in all three cabins - economy, premium economy and business class. The airline offers three different Wi-Fi packages: a free 'Message' pass to send and receive messages throughout the flight; a 'Surf' pass costing to surf the internet, read and send emails; and a 'Stream' pass to enjoy high-speed internet, streaming and downloads, with the 'Message' and 'Surf' passes included.
The Dreamliner's superior efficiency and range have allowed airlines to open 257 new non-stop routes around the world. More than 80 customers around the world have ordered more than 1,400 Dreamliners since the program's introduction, making it the fastest-selling widebody jet in history.
BINTER FIRST E195-E2 DELIVERED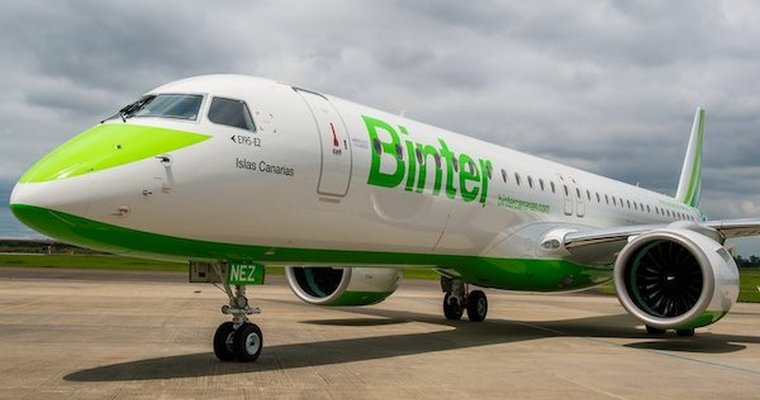 Binter is the first European customer that received E195-E2s, the biggest of the three members of the E-Jets E2 family of commercial aircraft. The acquisition of the is part of Binter's overall fleet modernization initiative. Each aircraft is configured with 132 seats in single class. The new aircraft will be deployed across a route network that includes eight cities in the Canary Islands, nine cities in Africa and two in Portugal. Last year, Binter carried 3.6 million passengers.
Like the E190-E2, the E195-E2 has the longest maintenance intervals in the single-aisle jet category with 10,000 flight hours for basic checks and no calendar limit for typical E-Jet operations. This means an additional 15 days of aircraft utilization over a period of ten years compared to current generation E-Jets.
The E195-E2 features new ultra-high bypass ratio engines, a completely new wing, full fly-by-wire controls and new landing gear. Compared to the first-generation E195, 75% of aircraft systems are new. The E195-E2 has 3 additional seat rows. The cabin can be configured with 120 seats in two classes, or up to 146-seats in a single class layout.


BOEING 737 MAX 10 MAKES ITS DEBUT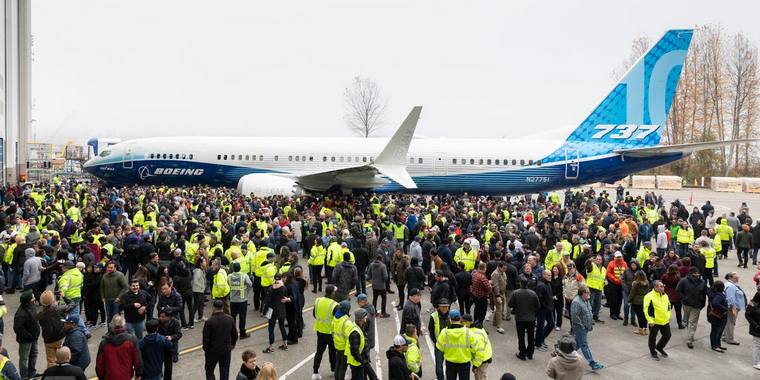 Boeing [NYSE: BA] marked a key milestone as thousands of employees gathered for the debut of the first 737 MAX 10 at the company's Renton, Washington factory. During a ceremony, Boeing leaders highlighted the team's accomplishments and recognized their efforts in completing production of the newest member of the 737 MAX family.
"Today is not just about a new airplane. It's about the people who design, build and support it," said Mark Jenks, vice president and general manager of the 737 program. "This team's relentless focus on safety and quality shows the commitment we have to our airline customers and every person who flies on a Boeing airplane."
The 737 MAX 10, the largest variant of the MAX family, can seat up to 230 passengers and offers the lowest seat-mile cost of any single-aisle airplane ever produced. The airplane will now undergo system checks and engine runs prior to first flight next year. The 737 MAX 10 currently has more than 550 orders and commitments from more than 20 customers around the globe.


GECAS ORDERS 12 A330NEO AND 20 A321XLR AIRCRAFT



GE Capital Aviation Services (GECAS), the commercial aircraft leasing and financing arm of General Electric [NYSE: GE], has signed a firm order for 12 highly efficient wide-body Airbus A330neos and 20 long-range single-aisle A321XLRs.
The agreement for the A321XLR includes an order for 13 new planes and the upsizing of seven A321s in its existing backlog. The latest order takes the total number of A330 Family aircraft ordered by GECAS to 45 and all variants of the A320 Family to 588.
The A330neo Family is the new generation A330, comprising two versions: the A330-800 and A330-900 sharing 99 percent commonality. It builds on the proven economics, versatility and reliability of the A330 Family, while reducing fuel consumption by about 25 percent per seat versus previous generation competitors and increasing range by up to 1,500 nm compared to the majority of A330s in operation.
The A321XLR is the longest-range single-aisle commercial jetliner ever, capable of flying routes up to 4,700nm with unbeatable fuel efficiency. The enhanced range and efficiency of the A321XLR enables operators to exploit new route opportunities with low operating costs, a reduced environmental impact, and provide passengers with a comfortable travel experience.
AIR FRANCE OFFERS FLIGHTS TO ALGIERS ON DEPARTURE FROM PARIS-ORLY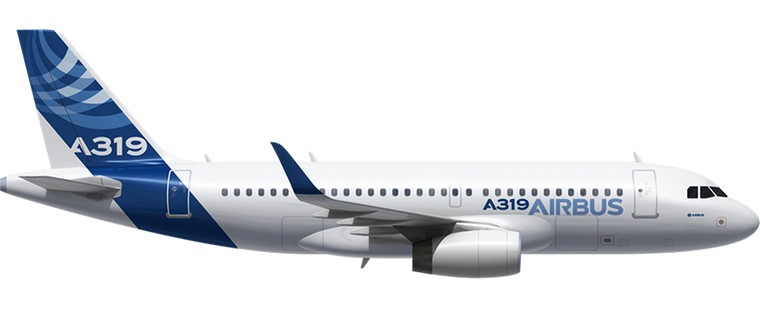 Already available for ticket purchase via the Air France app or airfrance.com, the Paris-Orly - Algiers service will be operated on Tuesdays, Thursdays, Saturdays and Sundays by Airbus A319 (143 seats). Air France customers travelling from the French regions will find it easier to continue their trip to business and leisure destinations from Paris-Orly airport.
Air France will operate flights to Algiers from Paris-Orly four times weekly by Airbus A319 with a capacity of 143 seats. This new offer is in addition to the 27 weekly flights operated out of Paris-Charles de Gaulle, i.e., a total of over 30 flights between Paris and Algiers.
This new route offered by Air France is in addition to those operated by Transavia. -
AIRBUS CELEBRATES THE 100TH A220 AIRCRAFT PRODUCED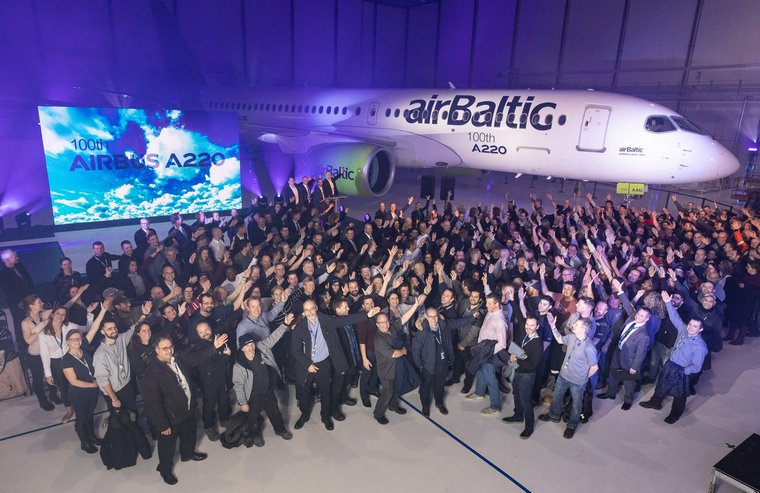 Airbus has celebrated the 100th A220 aircraft produced for a customer during a ceremony at the aircraft programme's headquarters in Mirabel, Canada. The aircraft, an A220-300, destined for Riga, Latvia-based airBaltic, features a brand new and comfortable cabin layout with 149 seats plus a modernised livery.
The A220 Family is assembled at Airbus' main Final Assembly Line in Mirabel and more recently, also at the program's second assembly line in Mobile, Alabama. The world's first A220 (formerly called the C Series) was delivered in June 2016 to A220-100 launch operator SWISS.
airBaltic became the A220-300 launch operator when the Latvian airline received delivery of the first ever A220-300 three years ago, on 28 November, 2016. airBaltic has since then re-ordered A220-300 aircraft twice - bringing its firm order to 50 aircraft to become the current biggest European A220 customer. The airline now operates a fleet of 20 A220-300 aircraft.
Initially designed and delivered as the Bombardier C Series, the A220 is the only aircraft purpose-built for the 100-150 seat market; it delivers unbeatable fuel efficiency and widebody passenger comfort in a single-aisle aircraft. The A220 brings together state-of-the-art aerodynamics, advanced materials and Pratt & Whitney's latest-generation PW1500G geared turbofan engines to offer at least 20 percent lower fuel burn per seat compared to previous generation aircraft, along with significantly lower emissions and a reduced noise footprint. The A220 offers the performance of larger single-aisle aircraft.
LUFTHANSA GROUP AIRLINES WELCOME MORE THAN 13.3 MILLION PASSENGERS ON BOARD IN OCTOBER 2019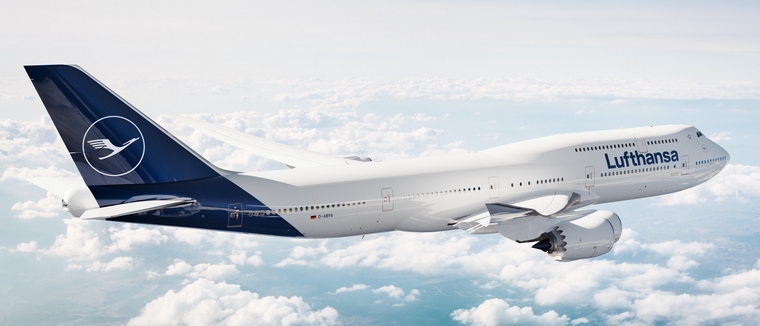 In October 2019, the Lufthansa Group airlines welcomed around 13.3 million passengers. This shows an increase of 1.1 percent compared to the previous year's month. The available seat kilometres were up 1.4 percent over the previous year, at the same time, sales increased by 2.7 percent. In addition, as compared to October 2018, the seat load factor increased by 1.0 percentage points to 82.8 percent.
Cargo capacity increased by 1.7 percent year-on-year, while cargo sales decreased by 3.0 percent in revenue tonne-kilometre terms. As a result, the Cargo load factor showed a corresponding reduction, decreasing by 3.0 percentage points to 62.4 percent.
The Network Airlines including Lufthansa German Airlines, SWISS and Austrian Airlines carried around 9.8 million passengers in October - 2.5 percent more than in the prior-year period. Compared to the previous year, the available seat kilometres increased by 3.3 percent in October. The sales volume was up by 4.4 percent over the same period, with an increasing seat load factor by 0.9 percentage points to 82.8 percent.
AIR CORSICA TAKES DELIVERY OF ITS FIRST AIRBUS A320 NEO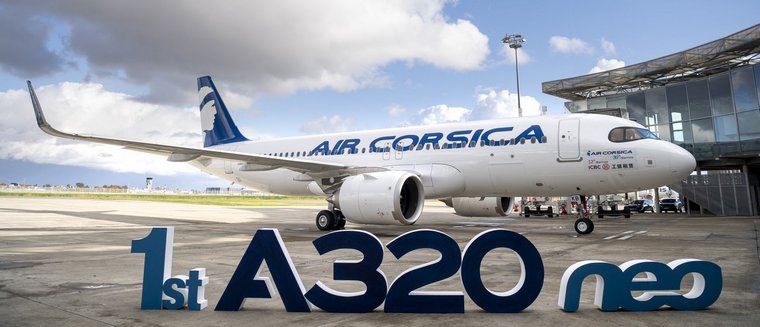 Air Corsica, the airline company based on the Island of Corsica, has taken delivery of its first of two Airbus A320neo aircraft on lease from ICBC Leasing. With this delivery, the airline becomes the first French A320neo operator. The highly-fuel-efficient single-aisle aircraft will help reduce Air Corsica's operating costs. The airline's A320neo is powered by CFM International LEAP-1A engines and is configured in a single-class cabin layout, seating 186 passengers.
The two Air Corsica A320neo aircraft will replace the older aircraft in its fleet and will operate on the airline's main domestic and European networks. Air Corsica is currently operating a fleet of six A320 aircraft.
Featuring the widest single-aisle cabin in the sky, the A320neo Family incorporates the very latest technologies including new generation engines and Sharklets, which together deliver 20% reduced fuel burn as well as 50% less noise compared to previous-generation aircraft.
At the end of October 2019, the A320neo Family had received more than 7,000 firm orders from over 110 customers worldwide.
SCANDINAVIA'S SAS TAKES DELIVERY OF ITS FIRST AIRBUS A350 XWB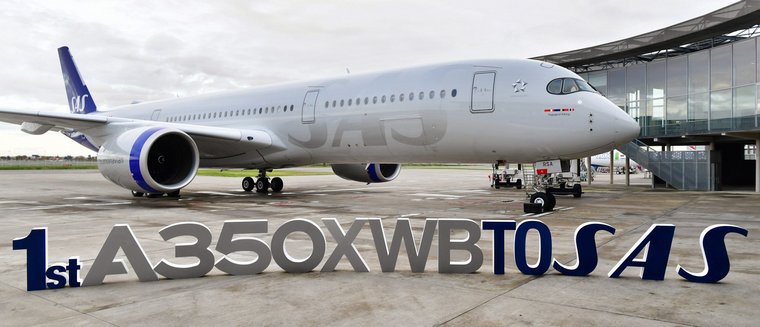 Scandinavian carrier SAS has taken delivery of its first A350-900, becoming the newest operator of this latest generation, highly efficient widebody aircraft. The airline has a total of eight A350-900 aircraft on order and operates an Airbus fleet of 68 aircraft (51 A320 Family, 17 A330 and A340 Family aircraft). In the coming years, as part of an extensive fleet modernisation, SAS will take delivery of 54 additional A320neo Family aircraft and the remaining seven A350-900s through direct purchase and lease contracts.
SAS's A350-900 features a modern and highly comfortable three-class cabin layout with 300 seats: 40 "SAS Business" class, 32 "SAS Plus" class and 228 "SAS Go" class seats. On 28 January 2020, the airline will start to operate the new aircraft on its Copenhagen-Chicago long-haul route, followed by other international destinations including North America and Asia.
The A350 XWB features the latest aerodynamic design, a carbon fibre fuselage and wings, plus new fuel-efficient Rolls-Royce engines. Together, these latest technologies translate into unrivalled levels of operational efficiency with a 25% reduction in fuel burn and emissions. The A350 XWB's Airspace by Airbus cabin is the quietest of any twin-aisle and offers passengers and crews the most modern in-flight products for the most comfortable flying experience. Moreover, SAS will benefit from Airbus' unique aircraft commonality. The incoming A350s will seamlessly integrate into SAS's current Airbus fleet in service today at the airline.
At the end of October 2019, the A350 XWB Family had received 913 firm orders from 50 customers worldwide, making it one of the most successful widebody aircraft ever.
GULFSTREAM BEGINS G500 DELIVERIES TO EUROPE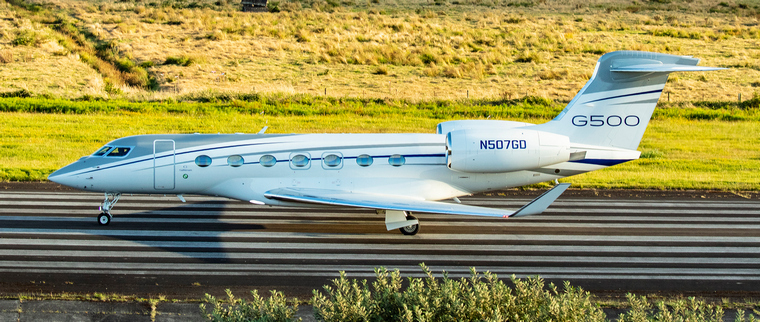 Gulfstream Aerospace Corp. announced the Gulfstream G500™ has been delivered to its first European customer. An undisclosed Western-Europe-based charter operator took delivery of the aircraft in Savannah.
The G500 earned certification from the European Union Aviation Safety Agency on Oct. 11 and is in service in North America, Brazil, the Middle East and Europe.
The G500 can travel 4,400 nautical miles/8,149 kilometers at Mach 0.90 and 5,200 nm/9,630 km at Mach 0.85. Its Symmetry Flight Deck™ features the first electronically linked active control sidesticks in civil aviation, the most extensive use of touchscreen technology in business aviation and a data concentration network, all of which streamline operations and reduce pilot workload.
Passengers also benefit from technology in the cabin. Along with award-winning, bespoke interior design, the G500 offers the Gulfstream cabin experience of 100 percent fresh air, 14 Gulfstream panoramic windows, a low cabin altitude and whisper-quiet sound levels.
BOMBARDIER GLOBAL 7500 AIRCRAFT RECEIVES PRESTIGIOUS 2019 ONTARIO PROFESSIONAL ENGINEERS AWARD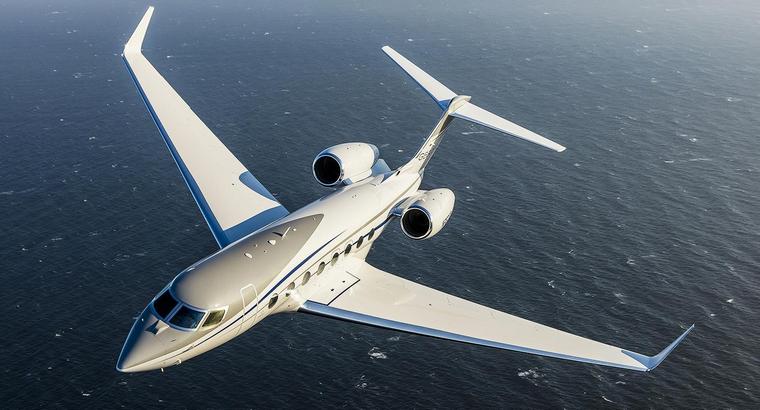 Bombardier's multi-award winning Global 7500 business jet added another prestigious award to its growing list of accolades. The industry flagship is the 2019 recipient of the Ontario Professional Engineers Award (OPEA) for Engineering Project or Achievement, which is presented annually to a major project developed with significant input by Ontario engineers. The award, co-sponsored by the Ontario Society of Professional Engineers and Professional Engineers Ontario, was presented at the OPEA gala held in Mississauga on 16 November 2019.
The clean-sheet and innovative Global 7500 aircraft design and development involved the collaboration of more than 2,000 Bombardier engineers and suppliers. The engineering effort entailed millions of person hours invested by dozens of teams and involved coordination and teamwork of numerous major structural and systems suppliers.
Among the many design innovations that set Bombardier's Global 7500 aircraft apart from its competitors is its advanced wing design. With its sophisticated slats and flap system, the aircraft's wing maximizes aerodynamic efficiency and performance for improved safety and an exceptionally smooth ride. The Global 7500 aircraft also outpaces its rivals in performance, with a proven ability to fly farther, faster, and with its unique steep-approach capability, provides passengers access to challenging airports such as London City. In the cockpit, the next generation fly-by-wire technology blends advanced avionics with exceptional ergonomics and control to ensure the most complete flight envelope protection.
In addition to the 2019 OPEA Award, the Global 7500 aircraft have been recognized as Business Jet of the Year in Robb Report's Best of the Best 2019, winner of the 2019 Aviation Week Grand Laureate Award in the Business Aviation category and has earned a 2018 Red Dot award for design.
DELTA REPORTS OPERATING PERFORMANCE FOR NOVEMBER 2019



Delta Air Lines (NYSE: DAL) reported operating performance for November 2019. The company carried 15.7 million customers across its broad global network, a record for the month of November.
Delta Air Lines (NYSE: DAL) is the U.S. global airline leader in products, services, innovation, reliability and customer experience. Powered by its 80,000 people around the world, Delta continues to invest billions in its people, delivering a world-class travel experience and generating industry-leading shareholder returns. With its constant drive to invest, innovate and expand, Delta today is the world's No. 1 airline by total revenues.
- Delta serves nearly 200 million people every year, taking customers across its industry-leading global network to more than 300 destinations in over 50 countries.
- Headquartered in Atlanta, Delta offers more than 5,000 daily departures and as many as 15,000 affiliated departures including the premier SkyTeam alliance, of which Delta is a founding member.
- Through its innovative alliances with Aeromexico, Air France-KLM, Alitalia, China Eastern, Korean Air, Virgin Atlantic, Virgin Australia and WestJet, Delta is bringing more choice and competition to customers worldwide.
- Delta operates significant hubs and key markets at airports in Amsterdam, Atlanta, Boston, Detroit, London Heathrow, Los Angeles, Mexico City, Minneapolis/St. Paul, New York-JFK and LaGuardia, Paris-Charles de Gaulle, Salt Lake City, São Paulo, Seattle, Seoul-Incheon and Tokyo.
- Delta has been recognized as a Fortune's top 50 Most Admired Companies in addition to being named the most admired airline for the eighth time in nine years. Additionally, Delta has ranked No.1 in the Business Travel News Annual Airline survey for an unprecedented eight consecutive years and named one of Fast Company's Most Innovative Companies Worldwide for two consecutive years.

BRITISH AIRWAYS' FIRST CONTACT RESOLUTION PROGRAMME IS LAUNCHED WORLDWIDE AFTER SUCCESSFUL START AT HEATHROW HOME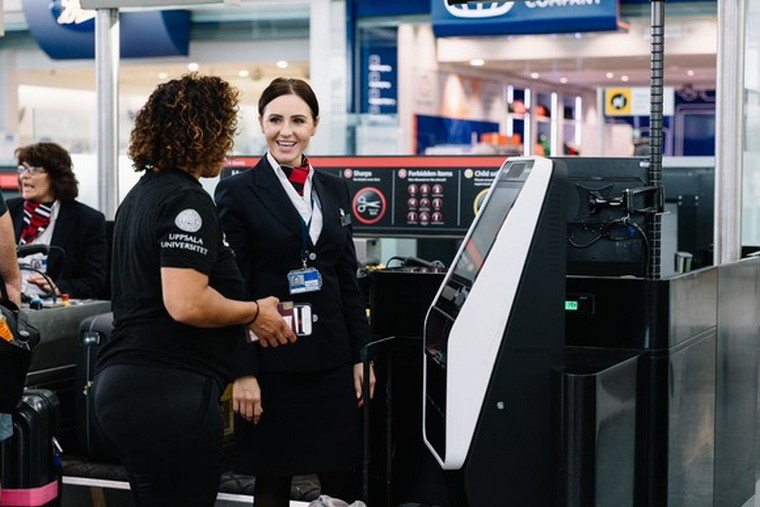 British Airways is extending its First Contact Resolution programme to colleagues around the world following a successful roll out at Heathrow. First Contact Resolution enables staff to assist and resolve any customer issue at the airport rather than refer travelers to Customer Relations teams, saving customers' time and worry. The initiative demonstrates the airline's continued commitment to provide unique British Airways' customer service.
Following the successful launch of British Airways' First Contact Resolution Programme at Heathrow last year, the airline is now rolling the programme out across every airport it operates to. First Contact Resolution empowers airport hosts to use their expertise, initiative and judgment to solve customer queries on the spot, without waiting for management approval. This allows them to provide instant solutions and peace of mind for customers and send fewer issues to Customer Relations colleagues.
All staff worldwide are now being further empowered to use their skills and initiative to do the right thing for any customer at that moment. The worldwide roll out is a direct result of the successful start of the programme at Heathrow - earlier this year British Airways won the title of Best Airline Staff in Europe at the prestigious Skytrax World Airline Awards.
UNITED AIRLINES ORDERS 50 AIRBUS A321XLRS FOR TRANSATLANTIC ROUTE EXPANSION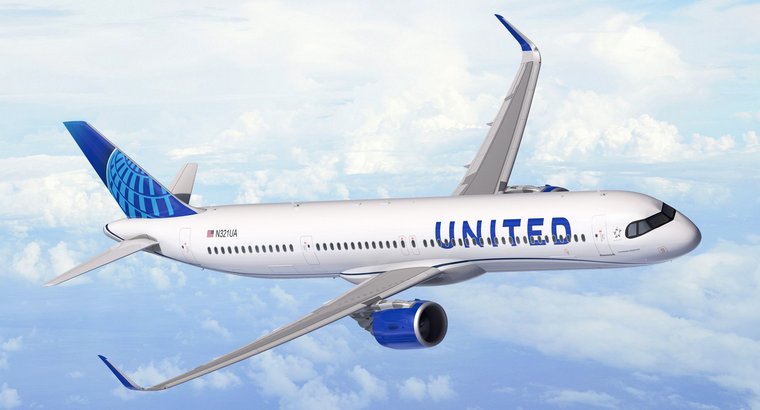 United Airlines has placed a firm order for 50 Airbus A321XLR aircraft as it begins to phase out older models and launches an expansion of transatlantic routes from its key U.S. hubs in Newark/New York and Washington, D.C. United plans to take delivery of the first A321XLR in 2024 and expects to begin international service with the aircraft in 2025.
The A321XLR is the next evolutionary step in the A320neo/A321neo family of aircraft, meeting market requirements for increased range and payload in a single-aisle aircraft, and creating more value for the airlines by enabling economically viable service on longer routes than any comparable aircraft model. It will allow service from the U.S. East Coast to a much larger selection of European destinations.
The A321XLR will deliver an unprecedented narrow-body aircraft range of up to 4,700nm, with 30% lower fuel consumption per seat compared with previous-generation competitor jets. It will have a maximum takeoff weight (MTOW) of 101 metric tonnes, while takeoff, climb, and flight performance will change little from the A321neo.
The A321XLR will be operated by the same crew, powered by the same engines and have the same cabin as the A321neo, with more than 90% commonality. Combining the A321neo's two rear center fuel tanks into one adds fuel capacity and reduces structural weight. Other significant changes include structural reinforcements and modified landing gears for the increased MTOW, increased braking capability, higher tire speed, and additional flap and slat configurations.