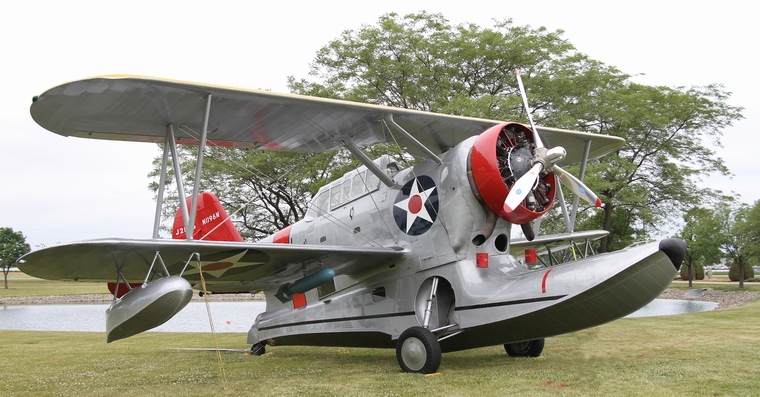 For years I have been admiring the Grumman Duck that is on display at the EAA Museum at Oshkosh never dreaming that one day I will actually see a flying example. But in 2016, a Duck unexpectantly landed at Wittman Airfield one afternoon during the EAA's Convention.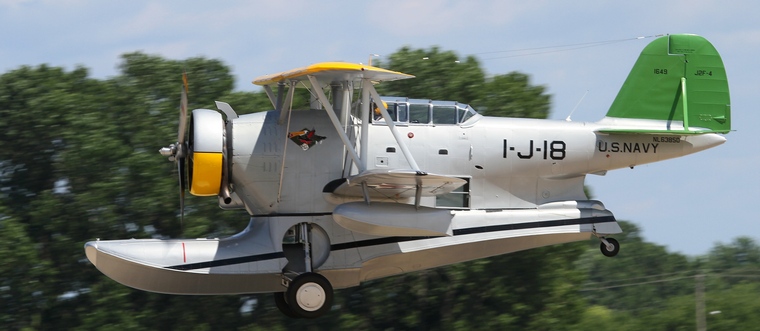 I-J-18, construction number 164 that landed that afternoon was one of 584 built. She was taken on strength in 1939 by the United States Navy with serial number 1649 and is based at Kenosha Regional Airport, Milwaukee, WI and is part of the Chuck Greenhill Private Collection.
A product of the Grumman Aircraft Corporation but build by the Columbia Aircraft Corp of New York, the J2F had its first flight in 1936 and was taken into service in the same year. It was used by each major branch of the U.S. armed forces and served until just after World War II, primarily for utility and air-sea rescue duties. Its missions included light transport duties, mapping, scouting/observation, anti-submarine patrol, air-sea rescue work, photographic surveys and reconnaissance and target tugging.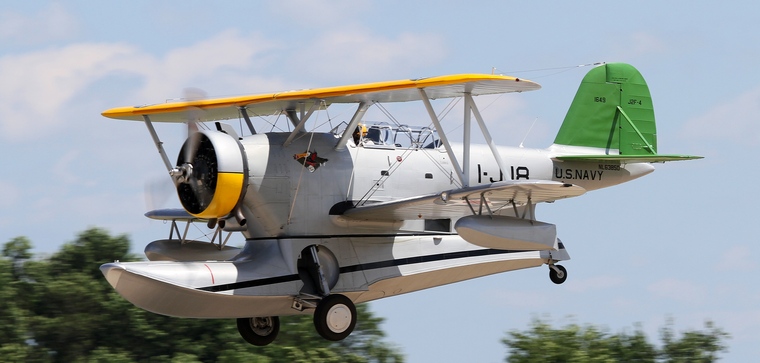 The J2F, an equal-span single-bay biplane with a large monocoque central float (which also housed the retractable main landing gear) was powered by a Wright Cyclone engine which was boosted to 790 hp (589 kW). A crew of two or three were carried in tandem cockpits, forward for the pilot and rear for an observer with room for a radio operator if required. It had a cabin in the fuselage for two passengers or a stretcher.
The Duck was an extremely rugged aircraft, so much so that when on 7 December 1937, Marine Sergeant Bernard Belcher flipped his aircraft completely upside down while trying to land in a cross-wind, the Duck dug its nose into the ground and somersaulted:- the only damage sustained was a few wrinkles in the top of the rudder and fin. Sergeant Belcher was uninjured.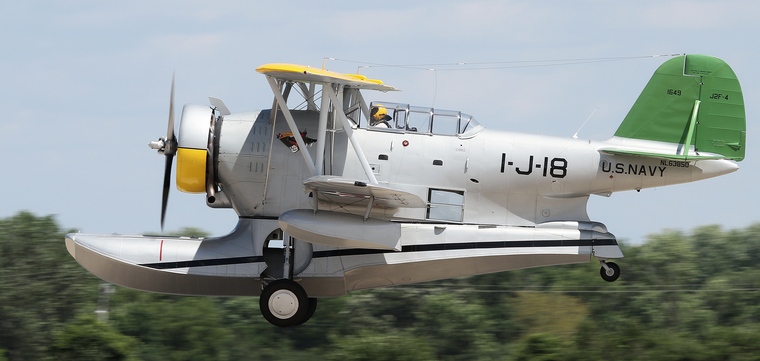 Twenty J2F-3 variants were built in 1939 for use by the Navy as executive transports with plush interiors.
Ducks served in the Argentine Navy, who took delivery of their first Duck in 1937. After the war, J2F Ducks saw service with independent civilian operators, as well as the armed forces of Colombia and Mexico.
Besides the Duck in the Chuck Greenhill Private Collection Aircraft noted aviation entrepreneur and aircraft collector Jack Erickson maintains a flying J2F-6 Grumman Duck in Madras, Oregon. Collector Kermit Weeks has been the top Duck owner since World War II, owning as many as four.
Perhaps my dream of one day seeing a Duck landing at the Seaplane Base at Oshkosh will still come true.